Trolltunga Hike: Itinerary, Useful Info & Tips
The fairytale-like hike to Trolltunga delivers incredible landscapes and unreal photo-ops — as well as steep granite, surprisingly rough terrain and merciless weather. Here's how to plan for it.
The Trolltunga hike in Norway is one of those hikes where the end destination is phenomenal, but the journey itself is just as extraordinary and rewarding. This 28-km trail will take you through the Nordic wilderness, leading up to the majestic Trolltunga cliff. The hike's famous feature is a rock jutting out 700 metres (2,300 feet) above Ringedalsvatnet Lake. The cliff resembles a tongue, quite literally sticking out of the mountain. Trolltunga's name hails from a local legend of a troll who mocked the sun and was in turn, petrified. Hiking in Norway's valleys and lakes shaped by ancient glaciers will humble you just the same.
There's a reason that the Trolltunga hike is one of the best hikes in the world. Accessible only by foot, Trolltunga demands respect and immense preparation to complete. You'll cross boulders, creeks and perform constant surveillance for frozen muddy patches that can make you slip and slide. A half-day of hiking later, and you'll find yourself standing on what feels like the edge of the world as you know it — making for the one of the best photo-ops you'll ever have.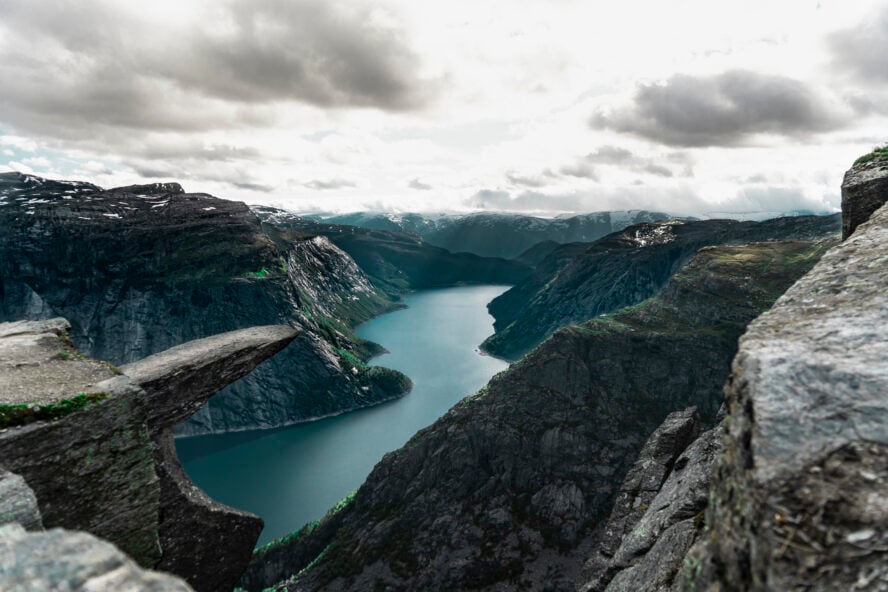 Pros and Cons of the Trolltunga Hike
Stunning, untouched Nordic scenery
Out-of-this-world photo-ops
Thrilling hike worth every sore muscle
Challenging terrain needs previous experience
Requires a high level of fitness
The beauty of hiking Norway's fjord trails never gets old
I'm a Norway native who grew up in Haugesund, which is a two-hour drive away from this iconic natural feature. Since childhood, I've been hiking the mountains surrounding Trolltunga, which translates to "troll tongue." These early experiences made me consider partnering up with my friend and starting our own guiding service. Back in 2013, we recognized the immeasurable potential the Trolltunga cliff had for hikers looking for adventure travel. We decided to offer our authentic spin on this unforgettable hike.
It's an honor to call the mountains and nature my office. Getting to know the people along the trail and sitting around a campfire with a cup of our renowned reindeer stew in hand are, truly, the best parts of the job. I'll admit, seeing Trolltunga through the eyes of people who are experiencing it for the first time will never get old. If you're wondering what this world-famous hike is all about, here's everything you need to know.
Is Trolltunga a hard hike?
Trolltunga is definitely a hard hike, so you'll want to train for a challenge. Due to the difficulty, you'll need to be a seasoned long-distance hiker or at an excellent level of physical fitness. Granted, this isn't the endurance of hiking the GR20, but many underestimate the Trolltunga hike length and elevation. You hike up a steep mountainside that will get your lungs going within the first half hour of your trek. This means everyone needs to be ready for the first kilometer (3,280 feet) to be a steep ascent on stone and gravel. After the first strenuous ascent, the trail gets easier with only smaller climbs further along the route, much like the Laugavegur hiking trail.
You'll also have to be flexible in your approach, and keep an eye on the Trolltunga hiking conditions. Believe me, sudden changes in weather can catch you off guard. Expect rainstorms to appear without warning and harsh nordic winds to slow you down. Fortunately, it's all about preparation.
How long is the hike to Trolltunga?
The hike to Trolltunga is 28 kilometers (around 17 miles) long with 800 meters (2,600 feet) of elevation gain. Usually, the hike starts in Skjeggedal and takes eight to 12 hours to complete. In reality, how long it takes you to complete the Trolltunga hike is up to you. Many people just rush through it without stopping to admire the nature around them. Other hikers set a slower pace, especially when the elevation starts to take its toll. Everything from the sounds to the colors make this hike one of a kind. No tour in the abundance of Norway fjord hikes, let alone the world, compares to Trolltunga.
If you're planning on doing the Trolltunga hike all at once, it's best to start early. Many hikers stay overnight to break up the descent. As a bonus, for all those who decide to camp under the northern sky, you can head out later in the day. By the time you arrive at the iconic viewpoint, most day hikers will have returned to the trailhead. Staying overnight also allows you to immerse yourself in Trolltunga's expansive nature without distractions. You then have a better chance to avoid a wait to take the best photo of your life. It's customary to get a shot at the edge of the legendary Trolltunga cliff.
Experiencing the Trolltunga Hike is Norway at its Best
For hiking in Norway, the Trolltunga trail is a legend brought to life. Local lore tells a tale of a troll who grew bold and imagined he was invincible. Sun rays are notoriously lethal to trolls, but this didn't seem to concern him. Instead of avoiding the rays, the troll climbed to the top of the mountain and stuck his tongue out to mock the sun. He is said to have been petrified immediately — resulting in the cliff now known as the Trolltunga.
An alternative origin story of Trolltunga gives credit to the glaciers molding the area. Still present today, glaciers left steep cliffs dropping towards the lakes, creeks and the famous fjords of Norway.
Day One: Start hiking to Trolltunga from Skjeggedal
Your Trolltunga adventure starts at the P2 Skjeggedal trailhead. The entire round trip trail is 28-kilometer (17 miles) and will take you 800 meters up in the mountains. The first climb of the day is a steep four-kilometer (2.5 miles) incline along an asphalt road. Many choose to skip this section and drive to the upper trailhead at P3 Mågelitopp (parking here must be pre-booked). However, if you're up for the challenge, the initial hike does serve as a good warm up by letting you slowly adjust to the elevation gain. From there, Trolltunga will show you mercy, before you follow it deeper into the alpine wilderness.
Continue on Trolltunga's lush landscape and creek crossings
Continuing along the trail, you'll feel engulfed by your surroundings in the best way possible. Get ready for towering, snow-dusted mountains in the distance. Your views are seemingly never-ending green valleys, dotted with boulders. The same boulders you sit on to catch your breath will add up to form huge, steep granite faces. For this reason, I recommend selecting sturdy and waterproof hiking boots with ankle support. During multiple ascents and descents, you'll also encounter muddy patches and creek crossings. The scenic trek will be worth every step, especially once you've reached the highlight of your trip.
Wake up to stunning views of Lake Ringedalsvatnet
Trolltunga's spectacular, tongue-shaped cliff looms over Lake Ringedalsvatnet. You'll have plenty of photo-ops to pose on this dramatic fjord location thanks to views of the Folgefonna glacier. If you time your hike just right, you'll witness one of the most glorious sunsets of your life as the day dims out. From Trolltunga cliff, you'll head to one of the designated campsites or hike back to the trailhead. The descent will likely take you less to complete, but will be challenging nonetheless. One of the perks of hiring a guide is settling in at a campsite and warming up with homemade reindeer stew, a local culinary specialty. The perfect end to a perfect day is a chat by the campfire with your buddies or fellow campers.
Day Two: You'll want even more time to explore Trolltunga
Once you see Trolltunga for the first time, you'll be glad you gave yourself extra time to discover this mystic area. In fact, one trip won't be enough. Early in the morning, the fog veils Lake Ringedalsvatnet. If you weren't convinced before that you stepped into a different dimension, these views of a glacier-fed lake should do it. Hiking back to the trailhead will take you anywhere from three to five hours, depending on your pace. As soon as you step back into civilization, you'll be planning your next Trolltunga hiking adventure. Trust me.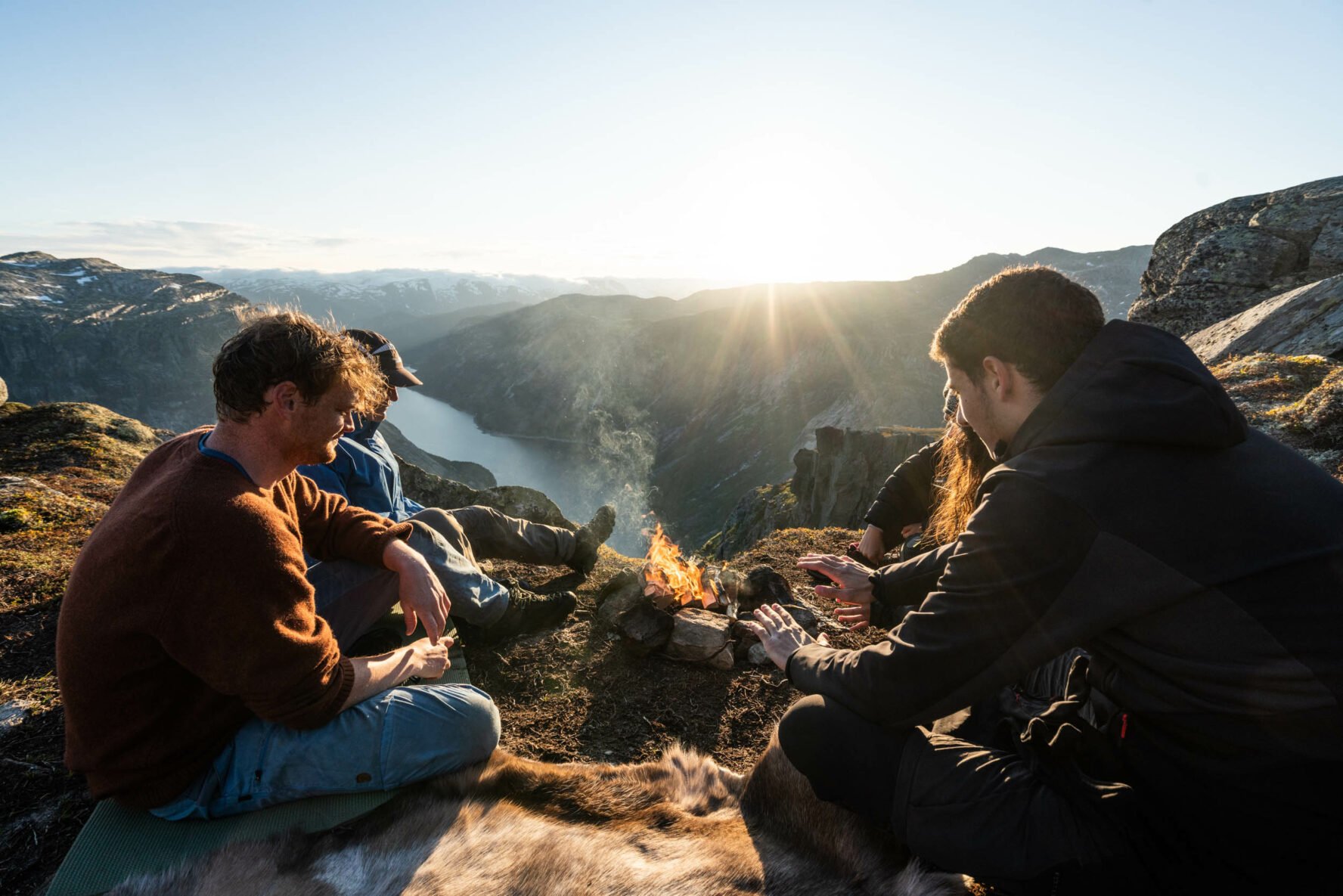 Insider Info From a Local Trolltunga Hiking Guide
Trolltunga is a majestic adventure to embark on. Once you've gathered all your intel — the right gear to take, the best hiking season, the weather, where to stay — it's time to start planning your trip. As someone who's done the Trolltunga hike for many years, here are some of my tips that your future self will thank me for:
When is the best time to hike Trolltunga?
The best season to hike Trolltunga is summer. The warm weather makes for the most ideal hiking conditions. Keep in mind, snow can surprise you in the middle of August, though. Inclement weather is why this Norway hike is only open to solo adventurers from June to September. The conditions worsen in the colder months and snow makes the already challenging trail unnecessarily difficult.
Can you hike Trolltunga in the rain?
You can hike the Trolltunga in the rain, but it's far from recommended. The trail is steep enough as it is, and you don't want to take your chances on the wet rocks. Also, the trails can get eroded when wet. It's advised that if you see a puddle, you go through it and not around it — it's considered good trail etiquette to help preserve the path and avoid widening the trail. Rain can catch you off guard in a matter of minutes. Fog can roll in from nowhere. The ascent is challenging on its own, let alone with rain mercilessly beating down. If the forecast calls for showers, it's best to wait it out for a more favorable time.
How do I prepare for the Trolltunga hike?
To be able to enjoy the Trolltunga hike, you'll need to get yourself to a high level of fitness. How you do it is up to you, but your best option is practice on stairs wearing your daypack. Hit up the Stair Master at your gym or find a flight of stairs you can practice going up and down on. I'd suggest finding a local trail with a fairly steep incline. This will prepare you for the rough ascents. Be sure to also practice wearing your daypack — with weight in it — and do your training in your hiking boots. Any ounce of outdoor hiking experience will be of great value on Trolltunga's slippery rocks. If you choose to climb it in one day, you're looking at eight to 12 hours of non-stop hiking on rough terrain. A good rule of thumb for new hikers is to plan an hour for each mile.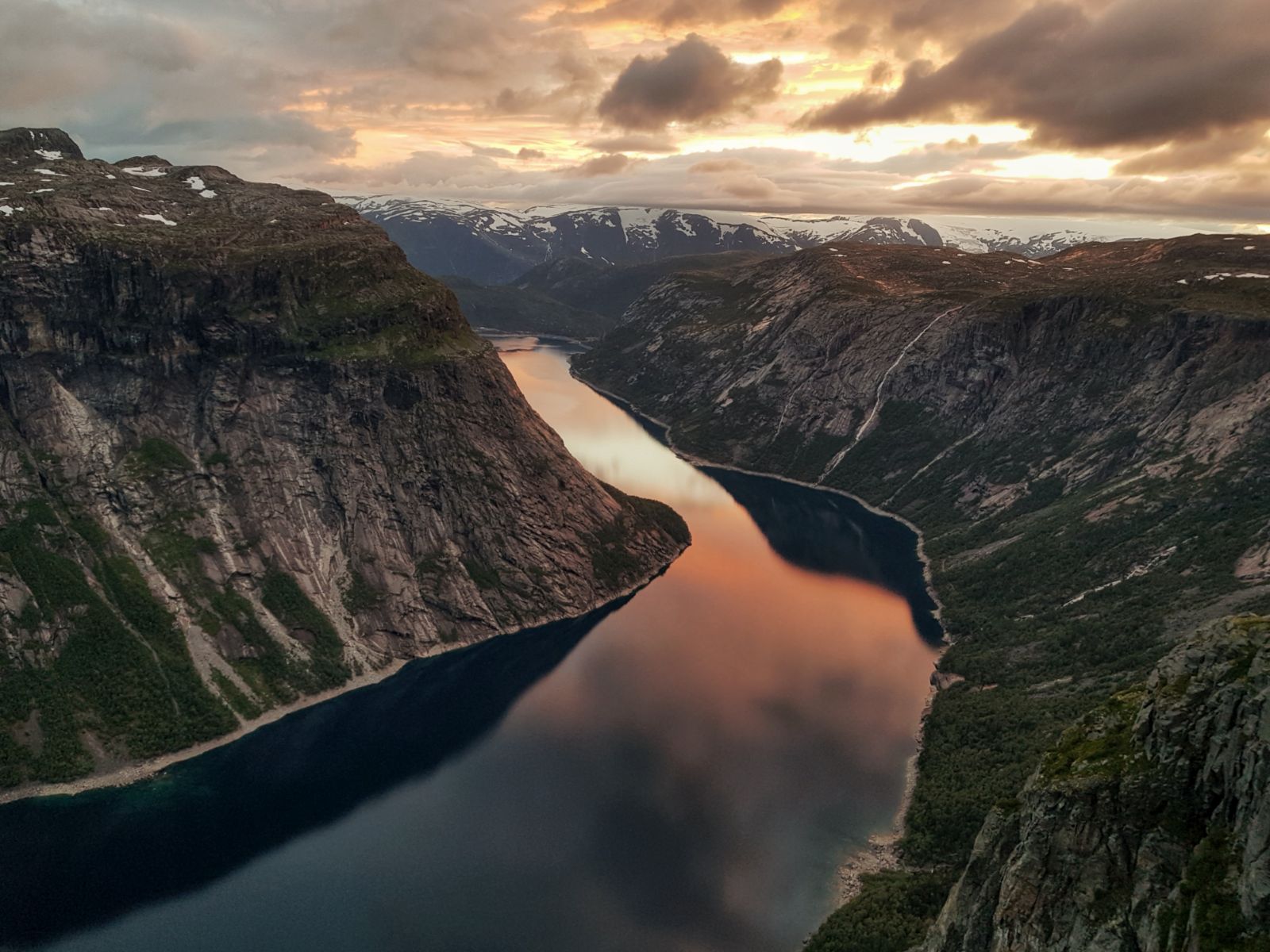 What gear do you need to hike Trolltunga?
Keep in mind that the weather during the Trolltunga hike is predictably unpredictable. Your day may start without a cloud in the sky. That blue sky can turn to rain in an instant, and within minutes, it can develop to freezing rain that turns into snow. Even in the summer, it can get considerably chilly and shift at a moment's notice. With the right gear though, you should be sufficiently prepared for whatever Mother Nature throws at you. Here's what you need to pack for hiking the Trolltunga Trail:
High-quality hiking boots that can take some wear and tear. They need to be comfortable, fit well, and they need to be broken in before your trip.
A 30 to 35-liter backpack will be more than enough for you to carry your essentials.
Dress in layers and pack extras. Merino wool layers are also helpful to wear in the morning because they're thin and moisture wicking.
A waterproof shell that can be ready in your pack is important. You can use this to layer over a down jacket mid-layer to stay warm and dry on the trail.
You'll also want to bring a couple pairs of good quality hiking socks along. Avoid cotton and choose merino wool or a synthetic blend.
Trekking poles can be very helpful on challenging sections. Collapsible poles that can be easily stowed are the best bet.
Do you need a permit to hike Trolltunga?
No permit is needed for your Trolltunga adventure. From the logistics-side of things, preparation is minimal. Make sure you have the right equipment, however, and your physical prowess is at its best.
Do you need a Trolltunga guide?
If you plan on hiking Trolltunga during the high season in summer, you can go on your own. From October to May, travelers are required to hike with a guide. Keep in mind that the mountains are known to throw a curveball or two. Surprising inclement weather or fog will make finding your way considerably more difficult. Having a guide by your side takes any guesswork out of the game. In addition to guaranteed safety, you'll also try the local cuisine, learn all about the mythical and geological history of the area. Plus, guides will point out hidden gems along the way.
Can you camp at Trolltunga?
You can camp at Trolltunga, just make sure to stay within the designated areas. When choosing your campsite for the night, make sure you stick to the areas downhill from the trail, steer clear from streams and lakes, and set your tent up on bare rock to preserve the alpine vegetation. There's a campfire ban between April 15th and September 15th you need to be aware of. In order to keep Norway's wilderness pristine, keep your impact low and practice the 7 Leave No Trace Principles.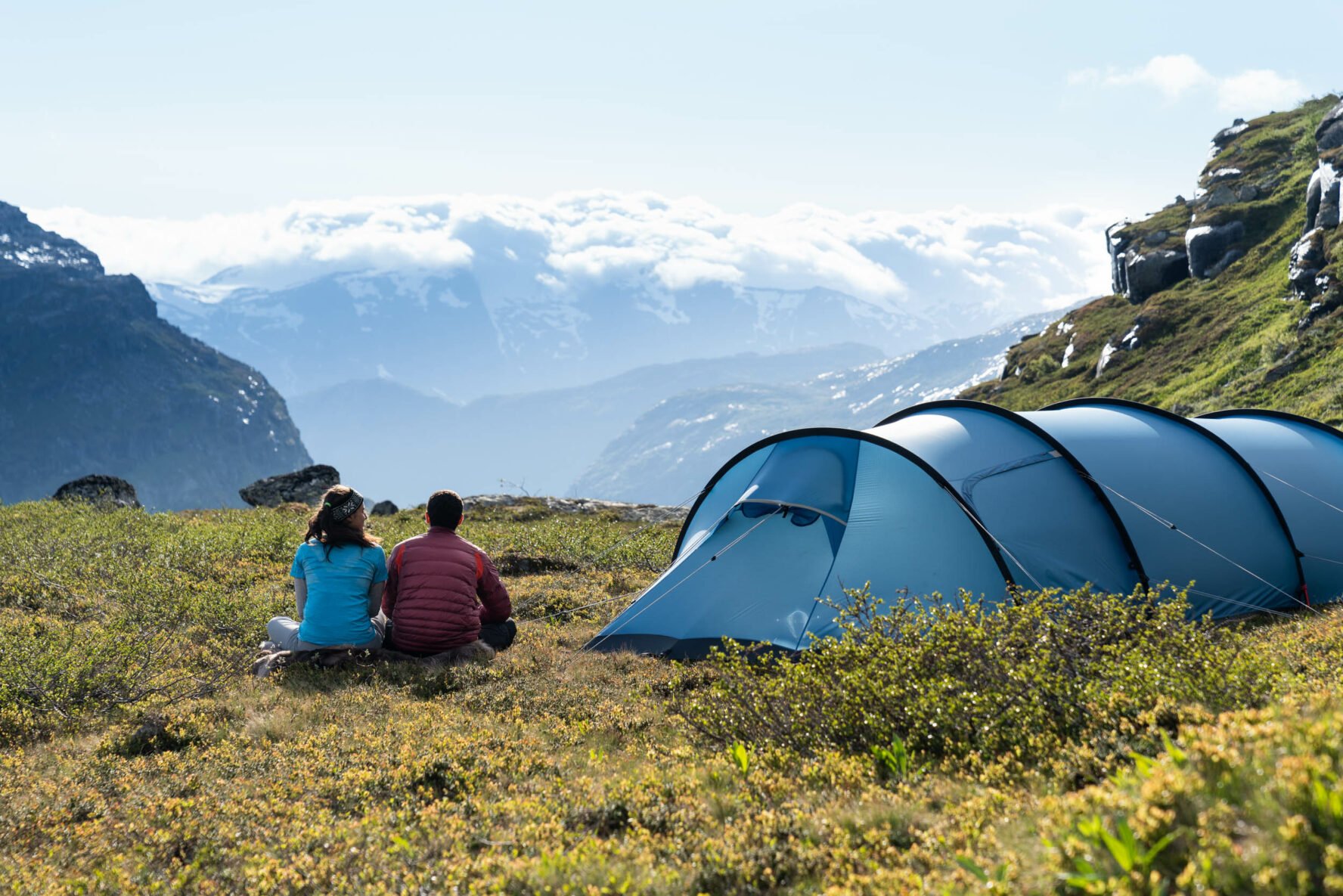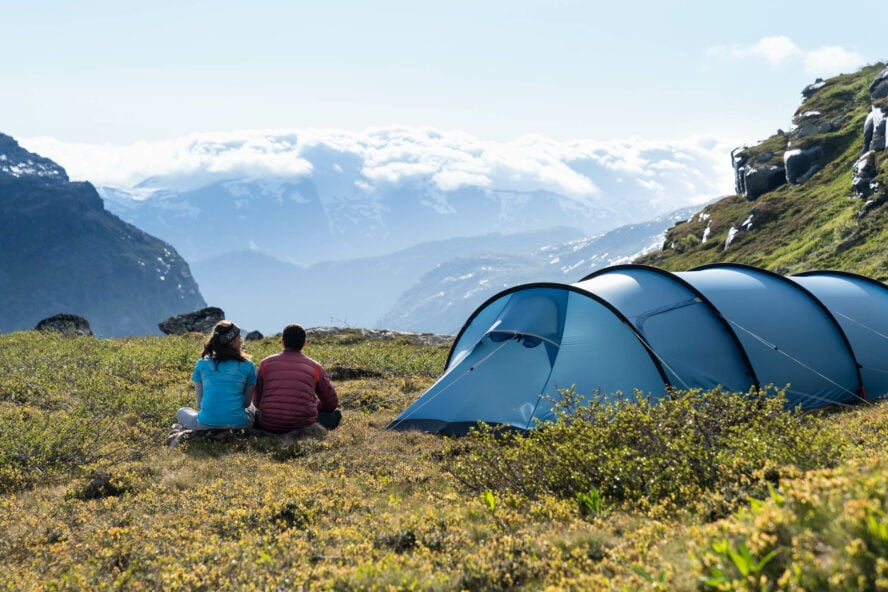 Explore Hardanger and don't leave without trying the cider
Most people visit the Norweigan city of Hardanger solely to hike the Trolltunga trail. I'll say right here, there is so much more this region has to offer. There are several beautiful day-hikes that will take you past some of the most incredible waterfalls in Norway. Formally known as Hardangerfjord, this area is close to the city of Bergen, a charming destination ideal for strolling. Hardanger is also near two national parks, two Norwegian scenic routes, and many fjords and glaciers.
The area is also famous for its apple orchards and a bustling cider industry. Sip world-class cider made locally, with gorgeous glaciers, valleys and mountains as your backdrop. Another fun reward for completing the demanding Trolltunga is a day (or a few) at the sauna. Head straight for Heit–Sørfjorden Sauna for relaxing your sore muscles after the hike.
Witness a myth come to life on this thrilling hike with incredible landscapes and unreal photo-ops. Enrich your Trolltunga Cliff 2-day adventure by hiring an expert local guide. Gain insider insight and even discover a hidden gem or two along the way!