Local hiking guide Stefano Lera shared:
A beautiful hiking adventure in the Liguria and Tuscany regions
The serene pathways of Cinque Terre's charming coastline
The story of the Apuan Alps, Italy's mountains of marble
Where to find the historic hamlets of the Garafagnana Valley
A rustic adventure under the rugged Apennine Mountains
What it takes to discover the wonders of Central Italy
When you think of Central Italy, what is the first image that comes to your mind? Is it the sprawling vineyards of Tuscany, the fishing villages on the Italian Riviera, or the cobbled streets that skirt the Colosseum? Maybe all of them! But beyond the chianti and the chiaroscuro, this European jewel hides another face, one not covered by any ordinary wine tour or chic summer getaway.
Here, in the cradle of the Roman Empire, you'll find hikes fit for a Caesar!
The serene trails of the Cinque Terre—a string of five historic seaside villages—hold enough rustic charm to turn peasants into poets. Beyond their idyllic landscape opens Garfagnana, a lush valley punctuated by hamlets and fortresses hidden under the marble peaks of the Apuan Alps. From rugged shoreline to dense forest; from ancient mule tracks to Roman vias—hiking in Central Italy is an unparalleled feast for the senses.
In this one-hour session, local guide Stefano Lera shared a snippet of Italy's age-old trails in four distinct but deeply connected Italian regions, and showed us what it's like to follow in the footsteps of ancient legionaries. You know what they say: When in Rome… roam around!
Webinar host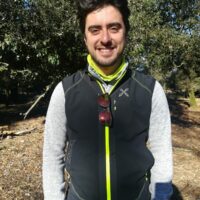 Stefano Lera
Hiking and Park Guide
Born and raised in Lucca, Italy, Stefano Lera has been working as an eco-friendly hiking guide since 2013. He leads customized hiking tours all over Central Italy, the Apuan Alps and the Apennines. Stefano is also a park guide in the Tuscan-Emilian Apennine National Park, where he organizes outdoor tutoring activities for local school children.