Sunny and Albert covered:
Business building and scaling
How to sustain a great guiding business
Tips for impactful business branding
Resources to market your guiding business
Creating unique trips out of classic trips
Activating your community and partner support
Engaging and working with new business sponsors
Calling all guides! Running a successful guiding business takes more than just technical expertise, which is why we've created our Guide Growth Initiative. Each month, we will co-host a community meet-up designed for guides and led by guides, focusing on soft skills and business-oriented know-how.
This month we are honored to team up with veteran guides Sunny Stroeer of AWExpeditions and Albert Ojembarrena of Amarok Adventures to host our first-ever meet-up. Sunny and Albert shared tips and tricks during this live event to help you build a successful guiding business, activate community support, create impactful and compelling branding and marketing strategies, and create unique trips from classic trips.
Wondering if this meet-up is right for you? The Guide Growth Initiative is designed for guides who want to expand their knowledge base and connect with a community of guides. All guides at any stage in their career are welcome to attend. Perhaps you're a fellow veteran guide looking to swap tips with the best in the business, or maybe you're just starting or considering your own guiding business; join us! These meet-ups will provide a space that encourages you to get to know and learn from other guides in a peer-to-peer setting with an open forum for questions.
If you're ready to elevate your business and join a community of guides, check out our webinar recording from a live event hosted by Sunny and Albert.
Webinar hosts
Sunny Stroeer
Owner of AWExpeditions
Sunny led a career-oriented life as an international strategy consultant with a Harvard MBA until a formative adventure on Aconcagua made her drop everything and take on the outdoors full-time. Before long, her exploits on high-altitude hiking and climbing routes saw her breaking speed records worldwide. When she's not traveling and setting FKTs left and right, Sunny organizes guided adventures, celebrates the sporting life, and promotes female empowerment through her writing and photography.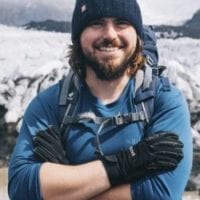 Albert Ojembarrena
Owner of Amarok Adventures
Albert has guided adventure treks in Iceland, Greenland, South America, the Faroe Islands, and Nepal. He has also worked as a documentary and travel photographer for international magazines. Based in Iceland since 2015, he travels the country discovering hidden gems and loads of adventures off the beaten path — always with his camera in tow.