Best Hikes of Landmannalaugar: Iceland's Rainbow Mountains
Here's the quick and dirty of Landmannalaugar: if you think you're looking at a mountain, it's probably a volcano; if you think a rental sedan will get you to the highlands, you need another look at the map; and if you think you've experienced anything like this before… think again.
Table of Contents
The colors and textures you'll encounter on your hikes in Landmannalaugar are jarring; raven-black lava fields are feathered with chartreuse moss while sulfuric dust coats iron-streaked mountainsides.
This is what sets the scene for Landmannalaugar, a solar system of volcanic tuff, rainbow-hued hills and well-trodden ridgelines. It's an area that Icelanders love for the geothermal features, and the ever-changing landscape.
One constant however: wherever you turn, chromatic rhyolite mountains glitter—a spectacular sight that no matter how many times you go, it is like seeing it for the first time.


Landmannalaugar's Geothermal Activity
Located in the southern highlands of Fjallabak Nature Reserve, a few hours east of Reykjavík, the valley was formed by volcanoes and carved by glaciers. It is still being shaped today.
Early in the summer, as melting snow and rain swells the rivers, the meandering waterways find new paths through the pastel land. I've been going to Landmannalaugar since I was a teenager, but even today, I'm still never 100% sure what will lie ahead each time.
The core of Landmannalaugar is instantly recognizable by its colorful mountains, though—you'll find images of them splashed across travel guides and calendars.
Much of the landscape is composed of rhyolite, a volcanic rock that on its own offers a light orange, gray, or whitish hue. But it's the array of other minerals—sulfur, iron, ash—that earned the region its reputation of being home to rainbow mountains.
Come for the hills
Hikers arrive from all over the world to traverse, and photograph, the vibrant hills in this 11,000 acre park. The area is widely recognized as one of the best places in Iceland for day hikes, with many trails traversing stratovolcanoes, which are basically small mountains made up of layers of hardened lava.
And of course, if you're dreaming of hiking the Laugavegur Trail—the most popular multi-day trail in Iceland—it starts here, and ends in Thorsmork, another great hiking hub.
Stay for the hot springs
Landmannalaugar translates to "people's pools," which, for those who aren't geologically inclined, might seem strange for an area that's so well known for its ash and rock.
All those volcanoes mean there's plenty of magma flowing just below the earth's surface, including right under the shallow bodies of water that permeate the valley. That magma warms the water, which makes taking a dip a soothing experience regardless of the weather. Historically, this was one of the most popular places in Iceland to visit hot springs.
How to Get To the Hikes in Landmannalaugar: That's Half the Fun
Iceland is a country stitched together by mountain roads and recreational trails. With the right equipment, the country's famed wilderness is accessible, but make no mistake: "accessible" doesn't always translate to a smooth ride.
The "F" in F-roads might as well stand for 4WD
To get to the hikes in Landmannalaugar you need to take F-roads. The "F" stands for fjall—"mountain" in Icelandic—and these mountain roads are typically unpaved and shift with the changing landscape.
The roads are open from June to early September, which corresponds with the best time for hiking in Landmannalaugar. However, the exact dates depend on snow levels.
Last summer, for example, we couldn't head out there until late because the area saw exceptional snow in the winter. As such, you'll want to monitor the weather and account for closures if you're looking to visit during the spring season.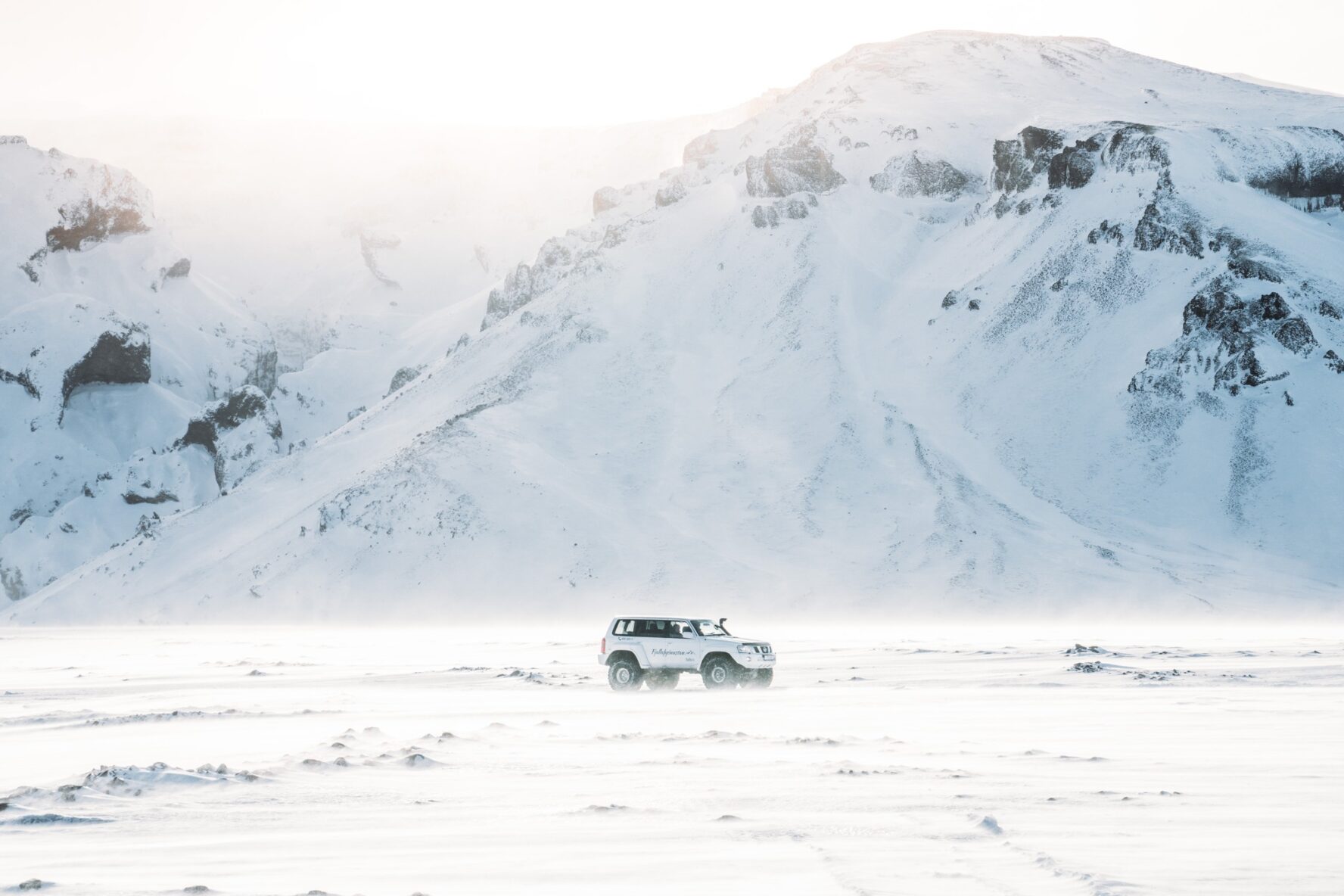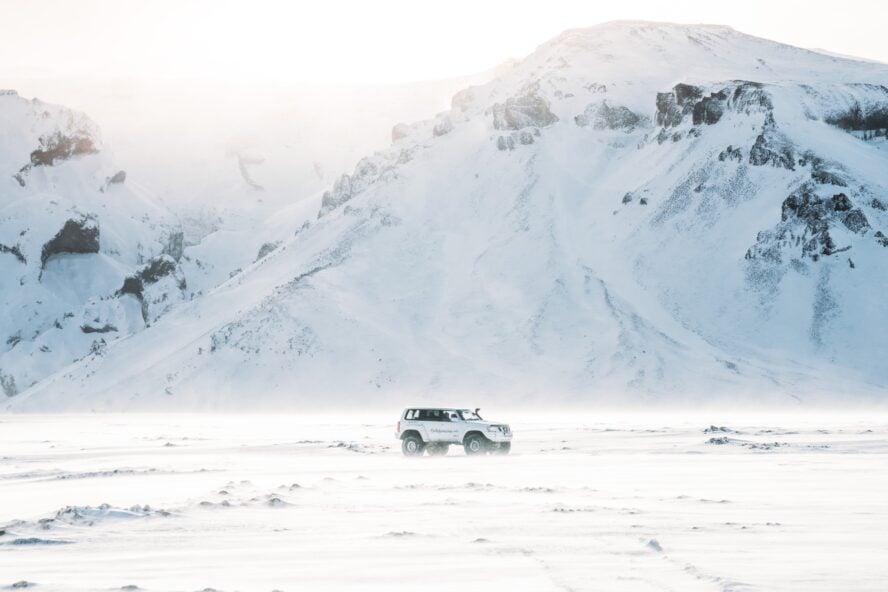 Winter hiking is not really a thing
Hiking in Iceland in winter—and especially Landmannalaugar—isn't popular because it's nearly impossible to make the trip when the roads are closed. Alternatively, it is forbidden to drive to Landmannalaugar during early and late winter when the snow doesn't cover the ground.
If you do want to head out to the highlands for a winter hiking adventure in Iceland, you'll need to work with a guide and take snow machines and skis. Not many people do this, but if you like to go to places tourists typically don't visit, this is a chance to see Iceland's legendary landscapes free from the crowds.
(Alternatively, consider the hard-to-beat ski touring in Iceland, one of the only places where you can skin past lava fields and send icy fjords.)
Can you access the hikes in Landmannalaugar without a 4×4?
The short answer: nope.
You'll need to take either a Super Jeep or a special excursion bus. These vehicles are well equipped to plow through rivers and roll over rocky terrain. Not to mention they remove the risk of a financial crisis that comes with totaling a rental car.
How to get to Landmannalaugar from Reykjavík
The Highland Bus is a regularly scheduled bus that leaves from Reykjavík early in the morning and returns from Landmannalaugar in the evening. It has two pick-up points in the city: the Campsite Hostel and BSÍ Bus Terminal. If you decide to stay outside the capital, there are also pick-ups between Reykjavík and Landmannalaugar, including in the small towns of Hella and Selfoss.
Because of the additional stops, it takes nearly five hours to reach Landmannalaugar by bus.
The journey is a bit shorter if you work with a guide—clocking in closer to three hours—which offers the added benefit of hiking with someone who knows the area and can prioritize your safety. Oh, and you get to ride in a Super Jeep, which is pretty rad.
(Just speaking from experience: my initial interest in exploring the highlands was borne from a love of cruising in Super Jeeps.)
For me, it all started with the Super Jeeps
A century or two ago, I would have loved to be one of those guys who sailed away from their home country in search of something new and totally unfamiliar. Since that's not such a feasible option today, I turned inland.
I've been doing hikes in Landmannalaugar since I was a kid, when there was nothing cooler than touring the highlandtaking s in a 4×4 Super Jeep. My first job was actually transporting luggage to the highlands with my cousin, and I've been in love with the wilderness ever since.
Over the years, I've found myself more drawn to hiking and photography, and Landmannalaugar has proven to be the prime setting for both of those passions. I started my company, Norse Adventures, not only because I wanted those outdoor experiences to be my daily life, but because I want to have those outdoor experiences with all kinds of people, friends and strangers alike. Ready to see what Landmannalaugar is all about?
The Five Best Hikes of Landmannalaugar
You've braved the famous F-Roads, now let's talk about what you came for: the hiking.
Trail map for the Landmannalaugar hikes
Below, each marker indicates the location of the hiking destinations I will be chatting about:
The starting point of the Laugavegur Trail

Bláhnúkur Mountain

Laugahraun Lava Field

Mount Brennisteinsalda

Ljótipollur
Laugavegur Trail
1. Laugavegur Trail
TOP CHOICE FOR: A MULTI-DAY ADVENTURE
See the highlights of Landmannalaugar on one hike
Plenty of huts along the way with amenities like kitchens and showers
This trail is a photographer's dream
Can get crowded, especially in peak summer
Weather can be unpredictable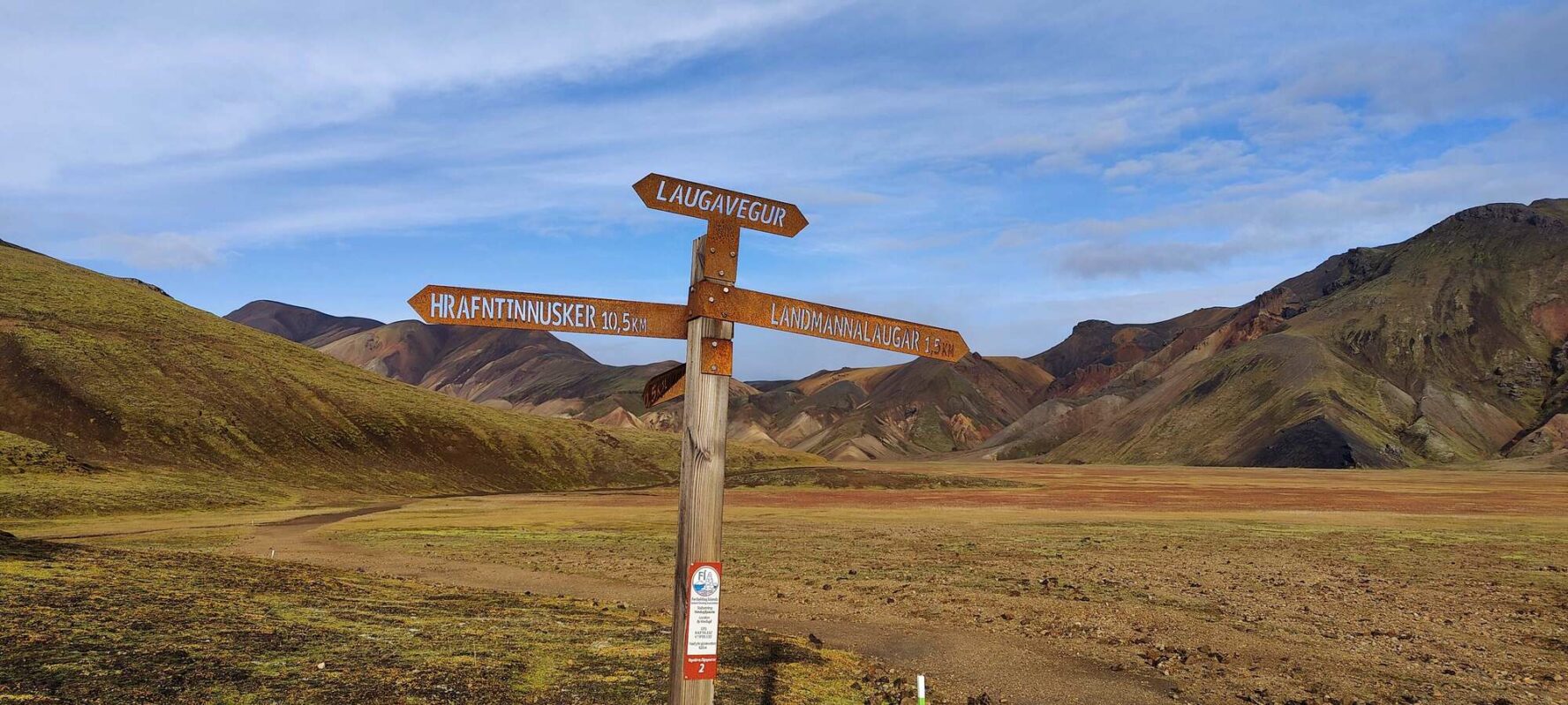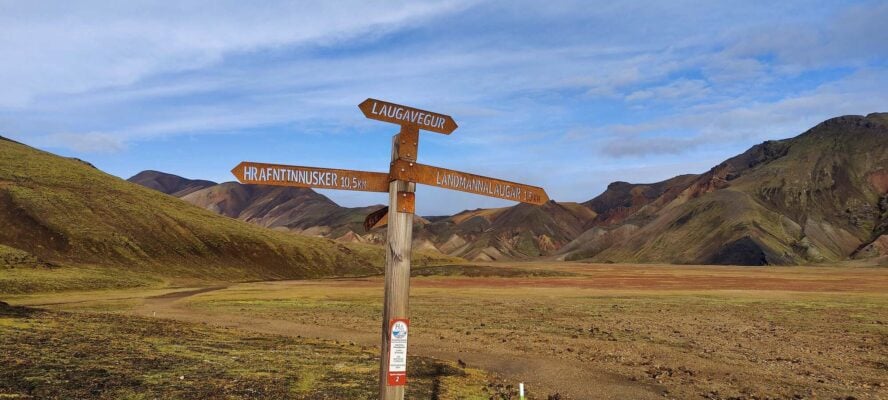 What I love about the Laugavegur Trail is how rapidly the landscapes melt into each other across 55 kilometers (34 miles). All the headliners Landmannalaugar is known for make an appearance throughout the four-day trek.
With that said, the Laugavegur trail is one of the most renowned in the world. It's well developed, easy to follow, and comes with crowds to boot.
It's the "Landmannalaugar Trail" for a reason
So maybe it doesn't come as a surprise that "lauga" is actually the truncated version of Landmannalaugar. If you can't dedicate several summers to roaming every inch of the area, the Laugavegur Trail is pretty good bang for your buck—it features views of Landmannalaugar's iconic rainbow mountains, a stint through a cosmically black desert, and lush green forests.
The trail's southern terminus is in Þórsmörk, which translates to something like "Thor's forest," named for the Norse god. (That "P"-looking letter makes the "th" sound and today only exists in Icelandic. The more you know!) It's the perfect name for the valley as Þórsmörk has more trees than you'll find in most other places in Iceland.
Hiking the Laugavegur Trail
Most hikers follow the trail from north to south, and that's the route I typically recommend. Of course you can start in Þórsmörk and end in Landmannalaugar, but be prepared for a few days' climb before a quick descent into Landmannalaugar.
Day 1:
People typically do this over four days with the first day being objectively the toughest with 457 meters (1,500 feet) of elevation gain. The first part of the trail ascends up to the Laugahraun lava field and then crosses it. It's mostly a steady climb up from there, but you'll have breathtaking views of some of the area's most iconic mountains. After about 12 kilometers, you'll arrive at Hrafntinnusker, a mountain (that is actually a volcano) with a hut.
Day 2:
The journey onward from Hrafntinnusker is less strenuous. On day two, you'll lose most of the elevation you gained the day before. The trail covers about 12 kilometers (about 7.5 miles) to the Álftavatn huts, which sit near the deeply blue Lake Alftavatn. If 12 kilometers doesn't feel like enough in one day, you could push on to the facilities in Hvanngil.
Day 3:
For those who chose to stay in Álftavatn, the next leg is a bit longer. It's 16 kilometers (nearly 10 miles) to the next hut and campground in Emstrur. This is the area where the colors Landmannalaugar is known for give way to a huge volcanic desert, where black rock extends seemingly forever.
Day 4:
But the monochromatic landscape doesn't last forever. On the final day, as you approach Þórsmörk over the trail's final 15 kilometers (about nine miles), you'll enter the woodlands of Thor's woodlands, while descending another 300 meters.
It's hard for me to describe how phenomenal this hike is, which is why I've come to appreciate photography so much. Some people might think they could reasonably cover 55 kilometers in only a day or two, but I bet the urge to stop every few steps to take photos would slow down even the most focused hiker.
Huff it during the day, hut it at night
There is a network of huts along the trail, owned and operated by Ferðafélag Íslands, the Iceland Touring Association, (FÍ). The huts vary in size and amenities, but they all typically fit a few dozen people and most have running water, a bathroom, and kitchen. The huts at Álftavatn and Emstrur have showers.
Note that even if you aren't spending the night—just using the bathroom, say, or hanging out on the benches—you'll still be asked to pay a facility fee to help cover maintenance costs.
If you plan on spending the night, make sure to reserve your space well in advance, as they often fill up very quickly. There's space for camping as well, and you'll still be able to use the facilities at the hut. Be sure to bring a durable tent and take advantage of the rocks at campsites to keep your shelter pinned down—it is hard to drive pins into the ground. (Also note that the hut asks you to return the rocks to the wooden crates in the vicinity after use.)
Keep in mind that the weather in Iceland is unpredictable. I'm talking high winds, low temperatures, and unrelenting rain. Rain gear and proper layers are vital; last season, dozens of people were rescued from the trail for risk of hypothermia, right in the height of summer.
While hot food and a place to crash are nice and everything, the huts' finest features are priceless: the wardens. These are the folks who can answer any questions you may have about the trail or advise you on the weather, so be sure to take advantage of their knowledge.
Hiking Iceland's Laugavegur Trail is like experiencing six different worlds and all four seasons in the span of one trip.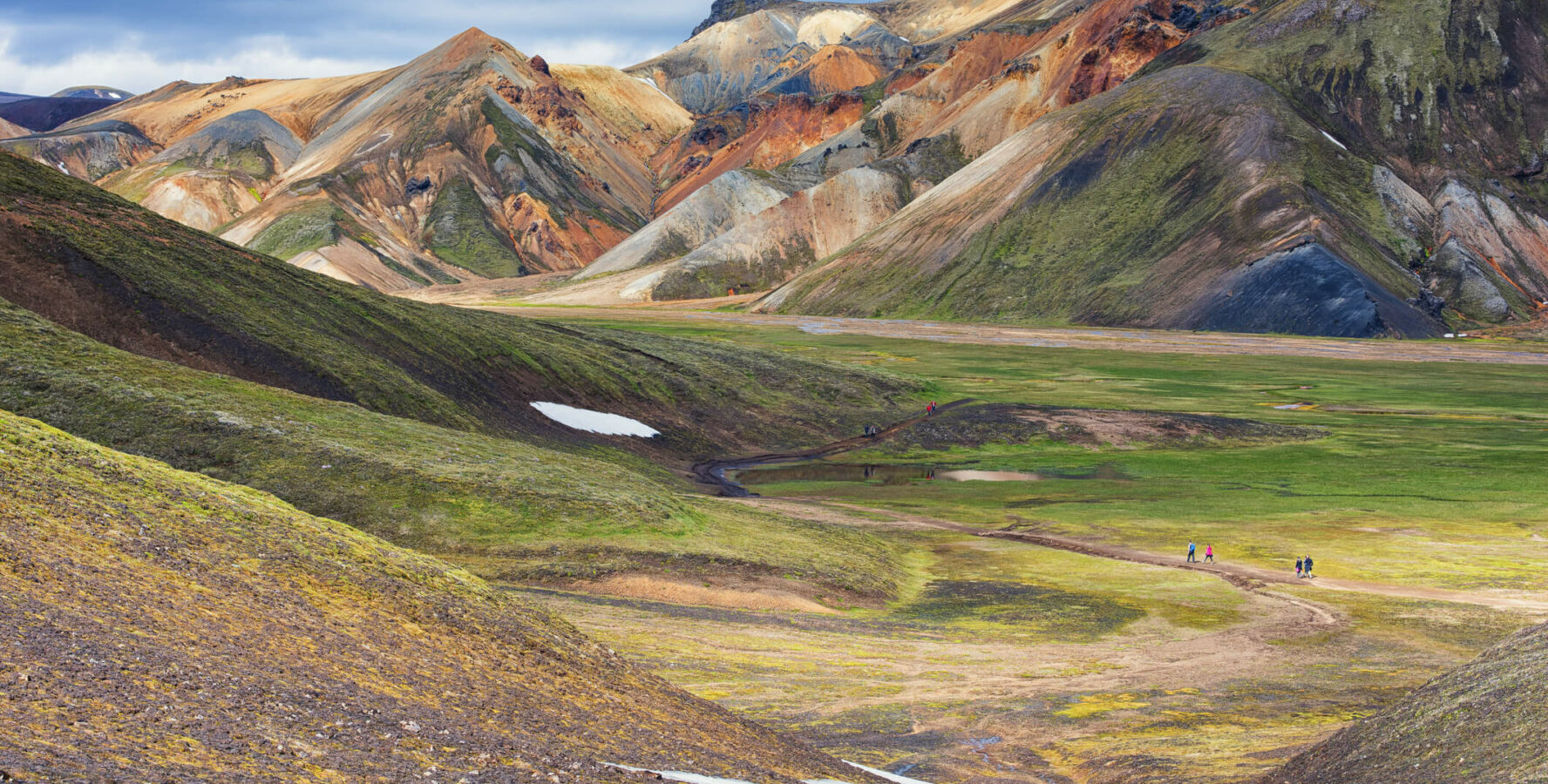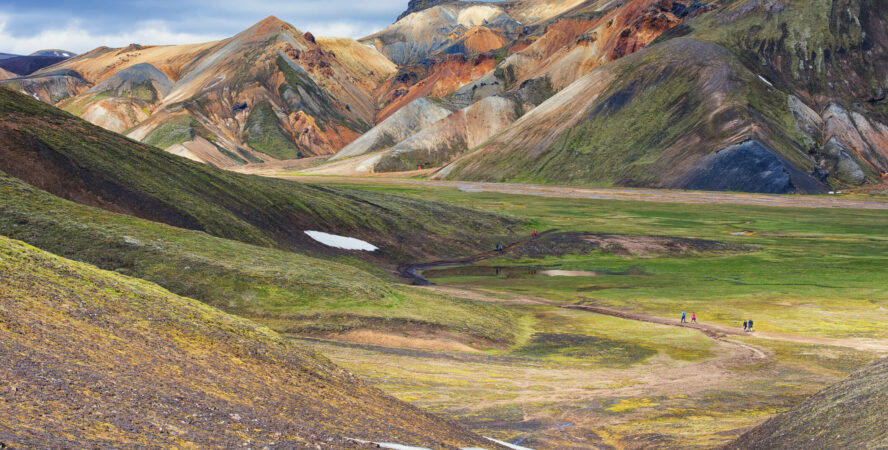 Solo Hiking the Laugavegur trail in Iceland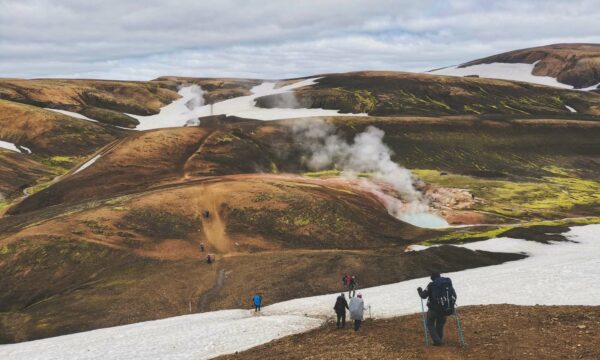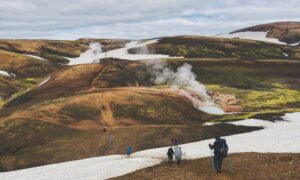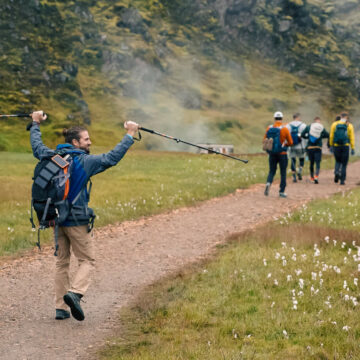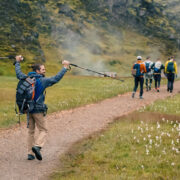 1. Laugavegur Trail - Good to Know
Distance
55 kilometers (34 miles)
Difficulty
Intermediate. For a backpacker with some experience under their hip belt, this isn't a particularly difficult hike
Terrain
A bit of everything. You'll follow a well-worn path through mossy mountains, cross a volcanic desert, and finish with a descent through a lush forest
How long to spend here
About four days
Elevation
Gain 500 meters (1,640 feet)  in the first day, then descend more than 800 meters (2,625 feet) over the next three
Other recommendations
If you don't mind a couple hours' detour, you can veer off Laugavegur to bag Mount Brennisteinsalda, one of the most iconic volcanoes in Iceland
Recommended guided tour
Bláhnúkur Mountain
2. Bláhnúkur Mountain
TOP CHOICE FOR: A QUICK JAUNT
Short hike, so you'll have time to explore other parts of Landmannalaugar
Great views at the summit, particularly of Brennisteinsalda
Enjoy a soak in the hot spring once you're done
Short hike, so it's not a destination on its own
Steep: more challenging compared to other hikes in the area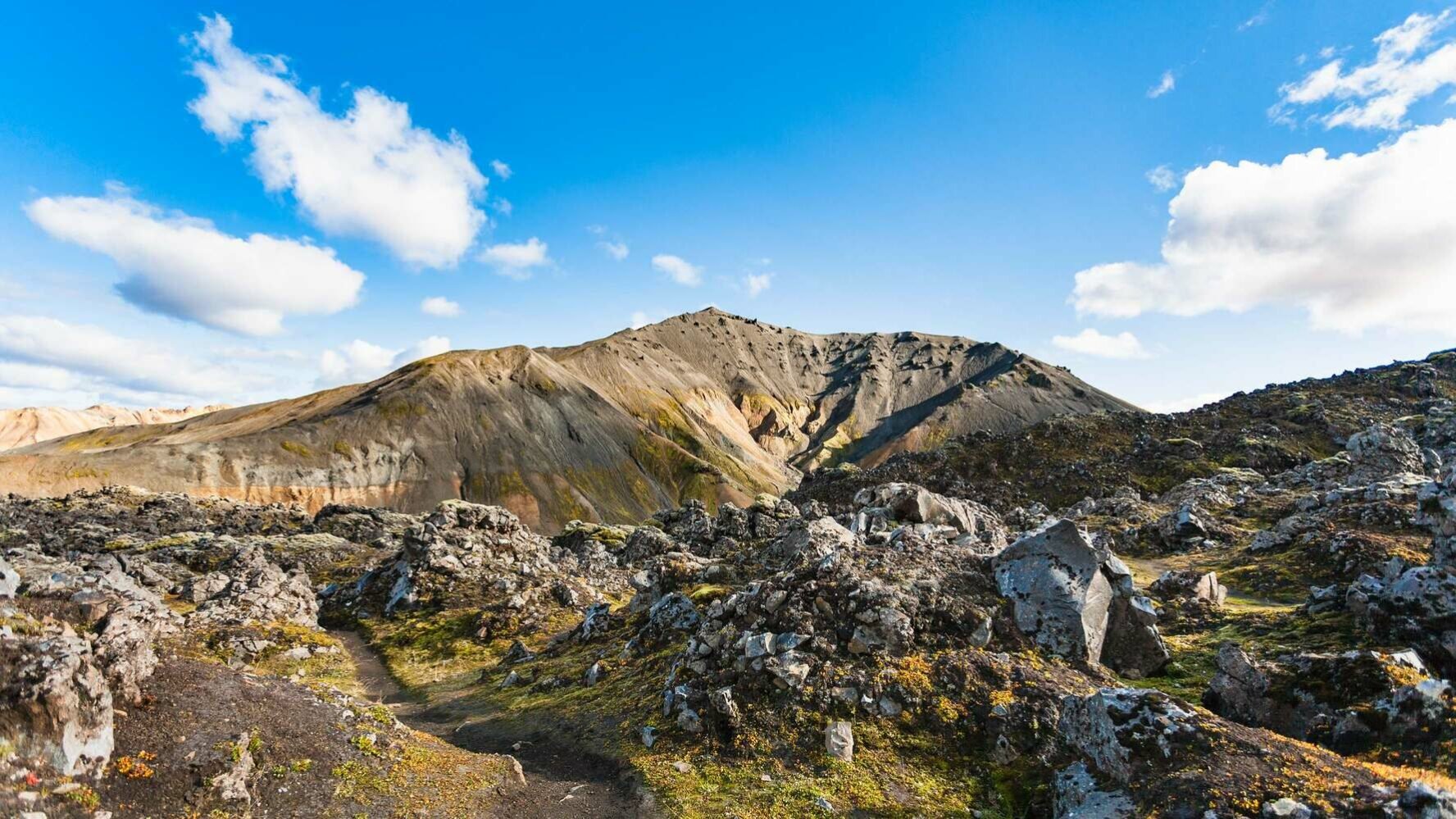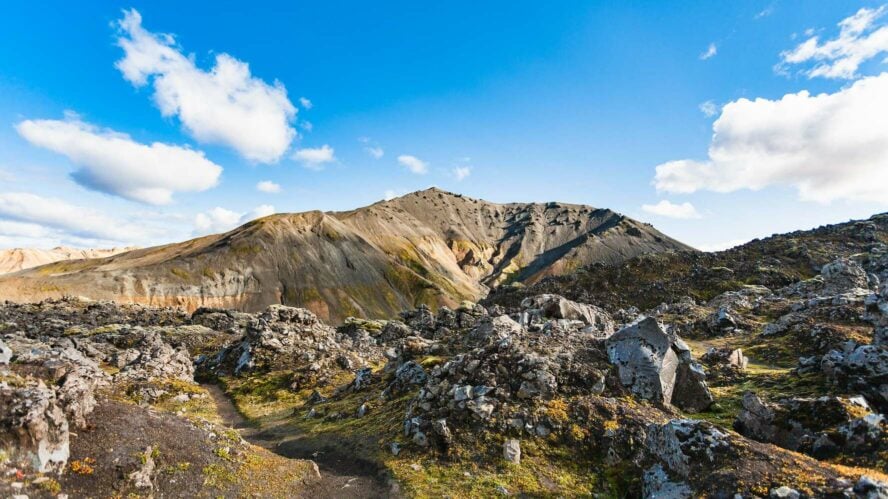 The trek up Bláhnúkur Mountain is short and sweet. And by sweet I mean steep.
Bláhnúkur translates to "Blue Mountain"
The name comes from the blue-toned ash that's settled on its slopes, which you'll become well acquainted with on the relentless 350 meters (1,148 ft) climb up. While only about six kilometers (or nearly four miles) out-and-back, because of the steep terrain and a narrow path that quickly drops off on either side, I wouldn't say Bláhnúkur is a beginner's trail. But if you have some hiking experience and are up for feeling the burn, this is a good one.
It's worth it for the views. Along the way you'll look down over the Landmannalaugar hut and all the tents bubbling up around it. From the top you'll also be able to see the lava field spilling across the valley and a couple of glaciers. It's almost grating seeing those landscapes pressed against each other—green mountains rising up behind a black desert, the cool blue of glaciers in the distance.
How to make the most of your day
Leaving right from the Landmannalaugar campground, It takes most people only a few hours to scale Bláhnúkur and return. Many will bus in from Reykjavík in the morning, hike Bláhnúkur, and head back to the city in the evening, bypassing any logistical struggles of staying overnight.
I personally think Bláhnúkur is too short to do on its own, especially if you're taking the time to travel all the way out to Landmannalaugar. I typically recommend tacking Bláhnúkur onto another trail, such as the Laugahraun Lava Field, or tackling it in combination with neighboring Mount Brennisteinsalda.
On the other hand, a short hike means you'll have plenty of time for Landmannalaugar's crown jewel—the hot spring.
Hot springs: Delights of great magma-tude
Hot springs are bodies of water that sit above a magma chamber and are heated by that geothermal activity. There's one right near the Landmannalaugar hut, a modest little pool, void of any glamorous development like railings or steps. But that's what I think makes it one of the best in the country.
Often, when people imagine Icelandic hot springs, I think they envision a network of bridges and docks across a blue lagoon. But here in the highlands, the hot springs are just pools of water, set in the lush grassy valleys. It's just you and the landscape.
Of course, they're not always marked, and anyone who's spent a good amount of time exploring Landmannalaugar will have their own favorite secret spot.
The trek up Bláhnúkur Mountain is short and sweet. And by sweet I mean steep.
– Magnús Hlini Víkingur Magnússon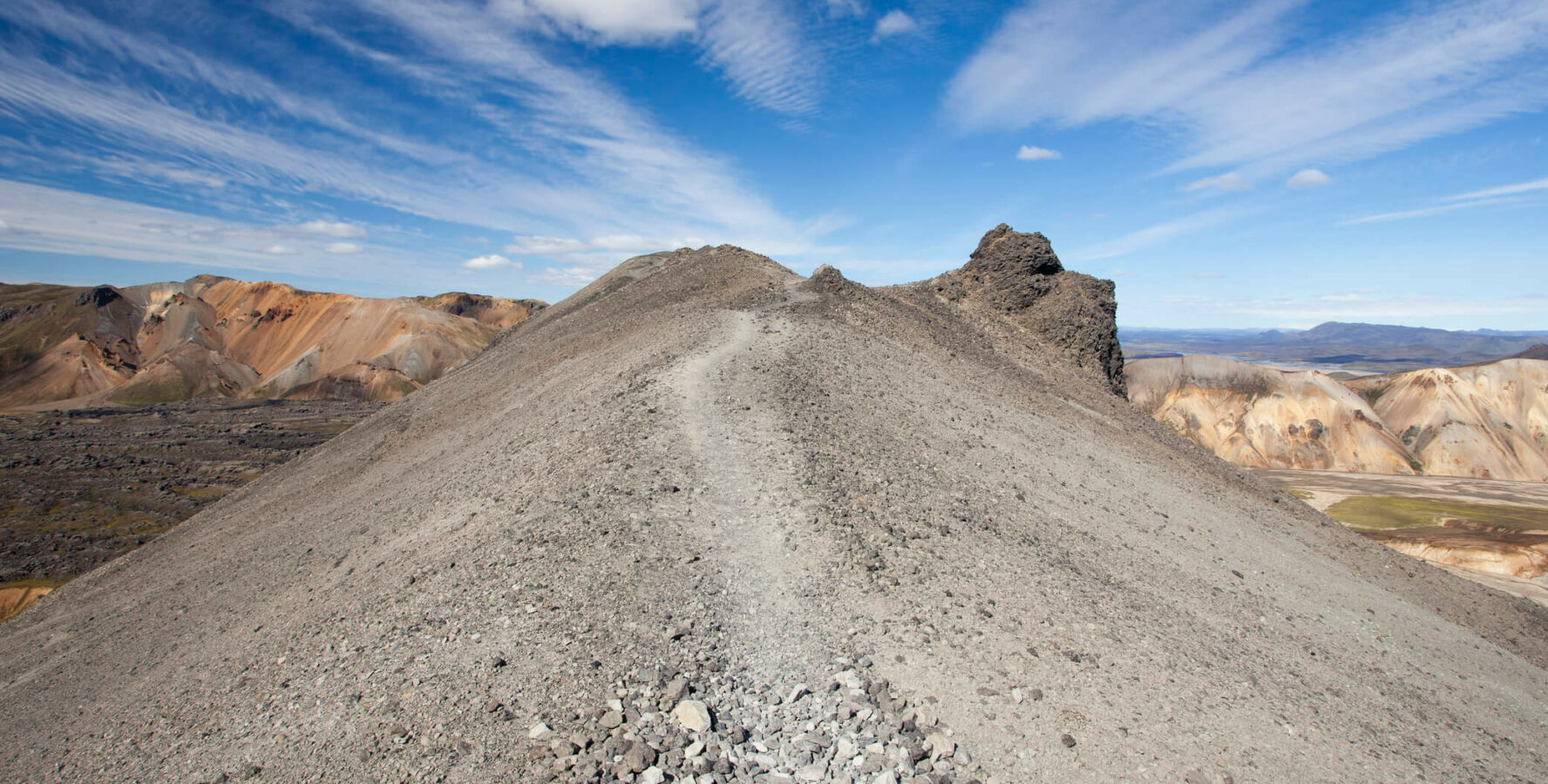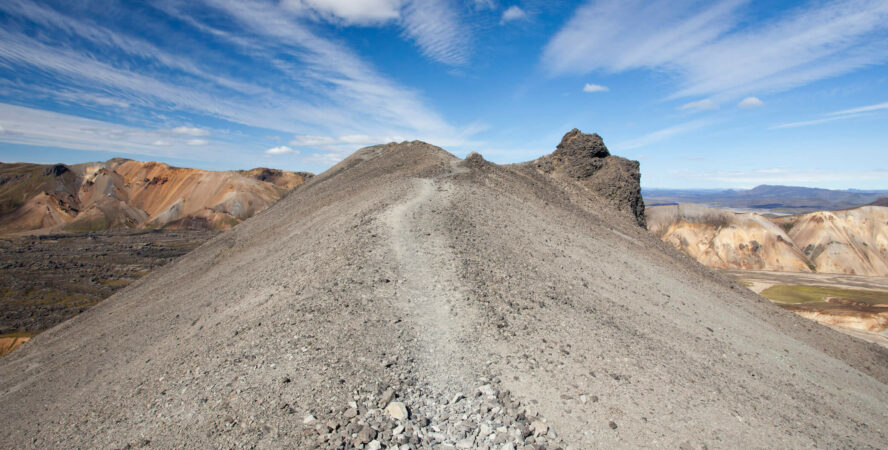 Hiking the Bláhnúkur Brennisteinsalda Loop in Landmannalaugar | Iceland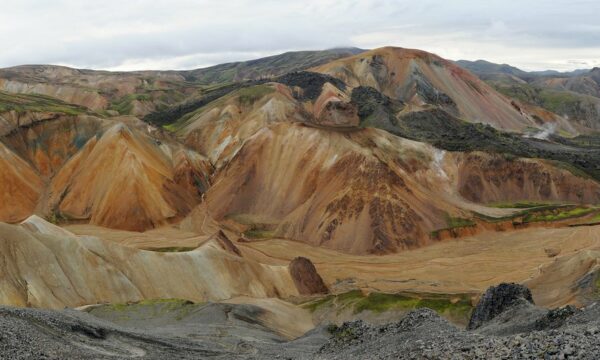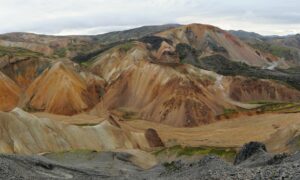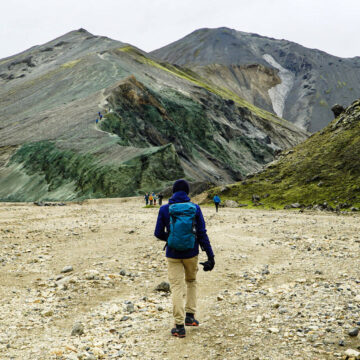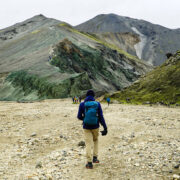 2. Bláhnúkur Mountain - Good to Know
Distance
6.1 kilometers (3.8 miles)
Difficulty
Intermediate. I wouldn't recommend this hike for someone who has never hiked before, as the terrain is quite steep. But there isn't any technical climbing along the route
Terrain
Steep! And the trail is a bit narrow, which can be a bit unnerving for people
How long to spend here
The trek up typically only takes a few hours
Elevation
350 meters (1,148 feet)
Other recommendations
As a short hike, you'll have time to visit at least a few of Landmannalaugar's other features, like the Laugahraun Lava Field or the hot springs
Laugahraun Lava Field
3. Laugahraun Lava Field
TOP CHOICE FOR: LESS EXPERIENCED HIKERS
A great hike for just about anyone
Can be completed in just a few hours
Excellent views of Mount Brennisteinsalda and Bláhnúkur Mountain
Very popular and can get quite crowded
Remember to stay on the trail and away from the fumaroles!


The 4 kilometers (about 2.7 miles) loop around Laugahraun Lava Field is one of the most popular day hikes in the area, and well suited for any kind of hiker.
A beginner-friendly hike in Landmannalaugar
The lava field formed about 600 years ago sits at the base of Mount Brennisteinsalda. Leaving the Landmannalaugar hut, the trail rises up, winding through basalt and obsidian while steam rises from cracks in the earth. You'll skirt around the bases of Bláhnúkur Mountain and Mount Brennisteinsalda—you can do an out and back here to hike up—before circling back, following a river. The trail features a bit of scrambling, which I'll say is fun for beginners and experienced hikers alike.
Being one of the easiest and most accessible hikes in the area, walking along the Laugahraun loop can feel like you're moving in a herd. So if you're an especially fast hiker that doesn't like getting stuck behind slower folks, I'd be wary of this one.
[The] loop around Laugahraun Lava Field is one of the most popular day hikes in the area, and well suited for any kind of hiker.
– Magnús Hlini Víkingur Magnússon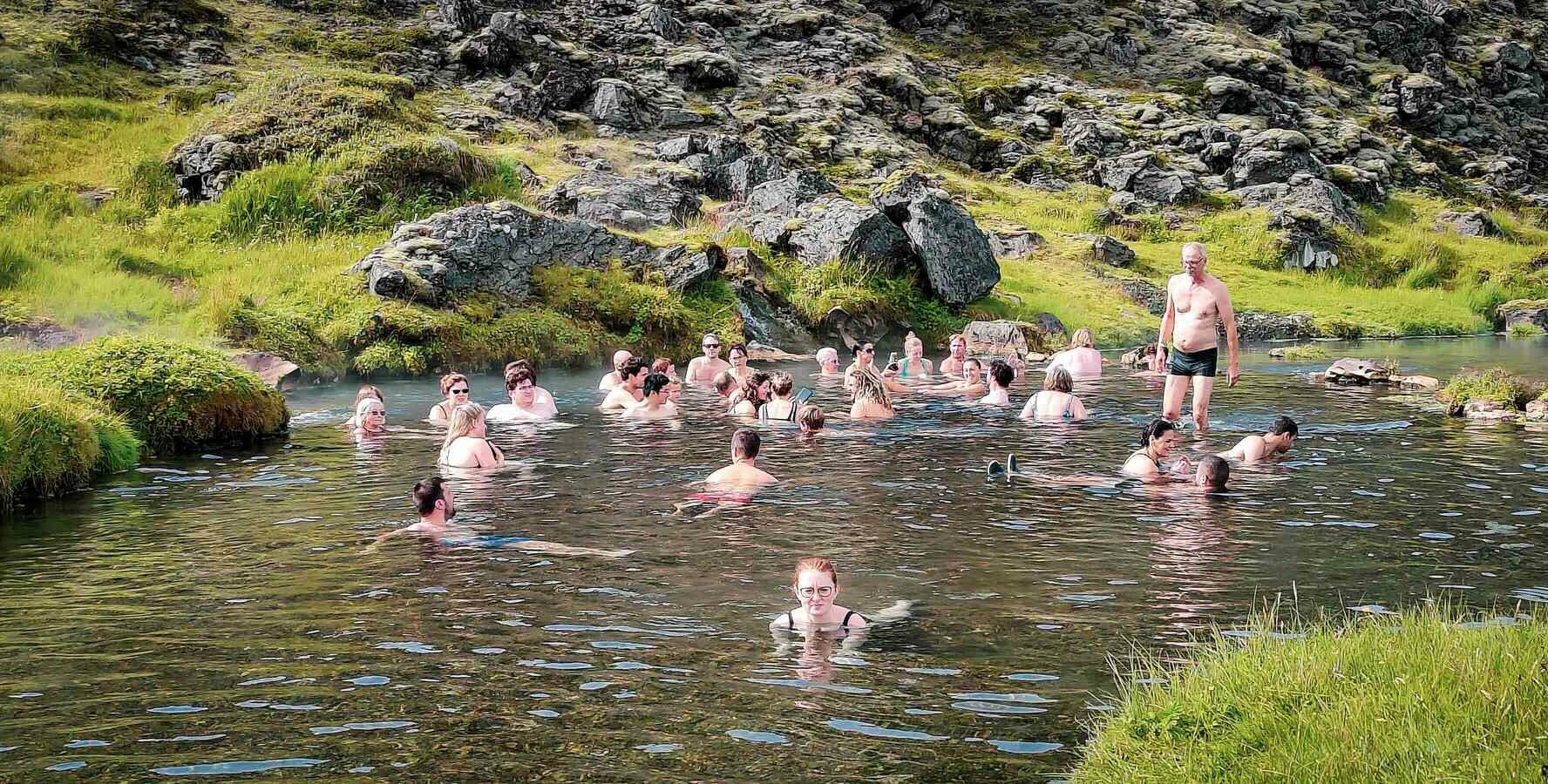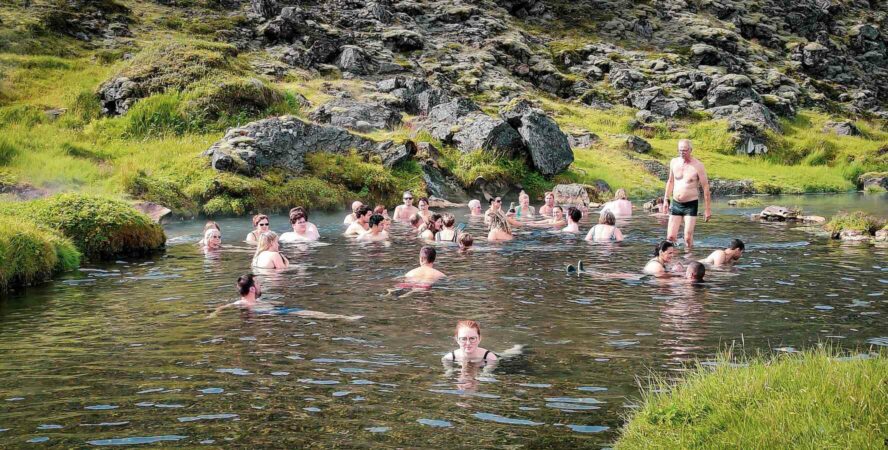 Iceland's Landmannalaugar: Hiking through Lava Field to climb Brennisteinsalda Volcano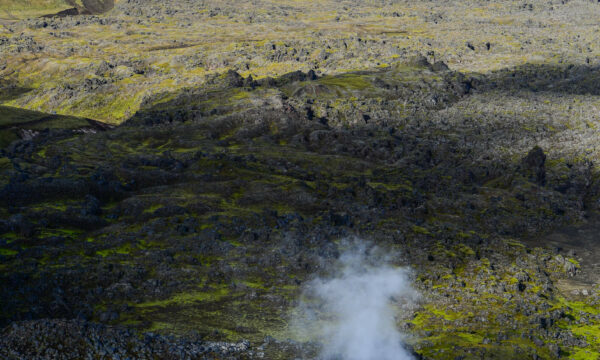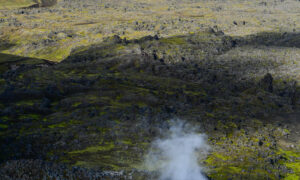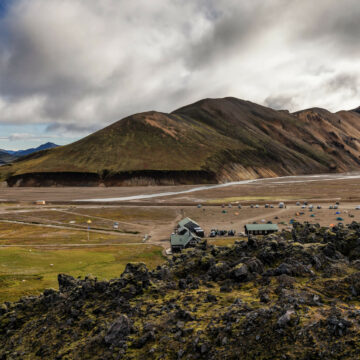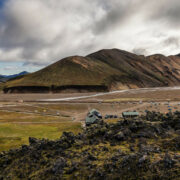 3. Laugahraun Lava Field - Good to Know
Distance
4.3 kilometers (2.7 miles)
Difficulty
Easy. This is a good hike for just about anybody, regardless of experience
Terrain
It's a lava field, so you can imagine it's rocky. But for the most part you'll follow a well-worn path of packed gravel
How long to spend here
A few hours
Elevation
200 meters (600 feet)
Other recommendations
Before or after you complete the loop, be sure to hit the Landmannalaugar hot spring
Mount Brennisteinsalda
4. Mount Brennisteinsalda
TOP CHOICE FOR: POSTCARD-WORTHY VIEWS
Arguably Iceland's most picturesque mountain
Doable for hikers of almost all levels
Can be done in tandem with other hikes in the area
The entire trek only lasts a few hours
Very popular among tourists and can get crowded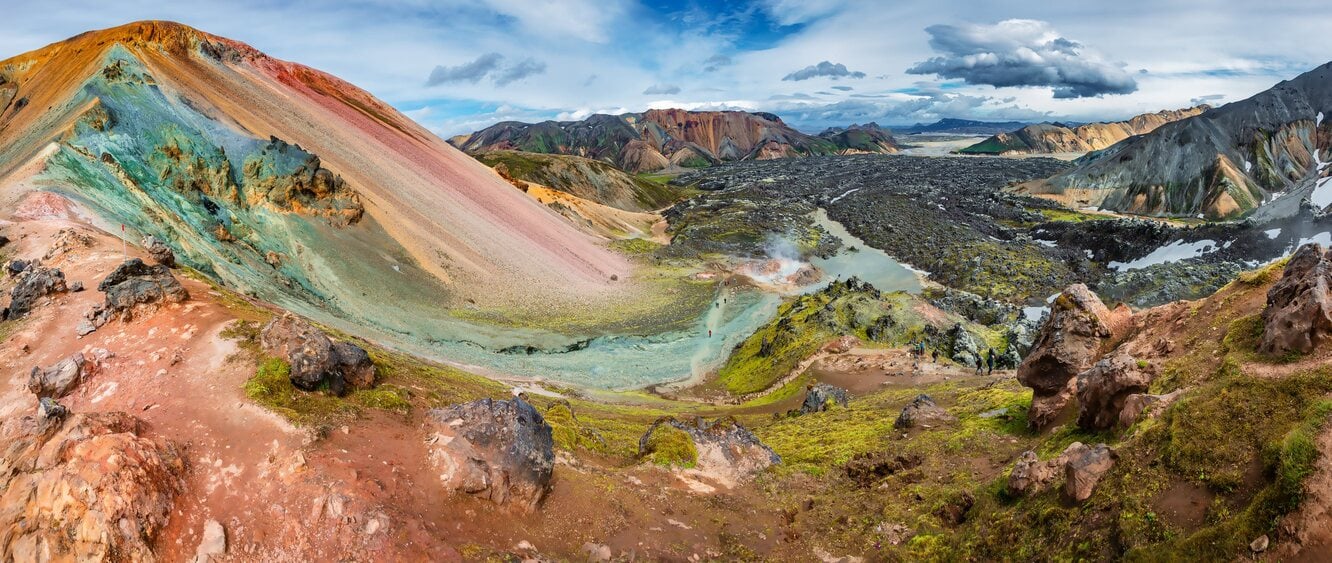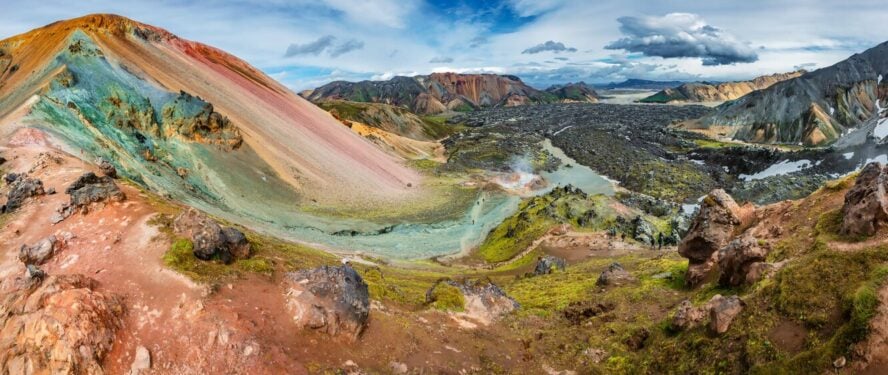 Mount Brennisteinsalda is the rainbow mountain. The in-your-face, put-that-on-a-postcard mountain.
Streaked with yellow, blue, red and green it's a marvel that looms ahead of you the whole trail. In fact, it'll loom in the distance just about anywhere you go in Landmannalaugar.
Hiking to its peak allows you to inspect its geologic spectrum. As an active volcano (and one of the most popular volcano hikes in Iceland), Brennisteinsalda gets its hues from sulfur, ash, lava and iron. Chartreuse moss peppers the rocky faces and steam leaks out from fissures in the mountainside.
Hiking to Mount Brennisteinsalda
From the Landmannalaugar hut and campgrounds, it's about 6.5 kilometers to Brennisteinsalda's peak, making it another day hike that'll take just a few hours. You can follow the Laugahraun trail until you reach Brennisteinsalda's base, then peel off to head up and over the volcano. Its peak sits at 855 meters (2,805 feet) above sea level, but keep in mind the campground is at about 600 meters (1,968 feet), so it's not a colossal climb.
It's more strenuous compared to the Laugahraun loop, but not quite as challenging as Bláhnúkur. At the top, you'll have a spectacular view of the lava field and neighboring mountains.
Mount Brennisteinsalda is the rainbow mountain. The in-your-face, put-that-on-a-postcard mountain.
– Magnús Hlini Víkingur Magnússon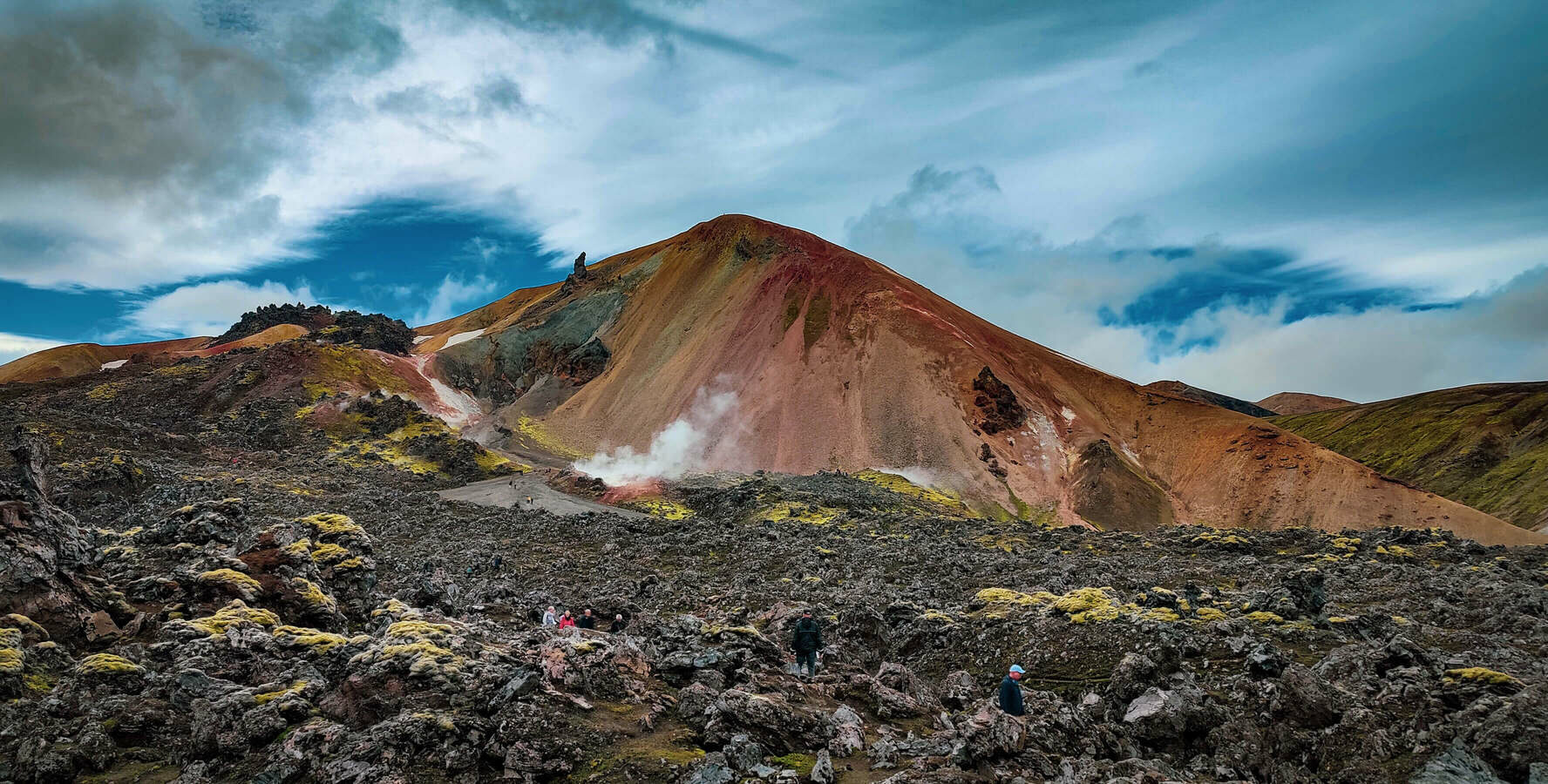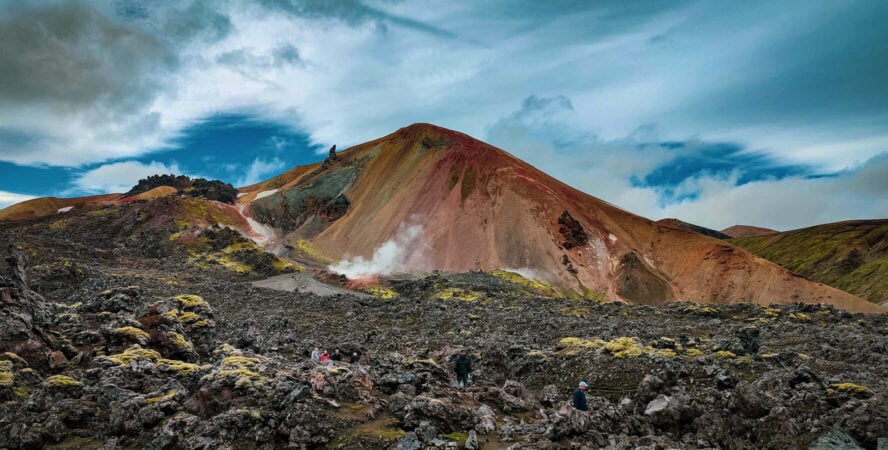 Hike to Mt. Brennisteinsalda, Landmannalaugar! The Most Colorful Mountain in Iceland!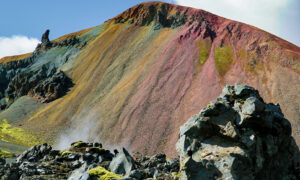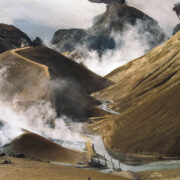 4. Mount Brennisteinsalda - Good to Know
Distance
 6.5 kilometers (4 miles)
Terrain
Steep in some areas, but no technical climbing
How long to spend here
It takes two to three hours to hike Brennisteinsalda, but definitely stick around for a full day to check out some other features
Elevation
255 meters (835 feet)
Other recommendations
Check out Laugahraun lava field and Bláhnúkur Mountain nearby
Recommended guided tour:
Ljótipollur Crater Lake
5. Ljótipollur Crater Lake
TOP CHOICE FOR: BREAKING AWAY FROM THE CROWDS
Compared to other parts of Landmannalaugar, tend to be few other people around
An explosion of color, even among the rainbow mountains
You get to see a massive crater!
A bit of a trek from the Landmannalaugar camp
Sections can be steep and not recommended when windy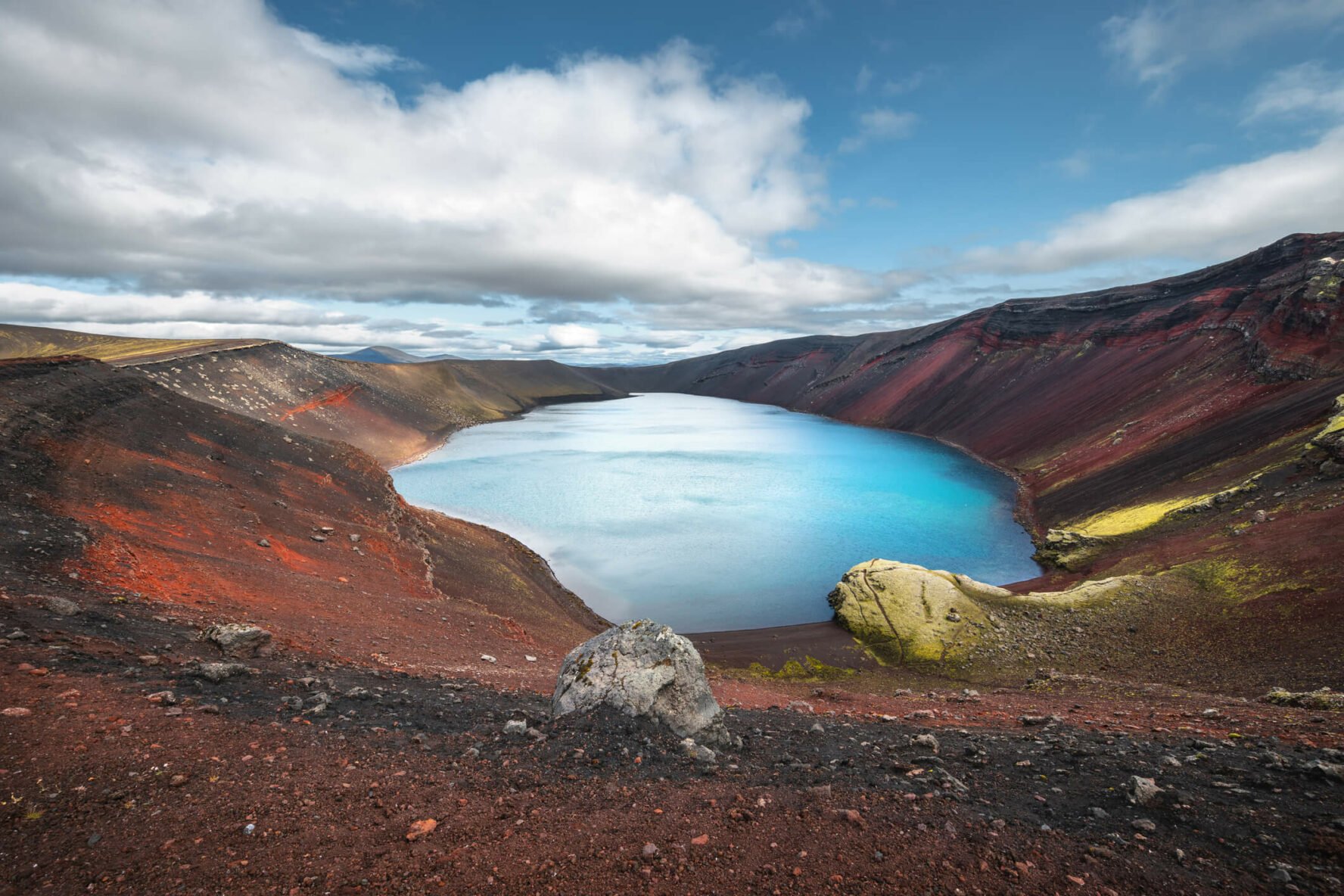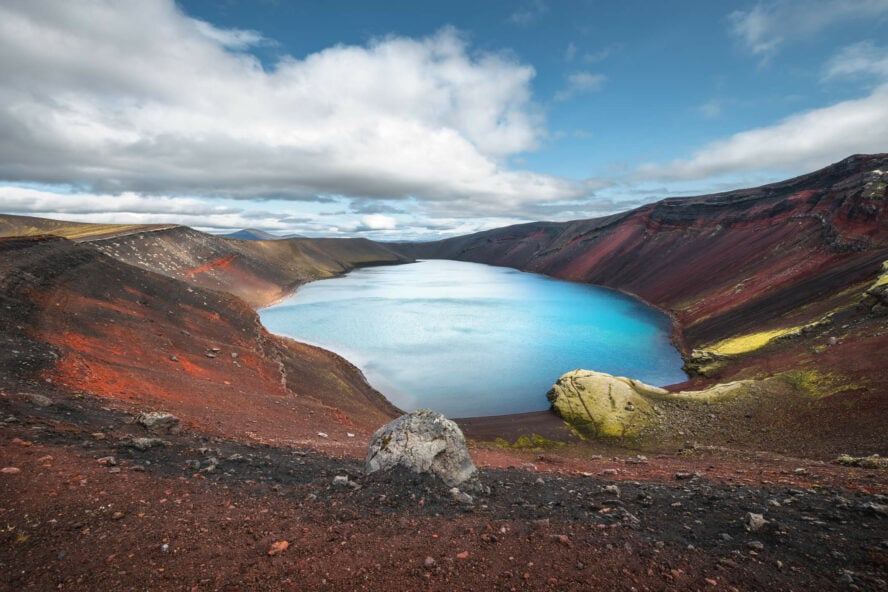 "Ljótipollur" translates to "ugly puddle," a deceptive name to say the least.
How Ljótipollur came to be
Back in the fifteenth century, a violent explosion created the massive crater (1,500 meters / 4,921 feet across) to the north of Landmannalaugar. It's subsequently filled in with water, which emanates in heavenly blues, a stark contrast to the surrounding prismatic rock.
No lollipop walk in the park: Getting to Ljótipollur
Geographically, Ljótipollur is a bit set back from the other hikes I've mentioned, so there are typically fewer people. Leaving from Landmannalaugar campground, the lollipop hike (out, around the lake, and back) is about 13 kilometers (8 miles) and typically takes about 4 hours. The hiking is mostly flat, with views of rhyolite mountains the whole way.
Alternatively, if a guide is taking you to Landmannalaugar, Ljótipollur is only a quick detour from the road in or out of the valley. In that case, you'd park the Super Jeep near the crater and hike about 20 or 30 minutes up to the lip.
Take it slow
It's difficult to put into words the beauty of Ljótipollur. The crater's red rocks are streaked with hardened lava striations, and the deep turquoise pool is brilliant in the late afternoon sun.
For this hike especially, I recommend taking your time. You'll want to see the crater in the shifting daylight and enjoy the solitude of a trail that only sees a few people daily. The turquoise waters are even home to trout, and you may catch sight of folks trying their luck with the rod.
'Ljótipollur' translates to 'ugly puddle,' a deceptive name to say the least.
– Magnús Hlini Víkingur Magnússon
5. Ljótipollur Crater Lake - Good to Know
Distance
13 kilometers (8 miles)
Difficulty
If hiking from Landmannalaugar hut, the trail is mostly flat before a quick jaunt up the crater walls
How long to spend here
A few hours
Elevation
373 meters (1,223 feet)
Other recommendations/things to see
Hnausapollur (Bláhylur) is another nearby crater that formed 1,200 years ago 
Additional Information to Help You Prepare for the Hikes Landmannalaugar
When is the best time for hiking?
It's basically the same as when the F-roads are open, which is typically from June to early September. Mid-June through Late-July is often the busiest time (people are eager to visit once things open up, afterall!), but this also provides the longest days of the year—with the famed midnight sun—so you might be able to avoid crowds by going early or late in the day. Weather averages between 6°C to 14°C (43°F to 57°F) in the summer, and it tends to be drier than other months.
Packing List and Gearing
You'll want to bring food in from Reykjavík. But if you left your snack haul on the bunk of your hostel, there's a shop near the Landmannalaugar hut with last minute snacks and supplies. And by shop I mean a big green school bus called the Mountain Mall. If you're lucky, they'll be selling hot dogs and hamburgers (though I wouldn't bank on it since they often run out).
When it comes to gear, the most important thing is to layer up. Landmannalaugar is not the kind of place where you can pull up the weather app on your phone and trust the forecast unreservedly. We have what I describe as "micro-climates," as you'll move through all kinds of weather as you trek across valleys and mountains.
A good sturdy pair of hiking boots is the most important equipment you can bring. (Besides maybe a bathing suit for the hot springs.)
Almost all the best trails start at the Landmannalaugar campground, which offers tent sites and a decked out hut for those who realize it's difficult to cram all the valley's wonders into one day.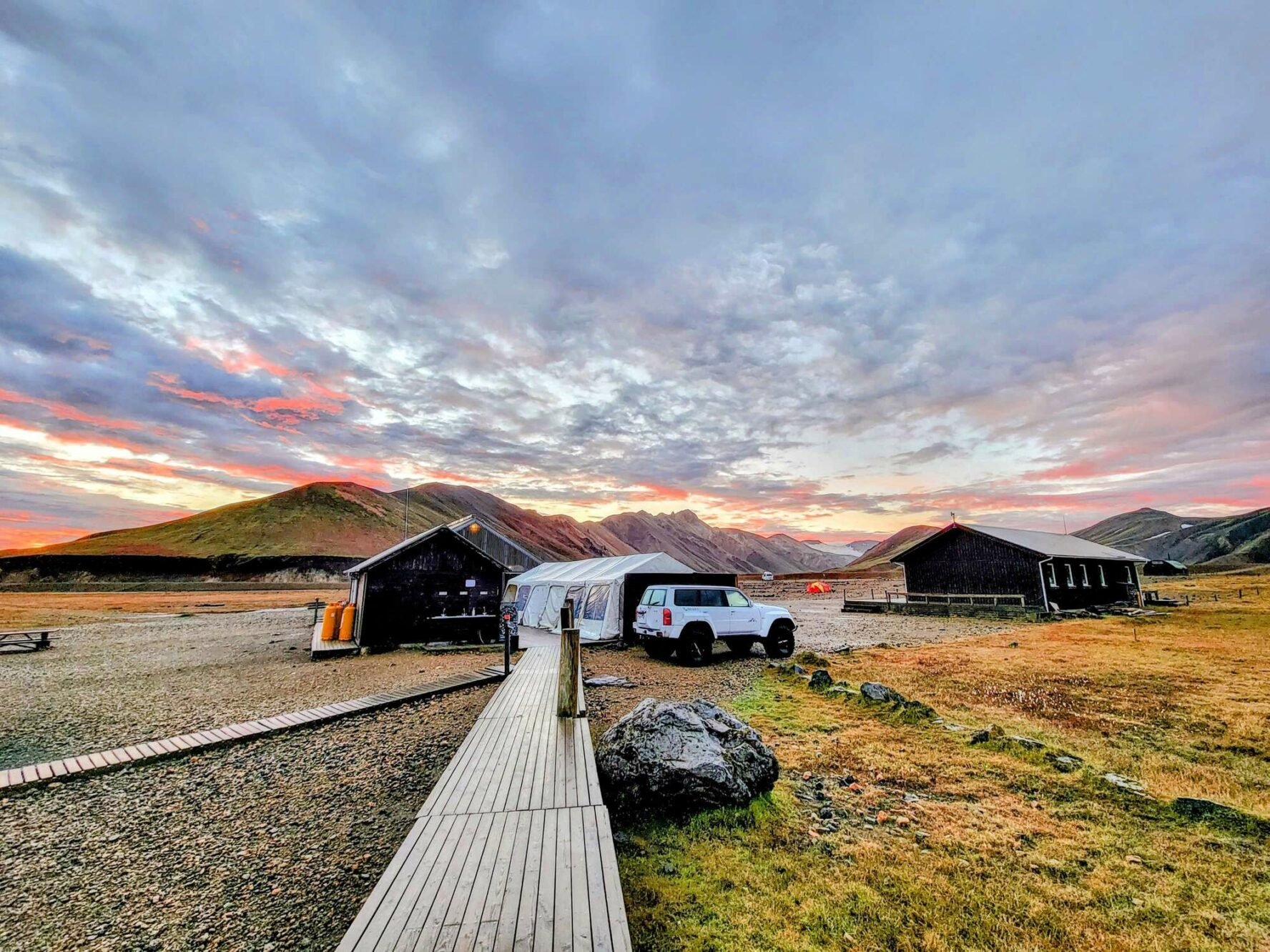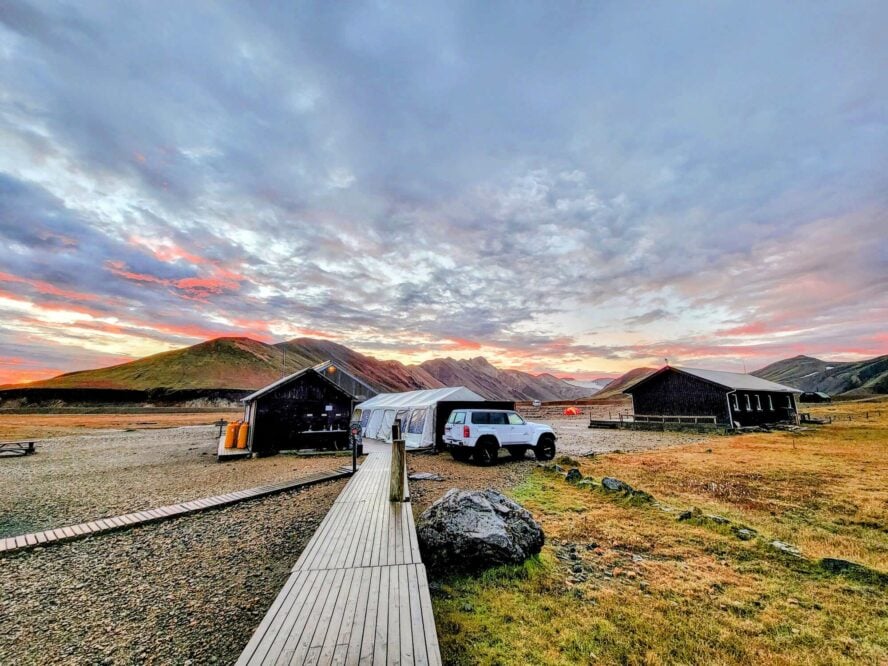 Where to stay: Ready to cozy up with 70+ roommates?
The Landmannalaugar hut is a prime starting point for a multi-day adventure. But as trekking in Iceland has been booming in the last several years, a vacant bunk is a rare sight, so you need to reserve space with the local mountain club. The price is 10,200 Icelandic Króna per night ($71.70 USD / €68.49).
For those who want to avoid a potential cacophony of snores, there's also a tenting area nearby. It's important to note that in Iceland, you're only allowed to camp in designated campgrounds. So despite the sense of adventure the landscape inspires, don't go rogue. It's for your own safety and the preservation of all the features that make Landmannalaugar special.
Amenities
In addition to bunks (a small room and three large one across two floors), the hut has hot and cold water, a fully-equipped kitchen with gas stoves and utensils, a charcoal grill outside, and a separate hut/shower house.
The wardens
The hut wardens, who live onsite, are a great resource for learning more about trails or gaining insight into the weather.
Regulations to note
Access
In the summer, the area is accessed by F-roads, and you should have a vehicle with 4WD and high clearance. In the winter, you need a Super Jeep or snowmobile (and the hut strongly recommends trying a standard 4×4 rent-a-jeep).
Trash
The hut is close to a brook and in order to protect the environment, it is forbidden to use soap in the water, throw trash in it, or bring glass bottles or containers to it. You are allowed to bathe in it, however. Other than that, clean up after yourself and practice Leave No Trace as you would elsewhere.
Light packs and long days in Landmannalaugar
It's funny—business for Norse Adventures started to pick up during the COVID-19 pandemic. I think Iclanders have always had an appreciation for the natural wonders of our homeland, but that became even more pronounced when we had no choice but to turn inward for adventure. Luckily, our country makes it easy to do that, especially in areas like Landmannalaugar, where all kinds of features are concentrated within walking distance of each other.