The 7 Best Day Hikes in Southern Utah's National Parks
Mile for mile, Southern Utah is one of my favorite places to explore. The terrain delivers the most variety and density of hiking trails anywhere in the USA—which is why I come back year after year.
Table of Contents
Utah is an adventurer's dream, and it's the place I return to every spring and fall when the weather up north is wet and gross. The Beehive State is home to three national parks, eight national monuments, over 40 state parks and recreation areas, and each is buzzing with hiking trails for all abilities. Honestly, you could trek about for months and hardly see all it has to offer. I know because I've tried. No matter how much I explore in Utah, each year I leave with a longer list of things I want to do!
I Fell in Love with Southern Utah
For years I lived in Montana, and that's all it took to become tired of the sleet, mud, ice, and scattered snow that define the spring there. It's a vacant period where skiing is finished, the cross-country trails are a pile of slush, climbing is closed, and the biking and hiking trails are nothing but icy mud pits. No thanks.
A friend suggested we take off and drive south until we found sun and dry trails. So that's what we did.
That 10-day road trip around Southern Utah remains one of the best I've ever been on. I was blown away by the variation in terrain, the boundless dispersed camping, the friendliness of the towns we passed through, and the seemingly endless recreation. Ever since, it's been my go-to destination when the trail season up north is between its good bits.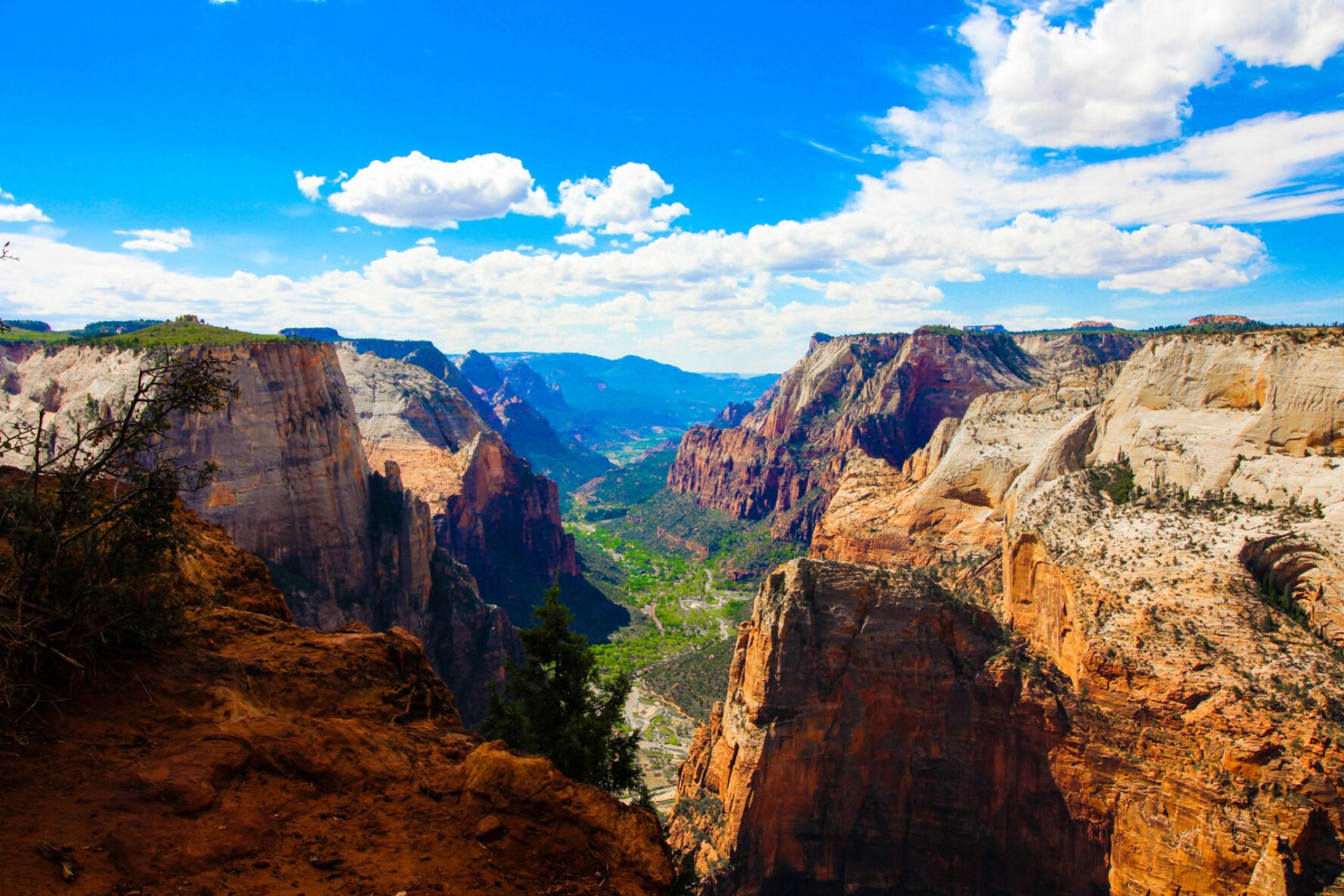 The Best Day Hikes in Southern Utah
Hiking is one of my favorite things to do in Southern Utah, and some of the best trails can be found in the national parks. In my opinion, the state has so much to offer that it's best split in half to do it justice. I'm focusing on Southern Utah here, since it's where I've spent the most of my time.
Southern Utah's trails rival the best hiking you'll find anywhere in the USA. It's also a top climbing destination if you want to mix-and-match adventures. From all my time exploring the slot canyons and mesas, rugged rises and well-graded switchbacks, I couldn't wait to compile my list of top day hikes in Bryce Canyon, Zion, Capitol Reef, Arches, and Canyonlands National Parks.
1. The Narrows, Zion National Park
TOP CHOICE FOR UNIQUE HIKING EXPERIENCE
The Narrows is the top-rated hiking trip in Zion National Park
Experience walking miles through water
Make it as easy or challenging as you want
Susceptible to flash flood
The Narrows hike is one of the most iconic in Southern Utah's National Parks, if not the entire national parks system. There are several options for tackling this, including going "bottom-up" or doing it "top-down." A bottom-up approach doesn't require a hiking permit. This direction leaves from the Temple of Sinawava and takes you upstream to Big Spring. Going all the way will be a 10-mile round trip, but many people just do a few miles to see the most spectacular parts of the canyon.
You will need a Narrows hiking permit if you do the entire length (top-down) from Chamberlain's Ranch. Hikers choosing to do it this way will need to figure out a shuttle from each end. You can also hire a Narrows hiking guide to help plan and execute the trip based on the group's abilities.
How long is the Narrows hike?
The entire length is 16 miles, which means thru-hiking from Chamberlain's Ranch to the Temple of Sinawava. Most people just go a few miles and then turn around, so you can make this hike as long or as short as you want.
How hard is it?
Hiking the Narrows in its entirety is quite challenging, but this is very much a choose-your-own adventure. Conditions vary month-to-month, season-to-season, and water levels and temperature can up the ante. A Narrows hiking tour operator will be able to cater the trip to suit the experience and ability level of the group.
What is the best time to hike the Narrows?
The best time to hike the Narrows is late spring and summer. This is when the water will be warmest and lowest. A big warning! Most flash floods happen during these seasons, so keep an eye on the forecast and never venture into the canyon if there is a flood notice. You can certainly hike in the fall as well, but the water will be colder. The Narrows closes in the early spring when the water flow rate goes above 150 cubic feet per second.
The Narrows were more fun, epic, and challenging than I anticipated.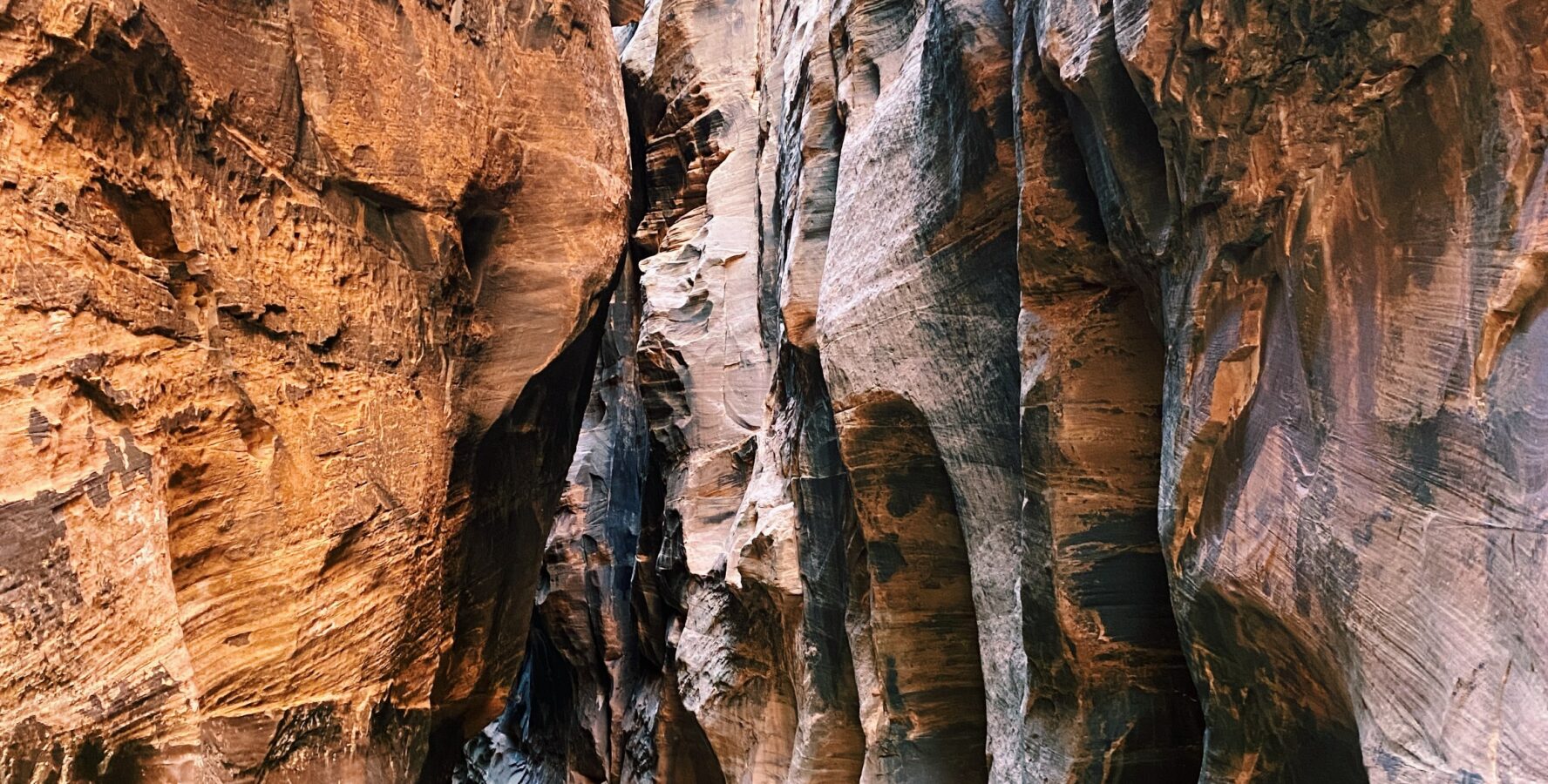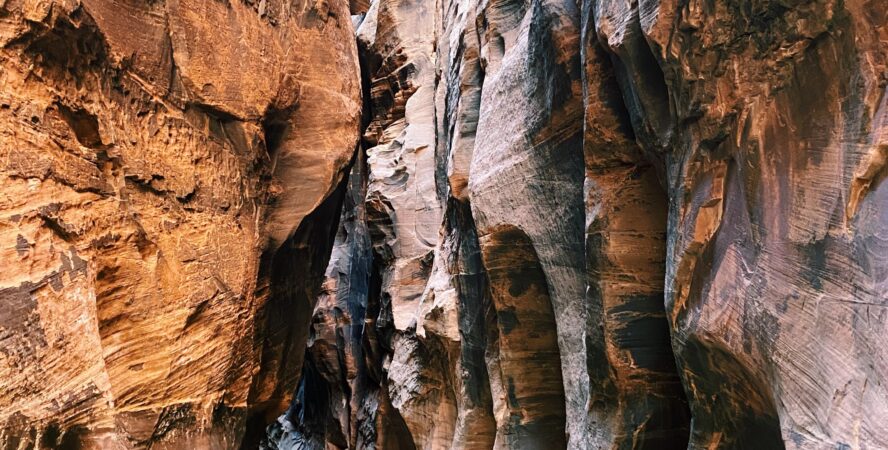 ZION National Park | The NARROWS Hike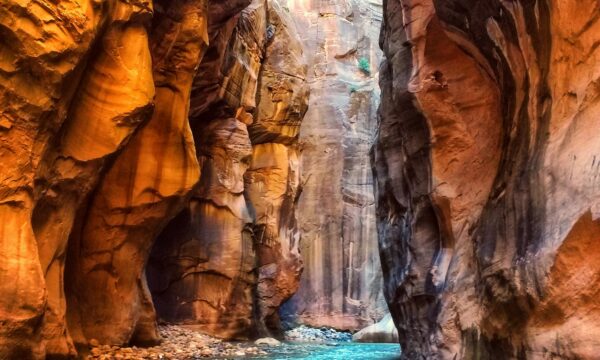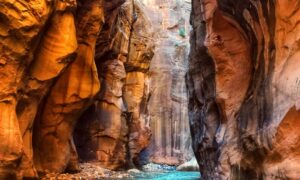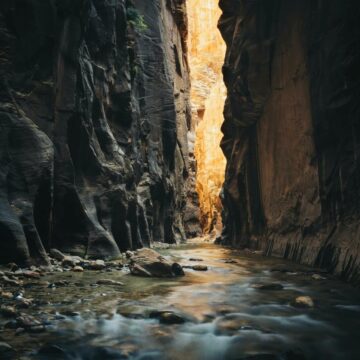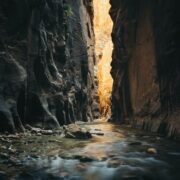 The Narrows, Zion National Park - Good to Know
Narrows hike length:
2-16 miles round-trip
Narrow hiking trail difficulty:
Easy to challenging depending on length and water conditions
Terrain:
River walking through a canyon
Narrows hike time:
2-8 hours, depending on your turnaround point
Utah
2. Fairyland Loop Trail, Bryce Canyon National Park
TOP CHOICE FOR EPIC VIEWS
A loop hike means less logistical concerns
See the best features of Bryce Canyon
Even the mellow rim section has incredible views
No water available on the trail
At just under 56 square miles, Bryce Canyon is Utah's smallest national park, but full of some of the best Southern Utah hiking trails. The landscape has an almost alien appearance, with red rock spires erupting from the desert floor, eroded sandstone arches, and dramatic rock formations around every turn.
The best hike in Bryce Canyon is the Fairyland Loop Trail
I did this hike on my Utah road trip. We wanted to see the best of Bryce Canyon's dramatic landscape, and Fairyland Loop Trail delivers a magical experience. It's a moderately challenging and less-traveled route that takes hikers through the most incredible scenery the park has to offer. Fairyland Canyon, China Wall, and Tower Bridge are some of the most iconic features in the park, and you can see them all up close and personal on this hike. We did this in the morning and had an easy time finding parking. We saw people at the beginning and end of the loop, but for the most part, we were on our own.
How long is Fairyland Loop Trail?
The Fairyland Loop Trail is 8 miles long and takes three to five hours to hike. This particular trail gains and loses over 2,000' in elevation, but few of the sections feel steep. We descended through red sandstone towers, then wound along the easy-to-follow, well-signed trail before climbing back onto the ridge and looping back to the trailhead. Though we hit this loop in the morning before the heat got too brutal, we were still sweltering on the final climb. I'd recommend taking your time—there are features around every turn on the trail, and we were happy to have time to stop and admire them.
Which way should you hike the Fairyland Loop?
Fairyland can be hiked in either direction: prepare for a shorter (but steeper) climb going clockwise, and a longer, more gradual rise if you choose to hike it counterclockwise. Parking can be a challenge in Bryce Canyon, so be sure to arrive at the trailhead early — this way you'll be spared the hottest part of the day and you'll have a spot for your vehicle. You can view a Fairyland Loop Trail map here.
We only had time to do one hike in Bryce, and with the Fairyland Loop Trail, we got to see every feature we wanted.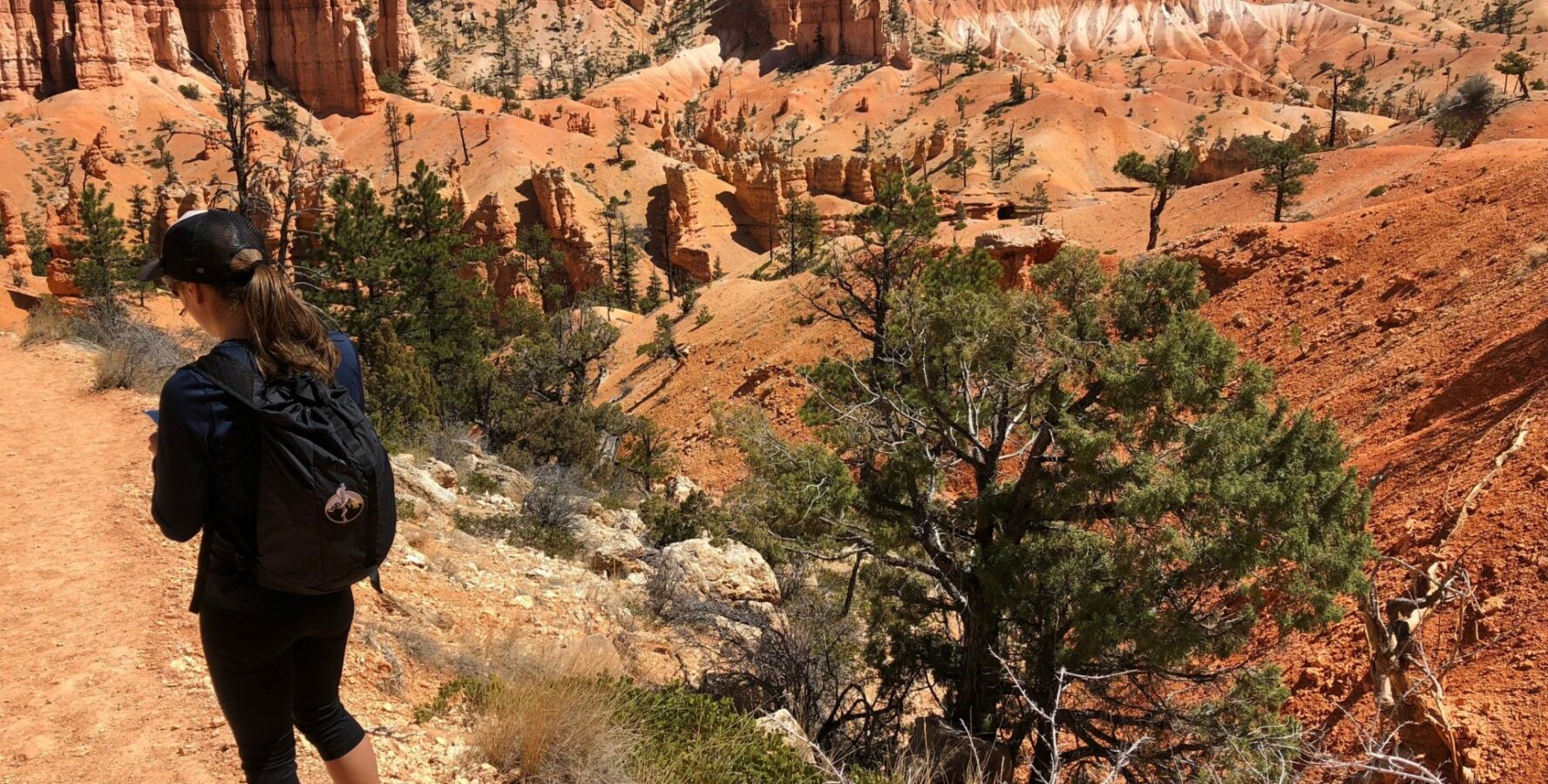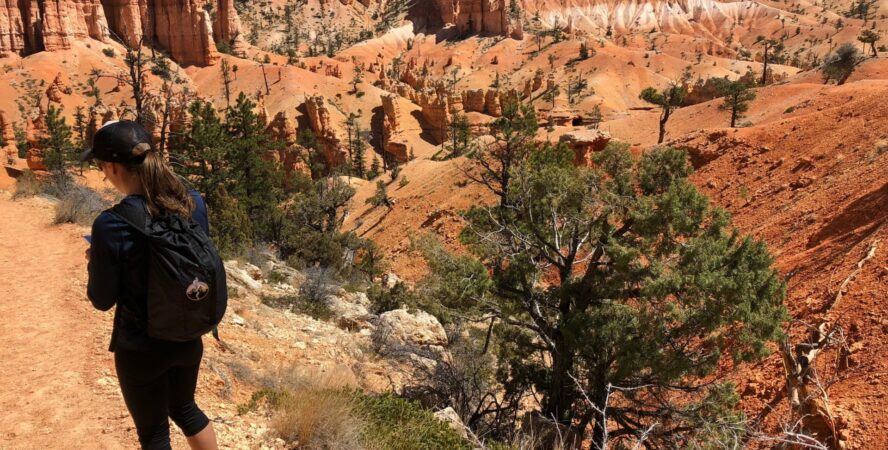 Fairyland Loop Trail - Bryce Canyon National Park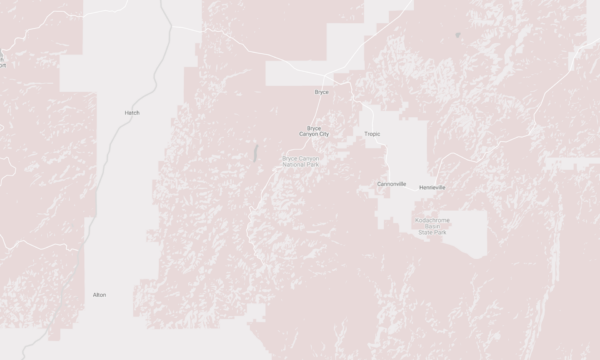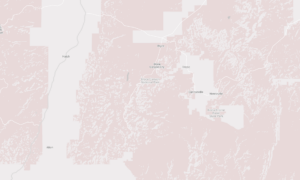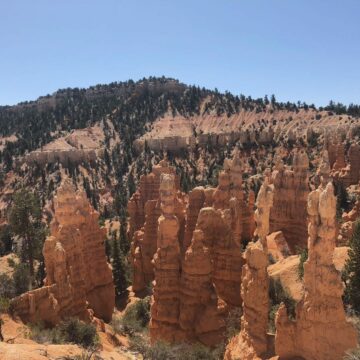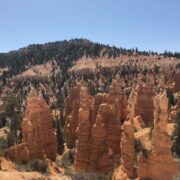 Fairyland Loop Trail, Bryce Canyon National Park - Good to Know
Fairyland Loop Trail distance:
This trail is an 8-mile loop
Fairyland Loop Trail difficulty:
Moderate to strenuous
Terrain:
Desert floor, sandstone
Fairyland Loop Trail time:
This Bryce Canyon hike takes 3 to 5 hours to complete
Trailhead:
Fairyland Point
Best time to hike:
Spring and fall will provide the best hiking conditions in the park
Insider tip:
Take the short spur trail to Tower Bridge…it's worth it!
More info on the Fairyland Loop Trail:
The NPS provide Bryce Canyon trail maps, weather conditions and more here
Utah
3. Observation Point, Zion National Park
BEST SPOT TO ESCAPE THE CROWDS
Avoids the Angel's Landing crowds
Trail keeps things interesting with varied terrain
Parts of the hike feel somewhat exposed
Utah's first national park, Zion has become a destination for visitors from around the world. This compact Utah gem welcomed a record 4.5 million visitors in 2018. However, many visitors never leave the canyon floor or the Narrows area, so with a little effort and elevation gain, you can literally get above the crowds and experience the wonder of this majestic canyon landscape. This has been the most crowded park I've visited in Utah, but choosing the right trail will help keep the bumper-the-bumper feeling to a minimum.
View Angel's Landing from above
The Observation Point hike rewarded us and the other hardy hikers with a cliffside trail and canyon before opening up to postcard panoramas of Zion's incredible natural features. The high point of this hike sits about 700' above Angel's Landing, and I think it's one of the park's best vantage points. On this hike, you'll get a view not just of the park, but also a bird's-eye-view of the Landing from above.
How long does it take to hike Observation Point in Zion?
The Observation Point hike takes about four to five hours round-trip. To gain access to the trailhead, we caught the Zion Shuttle at the visitor's center and disembarked at Weeping Rock, stop #7. The trail to Observation Point is a steady climb with pretty much the same gain on each switchback. It gains over 2,000' in the four miles from trailhead to end point, and starts climbing immediately, winding up the side of the cliff towards Echo Canyon. It opens up from here, and continues to climb before flattening out for the final stretch to Observation Point. The views get better as you near the top, so don't worry about stopping for photos around each bend. There is no parking at the trailhead, but the Zion shuttle systems are very frequent and convenient and we had an easy time figuring it out.
Is the Observation Point hike dangerous?
While there are some cliff edges and long drops, the Observation Point hike is far less dangerous than the Angel's Landing hike (and with arguably better views). Unlike Angel's Landing, there are no narrow and exposed edges that will have you clinging to the rock wall or using chains for added safety. However, it is longer and more strenuous than the Angel's landing hike, so be sure to pack lots of water and be prepared for the full-day workout.
Note: As of August, 2019, the Observation Point via East Rim Trail and the Weeping rock trail are closed until further notice due to major rockfall. For more information on current trail conditions in Zion, the National Park service has all the info you need here.
The climb was sustained, but it went by quickly and the view was beyond worth the effort.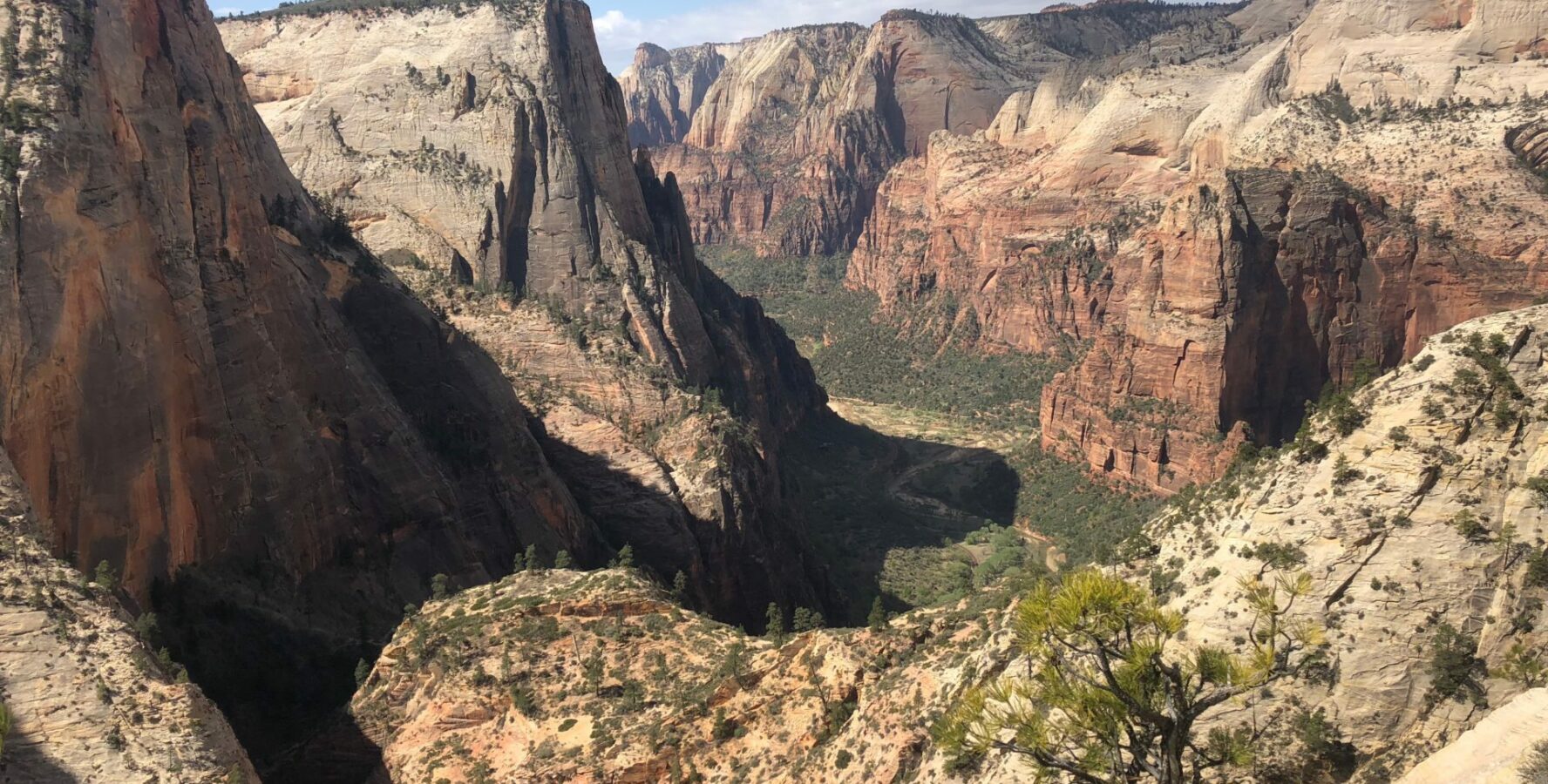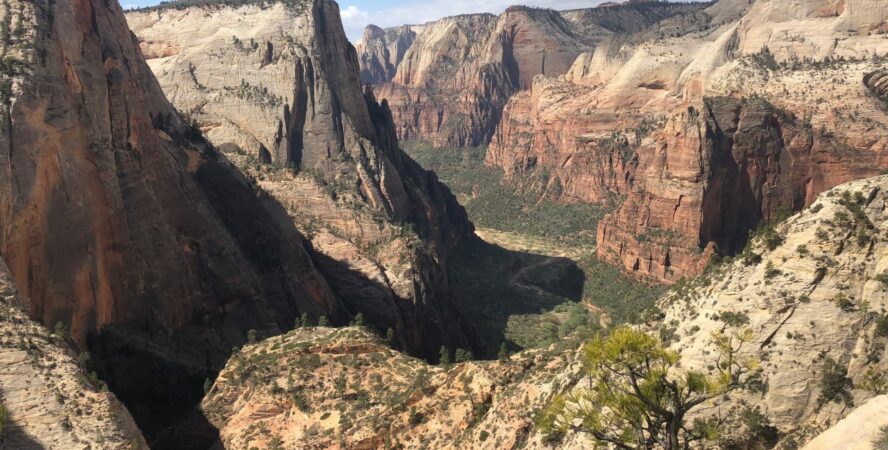 Observation Point - Zion National Park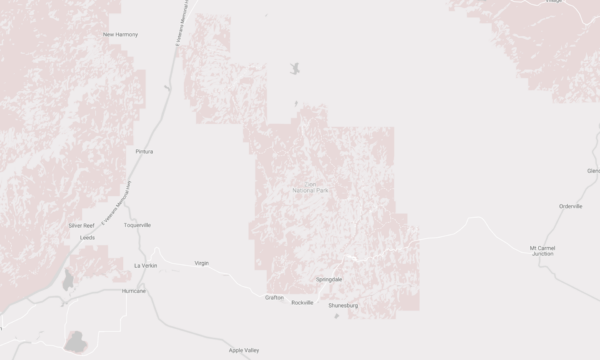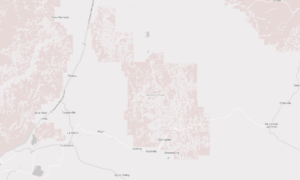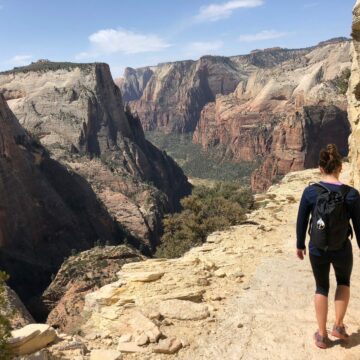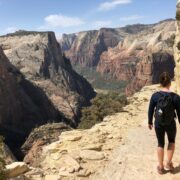 Observation Point, Zion National Park - Good to Know
Observation Point hike distance:
8 miles
Observation Point hike difficulty:
Strenuous
Terrain:
Consistent rock-bed switchbacks
Observation Point hike time:
It takes 4 to 5 hours to hike the Observation Point Trail in Zion National Park
Utah
4. Navajo Knobs Trail, Capitol Reef National Park
PERFECT FOR INTERMEDIATE HIKERS
Less crowded than other trails in the park
Epic views along entire trail
Highly exposed with no shade
One must carefully follow cairns
Capitol Reef is an expansive 378 square miles, and gets fewer visitors on average than other parks in the region. The park is centered around the 100-mile Waterpocket Fold, a giant "buckle" in the earth's surface resulting in the otherworldly sandstone formations along the park's entire length. I didn't know what to expect the first time I visited this park, but I was blown away by the brilliance of the features and how quiet the parking areas and trails were.
For Capitol Reef hikes, you can't go with Navajo Knobs
The Navajo Knobs trail has epic views start to finish, plus some exposure. I definitely did not bring enough water on this route, and I was quite dehydrated when I finished. The route follows a sandy trail and red rock slabs for a moderate climb to the overlooks above. Overall, you'll gain just over 1,600' of elevation during the 4.75 miles (one way), making it a more mellow ascent than some others on this list. The trail is marked with cairns and all intersections are well signed. However, pay attention to them! You'll want to make sure to carefully follow the rock piles so as to not take a wrong turn and head off trail.
We started hiking at the popular Hickman Bridge Trail and then continued to the Rim Overlook Trail, following the Navajo Knobs Trail to the end point. This is one of the best ways to see the geologic history of the park and marvel at the alien-looking landscapes. I recommend hiking in the morning—an early start will help you beat the heat, which will only make the hike more pleasant. Again, don't forget sun protection and more water than you think you'll need!
We went to Canyonlands on a spur-of-the-moment decision, and it was one of the most incredible stops on our road trip. This hike was a highlight.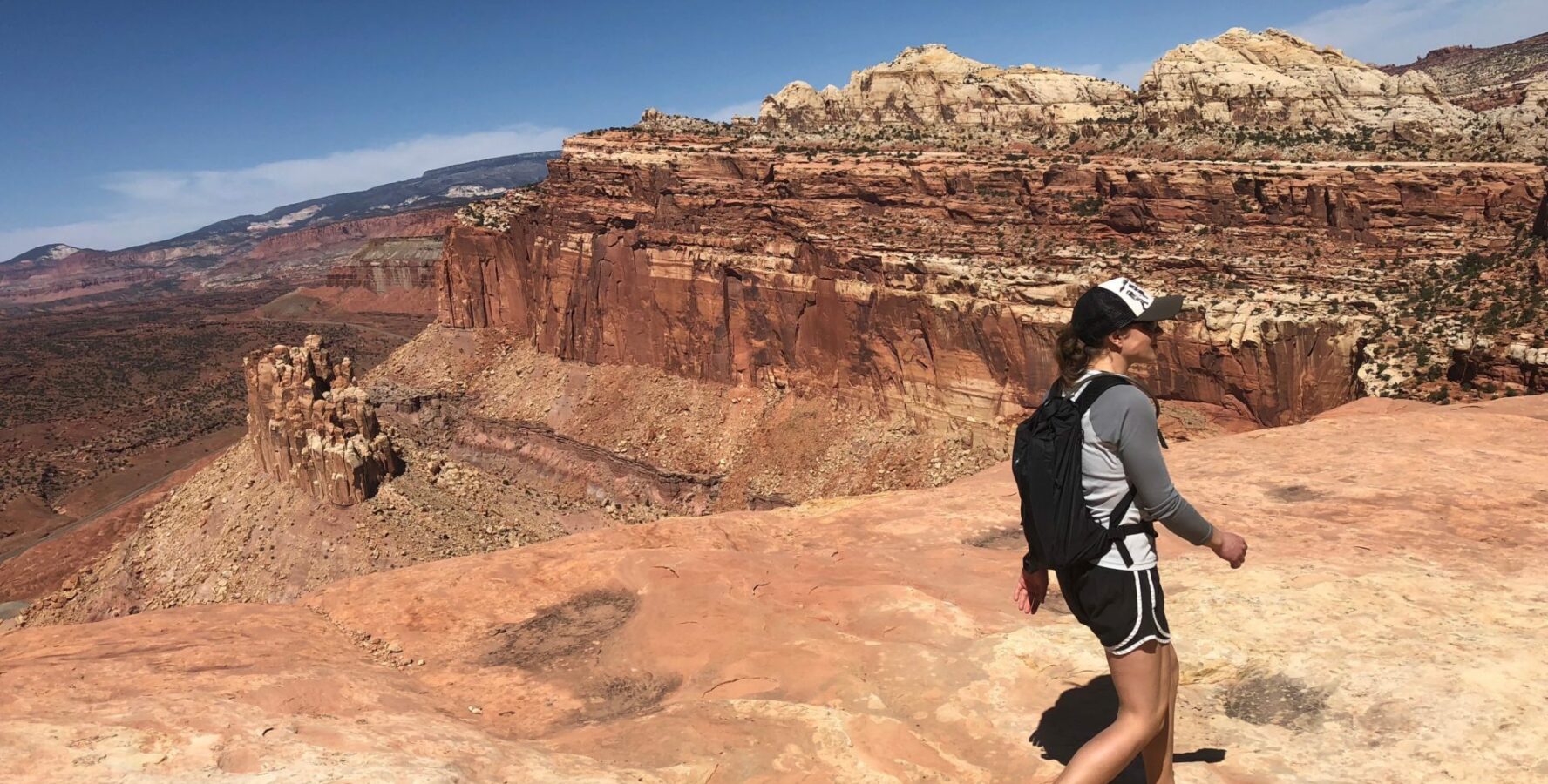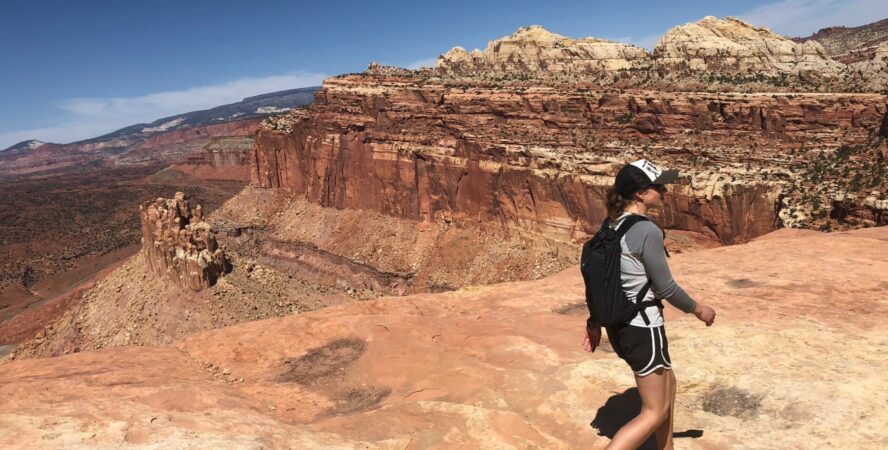 Navajo Knobs trail in Capitol Reef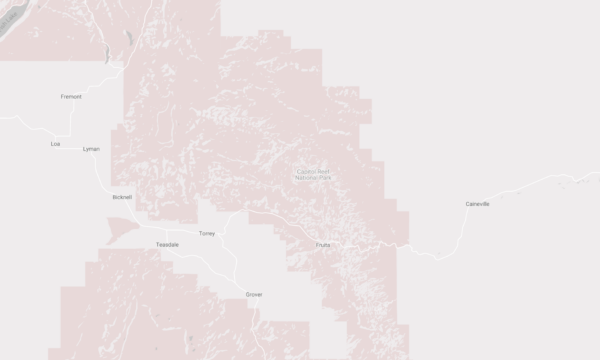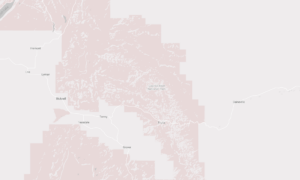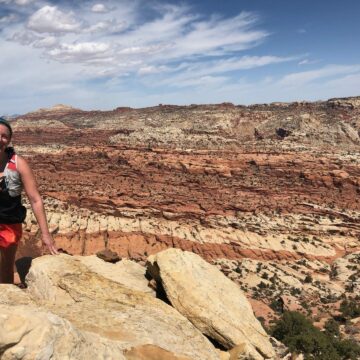 Navajo Knobs Trail, Capitol Reef National Park - Good to Know
Navajo Knobs Trail hike length:
9.5-mile out-and-back (4.75 miles each way)
Navajo Knobs Trail hike difficulty:
This trail is moderately difficult due to the distance and elevation gain
Terrain:
Exposed rock slabs
Navajo Knobs Trail hike time:
Allot 4 to 5 hours for this Capitol Reefs hike
Trailhead:
Hickman Bridge Trailhead
Best time to hike:
Spring and fall offer the best Capitol Reef hike conditions 
Insider tip:
Stop for photos at the Rim Overlook, 2.3 miles from the trailhead
More info:
Find out more about hiking the Navajo Knobs Trail in Capitol Reef from Live and Let Hike
Utah
5. Chesler Park Loop, Canyonlands National Park
FANTASTIC EASY-GOING TRAIL
Loop trail make navigating easy
Easier terrain than other regional trails
It's a long hike so expect a full-day
Trailhead is over an hour from the nearest town
Canyonlands National Park is divided into four districts: the Needles, Island in the Sky, the Maze, and the Canyonland Rivers District. Each section has its own terrain, trails, and awe-inspiring scenery—and it's all so varied you'll find it hard to believe you're in the same national park.
Head to the Needles District for iconic hiking trails
This was one of the more remote areas I've visited in Southern Utah. I split my Canyonlands trip into two segments, since the park is so big. It can be hard to choose one hike, but you can't go wrong in the Needles District, and the Chesler Park Loop is iconic. The trailhead is over an hour from the closest town, and the area's namesake features—narrow sandstone pillars—make this a don't-miss option. The majority of the trail is mellow, rolling terrain, scattered with some rocky scrambles and a narrow canyon before reaching the iconic spires.
Like all of the parks in southern Utah, be prepared and bring plenty of water, and have a healthy respect for the terrain. While the trails are well maintained and marked, it's easy to get turned around, and the heat and scarcity of available water are not to be disregarded.
Set aside a full day to do this hike, you don't want to be rushed.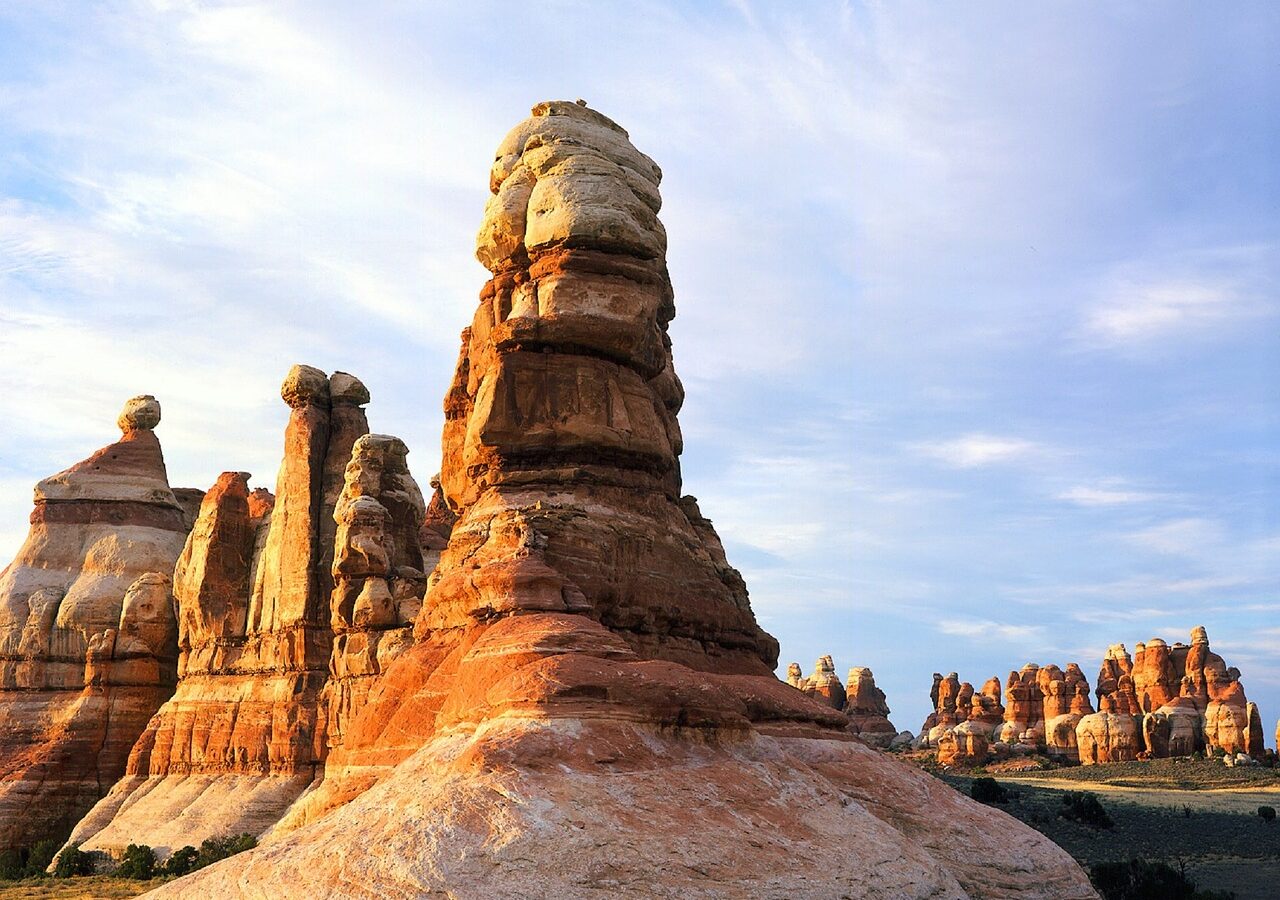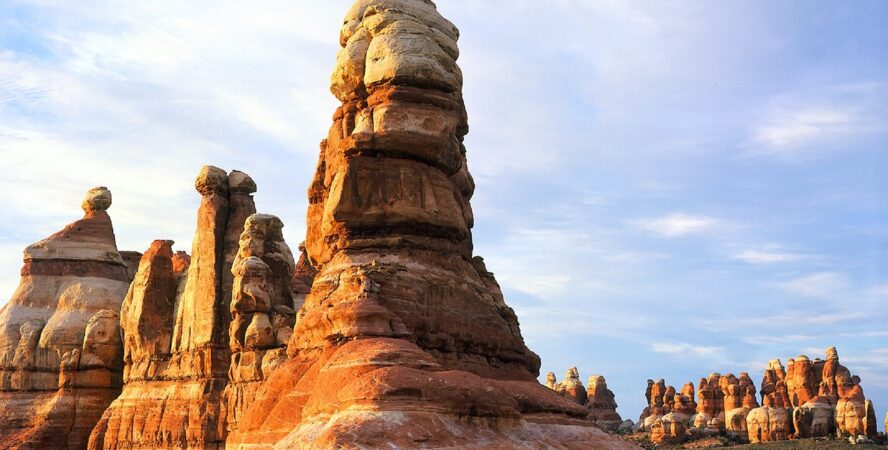 Hiking To Chesler Park, The Needles Canyonlands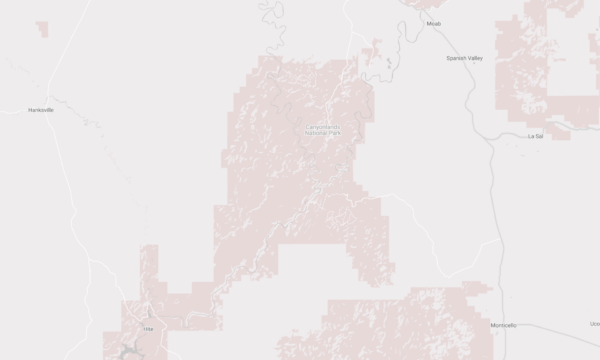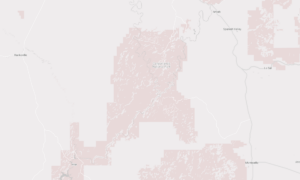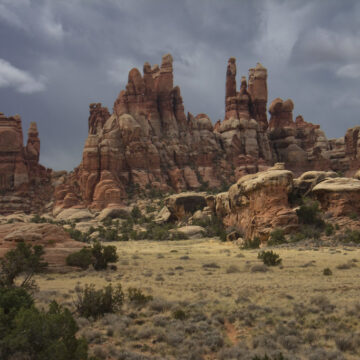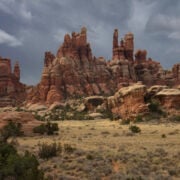 Chesler Park Loop, Canyonlands National Park - Good to Know
Chesler Park Loop hike length:
11 miles
Chesler Park Loop hike difficulty:
Easy to moderate due to the terrain, but be ready for a full day of hiking
Terrain:
Slickrock and sand trail
Chesler Park Loop hike time:
Allot 6 to 8 hours for this full-day hike
Trailhead:
Elephant Hill Trailhead
Best time to hike:
Spring and fall
Insider tip:
Be prepared for fun rock scrambles
Canyonlands National Park maps:
Find the Needles District trail maps including Chesler Park Loop from the NPS here
Utah
6. Delicate Arch, Arches National Park
One of the most iconic features in the country
Relatively short out-and-back
A must-do in Southern Utah
Arches National Park is one of the most visited national parks in America, and partly because of its popularity, this was the first park I went to in Utah. Rounding out the park are over 2,000 naturally occurring stone arches across the desert landscape. There are many remarkable features, but Delicate Arch has to be one of the most famous natural stone arches in the world. I hiked out here because if you're in Arches, you kind of have to. With nearly 50' of vertical, open space and standing over 30' wide, Delicate Arch is the tallest freestanding arch in the park. There are plenty of hikes and trails that avoid the crowds in Arches, but seeing Delicate Arch for yourself is awe-inspiring, even if you're surrounded by fellow hikers.
How long does it take to hike to Delicate Arch?
My hiking partner and I took this as a casual stroll during our quick stop in Arches. While there are a few viewpoints along the way, reaching the arch is a three-mile round trip with just under 500' of elevation gain. It's worth the two to three-hour jaunt to see this incredible feature up close, rather than from the viewpoints farther back. If you bring water, it's doable for many people and families.
How difficult is the Delicate Arch Hike?
This hike is short and steady, and the trail is easy to follow, but due to the elevation gain, this trail should be considered moderately difficult. During this three-mile hike, you'll pass by the Wolfe Ranch cabin as well as a wall of Ute Indian petroglyphs as you make your way to the arch. There's no drinking water at the trailhead, so be sure to bring water and sun protection if you're hitting the trail during the hotter parts of the day.
Can you hike Delicate Arch at night?
Hiking in Arches at any time of day is great, but at sunrise and sunset, you're in for a real treat. If you choose to hike to Delicate Arch at sunset, you'll be rewarded with incredible evening light illuminating the arch's yellow and orange colors. Stay a little later, and the stargazing is some of the best you'll find anywhere. Temperatures are a little cooler so make sure to pack an extra layer or two, and bring the headlamps along; the hike back to the car is straightforward, but made easier with some light to guide the way.
The hike is short and well-marked, meandering through swooping sandstone formations to one of the more iconic symbols of US National Parks.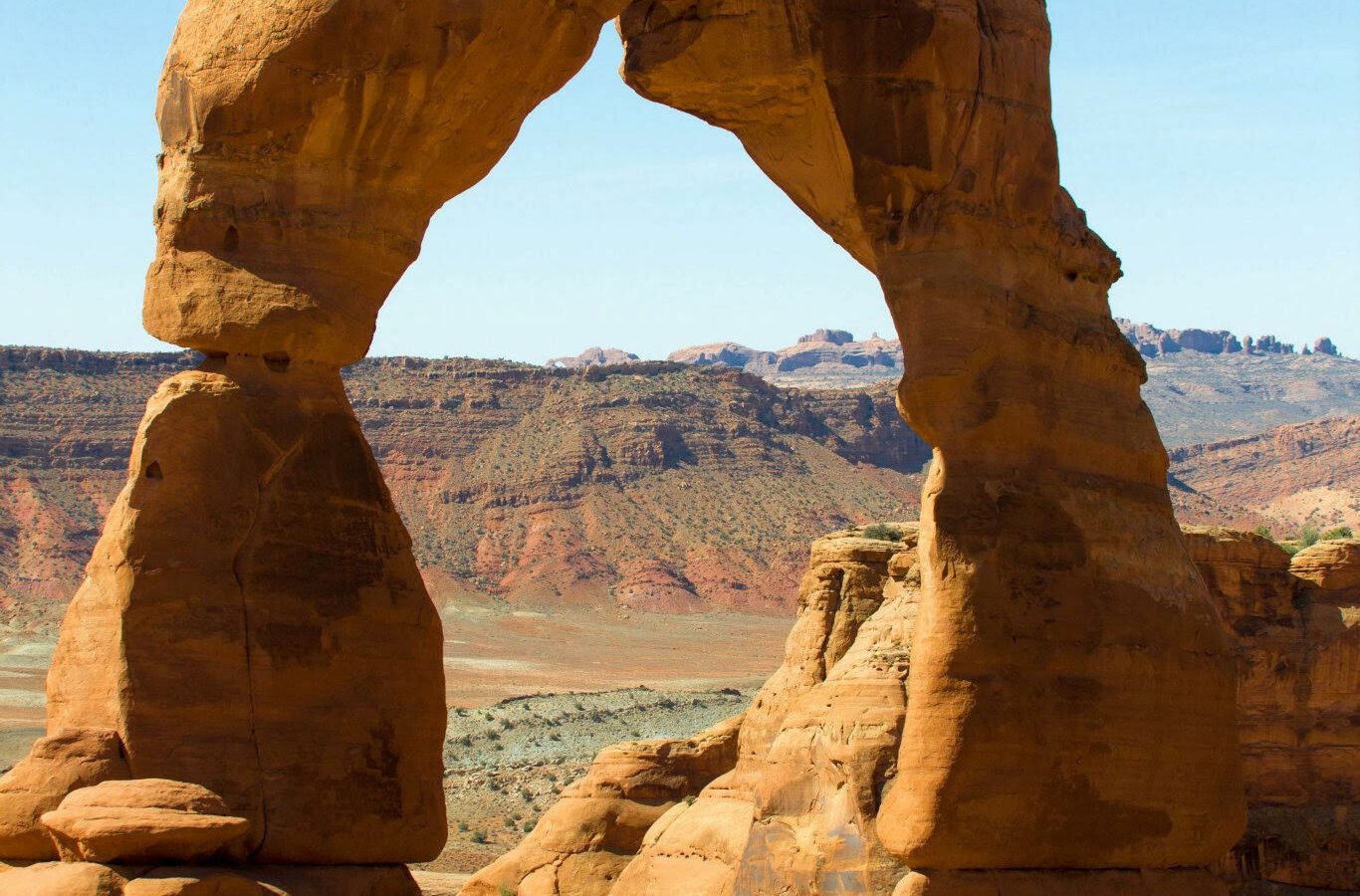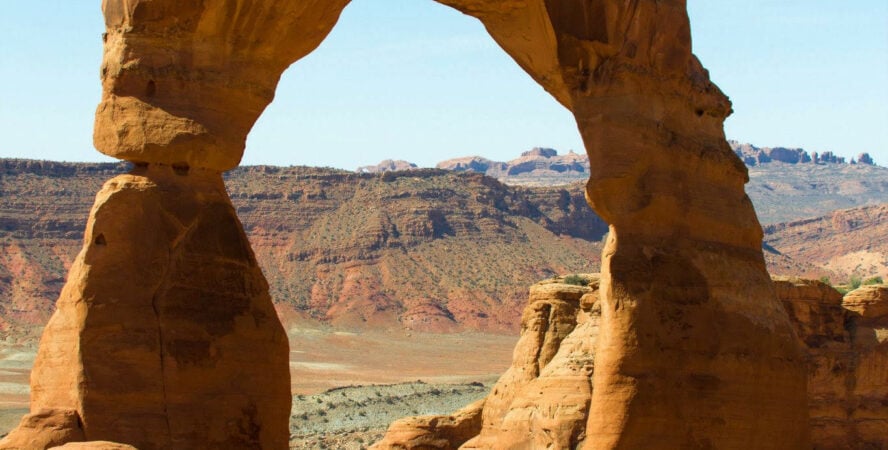 Hike to Delicate Arch, Utah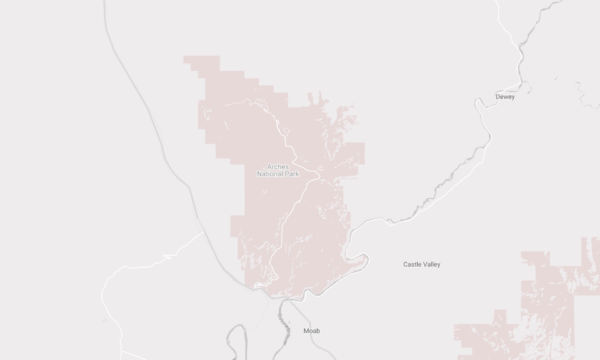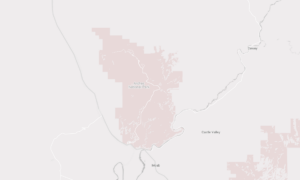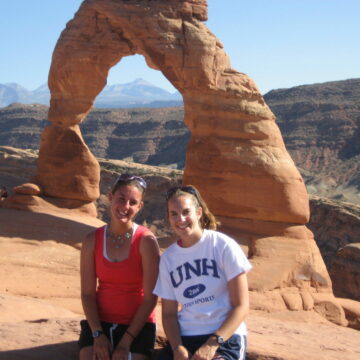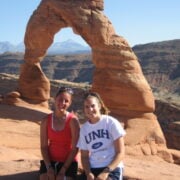 Delicate Arch, Arches National Park - Good to Know
Delicate Arch hike length:
3.2 miles round-trip
Delicate Arch hike difficulty:
Moderate with around 500 feet of elevation gain
Delicate Arch hike time:
2 to 3 hours including time to view the arch
Best time to hike in Arches:
Open year-round, but spring and fall are best
Insider tip:
Get started early to avoid the crowds and snag a parking space
Arches National Park map:
Find a Delicate Arch hike map from the National Park Service here
7. Syncline Loop, Canyonlands National Park
TOP CHOICE FOR HARDCORE HIKERS
Loop hike so you'll end up where you started, but more fatigued
Varied terrain throughout which keeps it interesting
Trail can be difficult to follow
syncline loop rock climbingSouthern Utah hiking doesn't get much better than the Syncline. This convenient loop trail was an easy one for us to choose on that first trip because, well, we only had one car. On the hike we wound through desert washes, up the sides of canyons, and bounded down fun bouldered canyon walls like the bighorn sheep we got to see up close. At the lowest point, we enjoyed a stretch of mellow wash and meadow. If you appreciate solitude and the accomplishment that comes from a challenging day, this is the hike for you.
One thing: be careful to follow the cairns as the trail is sparingly marked in places and it can be easy to get turned around in some of the washes.
What should I prepare for with the Syncline Loop?
I recommend this for fit, experienced hikers. In fact, there are more rescues on this route than in the rest of the entire Canyonlands park combined!
Since the trailhead is so accessible and the signage is simple to follow at first, this route is easy to underestimate. Bring more water than you think you'll need as there is none on the route—it's unfortunately way too easy to get dehydrated under the hot Utah sun. There is also little to no cell service, so be sure to tell someone where you're going and check conditions before you depart.
How hard is the Syncline Loop hike?
The Syncline Loop is one of the more challenging day hikes in Canyonlands' Island in the Sky district. The terrain is quite exposed and includes some scrambling and boulder hopping. The whole hike gains about 1,500' of elevation, but most of the vertical is not too steep. I recommend hiking it clockwise to avoid having the sun in your eyes in the afternoon.
What is the best time to hike the Syncline Loop?
Like most trails on this list, and for everything I've done, Canyonlands trails are best hiked in the spring or fall. October is wonderful, as is April. I hiked this trail much later in the spring, but it was still doable.
As far as time of day goes, plan to start early. This hike is quite exposed and the sun can be brutal during the hottest part of the day. Keep in mind you'll have less daylight during the shoulder seasons, so start early and bring a headlamp just in case.
This was a perfect length day hike for a fall trip to Canyonlands. It was the right type of challenge we were looking for.
Syncline Loop Trail, Desert Trekking - Canyonlands NP - Utah, USA 2019 UHD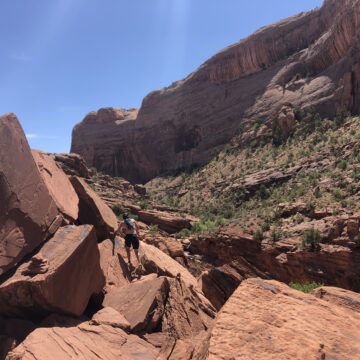 Syncline Loop, Canyonlands National Park - Good to Know
Syncline Loop hike length:
8.3 miles
Syncline Loop trail difficulty:
Difficult, with about 1,500' of elevation gain
Terrain:
Exposed rocks, washes, canyons
Syncline Loop hike time:
4-6 hours