Lost and Found: More Than One Way to Hike to Machu Picchu
Everyone wants to reach the forgotten city of Machu Picchu, but while most people take the train, we recommend you hike one of several paths less traveled to get there. 
Every year, around 25,000 adventurers from all walks of life make the trek to Machu Picchu.
Setting off from the Incan capital of Cusco, they follow carefully carved pathways up cascading terraces and through stone shrines, past scarlet fields and cryptic cloud forests, across roaring rivers and up snow-capped summits, before finally stepping foot into the citadel atop the Andes.
To call it a hike is an insult—it's a voyage through different worlds where you rise above the clouds on your way to one of the greatest marvels of South America.
Pros and Cons for hiking to Machu Picchu
Multiple world-class trails to accommodate all skill and fitness levels
A unique mix of historical sites and jaw-dropping landscapes
You will trek through several seasons and biospheres in a single day
There are very few flat areas here, mostly ups and downs
You WILL trek through several seasons and biospheres in a single day
Getting to Machu Picchu is no small feat. Tackle the trails unprepared, and you may fall victim to scheduling issues, blisters, mosquitoes, rainstorms, and endless other blights.
To help you prepare, we spoke with local guides about what it takes to hike to Machu Picchu. From trip logistics to itinerary options and need to know info, use this as your go-to resource to plan your Andean adventure.
The Citadel Above the Clouds
Perched atop a sheer mountainside in the Sacred Valley, encircled by cliffs and shadowed by a lone summit, stands Machu Picchu, the Citadel above the clouds.
Walking up the steep steps through to the Sun Gate, it's hard not to stop still to soak it all in. The everpresent mist adds to the dreamlike atmosphere, but it doesn't obscure the view. You're really here.
Proceed past the House of the Guardian and follow a winding pathway through the agricultural sector. This is where you get your first glimpse of the Incas' genius—the builders used stones of different heights, widths, and angles for water retention, drainage, and heat. The rock warms during the day releasing it overnight, keeping sensitive plant roots warm as the temperature plunges.
Life shouldn't thrive in these conditions, but it does.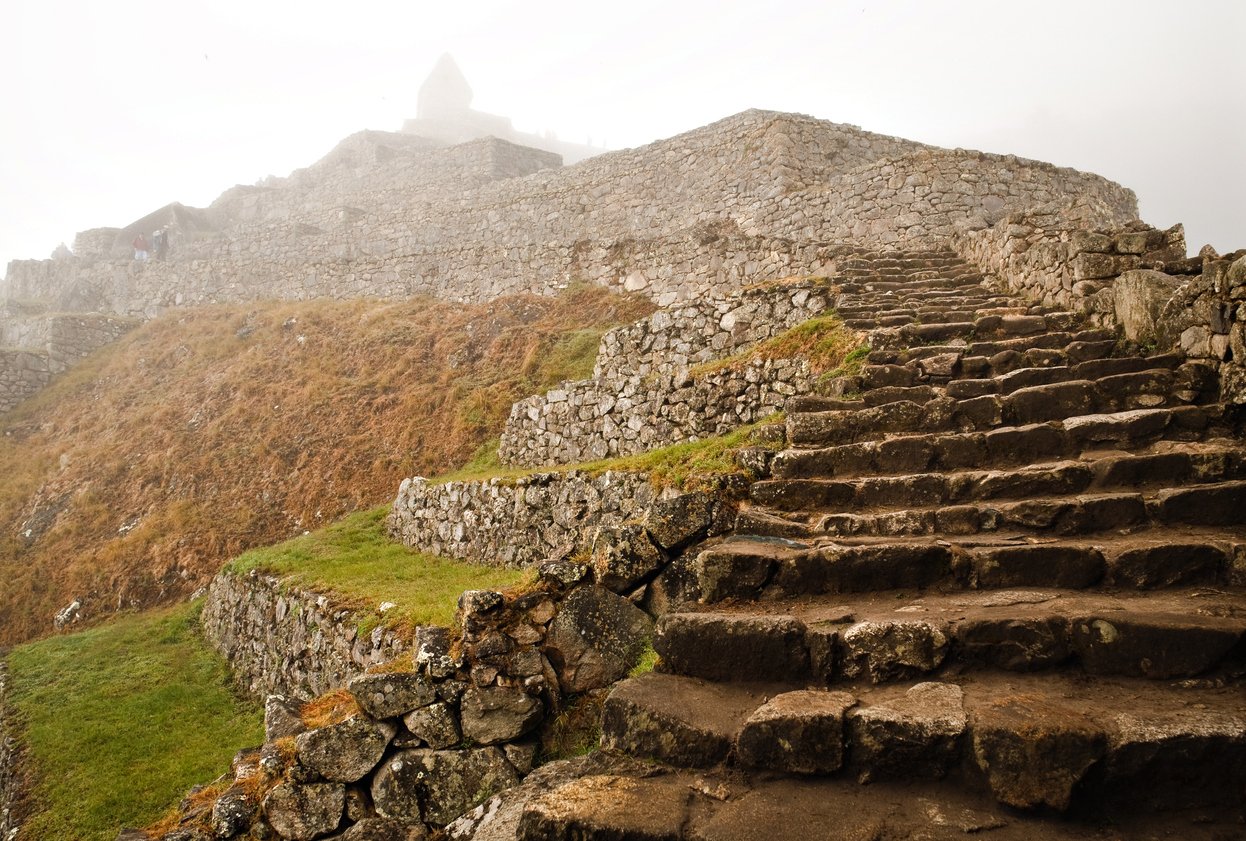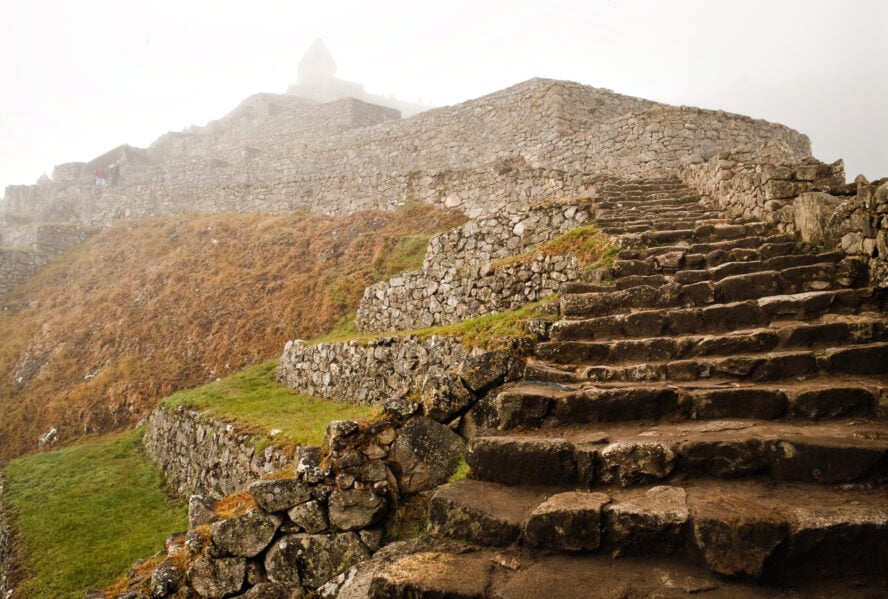 Inside the walls you find nearly 200 stone structures before you, sprawling over 5 miles and connected by 3,000 steps. The streets between them are long and narrow—they have to be; there's not much space to work with in the mountains.
Then, from a barren plaza the entire citadel unfolds itself. You see temples dedicated to unstoppable natural forces, once-lively pathways now claimed by the jungle flora, and astronomical carvings thought to tell the future. And suddenly, you feel the weight of it all. The years reflected in these walls, the spiritual heft of its altars, the cries of an empire long gone.
We're still unclear on the true purpose of Machu Picchu and the methods used to build it, but one thing is for certain—it's one of the greatest man-made marvels of the past millennium.
Ancient architecture at its finest
One of the most fascinating things about Machu Picchu is just how it was built. The ancient Incas weren't familiar with cement; they used no mortar or adhesive. Instead, the stones were cut precisely and wedged so tightly that even now—half a millennium after its construction—you can't slide a piece of paper between them.
This unique engineering process is what allowed the ruins to survive the years, the Andean weather, and most importantly, the earthquakes; Machu Picchu was built atop two fault lines—normally a recipe for disaster. However, when an earthquake does hit, the rocks don't absorb the force the way other buildings do. Instead, they "dance" through the tremor, releasing the force by bouncing, then falling back into place once the shaking stops.
It's not all about the rocks: the slightly inclining walls, tilted trapezoidal windows, and L-shaped corner blocks are still being studied by seismologists and architects alike. It's strange to think that, had it not been for a curious mix-up from 100 years ago, they might have never gotten the chance to.
A city lost in time
Following the Spanish conquest and sacking of pre-Columbian lands, Machu Picchu was mysteriously abandoned. Whether due to disease, internal turmoil, or just fear in the face of the inevitable, the citadel was deserted, overgrown by the jungle, and thrown into obscurity. It almost remained there.
A few centuries later, in the summer of 1911, professor, politician, and archaeology enthusiast, Hiram Bingham, came across a Peruvian native tending to his crops in the Sacred Valley. Bingham and his small team were on a mission to find Vilcabamba, the last stronghold of the Inca civilization, so he asked the local for some clues.
The farmer told him about ruins spotted on a nearby "old peak"—Machupijchu in native Quechua— and after a tough and rainy climb, Bingham came across the Incan citadel buried beneath the overgrowth. Bingham and his team rushed back to the States to tell the story in a best-selling book, and hordes of tourists followed.
Though nothing is known about the farmer, his contributions to archaeology and South American history are immeasurable: he saved Machu Picchu and the Inca Trail from obscurity. Try to think of them as you walk through the Sun Gate.
Getting to the Inca Trail and Machu Picchu
Cusco, the historic capital of the Incan civilization, is the access point to both the Sacred Valley and the trails leading to Machu Picchu.
The town is serviced by Alejandro Velasco Astete International Airport (formerly Cusco IA), but there are no direct flights there from Europe or the US. Your best bet is to fly into Lima Airport and take a 2-hour local flight to Cusco. We recommend flying in at least 2 days before your trek—you'll need some time to acclimatize to the altitudes.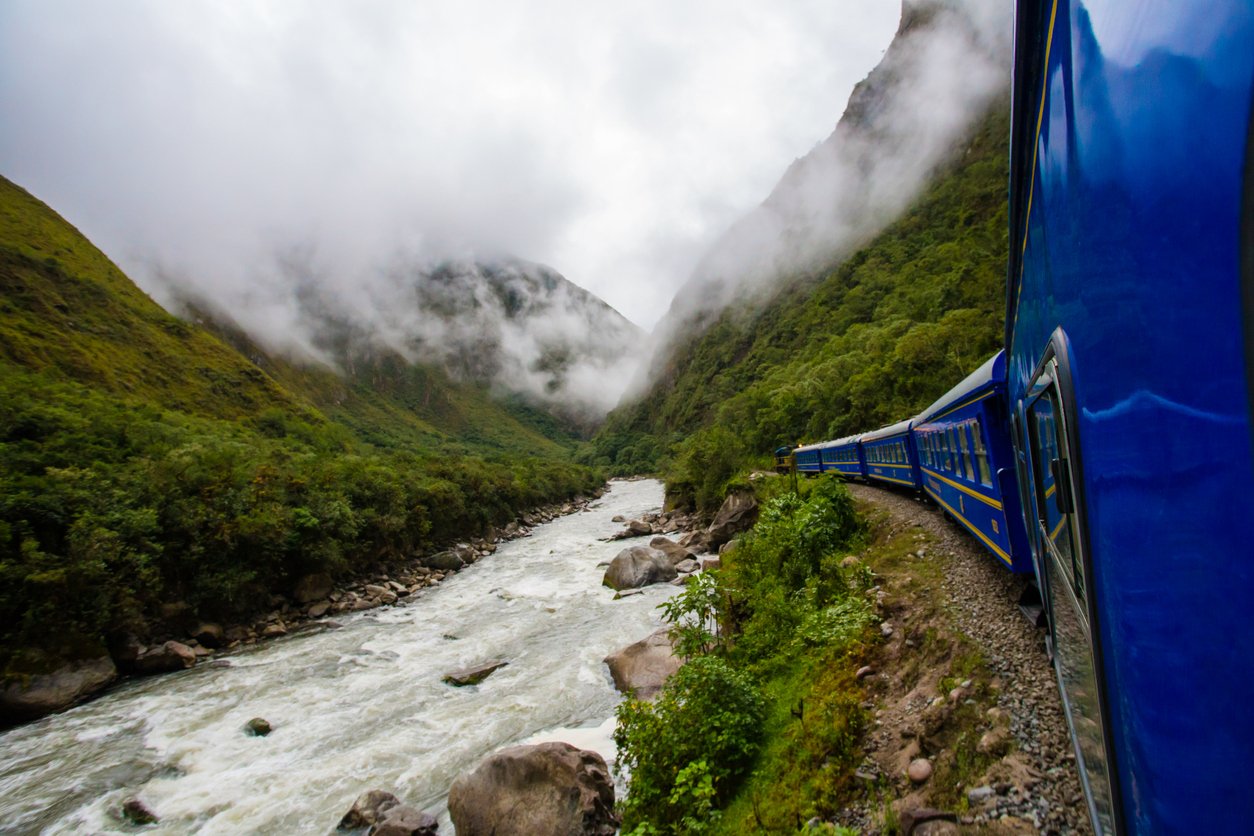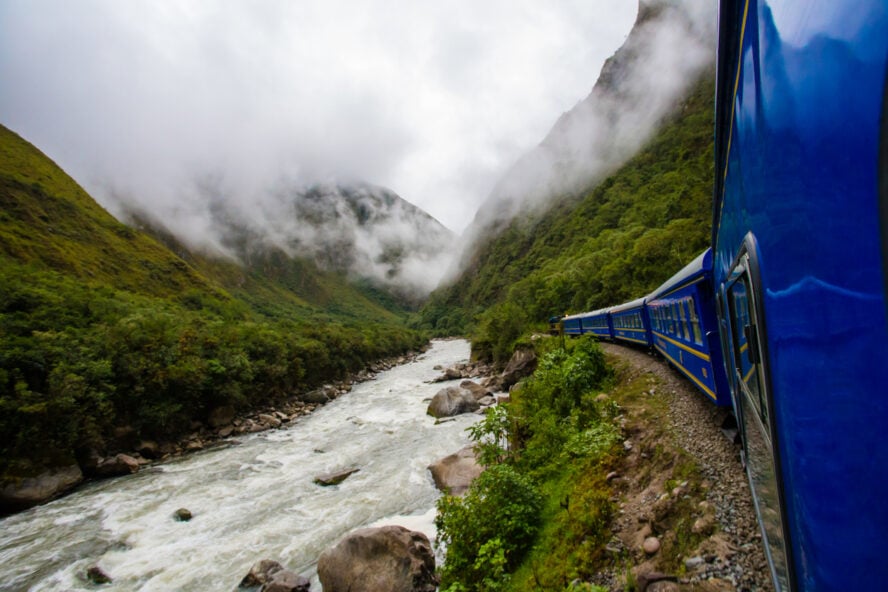 From there, take an hour-long bus or shuttle ride to the town of Ollantaytambo, and head to the local train station. There, you'll find a train that takes you straight to your chosen trailhead: KM 82 or 104 for the Inca Trail, Challacancha village for the Salkantay trek, or any of the other stops.
The Classic Hike to Machu Picchu
Inca Trail: The story of a civilization
One of the most iconic multi-day hikes in the world, this 26-mile (42km) route carefully follows paved stone pathways across orchid terraces, cloud forests, and numerous archaeological sites before passing through the Sun Gates and entering the lost city of Machu Picchu.
It's a blend of historical landmarks and diverse landscapes—across four days—that you won't find on the other hikes on this list. If you want in-depth information, check out local guide, Raul Ccolque's, review of the Inca Trail hike.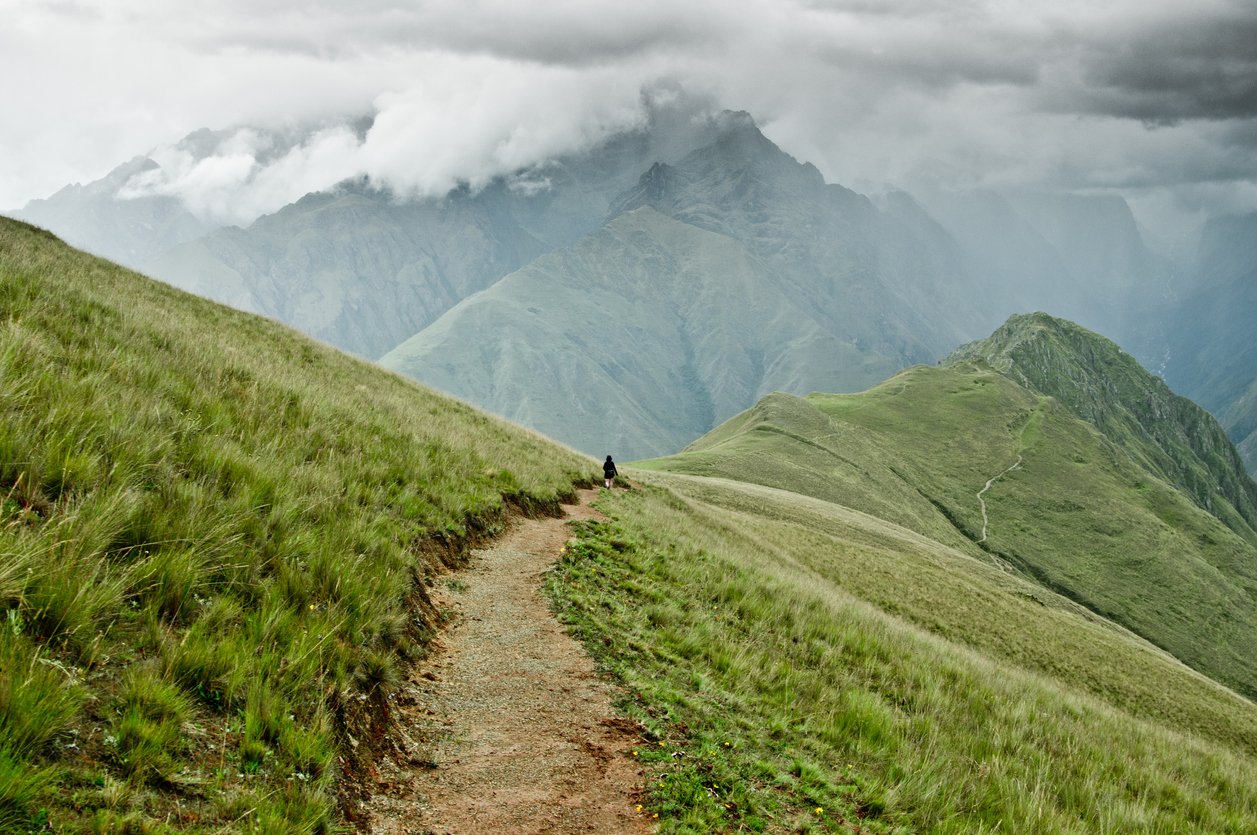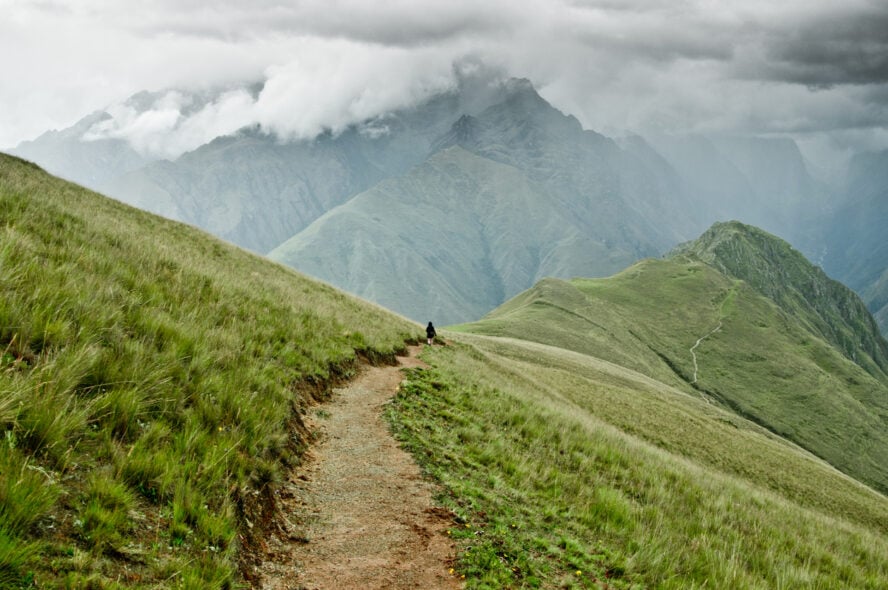 The two-day Inca Trail itinerary
If you can't fit the full four days into your schedule, there's a two-day itinerary too. Day one includes a single four-hour uphill hike to the Wiñaywayna ruins, while day two is completely dedicated to exploring the ancient city. It's the shortest hike to Machu Picchu and a good introduction for someone looking to dip their toes into hiking in the Andes.
Alternative Hikes to Machu Picchu
The main difference between the Inca Trail hike to Machu Picchu and the other options is they are not regulated by the government.
Hiking outside of the permit system allows for greater flexibility, meaning each guiding company can design their trip to vary the distances or locations of the campsites. On the other hand, you can't move a single rock on the Inca Trail.
These alternative hikes aren't a part of the national park and typically host fewer people—while still offering sites to rival those along the Inca Trail. As you pass through the small communities, you get to immerse yourself in the culture, as well as stay in improvised camping spots under the stars.
Salkantay Trek: Spend more time on the trail
Due to the extra day (five days and five nights on the trail), the 37-mile (60km) Salkantay Trek is the most popular alternative hike to Machu Picchu. While the Inca Trail is a series of ups and downs, Salkantay takes you high among the mountaintops of the Cordillera de Vilcabamba—crossing the Abra Salkantay Pass at 15,190 feet (4,630m). You get bird's-eye views of the orchid valleys and alpine lakes below, as well as a close-up look at the granite walls and snow-capped peaks looming above.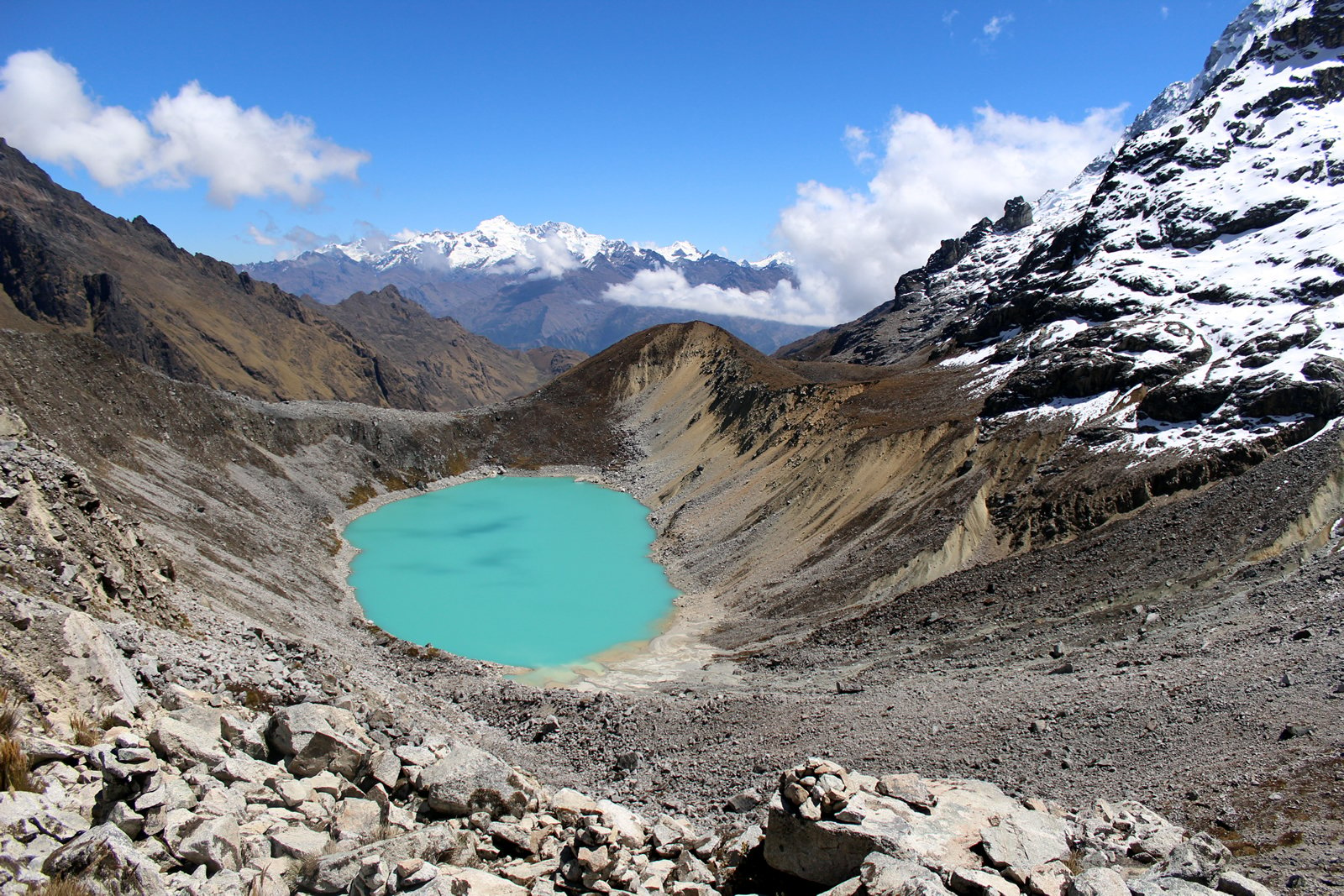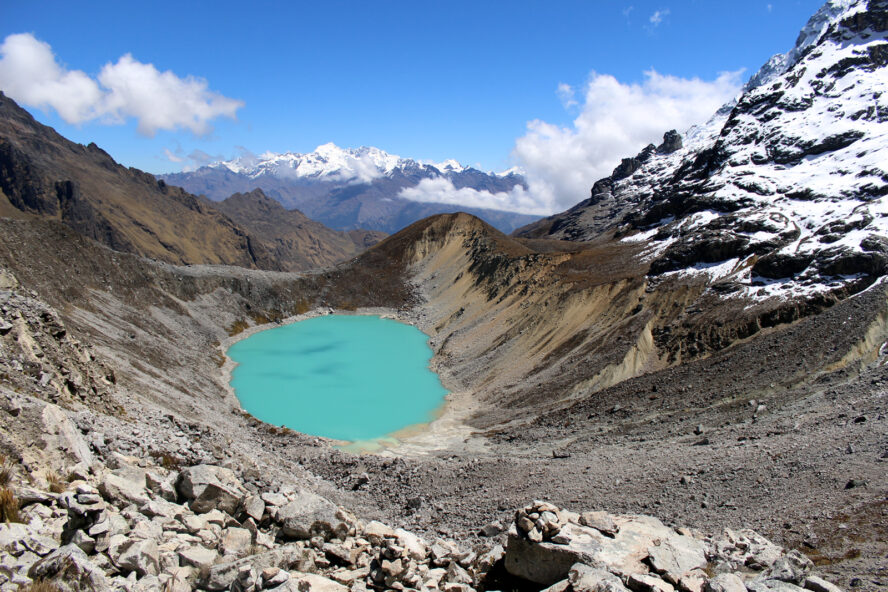 On this hike, it will be just you and nature. Expect rivers, cloud forests, and glacier mountains that make the landscape look almost alpine. And as a bonus, you can ride horses on days with downtime. There are also horses available for those who feel tired or succumb to altitude sickness. From the first day of your guided Salkantay Trek and Inca Trail adventure, you'll have the open sky over your head with the Milky Way twinkling above you.
Slow down and connect with locals on the Lares Trek
The 21-mile (33 km) Lares Trek puts more of a focus on culture. It takes four days to complete, however you'll only spend 2.5 days on the trail. The rest of your time is dedicated to sightseeing and learning about the Quechuan culture.
Starting just north of Cusco at the town of Lares, known for its hot springs, you'll pass through small villages where the traditions of the Incas are still practiced. The locals dress up in traditional red ponchos, and though it's not the same as it was 500 years ago, they do still speak the native language of the Incan civilization.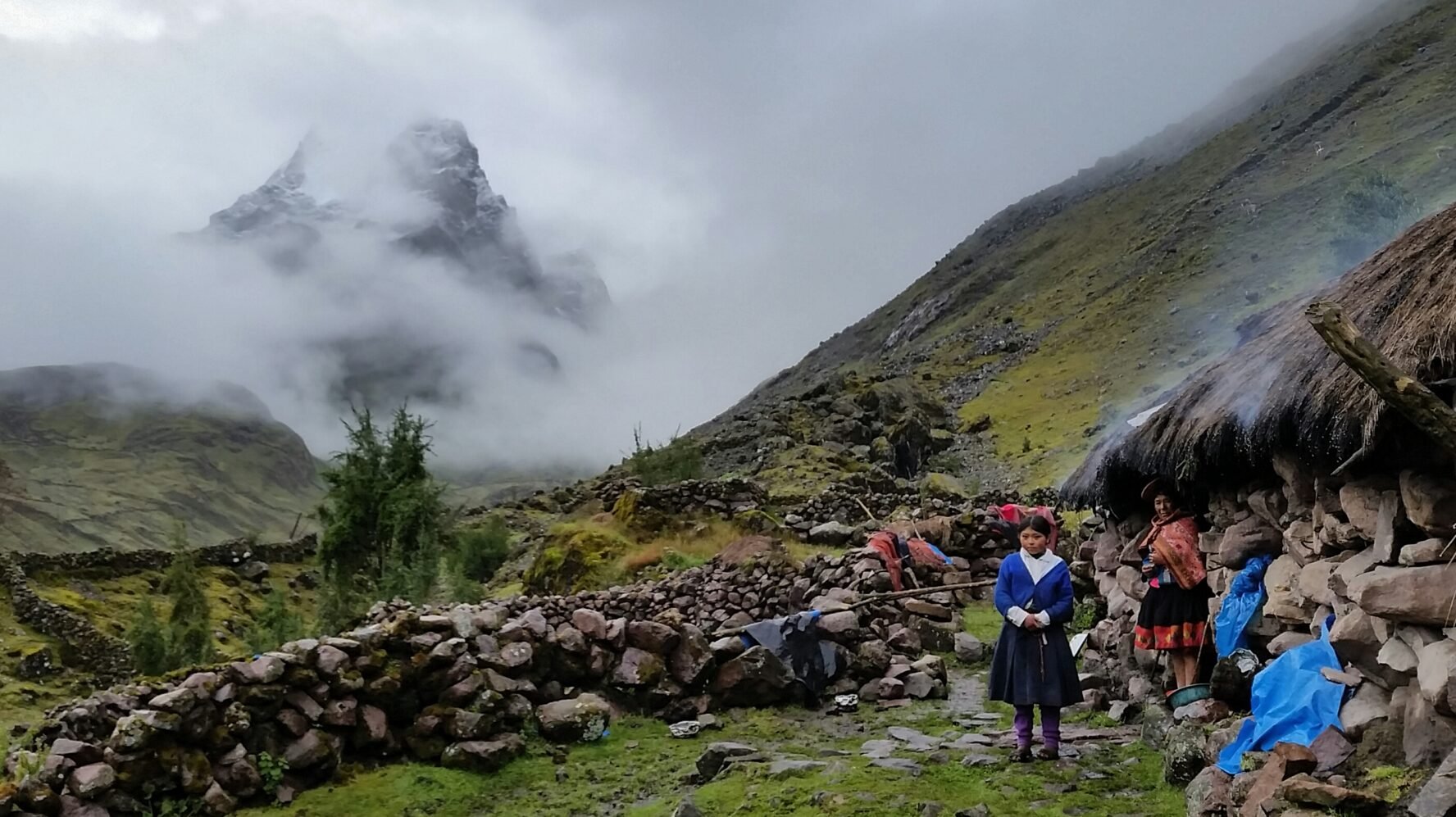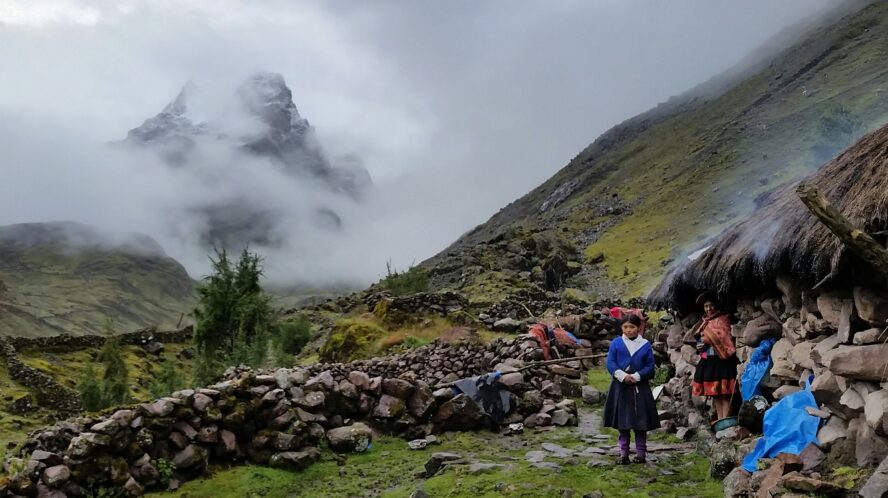 The Lares trek is probably the best family option in the area. It's the least challenging hike, and it allows kids to get introduced to life in the Andes through a variety of cool activities: they get to meet and pet the llamas, participate in lively ceremonies, visit a Quechuan school, and learn about the time-old tradition of hand weaving from local artisans.
The Choquequirao Trek: Bigger thrills and fewer crowds
If you're a serious hiker who likes to get away from the crowds and doesn't feel like booking their trip months in advance, the Choquequirao Trek is for you. This four-day, 36-mile (58km) hike takes you deep into the plunging Apurimac Valley. You'll traverse dense vegetation and several different microclimates—with steep descents and climbs—culminating at the majestic ruins of the Choquequirao settlement.
Rediscovered only in the 1970s, Choquequirao was one of the last holdouts of the Incan resistance. The site is popularly referred to as "mini Machu Picchu" by the locals, and is expected to become the next big thing in Peruvian tourism.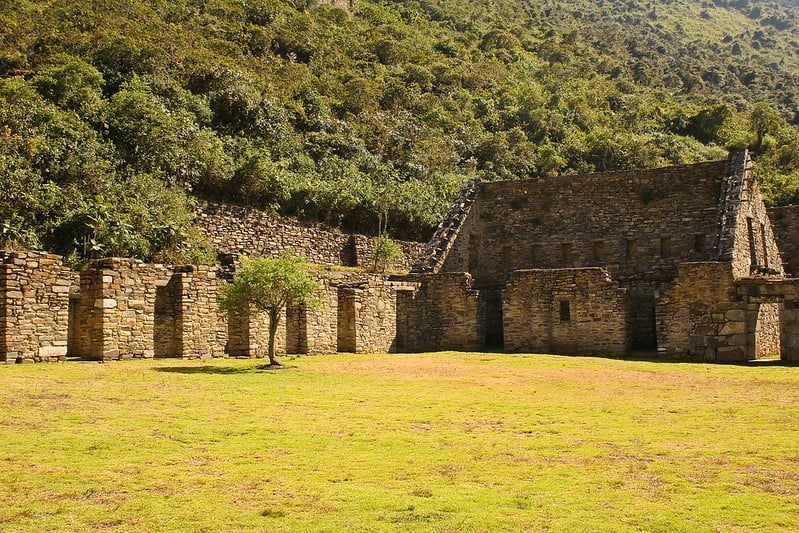 However, with numerous distinct biospheres ranging from jungles to lagoons, and endemic species such as the Peruvian whitetail deer, it's a phenomenal option for anyone interested in the local flora and fauna. If you're lucky, you might even see an Andean condor!
The Vilcabamba Trek is a hidden gem for hardcore hikers
This 39-mile (62km) trek leads to the actual Lost City of the Incas and the final refuge of the Incan civilization. Located a 10-hour drive southwest of Cusco, this trail follows traditional pathways winding through the valleys, jungles, and snow-capped summits of the Vilcabamba mountain range. The hike is often done in 5 days, however it's so physically demanding that some operators prefer to offer it as an 8-day itinerary. Note that renting a horse on tougher trekking days is recommended.


Due to the lack of popularity that stems from the trail's remoteness and difficulty, you'll find the most well-preserved ancient roads in the Andes here. Not only that, it's also a great trail for wildlife watching—keep your eyes peeled for Vizchachas, Andean foxes, or even a condor or two. If you think you can handle it, you won't be disappointed.
Additional hikes near Machu Picchu
If, by the time you reach Machu Picchu, you still feel like you've got some hiking left in you, opt for one of the short "bonus" trails in the area.
Huayna Picchu
Starting right at Machu Picchu, this challenging hike follows steep stone stairways, known among trekkers as the "Stairs of Death", up a jungle-growth mountainside to the highest summit in the east Andes. It's only a 1- or 2-hour detour, but the views of Machu Picchu from above are fantastic. The trail is always in high demand and only 400 people are allowed on it a day, so make sure to book it as soon as possible.
Cerro Machu Pichu
The Machu Picchu Mountain hike is 4 hours from Machu Picchu, following a portion of the Inca Trail before climbing into a cloud forest and reaching the titular summit. You'll follow a well-maintained trail, dotted with wildflowers and wildlife, through several ecosystems before reaching a quaint shelter at the top. The prize? 360° views of Machu Picchu and the Urubamba river below.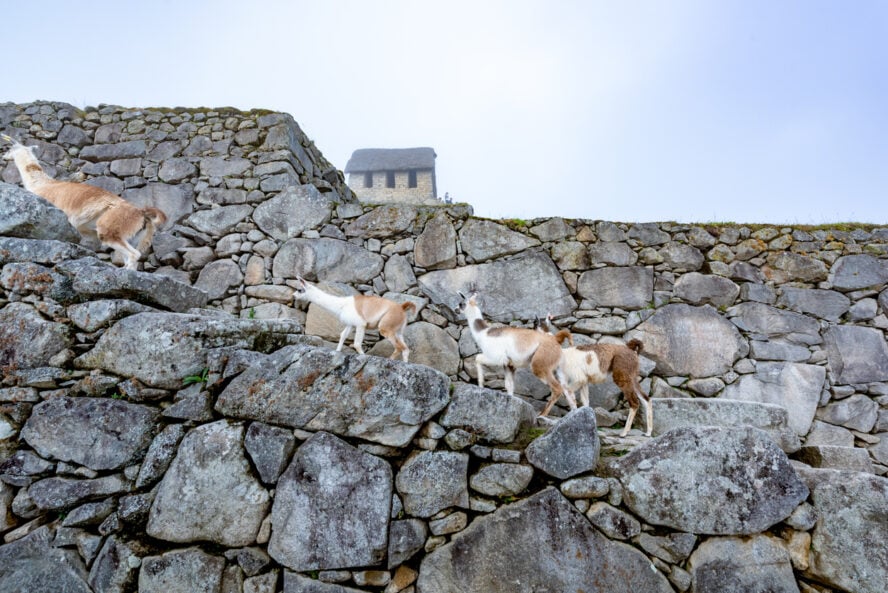 Things You Need to Know About Hiking to Machu Picchu
Ready to rise above the clouds? Check out our Machu Picchu hiking tips and learn how to hike like a local.
How hard is it to hike the Inca Trail to Machu Picchu?
There is no age limit for hiking the Inca trail, and people from 18 to 60 years old have done it. However, it is not an easy trail.
The difficulty of the Machu Picchu hike comes from the fact that, by design, there are no flat sections; it's either uphill or down. And while you don't need too much hiking experience—a large majority of people hiking the Inca Trail are beginners to thru-hiking, actually—being in shape is a must.
For some tips on how to improve your hiking skills, check out our hiking guide for beginners.
If you can hike for 5-9 hours a day, traversing up to 10 miles (16 km) of variable terrain with a full 25-40 L pack on your back, you're good to go. If not, we highly recommend that you ramp up your volume of hiking (for both distance and difficulty) before heading out for your Machu Picchu hike.
Even though the Inca Trail isn't particularly dangerous, there are still risks. In the past 20 years, six people have died, whether due to landslides, falls, or lightning strikes. Going with a knowledgeable guide helps you alleviate some of the potential issues.
How much does it cost to hike the Inca Trail or any of the other treks to Machu Picchu?
On average, it costs between $800 to $900 to thru-hike the Inca Trail. In most cases, the cost includes tickets, permits, porters, and meals. Most guides also offer the opportunity for luxury upgrades and additional climbs like the nearby mountain Huayna Picchu, located behind Machu Picchu.
The price of the alternative treks varies depending on length, difficulty, and popularity. For example, the 5-day Salkantay Trek is usually more expensive than the 4-day Lares Trek. Additional routes are booked with an added fee. If you're looking to hike Huayna Picchu or Cerro Machu Picchu, it's also vital you mention this in the booking process.
Booking as far in advance as possible is a good idea. The Inca Trail is one of the most popular hikes in the world, and the supply is limited to 500 visitors a day. The tickets are usually put on sale in mid-to-late Fall, but they get pre-booked months before. This is why it's crucial to book your ticket at least 8-9 months prior. If you've got your mind set on this adventure, don't leave anything up to chance.
Can you hike the Inca Trail without a guide?
Short answer: no.
Before 2000, you were allowed to go wherever and stay for as long as you wanted. Today, you can't enter the trail if you show up without a licensed guide and porter crew. The permit you need to get for your Machu Picchu hiking tour serves both for your protection and the preservation of the national park. There are many regulations to follow, and the guides are well-versed in them.
Some people opt for alternative treks and choose to do them on their own. However, as any local guide would tell you, it's dangerous to trek alone in the Andes, especially if you aren't familiar with the trails. Plus, there's a good chance you'll miss some of the best landmarks and viewpoints along the way. A good guide greatly enhances your experience, and we'll always recommend getting one for trips like this.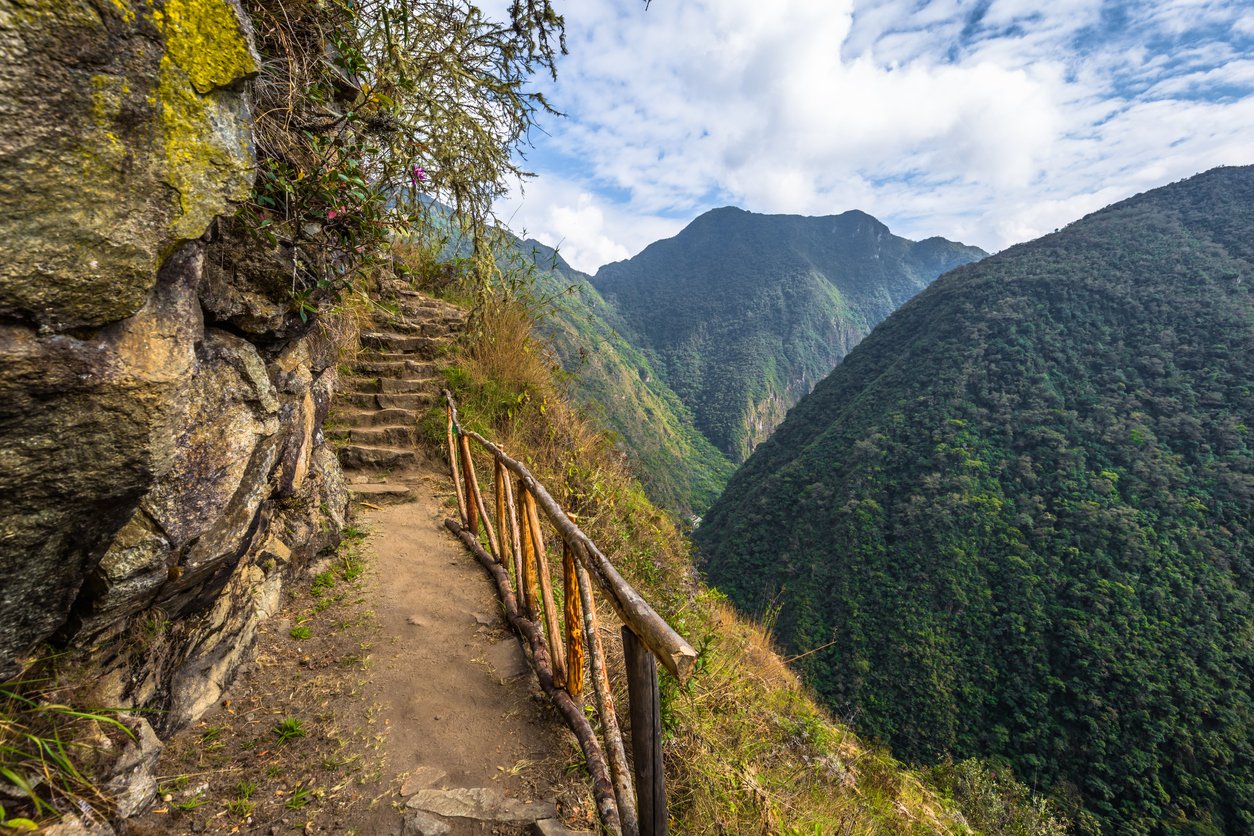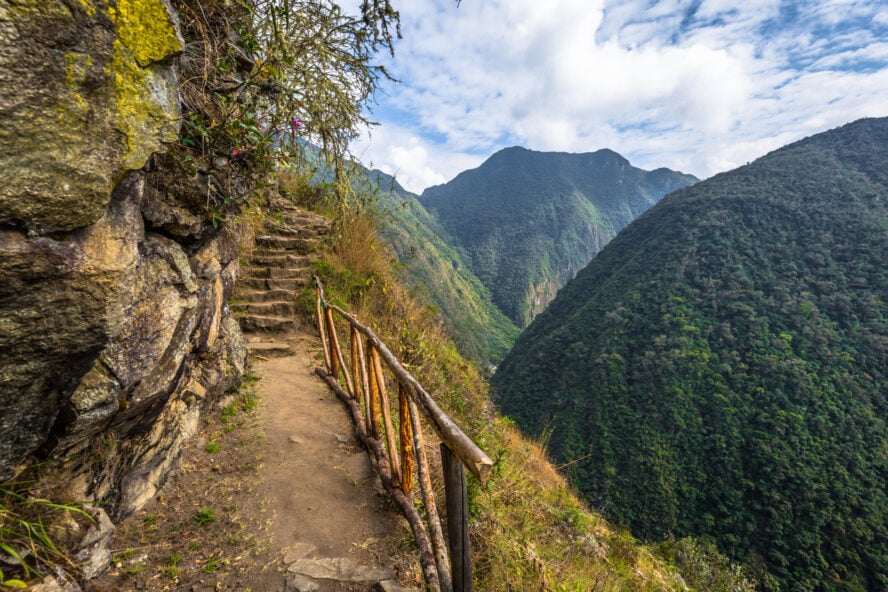 When is the best season to visit Machu Picchu?
In much of the world, you have four seasons. In Peru, there are two: rainy and dry.
The best time to hike to Machu Picchu is during the dry season, between May and October. The days are long from spring to fall, complete with the bluest of skies, and for obvious reasons, this is when you'll get the most out of your visit. If you choose the edges of the dry season, you'll have a much easier time scoring reservations than you would in the summertime.
June is when Cusco is the most lively thanks to Inti Raymi, The Festival of the Sun. Book a hike to coincide with the festival to enjoy local music, see colorful costumes, participate in ancient traditions, and maybe even learn a classic dance.
July through September is the driest and busiest season, as this is when most people choose to tackle the trails or take train trips to Machu Picchu. If you don't mind the crowds, you'll enjoy warm temperatures (around 25°C/77°F during the day) and the most stable weather possible in the Andes.
The rainy season begins in November and ends in March, although the highlands usually stay wet well into April. We don't recommend you trek in January and February, because the clouds completely obstruct thel views along the trail.
That said, while hiking during the typical season, you're likely to experience all four seasons. Mountain peaks and nights are cold, requiring layers of thermal clothing. One moment, you'll be in the tropics with mosquitoes nipping at you, the next, you'll be freezing thousands of feet above sea level.
What are some key sights at Machu Picchu?
When discussing the must-see spots at Machu Picchu the first thing that comes to mind is the Sun Gate. Serving as the access point to Machu Picchu from the Inca Trail, it's the most dramatic way to enter the city, and where most of the photos are taken. The House of the High Priest and the Inca Drawbridge are testimonies to the skill and savvy of Incan builders, as they've pretty much maintained their original shape to this day.
For great photo ops, check out the Central Plaza. Its steep grassy terraces and roofless stone structures are often visited by wandering llamas, and it provides excellent views of Huayna Picchu. The Hut of the Caretaker of the Funerary Rock is arguably the most photogenic spot in the city. A restored stone house built atop a Noble burial ground, it looms over a dramatic cliffside with fantastic views of the entire Incan complex below.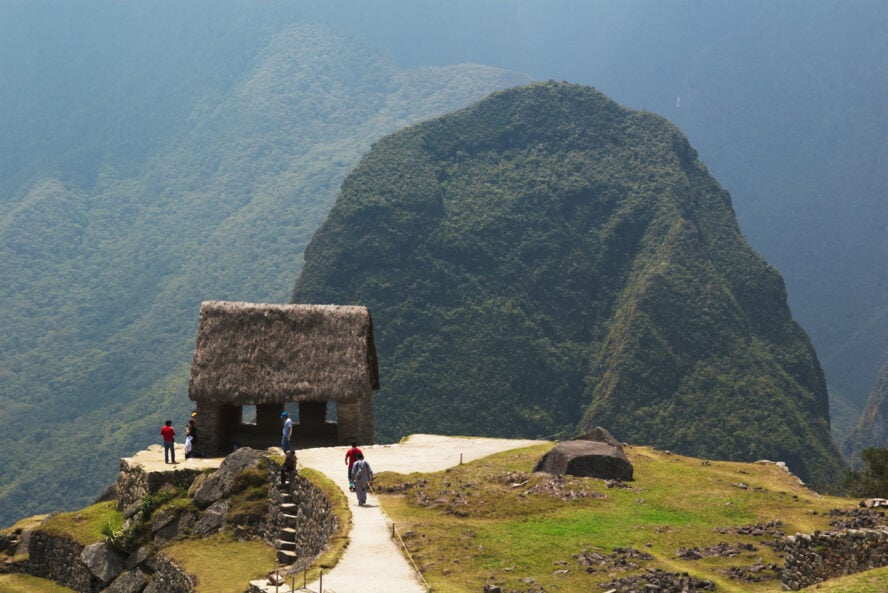 Given the Incas' dedication to their gods, it's no surprise that you'll find many temples here. A former solar observatory and place of sacrifice, the Temple of the Sun is a wonder of architecture, with its curved, tapering walls and trapezoid window. Fun fact: it's also the only round building in Machu Picchu.
The Temple of the Condor, a sacrificial table carved into a condor's head, is also a must-visit, as is the Temple of the Three Windows, the purpose of which is still a mystery.
How to prepare for the hikes, and the altitude
Apart from the 2-day Inca Trail itinerary, these hikes are quite challenging. Beginner hikers can do some of them, but they need to be mindful that days consist of hiking for 5-8+ hours and covering up to 10 miles of pure uphills and downhills.
We recommend doing some practice hikes in your area, ideally on trails with variable terrain and big elevation gain. If you don't have access to the mountains, use a treadmill with a steep incline or a StairMaster.
As previously mentioned, in order to combat the altitude, make sure to arrive at Cusco at least 2 days before your hike. Cusco is at 3,400m (11,155 ft), and many of the sights are at 4,000+ (13,123+ ft), so you'll get a good chance of what to expect among the Andean mountains.
Avoid eating heavy food the day before your flight, and try to take a short nap when you arrive. Finally, hydration is key, as is taking it easy — drink 6-8 glasses of water a day, and try to maintain a slow tempo while walking around and exploring Cusco.
The campsites, bathrooms, and hygiene
Food, water, and all necessary camping equipment, both group and personal, will be provided by most guides, but you're encouraged to bring your own. You'll usually be staying in multi-person tents. Food and water will be provided at the designated campsites, depending on your tour.
Some campsites are equipped with basic squat toilets. However, campsites along more popular trails are often overpopulated, and once you've seen what a toilet looks like after 500 people with muddy shoes used it, you'll probably opt for "nature's toilet". Some guiding services even offer clean and eco-friendly "Toilet Tents", which is the best possible option. You'll also find no warm showers on the trail, so it's a good idea to at least bring some wet wipes like the ancient Incas used to.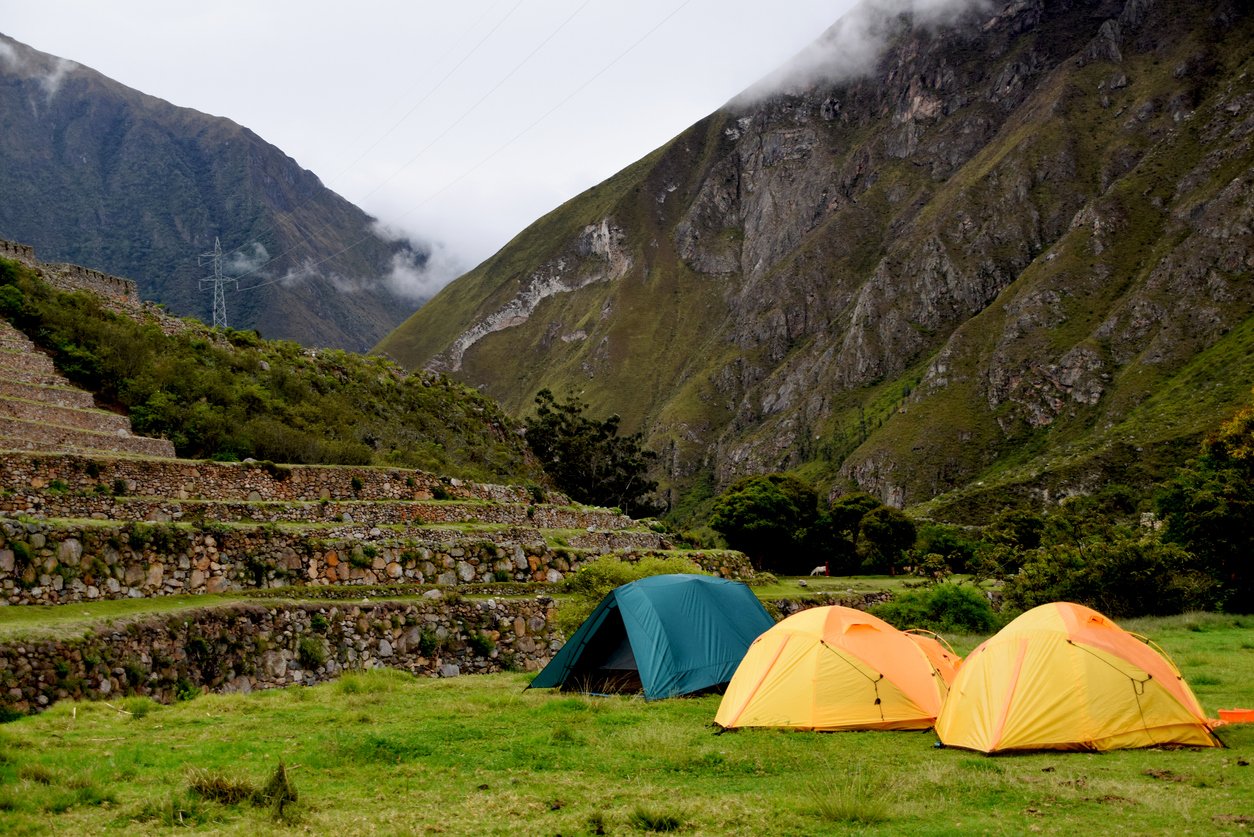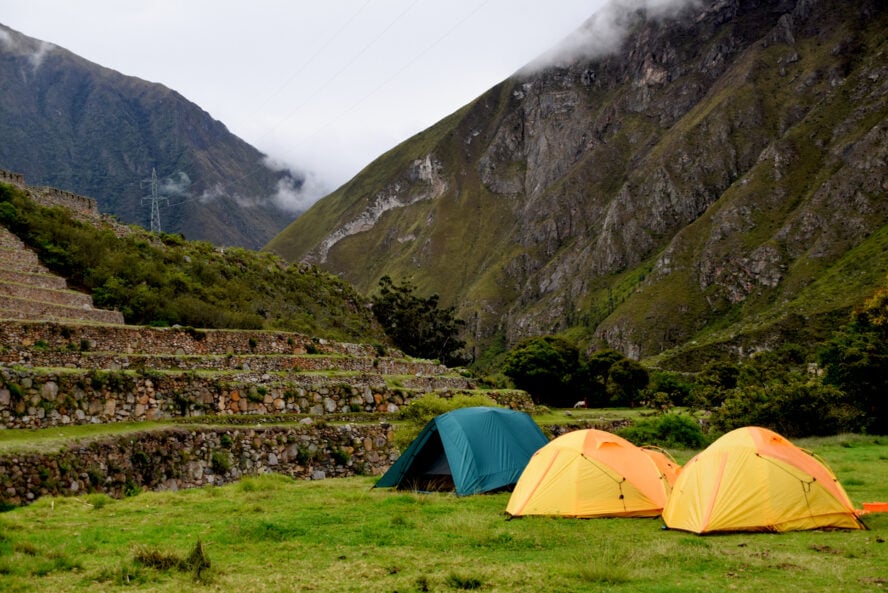 What to bring on your hike to Machu Picchu
Since the weather is so unpredictable, and the temperatures often go from over 20°C (68°F) to below zero (30°F) in a single day, layering up is important. You should take at least 2-3 dry-wicking t-shirts and pairs of hiking pants, as well as plenty of spare clothes. You'll be sweating a lot, so bring a fresh set of socks and underwear for each day.
You won't find electricity or phone signals at the campsites, so make sure to bring adequate battery packs and portable chargers, depending on how long the hike to Machu Picchu is.
Your outer layers should be warm and waterproof, and your hiking boots should have durable soles. Finally, hiking poles are recommended, especially if you're not a seasoned hiker. We also highly recommend bringing sun protection—especially vital at high altitudes—and plenty of bug spray. Thankfully, although very annoying, the mosquitoes mostly disappear at higher altitudes.
Porters will make your life easier
Porters are the backbone of the guiding industry, and this is especially true for the Machu Picchu treks. Due to the altitude, the air is thin and dizzying until you get used to it. You'll be properly exhausted even without having to carry your sleeping bag and other essentials. This is where the porters come in. To ensure you only have to think of the trails, most Machu Picchu tours also include a team of experienced local porters.
Note that treks like the Inca Trail and expeditions in the Himalayas are inconceivable without porters—yet they have long been subject to inequity, mistreatment, and gender inequality. Learn what's being done to create equitable conditions for porters, and how you can make a positive impact on your next trip.
Do I need a hiking permit for the Inca Trail?
The Inca Trail is under strict government regulation, and a permit is needed for your hike. Available permits are limited, and it's a literal race against time for companies to secure them. If you opt for a guiding service, the procedure is easy, as they'll take care of the permits for you.
Before you even start walking the Inca Trail, two organizations will check your documents. One group is in charge of protecting the historic Inca sites. The other organization preserves the pristine nature of the Andes.
Are visas and passports required when visiting Peru?
Visitors from most countries don't need visas to visit Peru. However, you will need a passport that's valid for at least six months from the day of your departure. Likewise, You'll need a return ticket, or a document of proof indicating your next country of visit, so keep that on standby. Along the trail, you'll also run into checkpoints where you'll need to show your passport. Make sure you don't leave it at your hotel!
What should I see and do in Cusco?
Use your two-day altitude acclimatization period to explore the ancient nooks and crannies of Cusco. After arriving at the airport or Terminal Terrestre, Cusco's bus station, check the accommodation options for your Machu Picchu trek.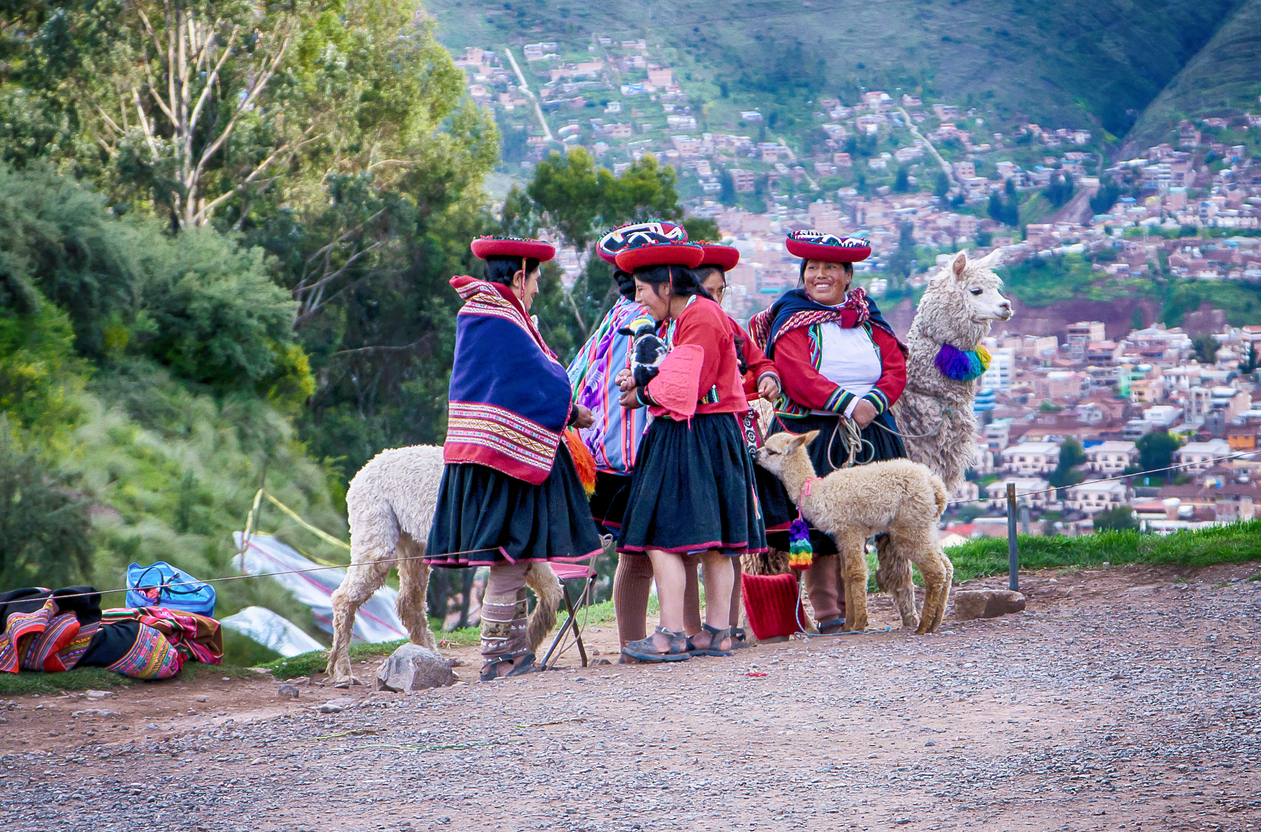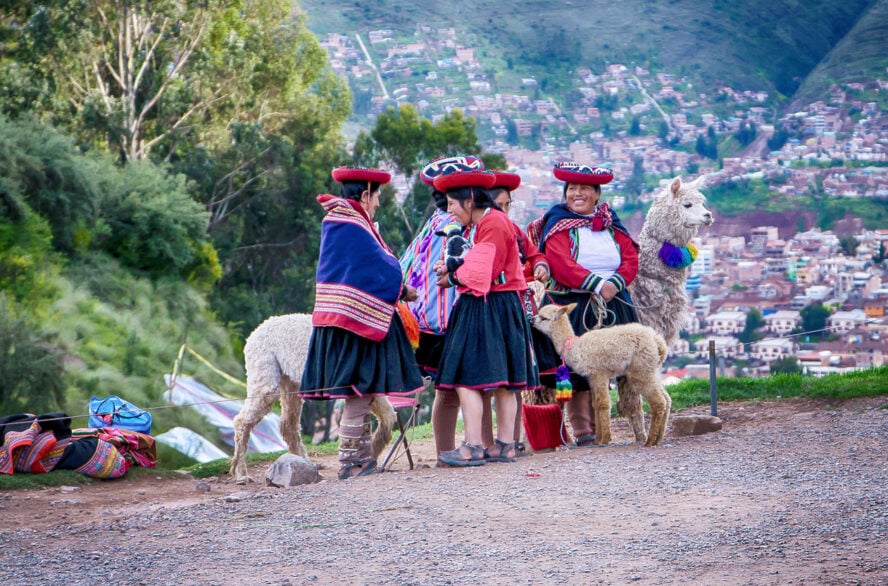 Palacio del Inca is a luxury hotel in central Cusco built inside a 500-year-old mansion. The designers paid special attention to keeping it as authentic as possible and it shows—you'll feel like you're staying in a high-class museum. Our top value option is the Casa San Blas Boutique and hotel, a cozy colonial house with charming traditional decor and an excellent breakfast menu.
Before making any plans, start your day with an authentic Peruvian coffee in the San Blas neighborhood. We recommend just taking a walk around the city and soaking in the atmosphere permeating the ruins and museums. For lunch, head to La Bodega 138 for some delicious pizza, or taste some local delicacies in Kushka.
Once you're all nice and fed, pay a visit to Sacsayhuamán. Once a military base, it is now the most important historic site in Cusco. Alternatively, get a colorful poncho or Andean print blanket at the local marketplace, and end your day with a Pisco, a traditional Peruvian cocktail, at the Museo del Pisco.
Alternative adventures in South America
Looking for more trips in South America? Also located in Peru, the Rainbow Mountain hike defies the laws of nature and has to be seen to be believed. Just southeast, Bolivia's El Choro trek provides the perfect blend of alpine and tropical terrain, as well as its own fair share of ancient Incan trails. A bit further south, climbing Aconcagua in Argentina is the perfect first foray into the world of advanced mountaineering.
If you are inspired for more, check out our hand-curated hiking trips all over the world.
Somewhere Between Heaven and Earth
Winding through lush tropical flora, past shrines and ruins, and disappearing into the heaven-piercing Inca citadel of Machu Picchu, these treks will be one of the most treasured experiences of your life. If you've ever wondered what it's like to walk among the relics of one of the world's most fascinating cultures, this is your chance to find out.