Hiking the Druk Path Trek in Bhutan
Druk Path Trek | Bhutan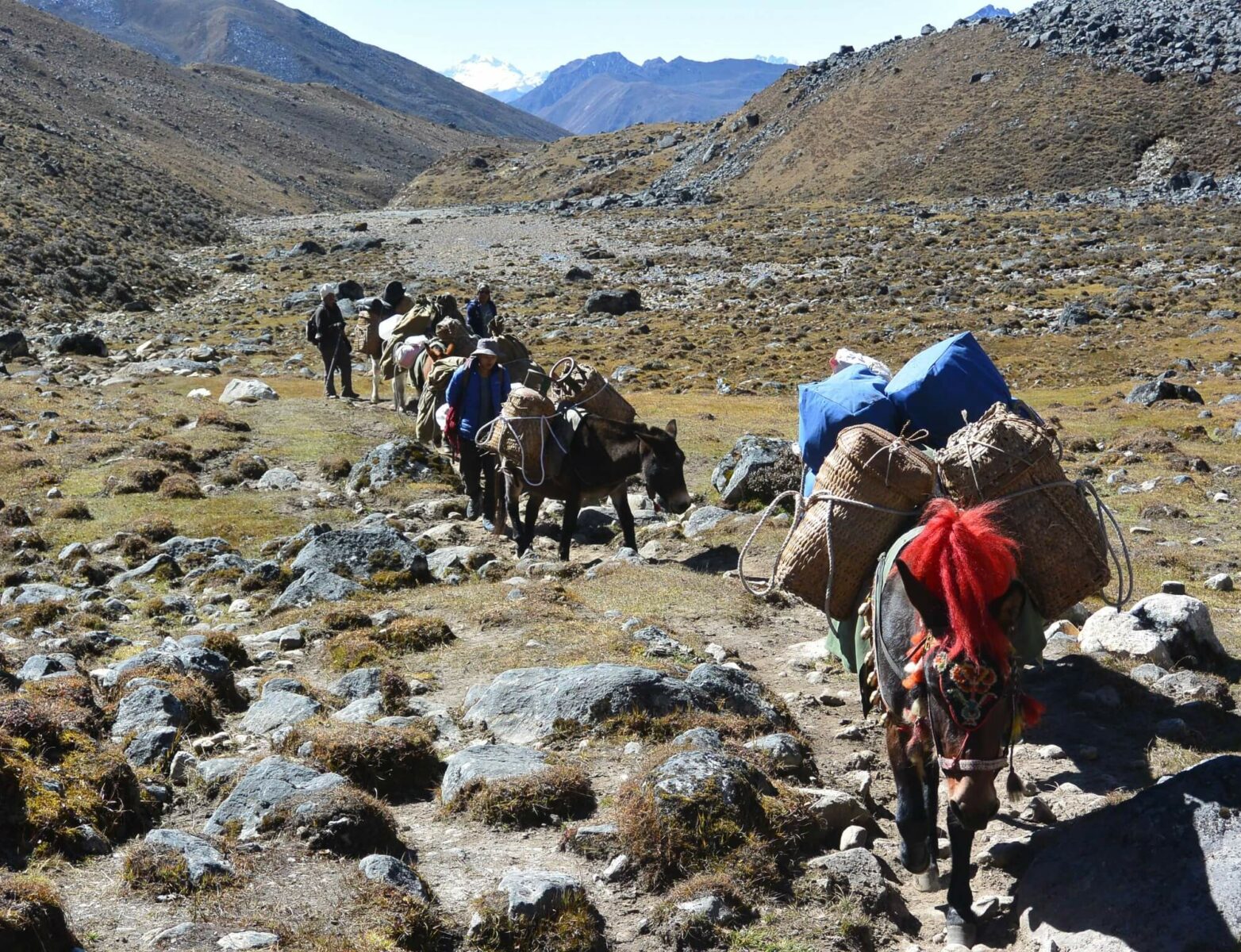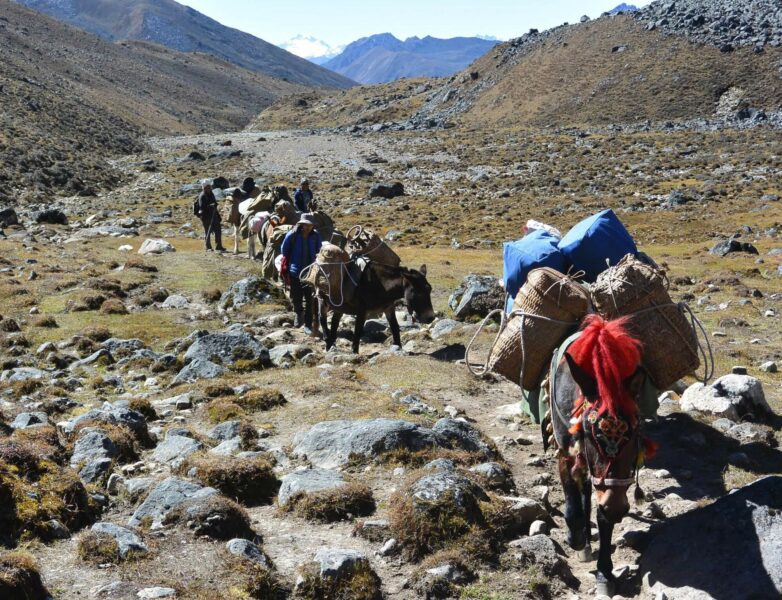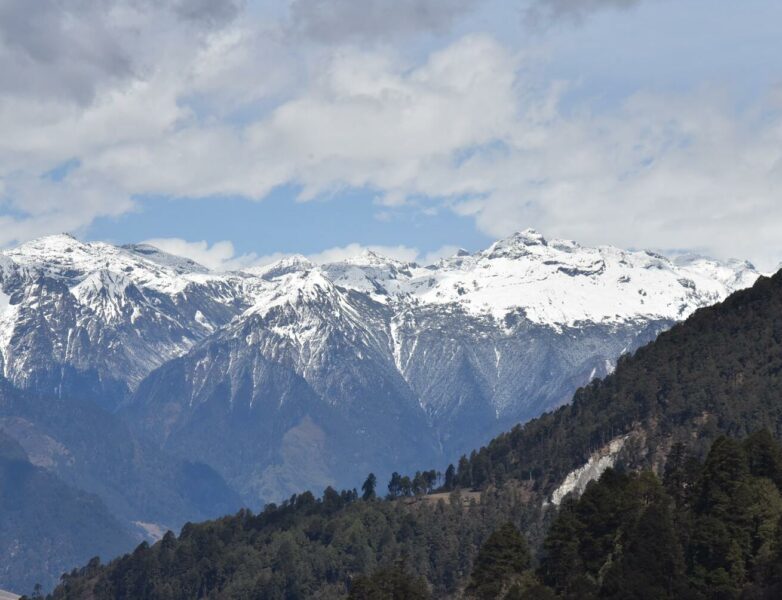 Top three reasons to hike the Druk Path Trek
Immerse yourself in Bhutan's rich and captivating culture

Marvel at Bhutan's highest mountain and other Himalayan peaks

Breathtaking countryside and two main cities guarantee a full Bhutanese experience
The Druk Path trek is known as one of the most popular treks in Bhutan, and deservedly so. This classic route rife with diverse landscapes and phenomenal views of dizzying Himalayan peaks connects Bhutan's two main cities, Paro and Thimphu. After exploring Paro and its breathtaking cultural landmarks, make your way through blue pine and fir forests and follow the snake-like trails to reach dwarf rhododendron trees and mirror-like lakes. You'll come across yak herders and catch a glimpse of the nomads' lifestyle along the way. Admire Bhutan's highest mountain, the mighty Gangkhar Puensum (7,570 m / 24,840 ft), and end the trekking portion on an easier note by heading downhill into the country's capital, Thimphu, where more sightseeing opportunities await.Let your guide take you on an unforgettable Bhutanese adventure and remove all the guesswork out of the equation!
Season

March through May and September through November

Nearest city

Thimphu, the capital of Bhutan, is just an hour away
Book this adventure
Hiking the Druk Path Trek
Make your way to Bhutan's city of Paro and explore the interesting landmarks of this beautiful city before heading to the Druk Path trek. On the trekking portion of this adventure, discover the varied landscapes of the Bhutanese countryside, observe yak herds, dense forests and set up campsites near clear lakes. Cap off your thrilling experience by doing some sightseeing in the country's capital, Thimphu, and discover the best cultural gems the Land of the Thunder Dragon has to offer!
Itinerary
Day 1: Arrive in Paro
After you arrive in Paro, your guiding service will transfer you to your hotel. In the afternoon you'll visit Ta Dzong, a fortress which was used as a watch tower to defend the Paro Dzong and Paro Valley and was later converted into the National Museum of Bhutan. The museum boasts more than 3,000 artifacts and is filled with antique Tibetan Buddhist paintings, textiles, weapons and Bhutan's renowned postage stamps. Below Ta Dzong is Rinpung Dzong ("fortress of the heap of jewels"), a large Buddhist monastery and fortress which boasts a long and interesting history. You'll spend the night at the hotel in Paro.
Meals: Lunch and dinner
Accommodation: Hotel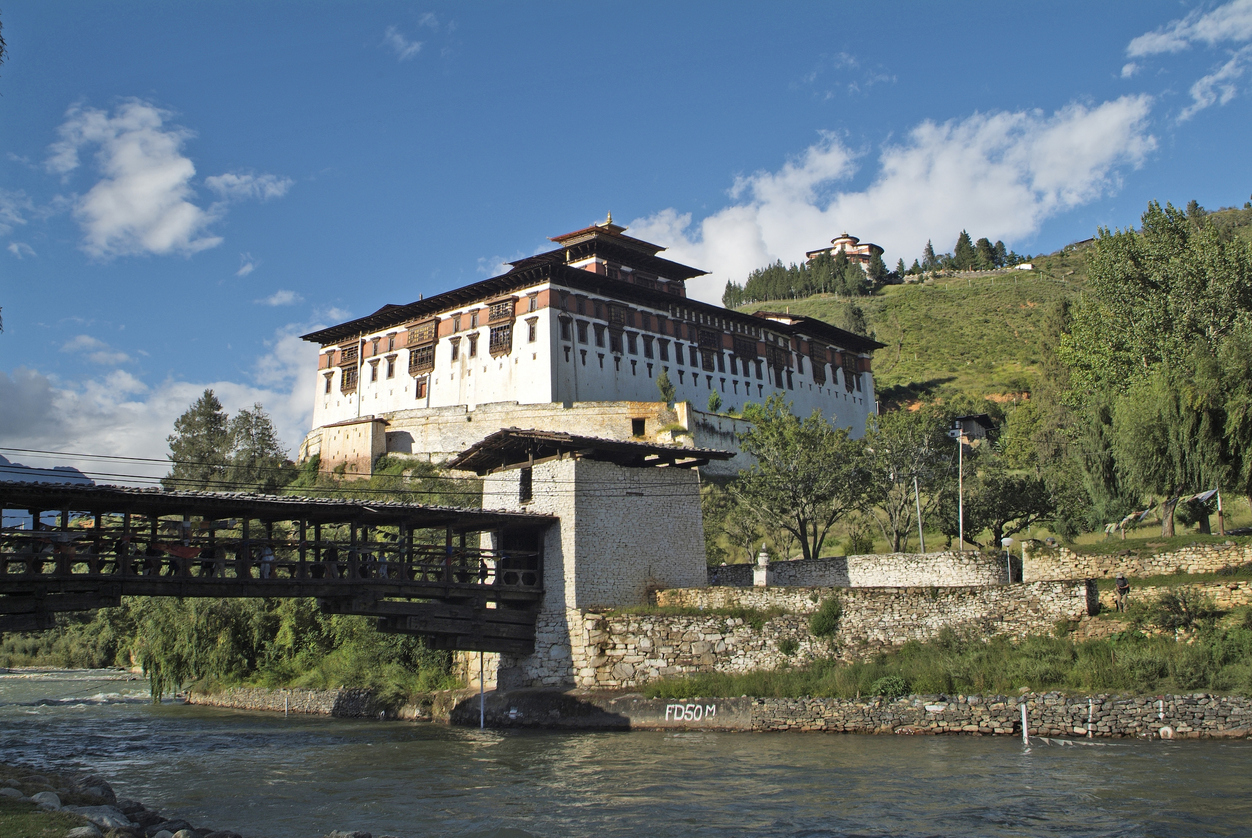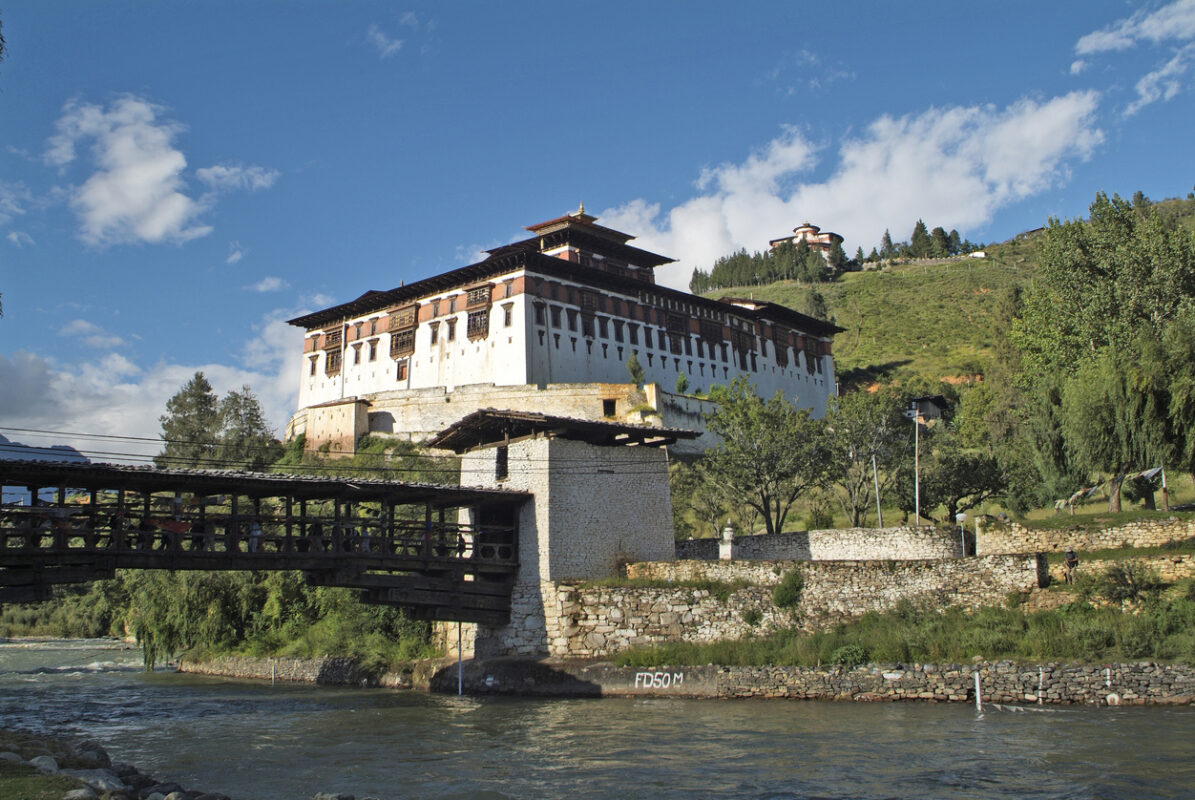 Day 2: Paro
Kick off the day by visiting Kyichu Lhakhang, one of the oldest and most sacred shrines in Bhutan. Make your way to Taktsang Monastery, also known as the Tiger's Nest. According to the legends, Guru Padmasambhava, a tantric Buddhist Vajra master from India, flew here from Tibet on the back of a tigress and landed at the spot where the monastery was later built. The excursion to Tiger's Nest takes about 5 hours. In the evening, you'll visit Dungtse Lhakhang, a Buddhist temple built in 1433 by the iron bridge builder Thangtong Gyalpo. Later on, enjoy a stroll around Paro city center. You'll spend the night at a hotel in Paro.
Meals: Breakfast, lunch, dinner
Accommodation: Hotel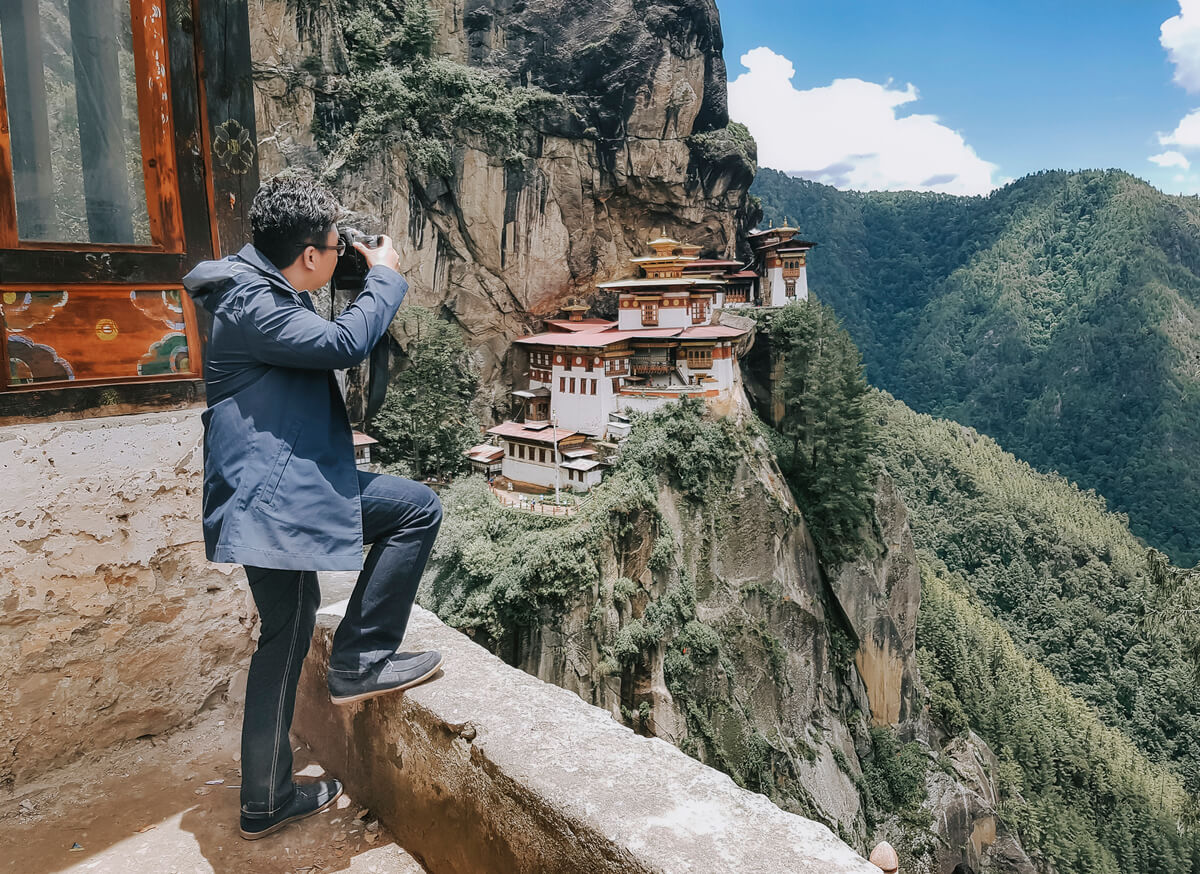 Day 3: Paro – Jangchulakha
On the third day, you'll drive to a road where your trekking crew will be waiting for you. A long day is ahead of you and you'll need to climb more than 1,000 m (3,280 ft) of elevation. The trail will gradually lead you through the blue pine and fir forest to a small monastery located on the ridge. Stop here for lunch or refreshment and continue walking along the ridge. After some time, the trail takes you through thick alpine forest and dwarf rhododendron trees to your campsite at Jangchulakha. You may witness the strikingly big and spectacular yaks around your campsite.
Distance: 17 km (10.56 miles), approx. 7 hours
Elevation: 1,400 m (4,593 ft) ascent, 50 m (164 ft) descent
Meals: Breakfast, lunch, dinner
Accommodation: Tent
Camp altitude: 3,770m (12,368 ft)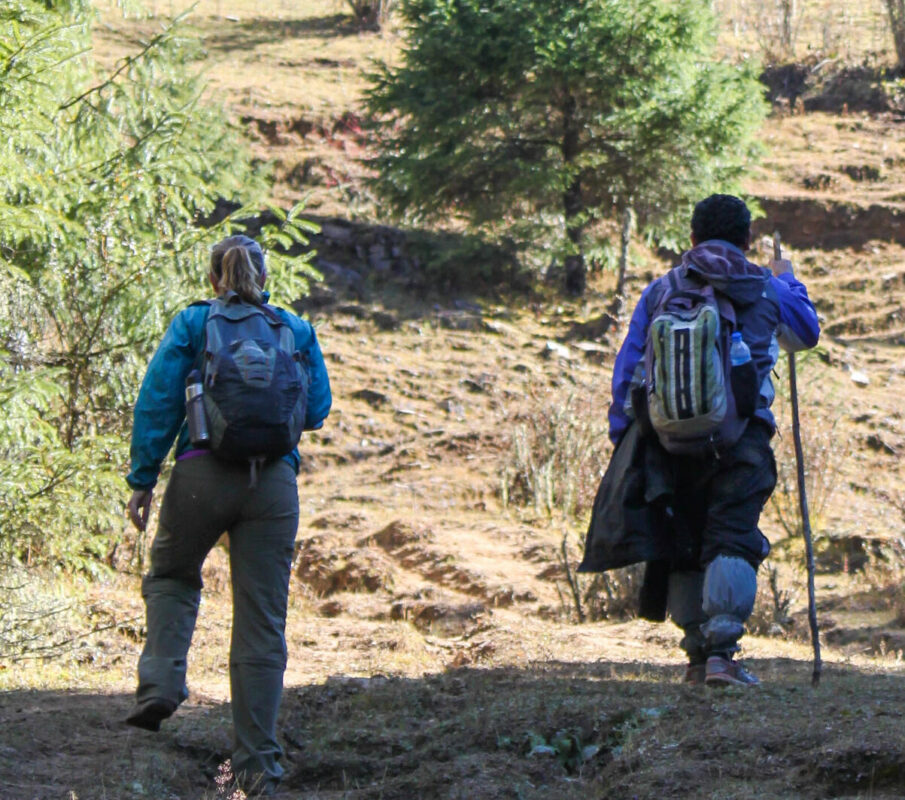 Day 4: Jangchulakha – Jimilang Tsho
The trail will lead you mostly along the mountain ridges with lots of knee jerking routes and a good view of the mountains and valleys around you. You can even see the colorful monal pheasants native to Himalayan forests and shrublandsl. You'll set camp near a beautiful lake called Jimilang Tsho, known for its giant-sized trout.
Distance: 11 km (6.84 miles), approx. 4 hours
Elevation: 230 m (755 ft) descent, 330 m (1,082 ft) ascent
Meals: Breakfast, lunch, dinner
Accommodation: Tent
Camp altitude: 3,870 m (12,696 ft)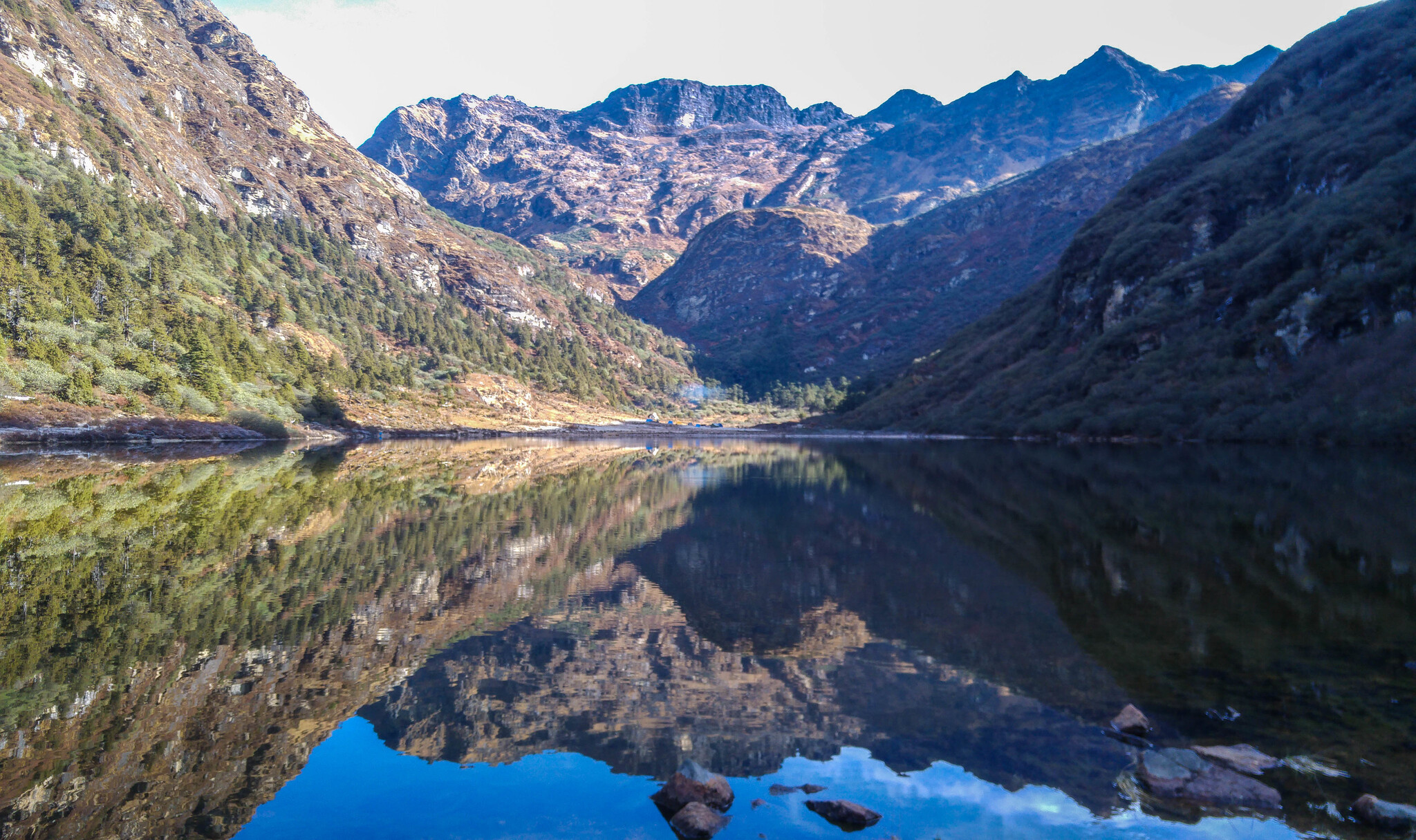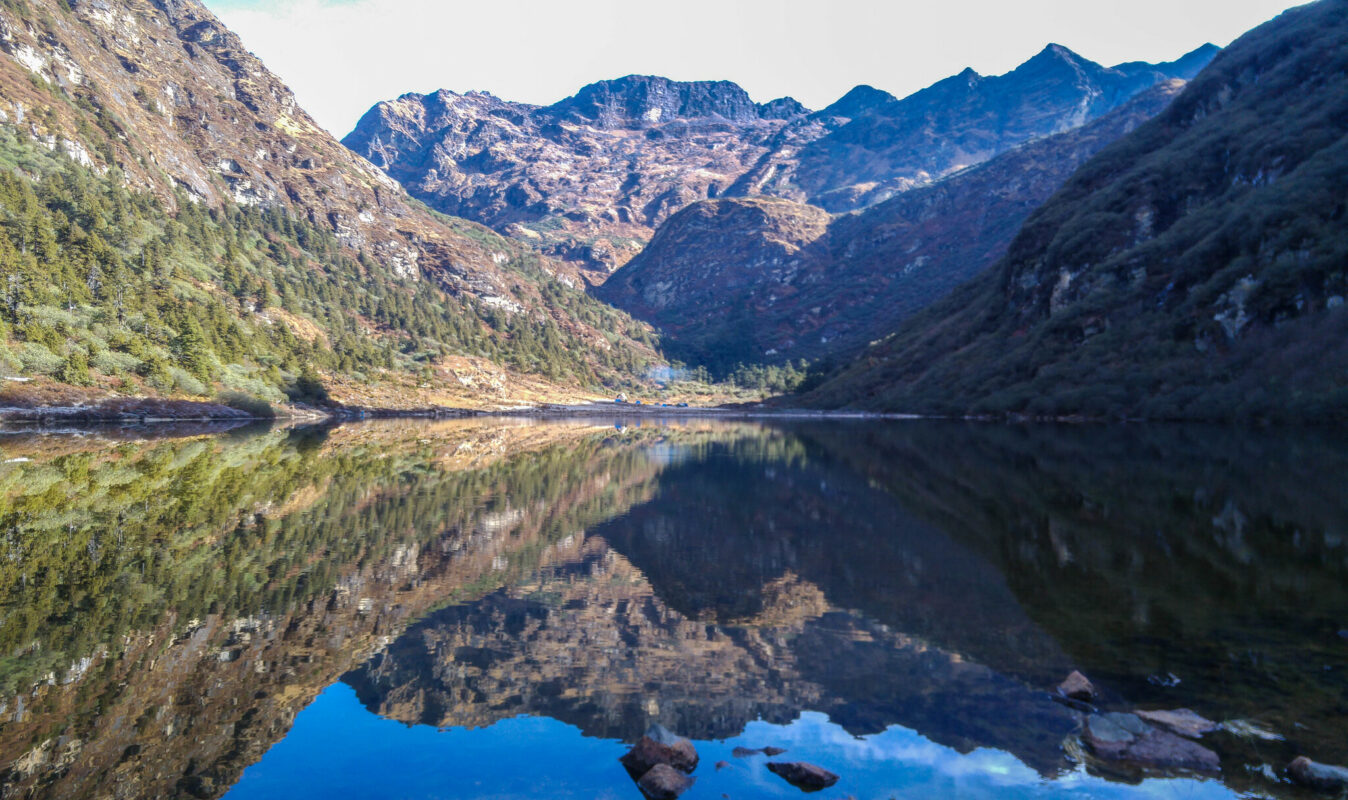 Day 5: Jimilang Tsho – Simkota
Continue your adventure through dwarf rhododendron trees and reach another smaller lake, Janetsho Lake. You may come across some yak herders' camps where you'll have the opportunity to get a glimpse of nomad life.
Distance: 11 km (6.84 miles), approx. 4 hours
Elevation: 820m (2,690 ft) ascent, 400 m (1,312 ft) descent
Meals: Breakfast, lunch, dinner
Accommodation: Tent
Camp altitude: 4,110 m (13,484 ft)
Day 6: Simkota – Phajoding
The harder part of this trek begins with a gradual climb and crosses Labana La Pass standing at 4,210 m (13,812 ft). If the weather permits, you'll have a spectacular view of Mount Gangkhar Puensum (7,570 m – 24,840 ft), the highest mountain in Bhutan, and other Himalayan peaks. You'll gradually descend down to Phajoding village which comprises mainly a monastic community.
Distance: 10 km (6.2 miles), 3-4 hours
Elevation: 130 m (426.5 ft) ascent, 680 m (2,230 ft) descent
Meals: Breakfast, lunch, dinner
Accommodation: Tent
Camp altitude: 3,750 m (12,303 ft)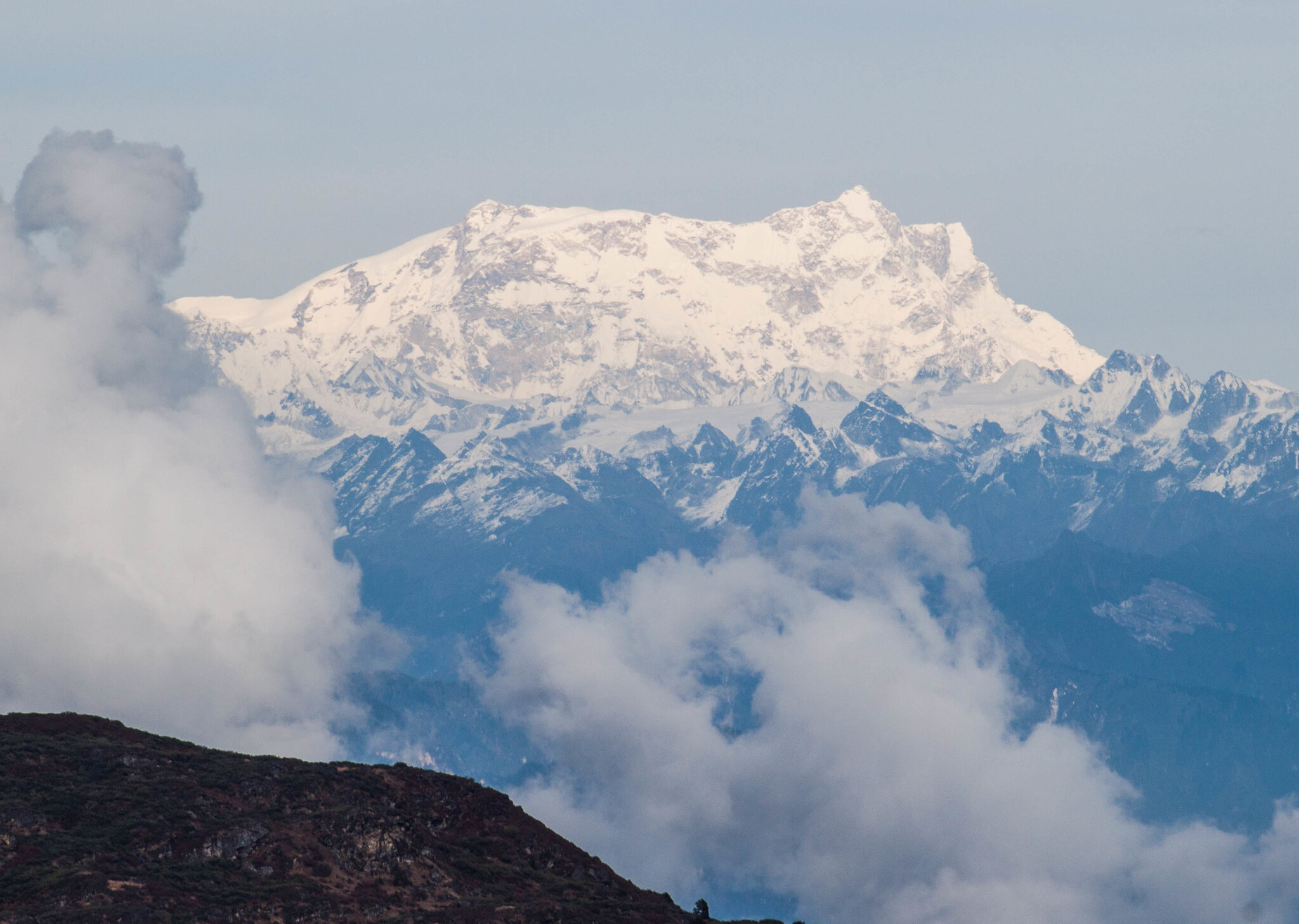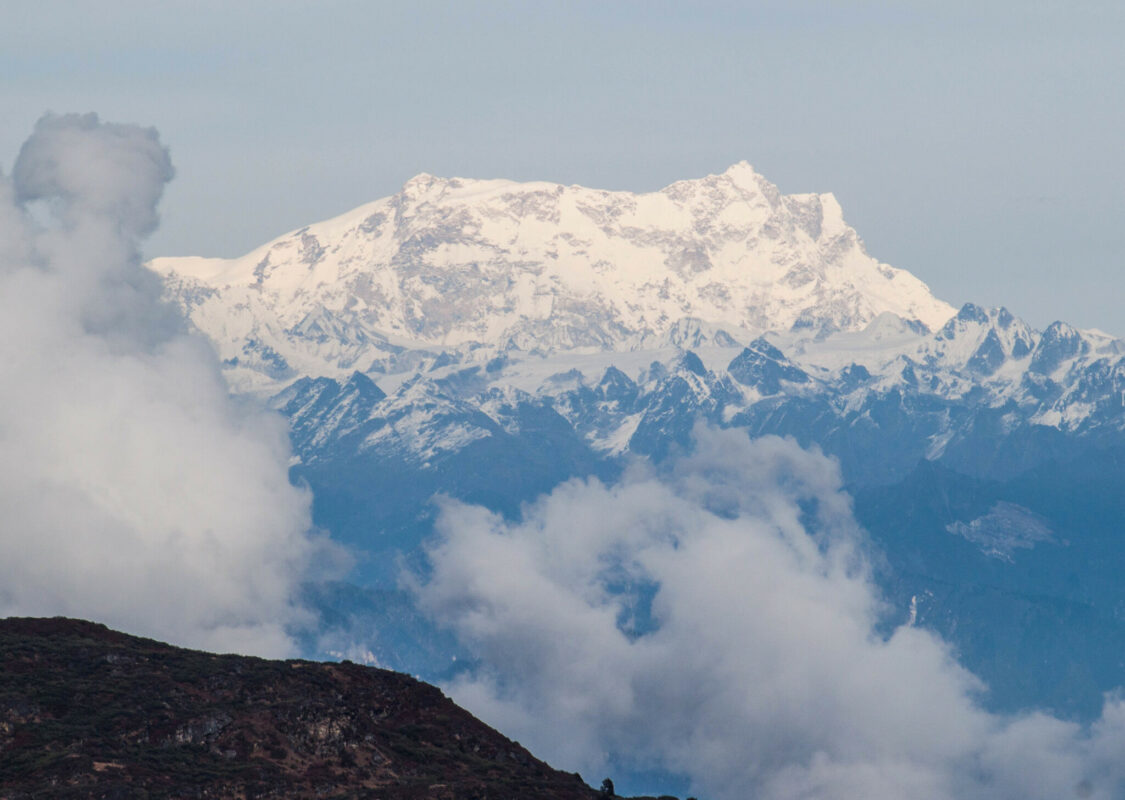 Day 7: Phajoding – Thimphu
On the last day of the trek, visit the Phajoding monastery and contine along the trek to Bhutan's capital, Thimphu. To reach the city, continue hiking downhill through a forested area of mostly blue pine. A vehicle will pick you up and drive you to your hotel. In the afternoon, go for a short sightseeing tour of the city and enjoy the local atmosphere. You'll spend the night at a hotel in Thimphu.
Distance: 5 km (3.1 miles), 3 hours
Elevation: 1,130 m (3,707 ft) descent
Meals: Breakfast, lunch, dinner
Accommodation: Hotel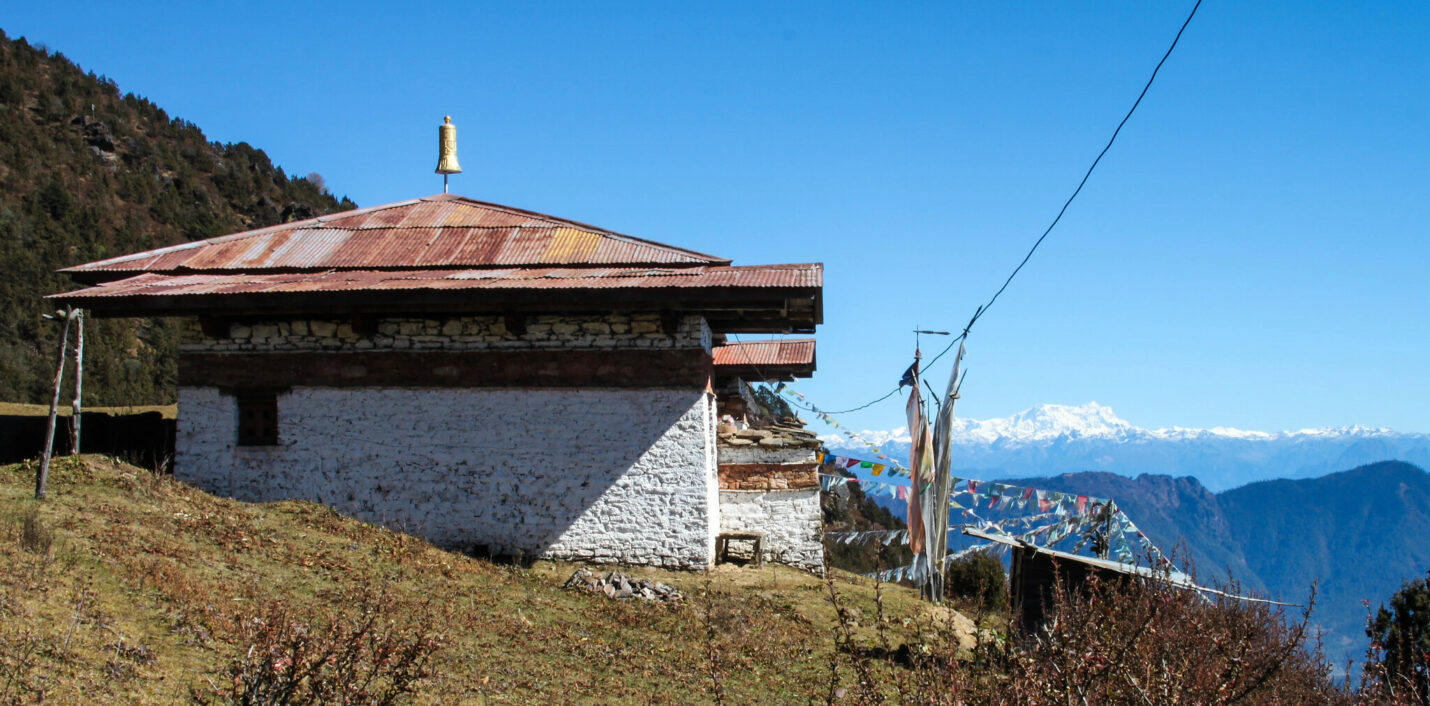 Day 8: Thimphu
After breakfast, visit Buddha Dordenma. This massive gilded statue of Shakyamuni made of bronze measures 51.5 m (168.96 ft) in height, making it one of the largest statues in Bhutan. Drive to Memorial Chorten, a stupa known as the most visible religious landmark in Bhutan. It was built in memory of Bhutan's Third King, His Majesty Jigme Dorji Wangchuck who is regarded as the Father of modern Bhutan.
Next, you'll visit the Bhutan Textile Museum. Bhutanese textiles are an integral part of its cultural heritage and unique for their diversity and sophistication. The other sights of interest are: The National Institute for Zorig Chusum, which provides training to young students in 13 traditional crafts of Bhutan, Folk Heritage Museum, and the Motithang zoo, where you can see the takin, Bhutan's national animal. Wrap up the day by visiting Tashichho Dzong, a Buddhist monastery and fortress known as the "fortress of the glorious religion." It was initially built in 1641 and restored in 1965. It's been the seat of Bhutan's government since 1968 and is home to the throne room and offices of the King of Bhutan. Spend your evening ecploring a local crafts bazaar and retreat for the night to a hotel in Thimphu.
Meals: Breakfast, lunch, dinner
Accommodation: Hotel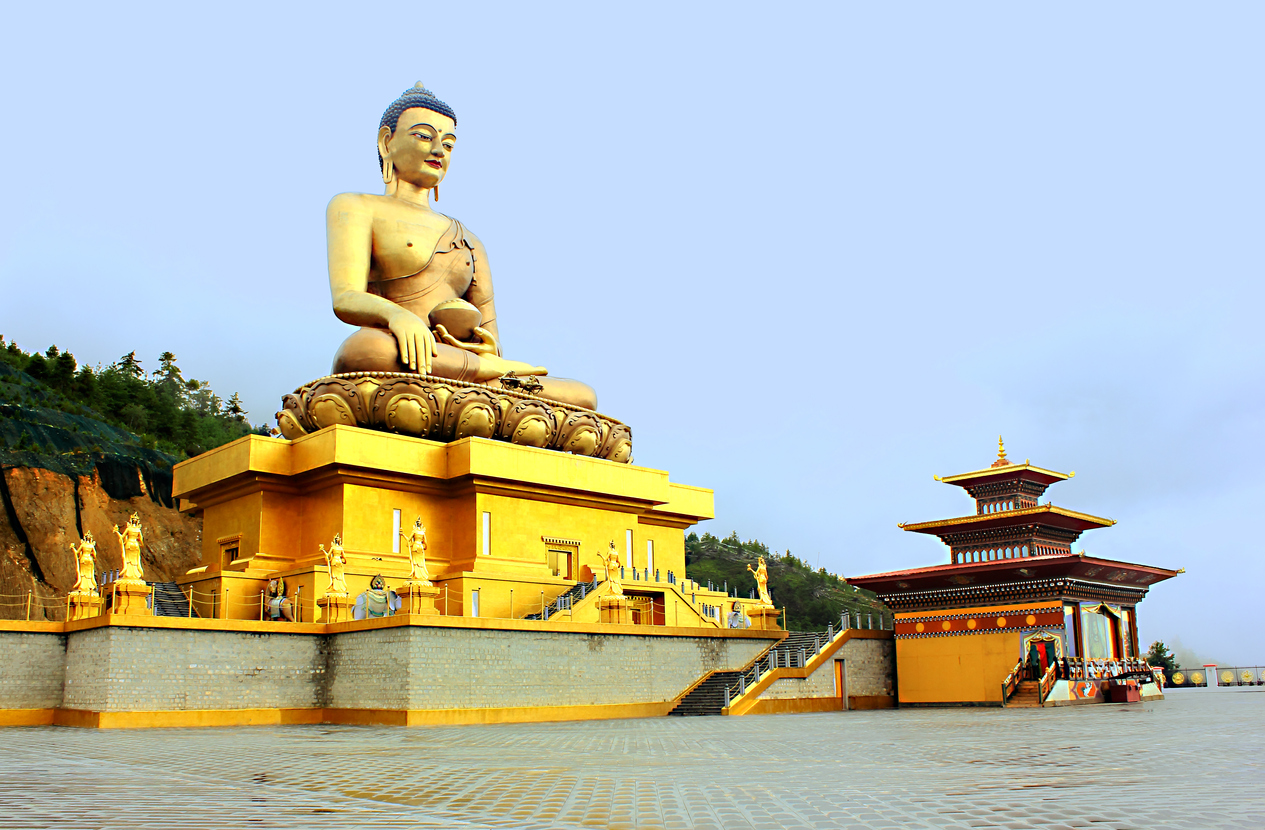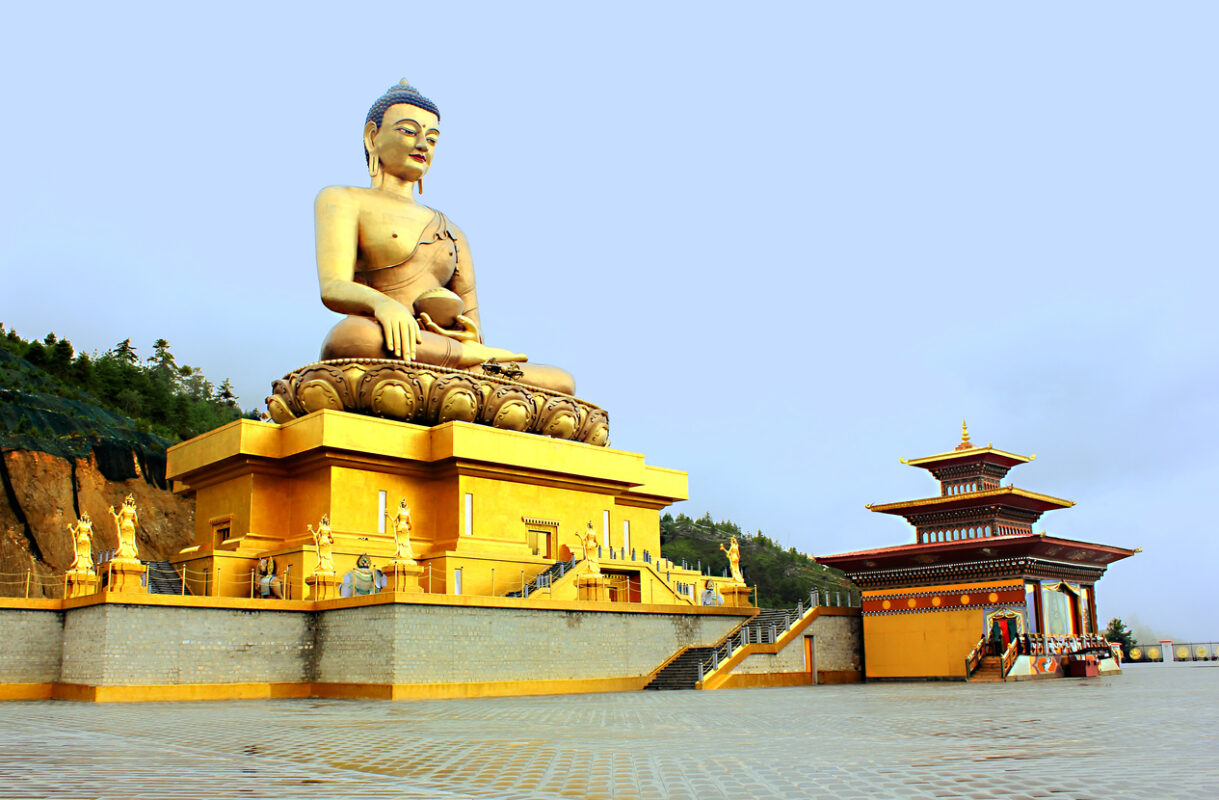 Day 9: Thimphu – Paro Airport
After your breakfast, it's time to say goodbye to Bhutan. You'll be transferred to the airport in Paro for your flight to your next destination. Your guiding service will assist you with exit formalities and bid you farewell.
Meals: Breakfast
Meet your guide

Trip India Trip
Trip India Trip have meticulously designed excursions on the Indian subcontinent that represent years of their hands-on expertise as well as extensive product study and understanding. Their goal is to make each trip a trip of a lifetime. With more than 1,100 trips and over 7,000 happy customers, they wish to keep providing exciting adventures in order to make even more adventurers satisfied.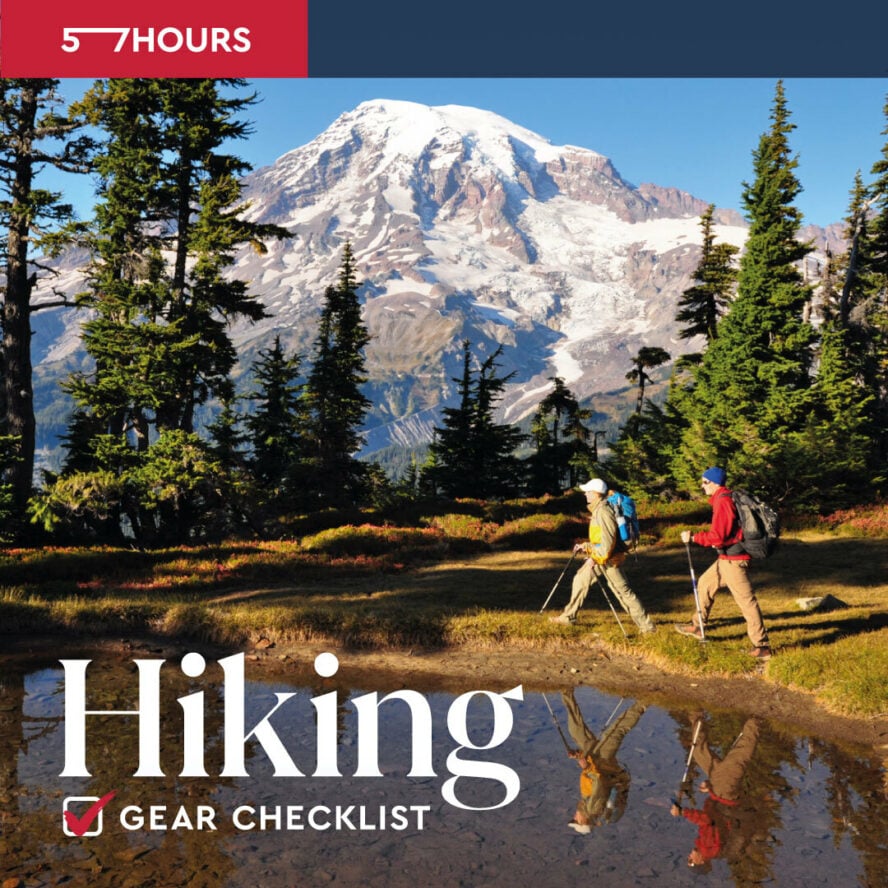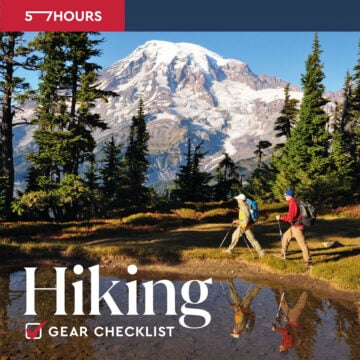 Download hiking gear checklist
Prepare for the trip.
Get complete checklist for hiking and camping equipment.
Check your inbox
Things to know
Covid measures for the Druk Path Trek, Bhutan
57hours is committed to providing safe outdoor adventure experiences. We require all guides using our platform to have a COVID-19 safety plan and to make the details of that plan accessible to travelers. In most cases, group sizes will be reduced, guides will avoid overcrowded locations, and other safety measures will be met depending on the location and activity.
We also expect clients to respect local regulations and take measures to protect themselves, guides and the communities they're traveling to. For more information on COVID-19 measures for the Druk Path Trek, Bhutan, please refer to the Royal Government of Bhutan website, Bhutan's Department of Immigration, and Bhutan's Ministry of Health Travel Advisory.
Please contact us if you have any questions or require further information. We are happy to provide you with the most up-to-date information!
What's included?
What you get on this adventure:
An experienced, local hiking guide with extensive knowledge of the area
Trekking staff including a guide, cook, assistants and a horseman
Full 10 days of hiking, trekking, and sightseeing
Accommodation in best tourist category hotels during tours
All meals and beverages, including evening tea
All transfers along the trek
Entrance fees to all monuments
Trekking gear (tents, thermal mats, blow pillow, pressured altitude bag for emergencies, basic medical kit)
Luggage tranfer on animals and an additional riding pony in case of an emergenty
Trekking poles, water bottle, rain poncho, etc. can be borrowed for free
Bhutan royalties and Visa fees
What's not included:
Transportation to and from Paro
Personal trekking gear
Sleeping bags (can be borrowed for free, but cleaning charges will apply)
How fit do I need to be?
In order to participate in this adventure, you need to be very fit as you'll be hiking and trekking anywhere between 3 and 7 hours every day, covering 5-17 km (3.1-10.6 miles). There will be days when ascents will be easier (130 m/427 ft to 330 m/1,082 ft), but on some days the ascents will increase, ranging from 820 m/2,690 ft to 1,400 m/4,593 ft. The highest elevation on this adventure is 4,210 m/13,812 ft. Keep in mind that you'll be packing a daypack filled with water and other things you'll need throughout the day.
What do I need to bring?
All trekking gear is included in the price. It includes tents, thermal mats, a blow pillow, a hot water bag for warmth during the night, a pressured altitude bag for emergencies, pack animals to carry luggage, an additional riding pony for emergencies, and a basic medical kit.
Here's a list of the equipment you need to bring:
Backpack large enough to carry all the items listed (approximately 2,500 to 3,000 cubic inches)
Sleeping bag rated -10 to -20C (can be borrowed, cleaning charges will apply)
Trekking poles (can be borrowed for free)
Sun hat or scarf
Light balaclava or warm fleece hat
Lightweight gloves
Heavyweight gloves or mittens with a waterproof shell
Underwear
T-shirts
Light- and expedition-weight thermal tops
Fleece jacket or pullover
Fleece wind-stopper jacket — optional
Waterproof shell jacket (preferably breathable fabric)
Down vest and/or jacket — optional
Hiking shorts
Lightweight cotton long pants
Light- and expedition-weight thermal bottoms
Fleece or wool pants
Waterproof shell pants (preferably breathable fabric)
Thin, lightweight inner socks
Thick, warm wool hiking socks
Hiking boots with spare laces
Camp shoes (sneakers and/or sandals)
Gaiters — optional
Headlamp with spare bulbs and batteries
Small pad or combination lock-to-lock trek bag
Basic first aid kit
Large plastic bags (for keeping items dry inside trek bags)
Thermarest sleeping pad
Water bottles
Toiletries (sunscreen, hand sanitizer, bug spray, toilet paper, etc.)
Sunglasses
Small wash towel
Binoculars — optional
Compass — optional
Swiss knife — optional
Camera — optional (but recommended)
Dress comfortably and for the weather in clothes you can move in. We suggest bringing clothing appropriate for the season. Layers are best and don't wear jeans.
Group sizes and age requirements
Group sizes and prices:
For this group adventure, the client-to-guide ratio is 15:1. Cost is per person and it doesn't decrease as the group grows.
It takes a minimum of 6 people for this tour to operate. The maximum number of participants is 30.
If joining alone, you'll be placed with peers that share a similar level of experience.
Hiking the Druk Path Trek can be arranged for larger groups. Contact us to make arrangements.
Min. age requirements:
If you are older than 18, you're good to go.
Minors younger than 18 may be permitted to join the hike on a case-by-case basis, but must be in the presence of a parent or legal guardian.
If your group has hikers under the age of 18, contact us prior to booking to make arrangements.
Deposit and cancellation policy
A 30% deposit to secure your place is due upon booking. Once the trip is confirmed by the guide, the cancellation policy stated below applies, and deposits are no longer refundable. The remaining 70% of the amount is paid the latest 3 months (90 days) prior the departure.
All cancellation requests need to be sent in written mail. If you cancel your booking, the following cancellation fees will apply.
Cancellation 61 days or prior to departure, all deposits will be refunded after deduction of transaction fee and services booked in advance on a non-cancellable basis;
Between 31 and 60 days prior to departure, 75% of the total package amount will be deducted
30 days or less prior to departure, there will be no refund and the full package amount will be forfeited.
If you leave a trip for any reason after it has commenced, your guiding service is not obliged to make any refunds for unused services. If you fail to join a tour according to tour booking dates or join it later or change departure date no refund will be made (in case of a group booking).
Getting there and meeting location
To get to the Druk Path Trek, most people fly into Paro International Airport, about 10 minutes away from the town of Paro where your adventure begins. From there, your guiding service will transfer you to your hotel in Paro. The guide will choose the appropriate terrain dependent on conditions and the ability of the group.
At the end of your adventure, your guiding service will transfer you back to the airport.