Moab | Utah
Rock Climbing in Desert Towers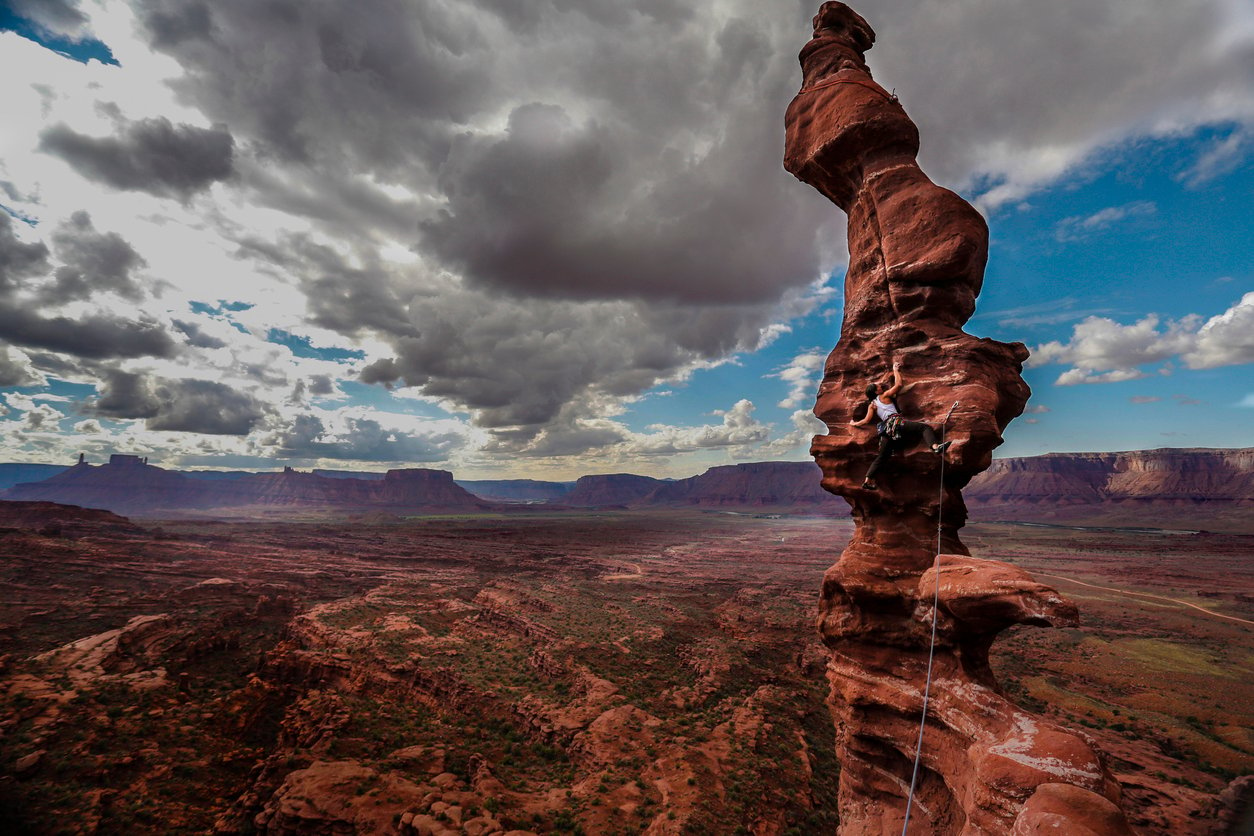 Season
March through May and September through November
Nearest city
All towers are about 30 minutes away from Moab
A multi-pitch wonderland full of classics for every skill level
Moab's towers are the ultimate draw for climbers, and nearby Desert Towers are classics that must not be missed in the area. Even intermediate routes present challenges with fickle pitches, technical terrain and a staggering sense of exposure. Climbers haven't been able to resist the siren call of these stunning sandstone spires since the sport first gained popularity in the 1960s. Moab's sheer rock faces and desert tower cruxes offer aerial perspectives that are ideal for spring and summer pursuits. Imagine sweeping views, thrilling verticals and red desert as far as the eye can see. You'll want to take your camera for this one.
Most Popular Itineraries
Climb the Ancient Art Tower
Gravity defying, easily accessible, and surprising pitches are just the start. Ancient Art is a towering chimney you can't miss. Ancient is unique for desert towers because it's mostly intricate face climbing. Don't let that scare you away. With a solid 5.10 crux section being avoidable through a 5.8 variant, this route should provide a great challenge for various skill levels with breathtaking views awaiting at the top.
Climb the Castleton Tower
Even if you don't know it by name, Castleton is the iconic tower that comes to mind when thinking about Moab. This 5.9+ memorable desert spire will challenge you both physically and mentally. Not only will you be getting a mean work out, your brain will have to wrap around an array of techniques. The exposure is superb, its cracks steep, and the views… unimaginable.
The Priest will shake your faith. The first 5.9 pitch offers an unkind warm-up, a tight offwidth squeeze and moves onto a chimney where you'll be doing various forms of stemming. The crux awaits you on the third pitch, a 5.11a where you'll get to show off your transition skills. Finally, one 5.8 pitch later and you'll be enjoying the scenery, like neighboring Castleton Tower.
Climb the Sister Superior
Sister Superior will teach you not to judge a book by its cover. Truly a classic 5.10 route, it's exceptionally steep, with challenging, thin hand cracks at the cruxes. Each pitch is an adventure on its own, ranging from squeeze chimneys to boulder problems.
Climb the Looking Glass Arch
Unlike its fellow towers, Looking Glass is fairly welcoming to rookies and a great introduction to multi-pitch climbing. It's a 5.5 summit at most, with an attainable low-angle rib and views just as spectacular as those from the top of the more daunting spires. Expect a decent amount of airy exposure and memorable free-hanging rappels through an astonishing window of an arch!
Things you need to know
Why should I book with 57hours?
With us, it's all play and no work for you! 57hours is an open platform that connects you with trained and certified outdoor adventure professionals all over the world. Using our tech-savvy, we make it super easy to find and book adventures worth tackling, with guides worth booking, all gathered from the first-hand experiences of the locals who adventure in these amazing locations.
Why should I go rock climbing?
Rock climbing is more than just a sport; it's problem solving on-the-go. It's a balance of intuition and fluidity of movement. The fun comes from the possibilities — each route with a variety of options and only a fraction of them leading to success. When you finally master a climb, after hours of practice, it transcends mere sport and is akin to art.
What's included?
What you get in this adventure:
An experienced, local rock climbing guide with extensive knowledge of the area
4 to 8 hours of rock climbing
All technical climbing gear
Transportation from Moab to Desert Towers
Technical gear list
All technical climbing equipment will be provided by your guiding service. However, if you have your own gear, feel free to bring it. You'll need:
Helmet
Harness with a locking carabiner, belay device, and chalk bag
Rock shoes* (included in the price, but we recommend bringing your own if you have them)
Ropes
Climbing hardware (quickdraws, cam devices, stoppers, etc.)
What do I need to bring?
Here's a list of the equipment we suggest you bring:
Day pack large enough to carry all the items listed (around a 40L bag)
Water bottle
Food you can eat on-the-go
Toiletries (sunscreen, bug spray, toilet paper, etc.)
Sunglasses
Camera — optional
Dress comfortably and for the weather in clothes you can move in. We suggest bringing clothing appropriate for the season. Layers are best and don't wear jeans.
What if I've never climbed before?
A lot of the classic, most sought after spires are rated 5.9 and up, meaning beginners will have to gather some experience before attaining them. Hone your skills at Moab, the ideal classroom for rock climbing.
If you're comfortable with 5.7s, your guide will hook you up with routes that will hone your technique and help you gain confidence on multi-pitch terrain. You'll be getting an adventure catered to your capabilities — a perfect mix of relaxation and challenge, complete with striking views.
What does a typical day look like?
You're looking to spend anywhere from 4 to 8 hours at the cliffs. In the morning, you'll meet your guide and get fitted with climbing gear, or allow the guide to safety check your own. Once you get the thumbs up, a short ride separates you from your full-day adventure. Depending on the tower of your choosing, expect to be properly challenged by its very technical multi-pitches. All desert spires provide rewarding views from the top that are sure to leave you breathless.
How fit do I need to be?
Save for a few routes, a high level of fitness is a must. Rock climbing is all about proper techniques, so you'll want to be fit enough to balance your weight and perform long holds. You can count on these sport routes to push your limits, both physical and mental.
What is the minimum age requirement?
If you are older than 18, you're good to go.
Youth aged 8-17 can go on their own, but a guardian will need to provide a signed waiver before an outing with the guide.
What about group sizes and pricing?
Group sizes are usually between 1–3 people with one instructor.
Costs per person decrease as the group grows, so it's the perfect opportunity to climb with friends!
Climbing days can be arranged for bigger groups, but please contact us prior to booking.
What about bad weather?
As the saying goes, "there's no such thing as bad weather, only bad preparation," and you can expect your guides to be fully prepared for anything. The Towers see a lot of lightning storms, but you can be certain that your guide will know the best alternate locations if the weather takes a turn.
On the rare occasion of unavoidable bad weather, your instructor will present you with suitable alternatives. The most common practice is to reschedule your climbing to a more favorable day or suitable location nearby, if it exists.
If no options presented are viable, you will be issued a full refund.
Cancelation policy
All policies regarding cancellation, rescheduling and trip insurance will be clearly laid out by your guide prior to booking your adventure. Contact us if you'd like more information on a specific adventure.
Getting there and meeting location
You will meet your guide in Moab, a town located about 16 miles from The Towers. The exact location will be discussed after booking. You'll find Moab just south of the Colorado River, 18 miles west of the Utah/Colorado state line. Don't forget to take in the scenery around you!
Depending on where you're coming from, your best bet is taking the U.S. Route 191 or Utah State Route 128.
If you don't have transportation of your own from Moab, you can carpool to the Towers with your guide free of charge.
If travelling with your own car, you'll meet your guide at a predetermined location and follow them to the Desert Towers.
Red River Adventures
Red River Adventures
In business since 2006, Red River Adventures is owner-operated, and proud to have A...
View details
Moab Cliffs and Canyons
Moab Cliffs and Canyons
A highly established guide service, Moab Cliffs and Canyons offers a wide variety o...
View details