Indian Creek: Home of the Best Crack Climbing in the USA
Indian Creek is one of my favorite places to climb in the entire country. Its incredible crack routes, camping, and culture, make it the ultimate climbing destination.
Utah is one of the best states for rock climbing, and few climbing areas take hold of my imagination like Indian Creek.
Its mention invokes the smell of sagebrush, images of red mud-caked cars, and feelings of sore thumb muscles from jam after relentless jam in perfectly parallel oriented cracks that soar into the sky. Indian Creek also conjures up memories of waking in a creekside campsite filled with cottonwood trees and breakfast cooked on the Coleman two-burner. Climbing in Indian Creek is about spending days at cliffs you've never been to and trying out a new crack size that you haven't climbed — and then waking up the next day to do it all again.
In a state known for climbing,
Indian Creek is one of the best climbing destinations in Utah
. "The Creek," as it's known to most climbers, is the perfect place to get away and truly immerse yourself in its landscape. Out in the Southern Canyonlands of Utah, you won't find any cell coverage, and you won't see the orange glow of the city lights on the horizon or smell the exhaust of passing cars. At the Creek, there isn't any electricity or readily available water at the campsites — the kind of backcountry where your car is your backpack. I made my first visit in the fall of 2013, and I've been making my pilgrimage ever since.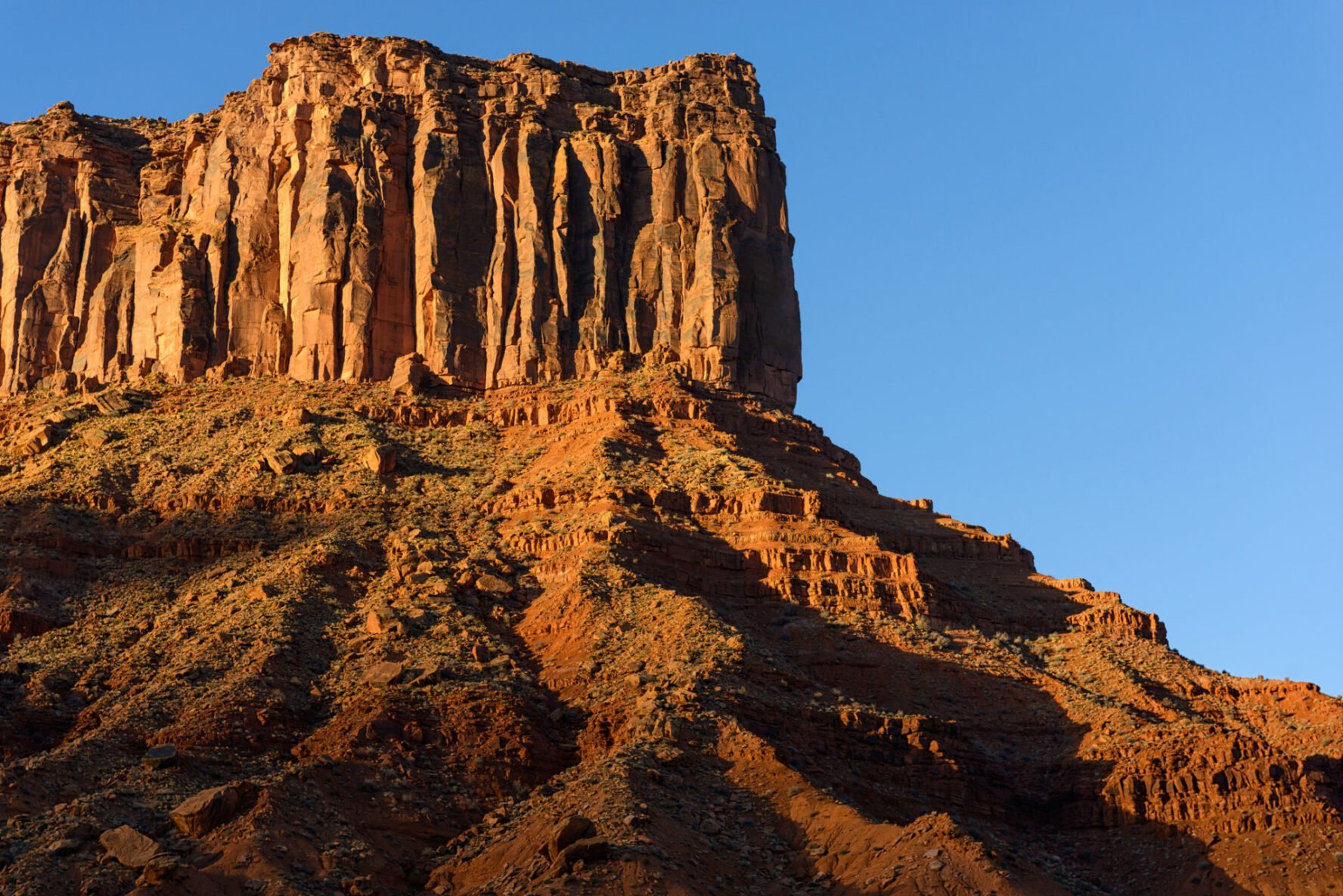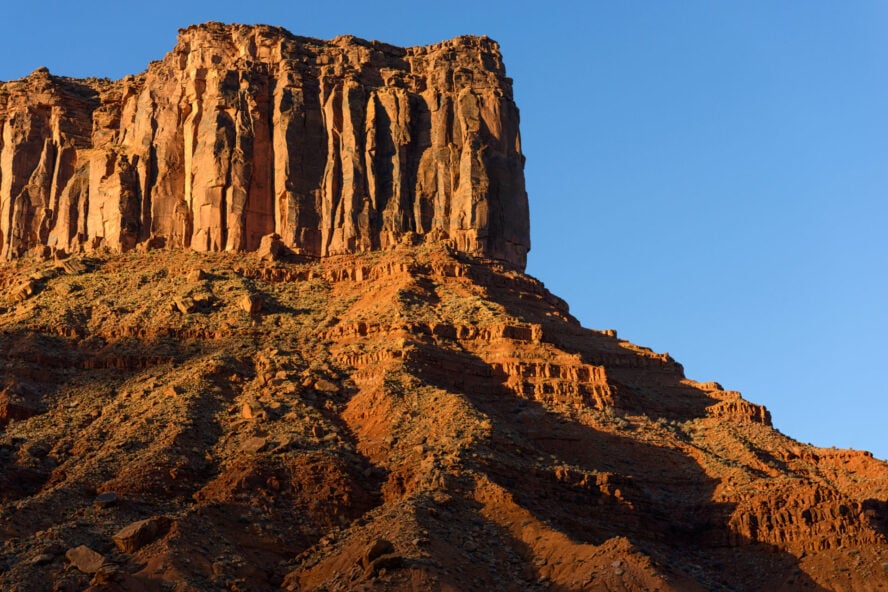 Pros and Cons of Climbing in Indian Creek
The culture of setting up ropes and sharing the climbing with everyone is strong
Tons of rest day activities within the Bears Ears and Canyonlands
There's great shots and views at all times of day
The camping is spectacular
There is steep a learning curve for pure crack technique
There's no cell coverage or services of any kind
A 70m rope is preferred due to the lengthy nature of many Creek classics
Getting to "the Creek"
Indian Creek is situated 55 minutes south of Moab, Utah, and about 30 minutes northwest of Monticello. You'll hear more about these two later!
From either town, take US HWY 191 to UT 211, the latter of which winds through ranchlands until it descends into the
Bears Ears National Monument
and the southern headwaters of
Indian Creek
. (Here's a
great map of Indian Creek and the surrounding Utah area
from the Bureau of Land Management.) After dropping into the upper canyon, you'll pass Newspaper Rock, one of the largest collections of petroglyphs in the country. I always stop to gaze at Anasazi, Ute and Fremont people's mark on the landscape — it only heightens my appreciation of the area. Then, when you look around, you'll see ever-increasing cliffs on either side and the widening of the valley beyond. I always catch my line of sight drifting to the perfectly vertical splitter cracks where the sandstone begins to darken and the lines start to steepen.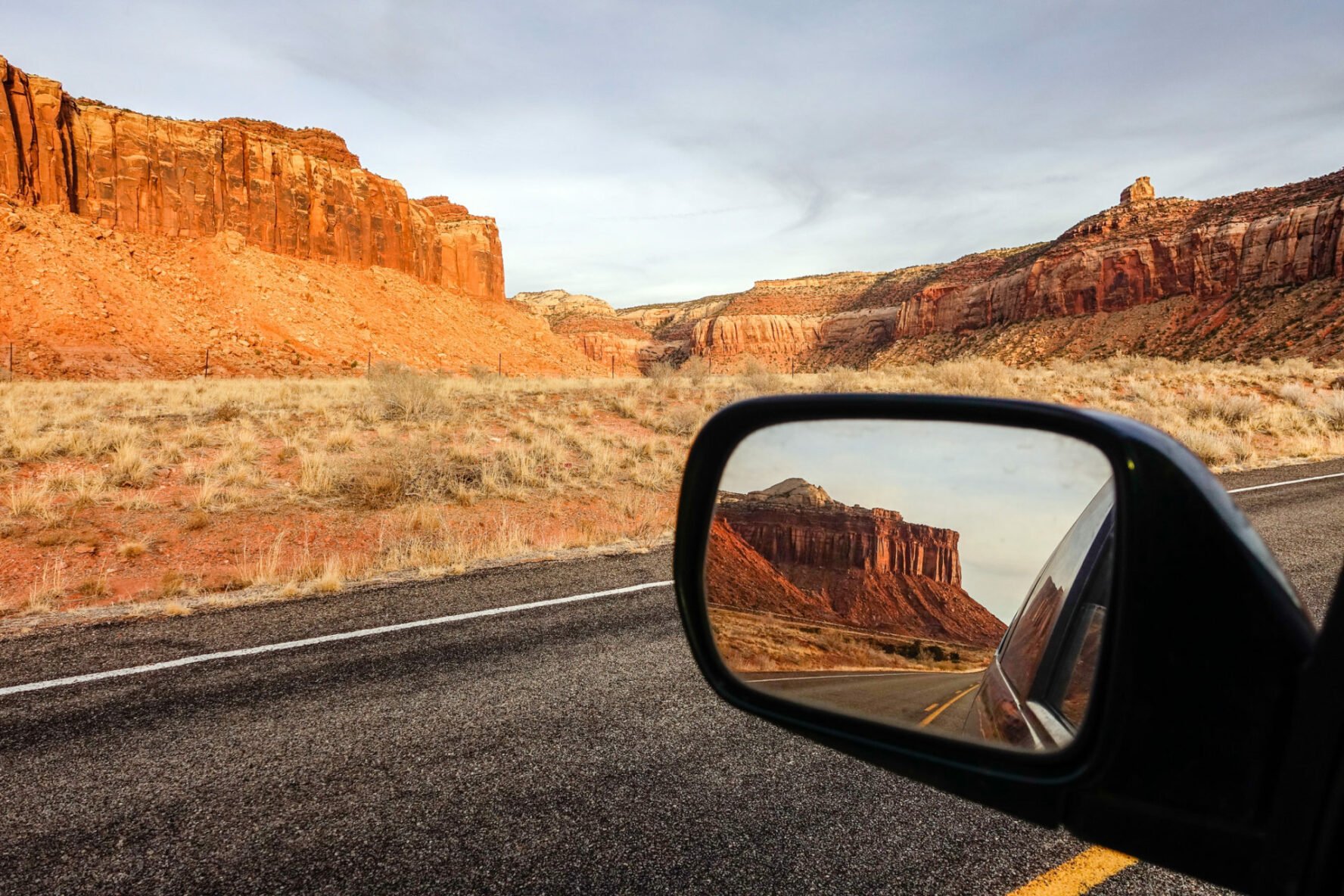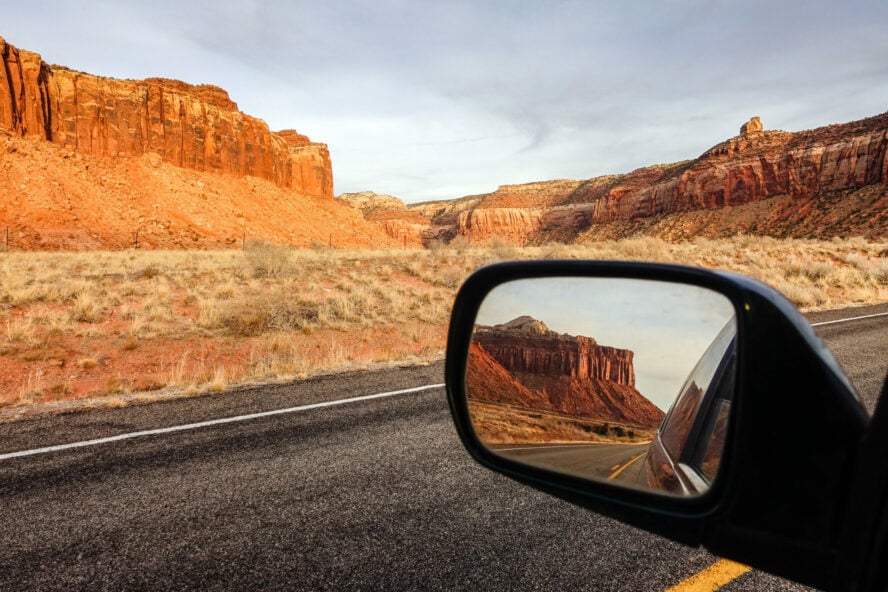 Where to meetup for climbing in the Creek
The Creek has several popular meeting spots for climbers about to begin their day. At these locations, you'll find a pit toilet, a message board (since there is no cell coverage), and parking spaces for adventure vehicles of all stripes.
The first area of interest when driving south into Indian Creek is the Supercrack Buttress parking lot. It's paved and has a modern pit toilet thanks to a partnership with the Bureau of Land Management (BLM) and the
Friends of Indian Creek
. The namesake crag parking lot is one of the most popular places for climbing and meeting. My friends and I usually meet here for an afternoon of warming up because it's the first stop when we enter the Creek. It's also home to some of the area's most classic routes! More on that in a bit…
Next up is the Beef Basin Road junction. This stopping point is unpaved, but there's enough parking to accommodate plenty of vehicles. There's also a pit toilet, a map of the area and another message board. This is a great central location in the Creek.
The final popular meeting location is the
Superbowl Campground
. This is one of the more popular, well-maintained campgrounds, and a great spot to make your basecamp.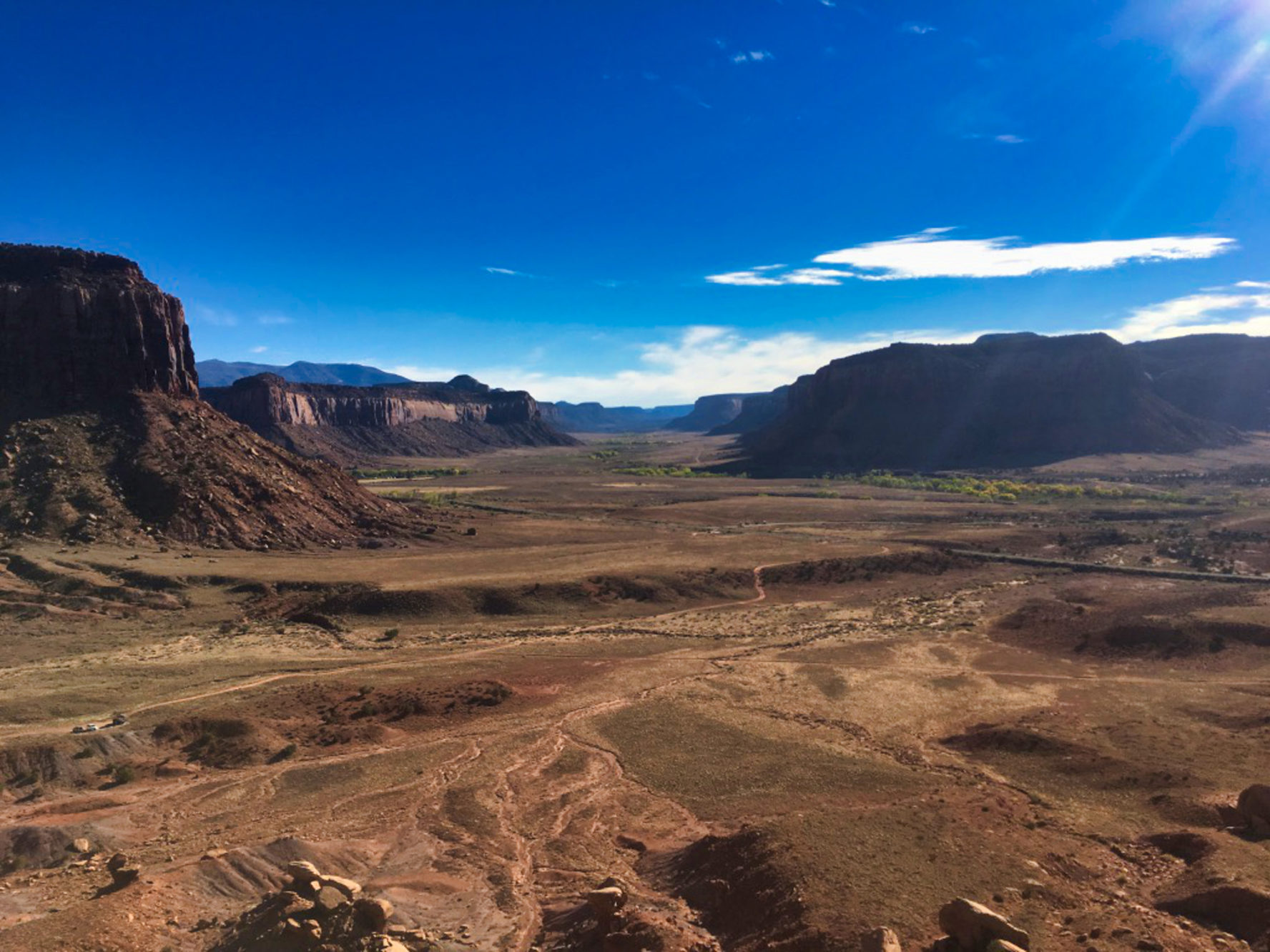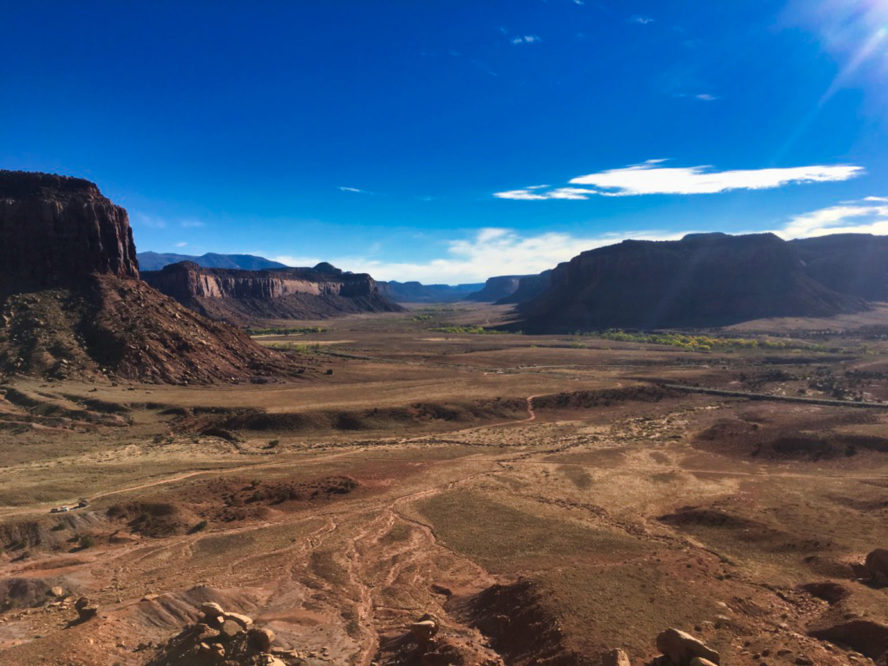 The Best Climbing Spots in Indian Creek
I start most days with a meet-up at the Beef Basin intersection. I usually set the meeting time the previous evening… remember, there is no cell service in the Creek! It's here that climbers meet and finalize their planned objectives for the day. Usually, some friends arrive, too, fresh from Moab, and our plan is always to pile into a single car (highly recommended and encouraged) and make our way to an area called Supercrack Buttress!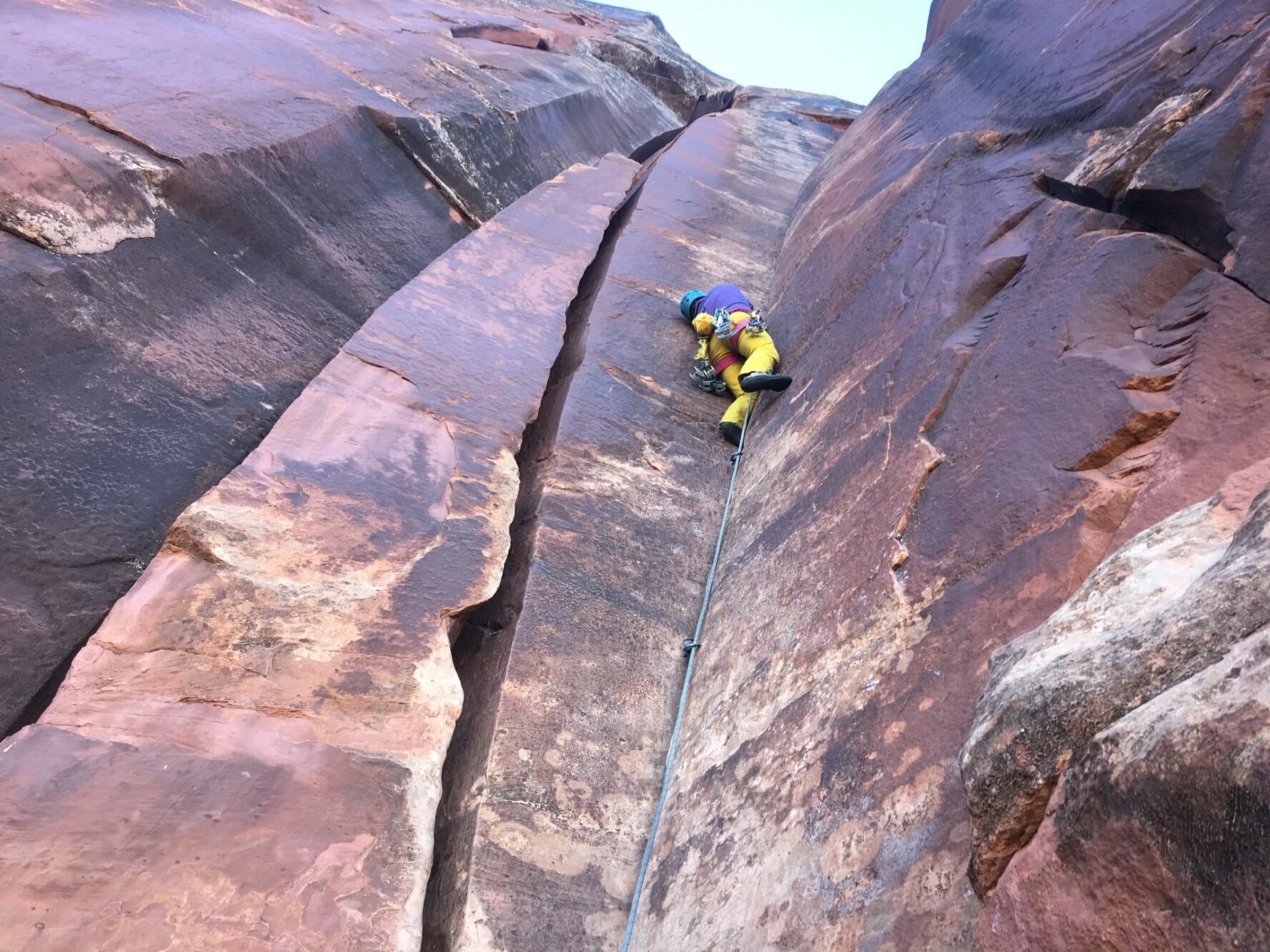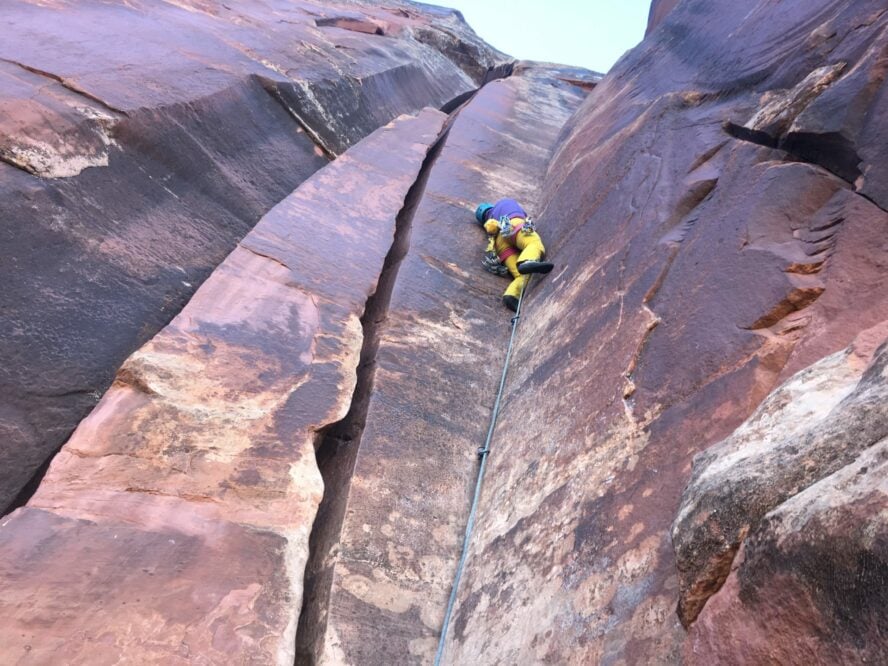 Indian Creek is known for its crack climbing
Indian Creek's legendary crack climbing is the best in the USA
. First timers to the area are going to want to head to the classic routes right away. Big mistake. I know, because I've made this mistake myself. On my first trip to the Creek, I went for Supercrack Buttress straightaway, and sought out Supercrack of the Desert. Well, I flailed my way up, hanging on every piece in fear. Now, when I bring people here for the first time, especially those new to crack climbing, I take them to less-trafficked beginner areas to get them comfortable with their techniques.
My favorite beginner-friendly climbs at Indian Creek
Short routes with a variety of sizes in the hand range are the best spots to learn cracks. In Indian Creek, there are great areas like Selfish Wall, which is 40-80 feet tall with many sizes of hand cracks. My favorite spot is Hand Solo, a 5.9 that includes modern hardware that will be used frequently. Nuclear Wall, also known as Sinbad Wall, is often overlooked, but it's another great beginner area with plenty of challenging routes. It's just on the other side of Battle of the Bulge, a crowded Creek favorite, and it has those short routes with a variety of hand sizes that make learning easy and prepare you for the classics of the area, which is why you're really coming here, right? You'll also find top ropes on harder routes After ascending the easier terrain, you'll also find top ropes on the harder routes for added fun.
The towers of Indian Creek
Indian Creek even has a few epic towers. When you first arrive in the area, the North and South Sixshooters take over the skyline as you pass Scarface. For great summit routes, Lightning Bolt cracks on North Sixshooter and the South Face of South Sixshooter are where you're going to want to be. Along its jagged skyline, the Bridger Jacks provides some incredible tower link-ups. Easter Island via the Thunderbolts routes is my absolute favorite tower in Indian Creek.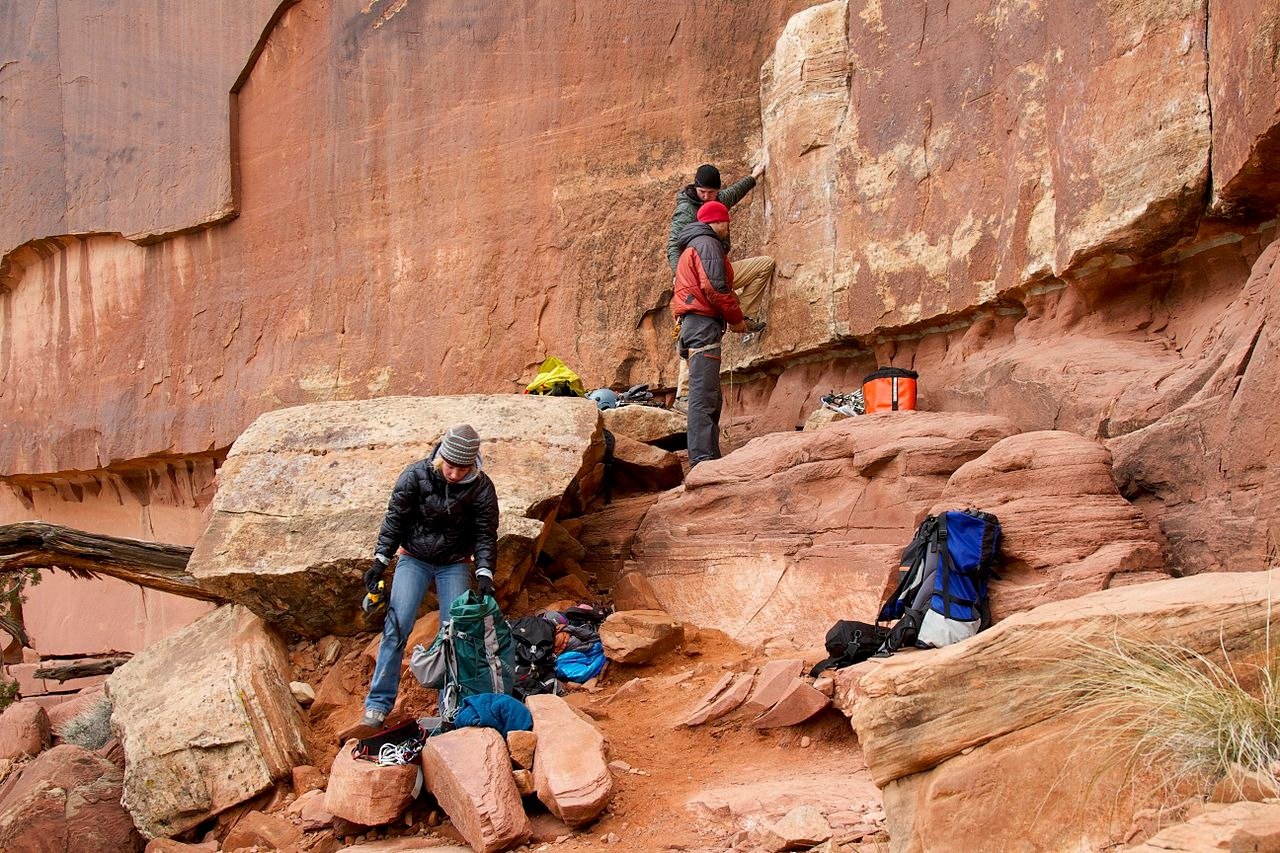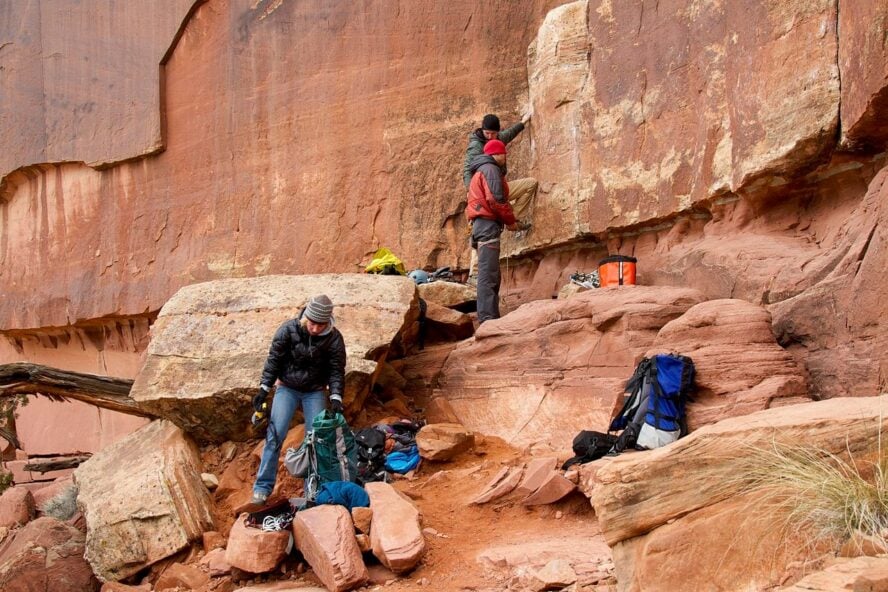 Supercrack Buttress — the ultimate crack climbing destination
Few areas are as well suited to crack climbing as Supercrack Buttress. Yes, it is popular and can be exceedingly crowded on weekends, but that's part of the climbing in the Creek. With cracks ranging from corners, to straight-in cracks in the faces (called a splitter), to low angle to overhangs with sizes ranging from tips to off-width, this area has it all.
The climbing itself is on Wingate Sandstone, which fractures into long, vertical crack systems. There is little to no "desert varnish" on the faces that can be used as holds, so most of the climbing requires pure crack techniques. For many, this is quite the task as it can be frustrating and painful when you first get started. I recommend finding a crack that fits your hand really well to allow for hand jamming, which, for most people, is the simplest technique for getting used to cracks.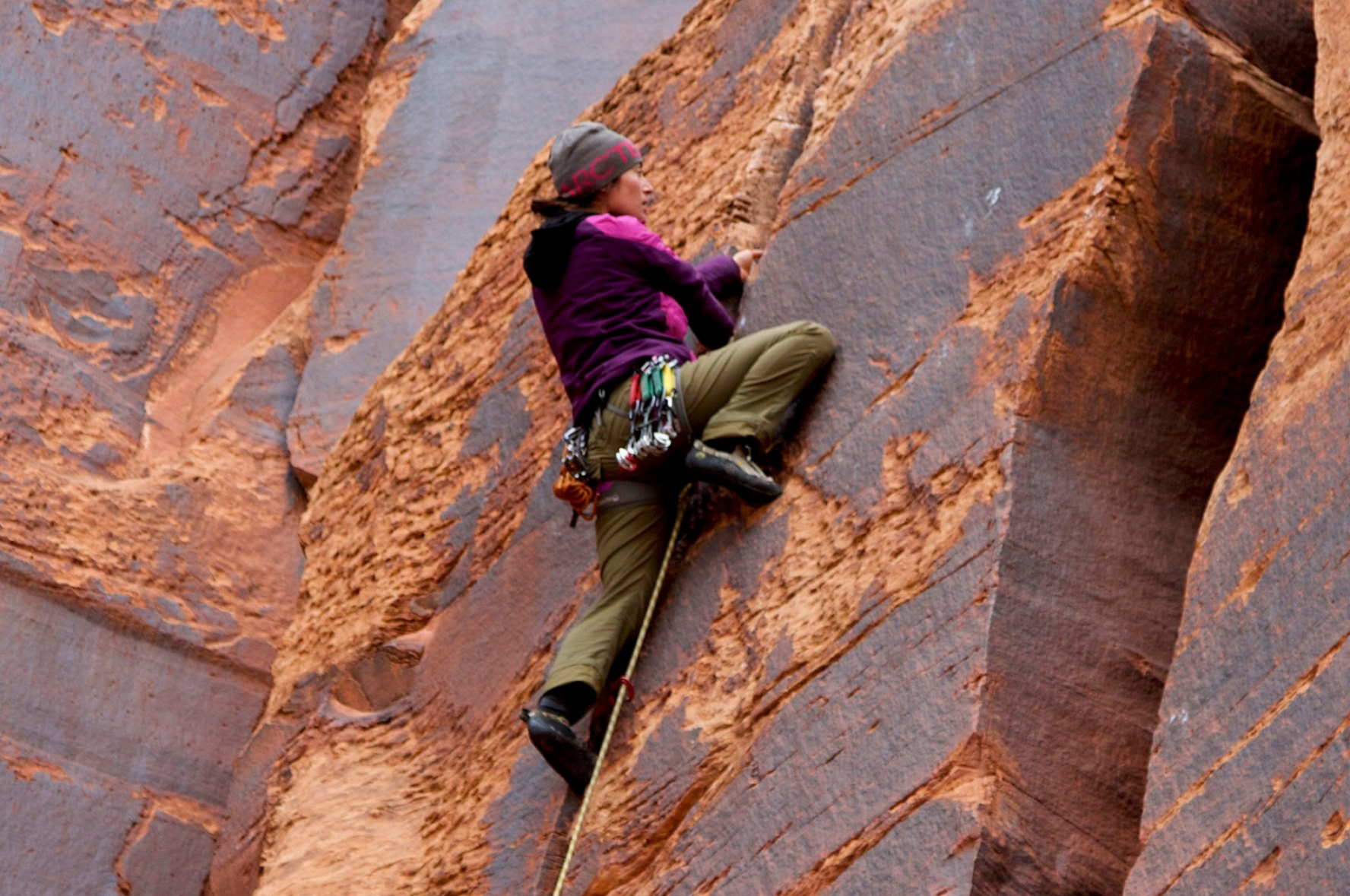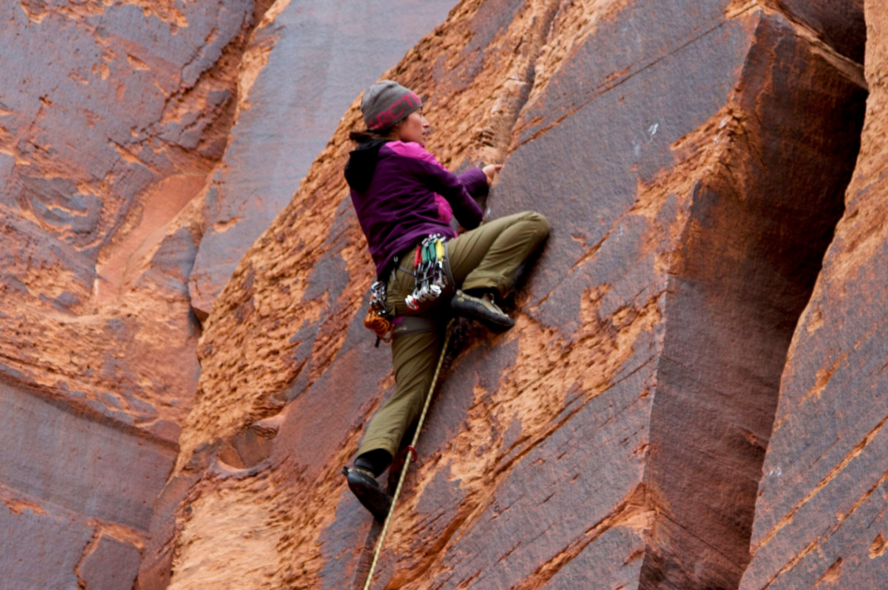 Learn to make a tape glove prior to arrival, or better yet, purchase dedicated "crack gloves" from a local gear shop! I prefer steep, hand-sized cracks from thin to cupped hands. I get to know a crack size prior to climbing it by learning what size gear it accepts. Gear of choice in the area are Spring Loaded Camming Devices (SLCD or Cam). The two most popular are Wild Country "Friends" and Black Diamond "Camalots." I find Black Diamond sizes most relatable: a perfect number 2 Camalot is equal to a perfect hand jam. A tight 4 or loose 3 is a fist jam and so on both up and down the range. Tape is also a very important piece of the Creek climber's arsenal.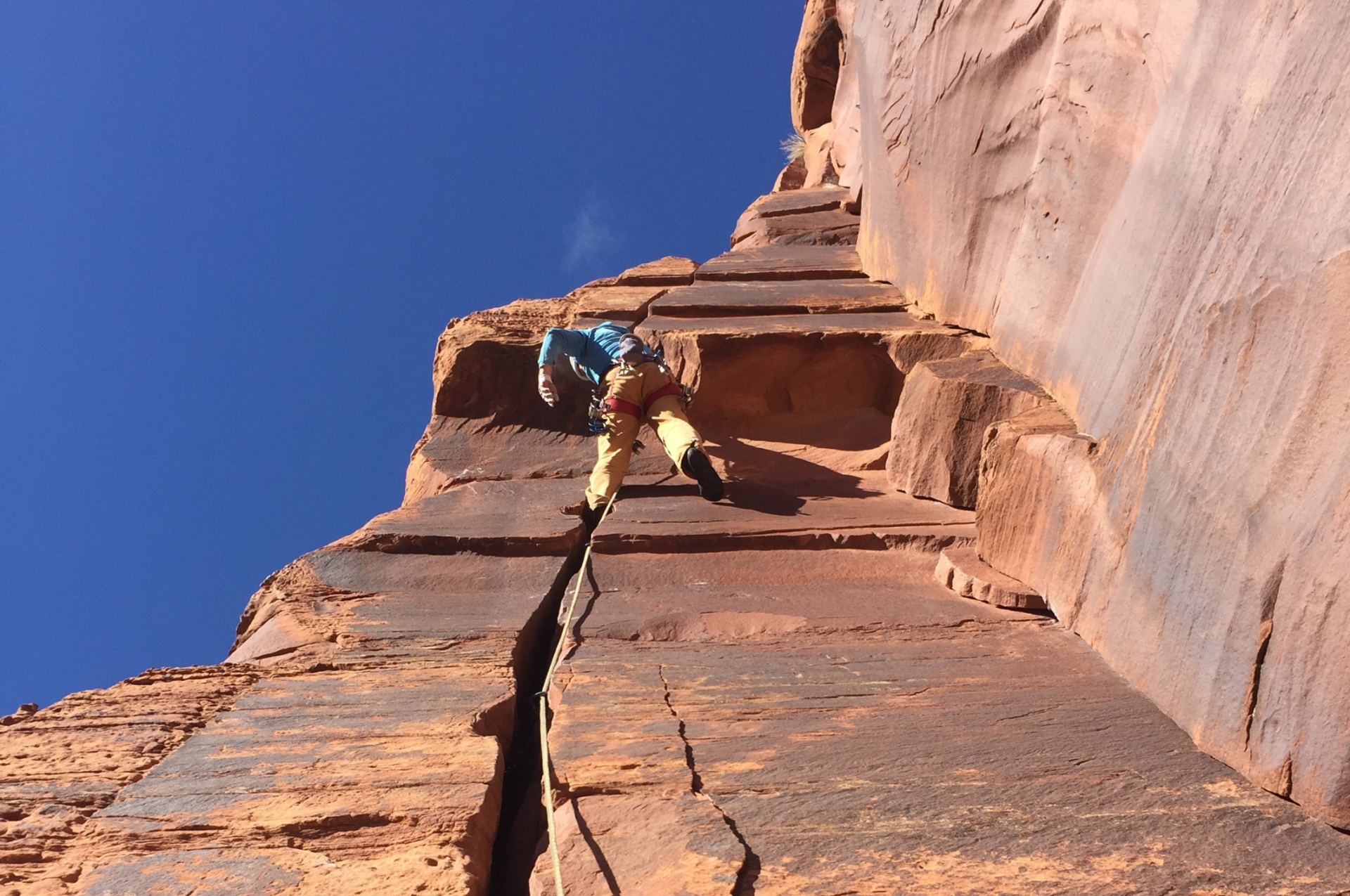 Everything You Need to Know to Plan Your Indian Creek Trip
From the camping (which is incredible, by the way), to when to go, where to get gear, and more, here's some advice for planning your Indian Creek climbing trip:
Indian Creek camping is incredible and inexpensive (or free!)
One of the coolest parts about Indian Creek is the camping. There are no shortage of options, as you can see from this
Indian Creek camping map
.You can pay $15 for campgrounds that have designated car/tent sites, a fire pit and a maintained pit toilet. The two most popular sites are Superbowl and Creek Pasture. You can also stay for free on any BLM land that's behind a gate, but it's always best to check with folks first, as it's poor form to camp in the climbing specific parking areas. Also, note there's a 14-day limit for camping on BLM land.
Near the Beef Basin Road, close to the Way Rambo area, is another free area called the Cottonwood Campground — this one is definitely more out of the way. Cottonwood is primitive, but it has its own vibe and culture associated with it.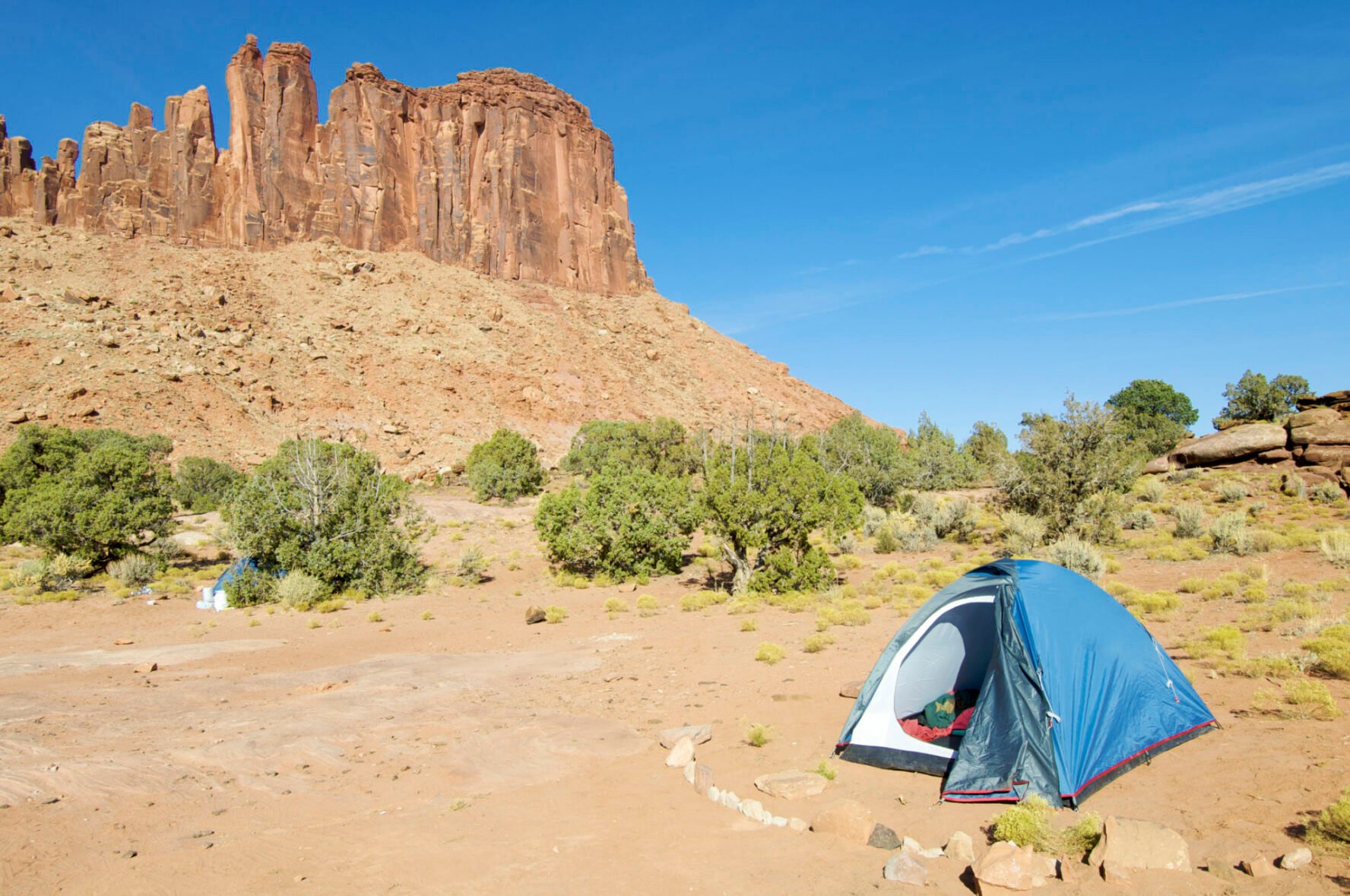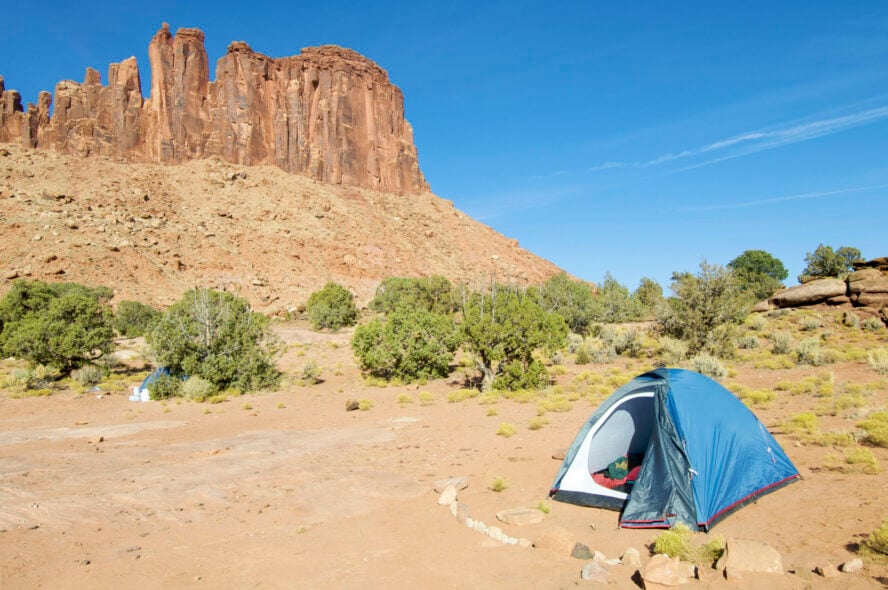 The final, most popular area is for adventurous spirits with the right vehicle (high clearance mandatory/4×4 preferred). The
Bridger Jack Campground
is located near the base of the Bridger Jack Mesa formation. Similar to Cottonwood, but with a rough vehicular approach, this campsite is "home" to the most devoted of Indian Creek's climbing community! I've stayed at all of the sites, but I always return to Bridger Jack, which, at the time of writing, is still free of charge.
Pack it in, pack it out
Remember,
follow Leave No Trace principles
. There are no facilities other than pit toilets and parking/camping spots here. You must bring your own water and food and you must pack out EVERYTHING. There are zero trash receptacles. See some trash? Pack it out with you! Keeping the climbing and camping areas clean goes a long way with the land managers and this way everyone benefits.
The nearby towns have all you need
The two towns closest to Indian Creek are Monticello (less touristy) and Moab (famous). Moab sits on the Colorado River in an incredibly colorful valley of red sandstone.
Moab is known for great climbing
, and it also boasts a ton of restaurants, hotels, adventure outfitters and bars.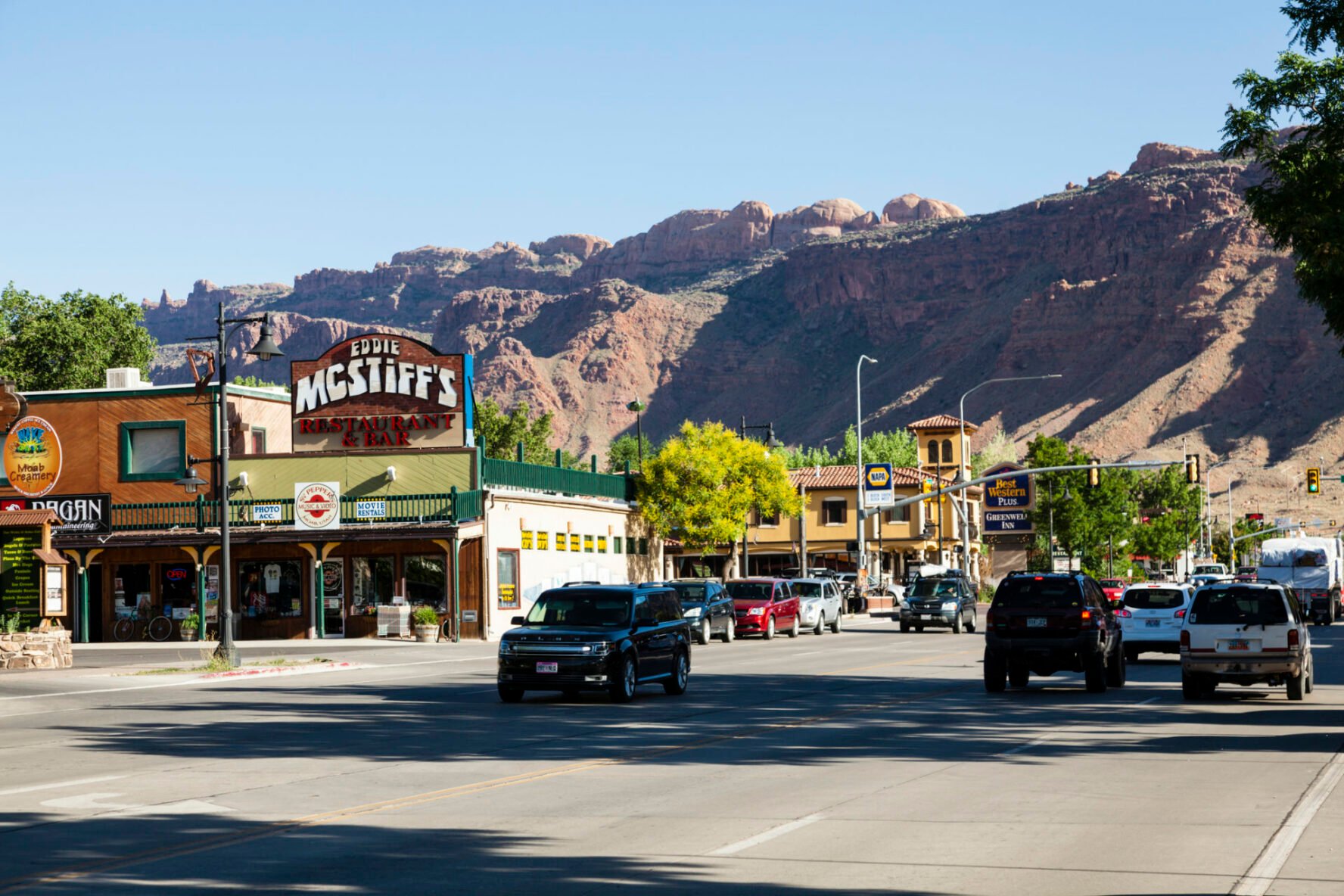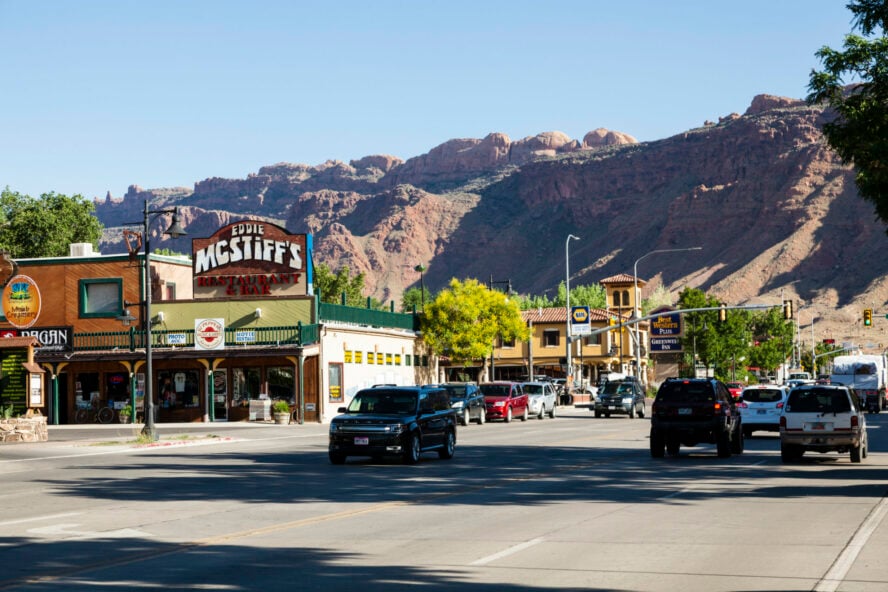 Just south of Indian Creek is the small town of Monticello – it's still up and coming and it's far quieter and relaxed than Moab. The main draw for climbers here is
Roam Industry
, a gear shop that also hosts a slew of tiny homes for rent in the Abajos, the mountain range above town. Roam also has a coffee shop and they are building a host of showering opportunities and other creature comforts to attract climbers heading to Indian Creek!
Where to get gear for climbing in Indian Creek
For the climber, the two gear stores that should have most of what you need are
Pagan Mountaineering
and
Gearheads
, the latter of which has a free water filling station. At these stores you can find all of the tape, extra cams, guidebooks, and information that you could ever want. In Moab, rest day activities include running, walking or
mountain biking
on an immaculate network of paved greenways. If it's warm enough, you can float down the Colorado River, mountain bike, and even skydive!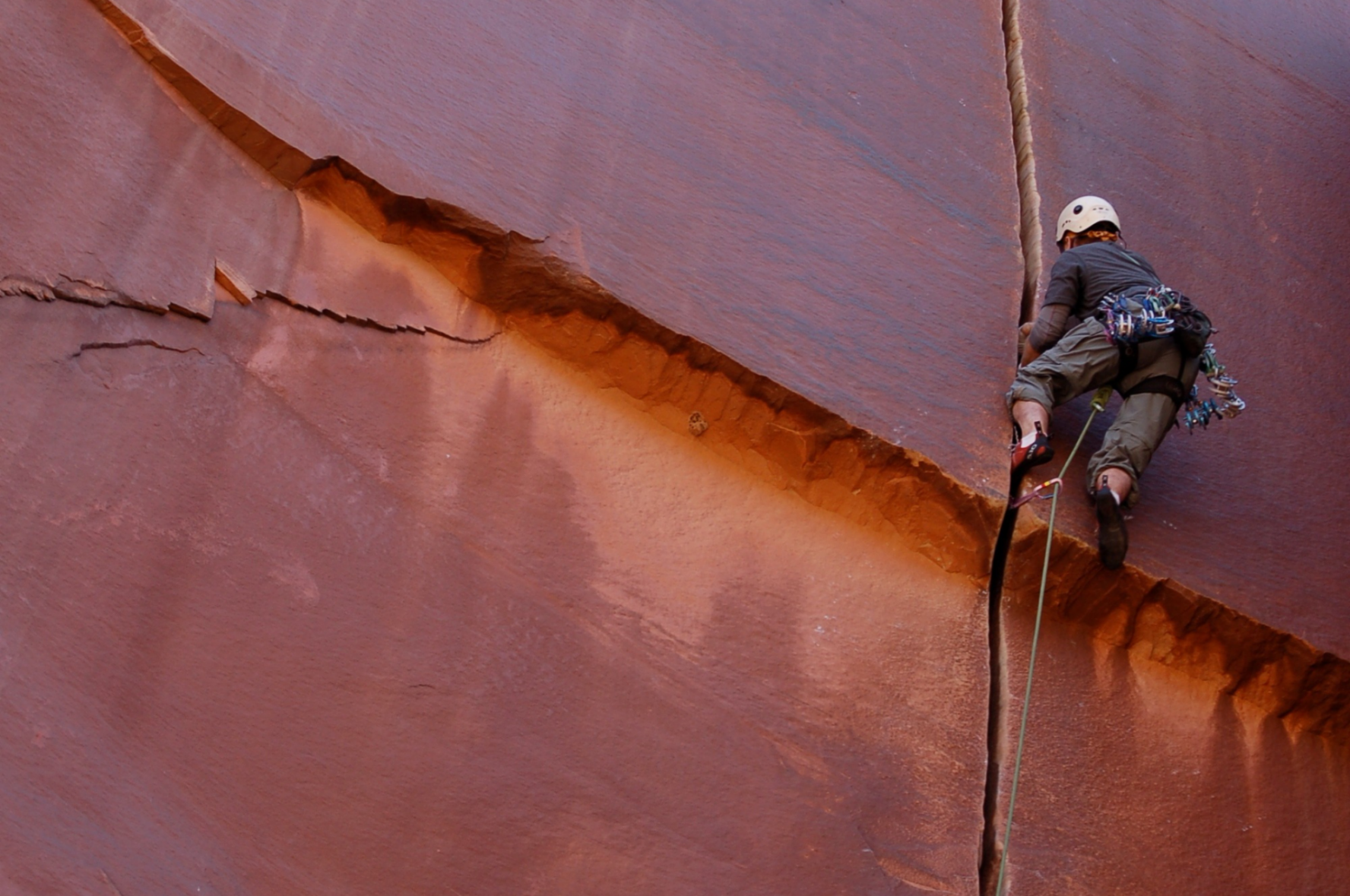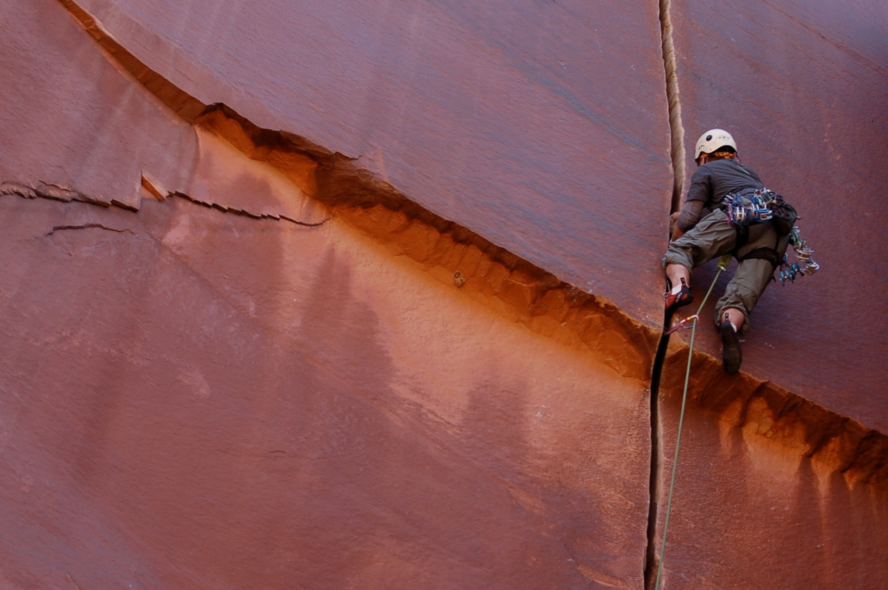 Who should visit Indian Creek?
If you consider yourself a climber of any stripe and you've climbed outside a couple of times, you can go to the Creek and have a great time! For newcomers, the climbing is engaging and thought provoking, and it's still this way for me. You'll also find that with some patience, a bit of encouragement and qualified instruction, that you'll walk away feeling like a champ! Indian Creek is a must visit destination for climbers. It's a special spot that will inspire many future generations of climbers, just as it has inspired the ones that came before!
When is the best time to climb at Indian Creek?
You can climb in Indian Creek year-round, but it's best in spring, fall, and winter; summer can often be too hot and too crowded. I think it's best to visit from late September on, as things begin to cool off and then climb into early winter. My favorite time is October because the changing of the season and the colors in this area are beautiful. This is often the wettest time of the year though, so be prepared to not climb on the wet sandstone. In the spring, I find that March through May is a great time to find a bit more solitude than the crowded fall.
Hire a guide!
If you are looking to dig in, there's no better way to get started than by
hiring a guide in Indian Creek.
There's two reputable and credentialed guiding services in the area: The Mountain Guides Moab (
Jackson Hole Mountain Guides
), and
Red River Adventures
.
Because there's so many guides who live, play and work in the area, they can show you the places where the crowds aren't going to be, and climbing that's out of this world! This way, you'll maximize the pitches you choose and also gain valuable knowledge on the specific techniques required at the Creek – all in a short time frame! This is one climbing location where it really pays off to have a bit of guidance, no matter your skill level.
For a more social (and still educational) day out, consider one of the
rock climbing camps
offered here. This is a chance to practice your crack climbing alongside certified guides plus a group of fellow learners encouraging you on.
Answer the siren call of Indian Creek's perfect splitter cracks and venture on a guided day of rock climbing completely tailored to you!