Indoor Rock Climbing at Cliffs
The closest we mortals can come to human flight is dangling a few stories up, supported by the skin of our fingernails and a thin rope.
Indoor climbing, at least in New York, is seen by outsiders as a hipstery, daily bicycle trek to local "gyms". To some degree it's true, but local climbing gyms are packed. There's method to this madness, and I had to see what the buzz was about. My first visit to Cliffs Gym in Long Island City stunned me. I saw chalk-dusted beards twenty feet up a wall wearing blue jeans.
"These are my people," I thought.
If the Shoe Fits, It's Too Big
I was at Cliffs to take the beginner-est of the newbie classes, "Toprope: Intro to Climbing". The logistics were the easiest part. I'd signed up online so I was directed by the friendly front desk to nearby iPads to complete the legal part. First-timers have to sign a waiver, either upon checking in, or via their website as part of the online booking process. My tiny shoes and harness awaited at the desk after I'd signed. Cakewalk.
I grabbed a pre-climb Cliff Bar –no relation– and waited to meet our instructor for the night. Every inch of the gym was being utilized. While killing time, I made mental notes of the routes, ropes, and climbers, hoping I could learn before I learn. I asked a nearby staff member some questions about how climbers communicate, and learned the term "beta" – the sequence of moves that get you up the wall. Your hands reach for "holds".
When you see climbers staring at walls like they were just punched by them, they're trying to wrap their heads and fingers around the best way to attack the problem. I'm a problem solver, so another check-mark in the "climbing wins" column.
Climbing is intimidating enough as a sport, but I'll admit I was nervous about fitting in with culture. Climbers are intense, grunting, no-nonsense people on the wall. On the mats, however, you couldn't find a friendlier bunch of people. I found myself cheering individuals from my armchair as they gave their all to make difficult holds. They were underdogs against themselves, and who doesn't love a good underdog story? Also, if you love high fives, this is your promised land.
The last mental obstacle I had to overcome were nerves around having someone else's safety in my hands. Safety is no joke in climbing, and from my understanding, a majority of our class would be on that topic. The only way to kick fear in the biscuits is to kick it back.
Right on time, our instructor circled us up for brief announcements, did a pre-class headcount, and led us back to the beginner routes – 5.6's and 5.7's on climbing's scale.
Following the Path to Infinity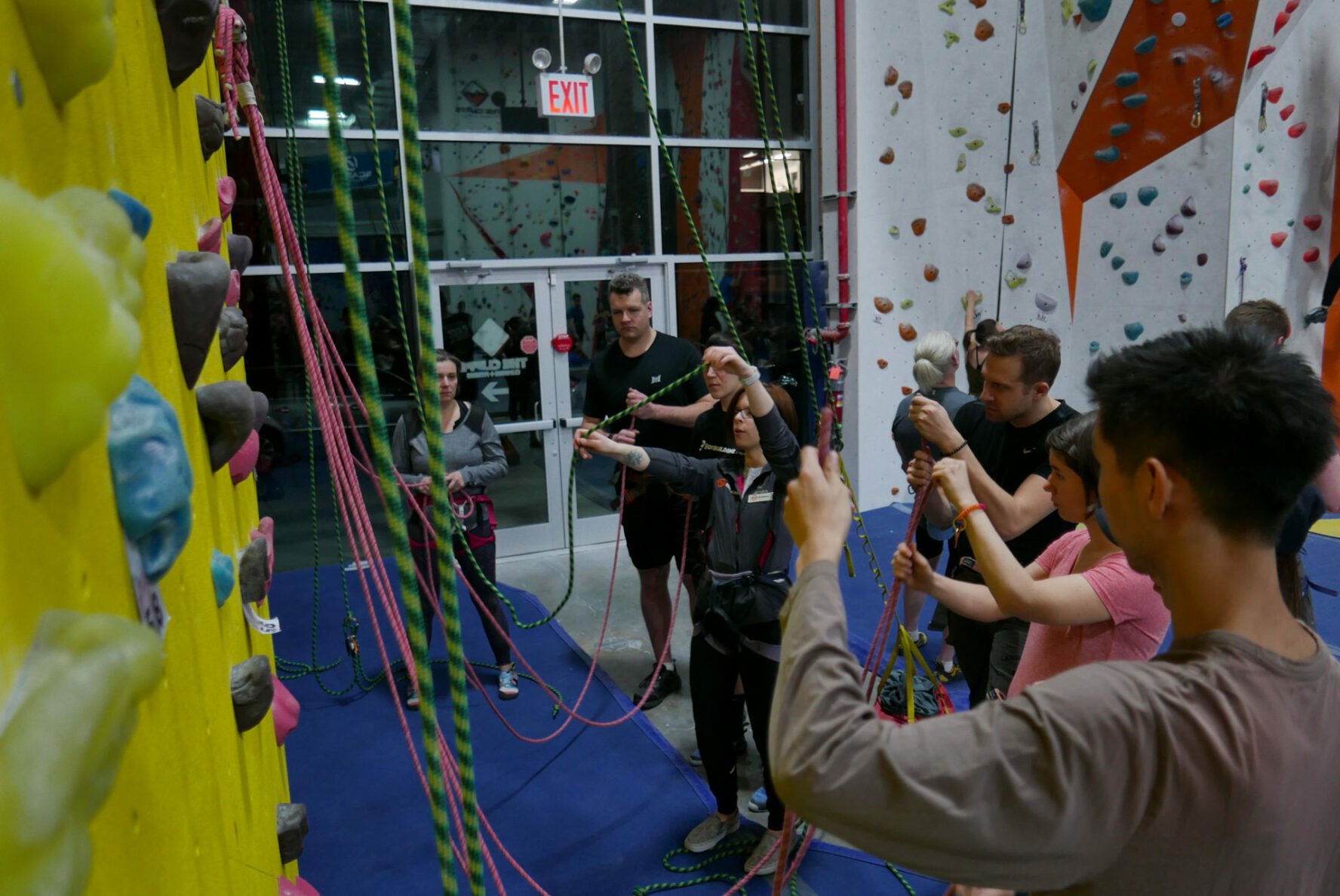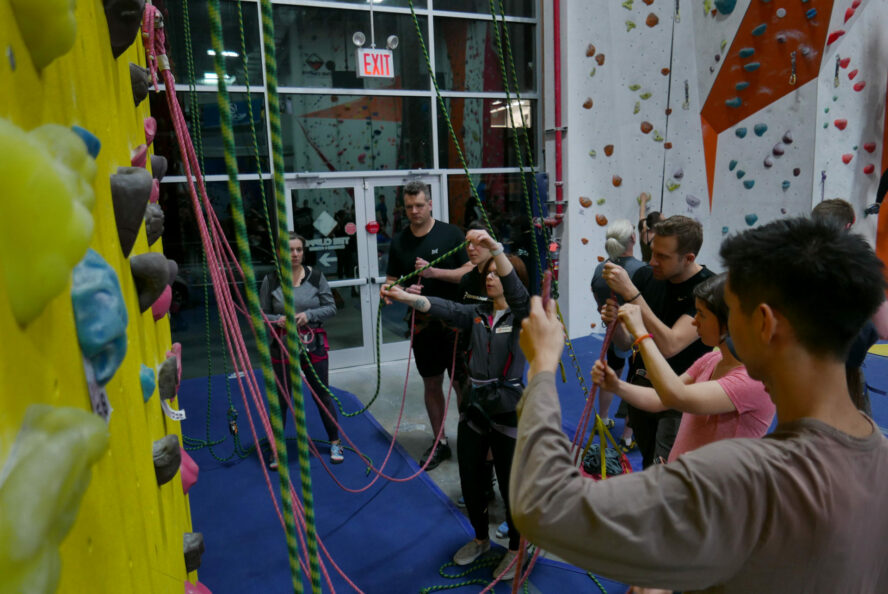 Our class was seven, including two couples, and people like me hoping to meet some chill climbing partners. Each student had at least one previous indoor or outdoor climbing session, but were coming back to retrain their brain. After presenting my harness for inspection, I was quickly reminded of my greenhorn status. I got the "you tried" look and laugh from Kristen, who showed me that my legs didn't make it through all the holes. There were a lot of leg holes, ok?
Kristen taught so as to ensure we absorbed the safety and process of climbing. A few years back she, like us, peeked into Cliffs to see what it was about. The rest is history. Her vibe was exactly what I needed in a teacher: patient, attentive, and personable.
The knot she had us try and retry multiple times – the figure eight – is the anchor to your literal lifeline. We each slid an arm's length of rope through our dominant hand like archers. Then, we pinched the rope and made a "baby head". We followed the rope's path through our figure eight. Finally we tied-off, checking for an x and an equals sign.
"Guess what? Undo your knot and do it again!" Kristen, our teacher, repeated for a third time.
That's how important it was to get this right. Kudos to the Cliffs team for a present and prepared instructor.
Partners in Climb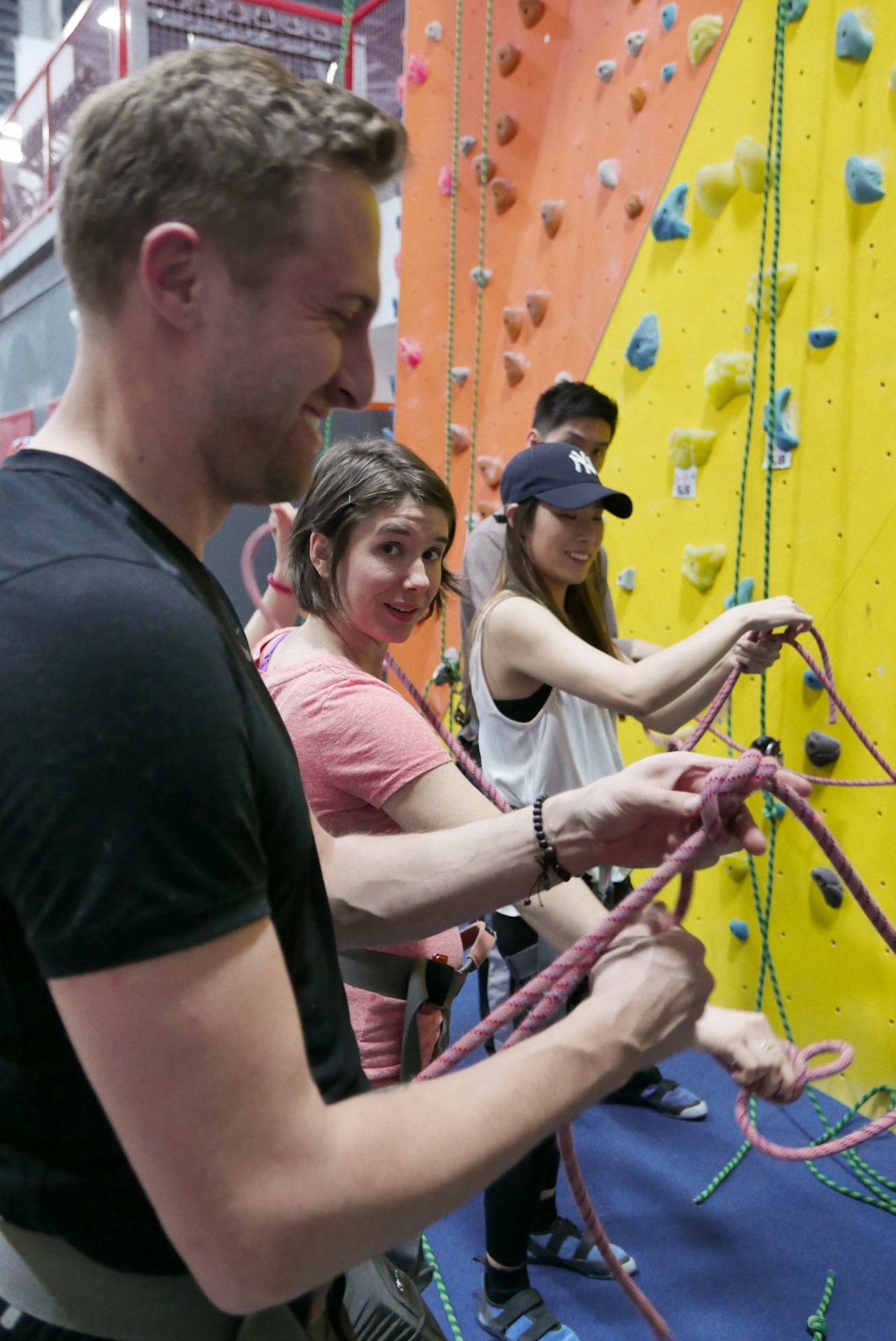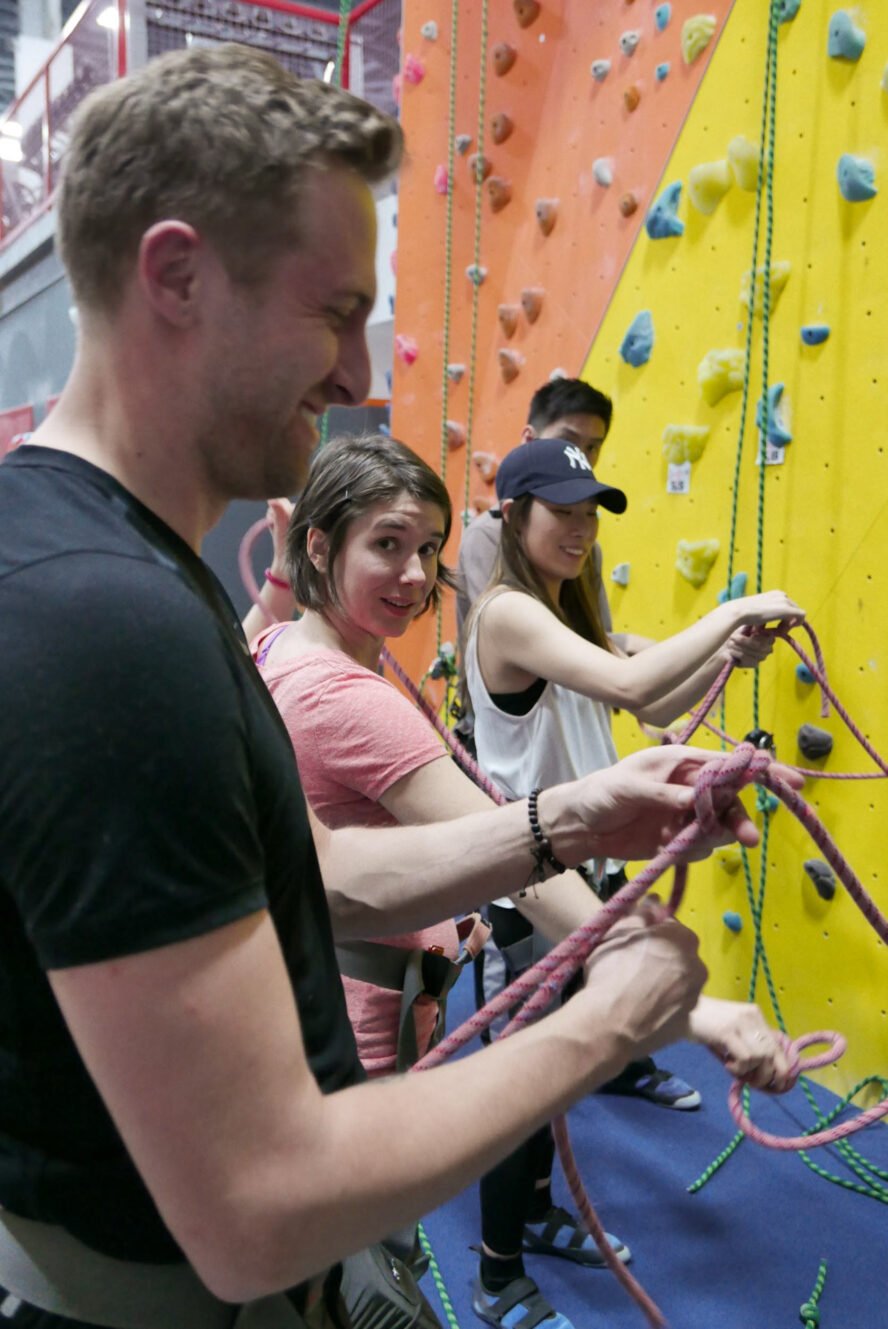 Climbing is the ultimate partner sport. Between two people, you need one set of trust, and two sets of eyes. Luckily, I landed an amazing partner in Molly. Communication is key, and from the start Molly and I were double-checking our knots and instructions while getting to know each other. She first learned to climb in Colorado, my new home, and now I was learning in hers. I couldn't have asked for a nicer partner.
After our last knot test and some light chit-chat, we turned to the fundamentals of "belaying". Belaying is when the person on the ground acts both as a director and human counter-weight when the climber is on the wall. Kristen taught us the differences in the clips or "carabiners". A locking carabiner attaches to your harness when belaying, for extra protection. We learned how to lock and load the rope into the belaying device. Finally, we went over rope movement using the acronym "PBUS": pull, brake, under, slide. Because my memory isn't what is used to be, I quickly volunteered to belay Molly first.
Before the butterflies could get to me, Molly was halfway up the wall. Belaying is instinctual once you have the basics down. Molly was a natural and as she continued, I took in her slack rope to give her more support, while ensuring my hands stayed in a "brake" position to catch her if she fell. Poetry in motion.
After she touched the top, Kristen had us simulate a fall by encouraging everyone to let go completely. This was the moment of truth, the point where her life was actually in my hands. Molly splayed out, making sure no limbs were on the walls, and smiled down at me as I lowered her to the mat. I took the smile as an endorsement of my belaying. Goodbye, nerves.
Aside from the physical challenge, I felt like climbing would be the easiest part. A beginner route like a 5.6 isn't exactly rocket science. As we geared up for my run, I did some mental prep and studied the beta, picturing myself climbing the wall before I laid hands on a hold. Molly's confidence gave me a boost – your climbing partner becomes your coach as well. Hold by hold, I grinned as I progressed up the wall. So fun. Climbing, almost like chess, is all about strategy. It's ok to take a bit of a rest and plot your next move.
It was a relief to reach the top quickly. I thought "this isn't so hard" – until I had to hold tight on the wall for the command to return to the mat. Rope or not, your bodyweight clinging to a sheer vertical wall quickly tests your strength. My forearms and fingers started to burn. The spirit was willing, but my body was weak. Have no doubts: regular climbers are strong people.
"I can do this," I whispered to myself. Climbing is difficult, but it's incremental. Nobody expects you to be Stallone-ing off a cliff in your first few runs.
A Bunch of Slackers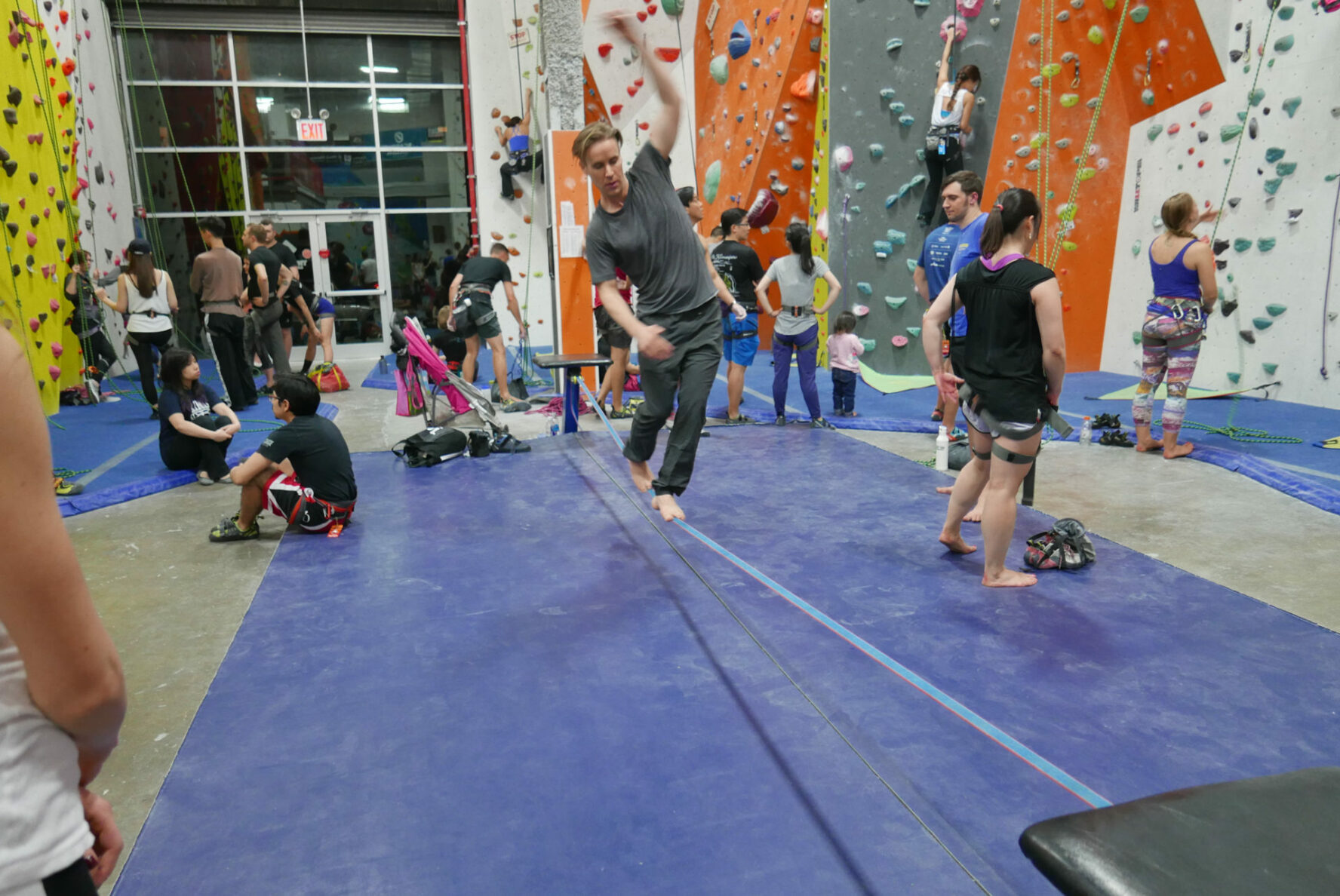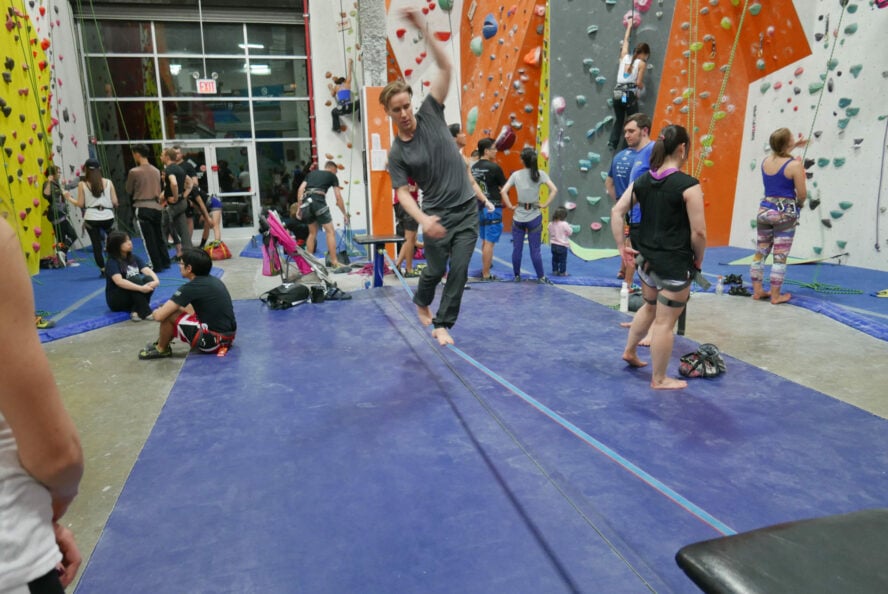 After our lesson concluded, Cliffs gave everyone a 24 hour "belay pass" meaning we were free to utilize the gym for the rest of the night. If you want to assist another climber during your next visit, Cliffs, like most gyms, requires a retest of your belay capabilities. They offer automatic belay machines if you wish to fly solo, located between our the beginner wall and some excellent tight-roping "slackliners".
I took the remaining time to tour the gym's amenities. Their sizeable bouldering section was being set up with new holds for an upcoming competition. I asked another climber if people are into it: "Totally different experience. I love it," they said. You'll find standard gym equipment like treadmills and free weights on the upper floors that overlook the whole gym. There are even climbing-specific exercises to strengthen your fingers or practice lateral movement. Someday, Josh, someday.
Our class mostly stuck around to climb with each other, which showed how quickly bonds form during this intense sport. After thanking Kristen for her help, I dropped my equipment, and stopped at a nearby wall to see my friend and 57Hours founder, Viktor, climb some technical routes. I was jonesing to head over to Mu Ramen for a noodle-y victory lap. Mu Ramen is either a short walk or a one-stop ride on the G from Court Square to 21st/Van Alst.
Ramen = Recovery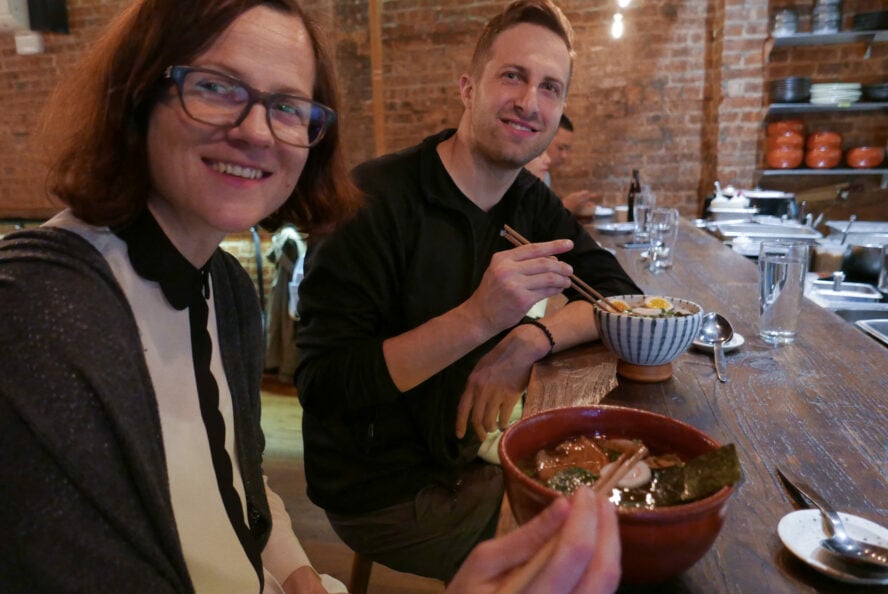 Mu's been on my list for years, and like any ramen joint worth its shiso, you may have to wait for the greatness. Thankfully, It didn't take long for three spots to open up. For a party of two expect about a 10 minute wait around 8pm.
Viktor, our teammate Karmen, and I bit into the most unique "gyoza" we'd ever had. It was a fried chicken wing stuffed with fois gras, served with a side of quince. It was a delicious but felt strangely high-brow, having just washed the chalk from under my nails.
The ramen was fantastic, and I opted for a pork-based broth in my quest to find the city's best Tonkotsu. A seat at the bar gave us ramen geeks a front row during our meal. They run a friendly service and kitchen, and we were well taken care of until we slosh-bellied out.
After saying our goodbyes, I headed back around the corner to the G. Not many people get a second first time climbing. Remembering the feel of cold rock on my fingers, I was ready to do battle again.