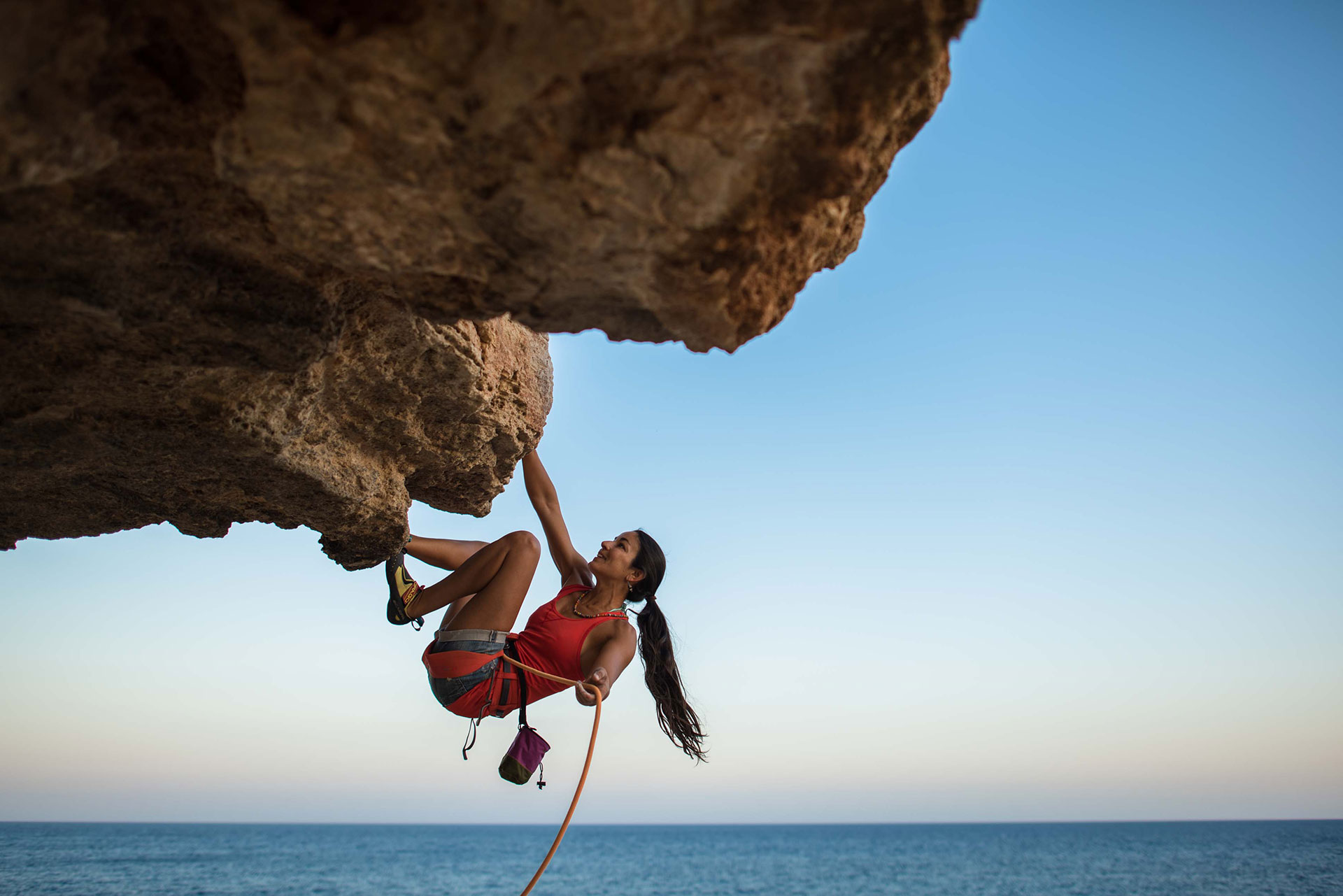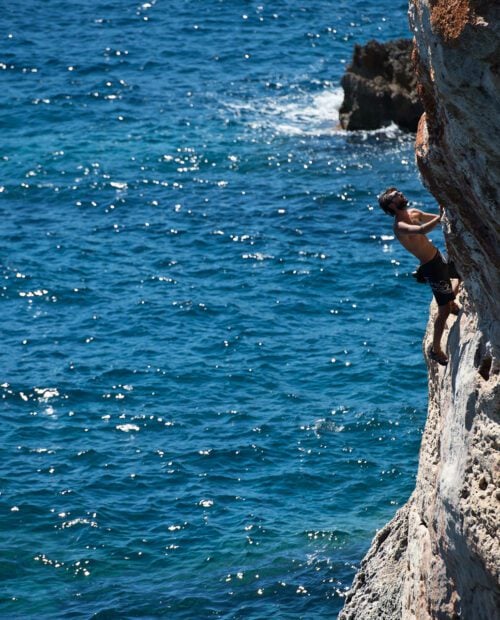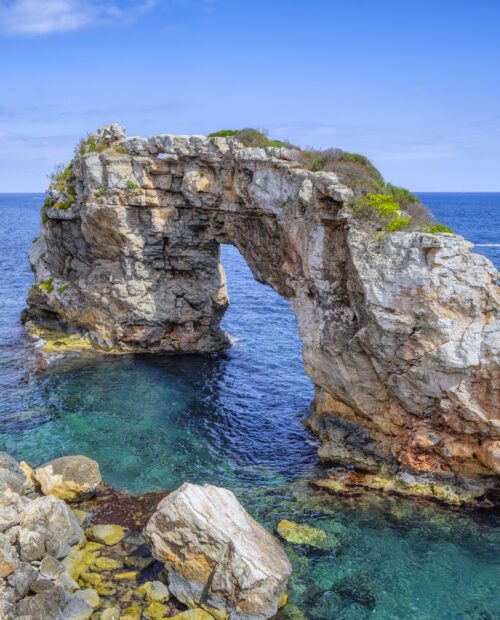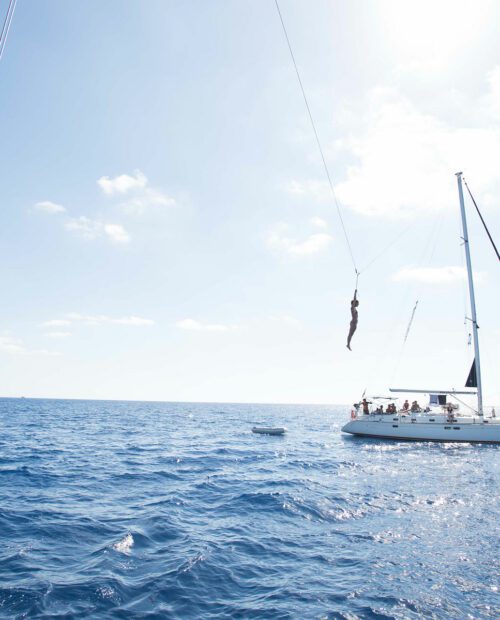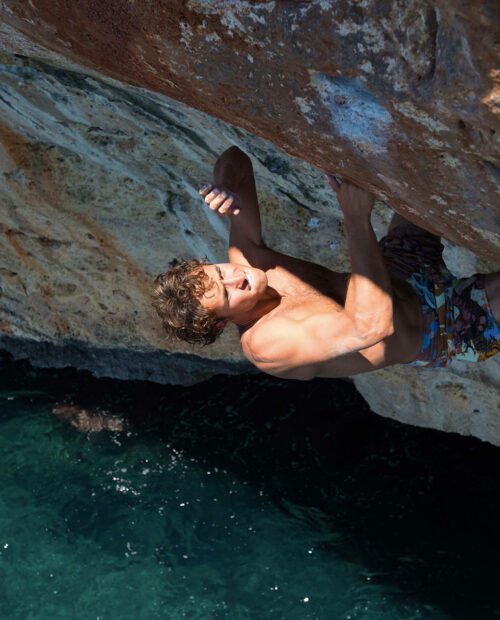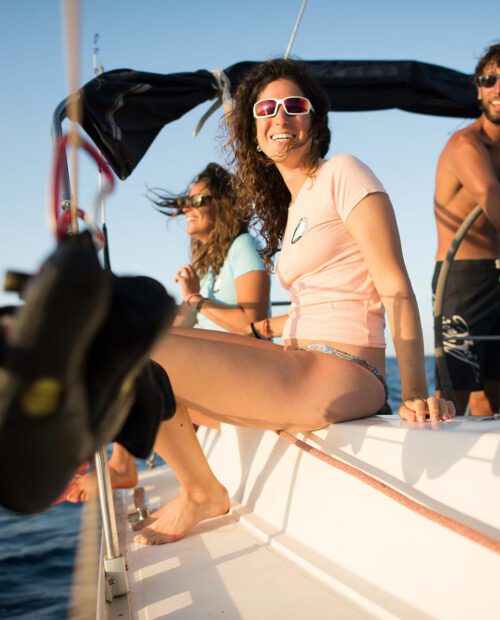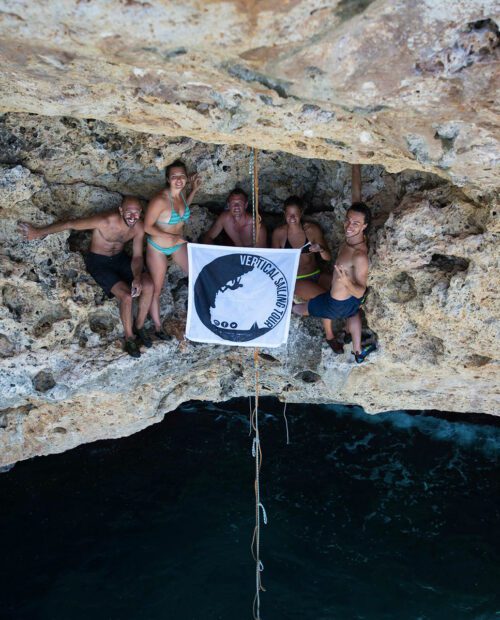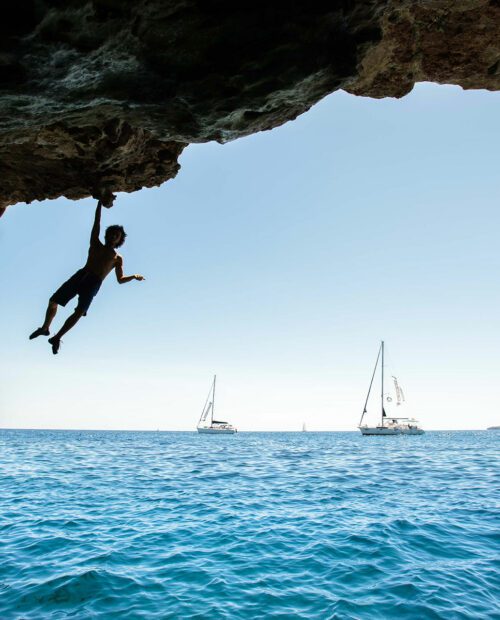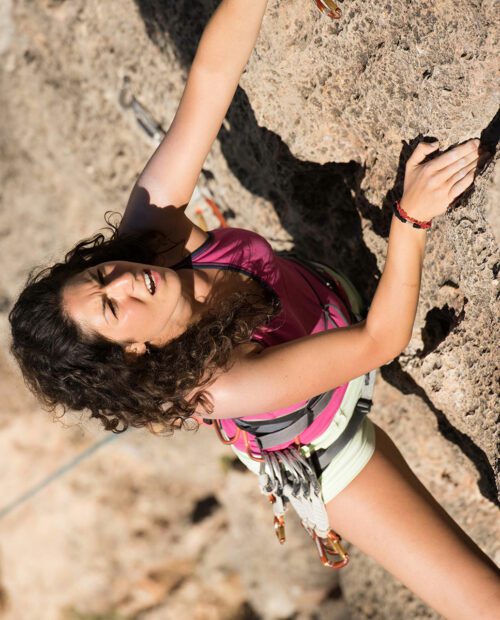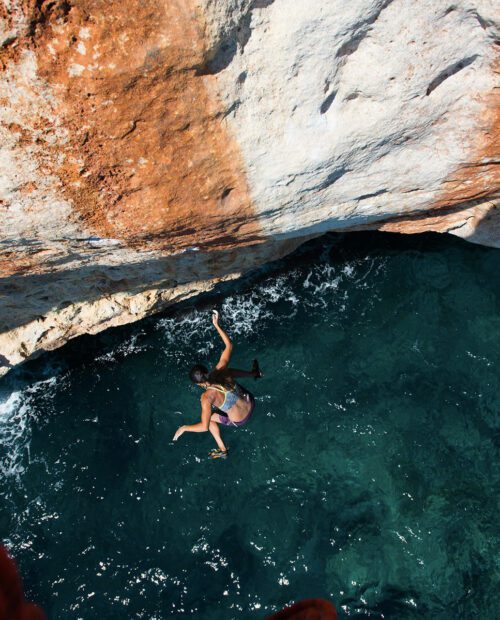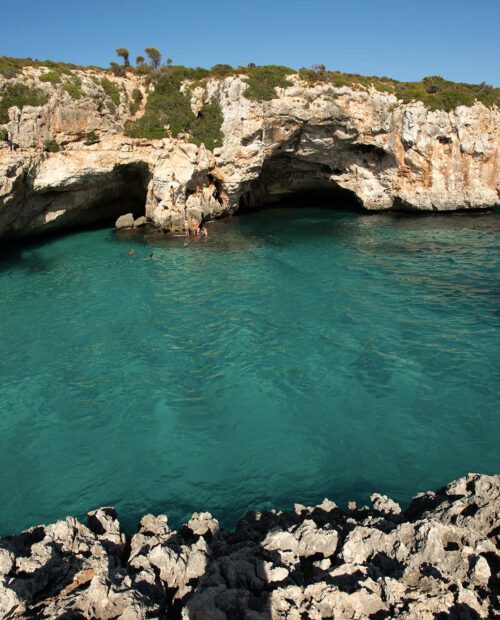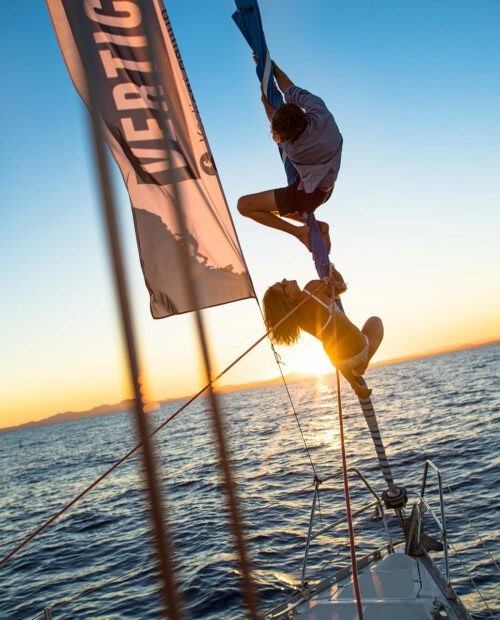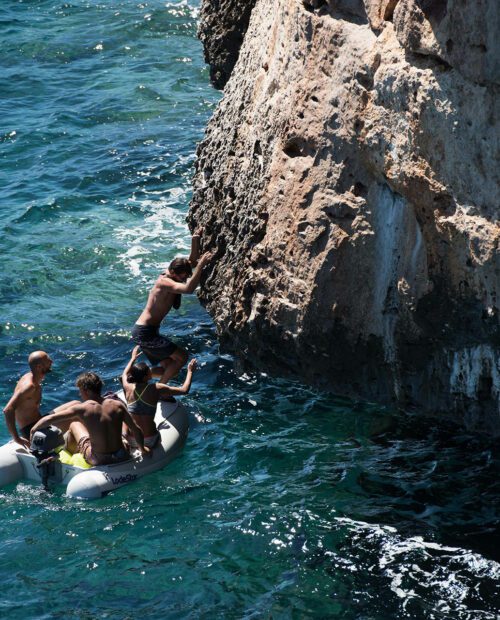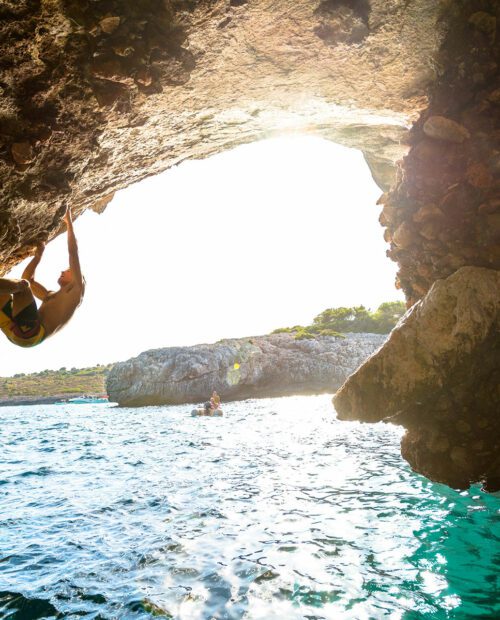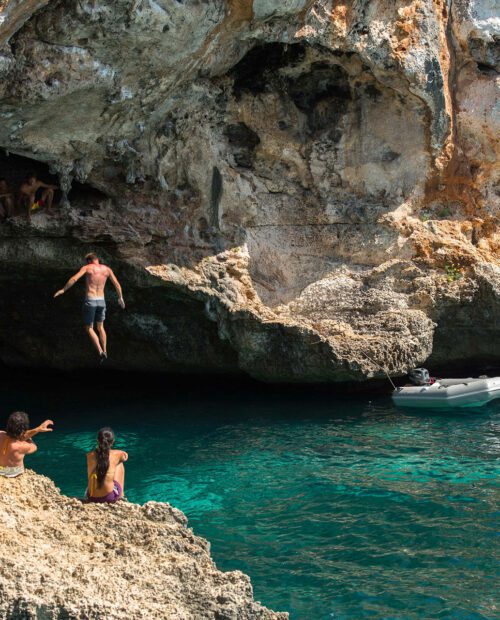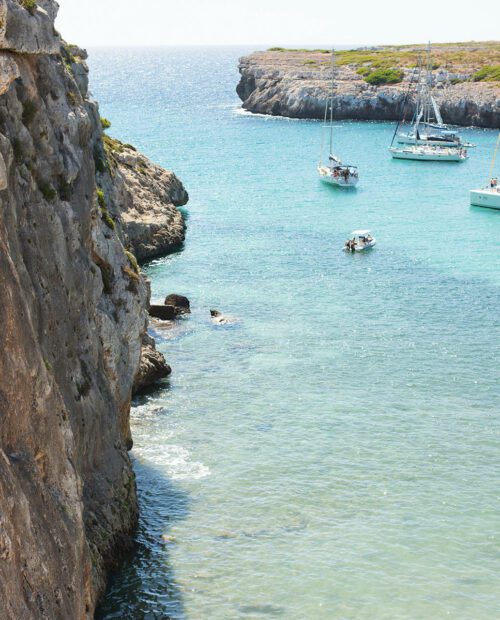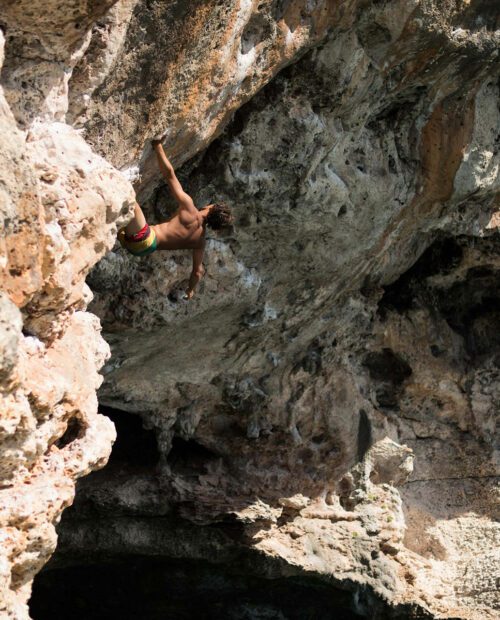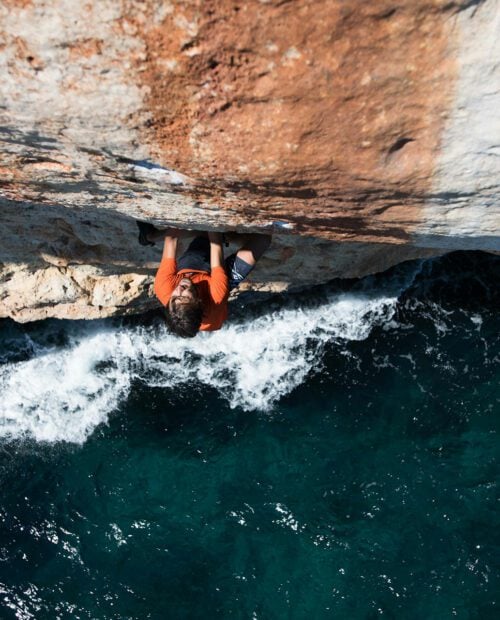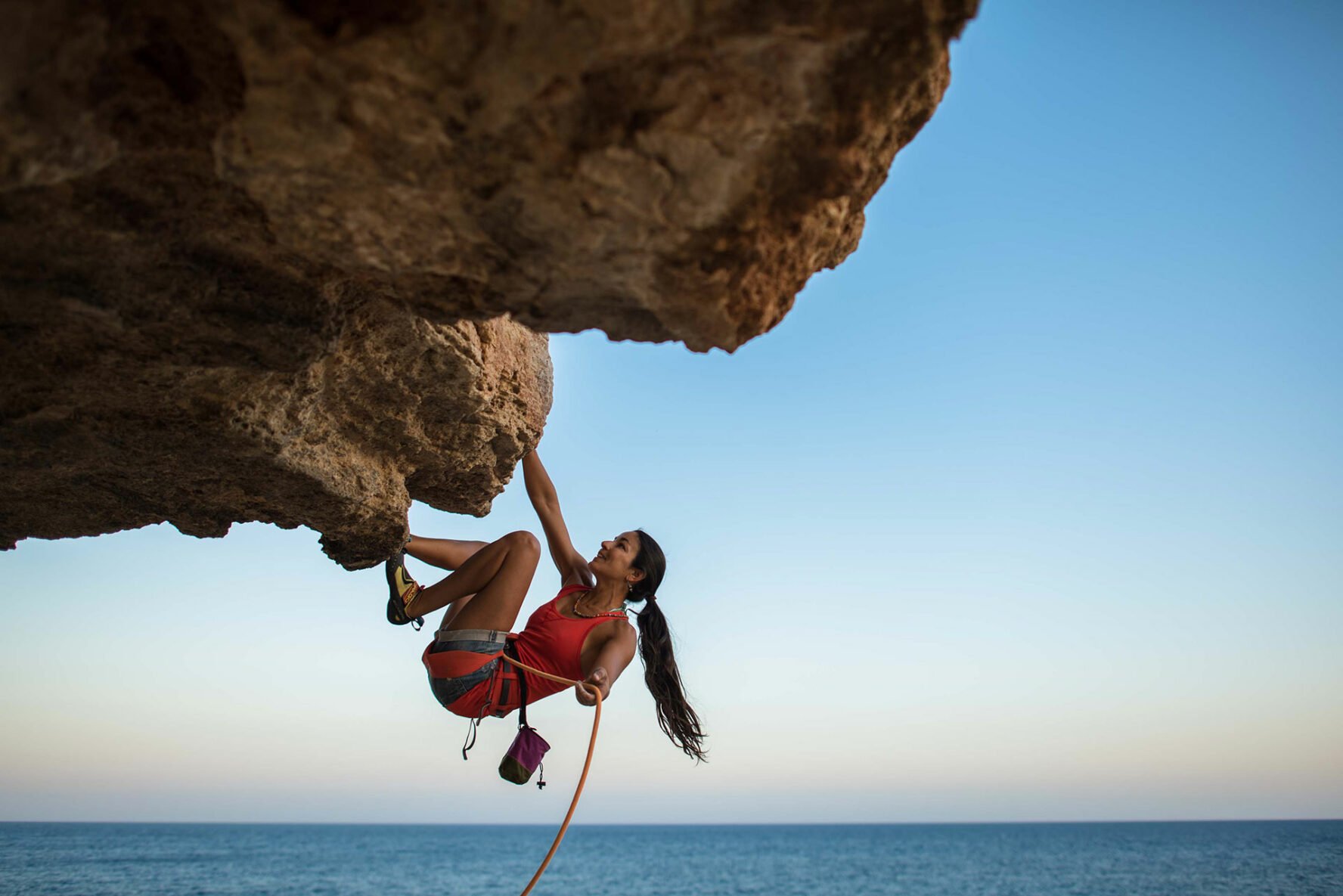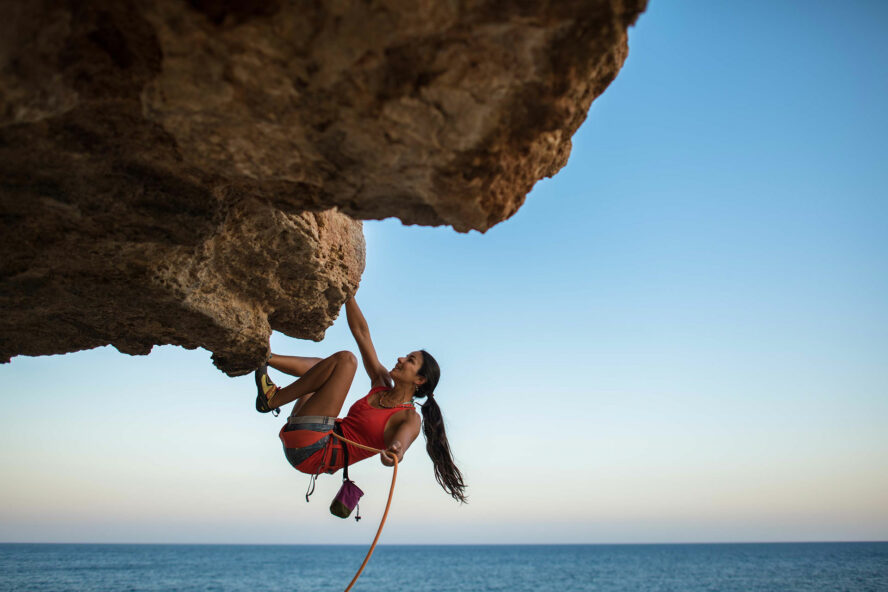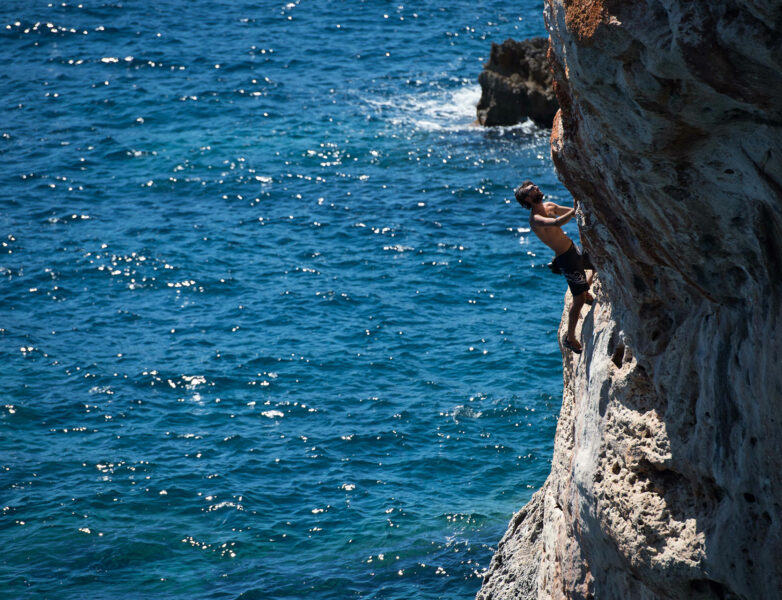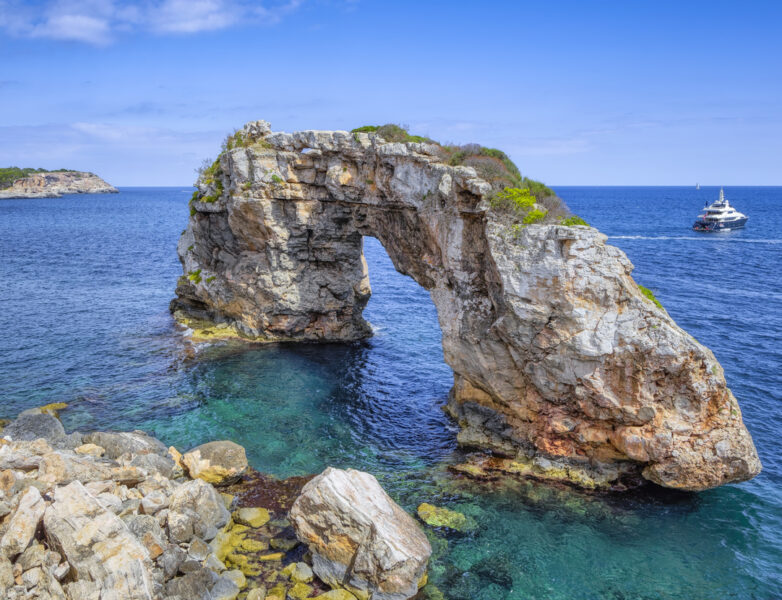 Sailing and Rock Climbing Adventure in Mallorca
5.00

()
346 hours of sunshine in July, invigorating Mediterranean sea, and premier climbing venues along its coastline—it's no wonder Mallorca is the cradle of deep water soloing. With one week and endless cruising opportunities at your disposal, this sailing and rock climbing tour in Mallorca will rock your world. Spend your days swimming, diving, hiking, climbing, or soaking up the Spanish sun—it's totally up to you, but the highlight of the trip might just be scaling overhanging walls with the turquoise sea ready to catch you. With spectacular 5c-9b climbs dotted along the island's coast, there's something for everyone: vertical cliffs, slabs, and overhangs with pockets, tufas, cracks, crimps, or slopers. Wherever the sailing boat takes you, this trip is destined to be the Mediterranean vacation of your dream.
Climb the spot where the idea of deep water soloing was born

Limitless lines on limestone cliffs ranging from 5c do 9b

A week spent sailing and unwinding on the crystalline Mediterranean sea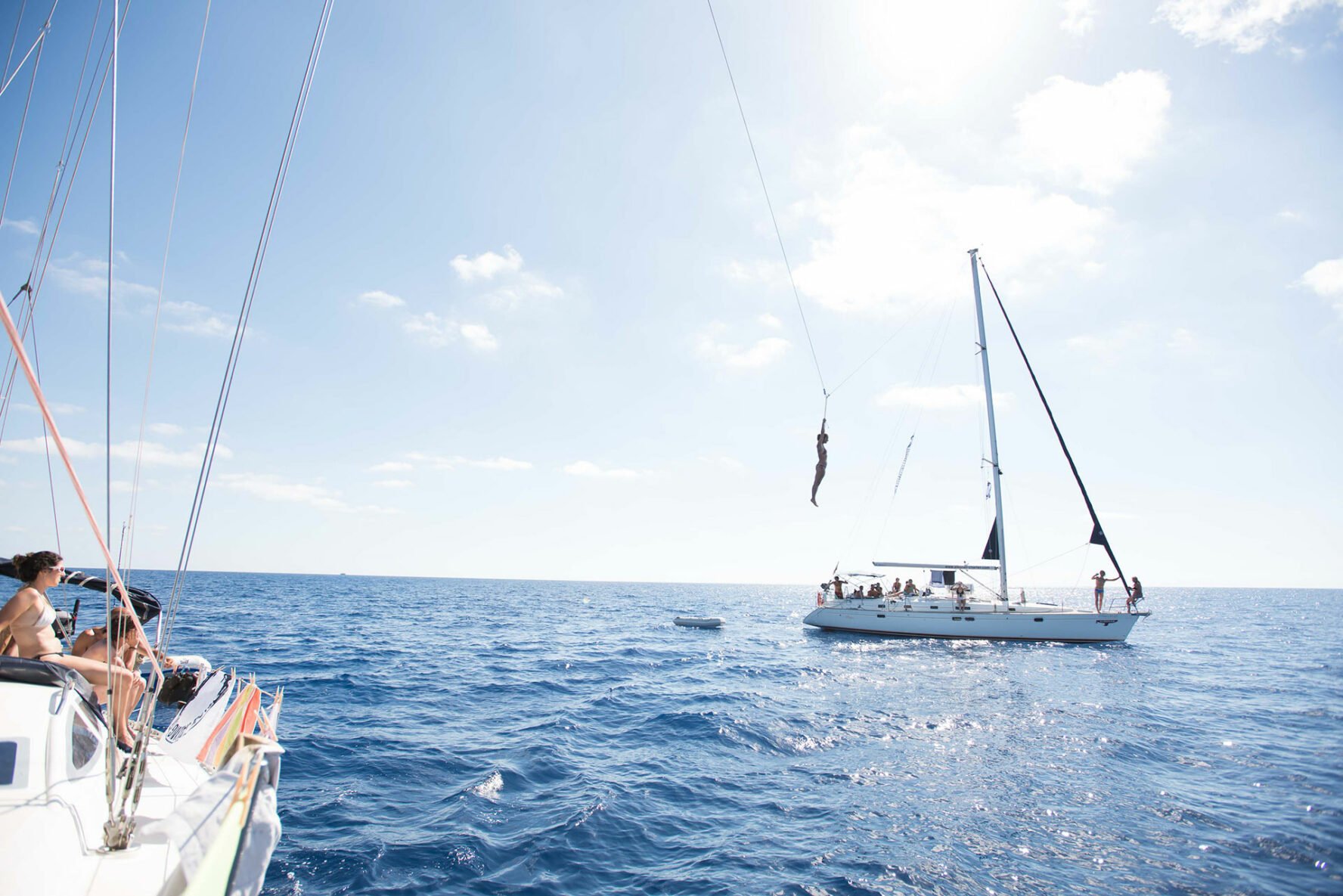 Itinerary
You can't go wrong with Mallorca. Apart from its usual appeal—the sun, the sea, and the food—this charming island is a star in the rock climbing world, and it has been for some time now. The best way to show you these unique spots is by a sailboat, so over the course of 8 days, you'll explore some of the most iconic climbing venues in the world. Whether it's the Porto Pi where the sport was revolutionized by Miguel Riera and his deep water soloing or the legendary Es Pontàs arch climbed by Chris Sharma, every single spot of the tour is a climber's haven. Not only are you getting a rock climbing vacation of your dreams, but also friends and memories for life.
You'll meet your guide and your group in Palma's harbor at 6 pm. Make sure to book your flights accordingly. Board the sailing ship and let the adventure begin!

Early wake up is followed by morning sailing along Mallorca's shores to arrive by noon at the Cala Ferrera bay. The place is ideal to approach deep-water solo. There are also plenty of easier routes for beginners to have their first approach at Santanyí. You'll find endless options here: crimps, holes, slopers, overhanging walls, and vertical cliffs. The first night is spent in this area.

Today you'll anchor right in front of the wonderful Varques beach—it's the favorite camping spot for climbers visiting the island. There's going to be a fantastic selection of climbing routes: some short and easy ones (up to 10-15 m) and some harder and higher ones!

Head to Porto Cristo, a picturesque fishing village featuring turquoise waters. Spending the day here will allow you to bask in the sun, swim, hike, or climb the Cova del Diablo and Torre dels Falcons. These are some of the best deep water solo areas in the world, so make sure to take advantage of it!

Once again, anchor at another exquisite area—today it's Portocolom. It's the perfect location for both beginners and seasoned climbers: some will enjoy easier routes, while others will try and scale difficult, longer routes. You'll decide whether you want to spend the night in port or in a bay nearby.

Enjoy a relaxing cruise to the Sa Nau Bay. This is a spectacular bay harboring some of the best climbing in Mallorca.

This Mallorca cruise wouldn't be complete without visiting the famous Es Pontàs arch. In the area, there are also easier lines, so everyone will have fun. On the way back, you'll stop at Porto Pi—this could be an interesting site for the climbing community, since rock climbing there started in the early 80s. Return to Palma's harbor by 6 pm. You'll have a goodbye dinner at a restaurant in downtown Palma.

Your cruise has come to an end. Pack up and leave the boat before 9 am. If you wish to stay longer, just ask your guides for some recommendations.

Day tours are not mandatory—each member of the crew is free to decide how they want to spend the day. The daily program can be changed due to safety reasons by the skipper. On land, the mountain guide will lead the tours and make the decisions to guarantee the safety of the group.
Get free trip brochure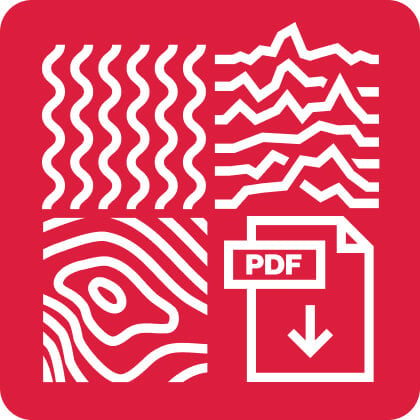 The brochure contains:
Adventure and location overview, itinerary, available dates, what's included, how to prepare, and much more.
Brochure sent, check your inbox
Talk with us
and let one of our adventure experts help you plan your perfect adventure.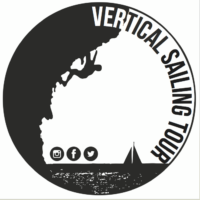 Vertical Sailing Tour
Vertical Sailing Tour
Since 2013, Vertical Sailing Tour have been sailing the Mediterranean sea and climbing in the best locations in the area. Being able to access the wildest places by boat gave them the opportunity to expand the list of magical climbing spots and combine the best of sailing, climbing and other outdoor activities. Explore with them the most beautiful destinations around the world!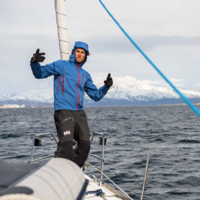 Lorenzo Pernigotti
Skipper and Passionate Climber
Passionate about outdoor sports since a young age, Lorenzo chose to pursue his passions and share his enthusiasm. In the winter he teaches them how to ski by working as a ski instructor, while in the summer he makes them experience his favorite combo: sail and climb! Head of the Vertical Sailing Tour, onboard he becomes the skipper. As soon as the boat anchors, you might find him making cocktails, cooking Italian risotto, spearfishing for dinner, climbing a crag, flying down a mountain on his paraglider…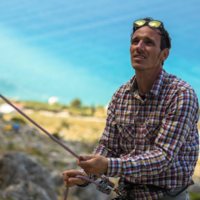 Alberto Trombetta
IFMGA Mountain Guide
Alberto is an experienced UIAGM/IFMGA Mountain guide and the chief guide at the Vertical Sailing Tour. From the point of Cerro Torre to the wall of El Capitan, from the desert of Saudi Arabia to the picks of Mt. Blanc, he has travelled the world to climb in the most remote places. Since the beginning, he has been on board with the VST and his kind personality combined with his great expertise are the things that make the clients love him.
Bryan Madrigal
about
Vertical Sailing Tour
on Google Reviews
If you're looking for an adventurous time rock climbing and hiking but in the same time relaxing on a boat with beautiful scenery, this is the tour you're looking for. The crew are very friendly and can guide the perfect climb for you based on your experience. Don't overthink it, just book it already. You won't regret it.
Monica Rogers
about
Vertical Sailing Tour
on Google Reviews
A whirlwind experience that brought on life long memories and new friends. Excellent, capable and fun loving crew – Lorenzo, Theo, and Patrick guided us with safely and with ease, while having having fun through the whole adventure. Could not recommend more, say yes to this and you will not be disappointed!
Faustine PREVOST
about
Vertical Sailing Tour
on Google Reviews
Amazing experience between sea and rocks! Beautiful landscapes, wonderful climbing moments and… what a team!!
Thank's Lorenzo and Théo, our two perfect skippers! See you for others adventures!
Adnaan Soorma
about
Vertical Sailing Tour
on Google Reviews
Always an amazing adventure with Vertical Sailing Tours. For the cost of one week's lodging at many places, you get a week on a sailboat with an amazing crew, and they take you to all the best climbing crags and tavernas around. If I could do one of these trips every year, I would!
camilla de nardi
about
Vertical Sailing Tour
on Google Reviews
I would totally recommend the Vertical Sailing Tour experience to any climbers, from the most passionate and advanced to the beginners and the ones that are curious to discover this amazing sport in the best way possible, on a sailing boat ! The team is very professional but above all fun, the best mix to have an incredible climbing experience in the best corners of Europe !
Things to know
57hours is committed to providing safe outdoor adventure experiences. We require all guides using our platform to have a COVID-19 safety plan and to make the details of that plan accessible to travelers. In most cases, group sizes will be reduced, guides will avoid overcrowded locations, and other safety measures will be met depending on the location and activity. 

We also expect clients to respect local regulations and take measures to protect themselves, their guides, and the communities they're traveling to. For more information on COVID-19 measures in Mallorca, Spain, please refer to requirements for travel to Spain

Please contact us if you have any questions or require further information. We are happy to provide you with the most up-to-date information!

What you get in this adventure:

VST well-proven organization (world-leading Sail & Climb guided tours since 2013)

An experienced, U.I.A.G.M. certified mountain guide with extensive knowledge of the area

Skipper 

Accommodation on a sailing boat — double size bed or bunk beds sorted and arranged by and among guests

VTS T-shirt

Insurance covering the crew and the group during sailing and climbing

If you have any dietary restrictions, contact us prior to booking to make arrangements.

Due to the nature of this adventure, the guide requires that a part of the cost of the trip, 300 euros, is paid upon boarding in cash. This will cover the costs of:

Food and pantry service
Bedsheets and towels
Boat fuel
Final cleaning of the boat
Other incurred costs during the trip.

If you have any questions about this, contact us and we will get back to you as soon as possible!

What's not included:

Travel expenses to reach/leave the harbor of departure

Meals on land (skipper's and guide's cost of the meal on land divided among all guests)

Harbor fees (one or two stops at the harbor during the week)

Alcoholic beverages on board

Personal items and equipment
Climbing gear

This rock climbing tour in Mallorca is ideal for beginners! While no particular climbing skills are required, having good fitness is. To ensure you have a fun trip, make sure you're in good physical shape, ready for a week of climbing. 

It doesn't matter the grade you can climb on, you'll always find a partner matching your level, and if that's not the case, your guide will be there for you. Your guide will supervise the climbing, help you improve your skills, and choose routes that best suit your skill and fitness level.

If you're looking for a similar tour somewhere else in Europe, check out this sailing and rock climbing tour in Croatia or sailing and rock climbing in Sardinia.

Mallorca has plenty of options for beginner climbers. Whether you've never climbed before or are transitioning from the gym to outdoor climbing, your guide will customize the day to suit your skill level and objectives. With a guide by your side, you'll learn something new, stay safe on the rocks, and most importantly, have fun! Good shape is still required, though, so make sure you're fit enough for a week of climbing. Also note that since the deep water solo, in order to be safe, has to be practiced on vertical or overhanging walls, you'll have more fun if you master the grade 6b or higher.

For intermediate to advanced climbers, Mallorca has loads of routes to spend the day on. Your guide will discuss your objectives and customize the day to your goals. Let your guide plan the day so you can focus on developing your skills while climbing the classic routes or best hidden gems the area has to offer.

If you've been craving an Italian or a Greek retreat, check out this sailing and rock climbing tour on the Amalfi Coast and sailing and rock climbing in Kalymnos.

If this is your first time on a sailing boat and you don't know what to expect, here's what it looks like:

On board , everyone is responsible to clean up after themselves.

Teamwork makes the dreamwork! Be ready to participate in cooking, prepping food, washing the dishes, etc. Don't worry if you don't know how to cook or if you hate to wash the dishes, you can always swap the job with another crew member.

You may be asked to use water and electricity with moderation while out at the sea

Don't worry about any sailing knowledge. The skipper will be there to ensure your safety and will give you precious tips on how to live on board.

If you wish to learn how to sail or if you are an experienced sailor and want to help your skipper, they will be glad to operate the sails with you and teach you anything you want to know!

Rigid suitcases are forbidden! Please bring a suitcase that can be easily folded and stored once empty. It is important to save space onboard.

Sport climbing gear might be necessary in case of bad weather, which would not allow for safe navigation. In that case, you would go to sport climbing crags right by the sea, which can be a good alternative to deep water climbing. Here's the equipment you'll need for that:

Helmet

Harness with a locking carabiner, belay device, and chalk bag

Ropes

Climbing shoes

Climbing hardware (quickdraws, cam devices, stoppers, spare carabiners, etc.)

If you need to rent any gear, contact us prior to make arrangements.

Here's a list of the equipment we suggest you bring:

Backpack for daily tours

Hiking shoes

Warm pullover and a waterproof jacket

A pair of long pants and a pair of short ones

Water bottle

Bathing suit and a towel

Toiletries (sunscreen, bug spray, toilet paper, etc.)

Sunglasses

Camera — optional

Dress comfortably and for the weather in clothes you can move in. We suggest bringing clothing appropriate for the season. Layers are best and don't wear jeans.

Group sizes and prices:

For this group rock climbing tour in Mallorca, the usual client-to-guide ratio is 9:1. 

It takes a minimum of 5 people for this tour to operate. 

The cost does not decrease as the group grows.

Each boat has at least 3 cabins with double-size beds, so if a couple signs up, they will have priority on them. Other than that, climbers can agree on the arrangements among themselves.

Sailing and rock climbing in Mallorca can be arranged for larger groups. Contact us to make arrangements.

Min. age requirements:

If you are older than 18, you're good to go.

Minors younger than 18 may be permitted to join the hike on a case-by-case basis, but must be in the presence of a parent or legal guardian.

If your group has climbers under the age of 18, contact us prior to booking to make arrangements.

All policies regarding cancellation will be clearly laid out by your guide after booking your adventure.

If the tour is canceled by the guide due to the lack of participants, the down payment will be fully refunded. Please note the trips for 2023 are expected to reach the minimum number of people  soon, and the likelihood of trips not happening is very low. Once the tour is confirmed, the down payment cannot be refunded anymore.

If Client cancels the Booking forty (40) calendar days or less in advance of the trip contemplated by the booking, Client is not entitled to any refund. 

The easiest way to get to Palma de Mallorca, the starting point of your adventure, is to fly into Palma de Mallorca Airport. This is an international airport connecting Mallorca to the rest of Europe. Once you land, you can either take a taxi or a bus—the airport is just 30 minutes away from downtown Palma.

You'll meet your guide and board the sailing ship in Palma's harbor at 6 pm on the first day of your adventure. On day 8 of your tour, you will disembark the sailing ship in the morning, before 9 am. Book your flights accordingly.
Get free trip brochure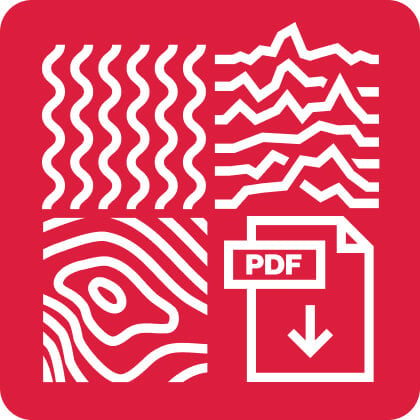 Adventure and location overview, itinerary, available dates, what's included and much more.
Brochure sent, check your inbox
Talk with us
and let one of our adventure experts help you plan your perfect adventure.
Other things to do in Spain