Lorenzo covered:
The best routes in Kalymnos, the Olympus of sport climbing
Why climbing and sailing are the perfect combo
From sea cliffs to inland routes, what type of climbing to expect
How to beat the crowds with a floating base camp
When to come, what to bring, and other logistical details
How to get an authentic taste of Greek cuisine and culture
Welcome to sunny Kalymnos, a sport climbing mecca blessed with a dizzying array of world-class routes and limestone so marvelously grippy it must have been crafted by Haephestus himself!
Climbers from around the world flock to this gorgeous island in search of adrenaline, making the prospect of finding crowd-free crags slimmer and slimmer every year. So how do you find the best climbs without rubbing elbows? The answer is—sailing!
Combining the luxury and flexibility of a sailboat with the thrill of sending top-tier routes, a sailing and climbing tour of Kalymnos means less downtime and more sun-soaked sublimestone for everyone.
In this one-hour session, skipper and avid climber Lorenzo Pernigotti gave you a peek into the most exquisite rock climbing by the sea, and showed you the best way to access it. Just imagine: one second you're cruising the calm Mediterranean Sea with a refreshing cocktail in hand, the next you're sending routes and problems while the sea spray cools your legs.
Check out this free webinar recording to learn more about this unforgettable outdoor odyssey and find out why climbing and sailing are a match made in heaven!
Webinar host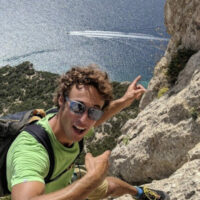 Lorenzo Pernigotti
Skipper, climber, and founder of Vertical Sailing Tour
Outdoor sports have been a part of Lorenzo's life since childhood. He lives for pursuing his passions and sharing his enthusiasm with other free spirits. In the winter he works as a ski instructor, while in the summer he organizes Europe's most epic sailing and climbing tours. When he's not steering the sailboat, he's busy making cocktails, cooking Italian risotto, spearfishing dinner, or flying his paraglider.