Climbing at Seneca Rocks: A Prime Multi-Pitch Spot on the East Coast
With the highest technical U.S. summit east of Devils Tower and hundreds of multi-pitch trad routes, Seneca Rocks stacks up as one of the best climbing destinations on the East Coast.
Known for its excellent variety of multi-pitch trad climbs, technical terrain and alpine feel, Seneca Rocks in West Virginia is one of the best rock climbing spots on the East Coast. An accommodating location, it's got plenty of options for first-timers and seasoned climbers alike.
Climbing newbies will find themselves summiting their first mountain, and experienced climbers will be humbled on the challenging and scary 5.10+ routes. I've been guiding on this rock for over a decade and am here to share the intel you need to know before planning a trip. From the best time to go to the best routes, where to camp, eat and gear up, here's your guide to climbing in Seneca Rocks.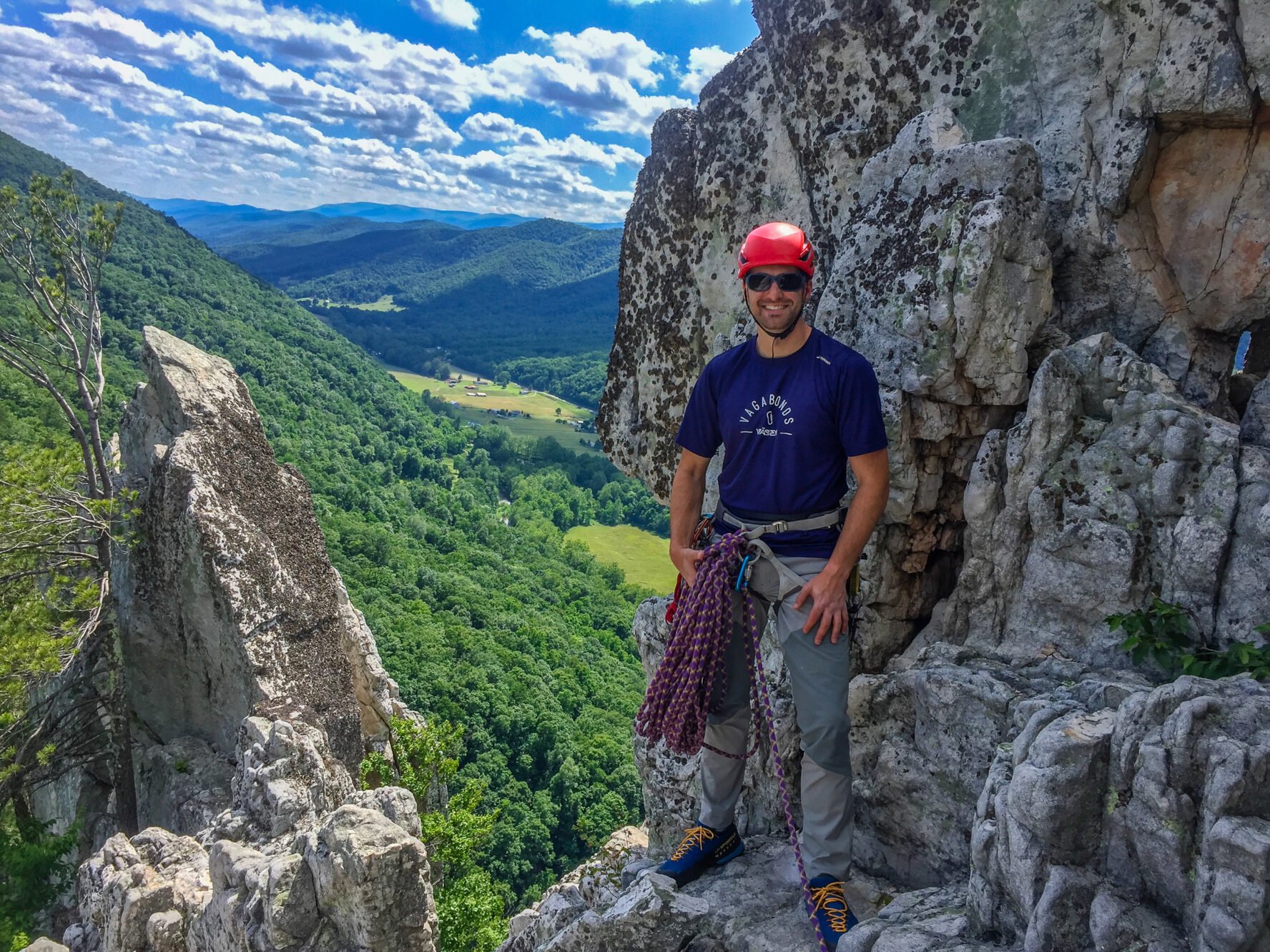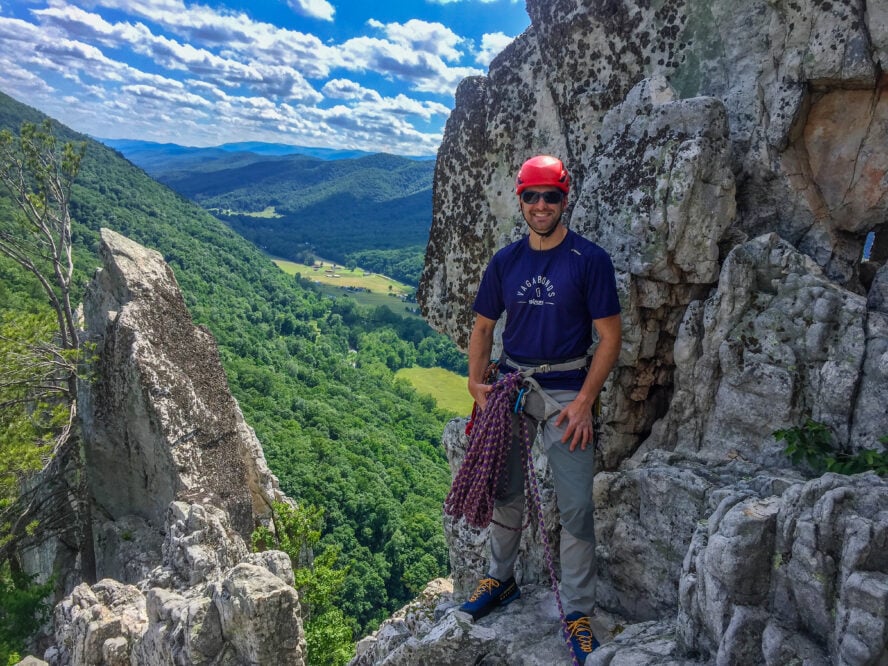 Pros and Cons of Climbing at Seneca Rocks
There are objectives for every level of climber, from cruisy beginner routes to 5.10+ nail biters
Technical, alpine-like terrain will keep you on your toes
You can climb year-round at Seneca, finding shade even on the hottest days
The location is a little more remote, so planning ahead is key
Not many options for bouldering or sport climbing
It's an adventure to climb at Seneca Rocks
Seneca Rocks is a really unique climbing destination. Located in Monongahela National Forest, Seneca Rocks is a large crag that stands tall at just 900ft from the valley. Formed from white Tuscarora quartzite, the rock feels a lot like sandstone. Even though you're in the hills of West Virginia, the rock structure is very alpine-like. There's lots of loose rock, 4th class terrain, limited fixed anchors, and some route finding difficulties. The mountain's also the tallest fifth class summit on the East Coast, and that adds to its allure. 5th class climbs require climbing equipment and proficiency. You have to rope up to climb to the summit and rappel to get back down.
My climbing experience in Seneca
As the head guide for Blue Ridge Mountain Guides, I work year-round in the mountains, which takes me up to New Hampshire during the winter, and then brings me back down to the South Atlantic — Virginia, North Carolina and West Virginia — for rock season.
Currently based in Charlottesville, I grew up in the southern part of Virginia, and I've pretty much spent every summer of my life in this area. I've been climbing for nearly twenty years, starting out doing a few seasons as a climbing instructor at a summer camp, which led me to working for a guide service, which then led me to taking the American Mountain Guide Association's single-pitch instructor course and assessment. I've been a rock guide for the past twelve years now, and it's been a constant pursuit of learning, developing, and achieving higher credentials which allow me to get into bigger terrain. But enough about me, let's get on to the climbing!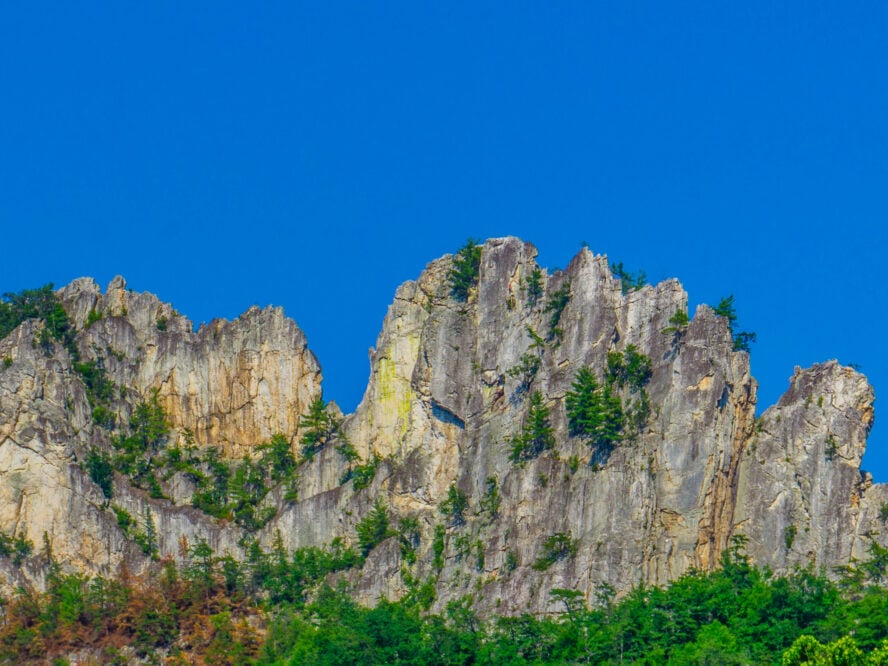 When is the best time to climb at Seneca Rocks?
Seneca Rocks is such a unique piece of terrain for the region. With the mountain being a free-standing structure, I climb here all year-round. That being said, the best time of the year for climbing is spring through fall, with the peak months being September and October. With the cool temps and fall colors, it makes for great conditions. However, I do a fair amount of climbing even during the middle of the summer when it's quite hot. Because of the 360-degree terrain, you can either be in the sun or the shade, depending on what the temperatures are like or what part of the day it is.
A great training ground
I think Seneca is a great destination in and of itself, but it's also a great training ground for those looking to develop their skills for something more serious, like some of the bigger ascents found on the west coast.
I remember earlier in my climbing career, getting out to Red Rock in Nevada, where you have these large ambiguous walls and thinking, "Wow, if I hadn't spent time at Seneca and Moore's Wall on the East Coast, I would be nowhere near as prepared for this." And just the same, if you're planning to go up to the Northeast and climb some bigger alpine objectives — things like Cannon Cliff in the White Mountains or Huntington Ravine — Seneca will definitely prepare you for those.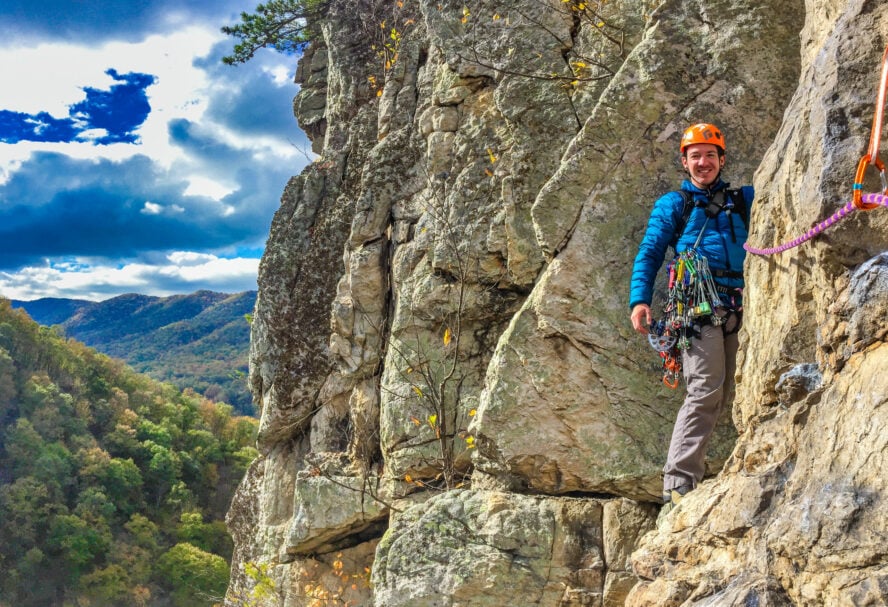 The Seneca Rocks Routes I Recommend
There are so many options at Seneca. What's best on a given day depends on a few factors: the season, the weather and where other people are on the mountain. What I've found during my time guiding here is that there's always great, uncrowded routes to be found. Given the sheer number of routes, it's hard to pick my favorites, but here are a couple of the classics that every first-timer to the area should climb:
1. Old Man's Route
Whether you're climbing for the first time outdoors, or it's your first time going to Seneca regardless of your ability, a great route to start on is Old Man's. It's rated an old-school 5.2, but I'd say it really feels more like 5.4 or 5.5.
What I find nice about Old Man's is that it has an abundance of ledges, meaning that there's lots of comfortable places to belay that don't feel too exposed. This route will get you up to the summit in around four to five pitches of climbing, so there's not much time pressure. Because there's a fair amount of horizontal movement on big ledges, there's not that much strenuous climbing, which allows you to get a good feel for the terrain and see some rappel stations. One of the biggest challenges you'll face the first time you climb at Seneca can be figuring out how you're going to get back down. Old Man's unlocks some of that beta.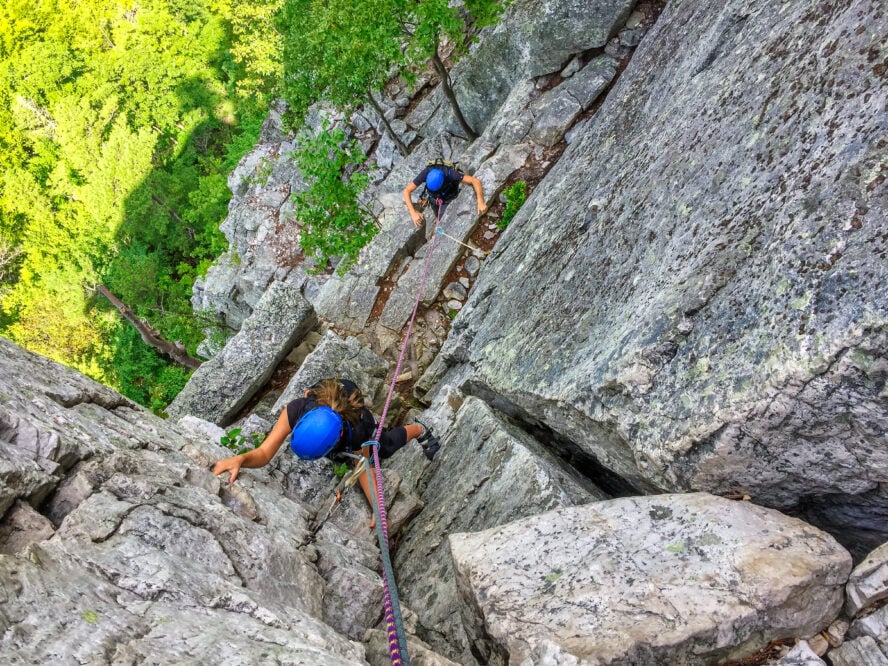 It's relatively easy to find the base of Old Man's, and then once you're on the route, I think it's relatively straightforward. Given that it is so popular, chances are on a weekend day you're going to find other people there so you may be able to follow behind someone.
Another cool aspect of Old Man's is that from the first pitch, you start to get options. You can veer off on another classic, Cons West, and climb at the 5.4 grade. That might get you around other parties if it's busy. Then, just the same as you continue on Old Man's, there are other ways that you can jump off the route and on to something else. If you're looking to do some splitter crack climbing, Critter Crack at 5.6 is what I would recommend.
2. Ecstasy — classic, steep and exposed
For the experienced multi-pitch climber, one of the classic routes at Seneca is Ecstasy. It goes at 5.7 and it's known for its exposure. As you climb the second pitch, approaching the third, you're climbing up above the ground and it's just falling out from underneath you. Then, you finish the second pitch on a hanging belay. It's pretty incredible. Once you've conquered Ecstasy, you can make your way towards where Old Man's is, go up two pitches on Prune, and then link that into 5.9 pitch Back to the Front to get you up to the elevation of the summit ridge.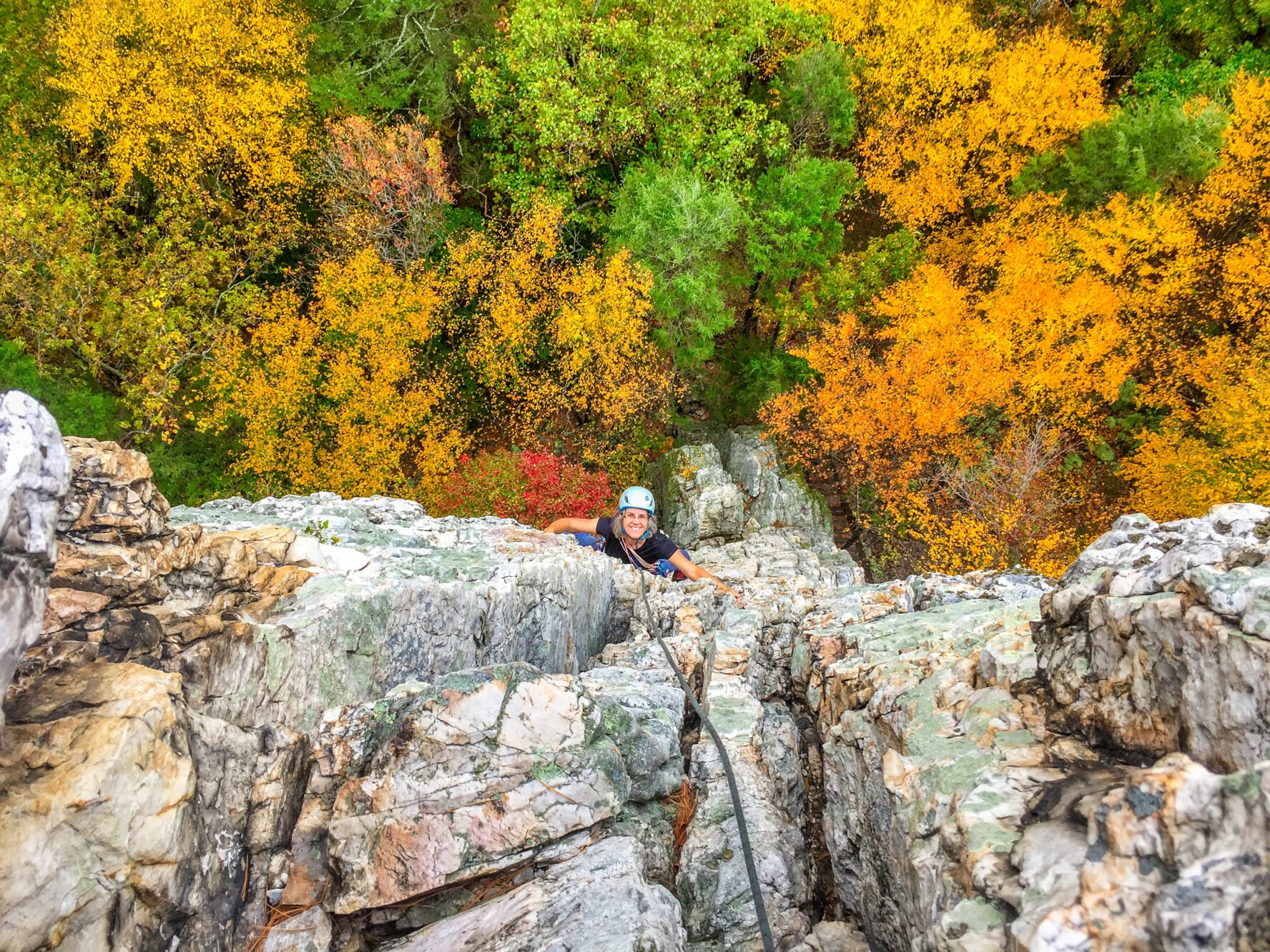 3. Ecstasy Jr. over to Castor and Pollux
Another great route that I like is Ecstasy Jr. It's two pitches of 5.4, and it also gets you up to the top of where the Ecstasy route ends. From there, there's options to go up further. If it's a hot summer afternoon at that point, sometimes I'll go around to the east face of the mountain for the shade, then jump on Castor and Pollux — two 5.10 cracks that are side by side. Castor's the crack on the left and Pollux is the one on the right. Castor goes up for about 45 feet up; Pollux is a little shorter, but more sustained. They're both about the same difficulty, and you do have to be a bit more advanced for these ones, but if you have the skills they're really fun.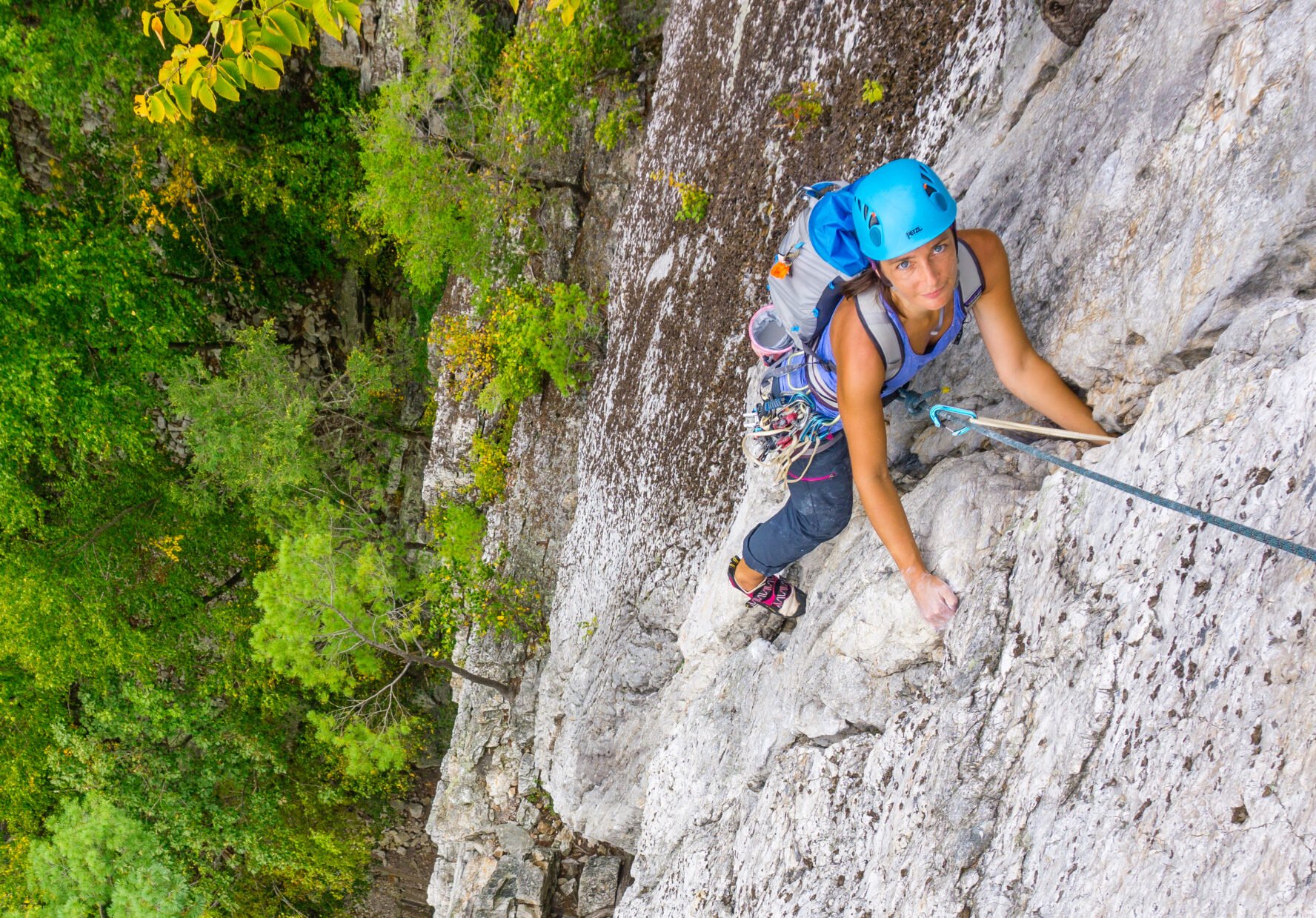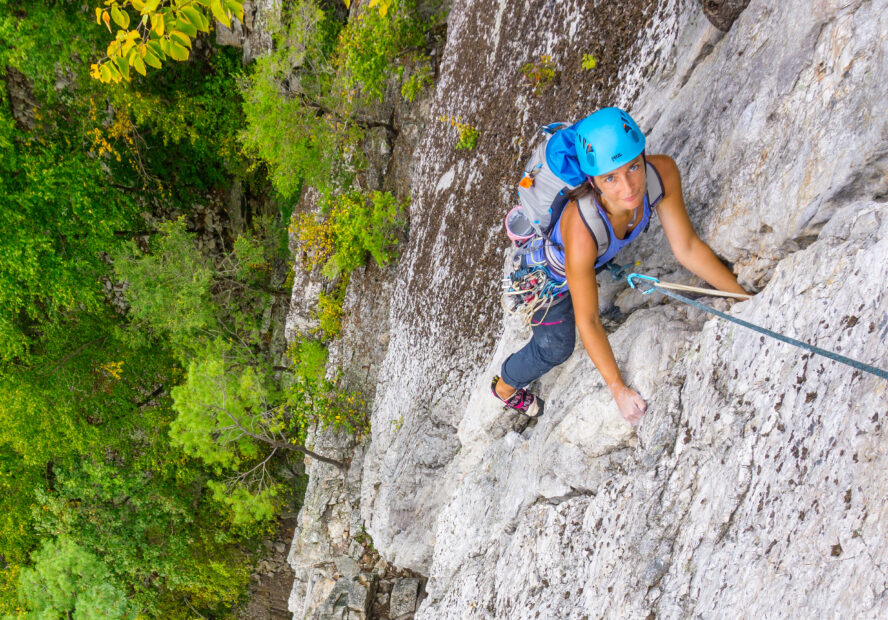 4. Gunsight to South Peak
Another great route, and one that you see photographs of quite frequently, is Gunsight to South Peak. The Gunsight is the big U-shape in the middle of the mountain that divides the North Peak to the left and the South Peak to the right (if you're looking from the parking lot up). For this route, you get into the notch there, and then climb up the right side of the U, gaining the summit ridge, and then traverse across it. The climb ends and you're walking around 300 feet off the ground on something about the size of a sidewalk!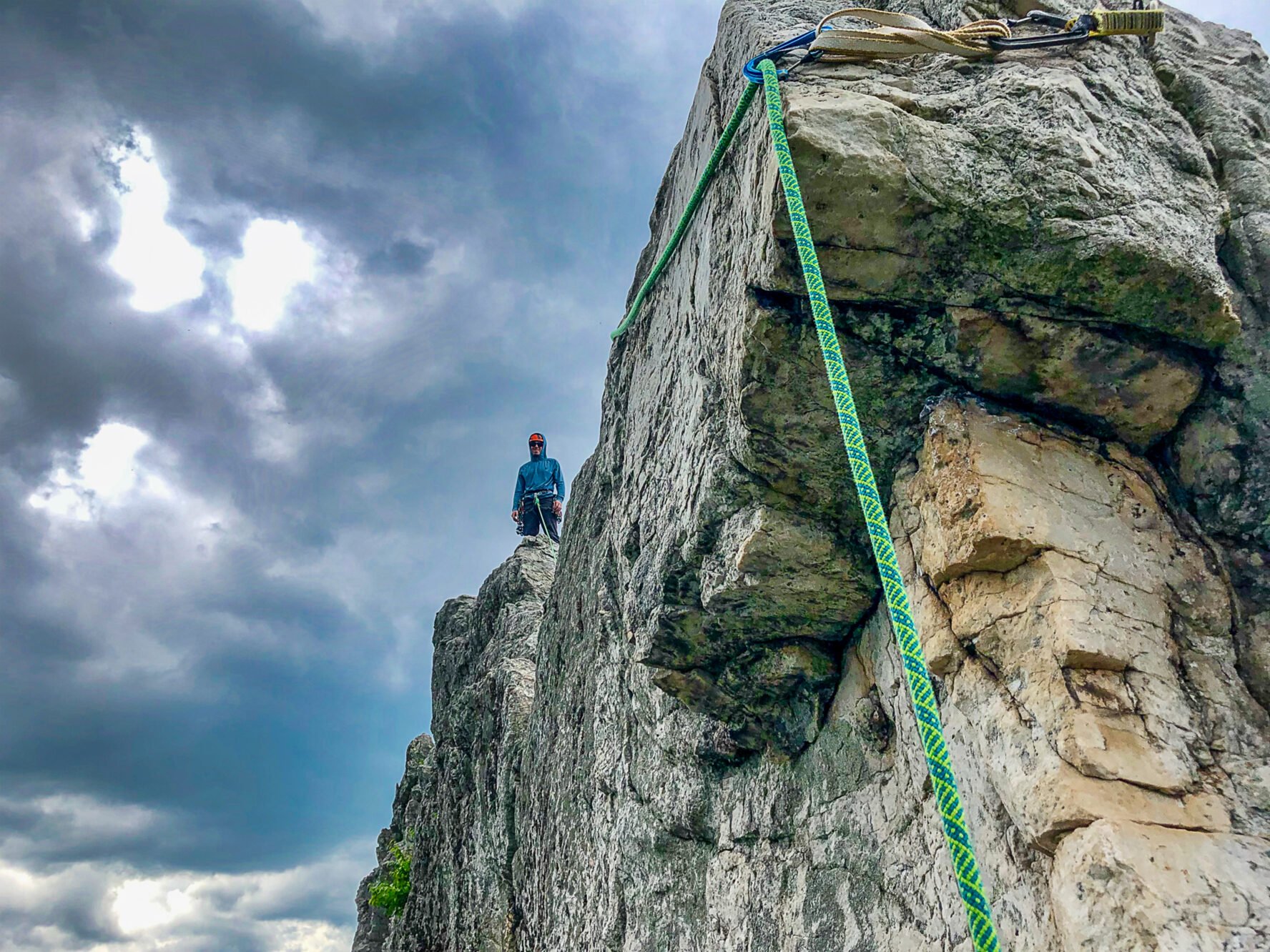 5. Seneca's best grade
It's really hard for me to choose my favorite route in Seneca, because the best options really depend on the time of year and what the day's conditions are like. I do, however, have a favorite grade in Seneca, and that's 5.7. There's an overwhelming concentration of 5.7 climbs here. If you're looking for a great route, and you're on one of the five sevens, chances are you're probably going to be having a pretty great time.
Even if you're not quite at that 5.7 level, there are an abundance of moderates. If you want to fast-track your progress, you can always go out on a climbing trip with a guide. There really is something for everyone! I quite frequently climb to the summit with folks that have genuinely never climbed before… and do that all in one day. For someone's first introduction to climbing, it's a great experience.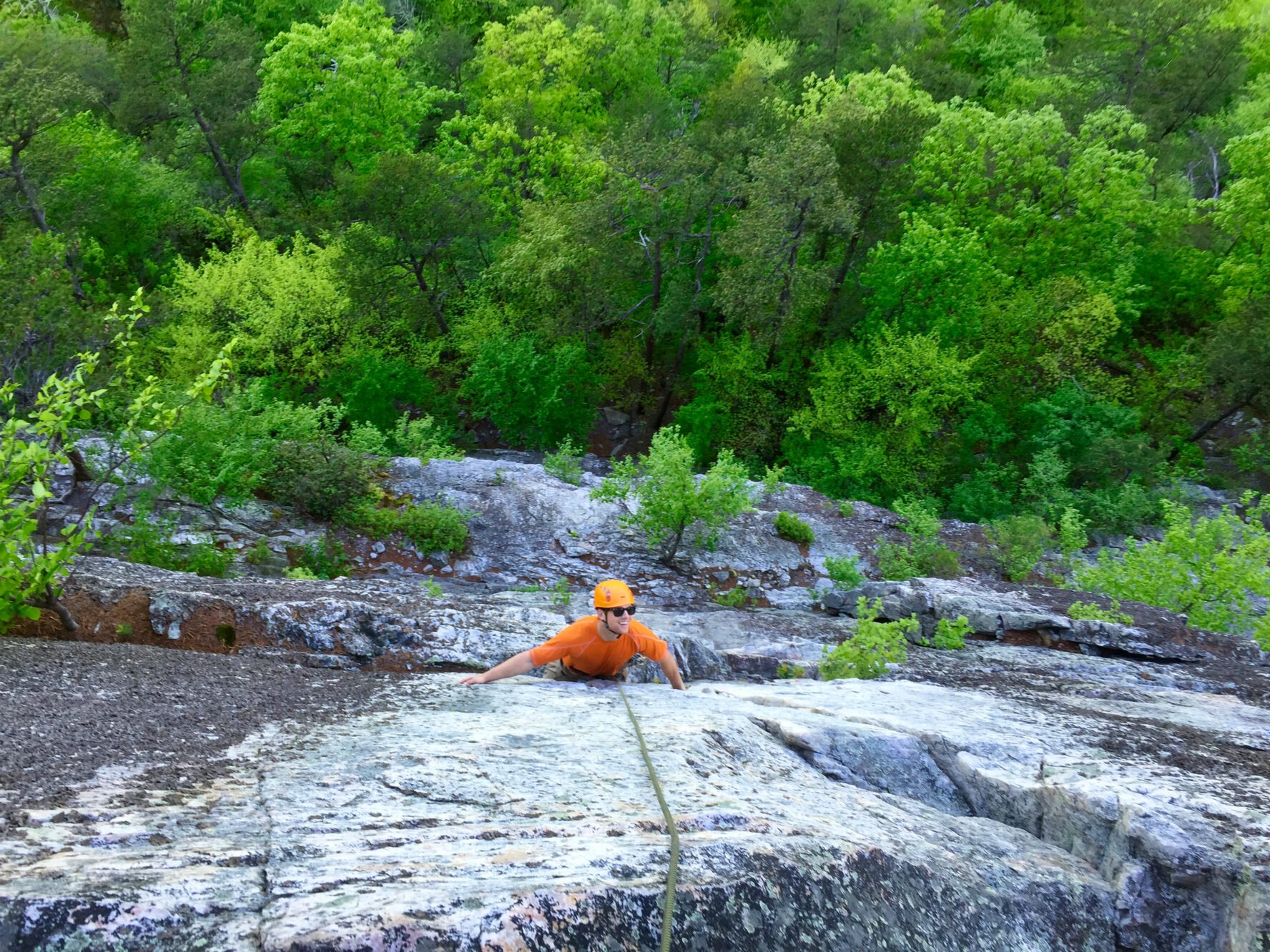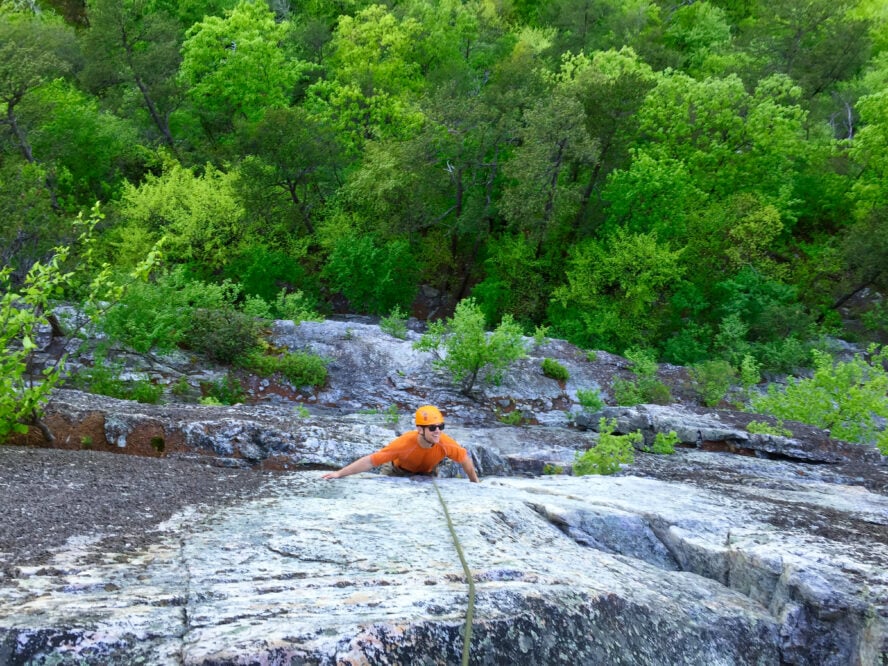 My Advice for Planning Your Seneca Rocks Trip
If you're heading out to Seneca for the first time, here's some info to help you plan where to stay, where to eat and where to grab gear:
Good planning is required
Seneca Rocks is out there. Again, it's a little bit alpine in nature and it's roughly about an hour from any reasonably sized towns. There's no cell phone service (you can get AT&T in a few spots). As far as food goes, it's mostly country stores. There's a Subway restaurant in town, but beyond that, you'll really want to be prepared with your own food if you have any dietary restrictions. So before making the trip out to Seneca, you're going to want to be well-prepared and you'll have to bring a lot of stuff.
What you can't climb in Seneca
A common mistake is to head to Seneca with the intention of climbing sport routes. There are very few sport climbs that are below 5.11, and routes that are mostly bolted require you to still have a few pieces of trad gear on hand. That being said, there are some sport climbing crags within a 30-45 minute drive. Seneca doesn't really have much of a bouldering scene either. If that is your objective, I suggest heading over to the New River Gorge.
Where to set up camp in Seneca
There's a few lodging options and two major campgrounds in the town. When I'm traveling to climb, I'm usually in a camper van, so I'll park on National Forest Land where there's free dispersed camping. A great campground is Seneca Shadows, operated by the National Forest Service. This campground has field camping, and there's also some pull-in sites and RV setups, so regardless of whether you're in a tent or a van, they've got you covered. Beyond camping, there's some cabins, a motel, and a hostel, so you've got some indoor options as well.
Where to get your gear in Seneca Rocks
Even though Seneca is quite remote, the town accommodates climbers pretty well. The Gendarme is the go-to spot for climbing gear. In fact, you'll probably have a better chance of finding a specific piece of gear you need than you will in one of the more populated east coast cities. They've got a pretty comprehensive selection of trad gear, ropes, harnesses, helmets, shoes, and really anything you could need. This is also the spot to snag the latest, up-to-date Seneca Rocks climbing guidebook.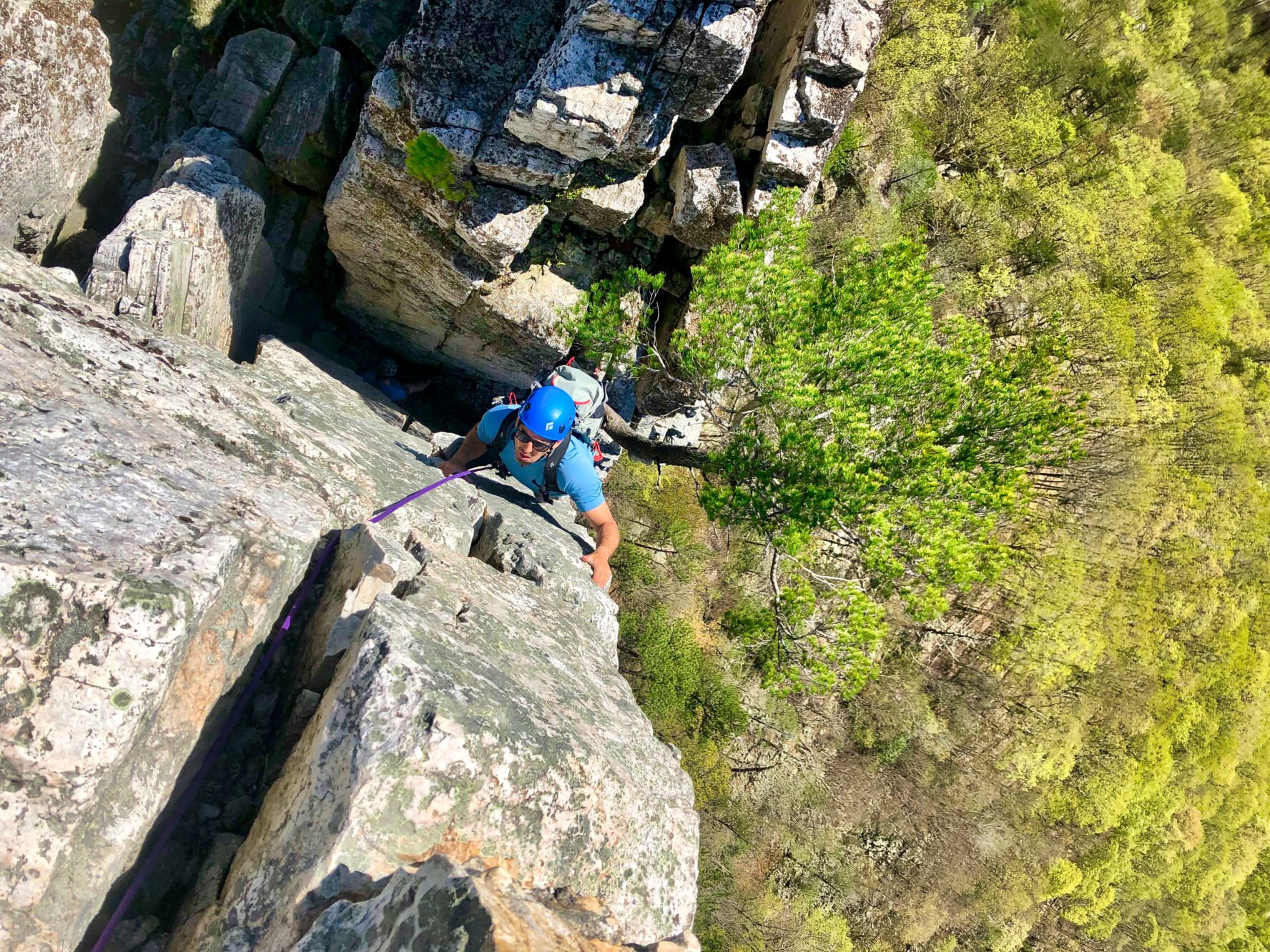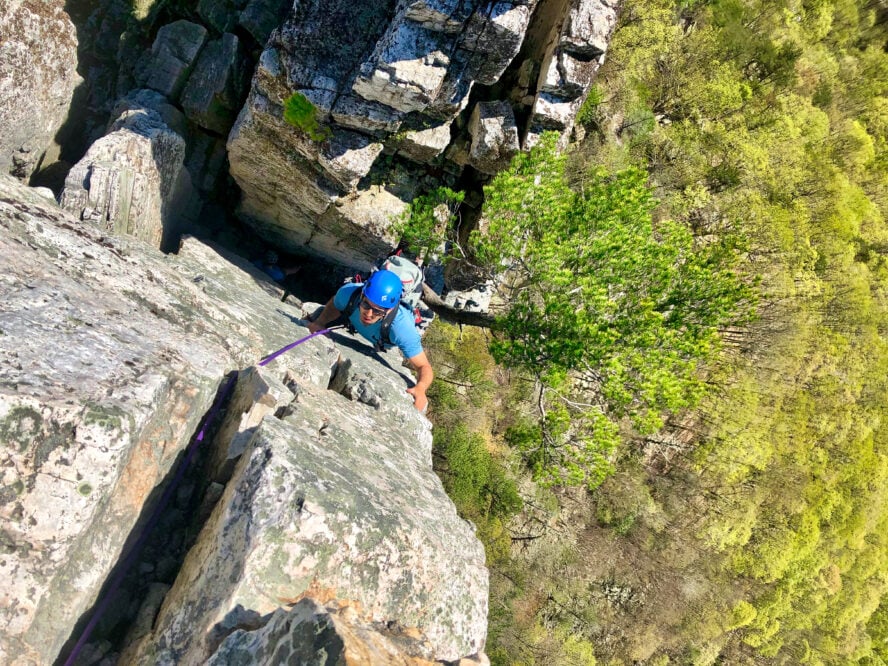 Where to grab a bite in Seneca
Harper's Country Store is a town staple and the best spot to get your provisions for a day on the rocks or to grab a bite and beverage when the day is done. It has a front porch restaurant that's on the upper level and they have the best pizza in town. It's the kind of the place to hang out, get some food, and then look back up at the mountain you just climbed from the front porch. This is where climbers gather, along with the Gendarme shop, to talk routes, have a beverage and make plans for tomorrow.
Do you need a permit for climbing at Seneca Rocks?
As an unguided recreational climber, you don't need a permit. So if you're coming to town for the first time, you can just show up at the parking lot, hike to the route you're looking for, and climb. Guide services do need permits, which are issued by the U.S. Forest Service. So if you're thinking about hiring a guide, just ensure that they are permitted.
If you ever wanted to climb in one of the best multi-pitch spots on the East Coast, consider a guided day of climbing, completely catered to your goals. Are you looking to upgrade your lead climbing and safety skills? Book a one-day course in Seneca Rocks!