Set Sails for the Best Climbing in Sardinia
If the idea of sailing emerald seas, climbing untouched crags, and spending nights under the stars with friends appeals to you, Sardinia will give you everything you want and much, much more.
There's a saying that proud Italians know: "Why would you go to the Caribbean when you can head to Sardinia!" And while my roots may make me biased on the matter, I still think this comparison is completely ridiculous. For one thing, the Caribbean doesn't have rock climbing this good!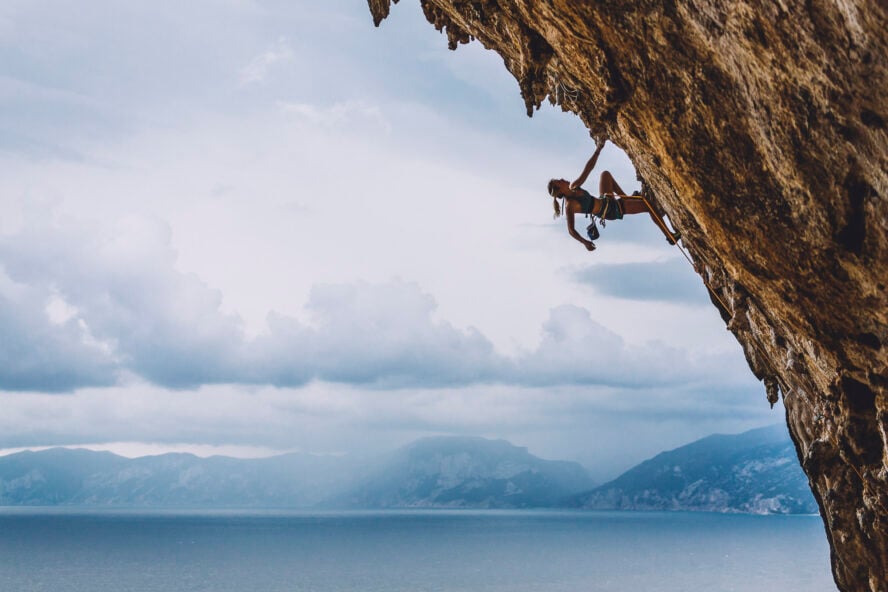 Pros and Cons of Sailing and Rock Climbing in Sardinia
A unique combination for adventure climbing
Climbs for all skill levels and styles
Large number of high-quality, virtually untouched routes
The island is a cultural depot filled with delicious regional cuisine and ancient history
Getting there can be tricky
Some of the more scenic crags are best enjoyed by experienced climbers
How I Went From the Slopes to the Sea
Without a doubt, growing up surrounded by some of Italy's best climbing shaped me as a person. Nested under the grandiose Italian Alps, you could say that before I even started walking properly, I was skiing, trekking, scaling trees and conquering snowy peaks. When I started traveling from the mountains to the sea, I fell in love with sailing too. So many interests and so little time, what to do?
Well, a few years on I got the idea to reconcile my passions: combine rock climbing and sailing into a hybrid adventure. This idea developed into Vertical Sailing Tour, and the place to do it was Sardinia.
I first visited the island 20 years ago, and I couldn't get enough of the landscapes, the people, and the culture. The kilometers of idyllic beaches, tufa laden crags, well-preserved medieval castles on imposing cliffs, and the local tavernas bustling with music and wine, well, I was hooked.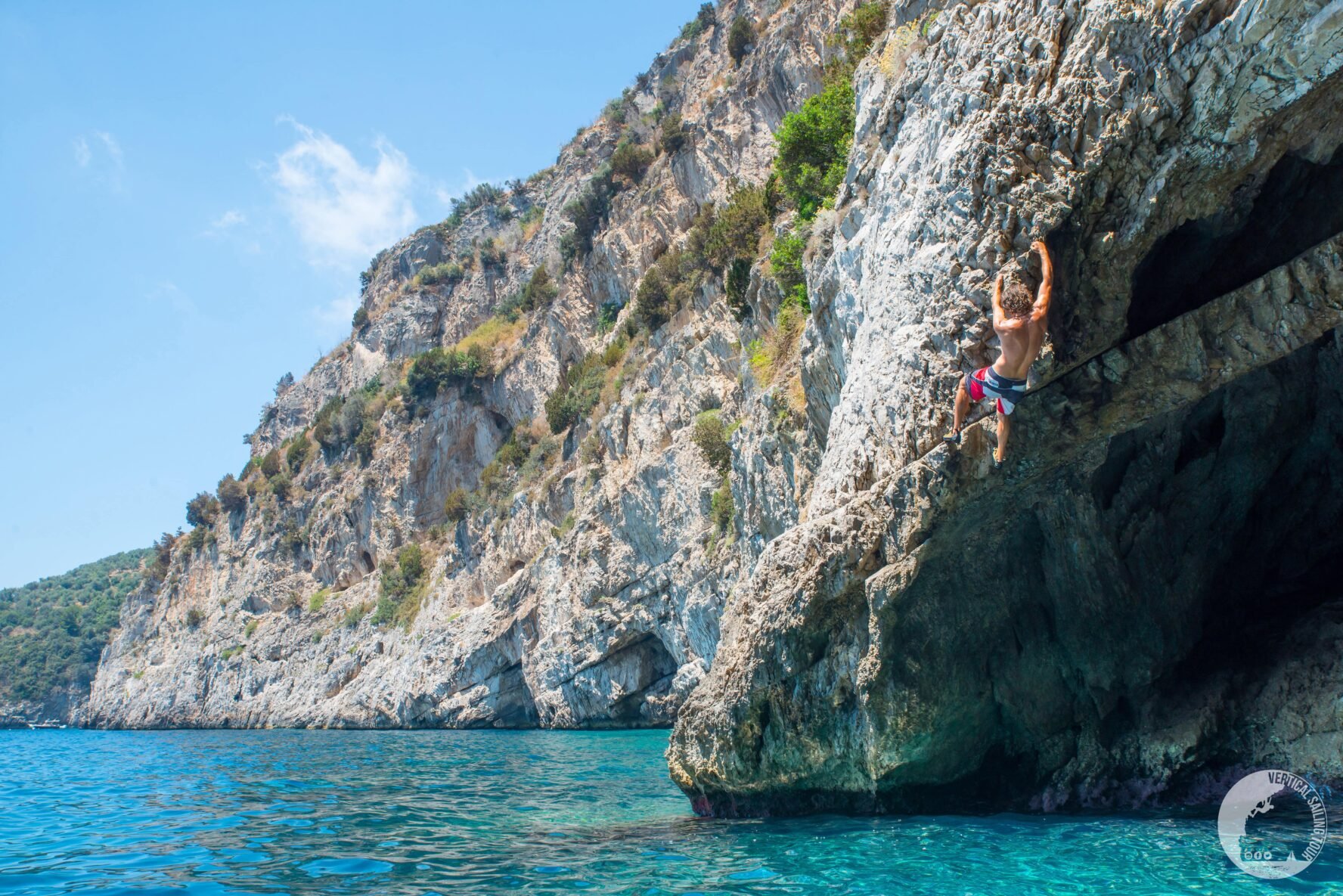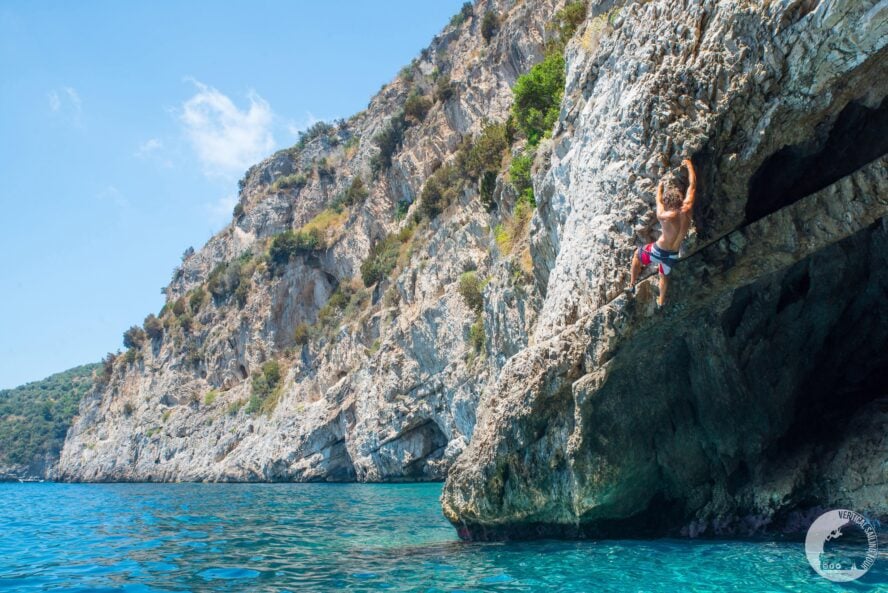 Sardinia is the Sage of Cliffside Climbing
If I had to pick one word to describe Sardinia, it would be: abundance. An abundance of emerald waters, an abundance of picturesque beaches, an abundance of sea life.
And an abundance of great rock too. When most people think of Mediterranean rock climbing, they think of the Greek rock climbing mecca of Kalymnos. I'm here to say Sardinia has it beat. Let's talk brass tacks: there are roughly 5,500 single-pitch routes, almost 1,000 multi-pitch routes, and they are much less trafficked than their Hellenic counterpart. Bobbing in the crystalline sea, each coast harbors distinct terrain so no two days are alike as you circumnavigate sampling the crags. To me, Sardinia is one of Europe's most under-appreciated rock climbing destinations.
The best way to climb in Sardinia is by sea
Why do I claim that sailing and climbing is the best combo? Well, one reason is that it actually gives you access to otherwise inaccessible climbs. Some of the crags we visit can, in theory, be accessed by land. However, the paths towards them are often complicated and impractical. Others are outright impossible to get to. By sailing, you can also get to places that are less traveled, so if you enjoy unpolished stone in pristine settings I'd suggest renting a boat.
Now let's put on our climbing shoes and tie into what makes rock climbing in Sardinia so good.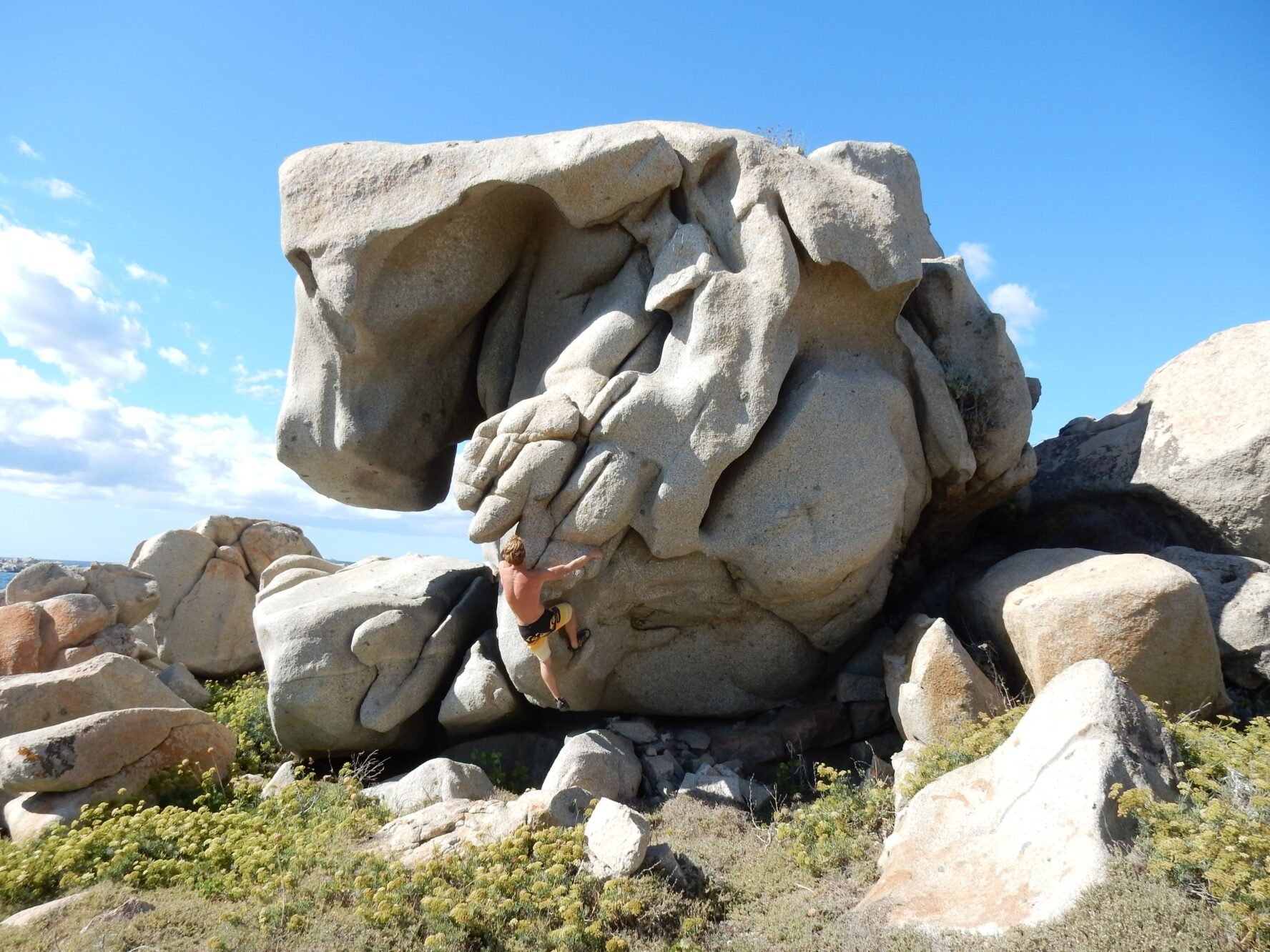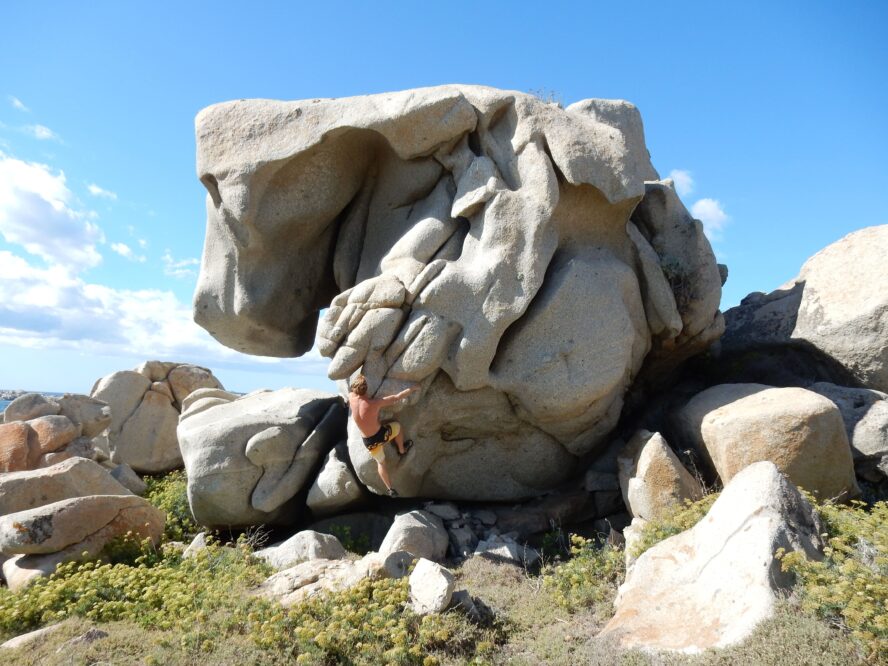 Climbing on the north coast will blow you away
In the north of the island the winds are notoriously strong. Sailing here can be intense, especially in the channel between Sardinia and Corsica. However, it's the torrents that also make the climbing so interesting. Eons of blasting air have shaped the stone into otherworldly folds, swirling obelisks, and leaning waves.
I like to head to Capo Testa for multi-pitch climbing, where the scenery is as unreal as the formations you're thrutching up. For bouldering, La Maddalena in the strait of Bonifacio or the remote Lavezzi Island are elemental experiences.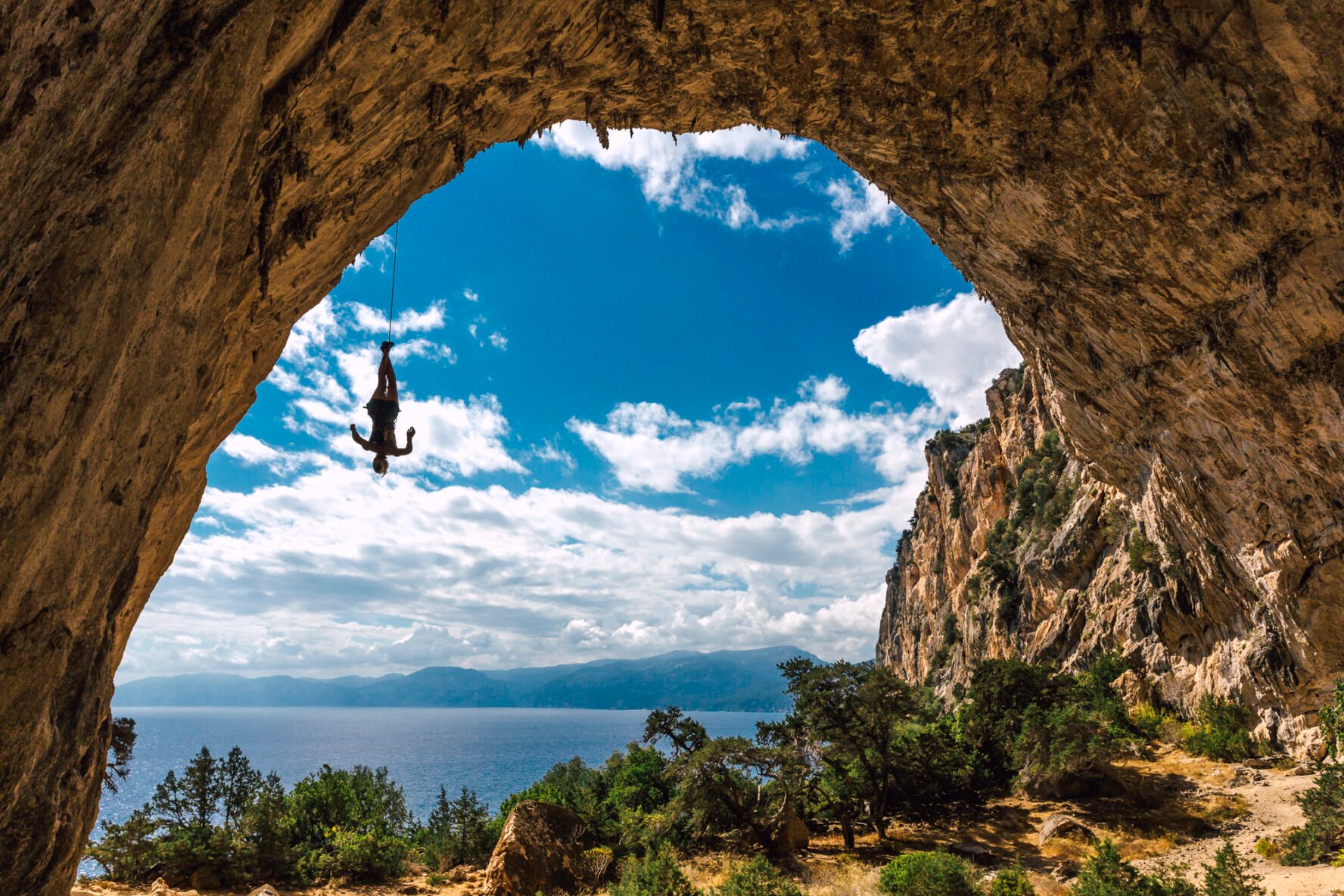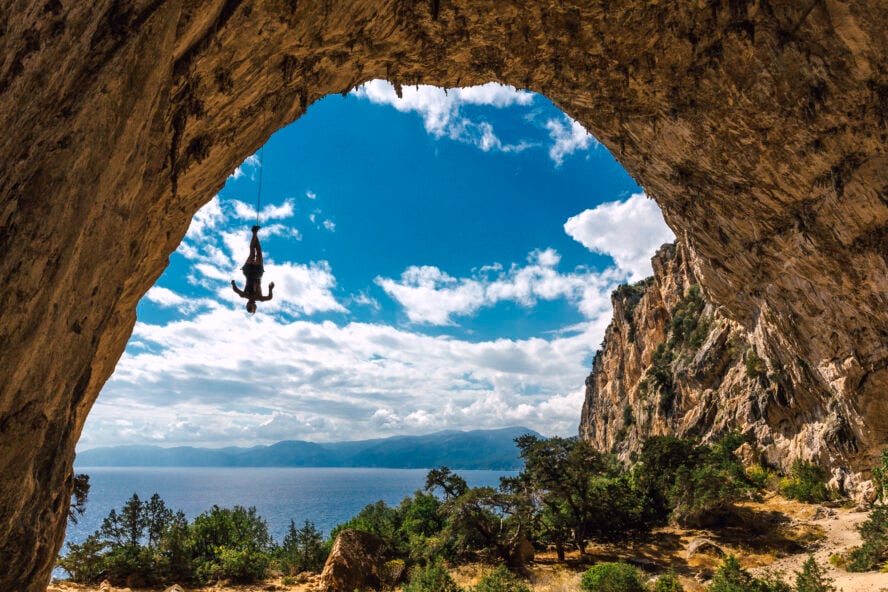 The eastern coast has it all
Moving south along Sardinia's east coast you find kilometers upon kilometers of climber-friendly rock. This is where I spend most of my time, and one of my favorite spots is without a doubt the Punta Giradili cliff. With 500 meters of perfect limestone bubbling up from the sea it's a must see. Cala Gonone is one of the best known climbing areas on the island; it was first developed 50 years ago and has aged well with over 1,100 routes. For a little bit of everything, Ogliastra offers deep water soloing, bouldering, single pitch and multi-pitch routes up to 500 m long. If Mediterranean tufas are your thing, the wildly overhanging routes of Millennium Cave are a pumpy and photogenic draw.
Now, if I was tasked with getting someone to fall in love with Sardinia as much as I did, I would take them to the Selvaggio Blu trek. This panoramic hike unfurls for over 40 km along the seaside, and its name is truly deserved as the route is considered one of the last wild traverses in the Mediterranean.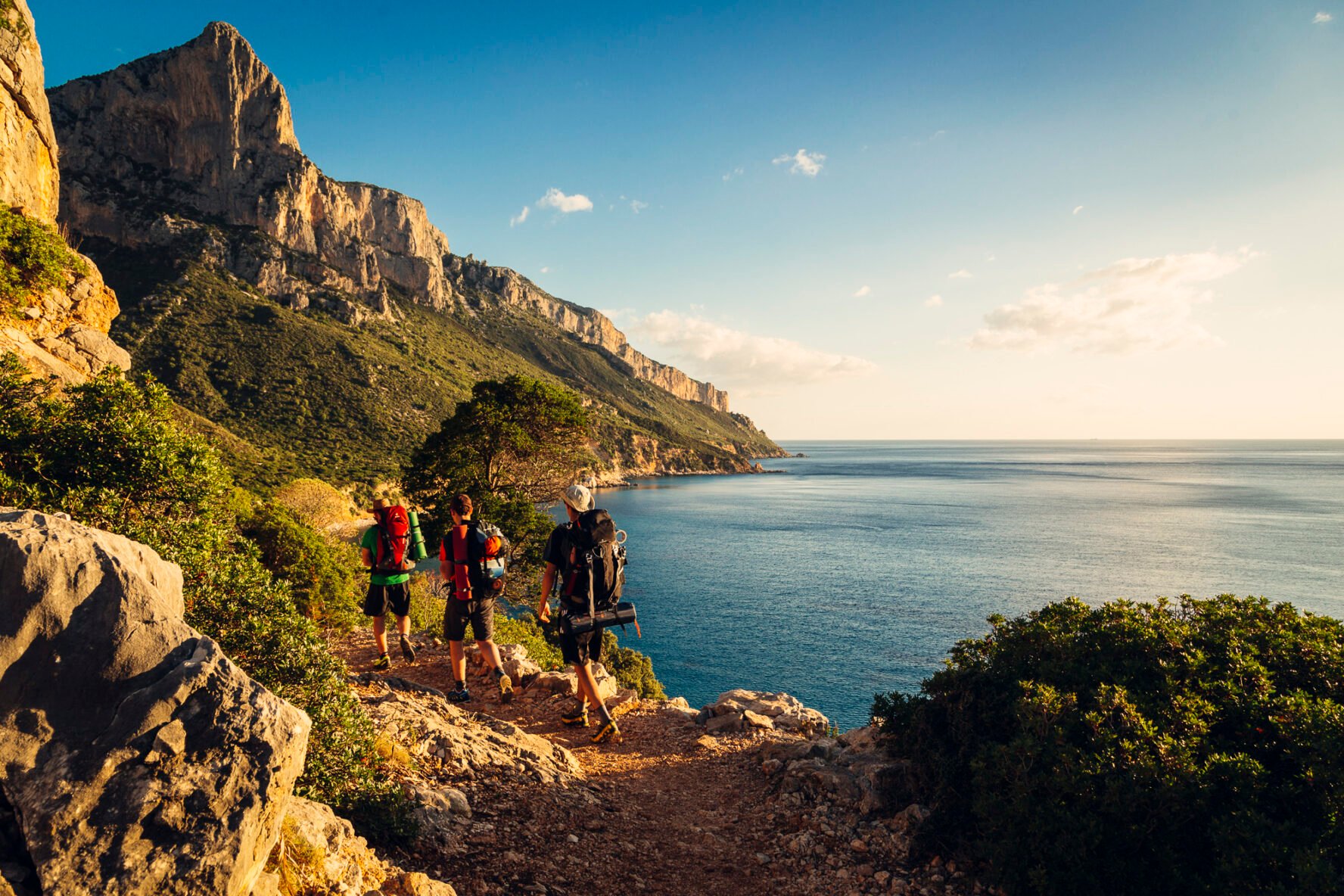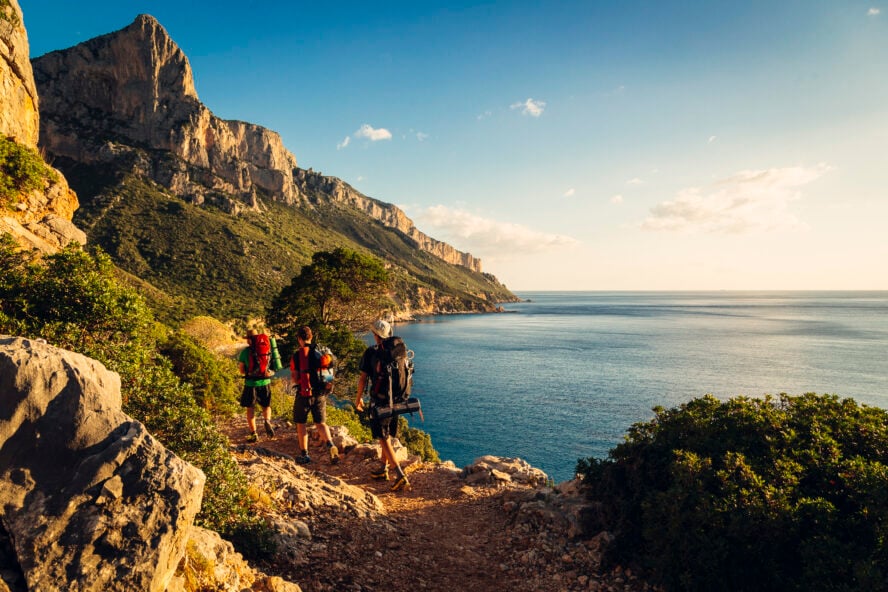 Sailing away from the crowds in the south
Rounding the southern tip we find remote climbing opportunities. San Pietro Island, Masua and Pan di Zucchero are lesser traveled jewels. They are located near the town of Carloforte which at one point was synonymous with tuna; the townspeople invented the fishing technique of La Tonnara and were able to catch the best of the saltwater tribe.
San Pietro is peculiar for its basaltic crags, which are great training grounds for learning how to trad climb. Masua offers sport climbing on excellent limestone, but the sweet dessert has got to be the multi-pitch routes of Pan di Zucchero, the "sugar loaf." There are plenty of treats across the island, and I suggest checking out the local climbing organization, Climbing Sardinia's comprehensive digital guide, for topos.
Feeling the lure of La Tonnara and want to plan your own sailing and climbing trip? Here is my recommendation for a seven day tour that will let you sample Sardinia like a pro.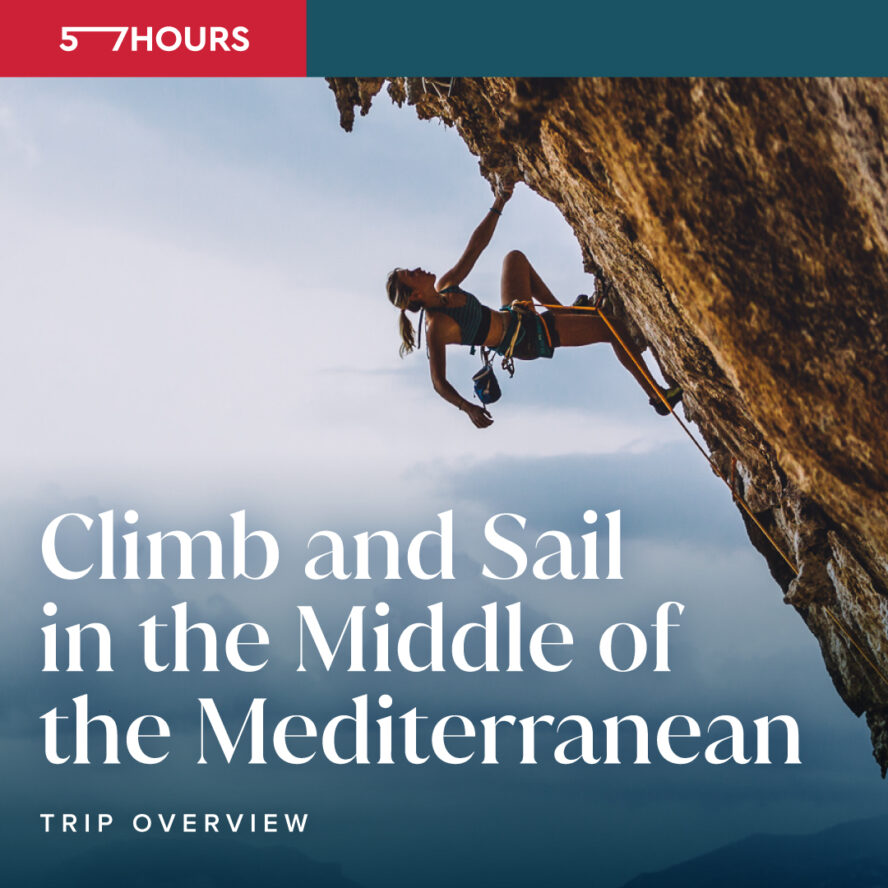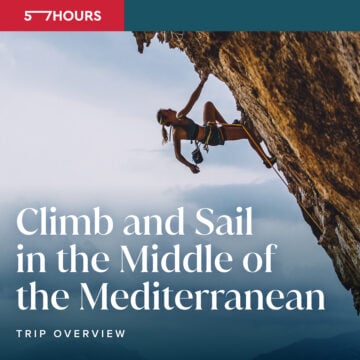 Get free trip brochure
Check your inbox
See the Best of the Island on this 7-Day Tour
On our trips, we use a luxury sail boat as our "moving base camp". It's a place where we can rest, cook, and sleep, and it gives us absolute freedom when choosing where to go or anchor down. But you don't need a rig as big to enjoy this tour, just an eye for adventure and loads of enthusiasm!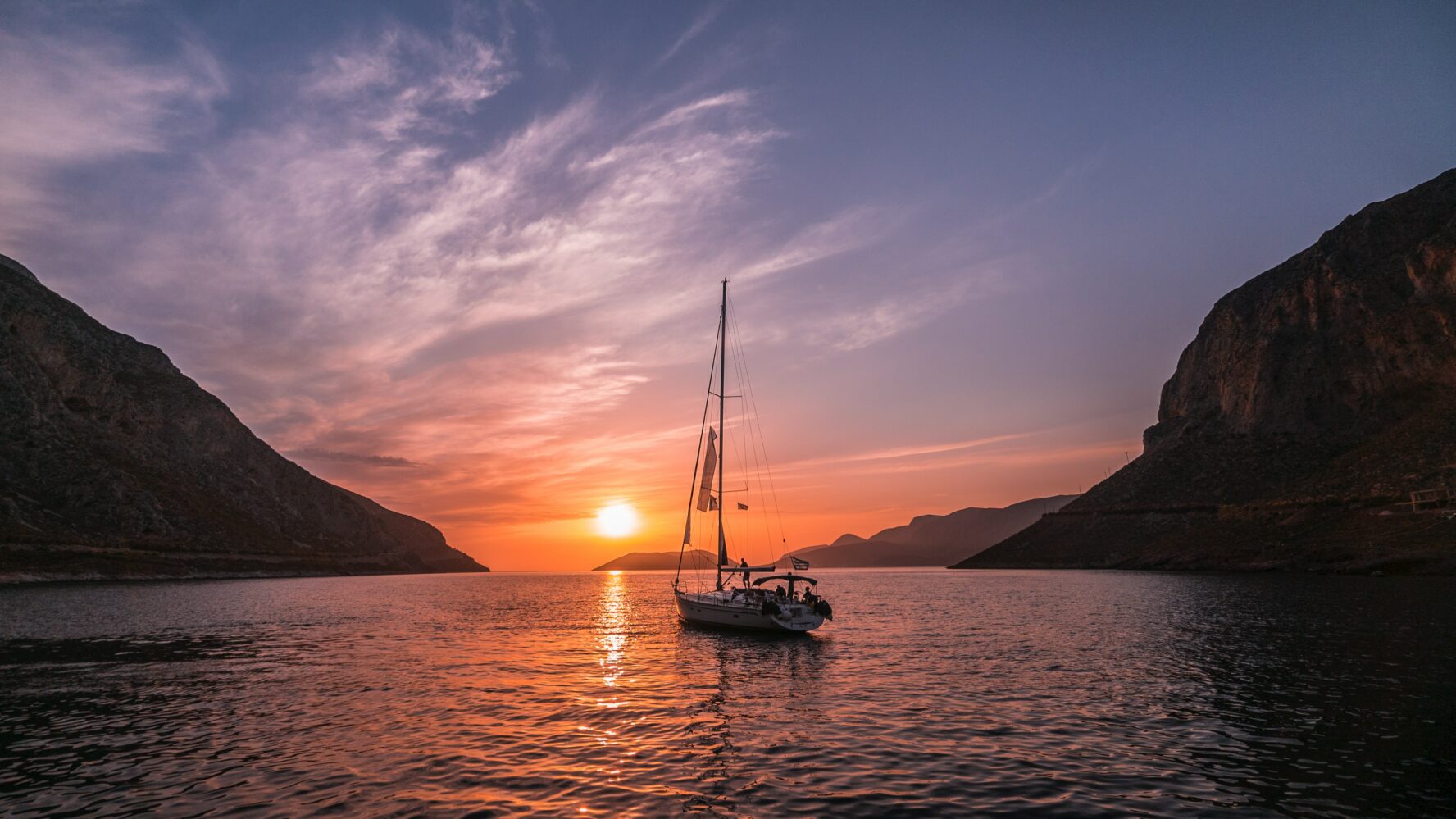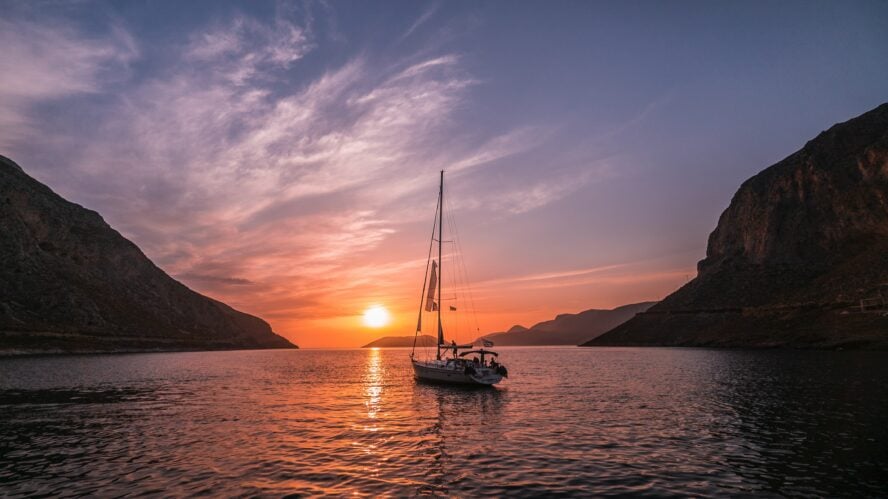 Day 1: Anchors aweigh in Portisco
I recommend starting your trip in Portisco, a small Sardinian village in the northern province of Olbia-Tempio. This cozy little village offers a flawless first taste of Sardinia, and a safe harbor to spend the first night under the stars.
Day 2: A day trip to the tiny Tavolara Island
The first stop is Tavolara Island, a speck of limestone—5 km wide by 1km long—that sports one restaurant, a handful of families, and a rare breed of goat. For climbers though, it hides some massive opportunities! The ends of the island are known for their sprawling coastline and magnificent cliffs that extend up to 500 meters in height. Here you can walk the vista-laden Via Ferrata degli Angeli for full views of the island. Anchor at the breathtaking Spalmatore di Terra beach for a relaxing afternoon. Then rest well, you'll need the energy for the days to come.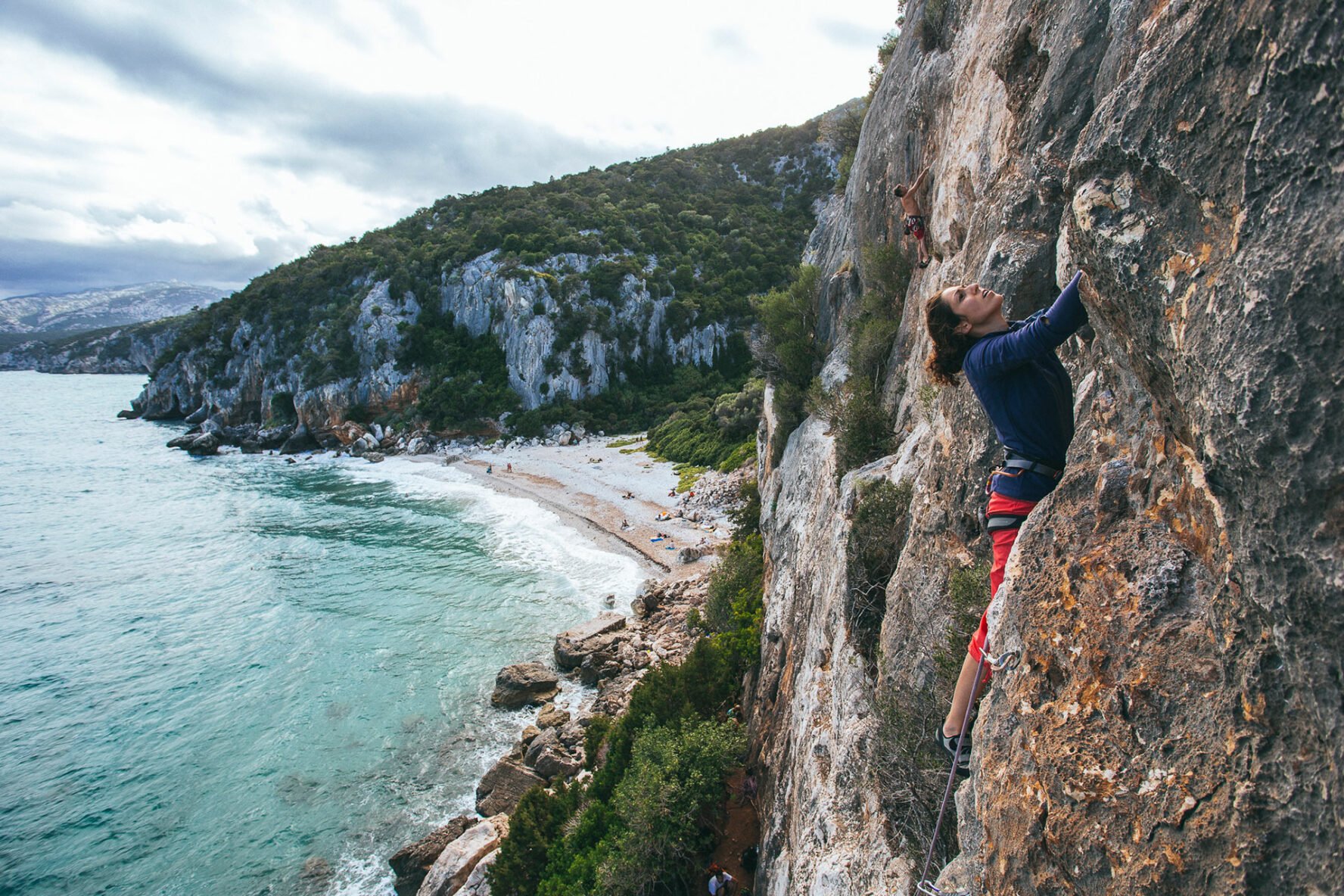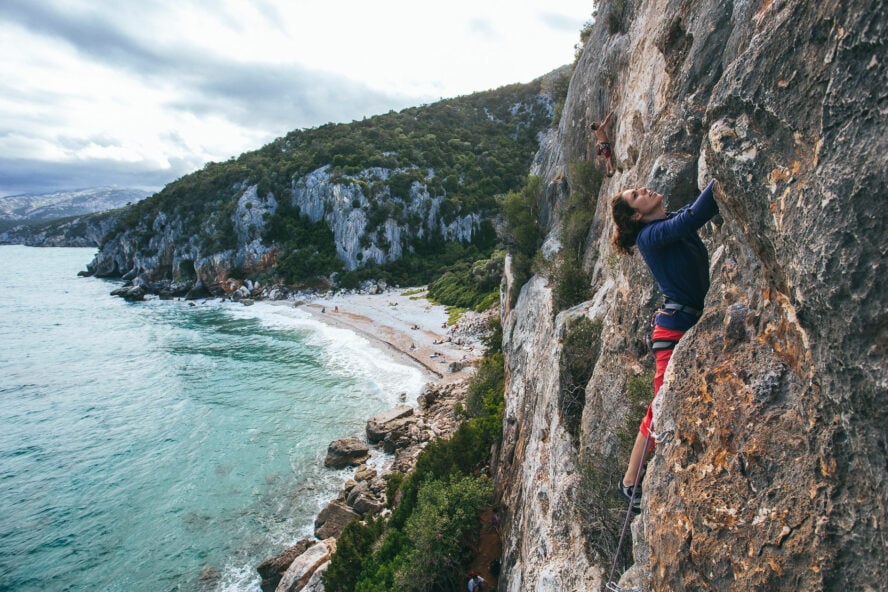 Day 3: Countless climbing at Cala Gonone
Sail to Cala Gonone on the east coast of Sardinia and drop anchor under the panoramic bay of Cala Fuili. The climbs begin right on the beach, in a canyon that extends inland for two kilometers. There are hundreds of single pitch sport routes on steep walls, slabs and some crazy overhangs that are quite challenging. There are also easy multi-pitch routes, so climbers of all skill levels will find something to do here.
Day 4: Stick around for Cala di Luna and the Millenium Cave
No sailing today, you'll want to make a full day of climbing at the crags of Cala di Luna. It's an amazing location with caves right on the beach, and the best part is you don't even need to put on your shoes! You can anchor next to the sands and reach the climbing barefoot.
If you're feeling up for some adventure, embark on a short trek to the Millenium Cave. The hemispheric climbing is on excellent quality limestone with tons of tufas and stalactites. Strong climbers will appreciate the acrobatic routes with grades that start at 6a and go up.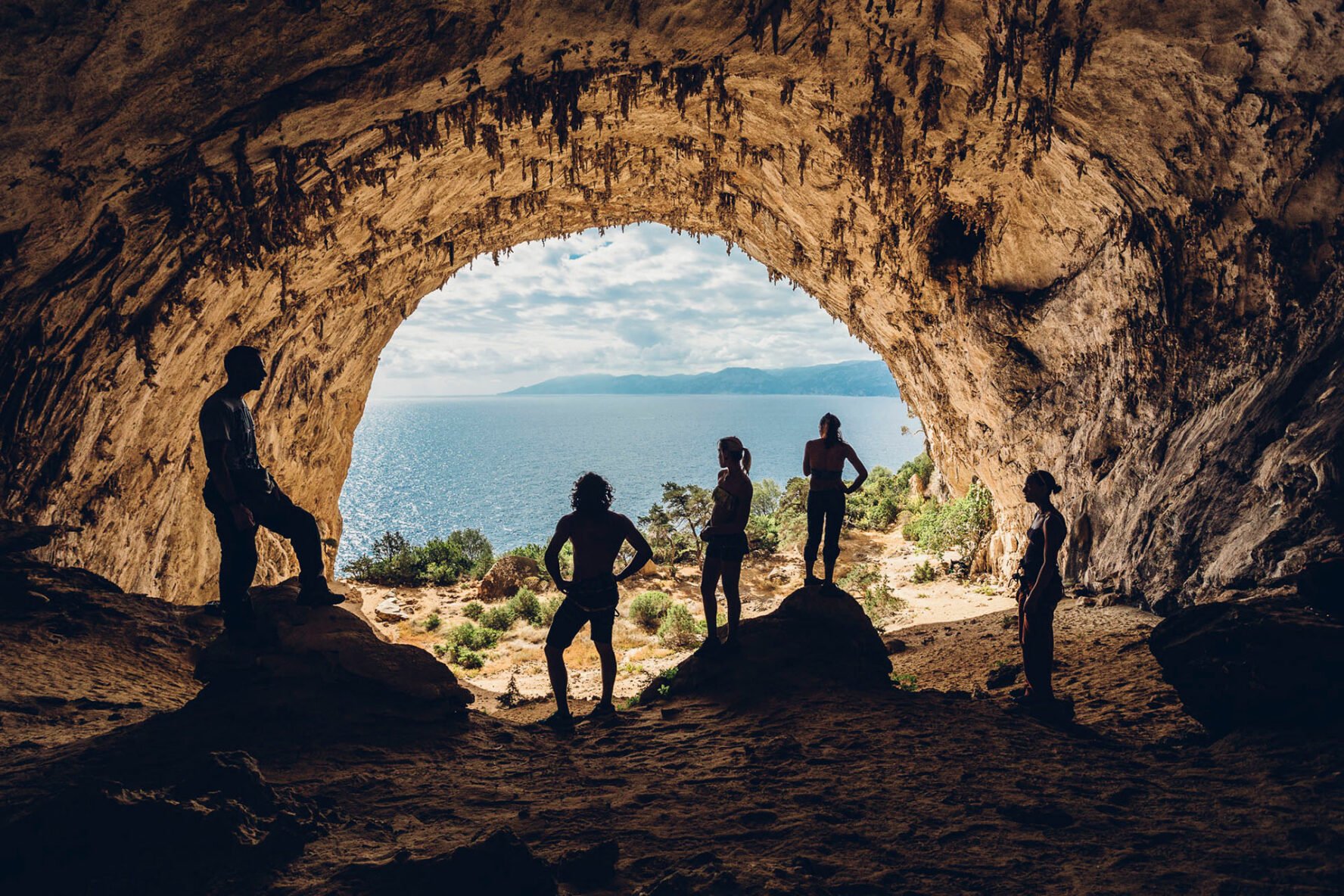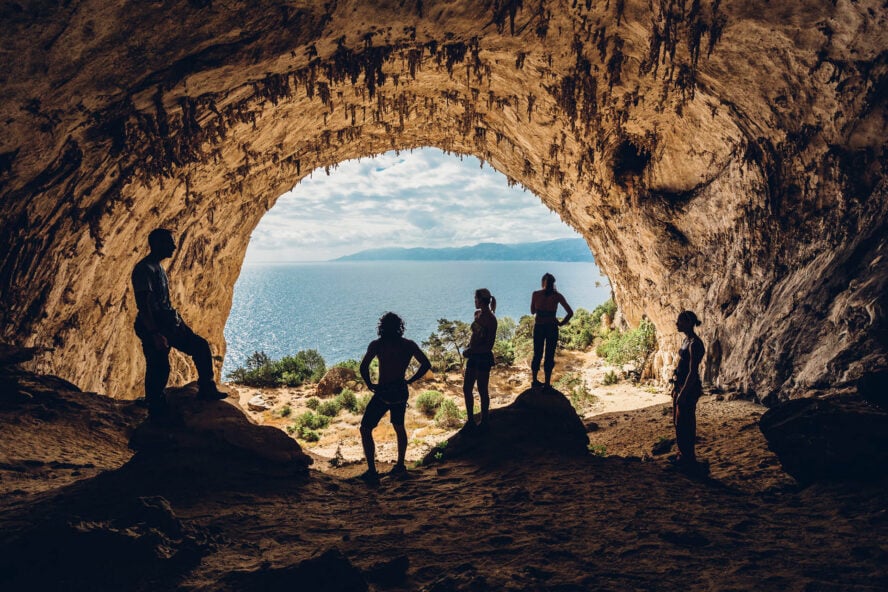 Day 5: Go long on the Pedra Longa
Today, move south for multi-pitch climbing on the imposing limestone spire, the Pedra Longa. These are some of the most iconic climbs on the island, long lines right above the sea. Finish the day with an evening tour of the gorgeous bay in front of the Aguglia di Cala Goloritze.
Day 6: The hype lives up to the height at Aguglia di Cala Goloritze
One of my favorite places to climb is the Aguglia di Cala Goloritze. This 143-meter limestone needle attracts climbers all over the world. Its 11 routes, lauded as some of Europe's most spectacular, range from 5c to 7b+, so no climbers will be left behind. This will for sure be one of the highlights of your trip.
Day 7: Molara Island
On the last day of your journey travel to Molara island for unperturbed nature and granite boulders on the beach. Enjoy a farewell dinner at a local taverna, share your favorite moments, and cherish the memories only made possible by uniquely combing sailing and climbing.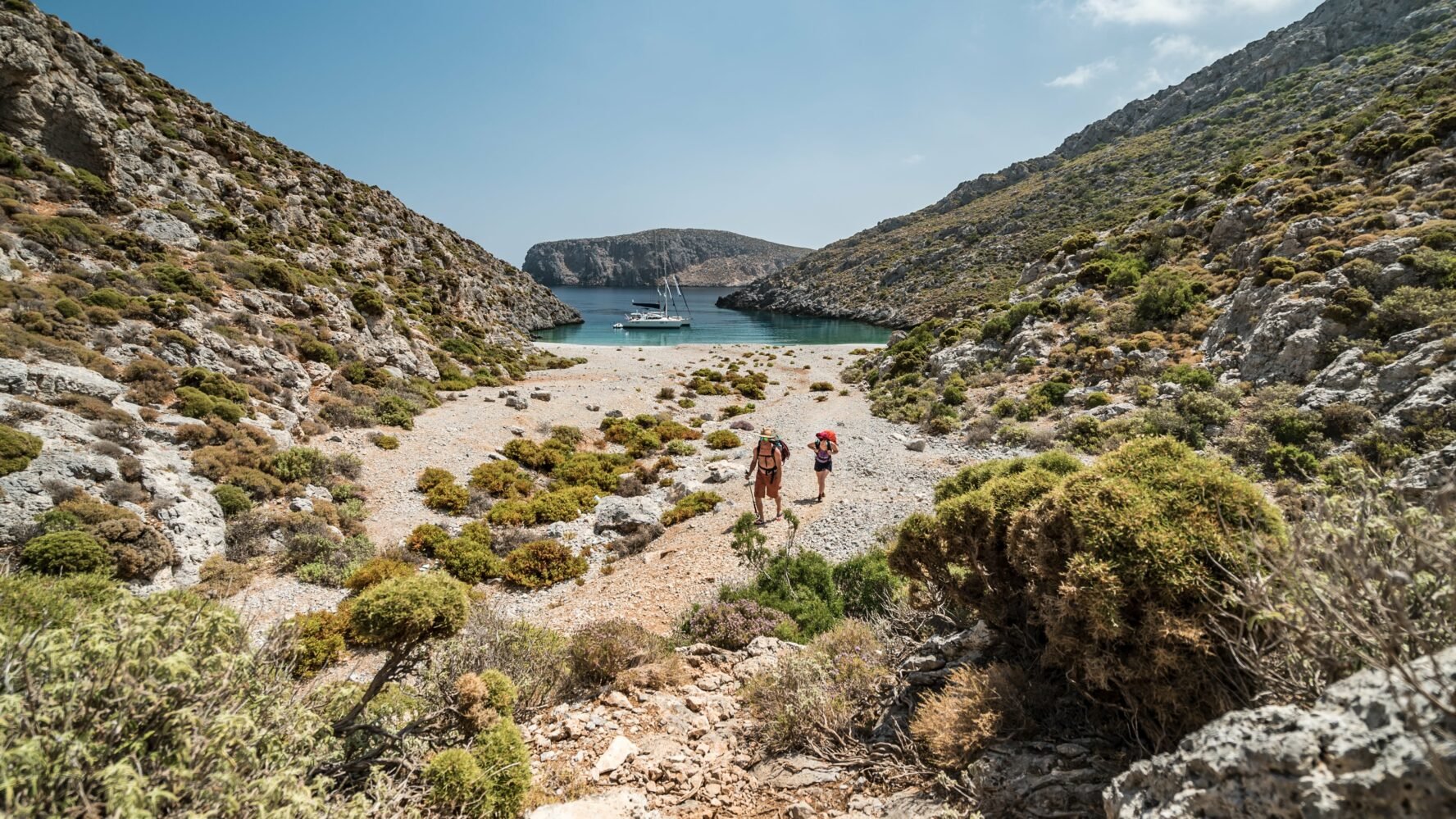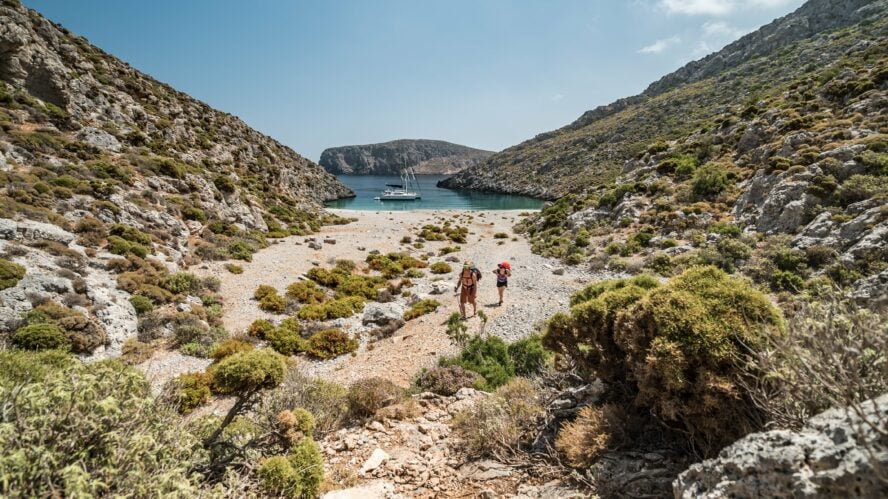 Some Particulars of the Tours
Life on the boat
There's something I always like to highlight about life on the boat. When you sail with me, from the moment we get on board, we are a crew. This means that whatever we do, we do together. For example, let's say we're cooking dinner: one crewmate will prepare an appetizer, the other may be on veggie-slicing duty, while a third person may wash the dishes after the meal. This is how it works no matter what we do; everybody helps pass the gear, load the dingy, sail the boat etc. This builds a sense of comradery and leads to some truly strong friendships.
I don't climb or sail, can I still join your crew?
We have no expectations or requirements for skill level, neither for climbing nor sailing. First time climbers are welcome and with our U.I.A.G.M. certified Mountain Guide, Alberto, you are in safe hands. If you're keen to learn, he is happy to teach you all the basic techniques, safety measures, knots and so on, to get you up your inaugural routes.
We often have climbers that have never been on a sailing boat. That's nothing to worry about! You'll have a professional skipper, me, in charge of sailing, and again, we are more than willing to teach you how to handle the vessel.
How do I even get to Sardinia?
Sardinia is an island at the center of the Mediterranean, just off of Italy's western coast. It's easily accessible from all the bigger cities in the country, as well as many coastal cities in France or Spain. Olbia, in the north of the island, has an international airport, so it's an easy choice for those coming from afar. From there, it's a 40 minute bus ride or a 20 minute cab ride to the Portisco marina.
What do I need to bring?
You should bring your personal climbing equipment, including a harness, helmet, shoes and chalk bag. If you want to travel light, we can provide ropes, quickdraws and trad gear. It's also wise to have a backpack for daily activities, as well as hiking shoes. Note that it can get cold and breezy at night, so don't forget to take a warm pullover and some waterproof clothes, even if you'll mostly be living in your bathing suit the entire time.
What about the boats?
For my trips I always use sailing boats. They can be monohull, meaning standard boats, or catamarans, meaning two hulls. The boats are quite long, from 14–17 m (45 to 55 ft), and they usually have 4 to 5 cabins. Each cabin can house two people, and they're equipped with either double beds or bunk beds. Our boats also have 2-4 toilets, a spacious living room, a big table, benches, an oven and 2 fridges. As you can see, modern boats are really comfortable!
Want to learn more about conquering Sardinia's seaside climbs and exploring the secret shores of this Mediterranean island? Watch our Epic Adventure Webinar with Lorenzo at the helm of this talk.