Rock Climbing at Brooklyn Boulders
I thought I'd give it a shot by coaxing my friends into a cool afternoon class. Strength in numbers, right?
The Intro to Climbing class was an awesome, humbling, and motivating experience for someone who hasn't done much rock climbing. Sure, I've done rock walls at summer camp when I was a kid, but that seemed a distant memory as I was traversing my first 15 foot wall that day.
Here are the full details from my lesson at Brooklyn Boulders!
Live a Boulder Life
It was an easy commute from the Upper East Side into Brooklyn on the Q train, and then a 14 minute walk from the station. When I arrived around 1:10pm, I waited in a short line to check in. Since I had already filled out the waiver online, I gave my shoe size, got my climbing shoes and took a seat on the bleachers near the front desk. I had a great view of the first few climbing walls.
My three friends – David, Scotty, and Eric– arrived around 1:20pm. They filled out their waivers at the desk, and waited with me on the bleachers. And wait we did, because they apparently forgot about us for the 1:30pm class. No bother. Diamond helped put us in the 2pm class instead, with supposedly the gym's best instructor, Marcus.
It's where my adventurous friends go to work out, instead of going to a gym. Once we got going, the class was great." – David
Marcus – a Manhattan native who started rock climbing when he was 5 – was excellent. After asking about our general climbing experience, he walked us over to one of the (probably) 75 climbing walls in the grand facility and he explained how each wall route was labeled with a certain color and number. V0 was the easiest, V1 was harder, V2 was much harder, etc. The colors aligned with which rocks you were allowed to step on for each ascent.
Rock Climbing Requires Finger Biceps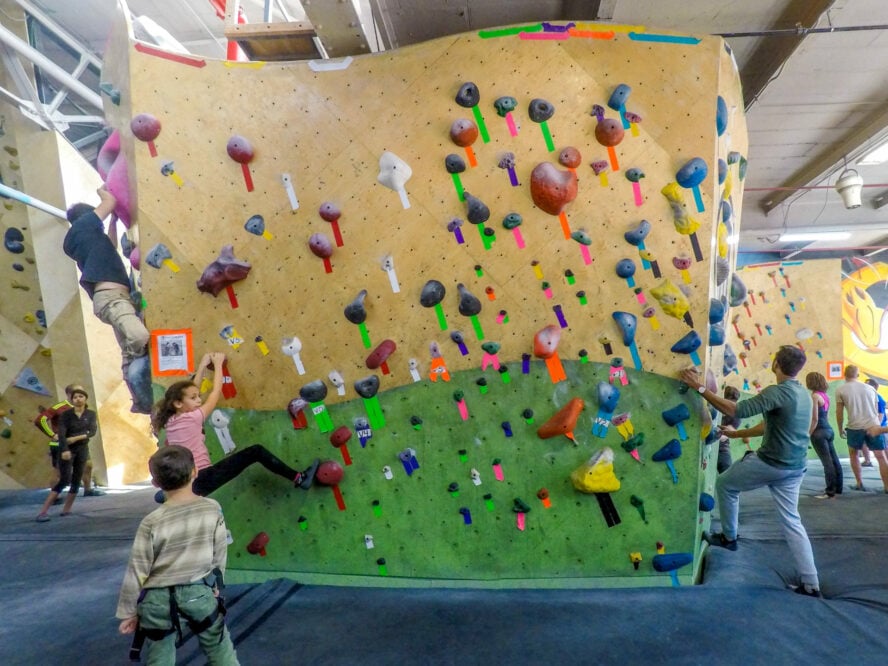 With 6 total people in our intro class, we took turns ascending the first challenge. Most of us made it up Pink V0 which felt great and got us into the swing of things. Each of the six in our group took turns climbing that path while Marcus scoped out our abilities.
While climbing, our friends in our group would communicate certain rock positions, and cheer in support of our climbing goals. After climbing Marcus showed us what we could improve upon, and would recommend the next path or rock sequence to try based on our skill level. When we were stuck on a certain path, Marcus would show us how it's done — and boy did he make it look easy.
The space is very efficient – almost every inch of flat surface is climbable." – David
I found that even though V1 and V2 were certainly challenging, our group of friends enjoyed the challenge, and constantly helped each other and recommend other walls to try and climb.
At one point, an incredibly talented 4 year old came Spiderman-ing up and across the wall and impressed us all at his agility and experience! You could tell his mother, watching proudly nearby, was a big influence on his love for the sport.
Leaving the Nest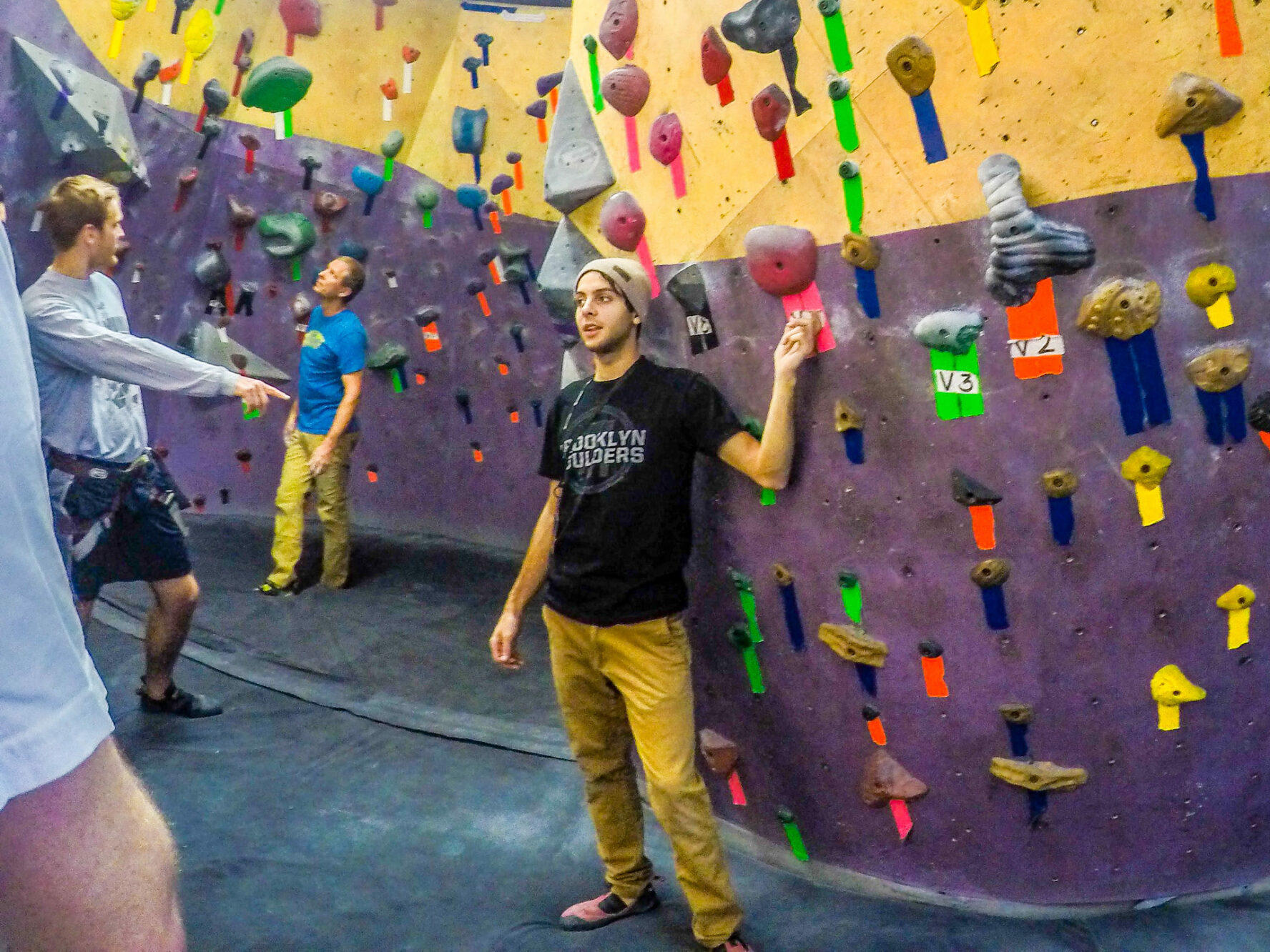 Once the hour was up, Marcus thanked us for joining his group and told us we could stay as long as we wanted (included in our intro class), which also included an evening yoga class if we wanted.
Our group of friends stayed for another 30 minutes after the class was up, attempted around 10-12 walls over the total 90 minutes, and had very sore forearms and fingers by the end.
Although the check-in process was a bit disorganized, the overall experience was great." – David
I was worried at first that without Marcus there, we wouldn't be able to get past the regulars. That was far from the case. Everyone was very nice and even helpful. The other climbers we met encouraged us to try different routes and gave us tips when we got stuck.
Overall, I loved the experience and I would highly recommend to anyone that wants to try something new around the NYC area. Be prepared for a challenge, and remember to have fun!
Getting to Brooklyn Boulders

By train

Union Street – D, N, R, W

By bus
Grab a Bite around Brooklyn Boulders

Dinosaur Bar-B-Que

A perfect post-climb eatery, especially for groups. Protein for days, classic southern sides, and a fantastic beer list.
604 Union St, Brooklyn, NY; (347) 429-7030.
Want to Advance your Climbing Skills?
We have quite a few climbers in our ranks at 57hours, which means we have years of expertise climbing in and around the city. If you're comfortable on the wall, and are looking for more of a challenge, read our article on our favorite places to climb around NYC.
If Brooklyn is a bit out of your way, check out our review of a intro class at Cliffs climbing gym in Long Island City, Queens.

Header image by shootingbrooklyn via Flickr, CC BY 2.0