Head to Kalymnos for the Best Sport Climbing in Greece
What do you do when you're getting married in two weeks? Leave the wedding planning behind and climb limestone tufa with your closest friends in Greece. That's what.
For some time, I'd heard from a bunch of fellow climbers that Kalymnos is one of the best places to rock climb in the world. So finally, after seeing the pictures of crags set against the backdrop of the Medeterranian Sea and listening to story after story, my friends and I decided that we had to try it out for ourselves, so off we went. The wedding would be there when I got back.
Situated in the southeast Aegean Sea, Kalymnos is a Greek island just over 100 km². The island is part of the Dodecanese and is seemingly just a stone's throw from Turkey, depending on the map. Kalymnos boasts a rich history of sponge diving, and more recently, world-class sport climbing with a host of recently developed well-bolted climbs. It's flanked by Telendos to the west, a small island that broke away after a large earthquake in 550 AD — coincidentally, if you're in the mood for island hopping, Telendos is becoming an area of active development with adventurous multi-pitches.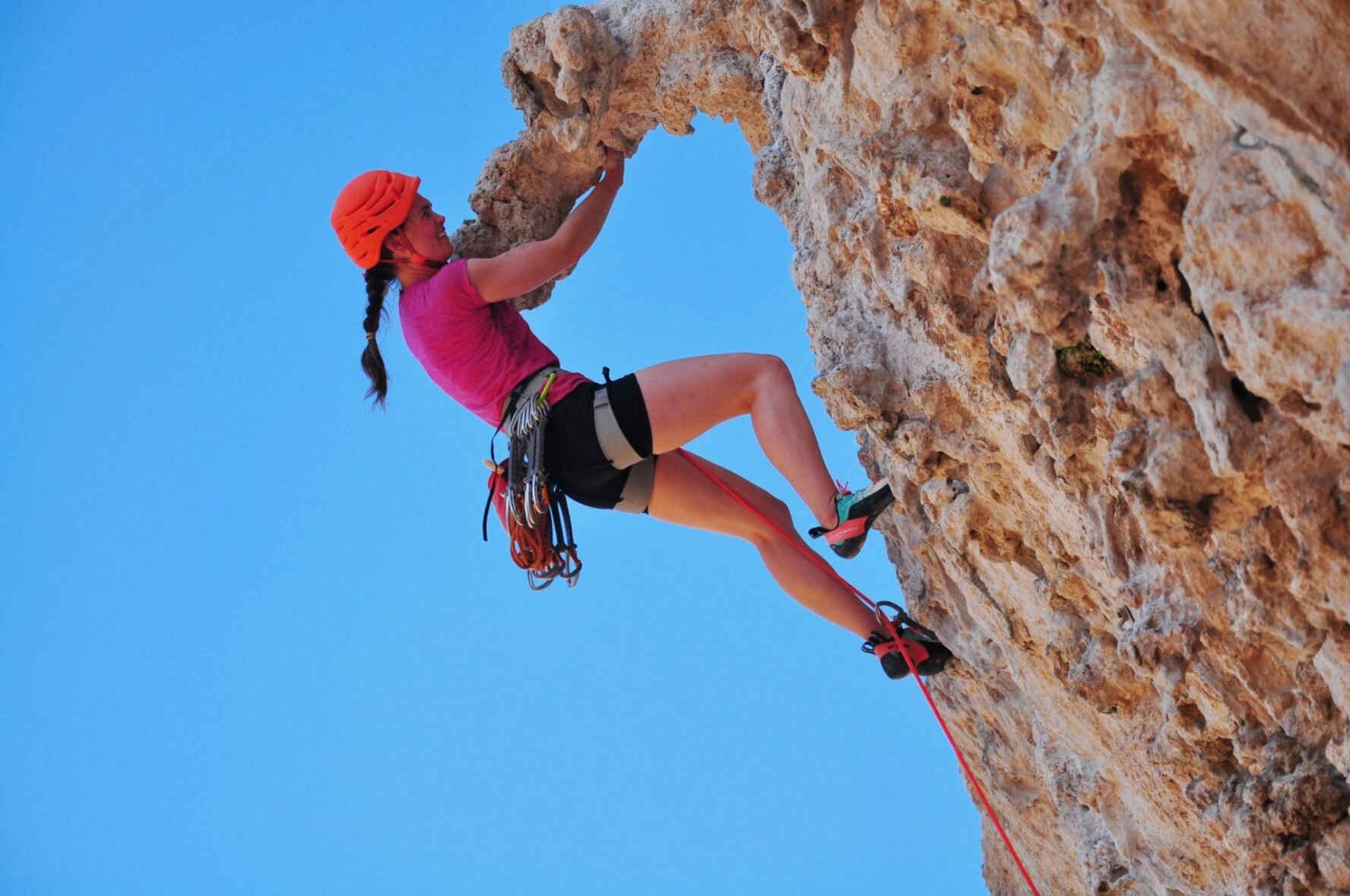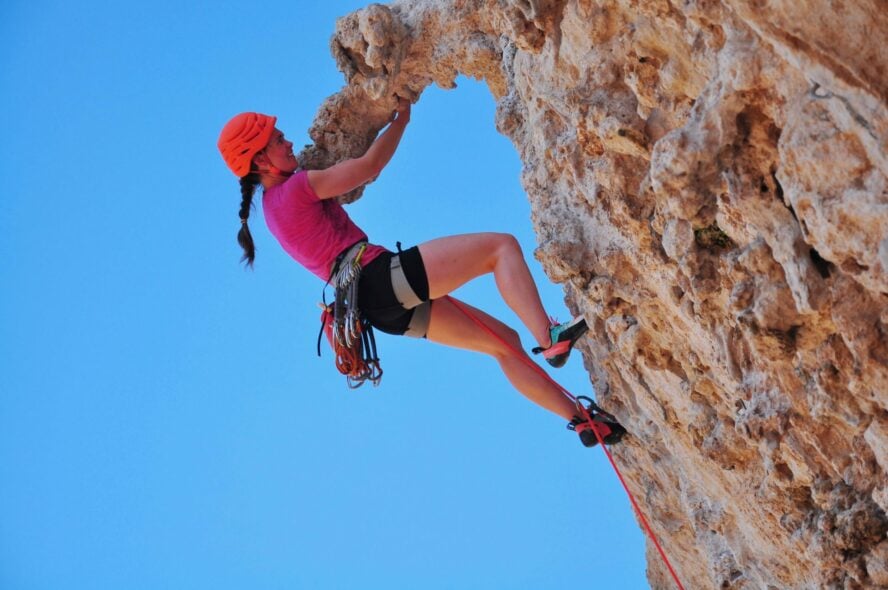 Pros and Cons of Climbing in Kalymnos
High quality food and lodging nearby
The entire community is focused around climbing
A large number of routes and they're well bolted
Long travel with multiple modes required (especially if coming from North America)
Popular during the high season
The Best Places to Climb in Kalymnos
Not only the choice location for rock climbing in Greece, but also one of the best places to sport climb in the world, the better question is, where not to climb in Kalymnos? With well-bolted crags and a wide variety of grades, the climbing in Kalymnos is accessible for climbers of all abilities.
Even though we climbed nearly every day of our trip, we weren't able to visit all of the crags we had outlined. 27Crags has a comprehensive Kalymnos climbing map if you'd like to get yourself acquainted with the routes before planning your visit. If you're looking to make the most of your time on the island, hiring a Kalymnos climbing guide is an option worth considering.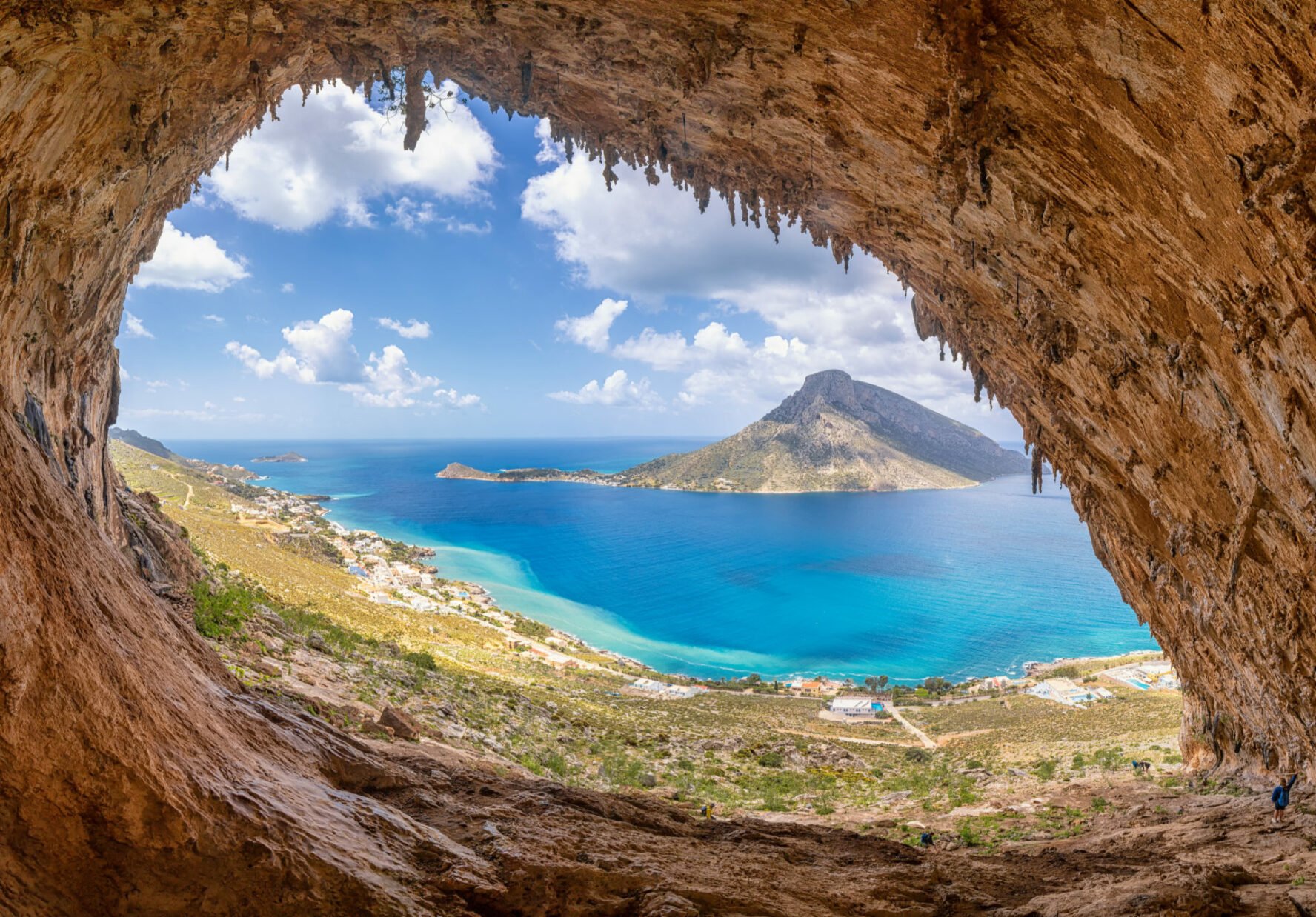 Kalymnos climbing grades
With a wide range of grades, Kalymnos has something for everyone. Graded on the French system, half the routes are graded under 6b+, making it ideal for new sport climbers, and those making the transition from the gym to an outdoor venue. There's also plenty for experienced climbers — more than 700 routes are graded 7b and up, with Los Revolucionarios being the highest at 9a.
1. Granda Grotta
Be sure to check out the Grande Grotta for classic cave tufa climbing – DNA is a pumpy 7a jugfest that is worth your while. To the right of Grande Grotta is Panorama (a crag with a variety of grades and many moderate options; the majority of routes are between 6b and 7a), which, as the name suggests has incredible views of Telendos. There's also incredible, steep tufa climbing in the area with moderates like Cyclops (6c), one of our favorite climbs on the trip.
Ghost Kitchen is one of the more popular sectors with a center area of impressive stalagmites and adjacent areas with technical slab climbing.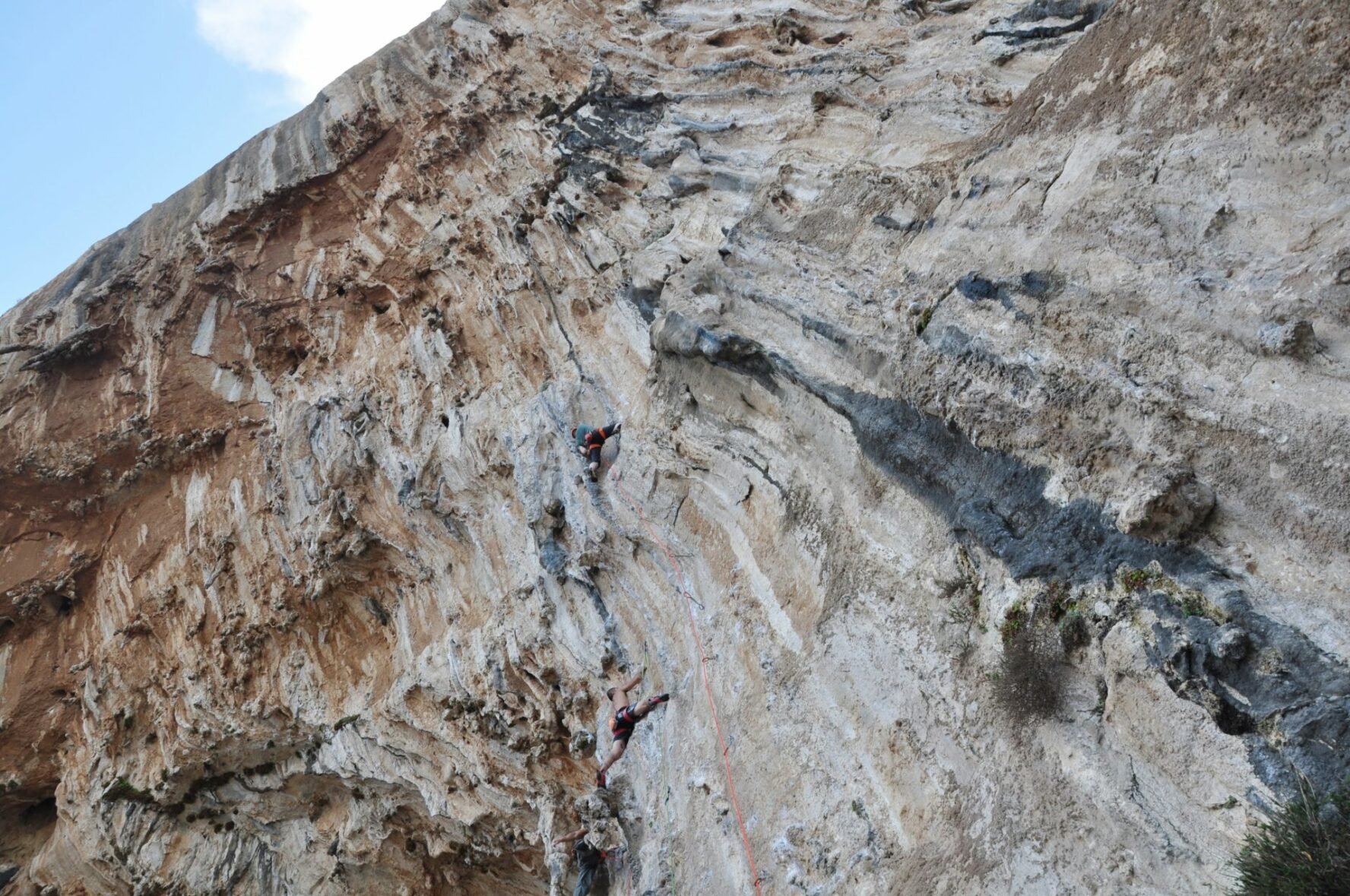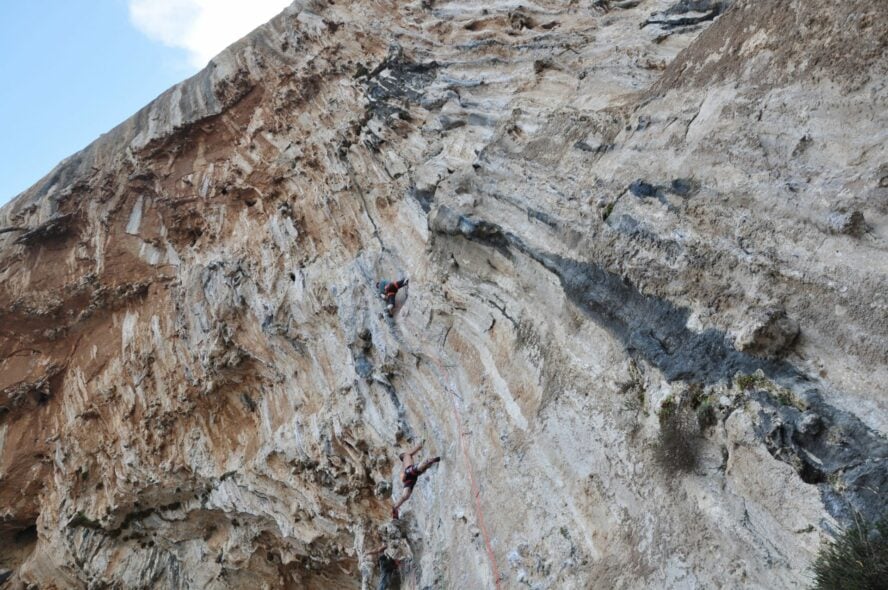 2. Climbing at Telendos
We intended to climb at Telendos, but after we hiked to the top of the island, we discovered we had forgotten the rope! So, instead we visited the beaches and enjoyed exploring routes for the next visit. We had also intended to visit the classic Sikati Cave, but since we were visiting in June, we heard it could get quite hot and humid, so we decided on shady and breezier crags.
3. Three Stripes
On the last day of the trip, we went in search of the best views on the island and did Three Stripes — a delightful 5c multipitch which lands you on top of the Grande Grotta. Unfortunately, we didn't have two 80m ropes, but if you do, there is an epic rappel through the cave of the Grande Grotta when descending from this route.
In addition to your standard sport-climbing gear, bring at least 15 quickdraws and 80m of rope at a minimum.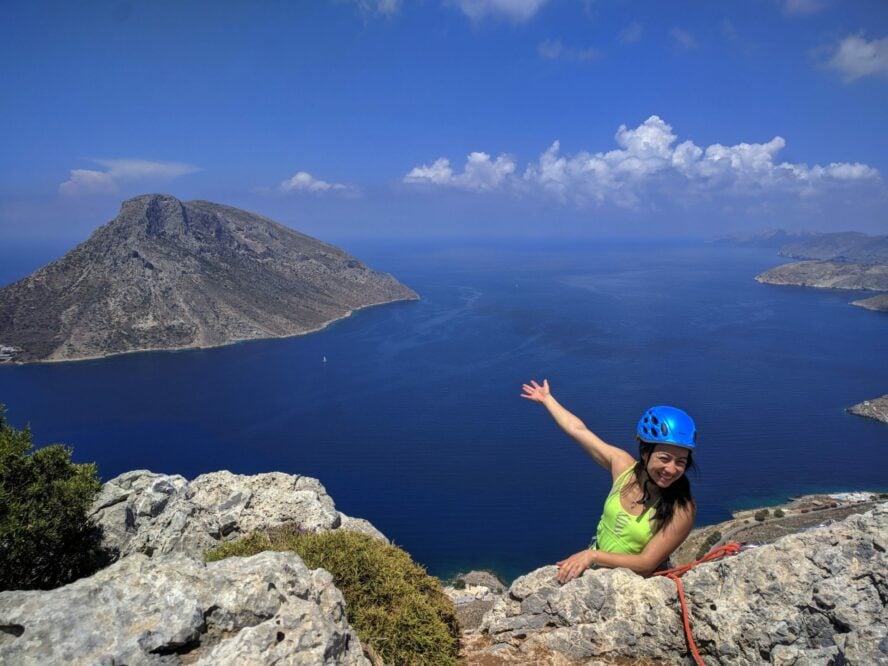 More information about Climbing in Kalymnos
Now that you know all about the best climbing areas, here is some additional information to satiate your curiosity:
How do I get to Kalymnos?
Depending on where you're coming from, getting to Kalymnos involves multiple modes of transportation, including planes, ferries and automobiles. If you're traveling via Athens, you can fly directly to Kalymnos. Another option is to take the ferry but it's a nine to 14-hour journey. Your call. My friends and I opted to fly to Kos, an island just south of Kalymnos, and from the Kos International Airport, we took a short taxi ride to the nearby port, Mastichari.
The ferry to Kalymnos doesn't leave until the last flight has arrived at the airport, which can be a blessing or a curse, depending on how early you arrive. The ride was a short and sweet hour and a half, dropping us off in Pothia, on Kalymnos. From Pothia, there are buses and taxis that will take you to Masouri, where the climbing is, which is roughly a 20-30 minute drive away on steep, winding roads. Be sure to check the return ferry schedules ahead of time — we learned there was limited service on weekends.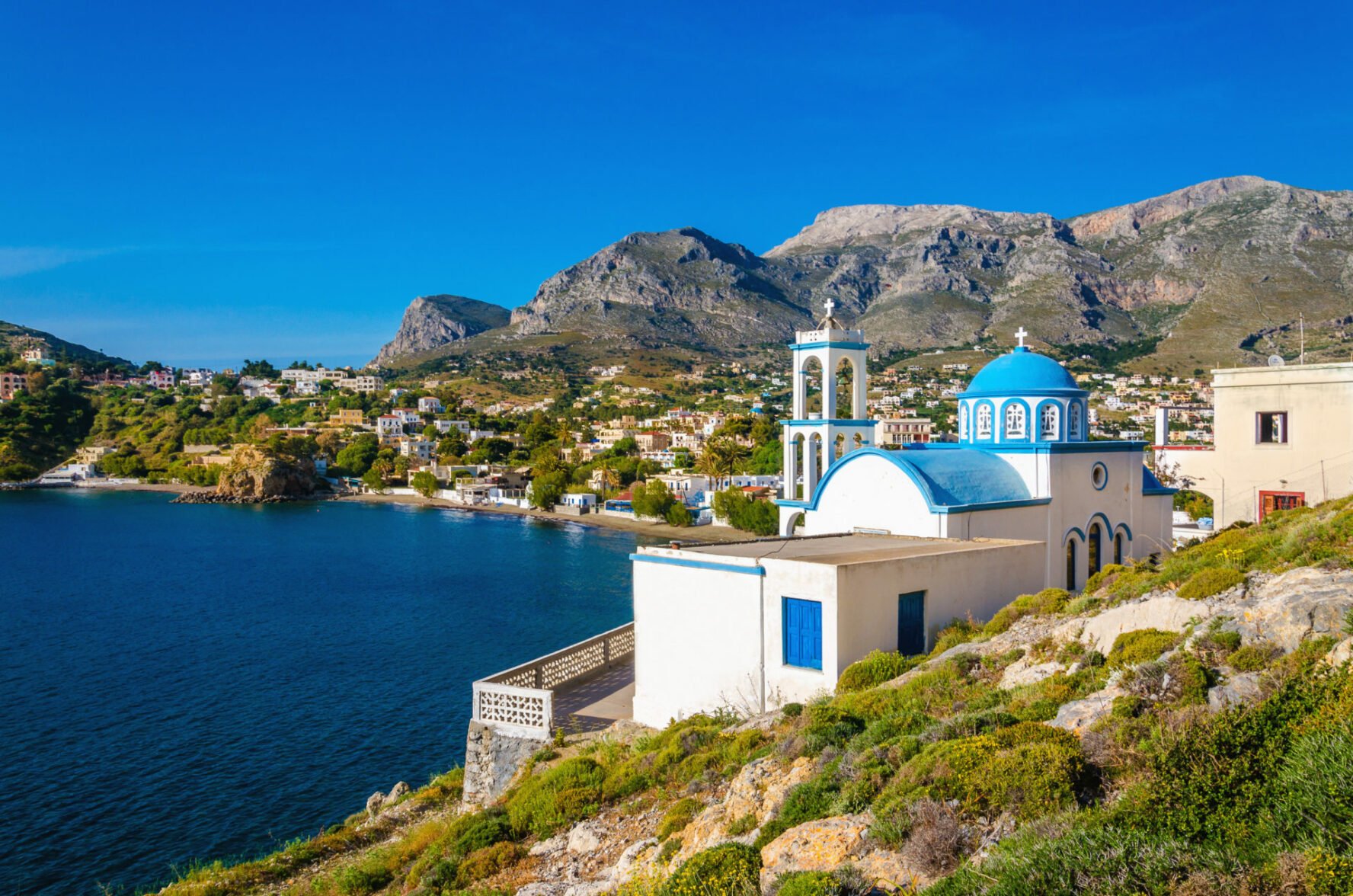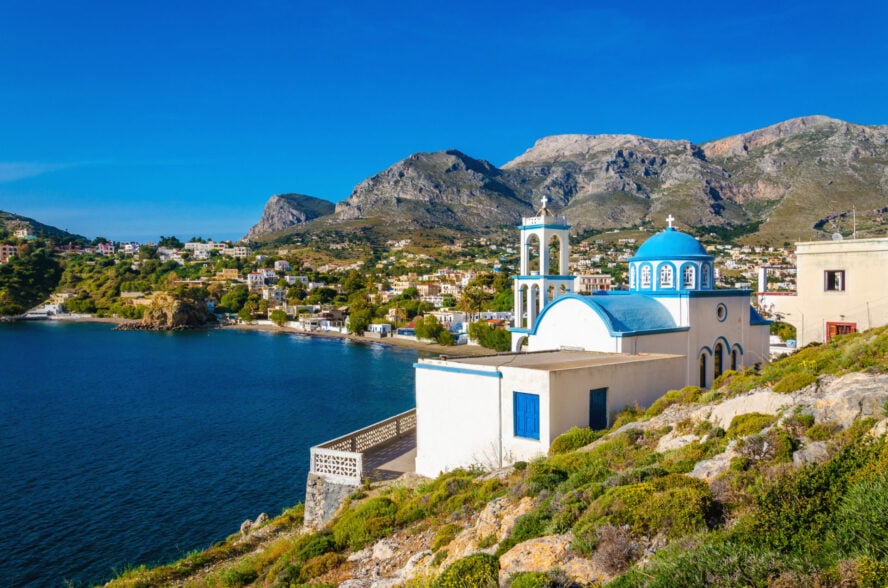 Where to stay in Kalymnos?
Like most other climbers, we stayed in Masouri. The four of us rented a larger flat on the hillside above the town, the Sdregas Flats. Our apartment had the usual amenities, and, more importantly, there was a patio on which we enjoyed many a glass of wine while taking in incredible views of Telendos below.
After some of our group left early, we wanted to change lodgings and chanced upon Villa Myrtia, a traditional Greek home complete with a courtyard. We stayed in a blue-shuttered studio apartment just a short walk to the beach. Other recommendations we had heard from friends included Elena Village and Hotel Philoxenia, which are a bit pricier but have the added advantage of having the Grande Grotta just steps away. Location, location, location.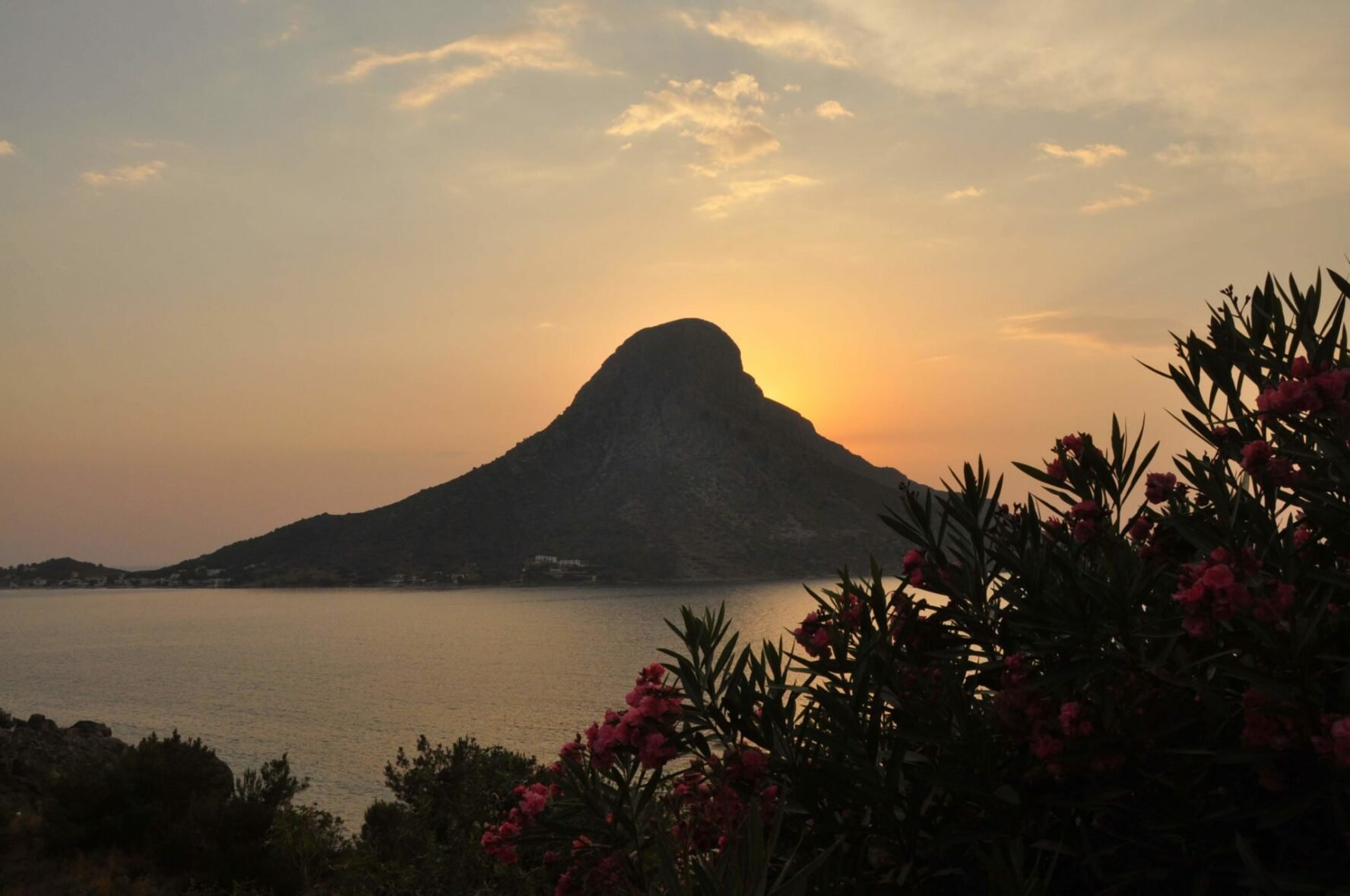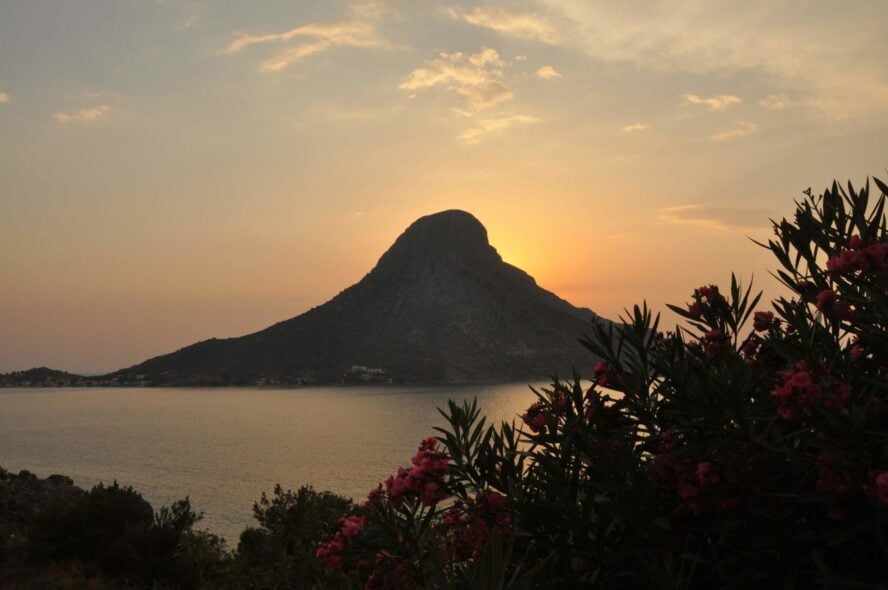 Getting around the island
There are abundant car and scooter rentals on the island, and to play it safe, make sure you have an international driver's license and a motorcycle license. The roads are narrow and windy, and nearly all rental agencies also include helmet rentals.
For those North American visitors, keep in mind that all of the car rentals have manual transmissions, and cost roughly $30/day. When my three friends and I travelled together, we rented a car, and then later opted for a scooter when there were just the two of us. With that said, we got a brand-new scooter rental across the street from Villa Myrtia at Margaritis Automoto.
Food, after all, you gotta eat and drink
While there are many restaurants in Masouri, Myrties, and Armeos, we quickly found our favorite places to eat. As far as drinks go, your biggest decision will be whether to drink an Alfa or Mythos beer, or to enjoy the house red or white wine.
The Aegean Tavern easily has the best food we had during the trip — a slightly steeper price tag is worth the incredible, high-quality food. We enjoyed fresh fish, fried octopus croquettes, and donuts covered in local thyme-honey and ice cream to top off the meal. On The Road Street Food is a solid, budget-friendly roadside eatery for simple fare. Wooden Roots is an organic cafe with a farm to table feel that sells local products you can bring home as souvenirs.
Kalymnos rock climbing required reading
We used the Kalymnos Rock Climbing Guidebook by Aris Theodopoulos. When you buy the book, a portion of proceeds contribute towards the purchase of bolting for voluntary rebolting. You can also check out www.climbkalymnos.com as a resource for planning your climbing trip to Kalymnos.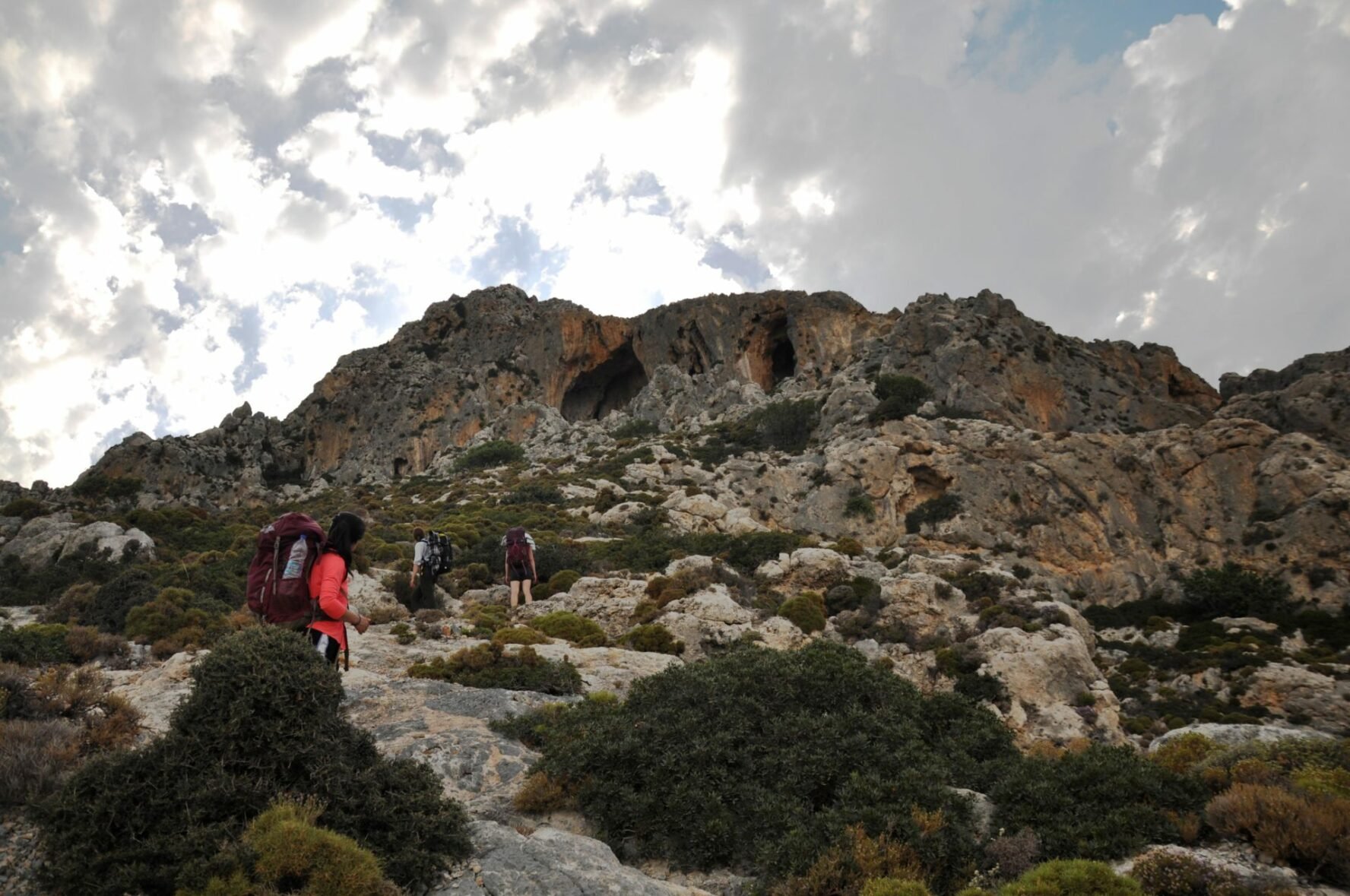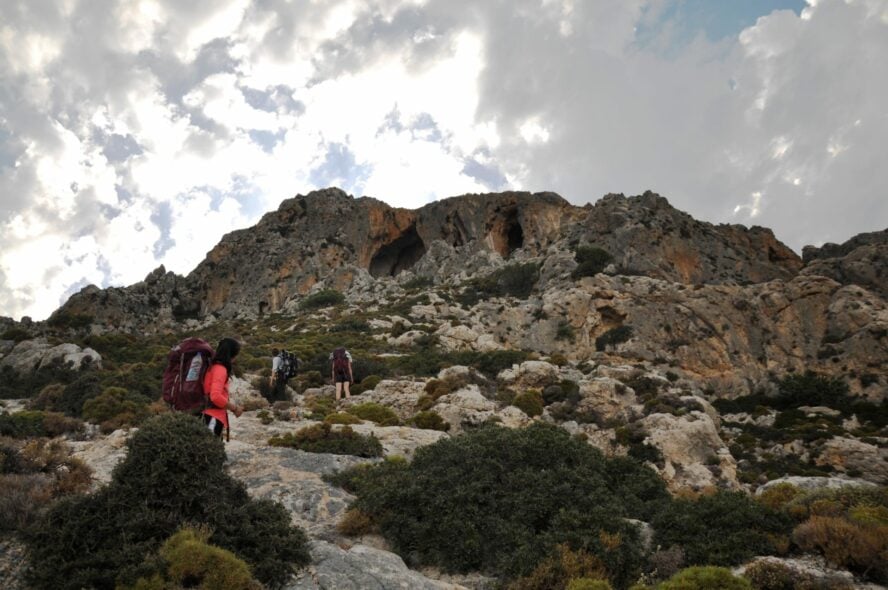 When is the best time to visit Kalymnos for climbing?
Kalymnos weather makes year-round climbing possible thanks to its dry climate. Fall is ideal, with October being the peak month. The moderate temperatures and little rain allow for full days with excellent climbing conditions. Although cancelled this year, the Kalymnos Climbing Festival runs in the beginning of October as well. Spring is also pretty ideal — there's a little more rain, but the rock dries quickly. Winter and summer also offer great climbing, if you pick your spots. In the summer, stick to the shady and breezy crags, like Secret Garden.
To ensure you get the most out of your climbing trip to Kalymnos, go out on a half-day of guided climbing, completely catered to you. Do you want to start climbing? Opt for a beginner five-day course. If you're looking to level up your skills, take a Learn to Lead Course. Kalymnos truly has something for everyone!