10 Unique Rock Climbing Spots In and Around NYC
Rock climbing in NYC has never been easier. We've spent years seeking and climbing the best spots around New York, and are eager to share the logistics with you.
Everything you need to know about rock climbing and indoor climbing gyms in NYC is here: where to go, what you need, who to call, where to have a coffee in the morning, and what to eat after the workout. The wall is your oyster!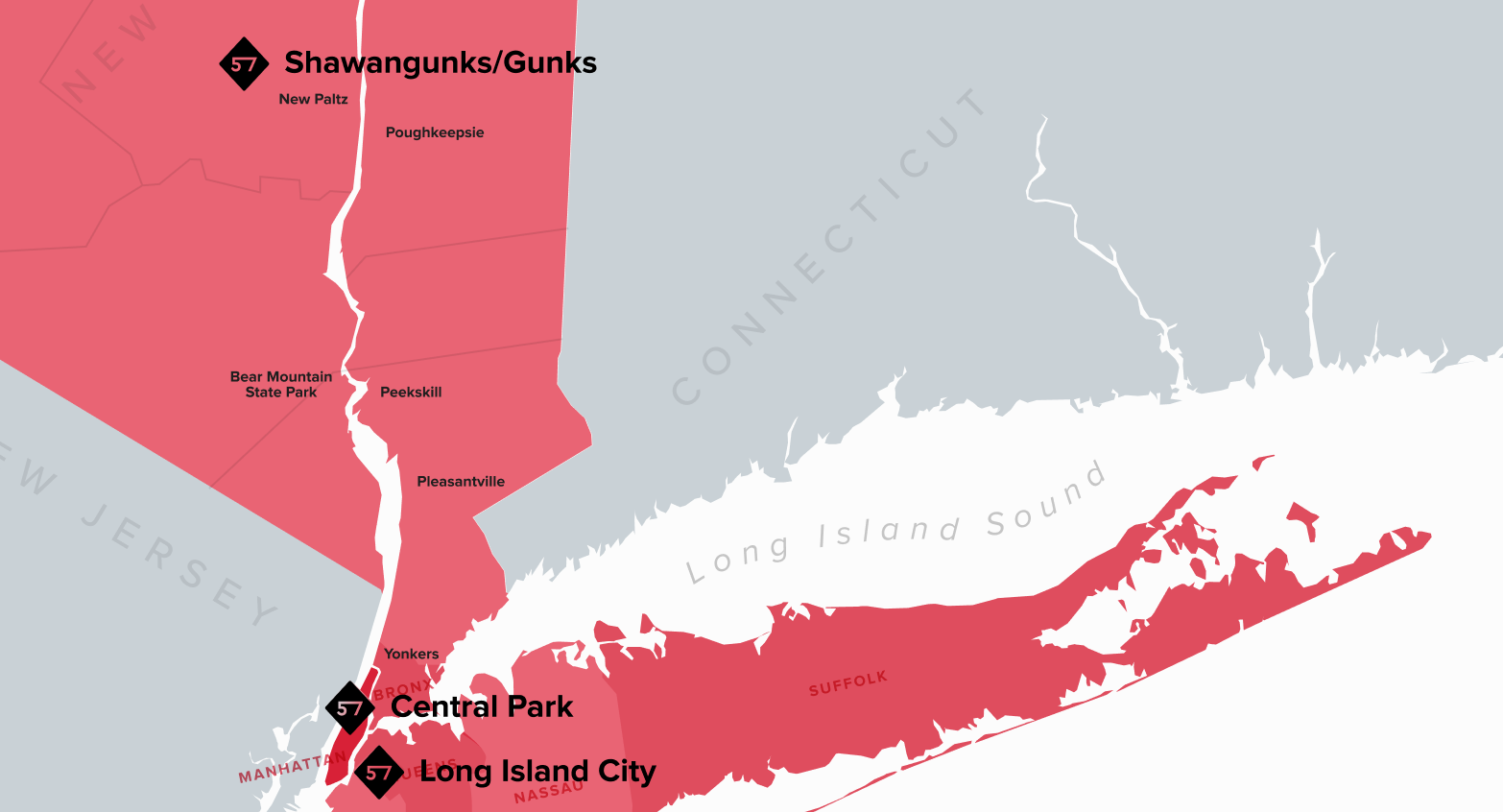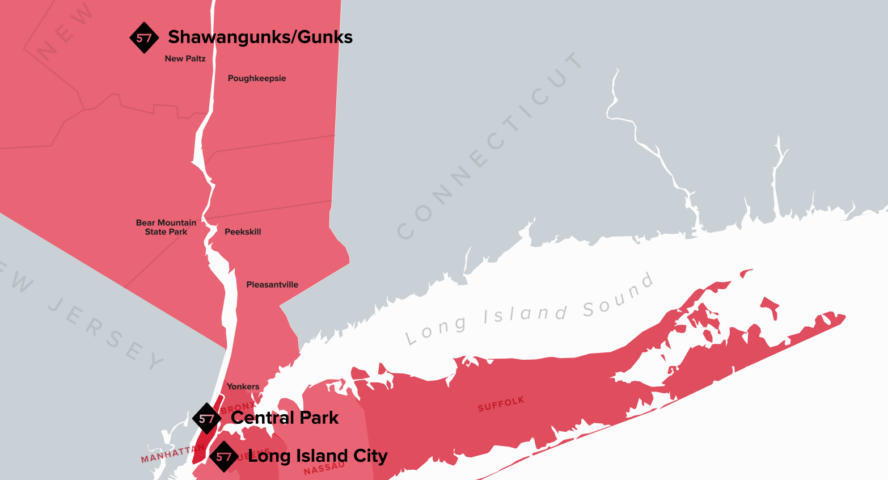 Climbers in New York are fortunate, because rock climbing's popularity in NYC has led to local expansion of the sport. Amazing indoor climbing gyms have been built over the last few years, there are excellent bouldering spots in Central Park, and some world-famous crags live a few hours away from the city in upstate New York.
For those times you can't get up the Gunks, grab your gym bag and go explore the city!
1. Climbing Gyms in New York City
Our pick for indoor rock climbing at The Cliffs, Long Island
The Cliffs is our favorite rock climbing gym in Queens, and maybe even all of NYC. World-best female climber, Ashima Shiraishi, climbs here, and climbing celebrities like Tommy Caldwell, Jimmy Chin, and Alex Puccio visit every now and then. Don't be intimidated! Most people that climb at Cliffs are in the beginner to not-pro range, so you'll fit in perfectly.
To get started, you'll find useful intro classes lead by knowledgeable instructors, rentable gear, clean lockers and showers… all roughly 100 yards from E and G train stops. I'm at the gym couple of times a week, proudly wearing my red 57hours shirt.
If you've never climbed before, I'd suggest one of their intro classes. It's inexpensive, takes a couple hours, and you learn what's happening on the walls. For example, there are different letters or grades for routes. Also, colors of holds correspond with your exact path up the wall.
Ropes and lead climbing are related to rock climbing as most of us know it. Bouldering uses no ropes, and you're protected by a cushy "crash pad".
"If you're an experienced climber and looking for a place to train indoors, Cliffs doesn't get any better."
Why? The climbers and staff are friendly. No matter the season, it's climate controlled. There is an auto-belay device – a DIY climbing mechanism – so I can do "laps" without having a partner. The gym's lead wall is huge. New routes on both lead and bouldering are rotated often.
This means that you get about 3-4 weeks to work on a specific problem, but every week there is a new sector with new settings. A perfect balance for me.
Want a first-hand account? 57hours' own Josh Wolff, who had little climbing experience, wrote about his intro to climbing class at Cliffs.
Old-school rock climbing at Brooklyn Boulders
One of New York's OG rock climbing gyms, Brooklyn Boulders in Gowanus hosts 10,000+ square feet of quality bouldering, auto-belay, top-roping, and lead climbing. The routes on the up-to-29 ft walls are reset regularly, and the setting schedule is available online.
Brooklyn Boulders is very popular with families, thanks in part to the awesome intro to rock climbing class, youth programs and kids academies. While this helps make the atmosphere feel wholesome, if you're not a fan of kids in your climbing areas, consider yourself warned.
Rock climbing with variety in Chelsea Piers
Chelsea Piers actually houses two different indoor rock climbing walls. The 23-foot one at the Field House offers open climbing with belay partners, as well as instruction for both starting and seasoned climbers. It's also a great place for getting your kids into the sport.
The second one, Chelsea Piers Fitness on Pier 60, is one of the biggest indoor rock climbing gyms in NYC, which makes it a good deal for $25 per session.
The programming here is top-notch, offering everything from climbing schools to advanced bouldering programs and belay certs. However, the rock wall is 16+, so your young'uns will be better off at the Field House.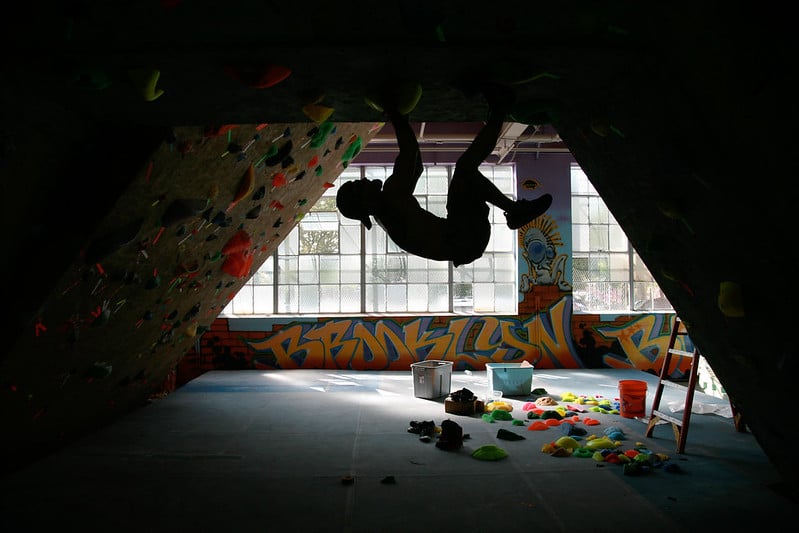 Family-friendly problems at VITAL Climbing Gym
While on the smaller side, VITAL Climbing Gym (formerly Steep Rock Bouldering) at both Upper East and West Harlem have good setters, a chill atmosphere, and helpful staff. The walls run from slabby to slightly overhung to pumpy caves. Also, the rentals and the facilities are kept in good shape, which is always a plus!
The gym has plenty of after-school programs, a youth competitive team, and even a "Little Rockers" class for kids as young as 5. The focus on kids and family also makes it one of the best rock climbing gyms for beginners in NYC.
Competitive climbs at Central Rock Gym
With four different gyms in New York state and 15+ around the US, Central Rock is probably our biggest entry. The Buffalo, Syracuse, and Rochester gyms sprawl 20,000+ square feet and boast hundreds of boulder problems, while the Central Rock Gym in Manhattan is somewhat smaller.
The franchise invests a lot of effort into building a community, with regular meetups, member events, youth hangouts, etc.
Central Rock is also known for hosting two different climbing comps. The fist one, the Ring of Fire, is one of the only professional rope climbing competitions in the US, with a great competitive atmosphere and awesome prizes. The second one, The Heist, is notable for being run by women for women, on routes set by women.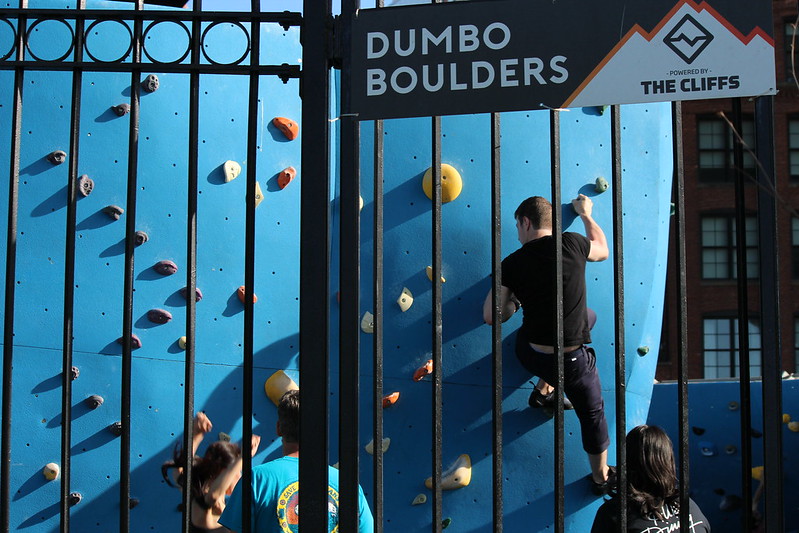 GP81 for the crushers
Welcome to GP81, the highest rated bouldering gym in NYC! Be warned—this one's for serious climbers only. The problems are on the challenging side, and if you're a newcomer, you won't find a lot of options here.
GP81 squeezes in tons of variety, with 15-60 degree walls, two moon boards, a barrel wall, and training-focused equipment. If you're still on the fence about climbing at GP81, Watch famous Norwegian rock climber Magnus Midtbø try it out!
MetroRock if you're not afraid of heights
If you're climbing out of Brooklyn, MetroRock is the place to go to get high! Established in 2018, this is one of the newer players in the city, though they've been around the Boston area for years. It's certainly not slacking, though—the gym has the tallest walls and the most bouldering terrain that can be topped out in NYC.
There's three very unique top-roping and lead climbing sections here, as well as tons of boulder problems. The gear is brand spanking new and there's plenty of auto belays scattered throughout the whole facility, so you shouldn't waste too much time waiting in lines.
2. Bouldering in Central Park, Manhattan
My first ever rock climbing day in NYC was in Manhattan's Central Park. I don't remember how I heard about it, but it seemed like the whole world knew you could climb in Central Park.
One afternoon, I took my daughter to the park and we discovered Rat Rock – a popular bouldering spot in the SW corner of the park. We climbed for a couple of hours without knowing the grades or routes. It was a blast!
Our next few visits were more focused. We consulted a local guide book, brought a crash pad and tackled some of the harder problems and routes. This extra information opened up us to new climbing spots in Central Park – Rat, Chess, Cat, and Tooth Rocks. It pays to solve the logistics first!
Rat Rock is the most popular bouldering venue in the park, with plenty of eliminates and room for imaginative climbing. The 15-ft-tall Cat Rock could be even more exciting, but beware of bad landings!
Nestled conveniently between the two, Chess Rock is a bit longer, and you can the full length of its western flank. Finally, Tooth Rock is a smaller boulder a short walk away from Cat Rock. It's right next to a walkway, so climbing it might net you some funny looks.
To start in Central Park you don't need a crash pad because the boulders tend to be short and landings are flat. Rather, just bring your climbing shoes and some chalk, which you can purchase at any local climbing gym, REI in Soho, or Paragon Sports near Union Square. Once you get into it, you can work on some of those problems for weeks. It took us three full-day visits to finish the famous Polish traverse, a V5, that feels like a V7.
To find your way around the park's rock, we suggest a recently published book called NYC Bouldering. It's available to buy at Cliffs LIC. Also, it's easy to find online resources by searching for "Bouldering Central Park". If you want to cheat like my buddy Perica, you can browse YouTube to learn all the moves.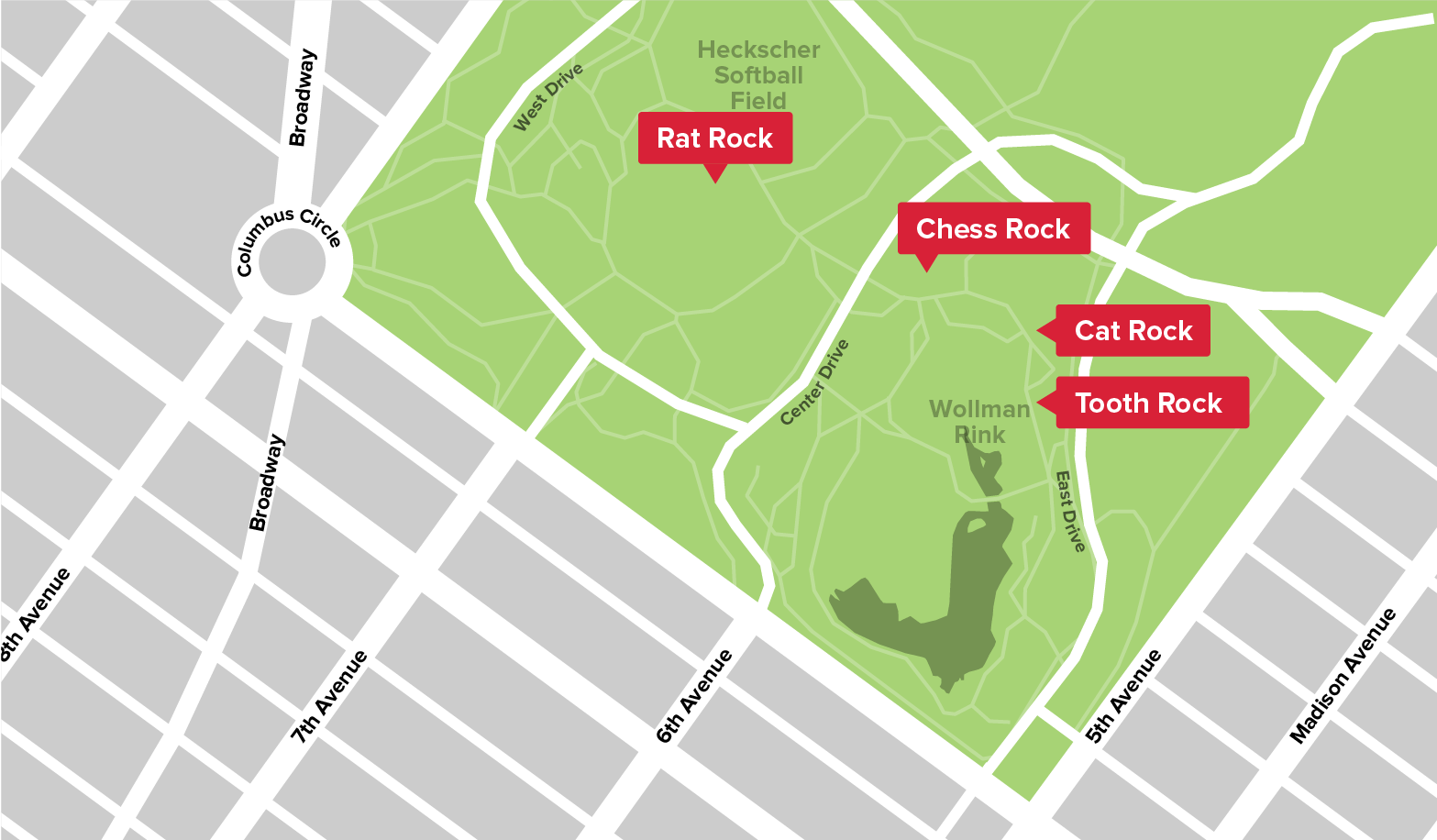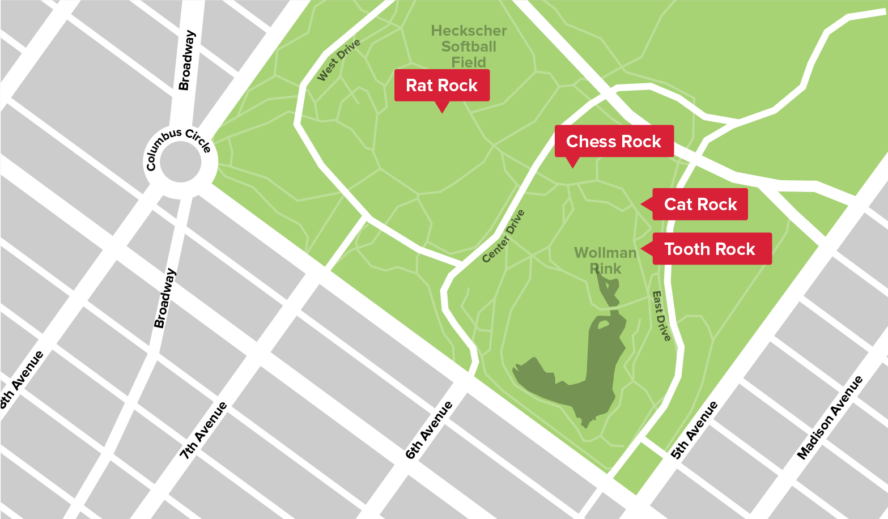 3. Rock Climbing in The Gunks, New Paltz, NY
Scaling real rock is what every climber lives for, and "The Gunks", in upstate New York, is one of the best rock climbing destinations in the U.S.
Rock climbing in The Gunks is one of the best outdoor experiences near NYC. Head out in the Fall, when the bugs are gone. Start your day with a strong espresso in New Paltz in the morning. Climb world-class routes all day. Try some amazing restaurants in Hudson Valley on the trip home. It's worth the trip.
When in doubt, run it out." – Lynn Hill
Before moving to New York from Croatia in 2010, I was climbing mainly sport routes—those with pre-drilled bolts for protection. But soon I figured that to continue rock climbing in and around NYC I'd need little bit more skill.
Specifically, The Gunks is all about traditional climbing: no sports routes, no bolts or pitons, no permanent gear… it was intimidating even for an experienced climber. I packed up and went home frustrated a couple times. Climbing is as much a mental game as physical.
It took me three years to make my way back to the Gunks, but the next time I hired a guide and went out with a few friends. Our guide provided the extra boost of local knowledge I needed, and from then was hooked on the ridge.
Since that experience, I climb at The Gunks once or twice a month. It's starting to feel like my home crag. Once you know all the routes, places where climbers go for breakfast and beer, and some local people, it really is something else.
Curious about climbing lessons at the Gunks? Read about Karmen's experience with Women's Climbing Lesson in The Gunks.
For a beginner-friendly "miniature Gunks" climbing experience, Peterskill packs the familiar quartzite conglomerate routes into a toned-down package. Just up the road from the West Trapps, Peterskill has some of the most family-accessible rock climbing in and around NYC, and it's a great spot for anyone looking to advance into higher grades.
We'll See You on the Walls!
There's a reason over four million Americans a year participate in rock climbing or bouldering. It's an efficient workout, tests your personal limits, and you'll meet some chill new climbing partners.
If you're interested in lessons, our teammate Josh wrote a comprehensive review of a Cliffs LIC intro class. It's a great resource to get started!
Find world-class climbing just outside the Big Apple. Spend an amazing day or half-day climbing the iconic Gunks, with an expert local guide by your side. This is how you take your Gunks adventure to the next level!