Nino covered:
Why every mountain fanatic should try summiting Matterhorn
The different routes and choosing the right one for you
What it takes to reach the top
How to prepare for your expedition
The clothes and gear you'll need
Getting there and other logistical considerations
With its jagged pyramid straddling the Swiss-Italian border, Matterhorn might just be the most recognizable peak in the world. Everyone has heard tales of the striking faces and the rugged ridges—but do you know what it takes to actually reach the top?
Summiting Matterhorn is every aspiring alpinist's life-long dream. However, overcoming the mountain's steep and unforgiving flanks requires excellent physical fitness, technical finesse, and sure-footedness. Plus, even if you're comfortable in your crampons and can scramble like a spider monkey, the high exposure, navigational complexities, and pitfalls riddling the routes make the climb a formidable challenge.
That's exactly why you should get this free hour-long webinar! Whether it's fitness and skill requirements or gear and logistics, an expert guide with years of mountaineering experience covered everything you need to reach this iconic summit.
Reviews
Great primer for the climb. Fun and interesting!
Excellent, the detail of how to summit and the photos and short videos explaining the route, difficulties and how to be successful were excellent
All I can say is that Nino did not break a sweat after talking to us for 2 and a half hours straight. I did not see him reach for a class of water the entire time. This can only mean he is a beast and probably has massive lungs much to his credit from guiding at altitude. Overall, the webinar was a very enjoyable experience, and much credit to Maja and Steph for the assist in making it so great.
The webinar was very helpful in understanding the "vibe" of the mountain and the whole scene.
Fantastic talk and really passionate speaker
Webinar host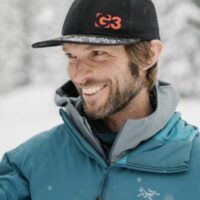 Anthony Guagliano
IFMGA Mountain Guide
IFMGA/UIAGM Mountain Guide Nino Guagliano has been summiting peaks since his late teens. After graduating from the Art Centre College of Design in pursuit of a photography career, Nino decided to take a turn and follow his true passion – working in the mountains and finding quiet places to share with friends. He now spends his time sharing his love for the mountains with his clients through skiing and climbing expeditions all over the world.