Lorenzo will cover:
Why the Amalfi Coast is a bonafide climbing mecca
What to expect from the climbs there
Why sailing and sending are a match made in heaven
Everyday life aboard a sailboat in South Italy
How to find the best-hidden, least-crowded climbs
Anything else you'd like to ask Lorenzo
Climbing South Italy's Amalfi Coast feels like sampling a fine Tuscan wine — once you've had a taste, everything else feels like a step-down.
Named after the historical town at its heart, Amalfi abounds with colorful hamlets, lavish villas, Michelin-star restaurants — and exquisite climbing. With a sporty selection of slabs, faces, overhangs, and deep water solos for all skill levels, it's guaranteed fun under the Mediterranean sun.
Amalfi's shores are best climbed by sea. The sailing and climbing combo gives you unmatched flexibility, letting you access otherwise inaccessible routes, explore hundreds of hidden gems, and minimize the travel time from rock to rock. Plus, you get to fish your own food, chill in pristine seas, and sleep under the starry skies, lulled by the waves.
Want to hear more about the Amalfi Coast and why it's recently undergone a climbing Renaissance? Tune in to this live Q&A session hosted by climbing and sailing pioneer Lorenzo Pernigotti!
In an hour-long conversation, you'll get to ask Lorenzo anything you'd like to know about what it's like to sail the Divina Costiera, scour for secret routes, and send the days away on one of the most scenic shorelines on the continent.
Webinar host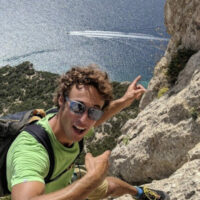 Lorenzo Pernigotti
Skipper, climber, and founder of Vertical Sailing Tours
Outdoor sports have been a part of Lorenzo's life since childhood. He lives for pursuing his passions and sharing his enthusiasm with other free spirits. In the winter he works as a ski instructor, while in the summer he organizes Europe's most epic sailing and climbing tours. When he's not steering the sailboat, he's busy making cocktails, cooking Italian risotto, spearfishing dinner, or flying his paraglider.