Partner
Jeff shared:
His photos and videos of exploring the iconic Canadian Rockies
What's so special about alpine climbing in Banff, Lake Louise and the Columbia Icefields
Handling logistics of alpine climbing trips
Specific snow, ice and rock skills for alpine venues
How to successfully summit the 11,000′ peaks
The Lake Louise to Jasper Hwy 93 roadside
How guided trips accelerate your learning progression
What are the ACMG and IFMGA professional associations
When extreme conditions, icy surprises cooked up by avalanches or glacial terrain, and high altitude conspire against you, having a strong repertoire of alpine climbing skills to fall back on is a must. ACMG/IFMGA Mountain Guide Jeff Bullock conquered the ultimate alpine playground, the Canadian Rockies, countless times. Check out this free webinar recording for a virtual tour of all-star climbing venues like Banff, Lake Louise and the Columbia Icefields, and find out first-hand how an alpine skills week will turn you into a confident alpinist.
If you've ever wanted to go face to face with alpine giants like the Canadian Rockies and come out on top, consider this your one-stop-shop for the many facets of alpine climbing.
Webinar host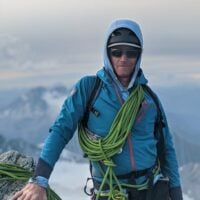 Jeff Bullock
ACMG/IFMGA Mountain Guide and Owner of Alpine Air Adventures
When he first stepped foot in the mountains, Jeff knew this was home. He's been wondering what adventures the snow capped peaks have in store since he was 12. Jeff started training for his ACMG/IFMGA mountain guide certificate in 2002 and started his own business, Alpine Air Adventures. To this day, he has yet to find a better feeling than sharing his passion for adventure you can only find high up in the alpine kingdom of the Canadian Rockies