Rock Climbing in North Carolina is Full-Value Adventure
Looking for scary run-outs, stout leads, and heady exposure in a land where trad reigns supreme? You'll find that and plenty more rock climbing in North Carolina. If you're up for a wild ride, here's my beta for a 6-pack (plus one) of the finest crags in The Tar Heel State.
Table of Contents
Take it from a local: North Carolina is the Southeast's adventure climbing capital, and one of the best states for rock climbing. With giant granite domes and steep quartzite cliffs set in the Blue Ridge mountains, the climbing is as diverse as it is scenic. To top it off like a Heist Brewery IPA, no other state this side of the Mississippi has such a concentrated array of multi-pitch traditional routes.
Sound like your cup of brew? Come on down and be sure to bring your grit, gear, and good head game for some of the best places for rock climbing in the world!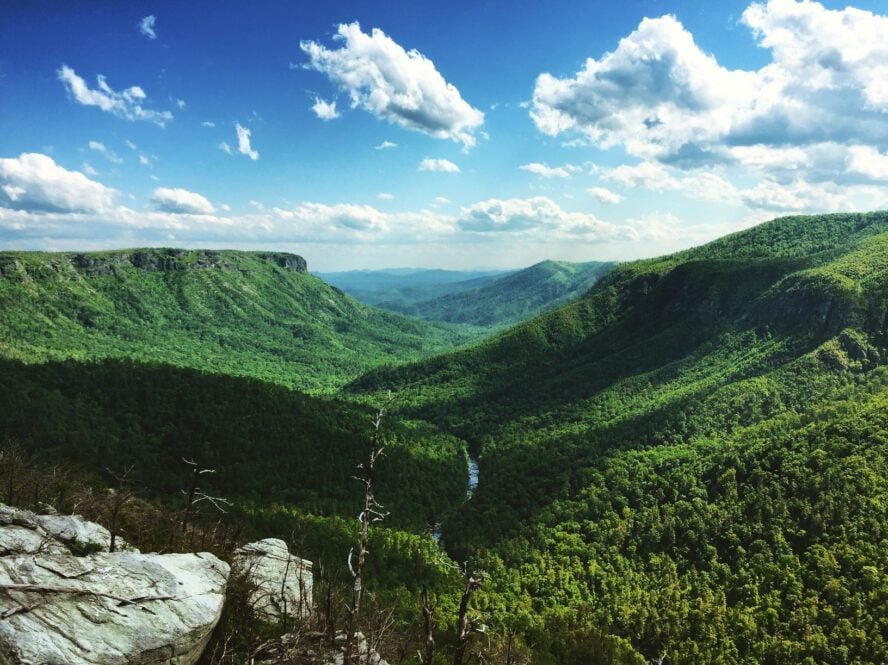 The East Coast's Trad Climbing Paradise
Over nine years ago, I learned to climb while studying at the University of Georgia. I cut my teeth on the Southern sandstone near Chattanooga but spent many weekends in North Carolina, climbing granite domes by day and enjoying Asheville beer tours by night.
Beginners and seasoned climbers enjoy rock climbing in North Carolina
While the area is steeped in traditional ethics and wilderness climbing there's something for all levels. Prolific trad lines abound, ranging from easy single-pitch moderates to multi-pitch test pieces. Sport climbing is sparse but present and there's a burgeoning bouldering scene.
I spoke with Grant Price of Blue Ridge Mountain Guides and he said during the shoulder seasons of the year, North Carolina is his favorite place to be. Even as a professional guide who's climbed all over the state, he still enjoys exploring new routes or taking clients up his favorite leads.
North Carolina is full of huge exposed cliff faces called "balds"
No North Carolina climbing guide is complete without mention of the scenery and striking rock formations. Across the state you'll find 400 to 1,200 foot faces on giant granite domes called "balds" which provide hair raising exposure and unimpeded views. These ancient relics are a holdover from volcanic magma intrusions that scoured the landscape over 300 million years ago.
Today, the balds range in elevation from 1,600 to 3,400 feet above sea level so while the scenery will take your breath away, you won't be gasping for air—a nice perk when compared to the high mountain crags out west!