Squamish Might Just Be The Best Climbing Spot in Canada
For overall appeal, Squamish has the best climbing you'll find north of the 49th Parallel. Find out why this Canadian mountain town draws in thousands of climbers every year.
Squamish is undoubtedly one of the best places to rock climb in the world. What makes it especially great is that it genuinely has something for everyone. Classic boulders from V0-V15 encompassing the full gamut of "techy" granite trickery from hopeless slopers, to barn door-y balance festivals, and even spicy slabs and highballs. The trad routes can range from beasty wide crack thuggery to never-ending layback dihedrals and desperate "tips" cracks. If you're after big wall exposure or even delicate sport climbs, look no further than this coastal mountain town.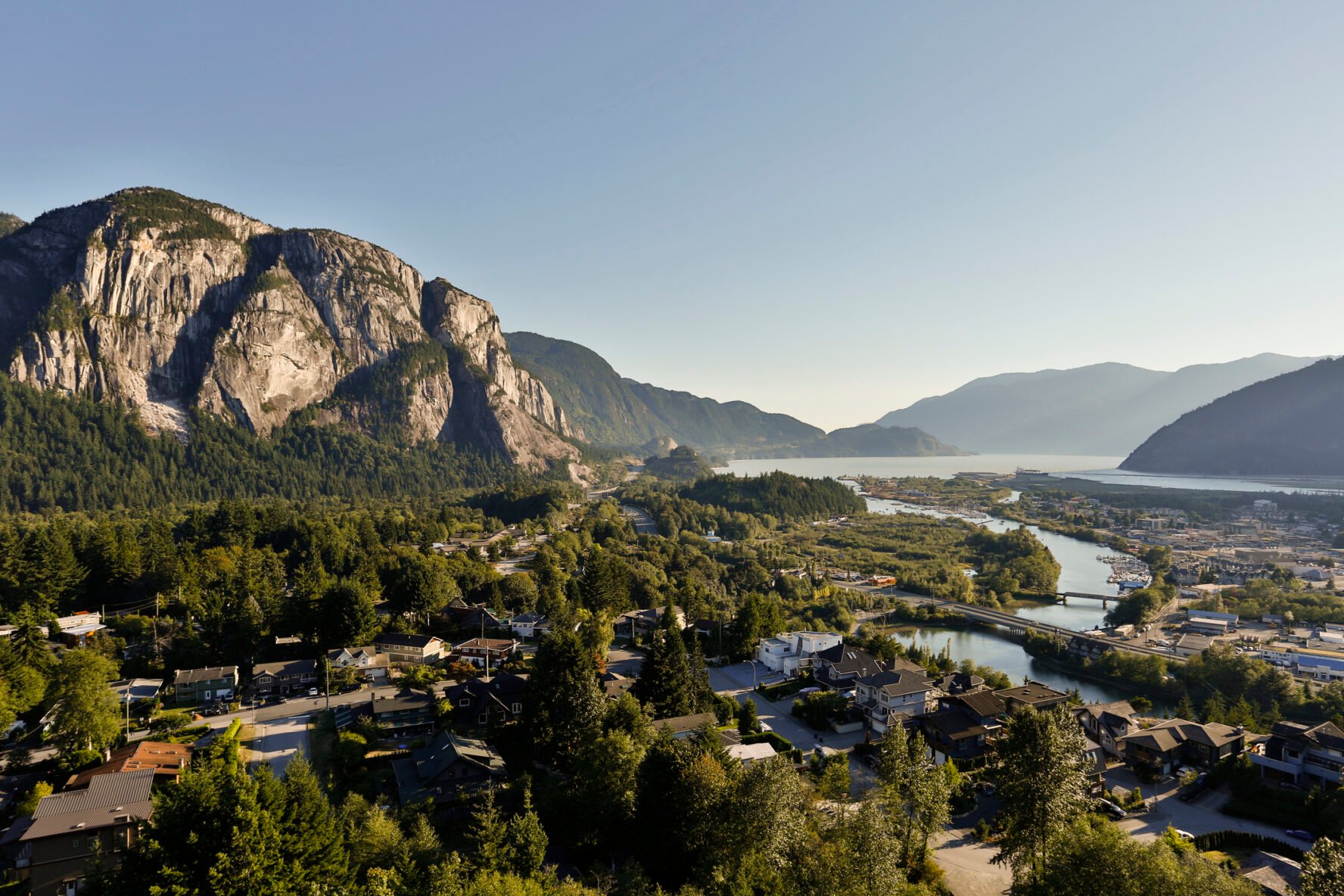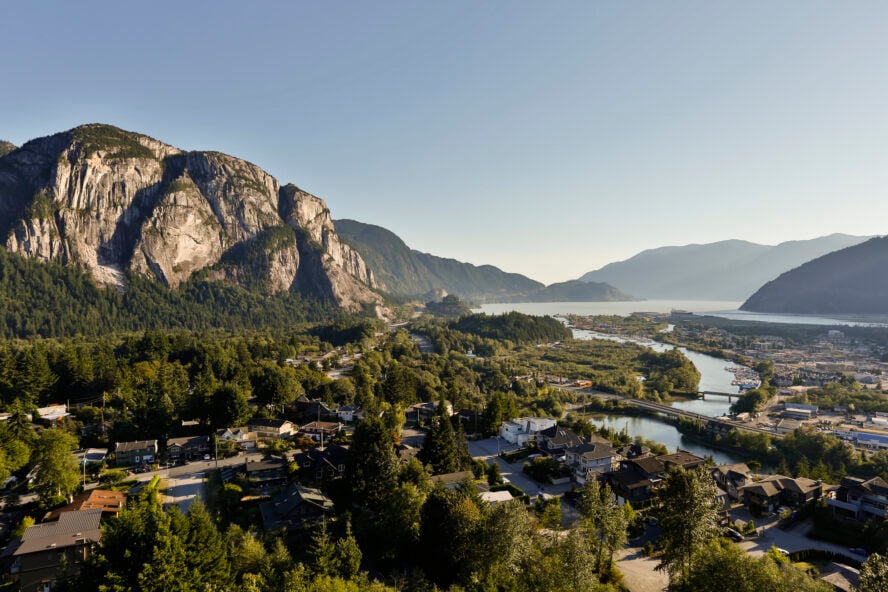 Pros and Cons of Climbing in Squamish
Absolutely world class climbing of all disciplines (sport, trad, bouldering, crack climbing, big wall, multi-pitch)
Very short approach times to most climbs
A very climber-friendly place to learn a variety of new skills or to step up to the next level of your discipline
Severe crowding on "famous" moderate multi pitches
Car camping or wild camping is being cracked down on, so finding accommodation can be difficult
Bouldering routes can be extremely technical and ego-crushing!
Single-pitch trad climbing in Squamish
I was a total beginner when I first arrived in Squamish. Back then, my eyes were set towards the entry-level moderate trad climbing routes. If you're in that category, areas like the Smoke Bluffs or Murrin Park have a wide variety of ultra-classic single pitch routes from 5.5 and up. Of particular mention are routes like Burgers and Fries (5.7), Penny Lane (5.9), Mosquito (5.8), Octopus' Garden (5.8), or Clandestine Affair (5.9). If you're after something harder, routes like Genesis (10a), the Smoke Bluff Connection (10b), Yorkshire Gripper (11b), Crime of the Century (11c), or even Zombie Roof (13a) may appeal to you.
Want something a little more adventurous? Head over to the Stawamus Chief (AKA the Chief) and climb at the Grand Wall base or the Malamute for amazing 1-4 pitch routes. Malamute routes like High Mountain Woody (5.9) or Slap and Tickle (10b) are ultra classic, or try Overly Hanging Out (11b) which will get your heart pumping! At the Grand Wall base, you may have to stand in line for the world classics Exasperator (10c), Seasoned in the Sun (10b) and Arrowroot (10b). If you can climb Rutabaga (11a), it's not to be missed! There are also harder pitches and longer adventures to which begin from here.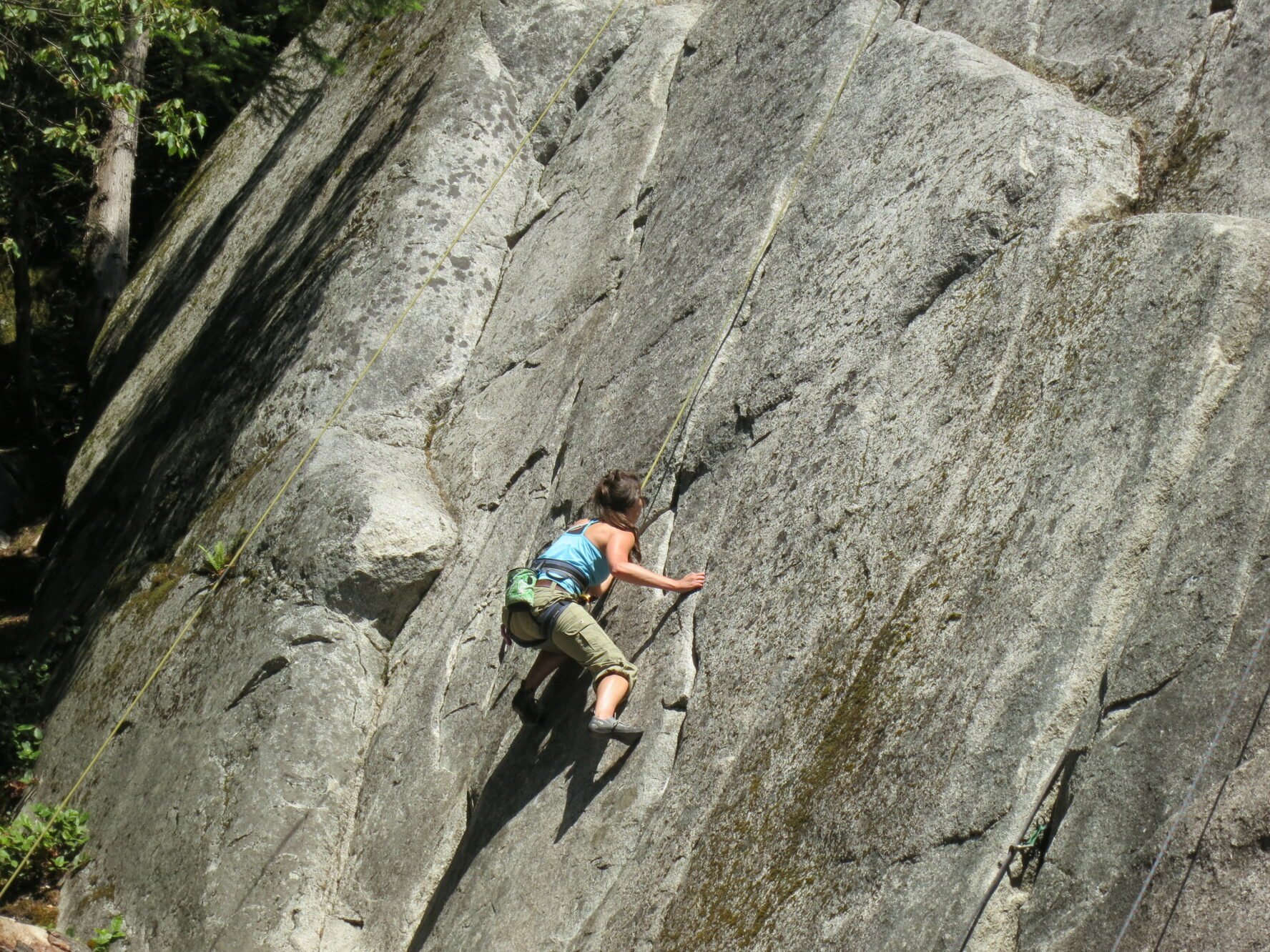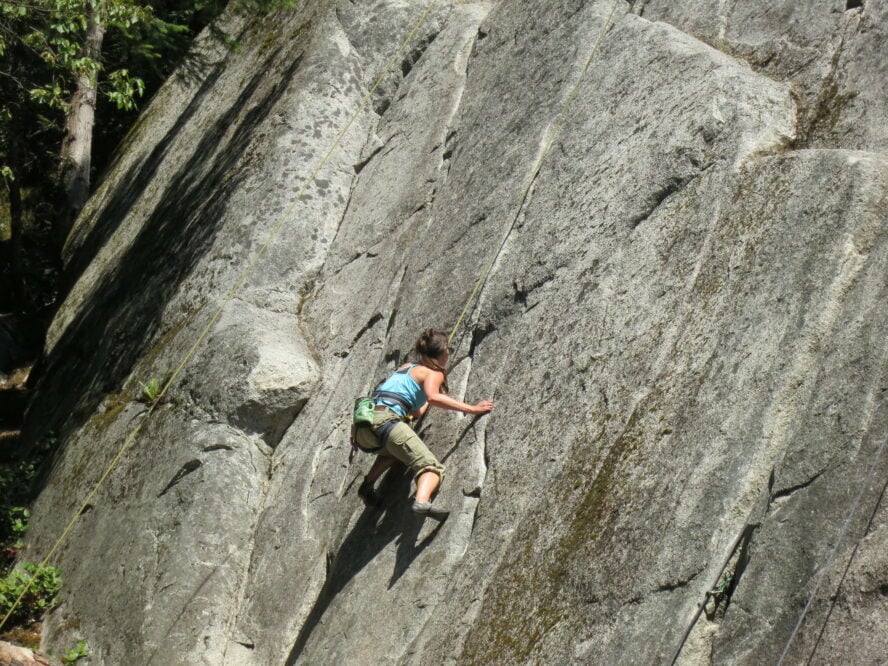 Other areas that involve more walking are the Longhouse, Top Shelf, or the Backside routes on the Chief (home to the infamous 5.14a Cobra Crack), all of which are known for thuggy single pitch cracks, and some of the best in Squamish. Undoubtedly, there's enough going on to try even the most seasoned crack climbers.
The Chief's multi-pitch routes
The Chief has three distinct summits, the highest of which is just over 700 metres high (2300'). If you're keen to bust a move to the top of the Chief via a multi-pitch route while in Squamish, the easiest options are the Squamish Butt Face route (5.9) or the Ultimate Everything (5.9), which is a much longer outing. Start any multi-pitch on the Apron, with options ranging from 5.7 to ultra-hard. Notable classics are Diedre (5.8), Banana Peel (5.7), Rock On (10a) or St Vitus Dance (5.9, and link these into the two mentioned above. Generally, parties will take most of the day to climb the roughly 400 metres (1300′) to the top. However, they can be done in merely a matter of hours as well.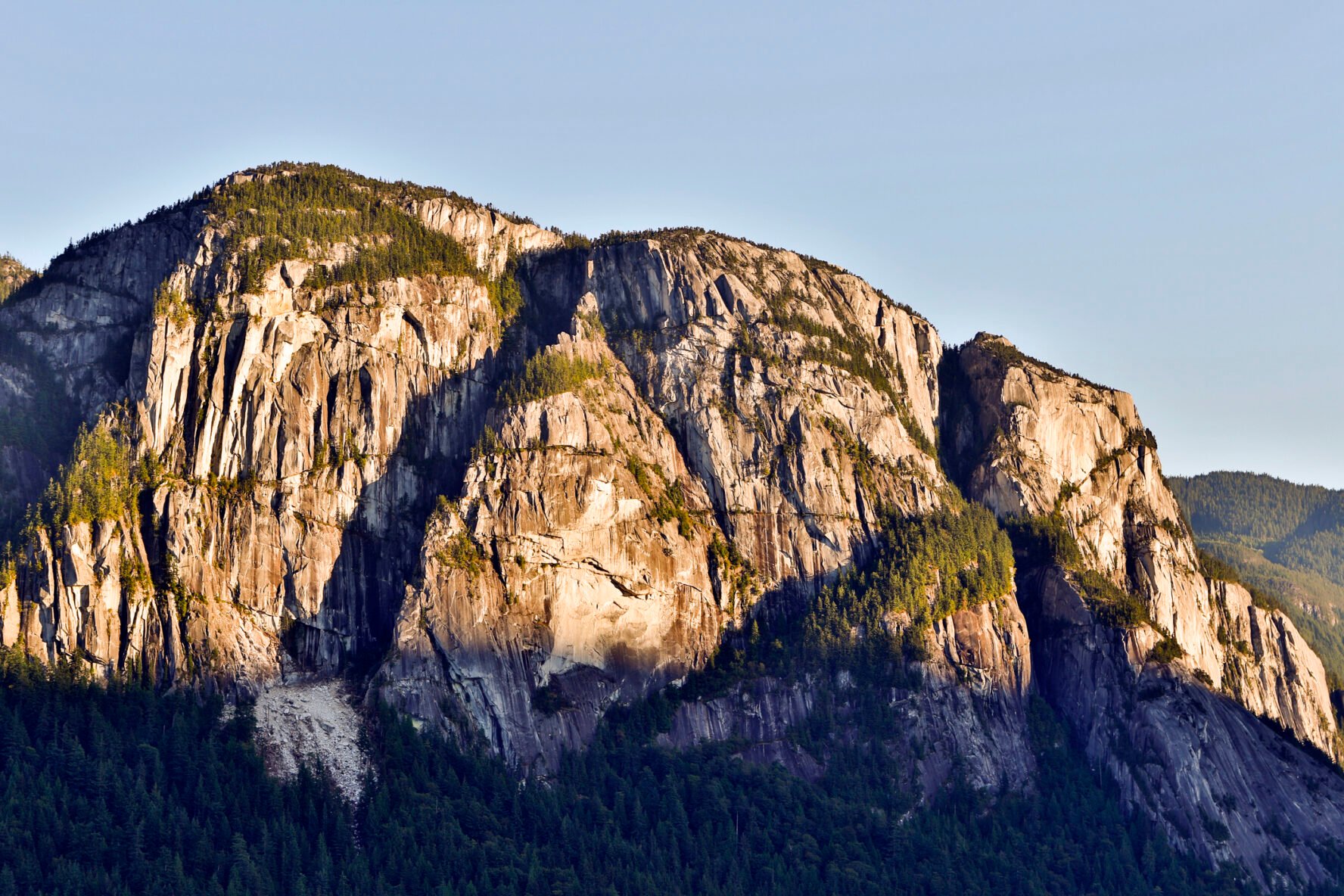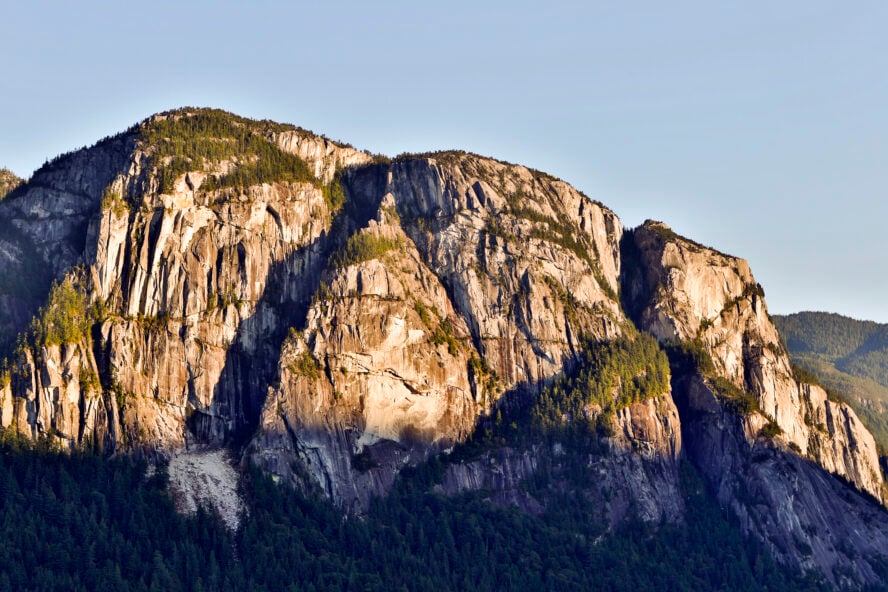 Test your skills on the Grand Wall
Want harder? Squamish is ultimately known for being like a "little Yosemite," which means there are loads of classic multi-pitch routes. The Grand Wall route is arguably one of the great classics of North America. At 11a A0, it doesn't seem that hard, but climbers should have a well rounded skill set to climb the various pitches. From the epically scary Apron Strings (10b) to the run out Mercy Me (5.7), the jamming festival that is the Split Pillar pitch (10b), the tough bouldery crux of the Sword pitch (11a), and the heart-breakingly pumpy Perry's Lieback (11a), the Grand Wall will test every inch of your climbing capabilities. Even the walk-off via Bellygood Ledge (I'll leave you to imagine what that entails) can test one's nerve! The Grand Wall can be linked with harder variations to start and finish, like the devious Cruel Shoes (10d) or the Roman Chimneys (11d).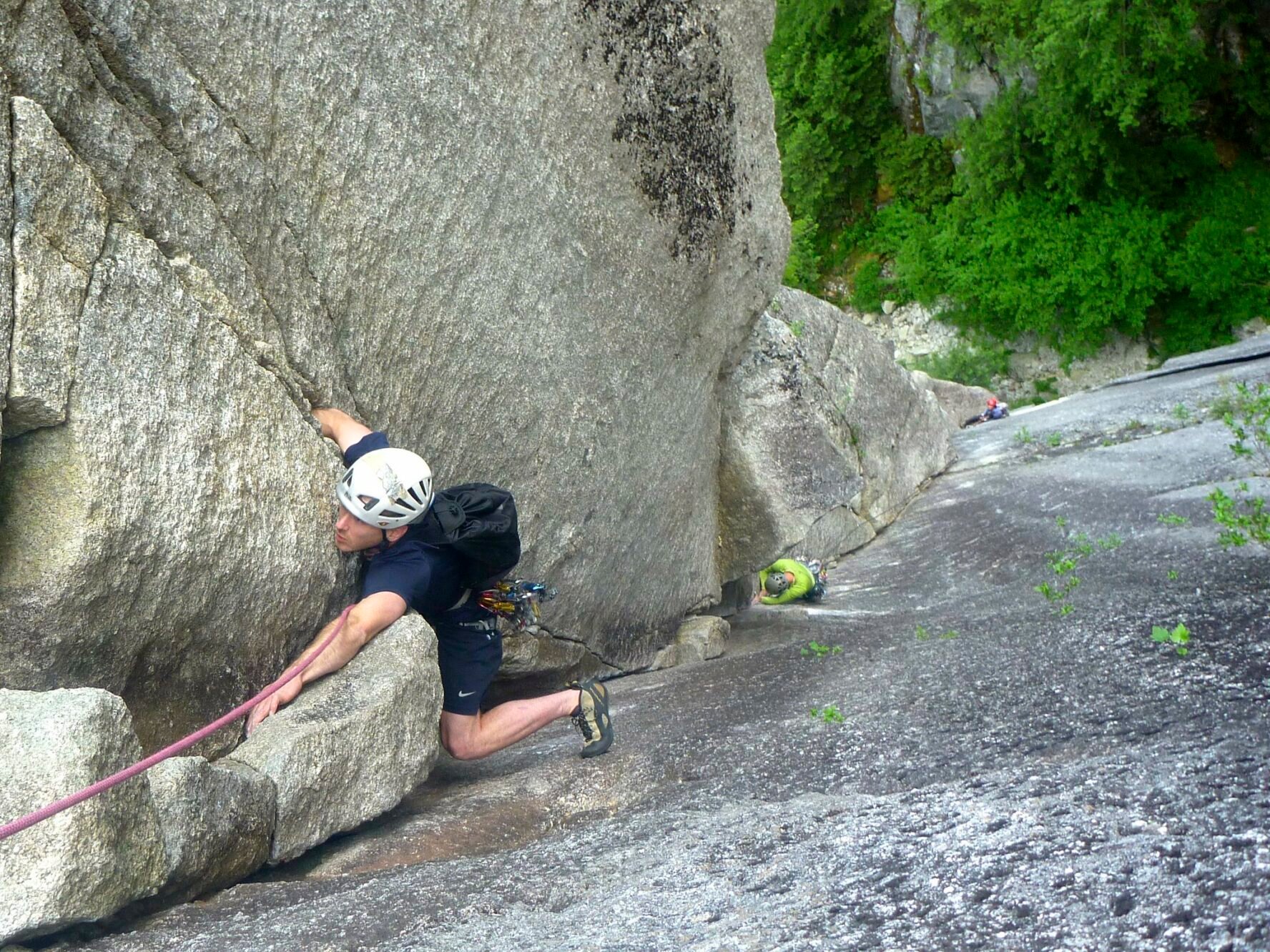 There are so many unbelievable classic routes in Squamish. Here is a list of my personal all-time favorites, which I've either nailed or flailed on! Millennium Falcon (11a), Sunset Strip (10c), the Milk Road (11a), Freeway (11d), Borderline (10d), Blazing Saddles (10b), Sunblessed (10a), Wiretap (10b), Skywalker (5.8), Photophobia (10d), Right Wing (10d), Angels Crest (10c), High Plains Drifter (11c), New Life (11b), Daily Planet (12a), Jungle Warfare (10a), Polaris (12a), and so so many more!
Are you looking for even harder things? No worries, Squamish has nails-hard multi-pitch climbs up to 5.13. Unless you're Adam Ondra, you're going to find something which will test you!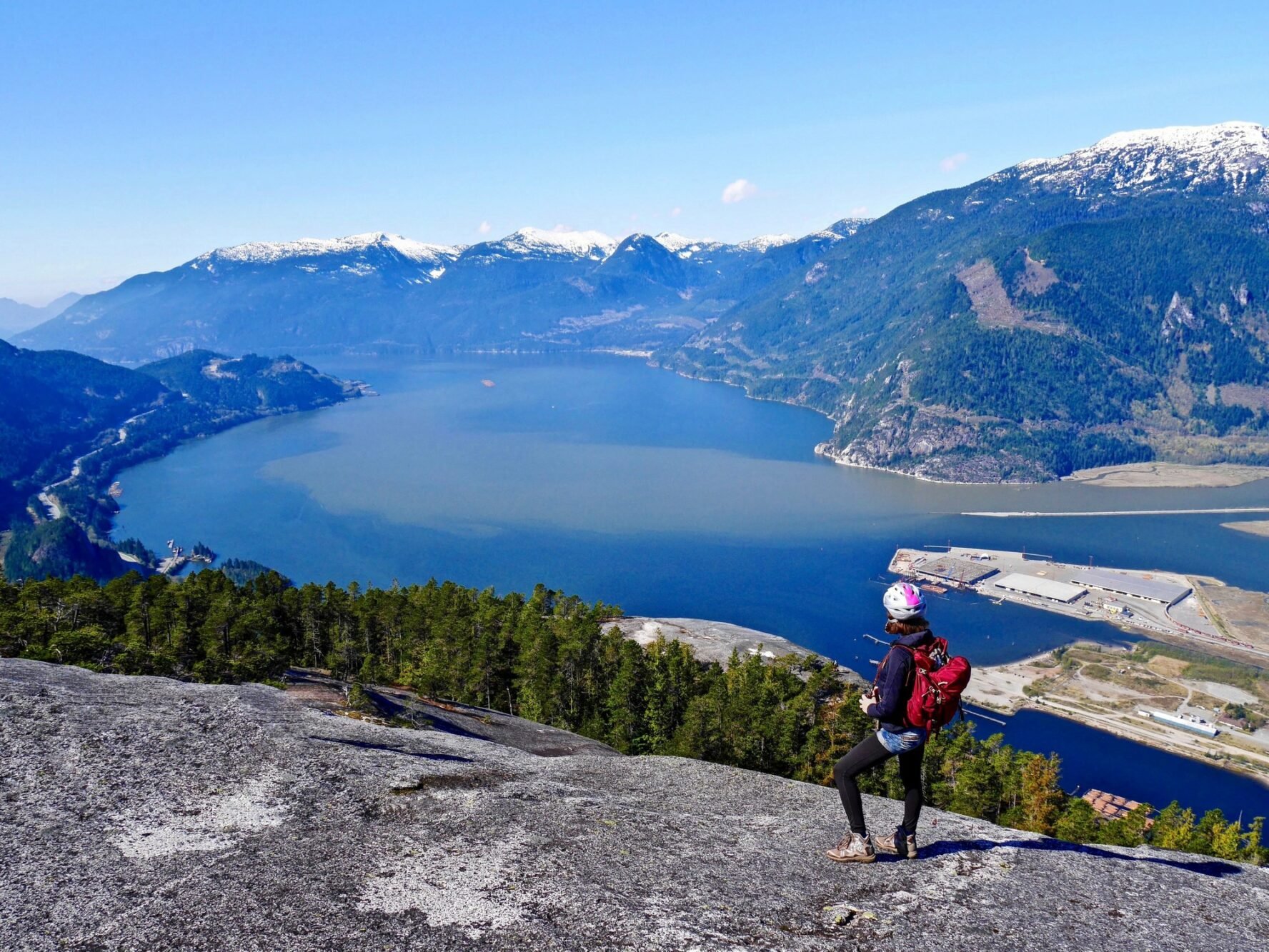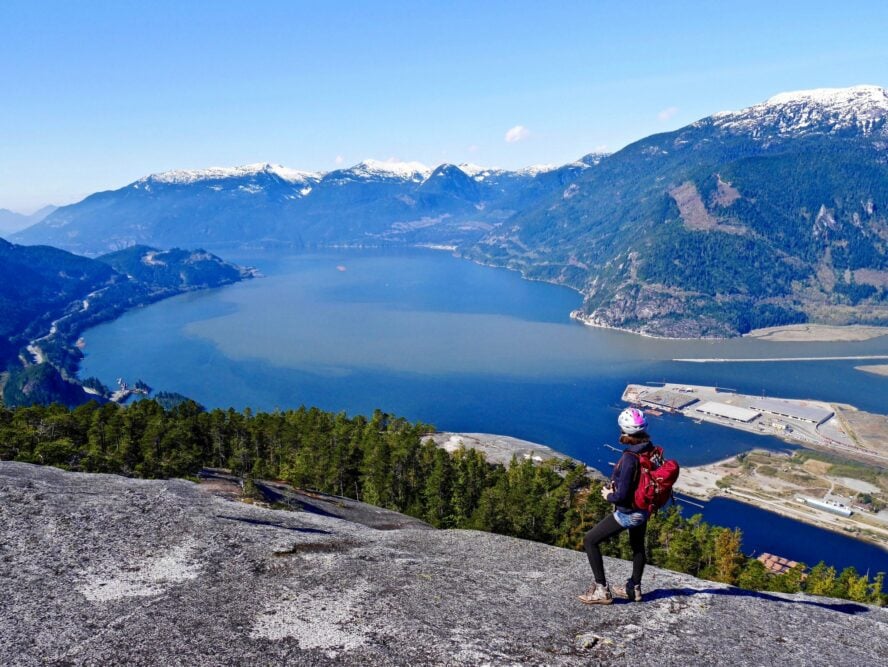 The best bouldering in Squamish
Squamish bouldering is a dream come true. Imagine stepping into a fantasy land, moss-covered forests full of giant stacks of granite boulders, the tranquility of which is occasionally broken up by dinosaur screams of those cruxing out, followed by the cheers of onlookers.
The Grand Wall forest is one of the main areas for bouldering in Squamish. It's home to the world-famous Dreamcatcher boulder where Chris Sharma put up his 5.14d route, which has still only seen a handful of repeats. In the forest, you will find boulders of all grades with countless classics. The primary concentration of bouldering is around the Chief, with the Grand Wall, North Wall, and Apron Boulders housing nearly 2000 problems! You won't have to walk far, you'll make lots of friends, you'll heinously slide off greasy slopers, and unless you're a technical granite wizard, you will also likely spend a great deal of your time being utterly puzzled about often desperate sequences.
Find Squamish sport climbs in Cheakamus Canyon
While Squamish is not generally known globally as a sport climbing destination, it absolutely does house world-class bolted pitches; however, in most cases, you need a car to get to them. Cheakamus Canyon is probably the most popular area, which has classic routes ranging from 5.8 to 5.14 and even quite a few permanently fixed draws. Area 44 is known for great moderate grade sport climbs (bring a helmet as there have been some issues with rockfall over the last few years). Generally, the sport climbing in Squamish feels steep with bouldery moves in between blocky pinches and square-ish feeling holds, although you can also find good incuts and even slopers. Overall, the climbing feels steep and powerful.
There are a handful of bolted multi-pitches in Squamish, such as the fabulous Star Chek (5.9), Charlotte's Web (5.8), Stairway to Heaven (10c) or even the mega-hard Black Dyke (13b) although generally, there isn't much of this to go around.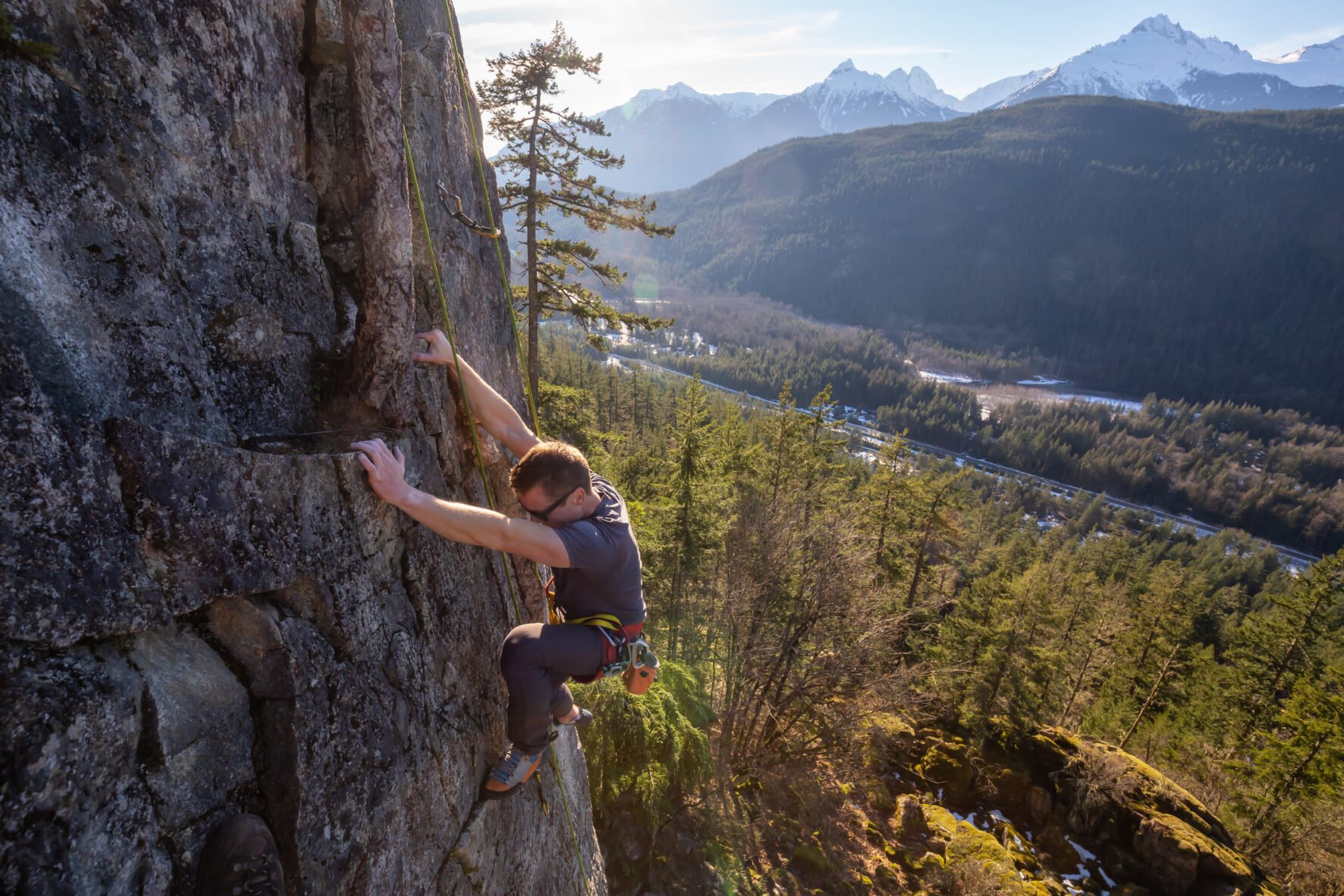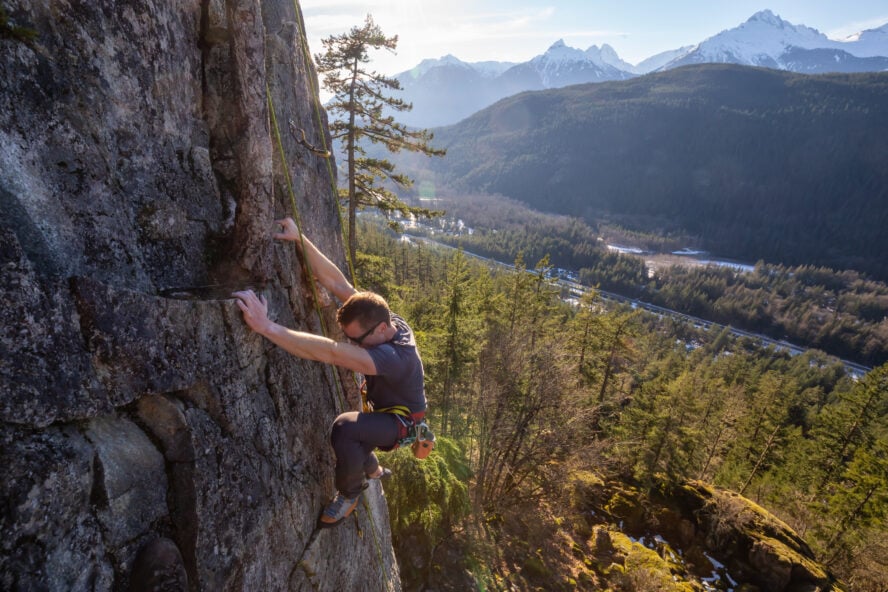 Petrifying Wall in Murrin Park
One of Squamish's most popular and best sport crags, Petrifying Wall in Murrin Park, has recently been handed back to the Squamish Nation. Climbers have voiced concern over future access to this area, and while it remains open for now, what the future holds for this area is still up in the air. It's important that climbers check the status before climbing Pet Wall and respect the land title of the Squamish First Nations.
Planning your trip to Squamish
Squamish isn't just a rock climbing mecca, it's an outdoor adventurer's playground, with everything from mountain biking to kiteboarding, hiking, and more, and all with a cool, laid-back mountain town vibe. If you want to eat, drink and climb like a local, here are a few tips for planning your Squamish climbing trip:
The climbing season in Squamish
The summer months are your best bet for climbing in Squamish. Obviously, cooler temps will help your sending powers during spring and fall for slopey boulder problems, but the weather can be pretty unpredictable in those seasons. Summer, generally, is good to go, and you'll safely be able to climb most days you choose with just a careful eye on the weather. I can attest to the fact that one can boulder and trad climb all year round in Squamish, and the Grand Wall itself has been climbed in January! However, I wouldn't bet my vacation the winter months delivering favorable conditions. Mid-June to mid-September are pretty consistent. You can also reasonably get out on multi-pitches starting around May and even as late as October, but any of the shoulder months can be drenched too, so it's a tough call.
Where to stay in Squamish
Finding accommodation can be difficult due to a massive supply/demand imbalance. The best and most ideal place is the Stawamus Chief Provincial Park Campground, located under the chief and a mere walking distance to most of the climbing. However, these spots are offered on a first-come, first-served basis and getting spaces in the busy summer months usually proves difficult. If you are planning to go to Squamish during the busy months, you can find out more about where to camp in Squamish here.
For hotels and hostels, there's a bunch of options available, including the Squamish Adventure Inn (with dorms, private rooms, hotel-style rooms and kitchen suites, all catering to outdoor adventure lovers); the Crash Hotel (a unique, hip downtown hotel where no two rooms are the same); or the Sea to Sky Hotel (a little off the beaten path, but a good spot to stay nonetheless).
Where to eat and drink in Squamish
If you're looking for a spot to grab a coffee, there's The Ledge Community Coffee House right downtown. If you want more sustenance, Zephyr Cafe has both good coffee and lots of food options. Howe Sound Brewing is right downtown, and Backcountry Brewing and A-Frame Brewing are a short distance out of the downtown core, but all great places to grab a local pint.
Squamish climbing festival
In recent years, Arc'teryx has put on an annual event in Squamish known as the Arc'teryx Climbing Academy (formerly the Squamish Mountain Festival). This event, which takes place in late August, is full of high-quality clinics put on by local guides and legends, films, talks, photo competitions, and so much more. There are even chances to net some swag (i.e. you can win free stuff) if you put together an epic tug of war team, or win the dyno competition.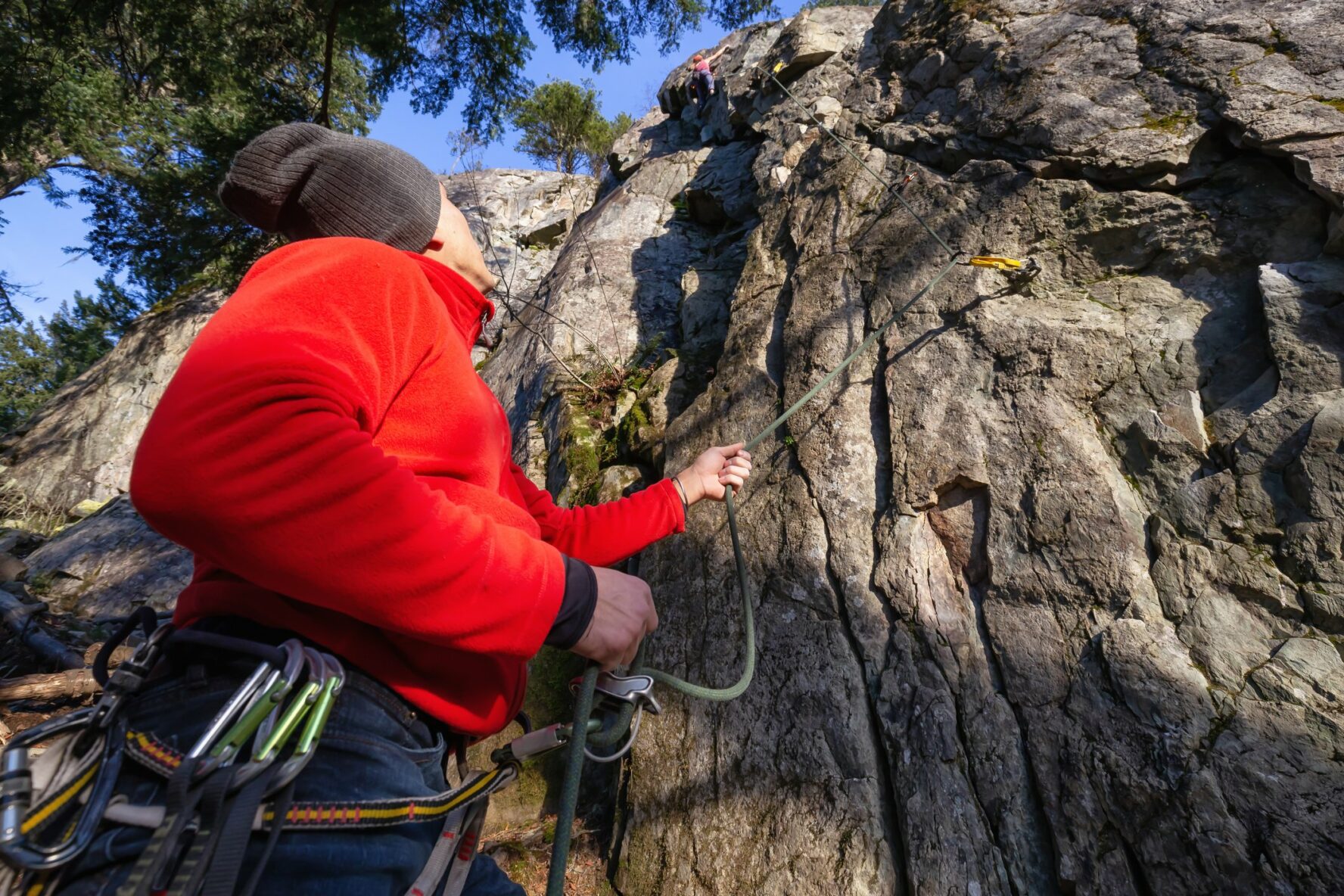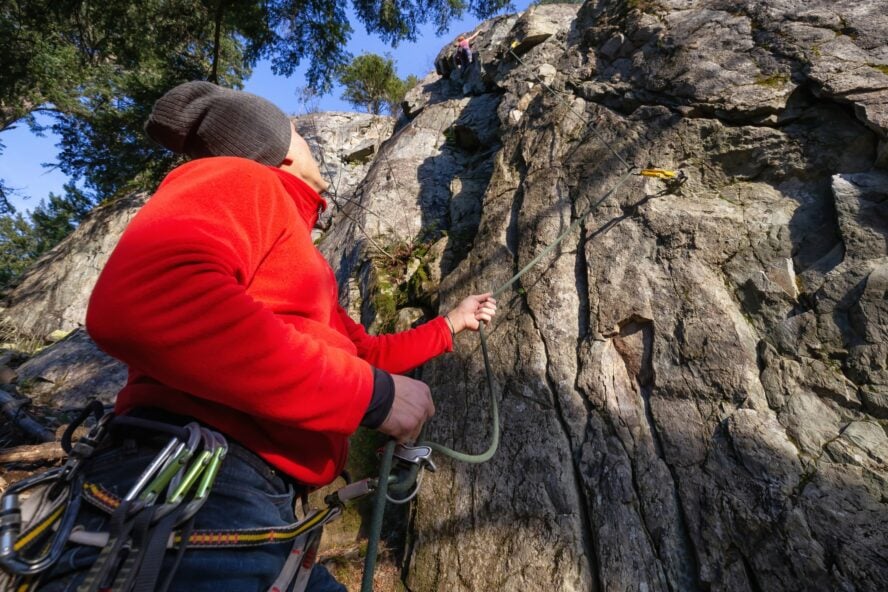 Other things to do
Squamish is a world-class alpine playground, rightly earning its rep as the "Outdoor Recreation Capital of Canada." Here's a list of some alternative adventures to be had in Squamish on climbing rest days:
Hike to the summit of the Chief's three peaks
Go day hiking at Black Tusk or Panorama Ridge in Garibaldi Park
If the conditions don't favor climbing, take the Sea to Sky Gondola for an alpine adventure up to the summit of Sky Pilot (re-opens February 2020)
Hike or bike the Sea to Sky Trail (best when snow-free in late summer)
Try freestyle kiteboarding at the Spit
Go paddleboarding in Howe Sound
Go swimming at Brohm or Alice lake
Take a guided mountain biking tour
Cross the Squamish River, hike up to Lake Lovely Water and climb Mt. Alpha
Visit Vancouver and cycle around Stanley Park
Go to Whistler for some hiking, mountain biking, zip-lining, and more!
Eat lots and lots of sushi!
Head to Squamish's downtown core to check out the many funky shops and cafes
If you need to rent or buy climbing gear, Climb On Squamish, just a block off the main downtown street, is the place to go.
How to get to Squamish
Squamish is located between Vancouver and Whistler. Most travellers fly into Vancouver International Airport (YVR) and make their way to Squamish from there. There are some bus options, but having a car will definitely make it easier to explore all that Squamish has to offer. From Vancouver, take Hwy 99 (AKA the Sea to Sky Highway) north for just over a half-hour (about 70km). On a clear day, it's one of the most beautiful coastal drives you can take, with views of Howe Sound and the Pacific Ocean.
If you want to suck the marrow out of your days in Squamish, take any guesswork out of the game with half-day and full-day guided tours that are completely customized to fit your goals!