Index: The Trad Climbing Oasis That's Shaking Off Its Moss
Index has long held a, shall we say, contentious reputation: cracks plugged with railroad grease, recluse climbers, and overgrown routes. As a new generation flocks to the area, its true calling card is getting unearthed: the best granite climbing in Washington.
The Great Northern Slab looms over us—a stern welcome to a newcomer like me. My friend's look of horror is a sharp contrast to his bubbly stoke minutes earlier, and the mile-wide grin splitting across my face.
"I have to climb that," I say, gaping at the hand crack snaking up the granite wall before us. Although it's not the route we set out to do, we're soon jamming up what I later learn is the first pitch of Aries, an Index-5.8.
Our hands are numb by the time we reach the anchor, but I barely notice. I look around, we're just a tiny speck in a granite sea of hundreds—if not thousands—of cracks like this one.
It's hard to believe this has been in my backyard all along.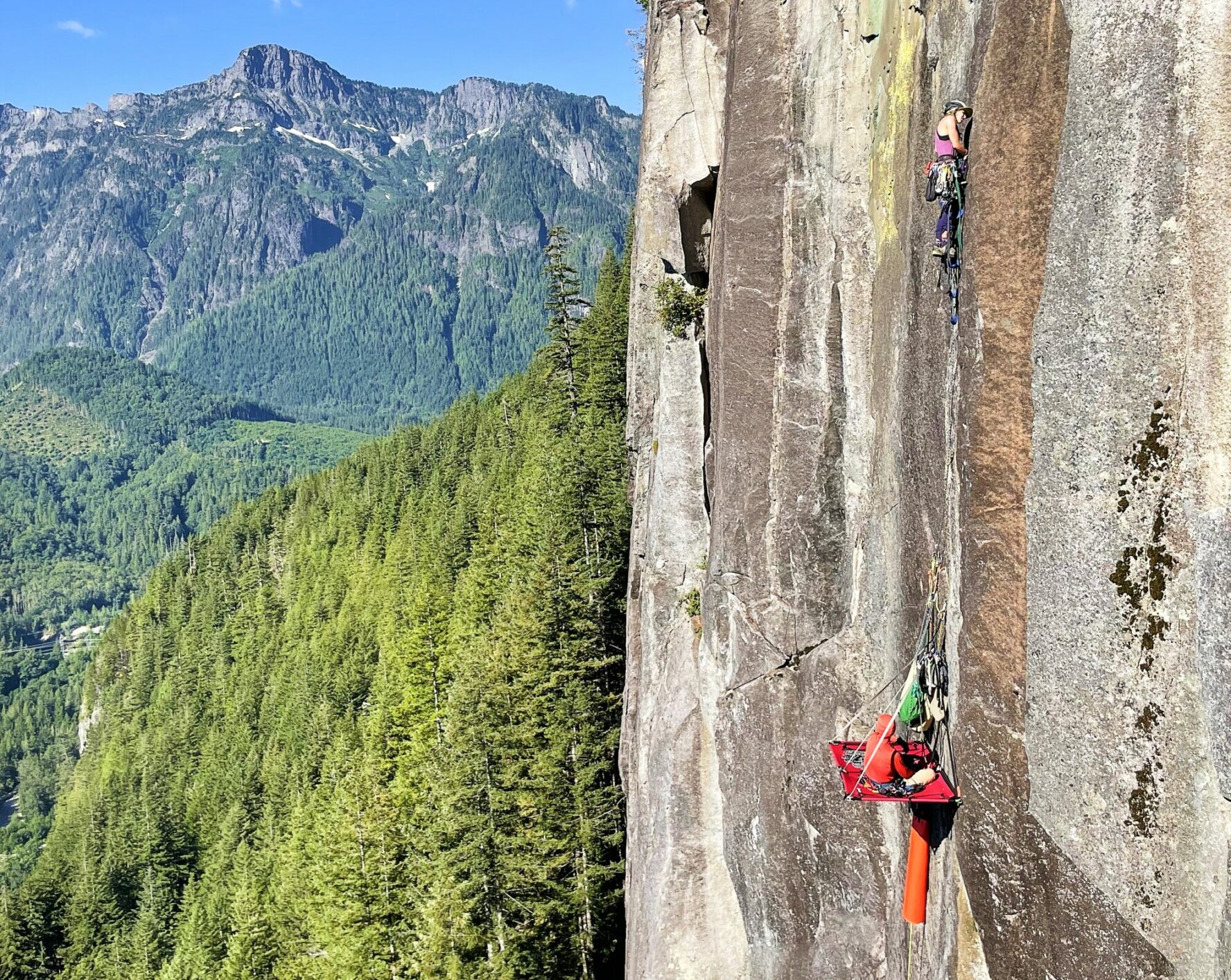 Pros and Cons of Climbing at Index
Short approaches and roadside crags
Sticky granite on some of the PNW's best cracks and faces
Great community of climbers that are always improving the area
Unpopular climbs can be grown over mossy
Sandbagged grades (although this does keep climbers humble)
Index: The Best Trad Climbing Area You've Never Heard Of
There's a reason for that. Despite its proximity to Seattle, Leavenworth and Washington Pass, Index holds its own as one of the best climbing destinations in Washington, that most people don't know about. For years it was a closely guarded secret—let the crowds have fun climbing at Smith Rock and elsewhere, just not here.
I don't condone the behavior, but something this good is worth protecting, if unfortunately under wraps. People came to climb hard, get stronger, and enjoy high-quality granite—not to broadcast their ascents to the world.
Climbing in Index was love at first jam
Growing up an hour away in Seattle, it's no surprise I never heard of Index given its history. That and the fact that climbing was the last thing on my mind. Heck, I was scared to jump off the diving board. And the people who climb Mount Rainier? I thought they were crazy.
Sprint kayaking was my passion until I moved to SoCal for college. When I discovered rock climbing, I felt drawn to the sport in the same way I'd been to kayaking—in spite of my fear of heights, which still surprises me to this day.
Now as a guide, I've traveled the world for climbing, but Index holds a special place for me. In part it's like rediscovering my home, seeing these wild places I grew up near through a climber's perspective. It gives me a new appreciation for what had been right under my nose—so much so that I've since moved there.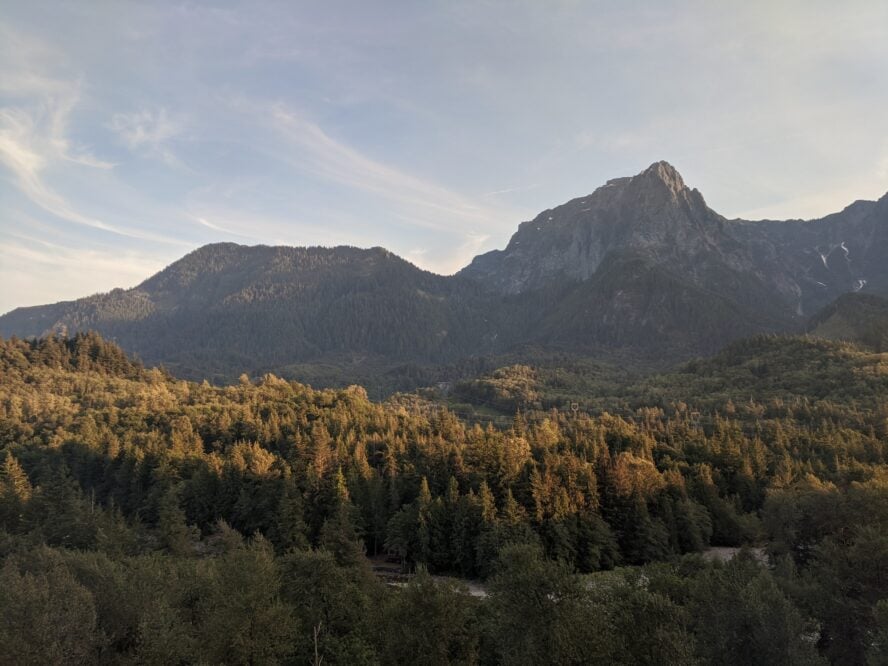 Index is reinventing itself
Like other insular climbing areas, such as the Gunks and Yosemite, early pioneers maintained an old school ethic. So I would be remiss not to mention the sandbagging—if climbing a 5.9 here feels like a 5.10 elsewhere, it doesn't mean you've gotten weaker.
However, since I've started climbing at Index it has turned a page. Gone are the days of plugging other's projects with railroad grease because of excessive "hangdogging" (this happened to Todd Skinner in 1986 when he was projecting "City Park" 5.13c). Today, easy routes once ignored and overgrown with moss are being unearthed. Trails are well-maintained and old, rusting bolts have been replaced.
Still, Index retains its spirit as the humble climber's capital. Maybe it's the stories passed down through the generations, the pin-scars left behind from pitons, or the visual appeal of boundless crack features. Whatever it is, there's a certain magnetizing quality that draws you in.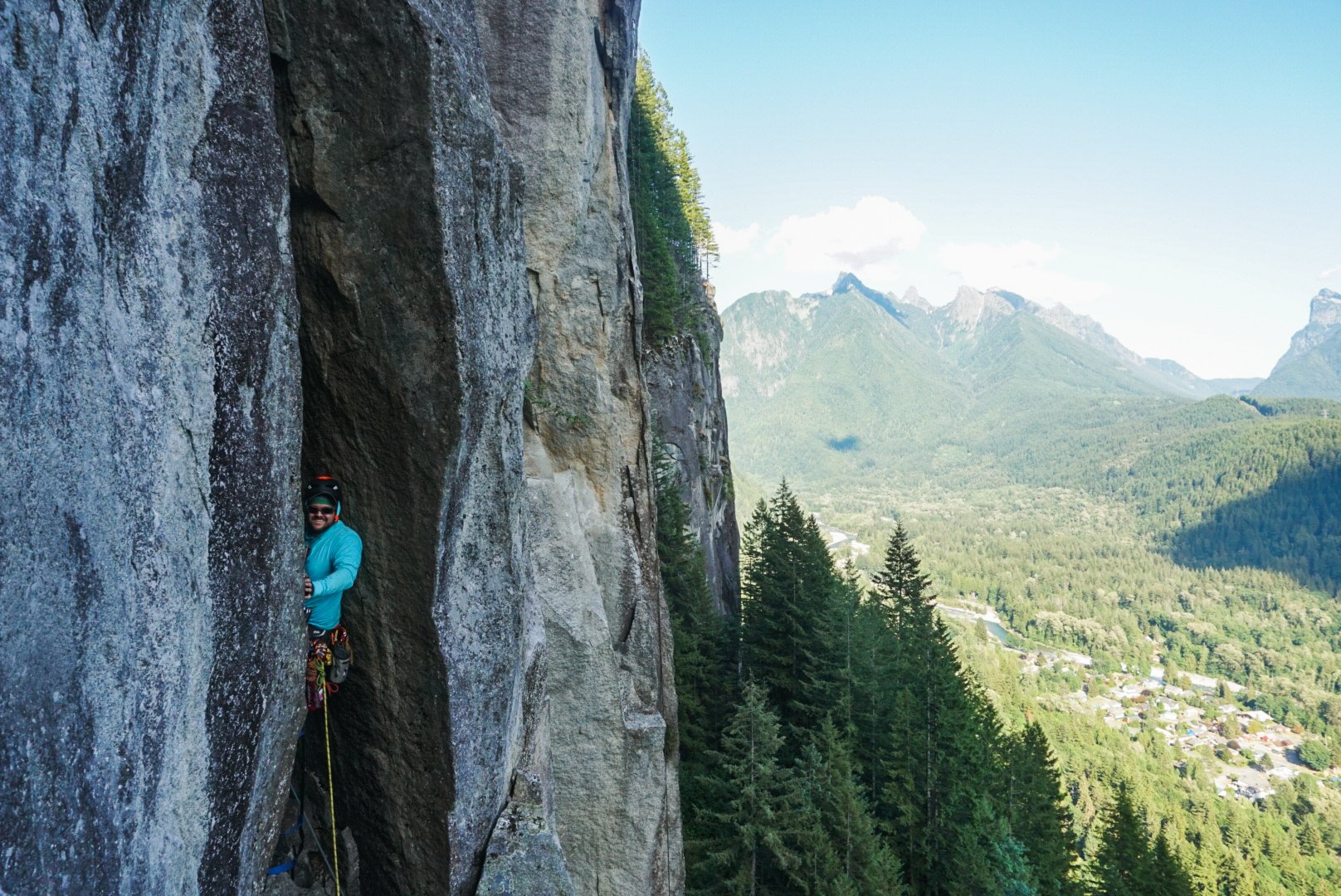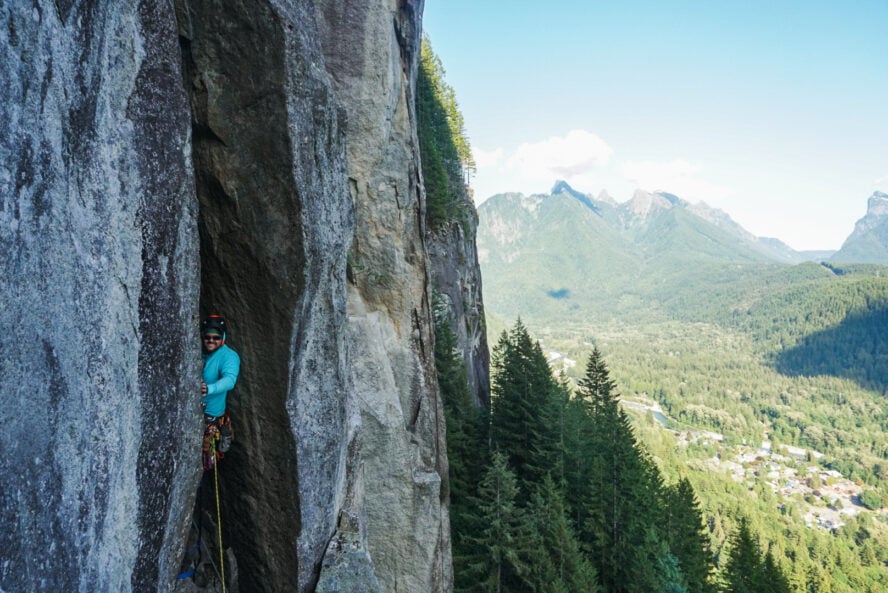 What it Feels Like To Climb At Index
Shrouded by a thick canopy of evergreens, I start up a thin-hands splitter crack on a sheer granite face. Slowly piecing together the technical moves, I begin to feel the sun on my back as I climb higher.
Looking down, I realize how exposed I am; high above the trees that had towered over me back on the ground. The behemoth Mt. Index, roaring rivers, and an endless sea of green are the backdrop as I top the second pitch.
Washington's big wall playground
Routes in Index offer a bit of everything, from chunky walls with dihedrals and splitter cracks to sheer, cryptic slab faces. It's pure granite climbing, so you'll be relying on smears, laybacks, finger and hand jams, and good technique. If you're expecting the polished rock found in Yosemite, you're in for a treat—Index granite is stickier and more featured.
One of the unique things about climbing in Index is the consistent quality between pitches. Sure, you can go cragging all day, but the majority of routes starting have at least three or four pitches above them that are as good—if not better—than the first. It's also possible to link up different lines by topping out on one pitch and traversing to a neighboring one.
Free climbing isn't the only option. If scaling thousands of feet is your jam, the big walls of Index are a great place to practice aid—pin scars and thin cracks abound. I've used the area to prepare for big lines in Yosemite, for example, and the tricky placements will certainly help you to hone your skills.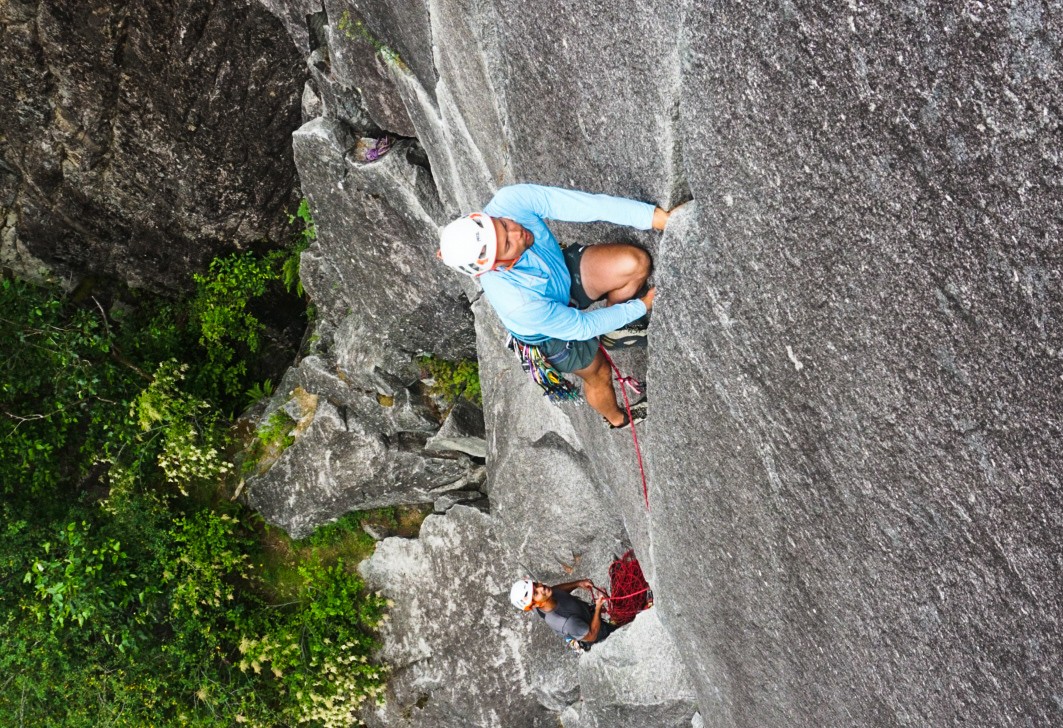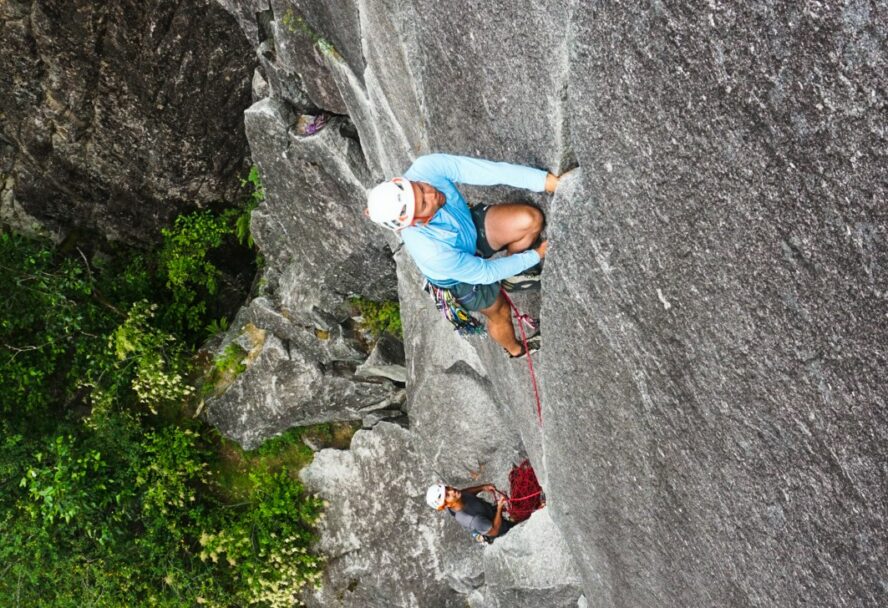 Bolted or not, the decision is yours
Regarded as a haven for those willing to learn traditional climbing skills, Index is a great place for venturing outside the bolted realm. With an increasing number of quality moderates, there's plenty of opportunity for beginners and intermediates.
If you're a sport climber, you might be thinking it's time to buy your first trad rack. Rest assured that Index has tons of bolted routes, too. They're as high-quality as the trad lines and many continue on for upwards of three pitches.
My Favorite Areas and Must-Climb Routes
1. The Lower Town Wall: Accessible and popular
From the parking lot, the Lower Town Wall peeks through the trees. A 5-minute approach brings you to the base of a massive granite wall accented with roofs and ledges. This is by far the most popular area (mostly due to convenience), but crowds are never so bad that you can't find a great climb to hop on.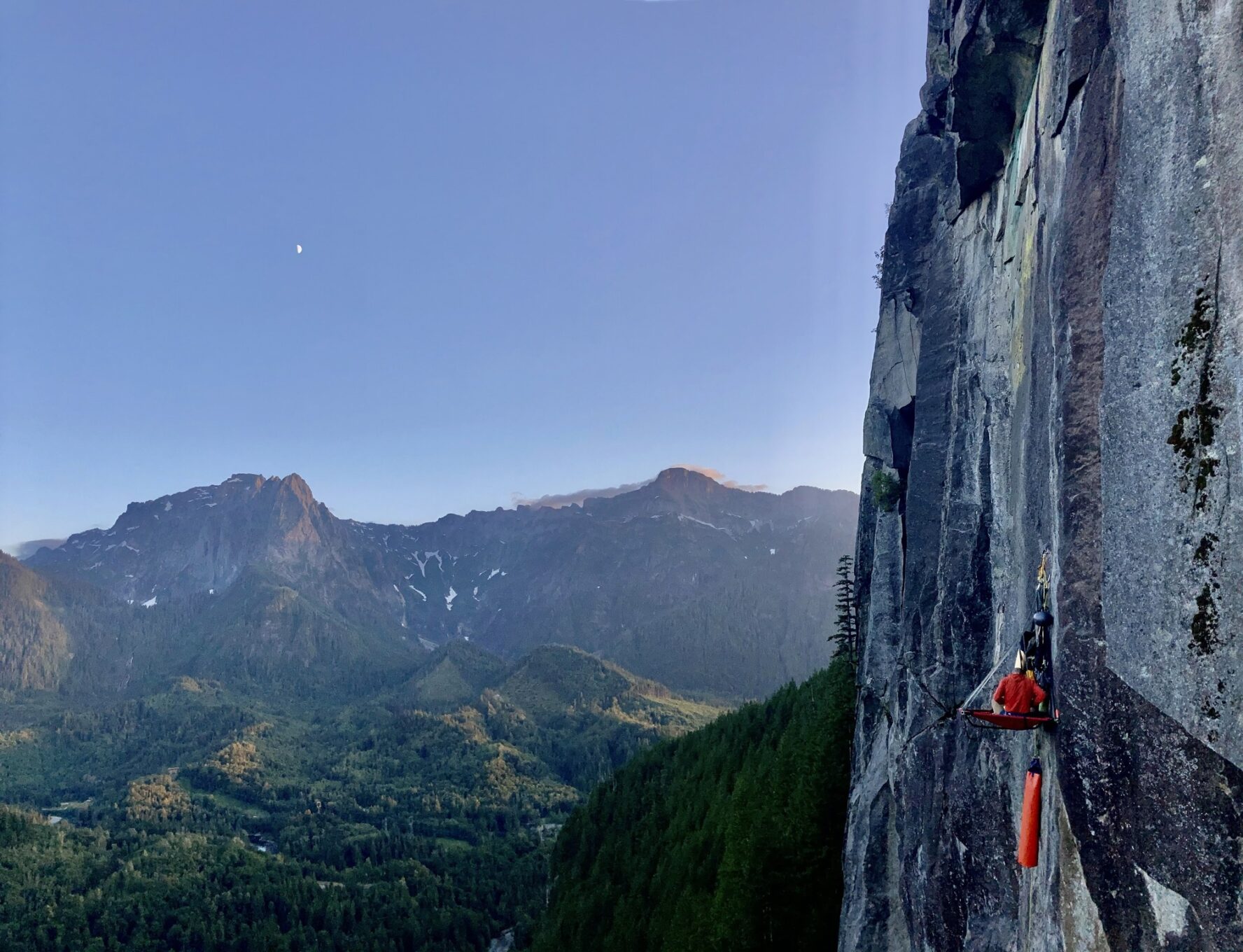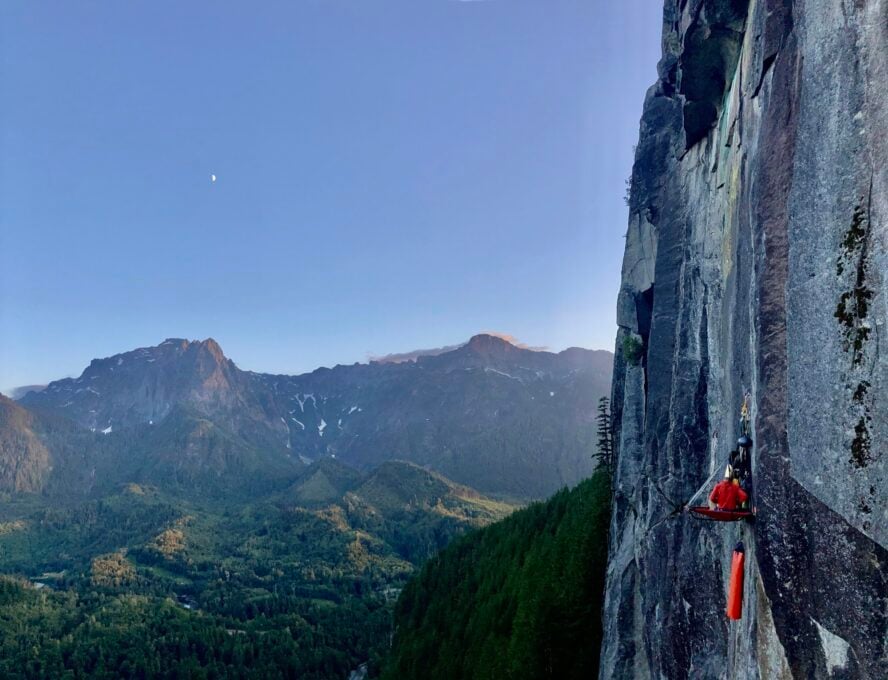 Best for beginners
The Great Northern Slab is on the left end of the wall and houses about a dozen routes from 5.6 to hard 5.11. This is where I did my very first climb at Index, old schoolers like Fred Beckey have climbed, and one of the best spots for easy multi-pitches.
Farther to the right you'll find The Main Wall, the Narrow Arrow, and other prominent sections packed with routes. You'll find a good mix of grades here, but the majority hover above 5.10.
Techy times
The Main Wall houses my all-time favorite pitch in Index: the classically sandbagged 5.11d Iron Horse, a 120-ft pin scar crack leading into a slab and chimney. It's one of the most technical climbs here, forcing you to use unfamiliar jams and brainy positions.
Other classics in this area include Godzilla (5.9), Sagittarius (5.10), Free At Last (5.10), Pin Fingers (5.10), and Thin Fingers (5.11).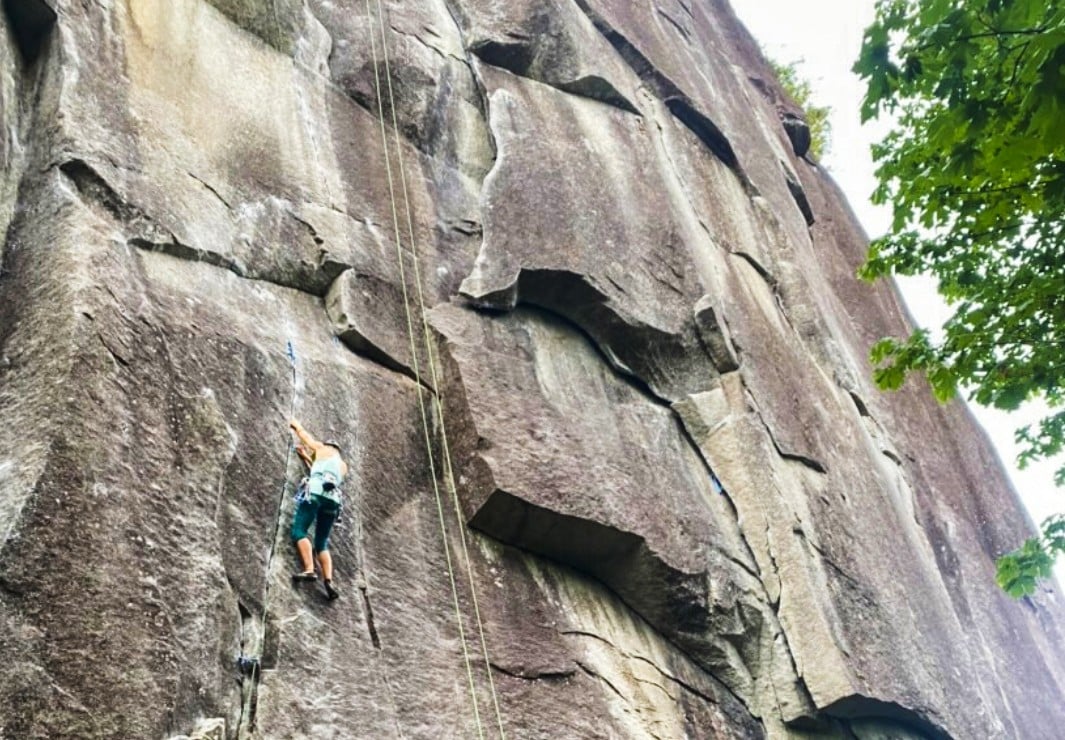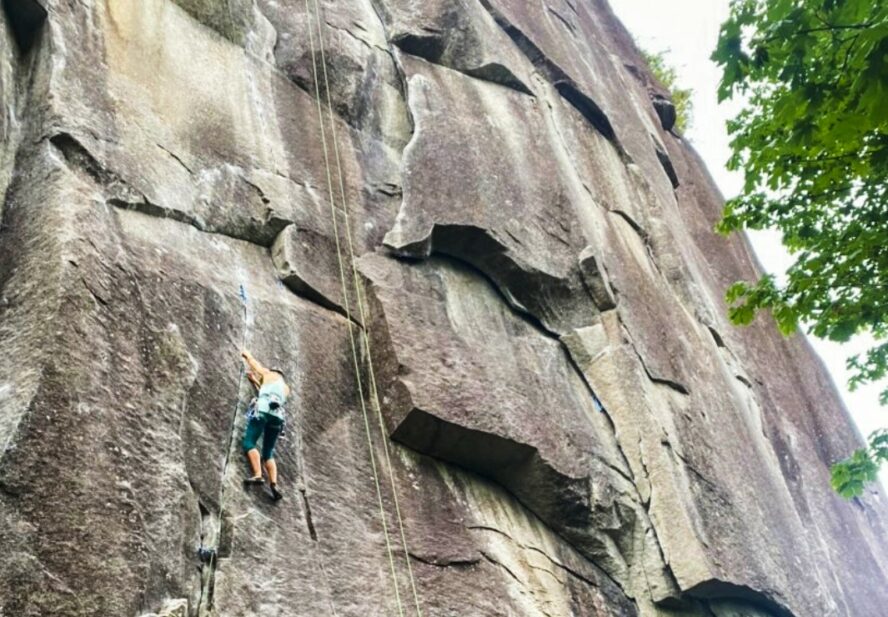 2. The Upper Town Wall: Multi-pitches galore
The Upper Town Wall watches over the town of Index like the Eye of Sauron. It's packed with sheer slabs, vertical face climbs, and an equal distribution of sport and trad routes. With a 30-minute approach, it's easy to get to, but sees significantly less traffic than the Lower Town Wall.
One of the most popular multi-pitch link-ups starts on the Davis-Holland Route, a 3-pitch 5.10c located near the middle of the wall and continues into Lovin' Arms, a 3-pitch 5.10 b/c. The route follows delicate dihedral hand-cracks, side-pulling face holds, chimneys, and other unique features up more than 800 feet of flawless granite.
High-quality single pitch routes range from The Witch (5.10) all the way up to Bang! (5.13b).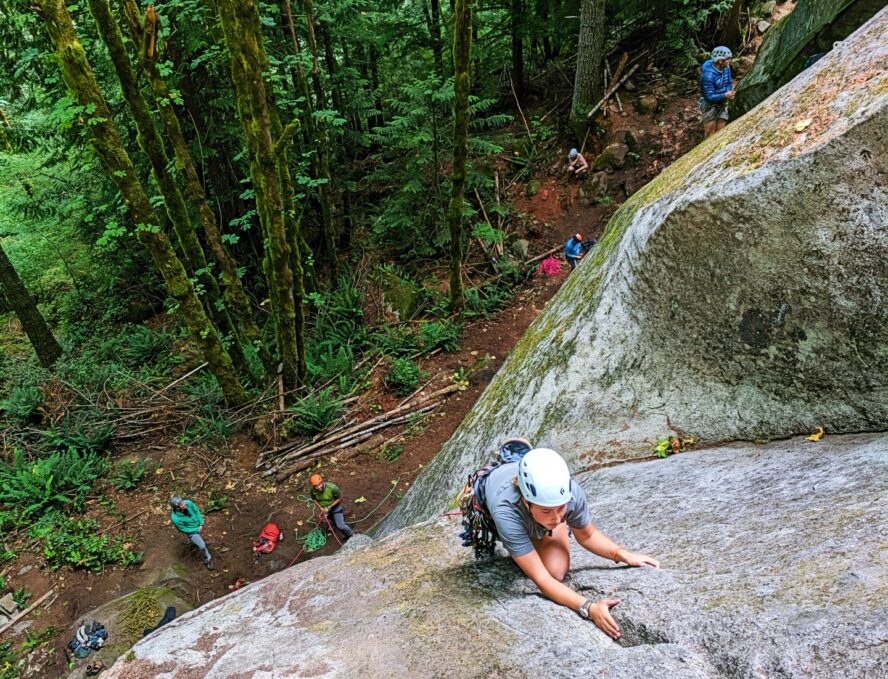 3. The Lower Lump: Intermediates who want mileage
Another area located off the road, the Lower Lump has climbs from 5.7 to 5.11, with a few harder grades sprinkled in. The terrain is super varied, featuring slabs, roofs, and cracks of all sizes.
With an approach of less than 10 minutes and a spread of sport and trad routes, it's a good spot for newcomers to work on their skills or advanced climbers to warm up.
4. Inner Walls: Escape the crowds
Nestled in the canyon between the Lower Lump and the Lower Town Walls, the Inner Walls are a short walk to some of the highest quality and least crowded routes in Index. The area is made up of a blocky cave on the west side, a long row of splitter cracks, and heavily featured faces throughout.
The rock makes for easier climbs—mostly in the 5.8–5.10 range. While the approach is longer than its neighboring walls, it's a great place to escape the crowds.
The classic route of this area is Toxic Shock, a relatively short 5.9 with one of the most pristine parallel hand-cracks I've seen at Index. Twenty-or-so feet of well-protected laybacking top out to the perfect #2 cam-sized splitter crack near a right-facing corner. A subsequent hand crack leads you to the anchor.
5. Lookout Point: Best for beginners
Lookout Point is the easternmost crag at index and with an approach of about 20-30 minutes—it's a great secluded area for the casual trad climber. The quality of the rock is very similar to the Lower Town Wall but it has a higher concentration of easy routes with plenty of roofs, ledges, and corner cracks. The trees offer decent shade, especially welcome on warm, sunny days.
The Private Idaho Area has many well protected, high-quality 5.9's, 8's, 7's, and even a few 6's, making it the best location for beginners (and, often in my case, for guiding). There are a few great multi-pitches in the area as well, like Rattle Tale, a 3-pitch series of 5.10 hand cracks, and Solitude, a 5-pitch, 5.11c/d.
Insider Beta from a Local for Trad Climbing at Index
What's the best place to stay near Index?
There are tons of accommodation options near Index, including campsites, Airbnbs, and hotels. Most campsites are located within 10-15 minutes of town and if you're a vandweller, there are also parking lots on the Skykomish River. As far as hotels go, the historic Bush House Inn is one of the best in town.
What can I do besides climbing?
Hiking, mountain biking, rafting, and backcountry skiing are all popular activities in and around Index. Stevens Pass, just 20 minutes away, has excellent mountain biking trails and even better backcountry skiing in the winter. In Index, you can find hiking trails, including one that goes to the top of the Lookout Point (or you can just climb there!).
Where can I hang out on a rest day?
While there's plenty of room for growth, Index has that unique rural charm you can't find in more established climbing hubs, like Leavenworth. The general store, which may be turned into a gear store, has my favorite giant chocolate chip cookies. Sultan Bakery, on the way from Seattle, is also a worthwhile stop. Index is growing as we speak, and as more climbers flock to the area, I expect it to really take off.
What local organizations can I support?
As climbers, we spend a lot of time looking above us, and we often take for granted what's right below our feet: access trails. Washington's many climbing areas are easy to access thanks in part to the Washington Climbers Coalition, who not only take care of trails but also ensure climbing areas remain open to the public and routes are kept clean and safe.
During the annual Index Climbers Festival that takes place in September, a day of clinics, competitions, and sales is followed by a day of volunteering for trail work, route cleaning, and other activities that climbers can enjoy Index for years to come.
File It Away: Trad Climbing at Index is Some of Best in the Pacific Northwest
If you find yourself with an itch to learn trad climbing, go to Index. If you're a veteran trad dad or mom, or a sport climber hunting for pristine granite lines, go to Index. If you're training for big wall ascents in Yosemite, go to Index. If you're looking for the meaning of Christmas, you may not find it at Index, but you should still go anyway (you get the point).
Even though I grew up with Index in my backyard, I didn't think much of it until I climbed there. And I'm glad to be able to experience this place while it's still under the radar. In a few years time, everyone will claim to have known about Index "before it was cool." Once you set foot on its bold walls you'll see—like I did—this place certainly deserves the attention it's about to receive.