A Desert Masterclass: Lead Climbing in Joshua Tree
Joshua Tree is a crash course in smearing on blank slabs and decoding the complexities of irregular cracks. Find out why learning to lead climb in this desert classroom will prepare you for climbing anywhere.
Thin hands and no footholds lay between me and the secure, juggy crack fifteen feet away.
Committing to the sequence, I planted my shoes on the low angle slab, pushing through the balls of my feet and keeping my heels dropped to increase the friction. Unbelievable. The granite felt like velcro. After fiddling in a small piece of gear, I smeared across the slab to gain the easier system.
Confidence in my footwork grew with each move, and I was soon goggling the sweeping Lost Horse Valley from the top. In the setting sun, curling shadows from the Joshua Trees lay long across the desert floor. I had no idea how familiar these views would become.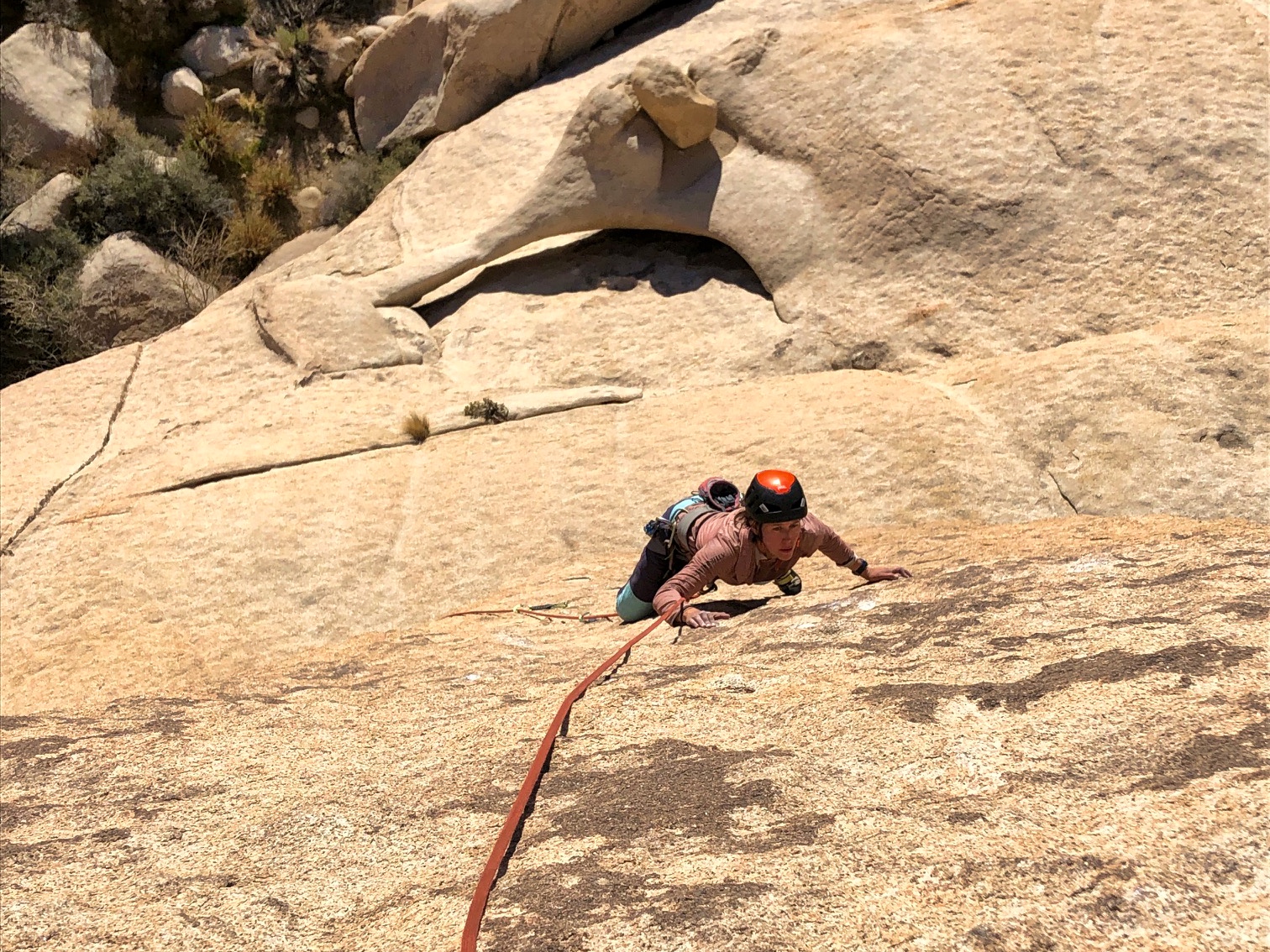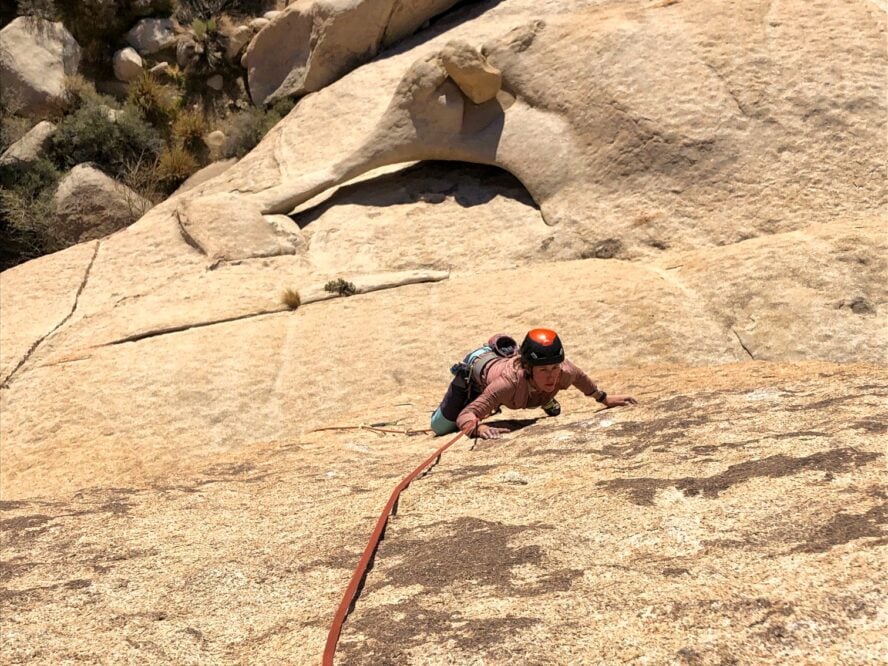 Pros and Cons of climbing in Joshua Tree
Quality slab, crack, and face routes, perfect for honing your movement skills
Thousands of accessible climbs in high concentrations
High-friction granite, great for mastering footwork
Irregular cracks can make placing gear tricky, but it's a great place to learn
Some of the classic climbs aren't well protected
Become a Lifelong Student of Climbing in Joshua Tree National Park
I would not be the traditional ("trad") rock climber I am today had I not been a long time student of Joshua Tree. Unlike sport routes, trad climbs have little-to-no fixed protection, so climbers carry and place gear as they lead. Due to the varied styles, tricky gear placements, and often complex descents, a range of skills are necessary to become a competent J-Tree climber.
Slab climbing isn't all that Joshua Tree has to offer, though the impeccable friction is. You can find routes of every grade and style, whether you want to jam up splitter cracks, puzzle through engaging sequences, or enjoy a wilderness experience far from the tourists.
This is all to say, whether you want to work on crack technique, practice anchor building, learn how to place cams and nuts, or improve your route finding, Joshua Tree can be the perfect classroom to meet your goals.
Learn From a Local: Why I'm Happy to Call Joshua Tree Home
Soon after my first visit to Joshua Tree in 2007, I started working there as an outdoor educator, then later as a rock climbing guide. Watching the tentative steps of young climbers testing their rubber on the rock brought me right back to the moment the friction clicked for me on The Swift.
For years, I returned to work in Joshua Tree seasonally every fall and spring. In the early days I lived out of my truck, nestled among the boulders in Hidden Valley Campground, climbing classic routes before breakfast. I found myself staying longer and longer each season, connecting with the people as much as the landscape. My third year there, I finally moved into a house in town, surrounding myself with an eclectic, tight-knit community of climbers, naturalists, park rangers, and artists.
I've called Joshua Tree home since 2012, largely because it is one of the best places for rock climbing in the United States. I now run High Desert Guiding, where I get to pass on the skills I've learned as a long time Joshua Tree local. The best part of my job is providing new and seasoned climbers an experience that meets their personalized goals.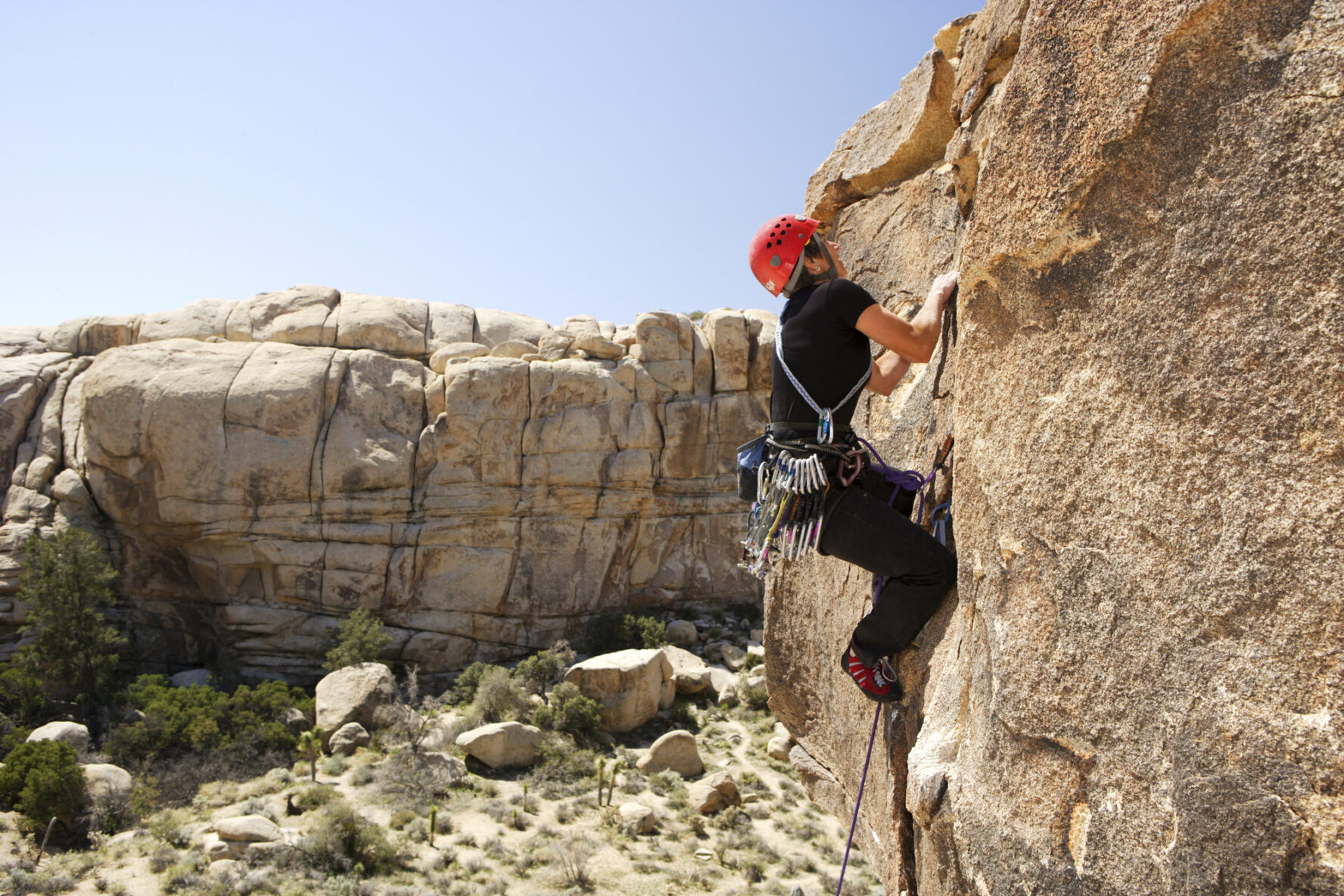 Welcome to the Desert: Getting Oriented in Joshua Tree
What do you need to know to go lead climbing in Joshua Tree?
With over 8,000 routes, climbers of all skill levels can find what they're looking for in Joshua Tree. Though I've emphasized the delicate footwork for which Joshua Tree is known, there are plenty of featured face climbs that bear closer resemblance to an indoor gym. Beginners may find these a friendlier introduction to outdoor climbing. For more seasoned climbers, there are countless opportunities to develop new movement patterns and technical skills.
Advanced techniques in traditional lead climbing are required for many of the routes. Few climbs feature bolted anchors with rappel rings, so getting off the top of a rock formation can be as complex as the climb itself. Solid route finding and risk management are key to safely descending.
A word of warning: be cautious of any route listed as "sport." Due to the historically bold style of route development, most of the bolted climbs are runout, with bolts that are spaced far apart. This can come as a shock for folks new to the area.
Geology: how the unique climbing style came to be
The monzogranite—found throughout the park—formed as fingers of molten rock thrust toward the earth's surface. The rock cooled slowly underground, resulting in granite with the large crystals that bite into your shoes and help you stick.
Eventually, the cooled blobs broke under pressure and cracks formed. Ground water seeped through weathering any sharp corners. Erosion was next, washing away the surrounding soil and revealing the characteristic dome-shaped rock towers we see all over the park.
This geologic history contributes directly to the climbing experience; countless times I've made my way up a splitter crack, only to find it petering out onto a low-angle slab near the top of the dome. Luckily the big crystals keep the friction high.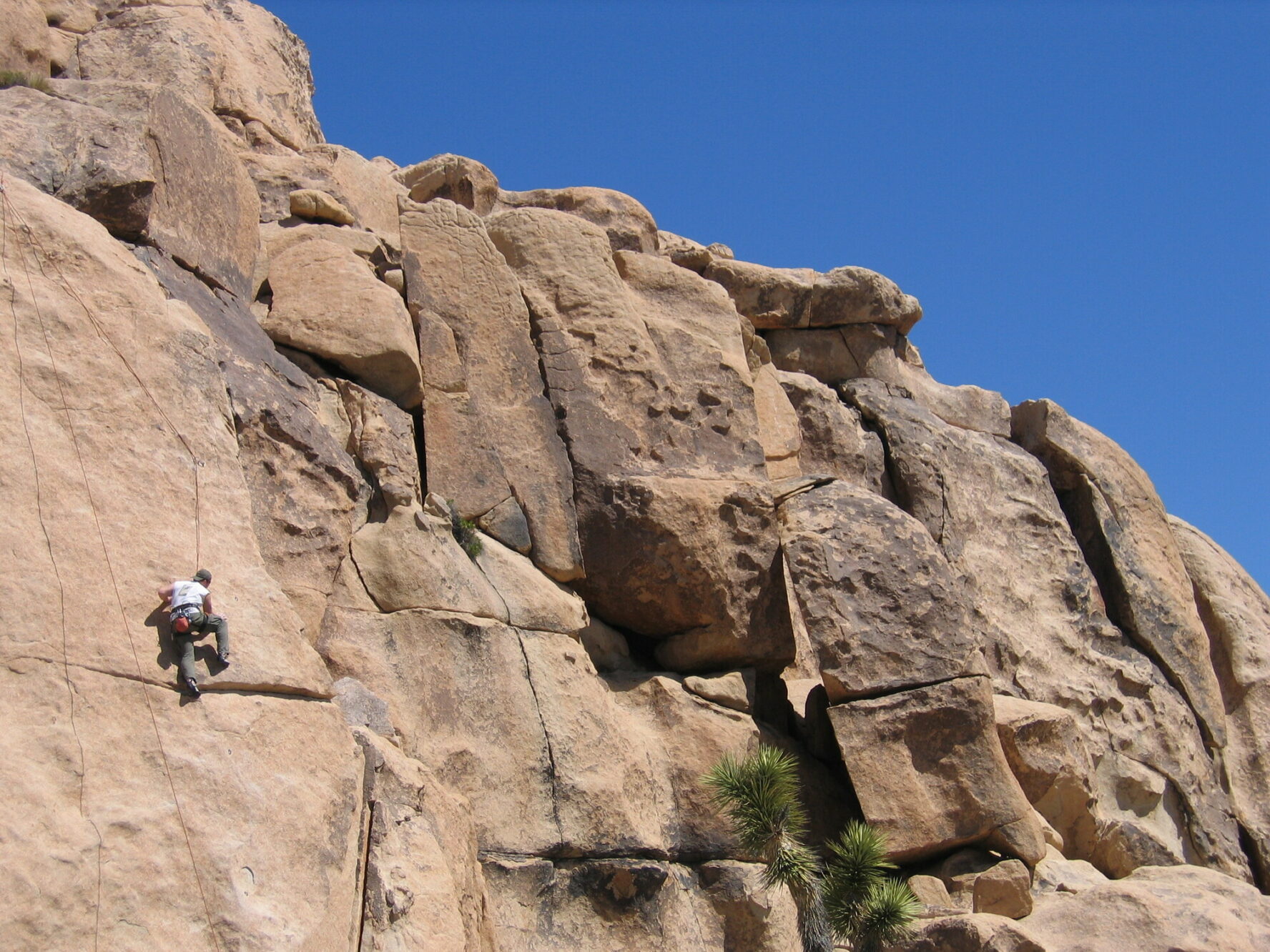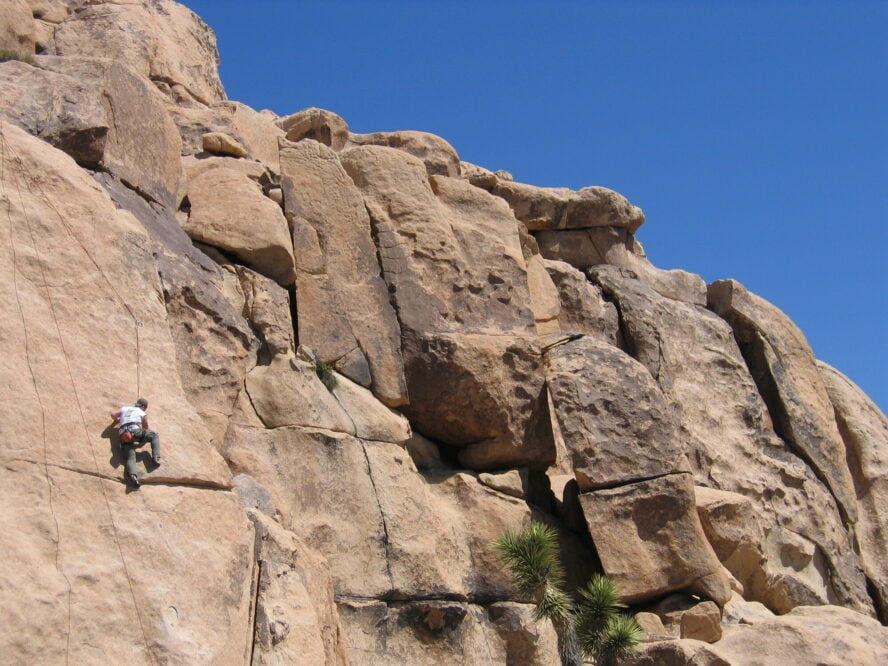 Climbing history: Early explorers of the stone
The first climbers in the area initiated an ethic and style that you will experience every time you climb here. Early ascents began in Joshua Tree in the 1940's, though the area experienced a climbing boom in the 1970's as the Stonemasters of Southern California transformed the desert into their winter hangout. Climbing legends like John Bachar and Lynn Hill were regularly spotted around the Hidden Valley Campground.
Today, Joshua Tree is known for its bold style; climbs were often established from the ground up, meaning bolts were placed while the first ascensionist was leading. This resulted in the spaced out bolts and mentally engaging climbing that the park is famous for. Sometimes I curse the old school developers when I'm wishing for an extra bolt or two, but I can also thank them for the strong mental game I've developed over the years.
Visiting the park today
Joshua Tree's popularity has exploded in recent years. The relatively short drive from several major cities and nearby airport in Palm Springs has made the park a popular destination for not only climbers, but also hikers, tourists, and Instagram influencers looking to make their mark on the best Joshua Tree hikes.
While roadside climbing may be crowded on weekends during the busy seasons, there are still thousands of routes to choose from. A short hike offers plenty of options, and I often venture into the Wonderland of Rocks on weekends to enjoy some solitude.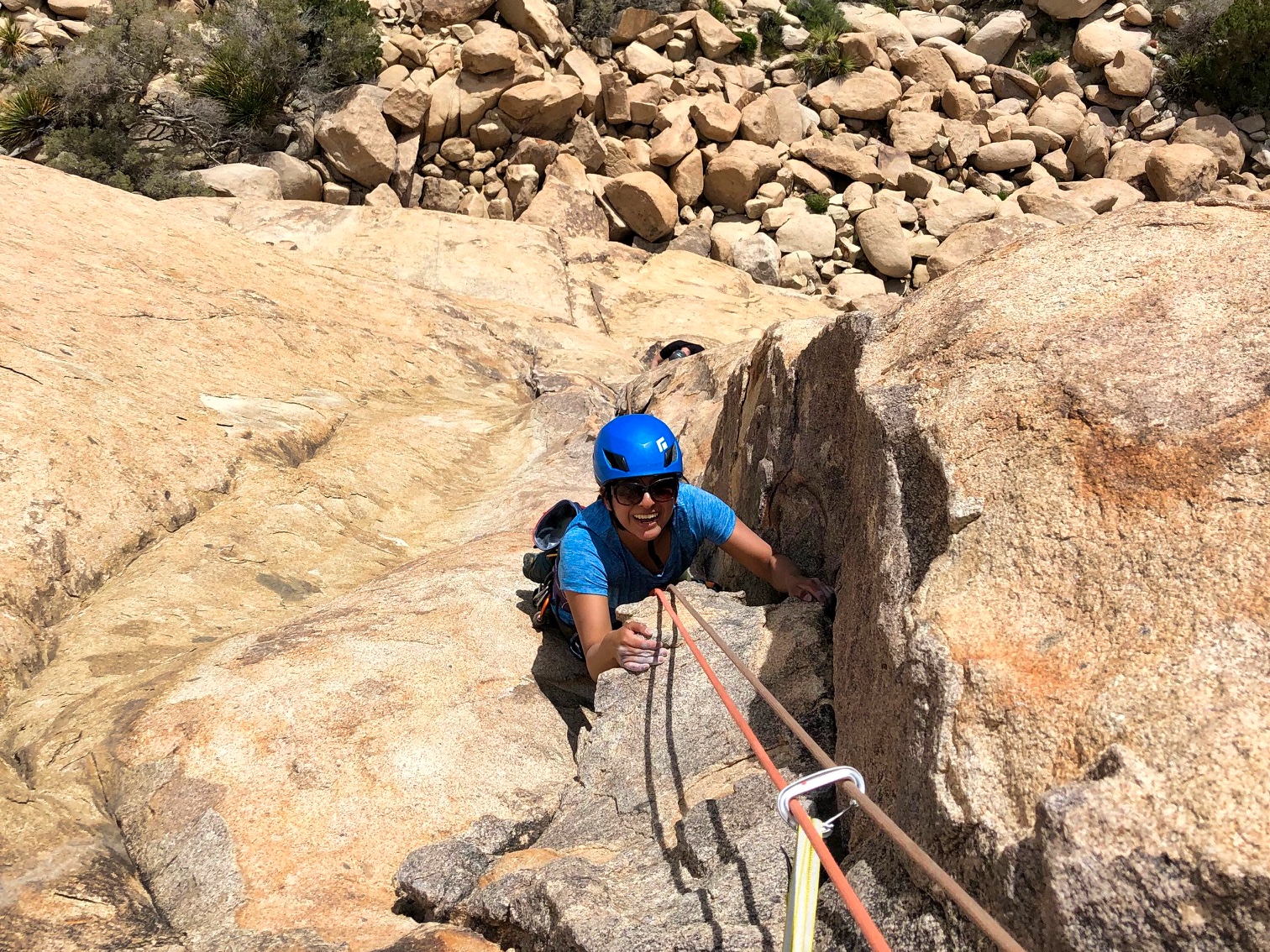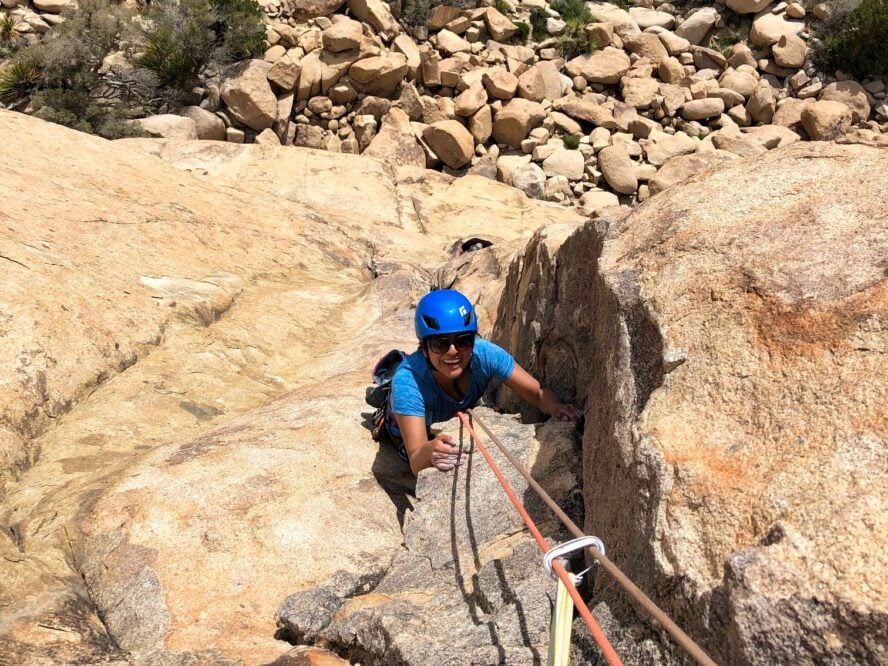 101: Lead Climbing in Joshua Tree
Depending on your prior experience, learning the basics of trad lead climbing typically takes two or three days. The best way to do this is by taking a course with a certified guide to jumpstart your journey. You'll practice everything from proper gear placement to anchor building to crack technique. Before your first lead, it is often common to perform a "mock" lead on top-rope as you gain comfort with the new systems.
The key skills
Gear Placement
The main difference between leading a sport climb versus a traditional climb is the protection used by the climber. On a sport climb, there are fixed bolts in the rock for the climber to clip into as she moves upward. Traditional climbs feature little-to-no fixed protection, requiring the leader to place gear. A wide variety of camming devices and nuts are used to protect traditional climbs, and in a course you'll get to practice placing many different types of gear.
Crack climbing
Traditional climbs are most often protected by placing gear in a crack—along with your hands, feet, and body—as you ascend the route. To move with confidence in this new terrain, you'll learn the basics of hand and foot jams, finger locks, chicken wings and more.
Anchor building
Those used to lead climbing sport routes may expect to find a set of bolted anchors at the top of a route, offering an easy descent via rappelling or lowering. Not so here. Instead, the leader must build an anchor using trad gear or natural features and belay their follower from the top of the climb. The climbing pair then scrambles or climbs down from the formation.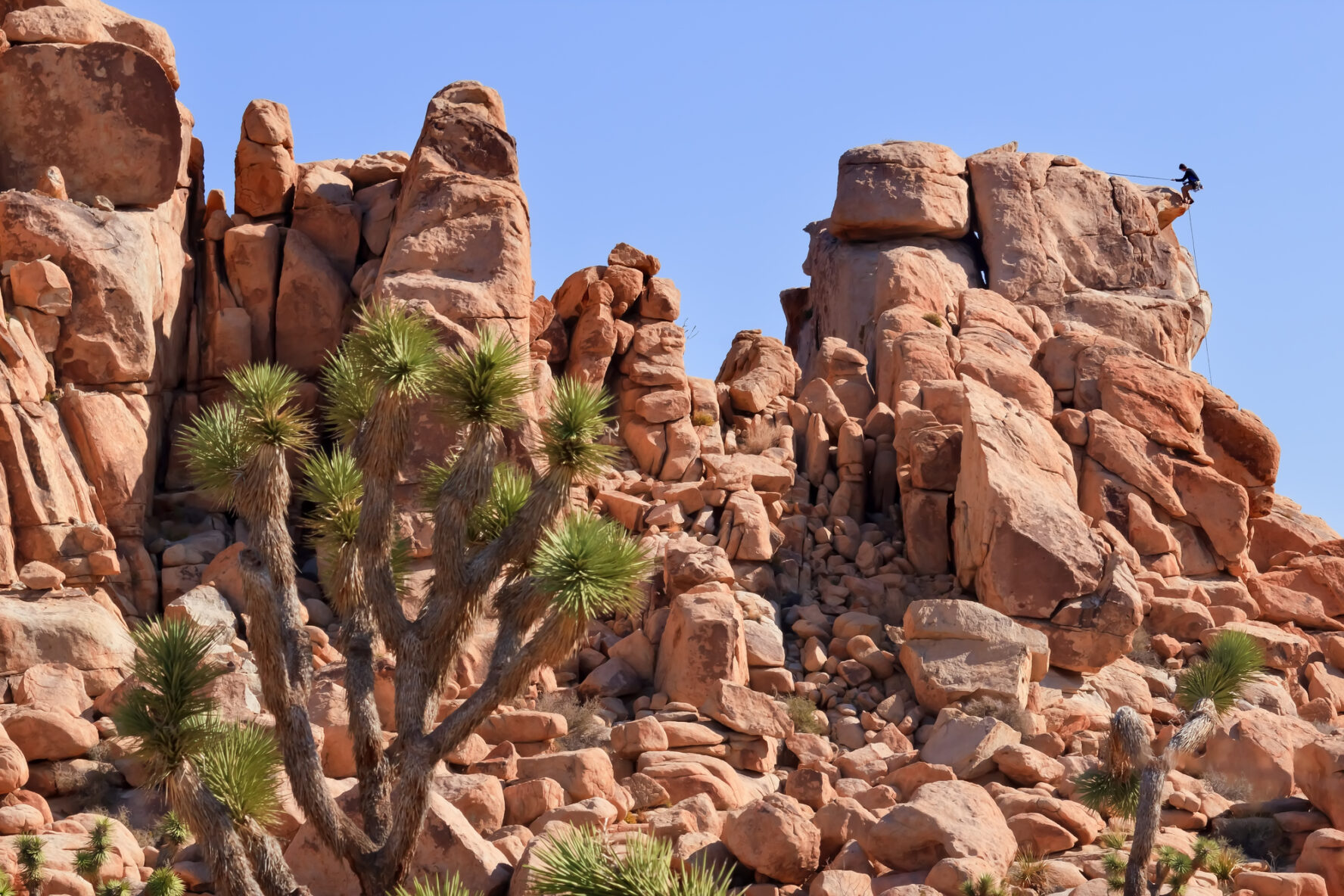 A typical lead climbing progression in Joshua Tree, or elsewhere
You don't need to be a seasoned climber to start leading, but you should be comfortable moving on rock before you start placing gear. If you feel good top-roping or leading sport climbs, a trad leading course could be a great next step in your climbing career.
Here's a general idea of what to expect in a course:
Day One: Practice placing gear and start mock-leading
On day one, you'll get acquainted with the equipment, learning the pros and cons of different types of traditional gear. After some practice placing gear in cracks close to the ground and receiving feedback from your guide, you'll get started with "mock" leading. You'll be protected from above with a top-rope, trailing a lead rope to clip into cams and nuts as you go. Areas with a variety of moderate routes, like The Thin Wall or Atlantis Wall, are good options.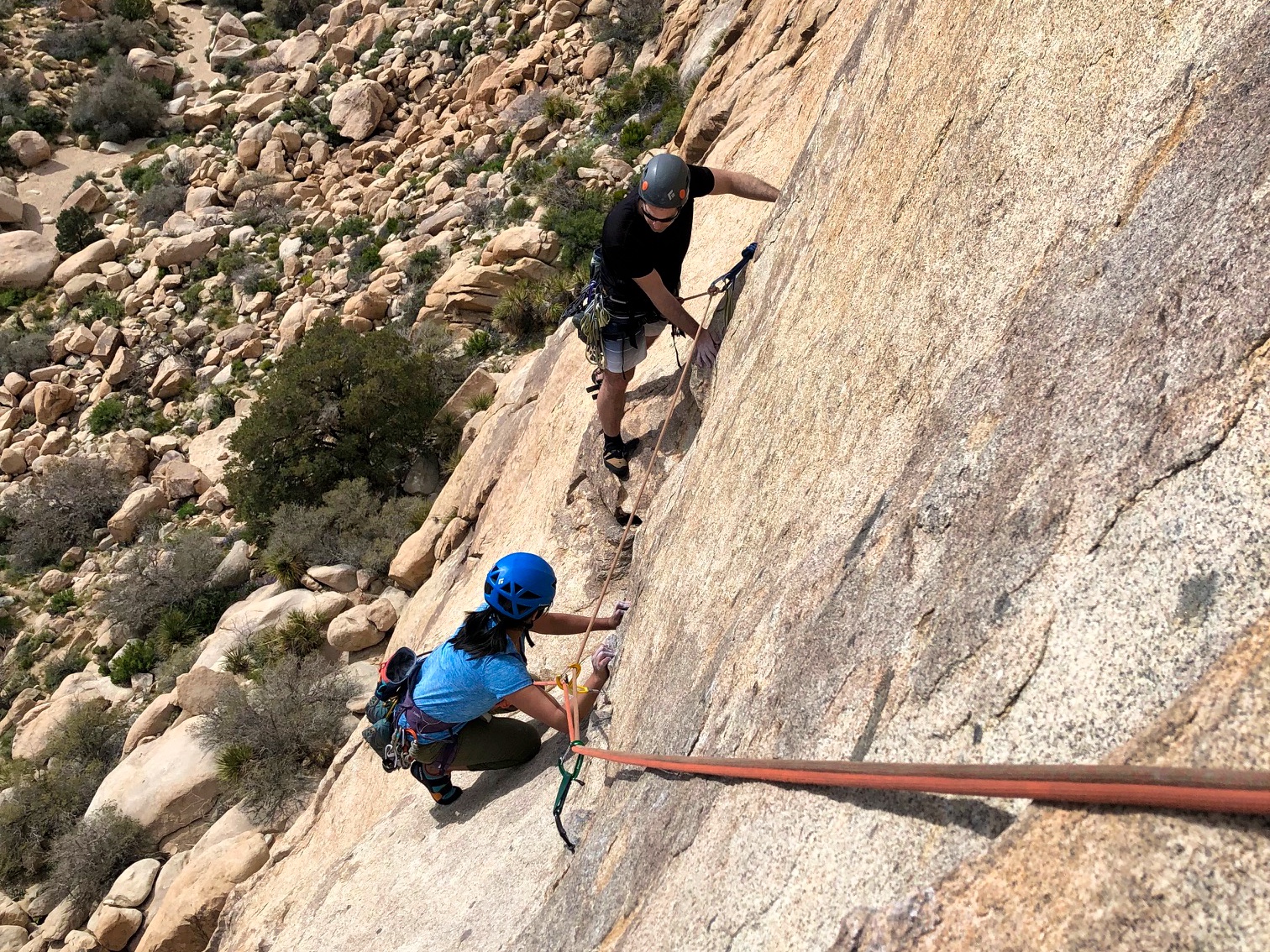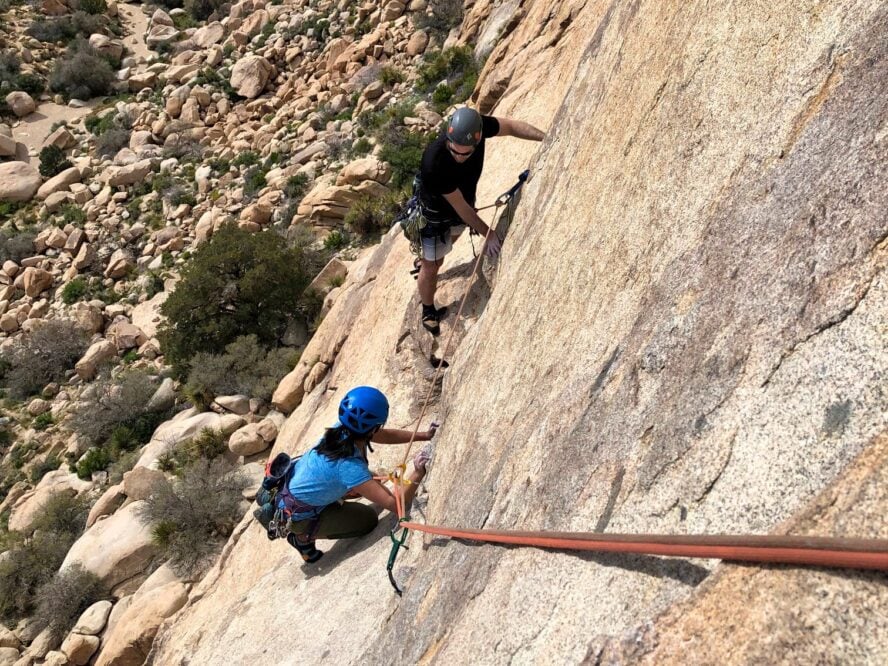 Day Two: Anchor building, top-belaying, and more practice
On the second day, you'll work on building anchors with traditional gear and how to belay a follower from above so they can remove your gear as they climb. You'll continue to get mileage placing gear while mock-leading, receiving feedback from your guide on each piece of protection. Before your first lead climb, you should feel confident that your gear will catch a fall, so practice and feedback beforehand is critical.
Day Three: Use new techniques to lead your first climb
If you and your guide feel confident in the progress made, you can put all your new skills together to lead your first climb. A local guide will be able to pick a good first route that offers solid protection and good stances for placing gear. By the end of the third day, you'll have learned the skills to place gear, build an anchor, and belay your follower from above.
Note that completing a real lead isn't a given for every student. Self-evaluate your progress and be honest. Talk with the guide and decide together whether a lead is a realistic next step. A guide's goal is to help you increase your competence as a climber in a safe environment.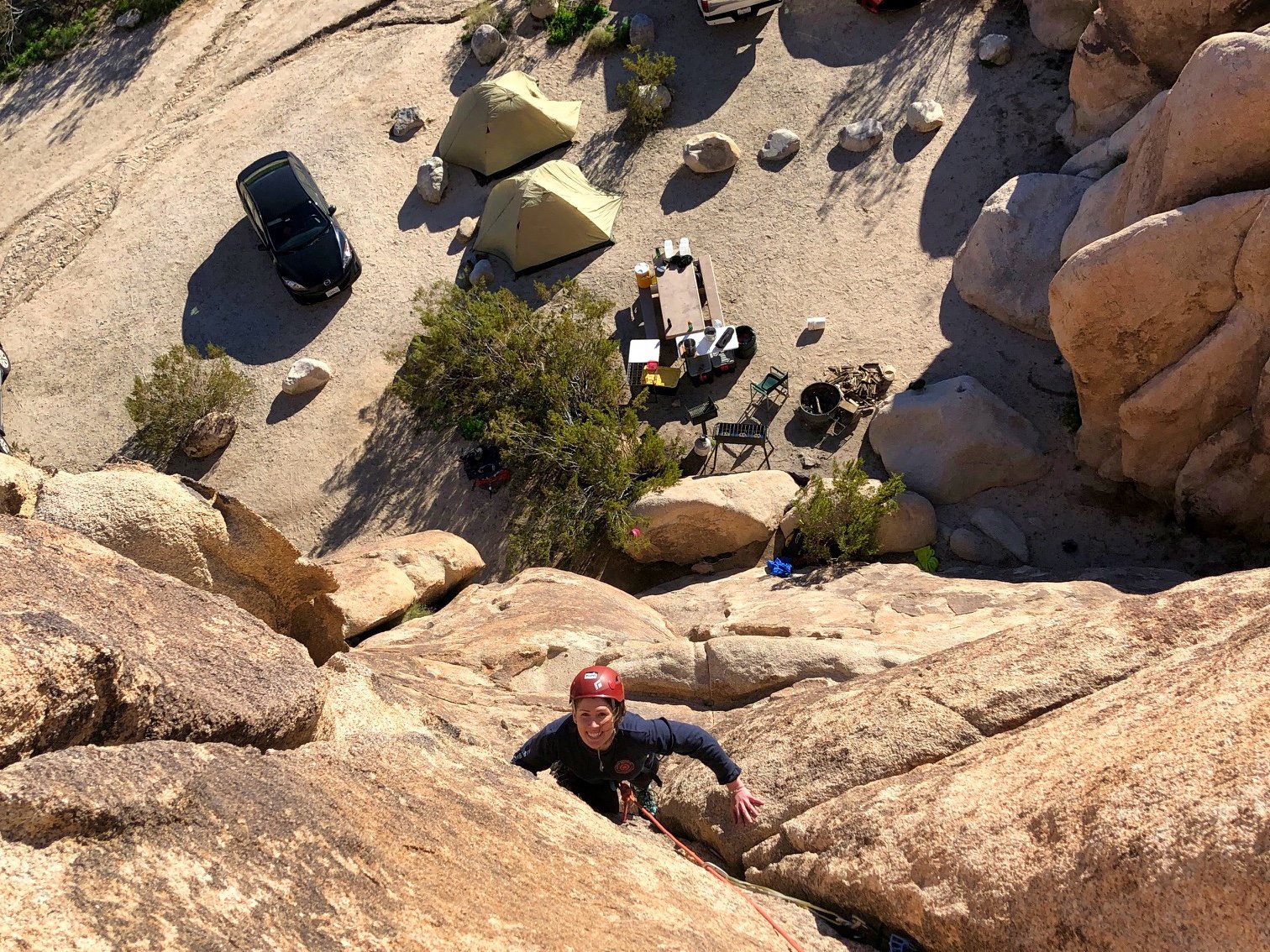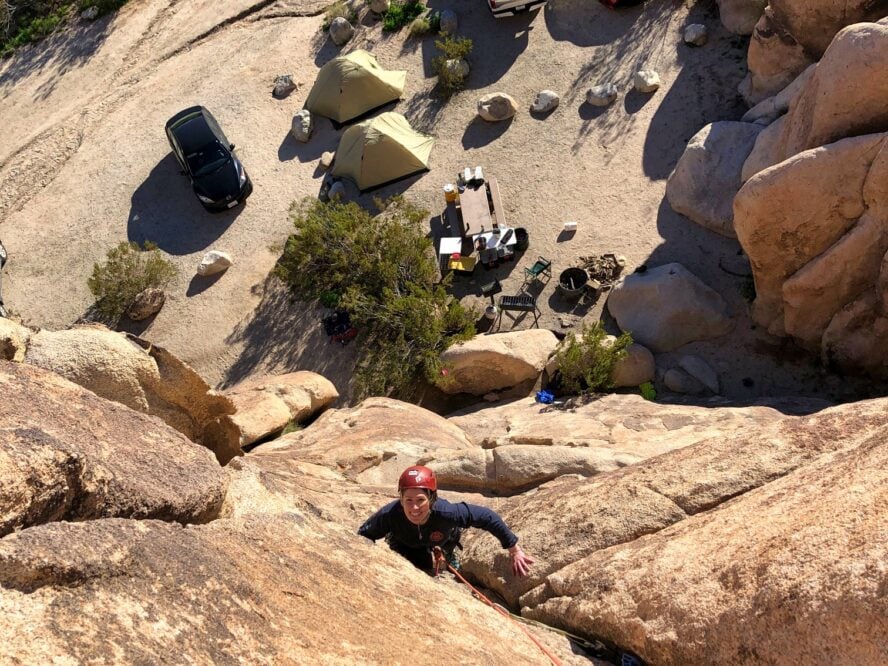 Practice Your New Skills: The Best Beginner Lead Climbing Areas in Joshua Tree
The best way to gain confidence with traditional climbing is getting lots of repetition on safe and protected routes. Here are a few great beginner-friendly areas:
1. Indian Cove
Lower in elevation than the main park, Indian Cove's sheltered and sunny crags are my favorite spots on a cold, windy day. There are tons of beginner face climbs, and lots of crags in close proximity to one another, so it's easy to get a lot of climbing in.
2. Lost Horse Valley
Some of the park's longest routes can be found here, making it a good place to practice multi-pitch transitions. In particular, the Lost Horse Wall has quite a few long routes, including The Swift, my first-ever climb in Joshua Tree. You can find varying difficulty here, ranging from grades of 5.5 to 5.10 and harder. This versatility makes it a great spot for climbers of all abilities.
3. The Wonderland
Come here for a wilderness climbing experience, free from the crowds in Hidden Valley. The approaches can feel adventurous—between thirty minutes to an hour—and often involve more scrambling than walking. The upshot is more quietude and a chance to explore more of the park.
Fun fact: Joshua Tree's cracks are not perfectly parallel which makes gear placement tricky. I've found that becoming competent here has translated well when visiting areas with more straightforward placements like Yosemite or Squamish, which has some of the best climbing in Canada.
From First Leads to FAs: Joshua Tree Will Keep You Growing
Even though I've been climbing here for 14 years, I continue to find routes that challenge and inspire me. If I've picked up anything: Joshua Tree always has a lesson to teach climbers willing to learn.
Are you totally new to climbing or looking to transition your skills from gym to crag? Head out for a guided day (or three) and before long you'll be ready to go lead climbing in Joshua Tree!