Climbing in the City of Rocks: Answering a Silent Call
Early cultures made their mark on Idaho's City of Rocks. Today, modern-day climbers imprint new meaning on the landscape: it's a training ground for the next generation of female climbers.
A vast and timeless landscape of weathered stone defines Idaho's City of Rocks. The pinyon pines whisper memories of Native Shosone tribes and the ruts from wagon wheels tell tales of emigrants who passed through here. Now, the footprints of modern-day climbers mark the landscape, sculpting a new era for these granite domes.
I grew up exploring this remote rock playground, intrigued by the remnants of its past. As an adult, I left to pursue my dream of becoming a rock climbing guide, but returned often. When I felt the call to create a network for supporting female climbers and guides, I knew I had to build it in the City of Rocks.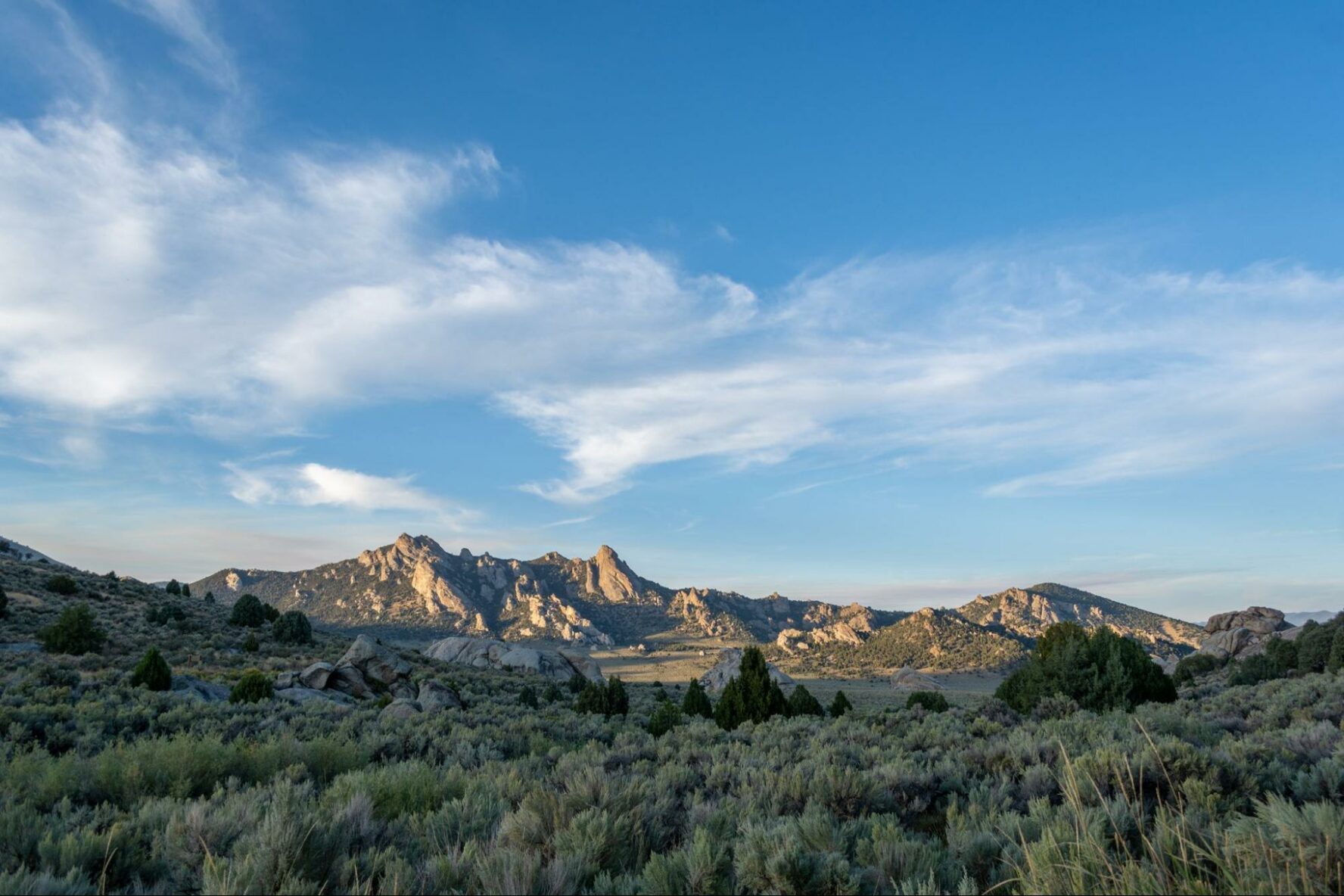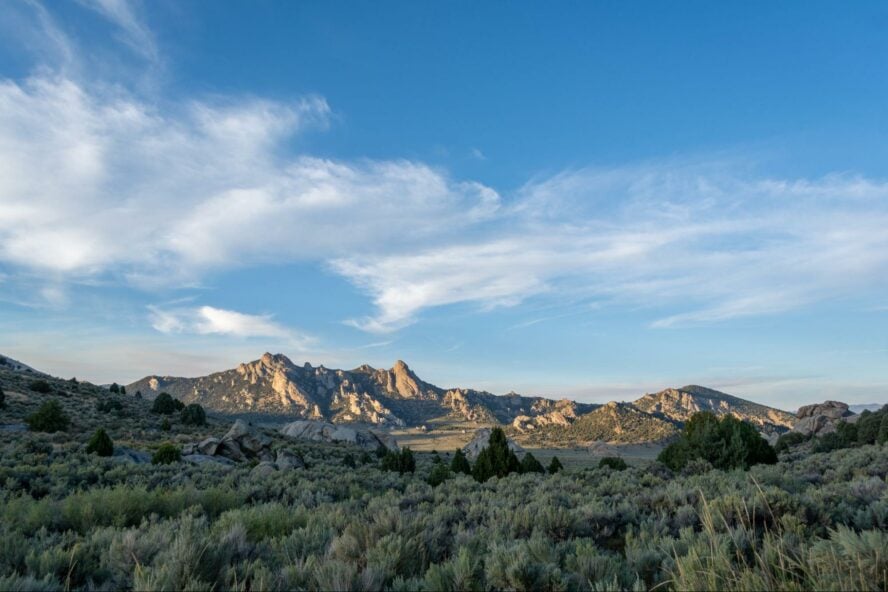 Pros and Cons of climbing in the City of Rocks
Rarely will you find crowds
Home to many historic routes
Great climbing for all levels on high-quality granite
Limited access to supplies
Few options for accommodations
Climbing in the City of Rocks
City of Rocks is located northwest of Salt Lake City in rural Idaho, just over the Utah-Idaho border. With proximity to two major metro areas, it's a popular destination for weekend warriors from Salt Lake City and Boise.
There are more than 600 world-class sport and trad routes ranging from 30-600 feet in length. Routes cater to climbers of all abilities and styles, from moderate 5.6 multi-pitches to 5.12 single-pitch test pieces (with a sprinkling in the 5.13 and 5.14 grades). There's bouldering here, too, but it makes its mark for being an "oldschool" 5.10- 5.11 heaven.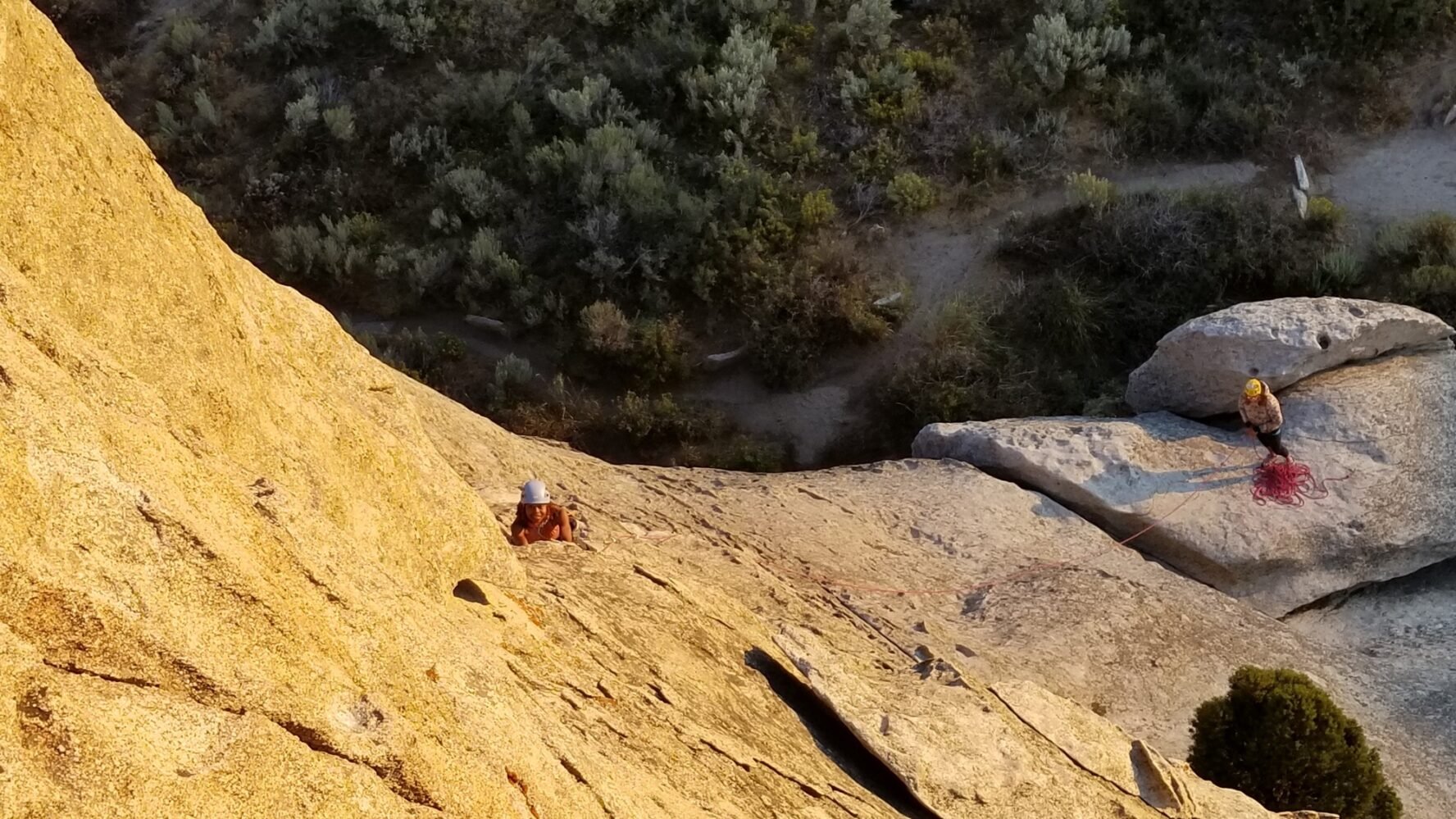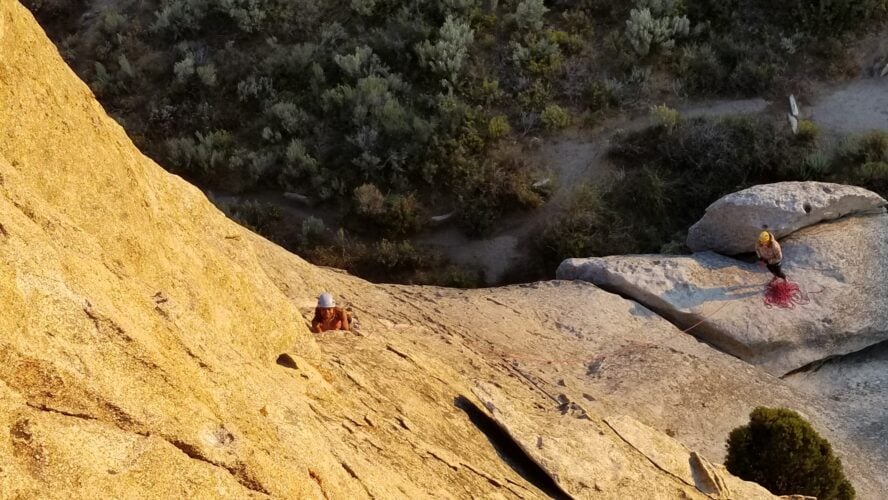 Face climbing at its finest
Routes in the City of Rocks are defined by knobs, huecos, and quality rock, making it one of the best granite face climbing destinations in the country. Although some climbs are bolted, the area boasts an overall "mixed" nature, so you'll want experience placing gear to fully enjoy the climbing.
Skilled in the art of slinging chickenheads? You'll find that useful here. The plentiful vertical crack features are sustained but forgiving, suitable for jamming pros and those who desire to learn the technique.
When to climb at City of Rocks
May through September are the best months for climbing in the City of Rocks. You may be surprised since temperatures can head above 90 degrees Fahrenheit in the summer, but here's how to do it: start early and chase shade. In the afternoon, take a break for ice cream or watermelon, then head back out in the early evening. Spring months are unpredictable due to its elevation at 6,000 ft, and occasional snow storms.
Through the Ages
Idaho's City of Rocks is steeped in history. The Shoshone were among the first to live in the area, hunting buffalo that roamed the vast grasslands and collecting nuts from pinyon pine trees.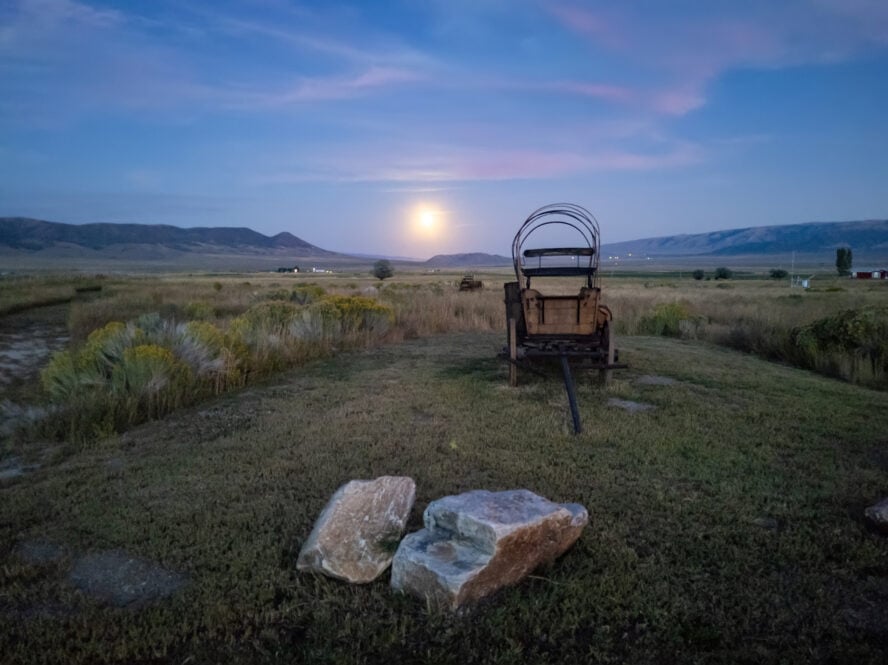 A trail west
City of Rocks became an important landmark for emigrants on the California Trail. The granite towers signified a step closer to a better life for the almost quarter-million people who traveled here. These overlanders left evidence of their passage in wagon ruts and names written in axle grease on rock faces.
In the 1960s, recreation and tourism attracted a new wave of people to the City of Rocks, and now the Reserve is a popular destination for climbing, hiking, mountain biking, and horseback riding.
The recreation era
Climbing took off with the Steinfell Club in the 1960's and their early contribution is memorialized in landmarks such as Steinfell's Dome and Jackson's Thumb, classic multi-pitch climbs. Some of the hardest routes established by the informal group were said to be on par with hose found at Yosemite, Eldo, and the Gunks at the time—in large doing because of Greg Lowe who freed classics such as Incisor Crack (5.11) on the Morning Glory formation, a total butt kicker by modern and old school standards! He opened the door to 5.12 too in the area.
At the turn of the 80s and into the early '90s, City of Rocks was at the leading edge of sport climbing in America—and was a hot bed in the bolting wars. The whole area was almost closed to climbing as a result, and now new route development and access is restricted to limited areas.
Climbing in the City of Rocks you can't help acknowledging the history. You see it in the tafonis and panholes, pictographs and signatures, and feel it in the presence of the spires and monoliths. This area inspires those who pass through, and for me, it provided motivation to help shape the future for female climbers.
City of Rocks: Birthplace of The Women's Network
I grew up as a "city girl", but instead of asphalt alleys, I wandered the wild corridors between granitic high-rises and scaled split level spires. Living so close to a major climbing destination, I pursued climbing as a lifestyle, as far-fetched as that seemed for a female at the time.
My guiding journey began in 1985 when I started working with Sawtooth Mountain Guides. Becoming a full-time climbing guide was arduous as I was one of a few women going through the AMGA track at the time. Albeit intimidating, I've never been lacking for motivation.
In the '90s I met I met Doug and Emily Coombs, Owners and Founders of Valdez Heli-Ski Guides. I was hired as their office manager and worked my way into tail guiding. That's when I knew that I could work full time, year-round as a guide.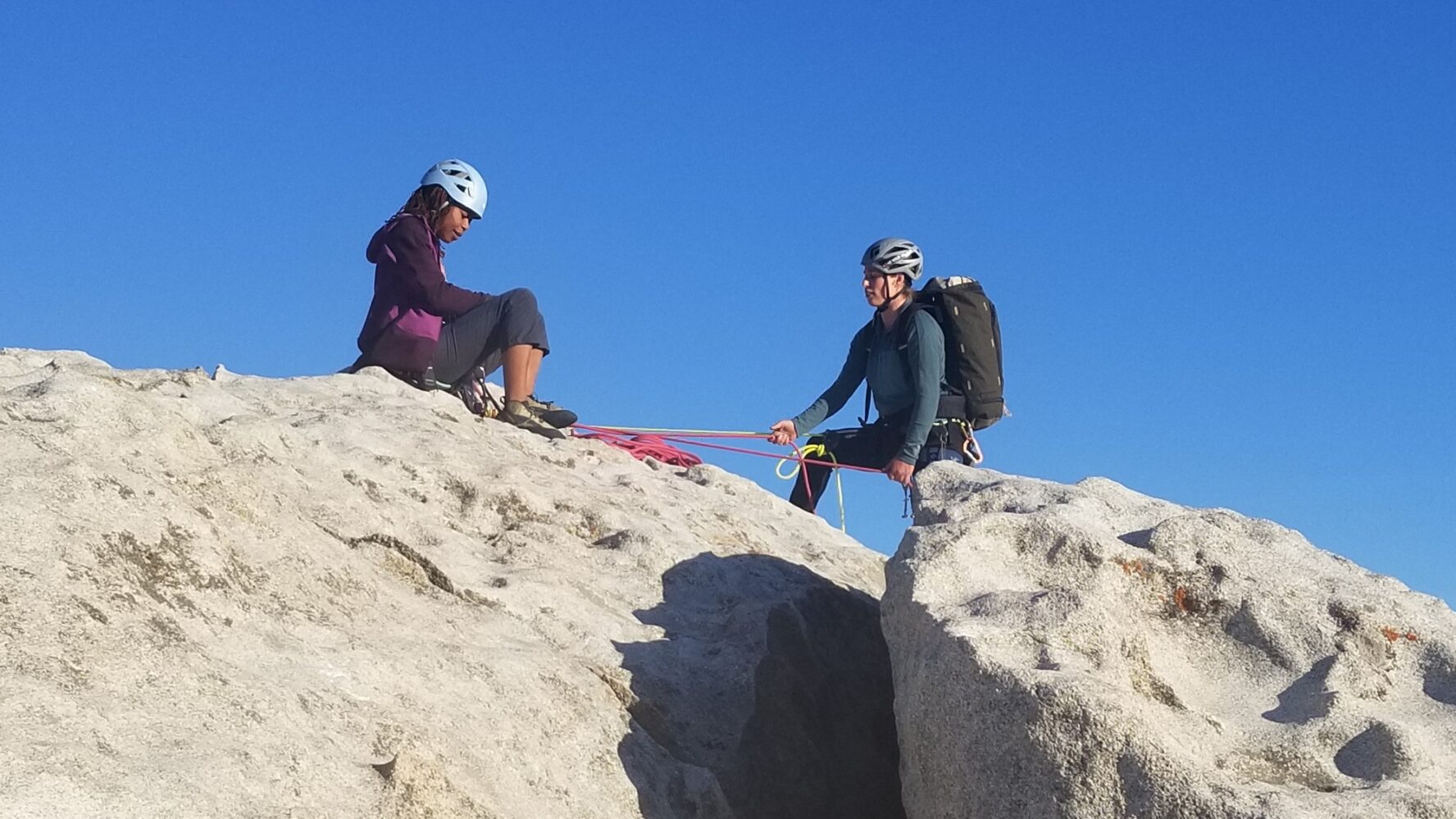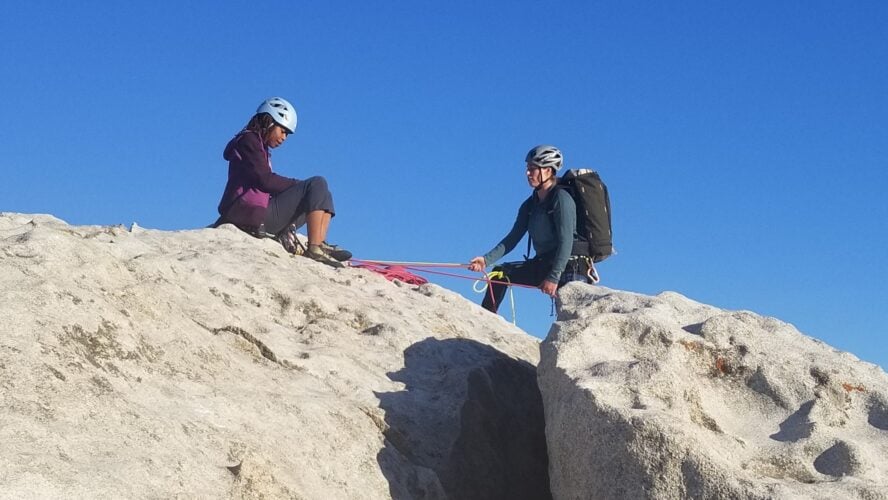 In 1998, when I began working for Jackson Hole Mountain Guides in the Tetons, Winds, and Red Rocks, I was still one of a few women and thronged with bookings. Through my days out with clients I began seeing some groups of women having the time of their lives, and I thought, all women should have access to those kinds of fun outdoor relationships. Since the first events in the '90s, I've watched new generations of female climbers and guides come up and flourish and go on to teach others. Times have changed, and it's for the better.
Where to Climb in the City of Rocks
1. For beginners: Castle Rocks
With its short approach and bolted anchors, Castle Rocks is the best area for beginners. It's home to the most concentrated area of climbs on low-angle rock, ranging from 5.6 to 5.10. I recommend Zinger, a 3-pitch 5.8 jug haul. It's important to know that while most areas are free to access, Castle Rocks charges a $5 per vehicle day use fee.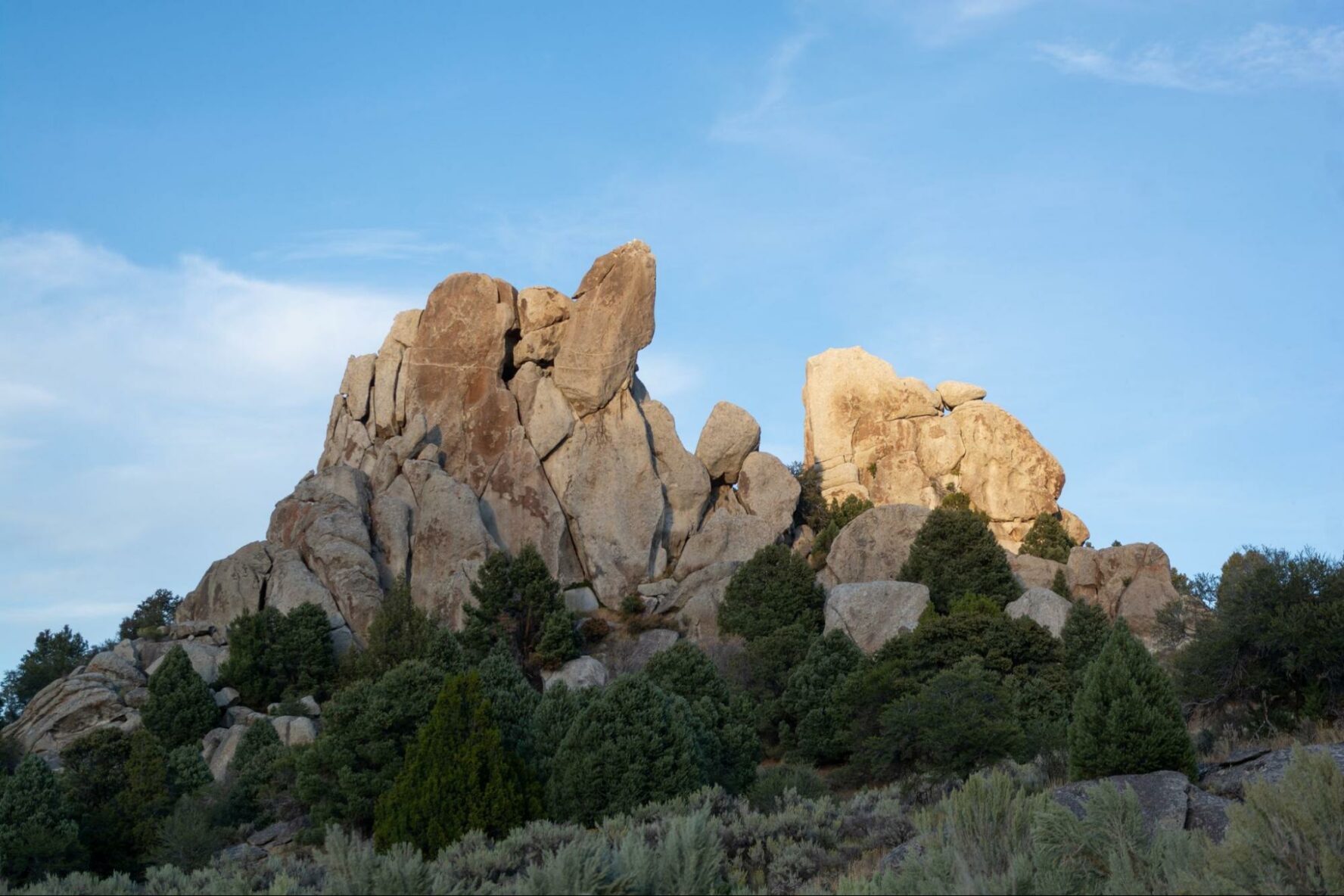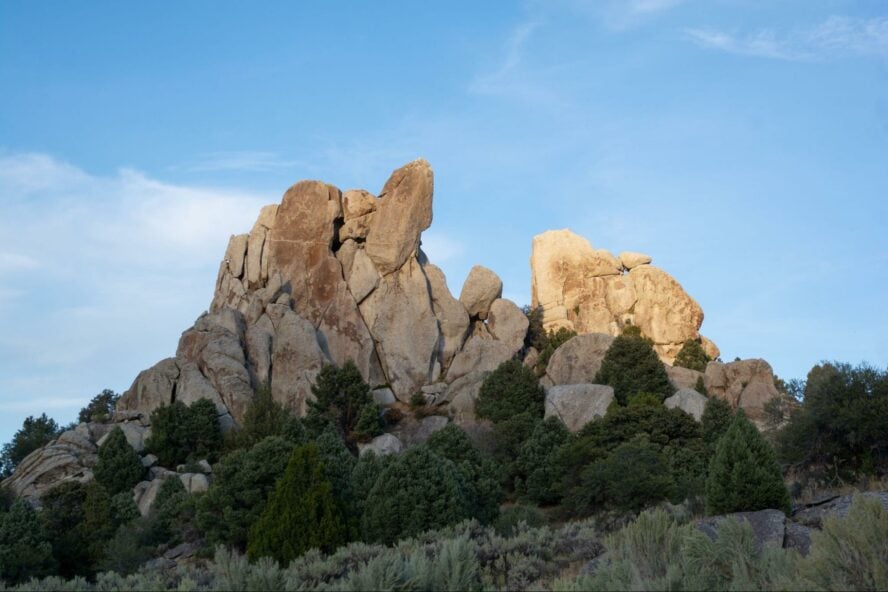 2. For Classics: Elephant Rock
Elephant Rock is home to some of the most popular climbs that City of Rocks has to offer, most in the 5.7 to 5.11+ range. Wheat Thin (5.7) is fun no matter what grade you climb. Other classic routes include Rye Crisp (5.8) and Strawberry Fields (5.10). With northeast and east-facing rock, it's a great afternoon and evening climbing destination. And the approach is less than two minutes from your car.
3. For crack climbing: Upper Breadloves
If you're looking for a handful of quality crack climbs, check out Upper Breadloaves. Adolescent Homosapien (5.7) and Carol's Crack (5.9) are beginner to intermediate friendly, while Interceptor Crack (5.11a) is deceptively steep, but one of the most amazing hand cracks.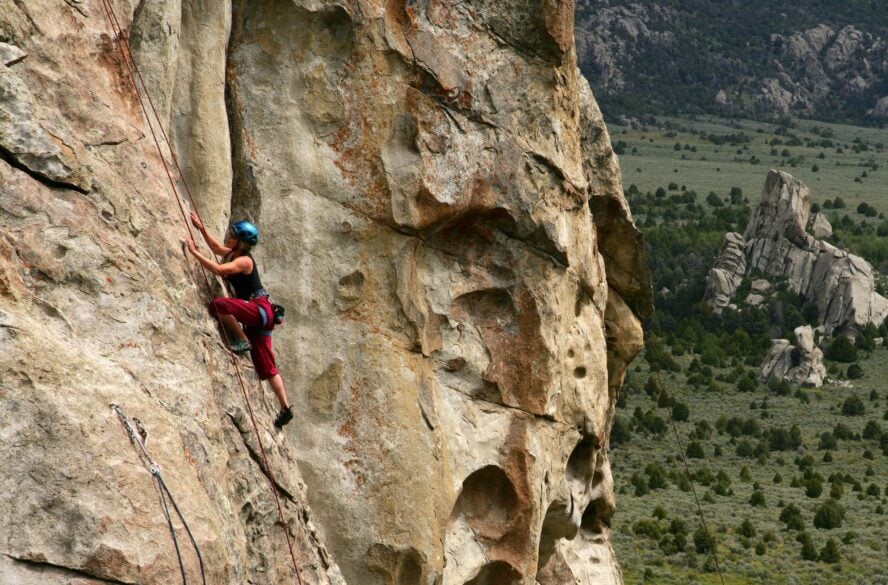 Good To Know Beta for Climbing in City of Rocks
Getting Around
Navigating the City of Rocks is possible with most low clearance vehicles, but if you plan on camping on BLM land, expect to navigate some obstacles. At a minimum you'll need good tires.
Accommodations
There are 64 standard campsites spread across Twin Sisters, BreadLoaves, and Juniper which cost $12/night. During peak season and on weekends, it's recommended to reserve a site in advance.
If you are coming to the City of Rocks in an RV, Smokey Mountain, run by the National Park Service, is the best place to camp and is guaranteed to be open. It costs $24.00 per night and offers running water and hook ups, flush toilets, showers and trash pick up.
City of Rocks RV is a great locally owned campground with Tent and RV sites. Also you can get cell service here if you have AT&T.
If you want to stay in a hotel, the Almo Inn is my recommendation.
Food and other things to do
City of Rocks has very few businesses. You'll be able to pick up essentials in either Almo or Oakley, two nearby small towns. Check out Tracy's General for basic groceries. If you don't feel like cooking, you can enjoy fresh pizza and a beer at the Rock City Mercantile. If you're looking for somewhere to soak after a long day of climbing, the Durfee Hot Springs are equipped with four hot pools.
Guidebook
For the best beta on climbing in the City of Rocks, check out Dave Bingham's guidebook, City of Rocks.
Leave No Trace
Due to recent budget cuts, there are no garbage cans in the park, so prepare to pack out all your trash. Also, there's virtually no cell service or Wi-Fi in the immediate area.
Women's Network All Women's Climbing Camps
Can't make it to City of Rocks? There are plenty of rock climbing camps available.
You can join us at the Colorado Craggin' Camps at venues like Rocky Mountain National Park and Eldorado Canyon for gym-to-crag and multi-pitch workshops. Soak in the desert scenery of the Women's Climbing Weekend in Red Rock for an intro to leading, and learn the techniques and moves necessary to climb splitter cracks at the Women's Crack Climbing Weekend in Moab.
Climb in the Silent City
Idaho's City of Rocks redefines the word "cityscape". While staggering 60-story rock formations mimic a modern skyline, the tittering birds and musky Aspen let you know you're nowhere near. This is a place for quietude and connection, with the past and friends. And climbing. It is a very personal thing, ideally shared with the next generation.
Allow your inner "City Girl" to shine through on a guided course with Aimee while tackling the finest granite walls of the historic City of Rocks