Local AMGA Rock Guides Share Climbing Etiquette in Red Rock, Nevada
If you want to climb like a local in Red Rock, here are the seven climbing etiquette tips you need to know before you go. 
We're both AMGA Rock Guides who live in Las Vegas and guide extensively in Red Rock Canyon. We know that places like Red Rock are becoming popular and that with crowds, inevitably comes more impact. Growth will continue, but if people act responsibly and follow the local etiquette, they will minimize these impacts and keep places like Red Rock well-maintained for future climbing generations to enjoy.
Part of our role within the climbing community is to educate people, advocate for local organizations, and help grow the sport in a sustainable way. So, before you head out to enjoy Red Rock's picturesque sandstone, here's the local climbing etiquette you need to know and follow.
Etiquette Tip #1: Don't Climb on Wet Rock
The #1 thing that tends to get locals most fired up is definitely when they see people climbing on wet rock. When people think of Vegas, they think of dry, desert landscapes, but even the city can be much drier than the Spring Mountains, where the Red Rock Conservation Area and most of the climbing is located.
The two main concerns for climbing on wet rock are personal safety and permanently altering routes.
Joel Enrico — AMGA Rock Guide and Leave No Trace Trainer
The beautiful red sandstone that makes Red Rock a world-class climbing destination is a type of sedimentary rock, so it's a moderately soft stone, and when it becomes wet, the bonds of the sediment become incredibly weak. Because the rock is softer than granite, for instance, its strength tests are a lot lower in general. You need to be careful even on a dry day. On a wet day, you need to be especially careful because your protection can get ripped right out of the rock, and that's not fun for anyone.
Then, there's the issue of destroying the routes themselves. Some really classic routes have become permanently altered, becoming a lot harder with the loss of some holds. What we've seen in these harder climbs is that the movement is so specific that when you take away one hold, it makes the route a full grade harder. That's that we've seen the most of — a key hold will break, and it just gets much harder.
The holds and cracks are very fragile and can be permanently damaged by climbing on them. If it's a route with few holds, a broken hold can change a classic 5.12 into a 5.14 that no one wants to climb.
One website that's a great resource is wetrockpolice.com, which allows you to monitor the precipitation in Red Rock. But, you also need to assess for yourself once you've arrived at your climbing spot. People see that the rock is wet, but they may just totally disregard what they literally see: the wet sand and the wet dirt. That's the one thing that's gonna get people most fired up. So, even if the website says it didn't rain, that doesn't mean that your intended objective is dry.
What you should do:
It takes a little extra energy, but we recommend that you take the added step and call a local guide service or gear shop to get reliable information. To take any guesswork out of the game, opt for hiring a guide. You can also check the Vegas Climbers Facebook page for current conditions. Obviously, the walls will dry a little bit faster than the ground because they see more sun, but if you're already thinking the rock will be wet, take the conservative approach and don't climb on it.
Have plans A through F! After a rainfall, it's best practice to wait 24-72 hours before climbing. If it's looking like rain might be the forecast, there's always the limestone sport crags to check out.
All Vegas climbing involves a little driving, and the Spring Mountains have it all. There's no need to take the added risk with the amount of limestone we have in the area, which is oceanic rock and isn't affected by the rain at all. Even after a good rain, it tends to dry within a matter of hours. On those wet days, we have thousands of routes 40 minutes from Red Rock — even limestone crags 10 minutes away—and it's all great climbing. Check out The Gun Club or Lone Mountain, and Mount Charleston is an excellent choice for world-class sport climbing.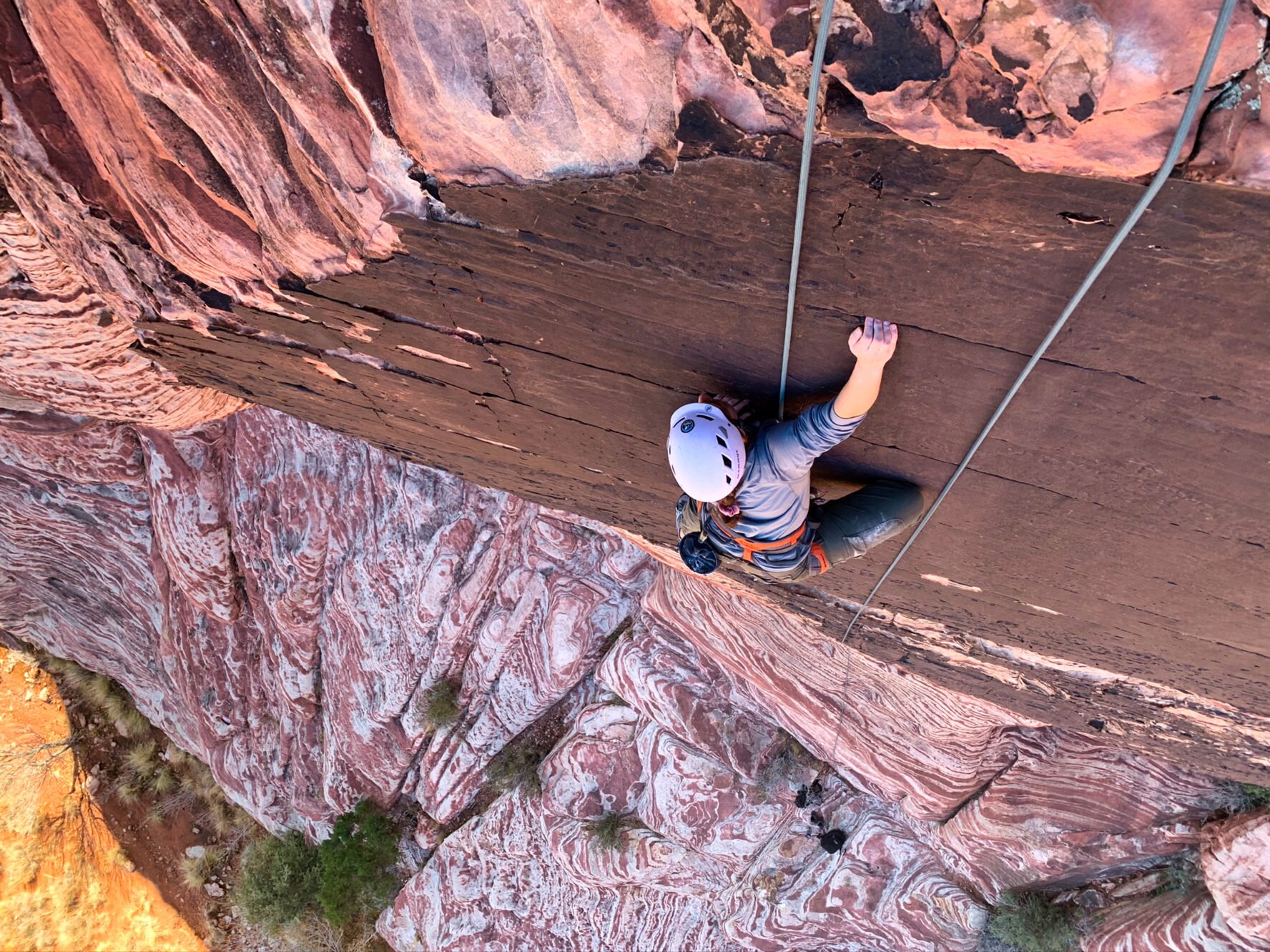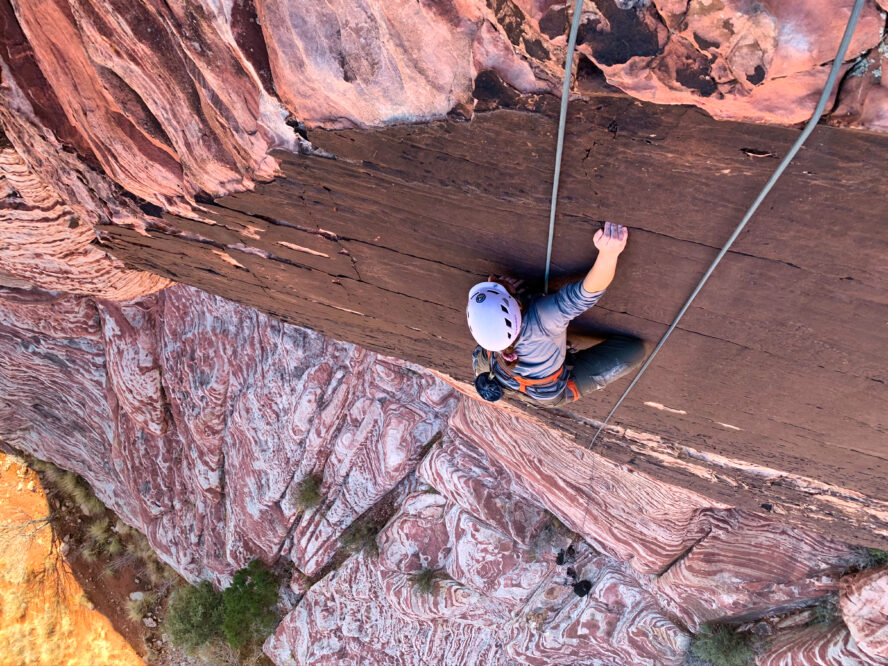 Etiquette Tip #2: Follow Leave No Trace Principles
Human impact is becoming an increasing issue in outdoor spaces, including trash, trampled environments and human waste. Red Rock Canyon is no exception. Micro-trash — little scraps of climbing tape, the wrapper from your power bar, cigarette butts — is a growing concern in Red Rock.
What you should do:
No matter where you go adventuring outdoors or what the activity is, it's important to always follow the 7 Leave No Trace Principles. If you pack it in, pack it out, and if you see trash, pick it up.
'Pack it in, Pack it out' is a familiar mantra to seasoned wildland visitors. Any user of recreation lands has a responsibility to clean up before he or she leaves.
Carry a trash bag in your pocket and be ready to use it! Clean up the dog poop when you see it, and clean up the micro-trash — the banana peels and everything else you find. If you do carry out a trash bag, please don't drop it at the trailhead; dispose of it properly.
Be responsible with using rest stop bags or wag bags (bags used to collect and carry human waste in the backcountry). If you don't have your own, there are FREE bags available at different zones around the conservation area, like the Black Corridor, so do use them, and make sure to throw the bag away!
The same goes for your pooch, too. Dogs are allowed in Red Rock permitted they're leashed, but make sure to pick up your pet waste and properly dispose of it.
It's not just packing out your trash that falls under Leave No Trace. It's leaving an area the same way you found it, so don't veer off the trail and trample the ecosystem to find a shortcut to your next route.
Look for existing access trails to boulders and be aware of crash pad placement. Do not crush or trample vegetation found along the edges of trails, boulders, or at the base of walls.
Etiquette Tip #3: Brush Your Tick Marks
This piggybacks off the Leave No Trace rule above, but another thing that can become a problem in Red Rocks is tick marks. Tick marking is taking the chalk and making a dash near a handhold or foothold. It's incredibly detracting when you come to a climb for the first time to see a line of white dashes going up the route. Certainly, a climb is much easier if someone has found the holds for you, but it takes the challenge away from other climbers to have that opportunity to figure out the climb for themselves
What you should do:
Once you're done working or projecting a route, brush those tick marks off. It's that simple!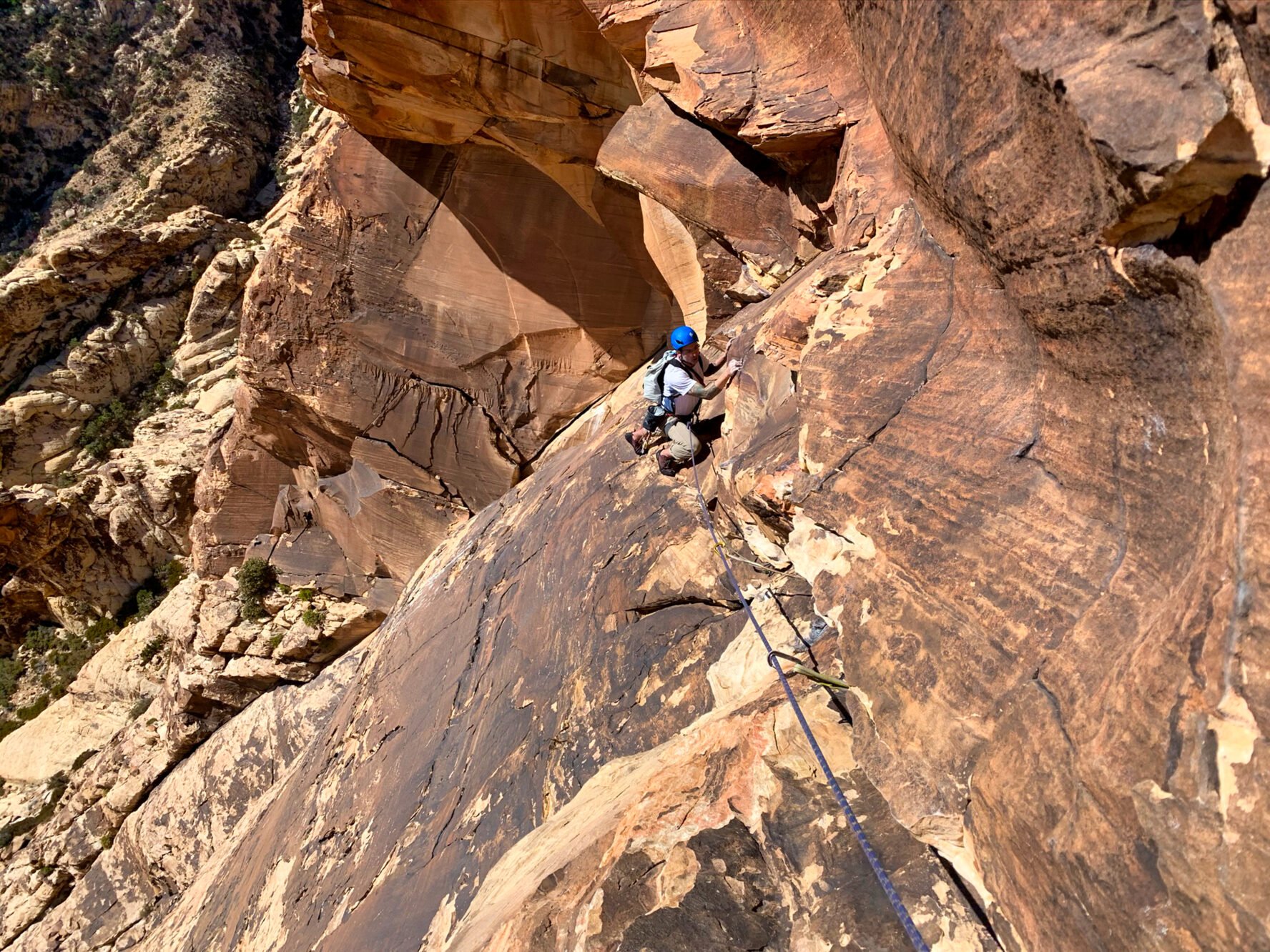 Etiquette Tip #4: Avoid the Crowds
Red Rock Canyon is arguably the best place to climb in the USA and as such, it's becoming increasingly popular. The classics can and will become crowded, especially during weekends and holidays. The area has become so popular that it's starting to move to a reservation system to enter the loop road in Red Rock Canyon. You can get your pass from Recreation.gov. From 6 a.m. to 8 a.m., no reservation will be required, but from 8 a.m. until the end of the day, a reservation will be required for every vehicle going onto the loop road. There's also the option for a late exit pass if you want to stay a little longer.
What you should do:
People need to have multiple plans for the day, especially if they don't get there first thing. Parties that are there before you have the right of way. You'll make everyone's day more enjoyable by going to a new climbing area. Make sure you read the Bureau of Land Management (BLM) website for information regarding climbing in Red Rock. You can find info on bivy permits, rules, access, safety tips along with the phone number to call climbing staff if you have any additional questions.
There are thousands of climbs in this area. Don't get too attached to one route or another.
Joel Enrico — AMGA Rock guide and Red Rock local
Which leads us to the next rule:
Etiquette Tip #5: Be Considerate of Others
If you're going to climb like a local in Red Rock, make sure you play nice! The 7th principle of LNT, is to be considerate of others, which encompasses everything from being mindful of your group size to where you lay your gear down to the language you use to remind folks of the local etiquette. With more climbers entering the scene and rock climbing camps becoming an increasingly popular way to develop new skills, it's important for everyone to do their part.
What should you do:
Plan ahead. For example, if an area looks crowded, go somewhere else. Know of other areas and follow the trails there. Don't cut through the bush, please. If you see someone else not acting responsibly, politely let them know. If you are going to call someone out for something they're doing, please do it respectfully. Present the problem and present why it's an issue. If someone points something out to you, be receptive and actually sit with the information. You need to receive feedback as well as you can give it.
It's ok to climb in large groups, but you shouldn't be going to popular routes or 5-star crags if you're going to be a big team and occupy those routes for long periods throughout the day.
Joel Enrico — AMGA Rock guide and Red Rock local
Keep the staging area or the base of the cliffs organized. Don't splay your gear out or start emptying your pack right next to someone else's gear. Ask the people who are already there what their plan is and what they're looking to do next. Being respectful of those that got there a little earlier.
Get your rope out in front of your climb, and set all your other gear right nearby being careful of shrubs and foliage. This helps you lose less gear, create less impact, and will help you to not litter since all your stuff is in one pile.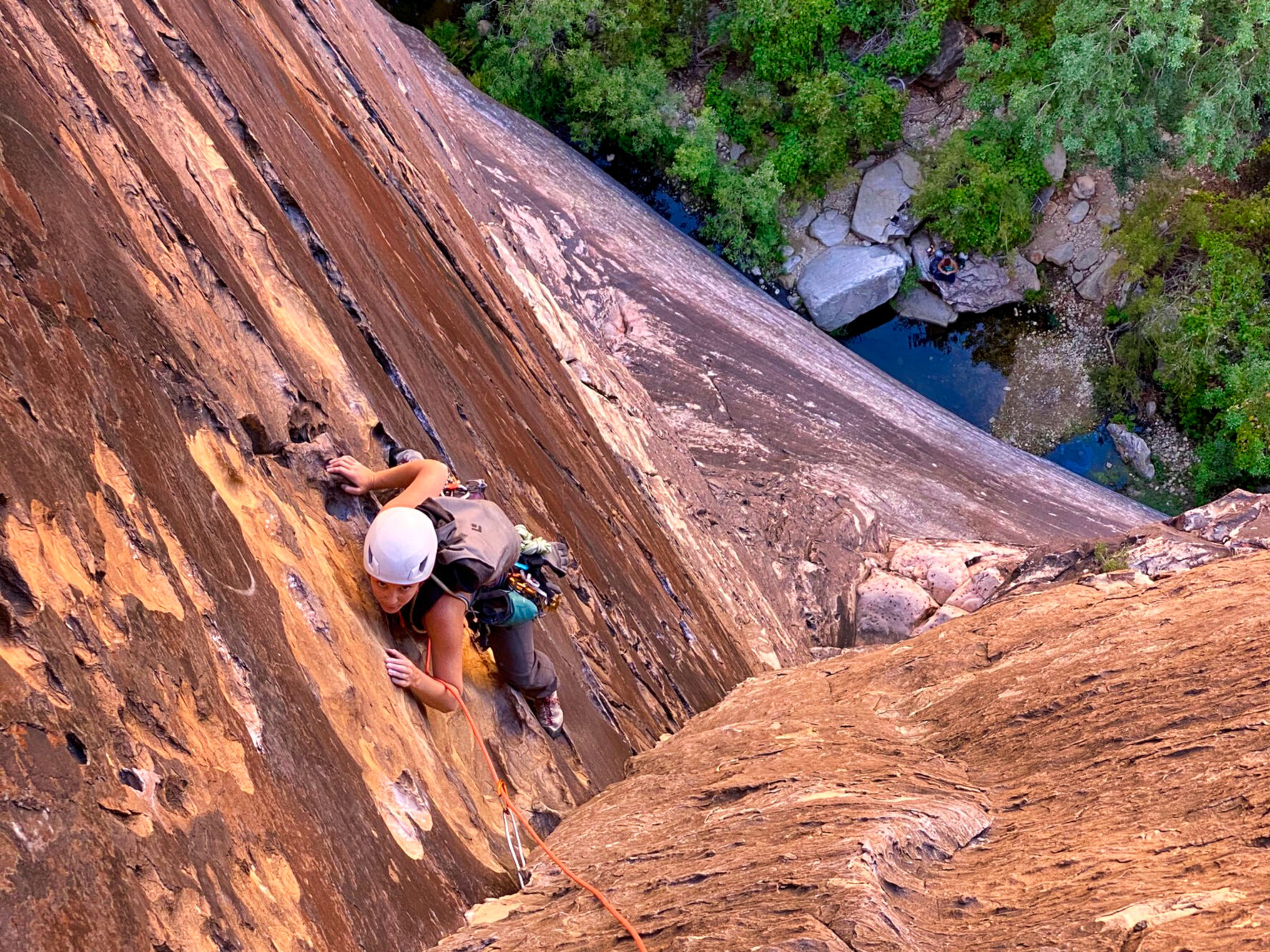 Etiquette Tip #6: No Bolting Without Permission
This one isn't so much for the out-of-towners, but it is useful information to know: there are rules regarding fixed protection in Red Rock.
You can only bolt in Calico Basin; the canyons still have a bolting moratorium.
Bolting along the main escarpment, which is a wilderness area, is illegal and should not be done. Bolting is legal along Calico 1 & 2 but should be done only after consulting the climbing staff, a local climbing shop, or [local climbing organizations].
What you should do:
You can replace bolts, but you need permission from the SNCC first. Consult the SNCC even if you're thinking about bolting an area. That's a kind gesture to locals as well.
Etiquette Tip #7: Become a Steward
When traveling anywhere to enjoy outdoor adventures, it's always a good idea to give back, especially to the local organizations that work so hard to keep these areas pristine. In Red Rock, it's the Southern Nevada Climbers Coalition (SNCC) that keeps this climbing area well-maintained.
The mission of the SNCC is to protect access to climbing in Southern Nevada by encouraging responsible stewardship and community involvement among local climbers.
The SNCC works to maintain and preserve areas like Red Rock, undertaking such things as bolt and anchor replacement, crag maintenance, trail improvement, graffiti removal, community engagement and access advocacy. All that work is done by volunteers at the coalition. And, they also provided those wag bags free of charge.
What you should do:
Put your money where you climb! It's a great idea to donate to the Southern Nevada Climbers Coalition before you arrive.
Wherever you're going, go to the local climber's coalition page, in this case, the SNCC, and read through the entire website, especially the section on local ethics.
Cody Bradford — AMGA Rock Guide and 57hours Ambassador
Educate yourselves and others. We want to sustain these areas for generations to come. Act local, think global. As cliche as that statement is, wherever you go, think about how that's impacting everywhere else and be a reasonable person. Know the rules and regulations and follow them.
Get the most out of your days on Red Rock's iconic sandstone with guided full-day or half-day climbing tours. Want to hear Cody go into more detail about what makes Red Rock the premiere climbing destination in the US? Watch his 57hours Adventure Talk on How to Climb Like a Local in Red Rock: