What You'll Gain at This Kalymnos Climbing and Yoga Retreat
Join me in Kalymnos for your best adventure yet, where climbing, yoga, community and culture come together in this epic week-long retreat!
Rock climbing has been a part of my identity since my early days, and yoga made its way into my life by necessity. As a result, my climbing technique, my physical strength and my mental fortitude grew exponentially because of my yoga practice, which is why I started introducing other climbers to yoga. I first came to Kalymnos because it is regarded as one of the best sport climbing destinations in the world, and upon arriving I immediately knew it was my happy place. I was determined to share it with other climbers and yoga enthusiasts and this week-long Kalymnos rock climbing and yoga retreat is a culmination of everything I love in a place that inspires me.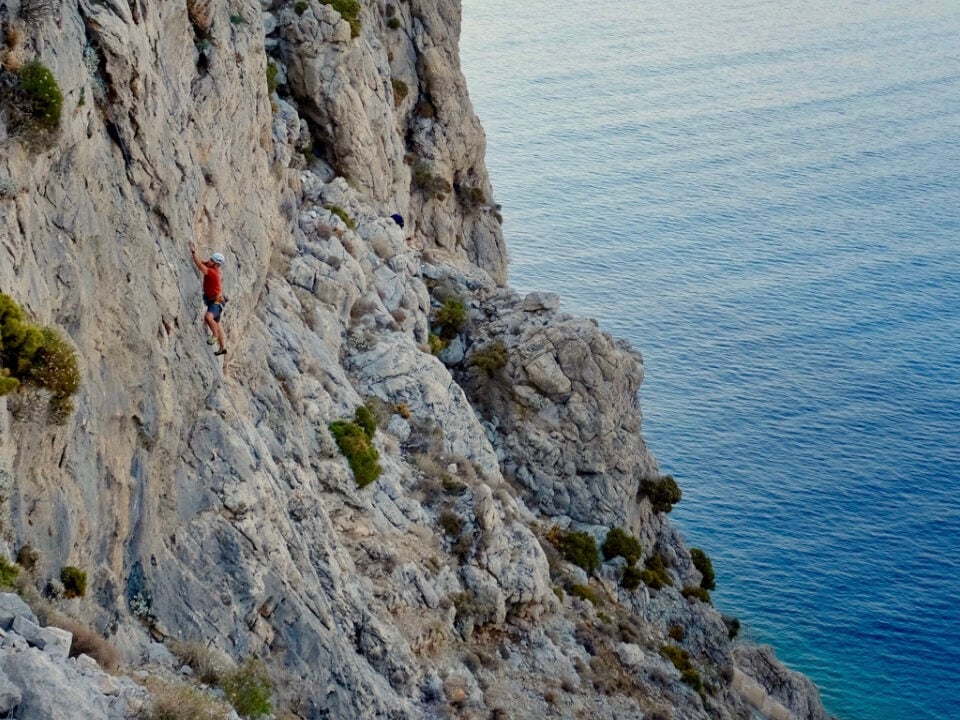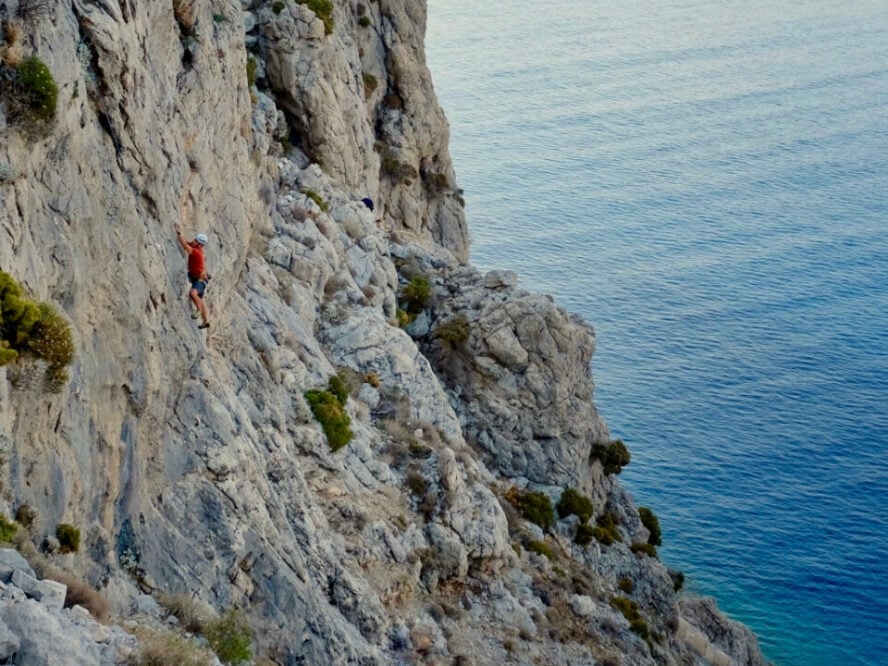 How my two passions of rock climbing and yoga came together
As a 19 year old I moved to Colorado and quickly became hooked on climbing. My climbing career started as a mountain climber, and the first time I stepped into a gym wasn't after I had already been climbing for years ( a little backwards, I know!). I was a North Face athlete and still am a La Sportiva and PMI Rope athlete, but my climbing addiction expanded to sharing it with others. Now, I'm an AMGA- certified Rock guide working towards my IFMGA certification and have been guiding for over 20 years in some of the best rock climbing destinations in the world.
Due to some sciatic problems early on in my career, I turned to yoga as a way to heal and it worked! 30 years later, I'm still practicing and teaching yoga and without it, I would be nowhere near the level of athleticism where I am today. I've discovered that these two activities are so interconnected. Everything you learn on your yoga mat — balance, flexibility, strength, conditioning — it is all used on the rock face. That's just the physical aspect, but much of climbing is mental. Yoga has helped strengthen my mind game — knowing how to come back to my breath, how to come back to my body — it makes some of the most technical routes achievable. And, in turn, developing my climbing techniques and movement on the rocks is also something that I take back into my yoga practice with me.
I decided to take my two passions — rock climbing and yoga — and bring them to Greece, the perfect setting to combine these two activities. Throw in sun, sand, amazing rock quality, culture, food and a great community, and you've got the perfect recipe for adventure in Kalymnos.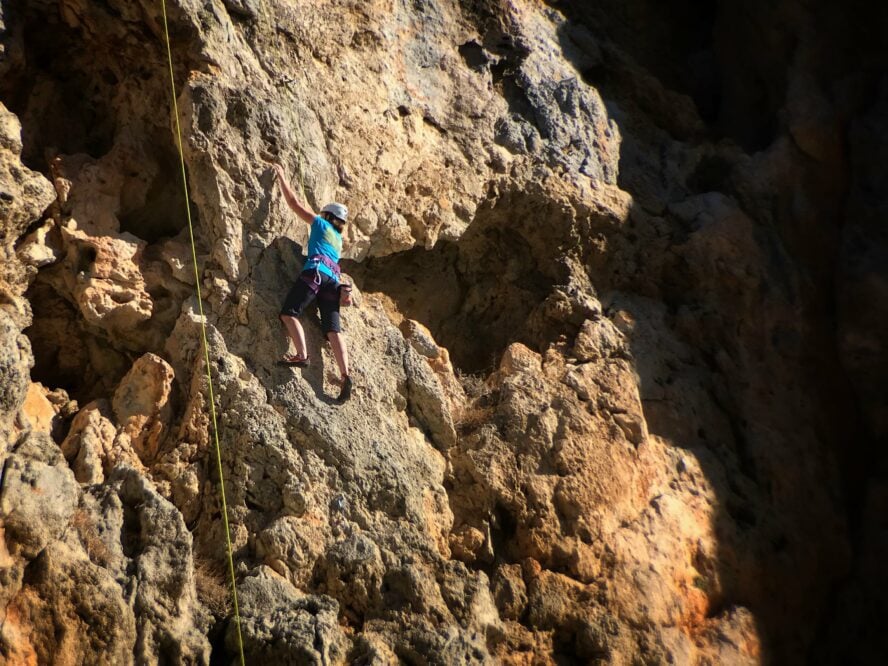 Why Kalymnos is the perfect retreat destination
As a destination, Greece is absolutely off the charts. The little island of Kalymnos is covered in rocks and surrounded by the Aegean Sea, and if I could move here, I would do so in a heartbeat — and I don't say that about a lot of places. From the moment I step on the island, until the moment I leave, I don't have a bad experience. First of all, the Mediterranean climate is crazy nice, making climbing possible year-round, but I plan my retreats for November because it's a little cooler (perfect for my climbing hands), and it avoids the peak of the summer tourist season. With well-bolted crags and a wide variety of grades, Kalymnos is an ideal sport climbing destination for climbers of all abilities.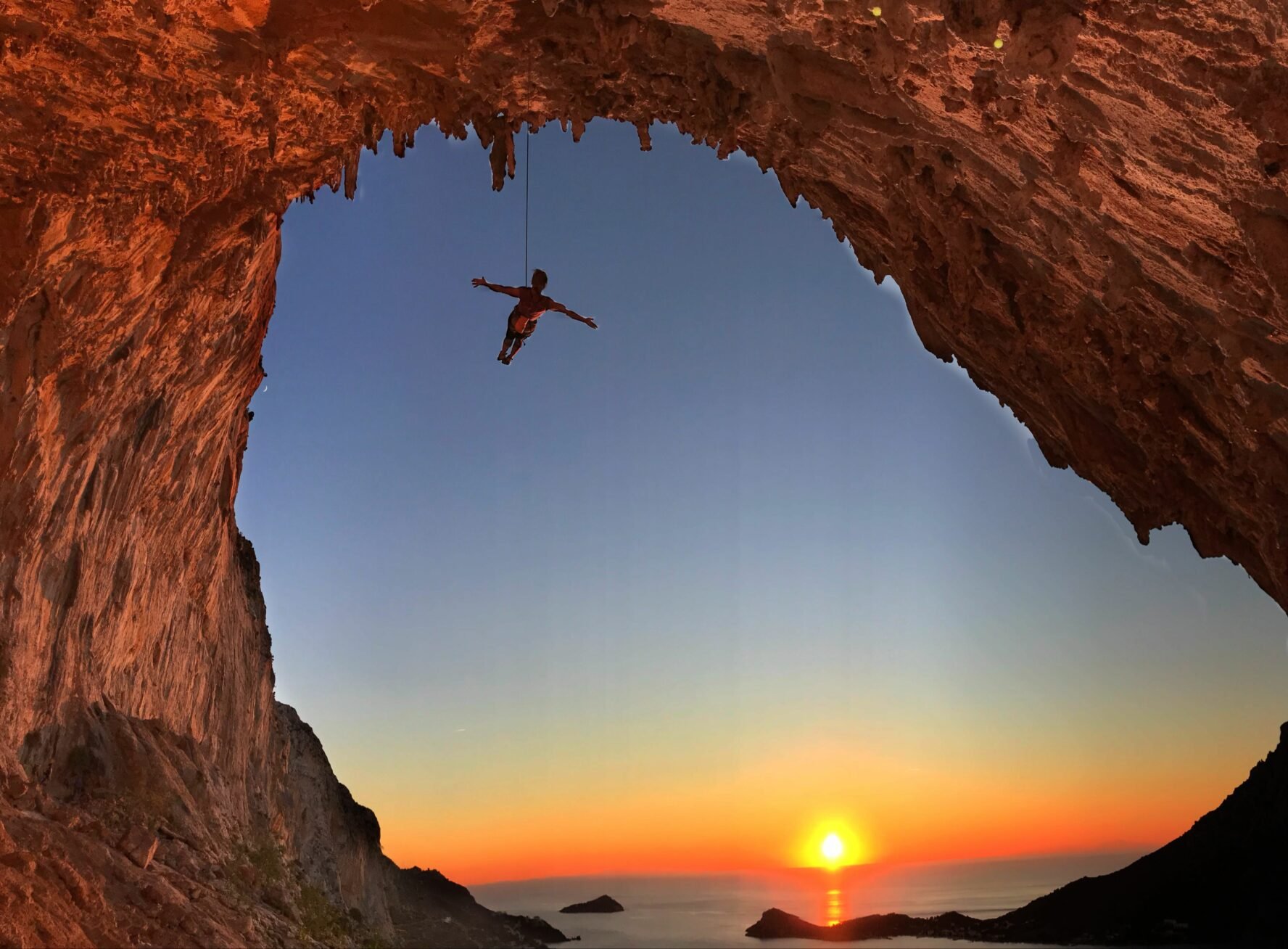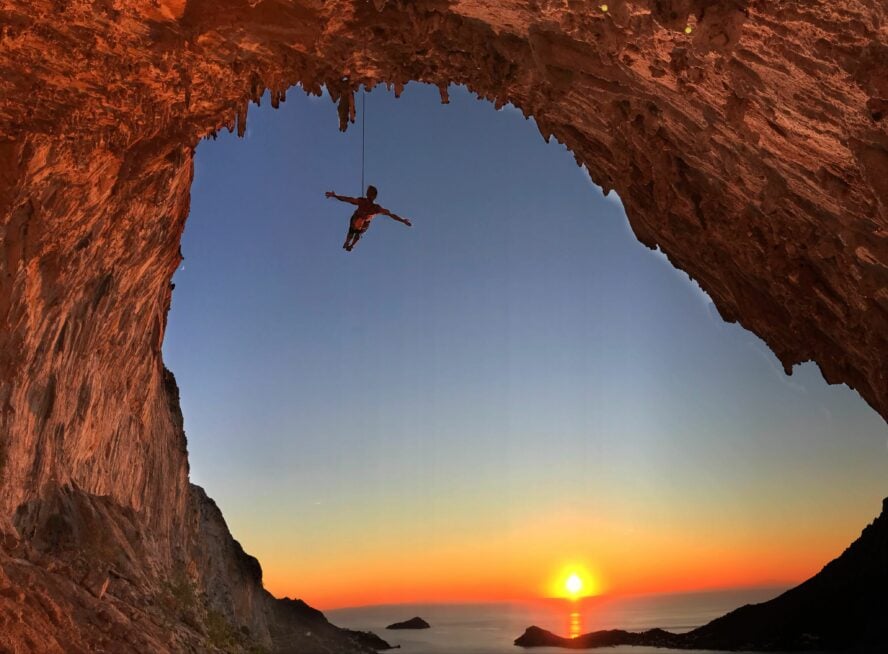 The scenery of the island and perfect crags is what brings me to Kalymnos but the people and food are what make me stay. The people of Greece are welcoming, friendly, warm, and just overall charming. For me, one of the most important things about a place is the food. Greek food is delicious, but Kalymnos makes it exceptional. Your diet during this trip will be as fresh as fresh gets! So fresh that you'll even get to sample goat cheese made right there. These goats roam the island freely and it's not unusual to have a goat buddy hang out at the crag next to you.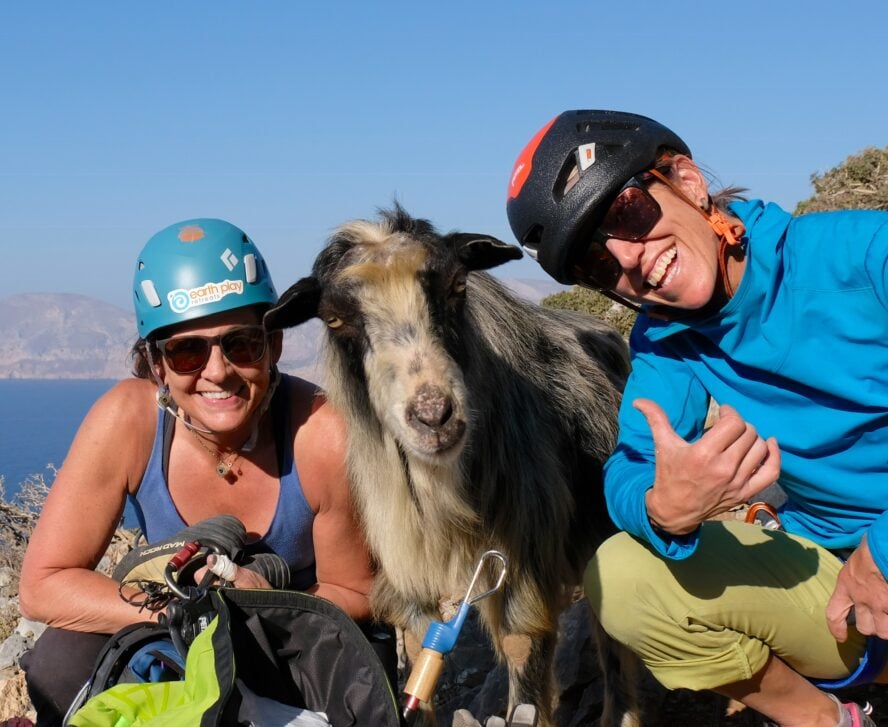 What You'll Get in This Week-Long Climbing and Yoga Retreat
On this climbing and yoga retreat, we spend seven days in the Kalymnian rocky landscape which is perfect for sport climbing, overlooking the vibrantly blue Aegean Sea, eating local Greek food, and enjoying afternoon yoga.
First we climb
A typical day consists of waking up in an apartment with its own ocean view. You can see the beach from your window and a short walk down a flight of stairs will have you standing in the sand in minutes. We have breakfast, pack up our climbing gear, and head out for the day. We are right in the heart of the best climbing in Kalymnos with Kalydna Crag, Poets Crag and Grande Grotta all within 15 minutes. We either walk straight to the crag, or ride our scooters over.
Once at the crag, I like to start with warming up to get our bodies ready for the day. The focus of the retreat, and what I try to focus on throughout my life, is body health. When our bodies are warmed up, we start doing what we came here to do: climb. There is no experience necessary for this retreat. The island has almost 2,500 well equipped sport climbing routes for all climbing levels. One year we were joined by a first time climber with no prior experience, and on the same trip was a seasoned climber looking to get into 5.13 territory. With eight people, two guides, and the geography of Kalymnos, it is easy to accommodate all skill levels.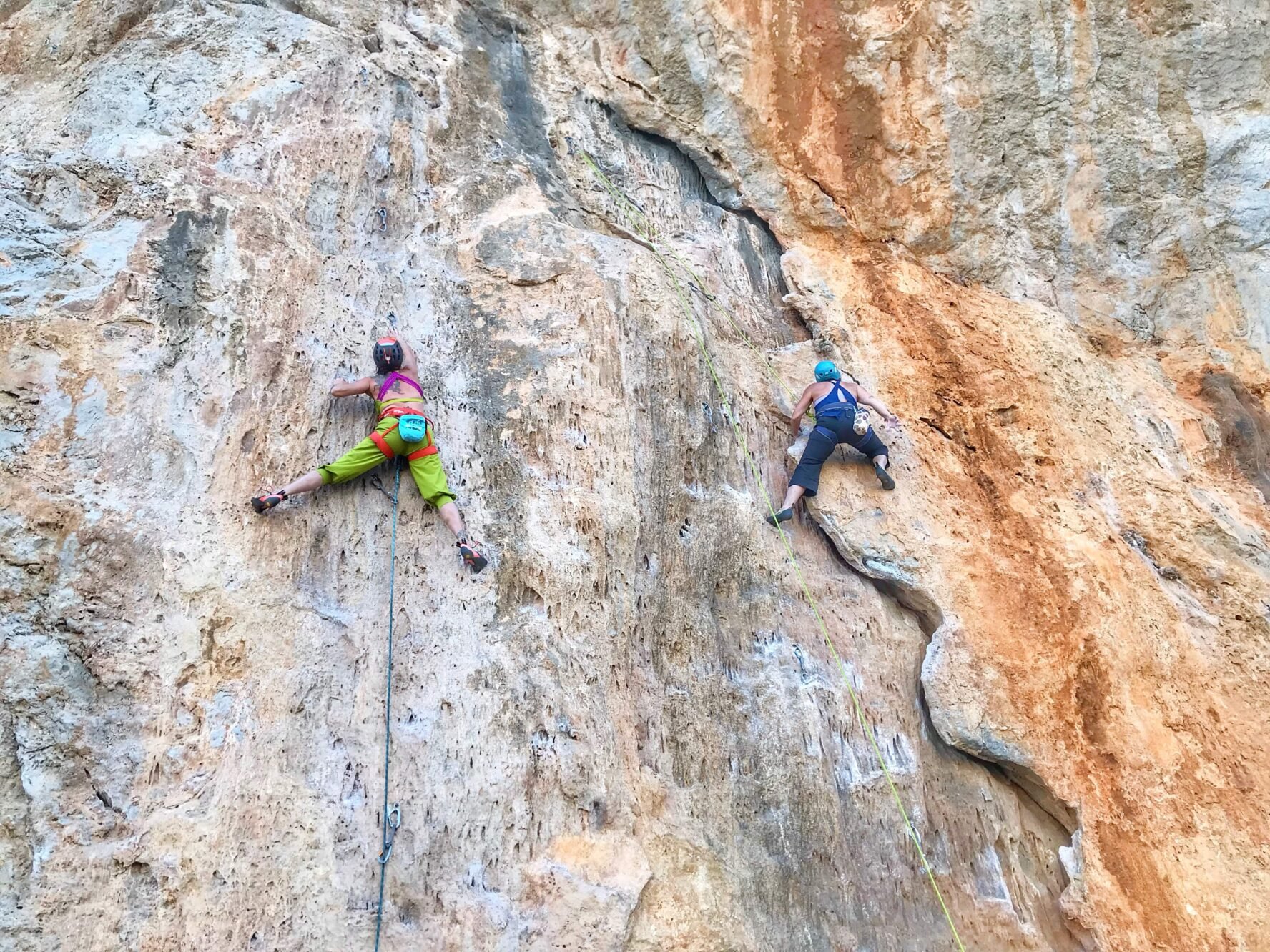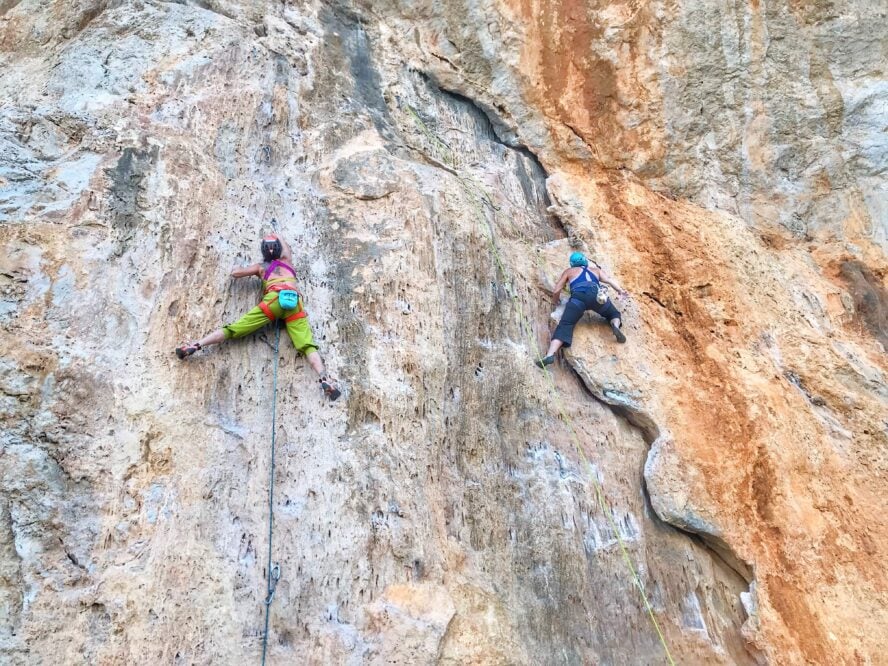 Then we relax, sightsee and practice yoga
After climbing for most of the day, we go back to our lovely little apartments before people head off to go swimming, sightseeing, or whatever else the island has to offer. This is the part where I recommend having a scooter or a car because those afternoon rides around the island are memorable. Each day, in the evenings we all gather for our daily yoga practice on the deck at our hotel. It is a way for us to ease the stiff muscles from climbing. The goal of our yoga sessions is healing, so I focus on therapeutic yoga that is suitable for all skill levels.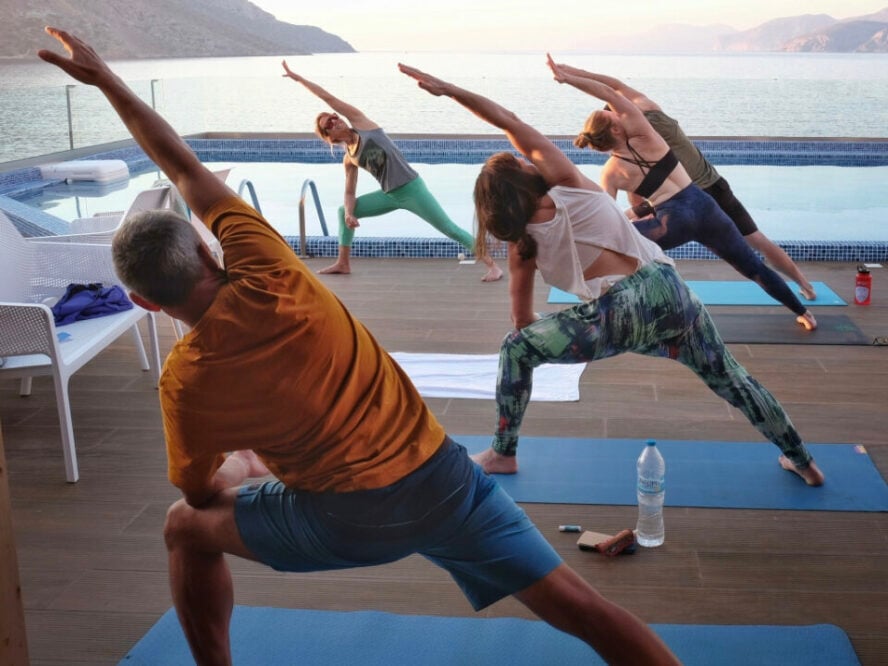 We do a via ferrata during the middle of our week as a rest day activity and if anyone wants to stay longer (after spending a few days in Kalymnos many change their flight to a later departure date) we do add on multi-pitch days. I always stay in Kalymnos at least until the end of November so if you need a climbing company, I will be there. When I am not in Greece, I am all over the Western US, Puerto Rico, Moab, Red Rock, the Front Range of Colorado, California, and Ouray for ice and ski guiding.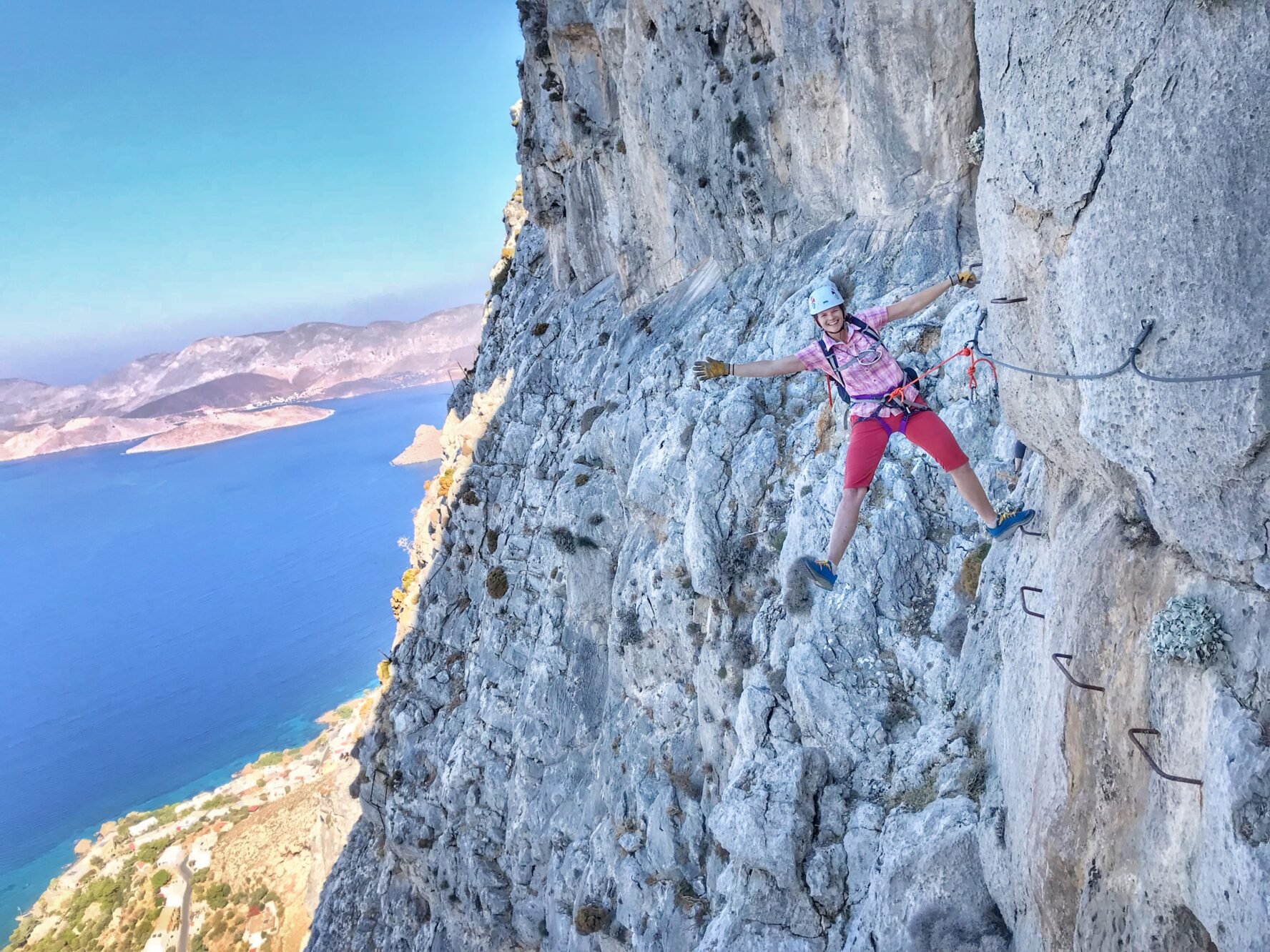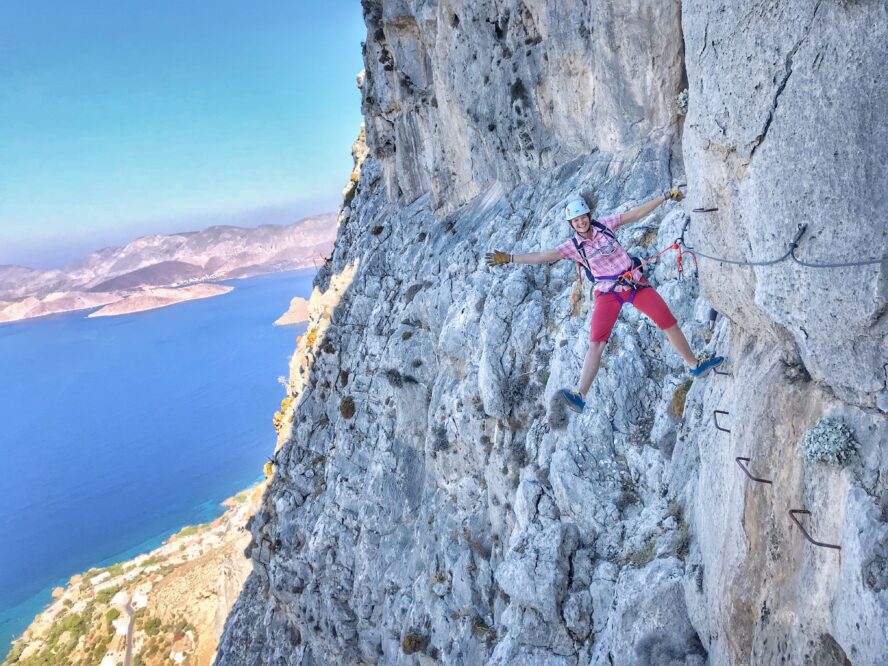 My Favorite Things About the Week-long Retreat
The incredible dinners
I most enjoy the "family" dinners in the evenings. We spend a lot of our time together on this trip because everyone just gets along together. Everyone who's ever come on a retreat with me has been nothing short of amazing. During our evening dinners, the whole crew is together talking about their day and every single person who comes exponentially grows in their climbing. Being at these dinners celebrating our accomplishments alongside some amazing food is a great bonding experience.
All of the restaurants on Kalymnos are very good, family-owned and friendly, and although the food is tasty pretty much anywhere you'll eat, some spots are even better than others! Miltos is quite delicious and right above where we stay, but The Aegean Is perhaps my favorite of all! For some Italian, La Kambusa is amazing, and Azul Wine Bar is great too! On Telendos Island, On The Rocks is my go-to spot; George the owner is great and he also drives the boat to the climbing on Telendos. Another favorite on this island is Rita's — I have climbed with her husband Yiannis and they're awesome people who serve wonderful food.
The rock quality
The second highlight for me is the rock. It's limestone, but nothing quite like what we have in the United States. Some of it is more slabby, but once you start getting into the steeper stuff it becomes very featured, almost like 3D climbing. There are these big tufas and you are pinching them and then shimmying behind or between them. Lamda on Telendos and Symplegades are two of the best spots for all levels. Another favorite spot is one we go to during the add on multi-pitch days. We have to take a ferry over to the neighboring island, and getting off the actual ferry is one of the most adventurous parts of our day. There is no dock, so it's just jumping out of the ferry and running onshore which is always exciting.
Two of my other go to spots are the Panorama and Granda Grotta. They are right next to each other and right above where we are staying. The Grande Grotta for classic cave tufa climbing. The Panorama is perfect for a group of all different levels. The crag has a variety of grades, most of which are between 6b and 7a. As the name implies the Panorama wall has incredible views of Telendos and makes for perfect photos of people swinging in the cave with the sea behind them.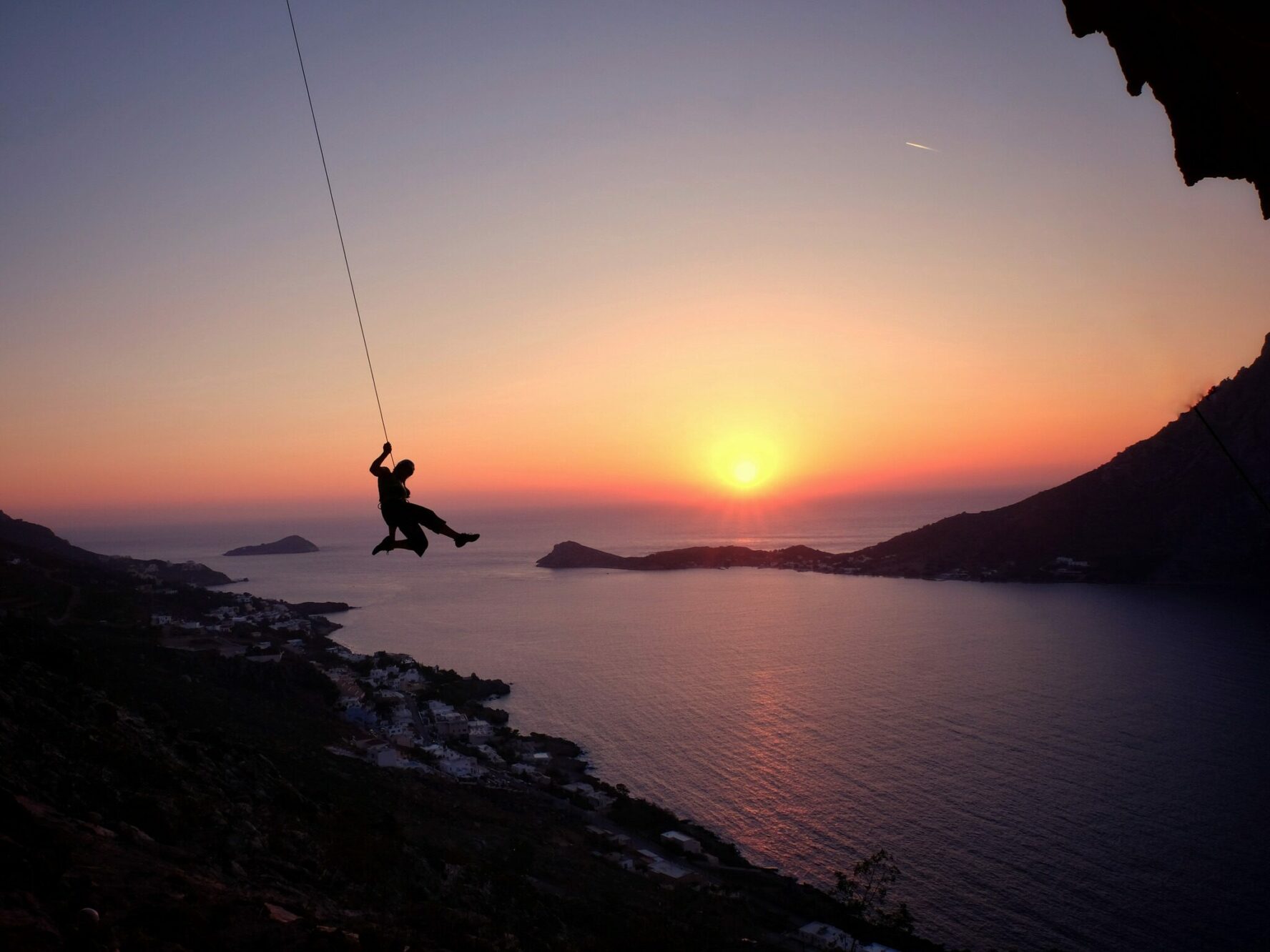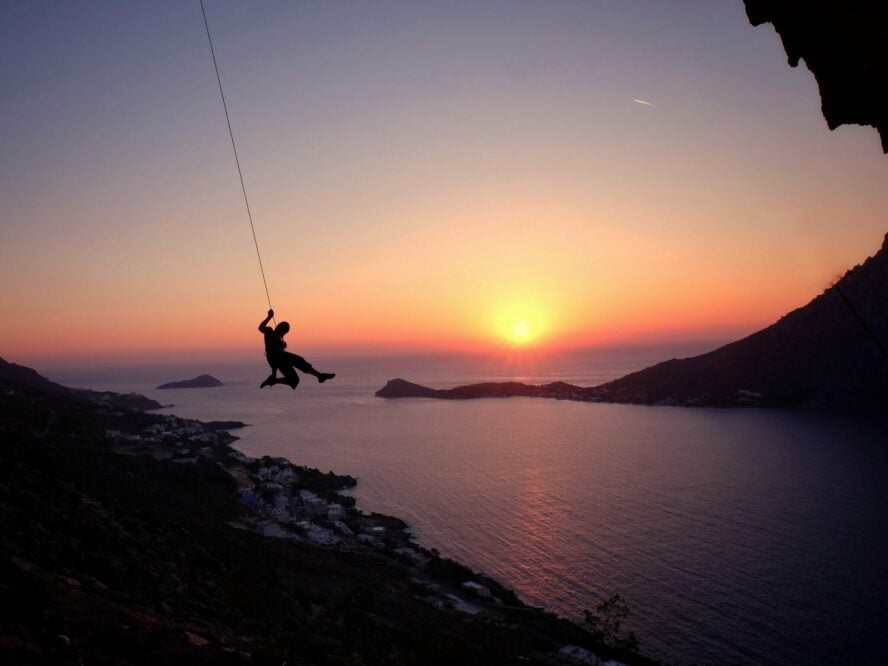 A Few Logistical Details About the Retreat
How will you get around?
I like to stay in the heart of the action. There are a lot of craigs that are a walkable distance away, but I recommend that people rent scooters or cars. It is a more convenient way to transport all of your gear and when you are not climbing, you can utilize them to go sightseeing around the island!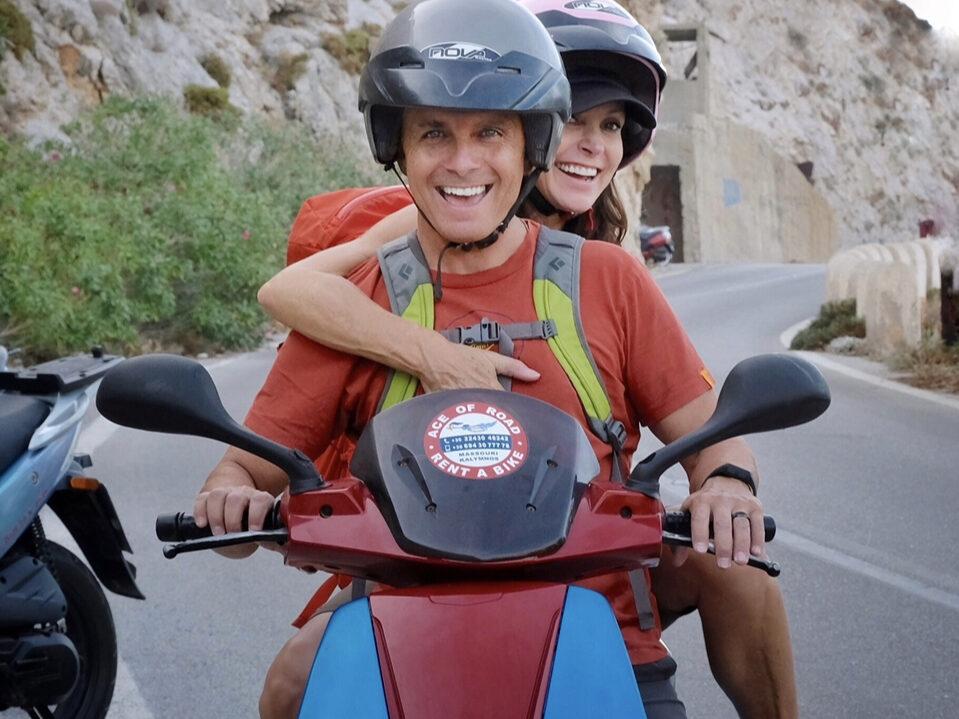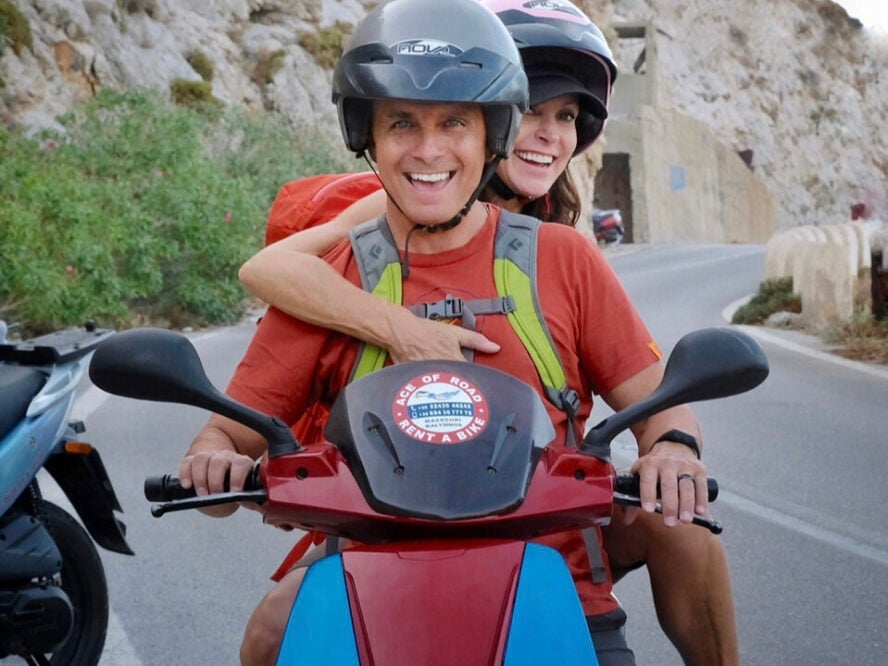 Who is welcome?
Everyone is welcome! Families, couples, single travelers, even the youngest children who haven't ventured into rock climbing yet. There is an amazing daycare center just down the street from where we stay. A couple takes care of the kids and they have a whole floor of a building with toys and kids running around playing. I've had parents who've attended my retreats go this route and they've raved about the daycare.
How good do you need to be at climbing?
You can be a complete beginner, or you can be extremely advanced. The geography of the island, like the Panorama crag for example, allows us to set up routes of all grades right next to each other. There are two rock climbing guides and eight people on the trip so no matter your skill level there will be someone like you! If you've never climbed before, you couldn't pick a better and more beautiful place to take your first crack at it.
How good do you need to be at yoga?
The same as with climbing! You can be a total beginner or a seasoned yogi. We focus on healing and restorative yoga which is fit for all levels. If some people want some more advanced instruction, I can accommodate that, but I promise you that after a day of climbing you will just want to stretch and relax.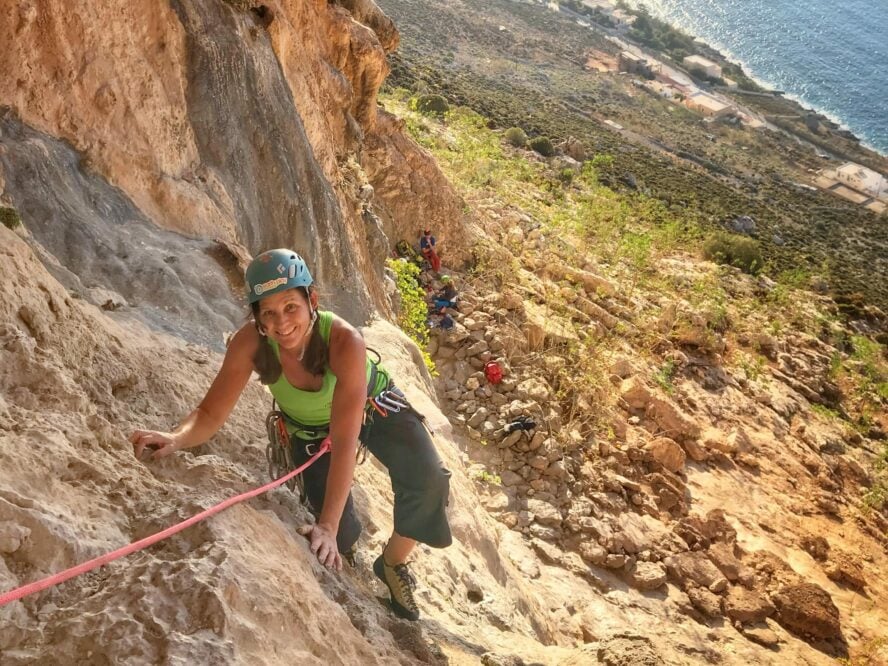 What's included in the price?
The price includes housing, breakfast, yoga and climbing instruction. You need to cover the lunches and dinners, as well as the transportation to and in the country because I am unable to be liable for that.
Where to buy climbing gear?
At its heart, this is a climbing town, and the climbing stores are off the charts. For our climbing portion of the retreat, you need to bring a harness, helmet, shoes and chalk bag. I think it's worth it to not bring climbing clothing and instead buy some over there. They have European clothing that we don't have in the States and I love the fun colors and styles that they have over there.
How many people are in a group?
There are eight people in the group. We try to keep the ratio between guides and climbers 4:1 so that you can have a personal experience. It allows us to work individually with people so they can improve movement and proficiency in climbing.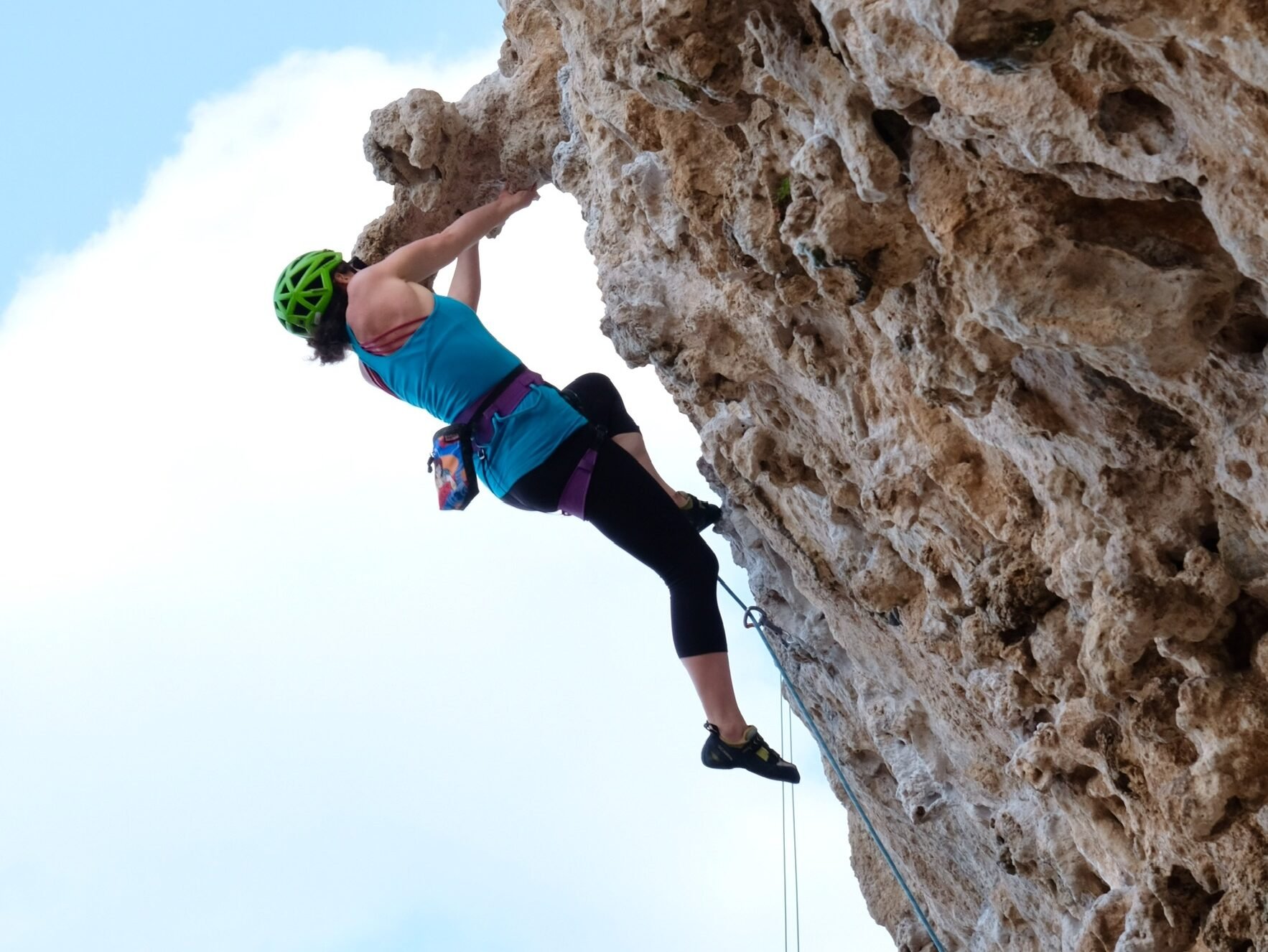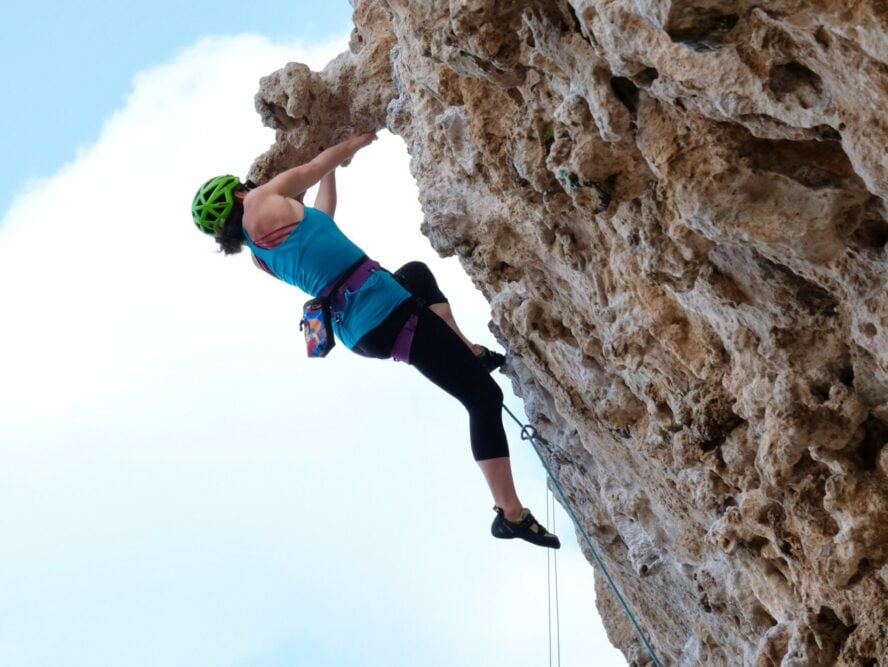 How many guides are on the retreat?
There are two guides on the retreat, myself and one more. We are both AMGA-certified Rock Guides. This coming year we might bring along a yoga instructor so that we have an additional person whose focus is fully on that part of our retreat.
Where do we eat?
I try to eat at a different restaurant every night. You can't really go wrong with food in Kalymnos, so while there are some restaurants that are better than others, the food is overall top notch. One of my favorite dining experiences is when we take a ferry over to the neighboring island, Telendos and have dinner there.
Where do we stay?
I love to stay at La Playa Boutique. Every room has a view of the Aegean Sea from its balcony and you can walk right out your door and down the steps to the beach. It is also close to many amazing restaurants, mini marts and shopping.
Are you convinced yet? Just describing it has me excited for this upcoming November. I'm always happy to share more details to anyone interested. And, if you can't make my retreat, I still highly recommend that you add Kalymnos to your climbing bucket list. I promise you won't be disappointed. Also, if you're a climber that's never given yoga a shot, try and incorporate a little yoga into your post-climbing recovery — trust me, your body will thank you!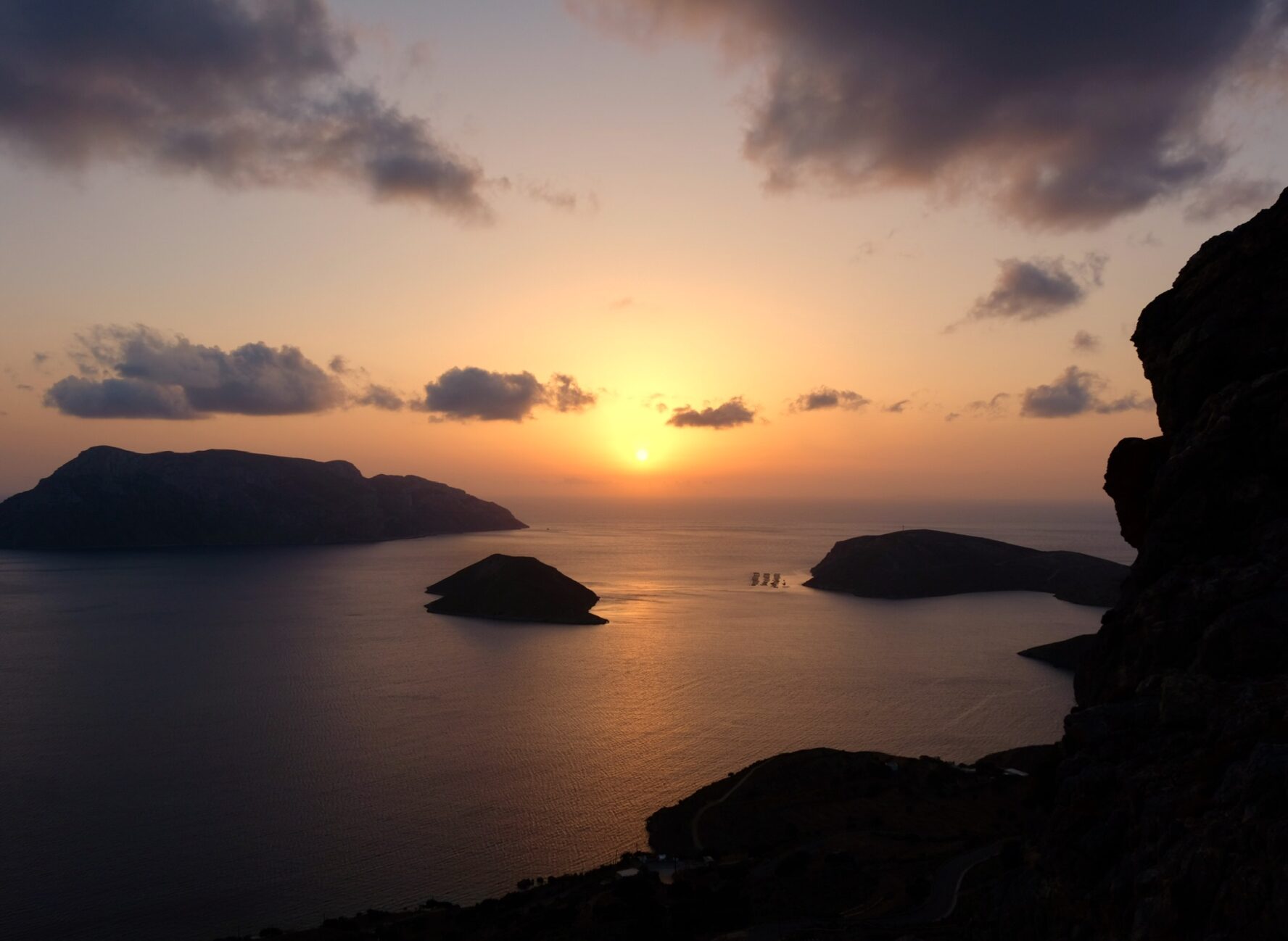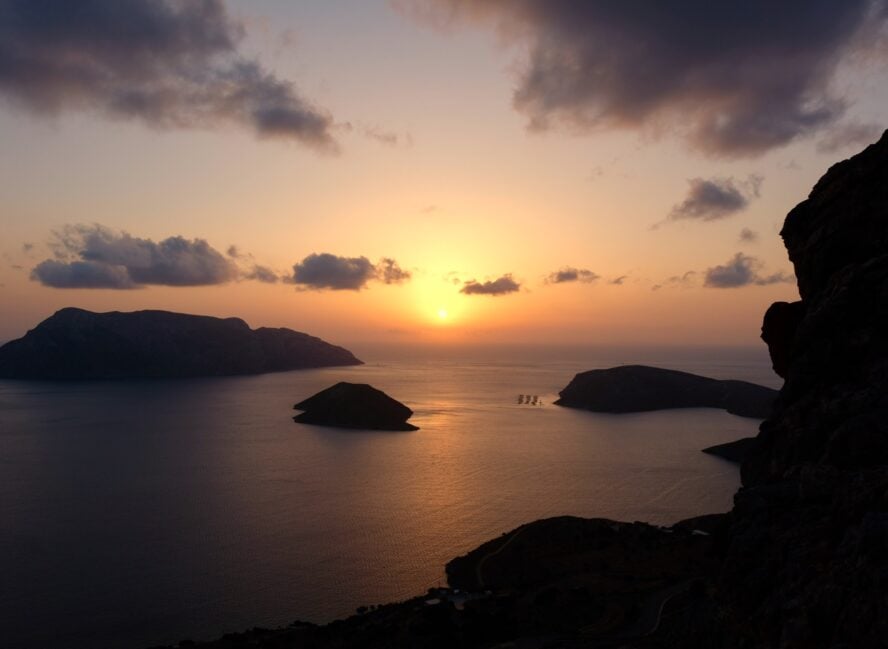 Interested in this guided rock climbing and yoga retreat in Kalymnos? Check out what's included in this seven day adventure and reserve your spot!