Aspiring Alpinists Should Try Climbing the Maroon Bells
If you want to climb in this iconic high country, you'll be competing against the mountains, the weather and time itself. Do you dare to ring the Deadly Bells?
It's likely you've seen images of the gorgeous Maroon Bells, which may just be the most photographed place in all of Colorado. Climbers from all over swarm to answer the siren call of these iconic peaks and see the picturesque Maroon Lake standing in their shadow. However, the Bells demand respect. Many make the mistake of underestimating this alpine playground, where aspiring mountaineers start cutting their teeth on the peaks' technical faces. If you're planning a climbing trip to Maroon Bells, here's what you need to know.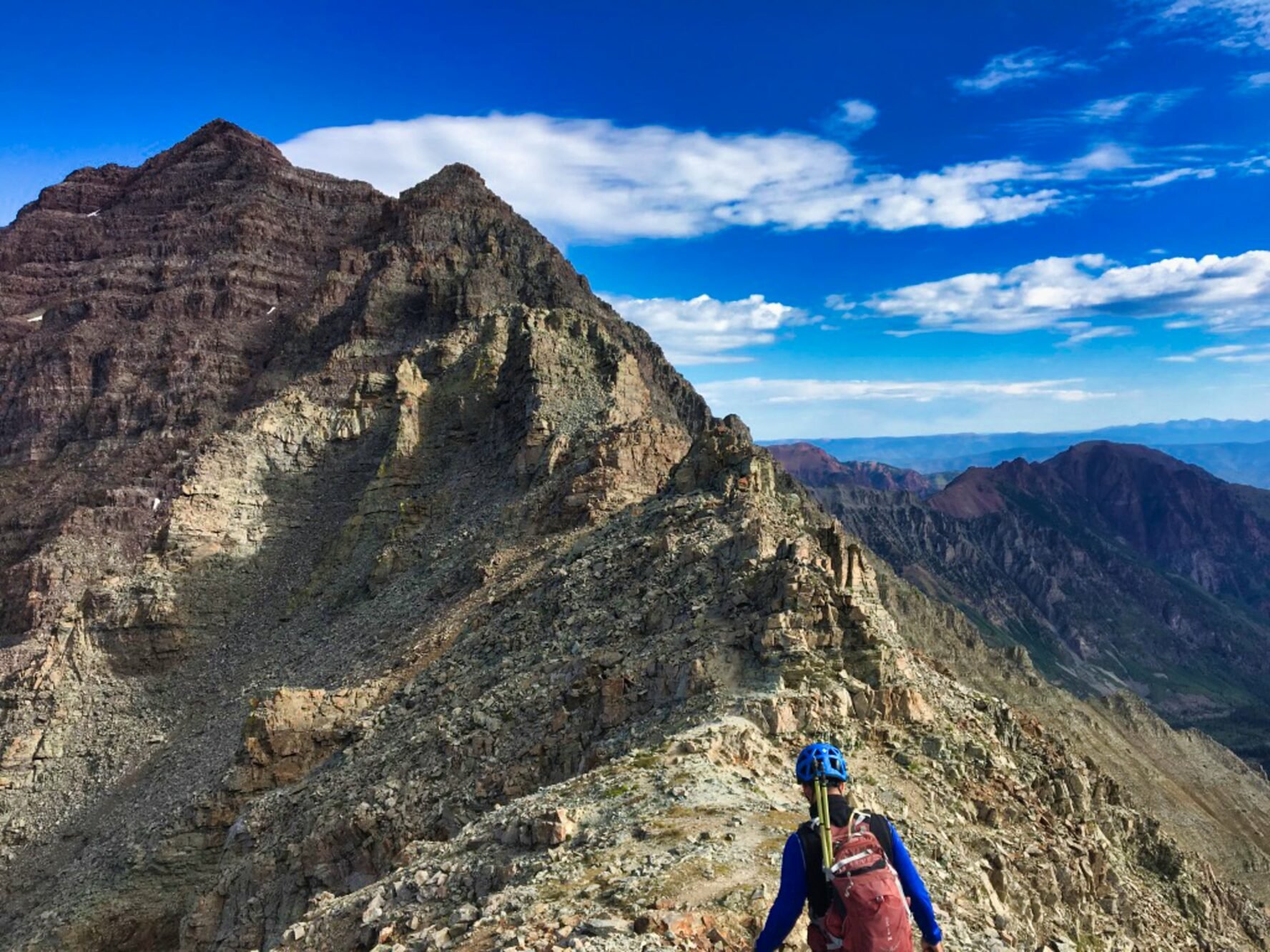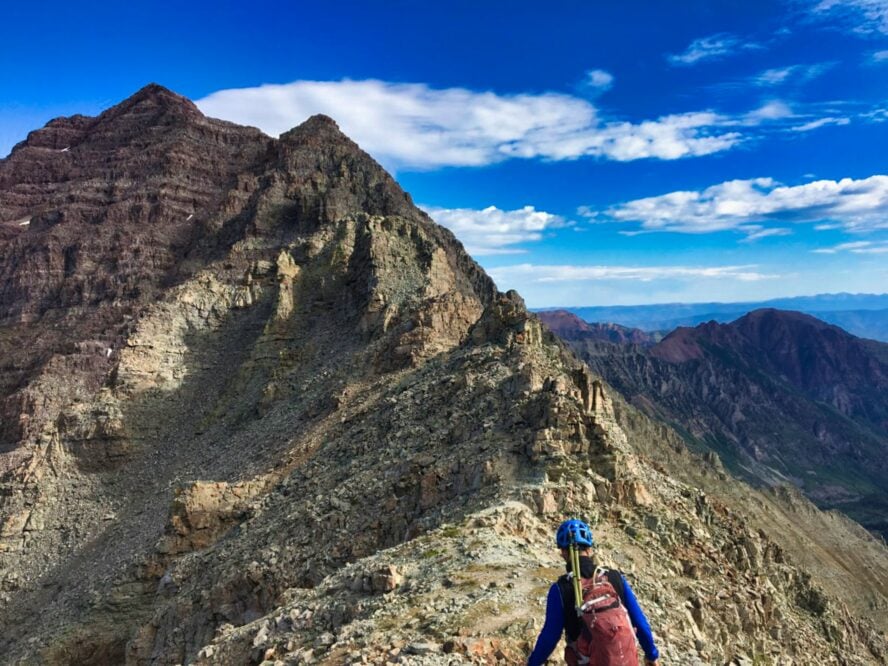 Pros and Cons of Climbing the Maroon Bells
Check one of Colorado's most iconic 14ers off your list
The alpine vistas rival the best you'll find anywhere in the world
Technical sections will challenge you and make you work
Loose rock is a real, ever-present danger
The routes constantly change due to the rocks
The terrain is exposed to and prone to thunderstorms
The Bells are a part of the Elk Range and lie in the Maroon Bells–Snowmass Wilderness of White River National Forest. Wind, water, erosion and time worked together to mold the Maroon Valley, home to the Maroon Bell peaks and Maroon Lake. The iconic landmark of the mirror-like lake reflecting the snow-capped peaks, framed by lush aspen forests is a huge attraction. Even after 300 millions years of carving what is one of the most photographed locations in the US, the peaks are still taking their final form.
The Bells are known for their jagged, rugged and really, really crumbly rock. They got their signature color when ancient glaciers started carving the rock rich with hematite, an iron-bearing mineral. If you were to send five different people up the Bells, they would likely come back with five different answers on where the routes are. Due to the fickle rock quality, the routes are consistently shifting and transforming. This is far more than a nuisance — if you stray off the path, you can quickly find yourself in dangerous terrain. Loose rocks are an ever-present hazard, quite literally looming over you while you climb. Navigating the Maroon Bells, also dubbed Deadly Bells, takes skill, strength and savvy.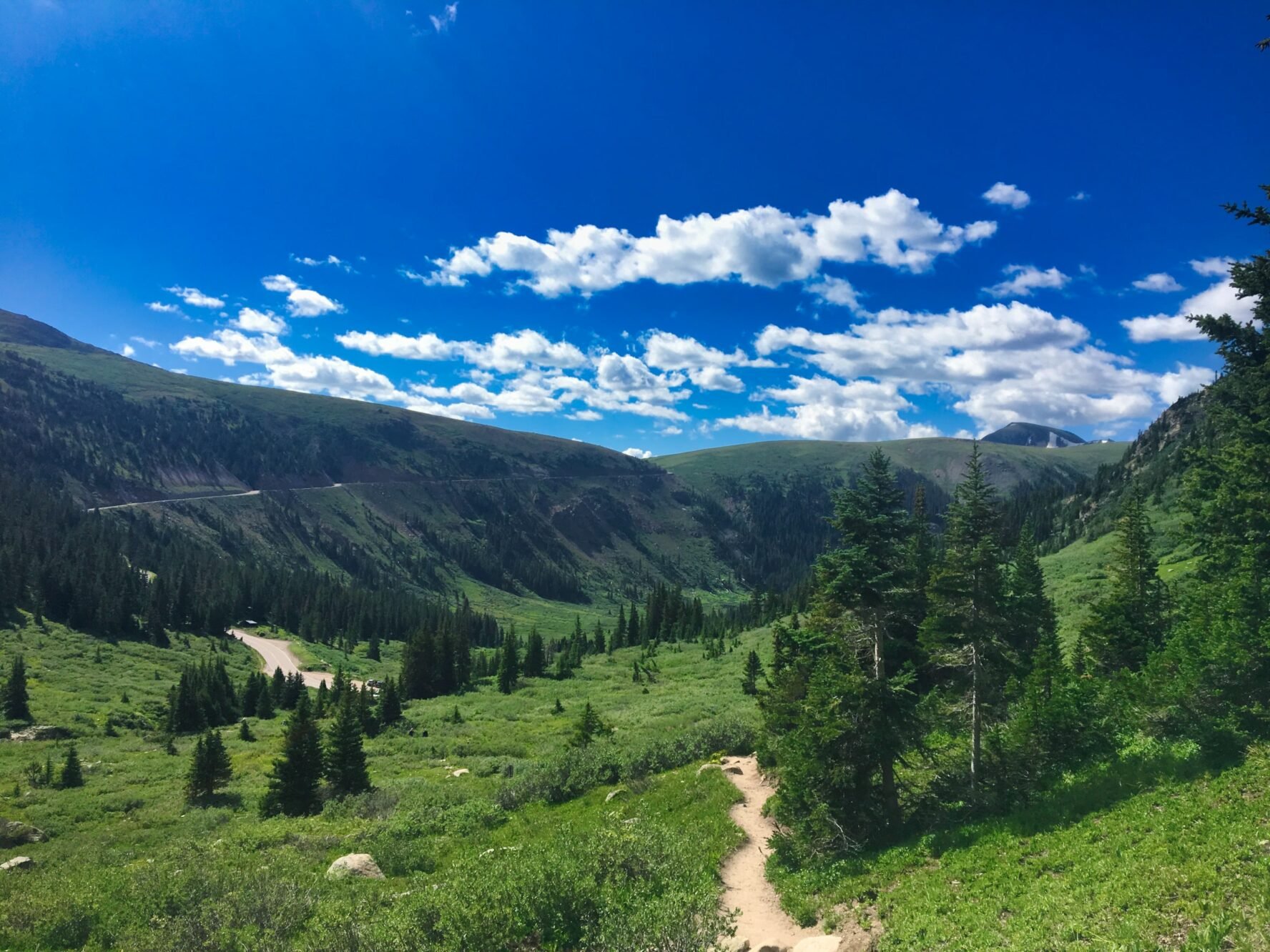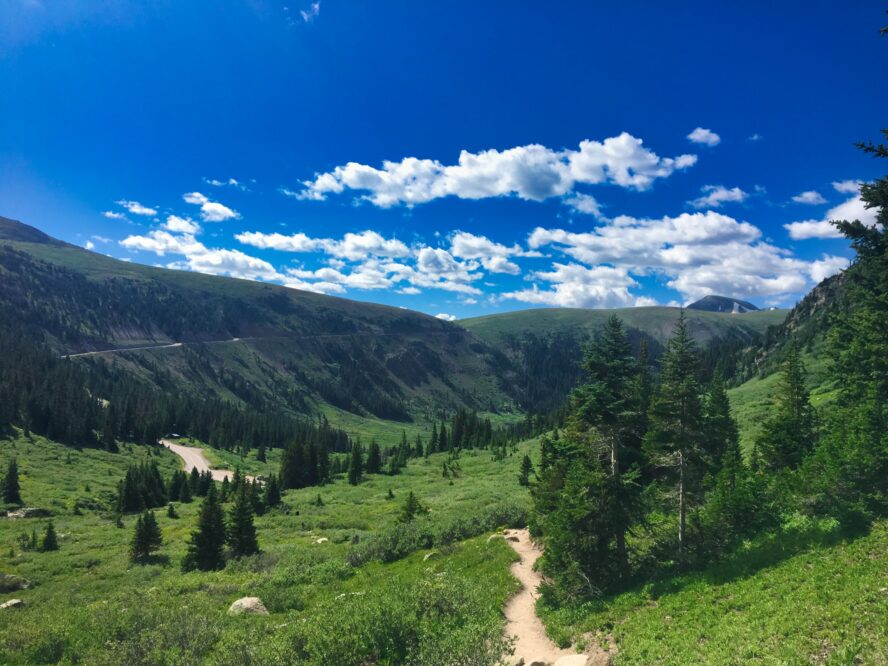 A California native turned Colorado climbing guide
I'm originally from California, where I first discovered climbing. Today I live in Colorado and have been guiding my clients all over the state for over five years. My favorite routes take me deep in the mountains and require a lot of problem-solving on the go. Some of my favorite places to guide are Aspen and the Front Range's top climbing spots. I do really enjoy the problem solving in guiding the unique terrain of the Maroon Bells, though.
What to expect climbing the Maroon Bells
To sum it up, most climbing you'll be doing on the Maroon Bells will be a form of alpine scrambling. Some routes feature gutsy fifth class technical climbing, but most of the time, you'll be scrambling over steep tiers of stone. The rock quality here is really interesting. When the rock breaks off, you can see how the mud hardened and settled into rock. These maroon mudstones never stop decaying and falling apart. They are also the main culprits for the routes changing constantly. The number one challenge of climbing in the Maroon Bells are the ever-shifting routes. If you're an outdoorsperson in training, go with someone who knows the area very well. The rock in the Maroons is the loosest I've ever climbed on. While not all areas are equally dangerous to climb in, it's easy to stumble upon some really hazardous terrain.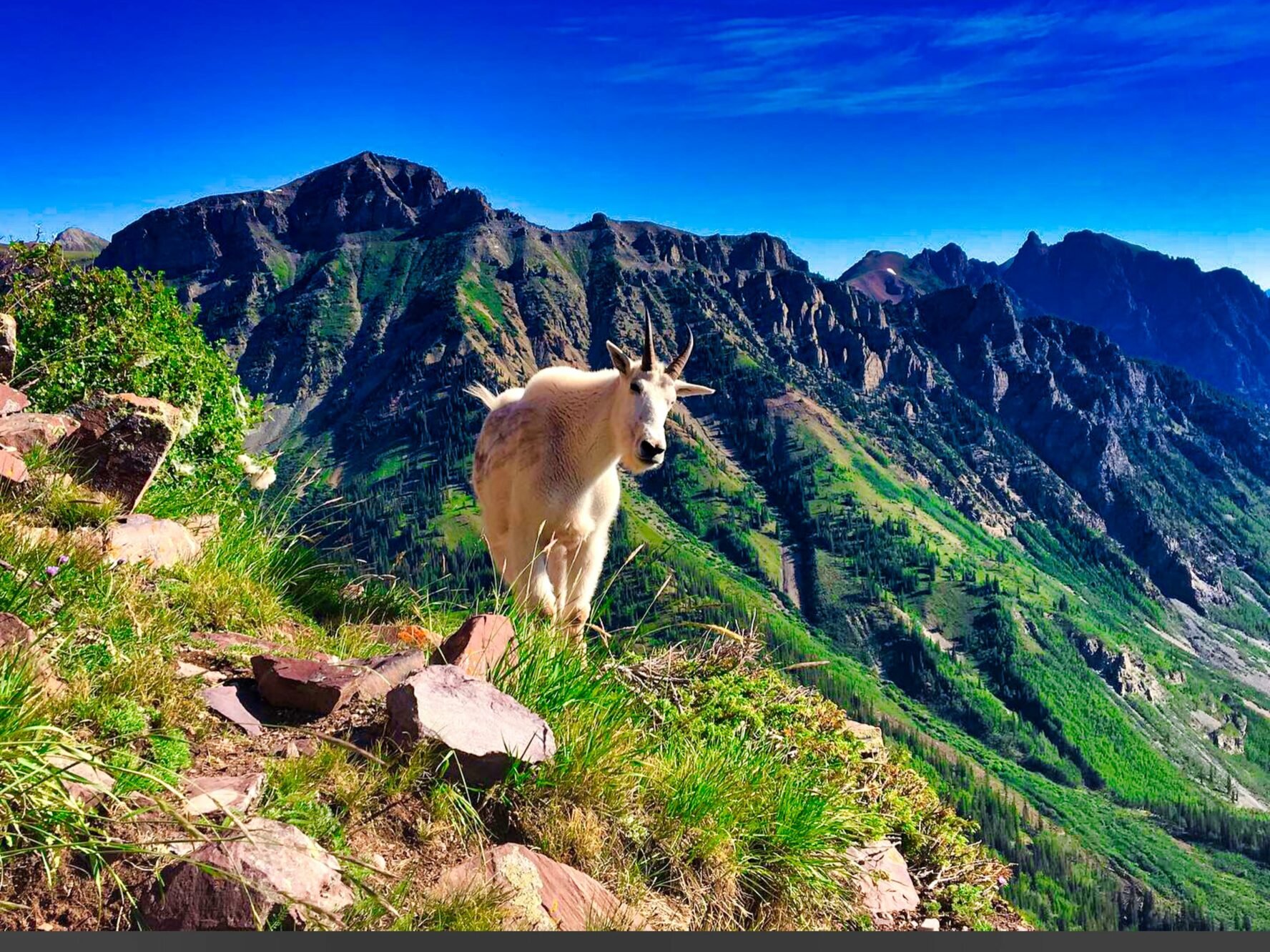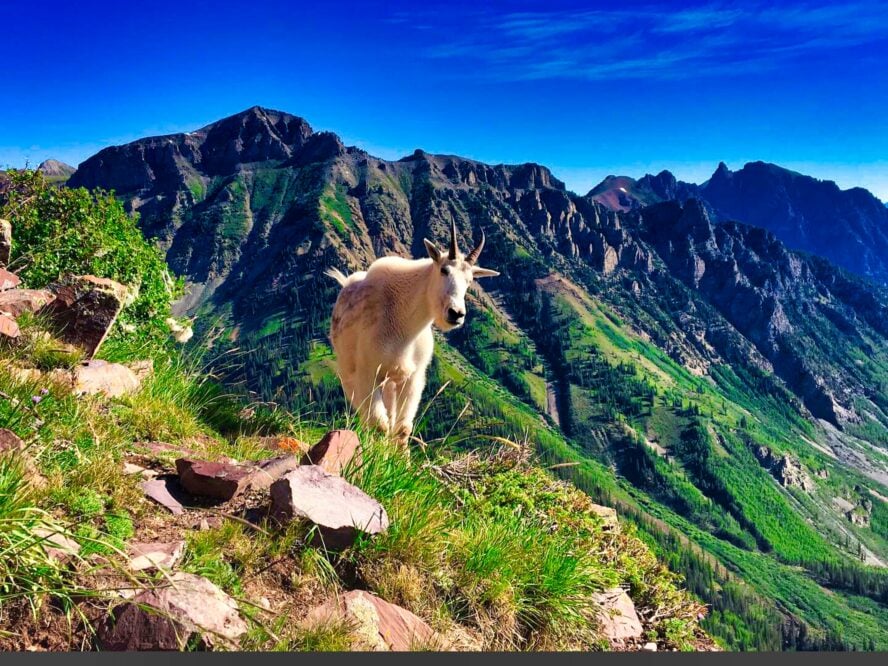 Maroon Bells Climbing Routes
Climbing in the area is centered around the two peaks that make up the Bells, Maroon Peak (also known as South Maroon Peak) and North Maroon Peak. Climbers often bag the nearby Pyramid Peak, as well. They're all fairly similar in height (14,000+ feet), terrain and climbing style. If you climb one of them, you'll know what you're in for. While the Maroon and the North Maroon are conjoined by a saddle, Pyramid Peak stands on its own. This is what you need to know if you want to take on the Maroon Bells.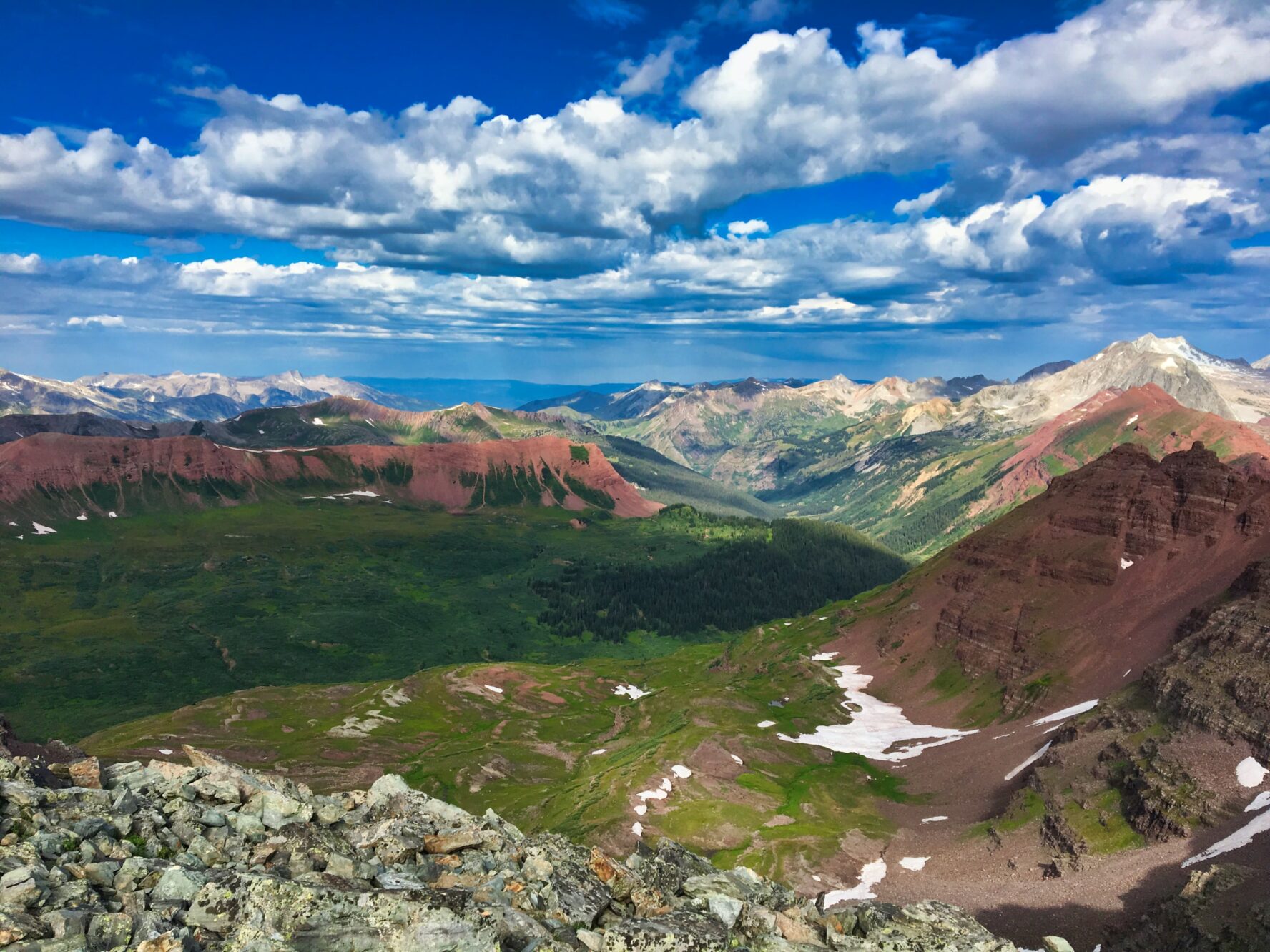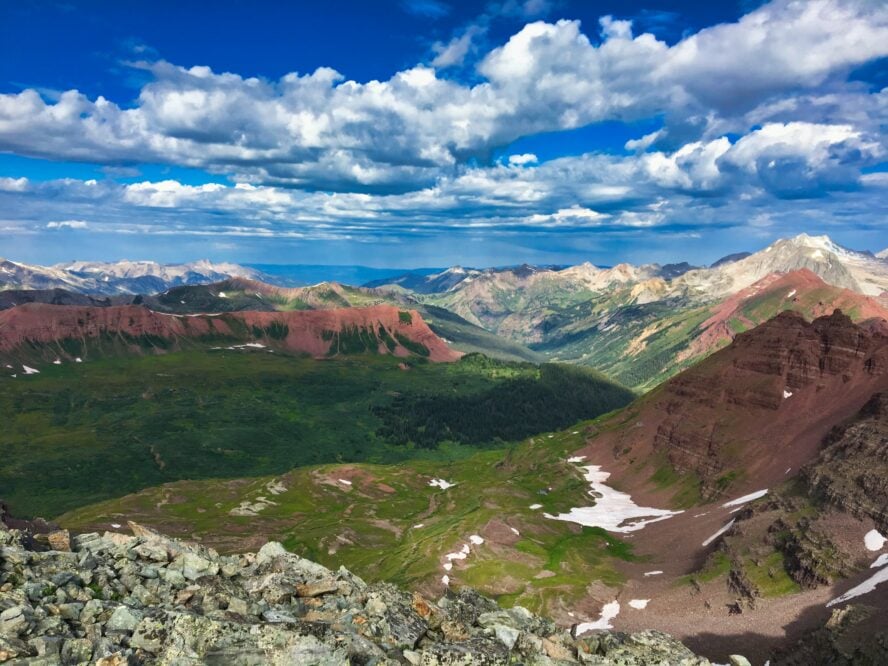 1. North and South Maroon Peaks
Once you lay your eyes on the two peaks, you'll understand why they're one of the most photographed mountains in the US. Colorado has over 50 fourteeners (peaks that stand more than 14,000 feet tall), the most of any state, and Maroon Peak might be the most iconic. In comparison to its sub-peak, North Maroon, the rock is slightly worse, but climbing less technical. This makes route finding less strenuous, but, don't get too comfortable. The route tends to dissolve under your feet at times and you can waste a lot of time getting off route.
North Maroon Peak is my favorite in the area. Be warned, North Maroon Peak will test you — your fitness, route finding ability and mountain sense. Maroon peak's standard route is steeper and less obvious than its parent mountain, Maroon Peak. Due to what from afar looks like a steep technical face, the route feels unaccommodating. It looks like a steep, unclimbable wall, but once you get on it you find a trail that keeps making its way through moderate terrain. It weaves its way up through grassy, rocky terrain and then the top few hundred feet are where it gets technical. Finding the route is challenging and the rock is even less stable. It's also steeper than the other two peaks. I enjoy the technical aspects of the route finding, and find this peak to be the most enjoyable of the three.
2. The traverse between the Bells
If climbing the Maroon Bells one by one isn't challenging enough for you, you'll enjoy the traverse between the North Maroon and Maroon Peaks. A word of caution, once you start the route across the saddle, the route is very commiting and turning back would take far longer than continuing on. While any other route in the Bells allows you to turn around and go back down the mountain, this traverse will leave you exposed and very committed to finishing the route. If an unexpected afternoon storm hits, it will be just you and the wet rock and severe exposure to lightning. Give yourself a solid hour and a half or more for this section depending on your comfort level. This is technical and nebulous rock climbing.
The traverse itself is a fun challenge, but you have to be comfortable on loose terrain. Even though it doesn't go at a high technical grade, it's by no means a casual route. It's actually my favorite way to complete the routes. You start by summiting Maroon Peak, traverse its crest and then link to North Maroon. I don't like descending Maroon because it's kind of a slog, and worse on the way down. By going down North Maroon, you cut some mileage off your descent, but you have to balance that with significant added time on the traverse, and consider your exposure to thunderstorms. It's a fun loop and by the time you've done it, you'll have bagged two peaks.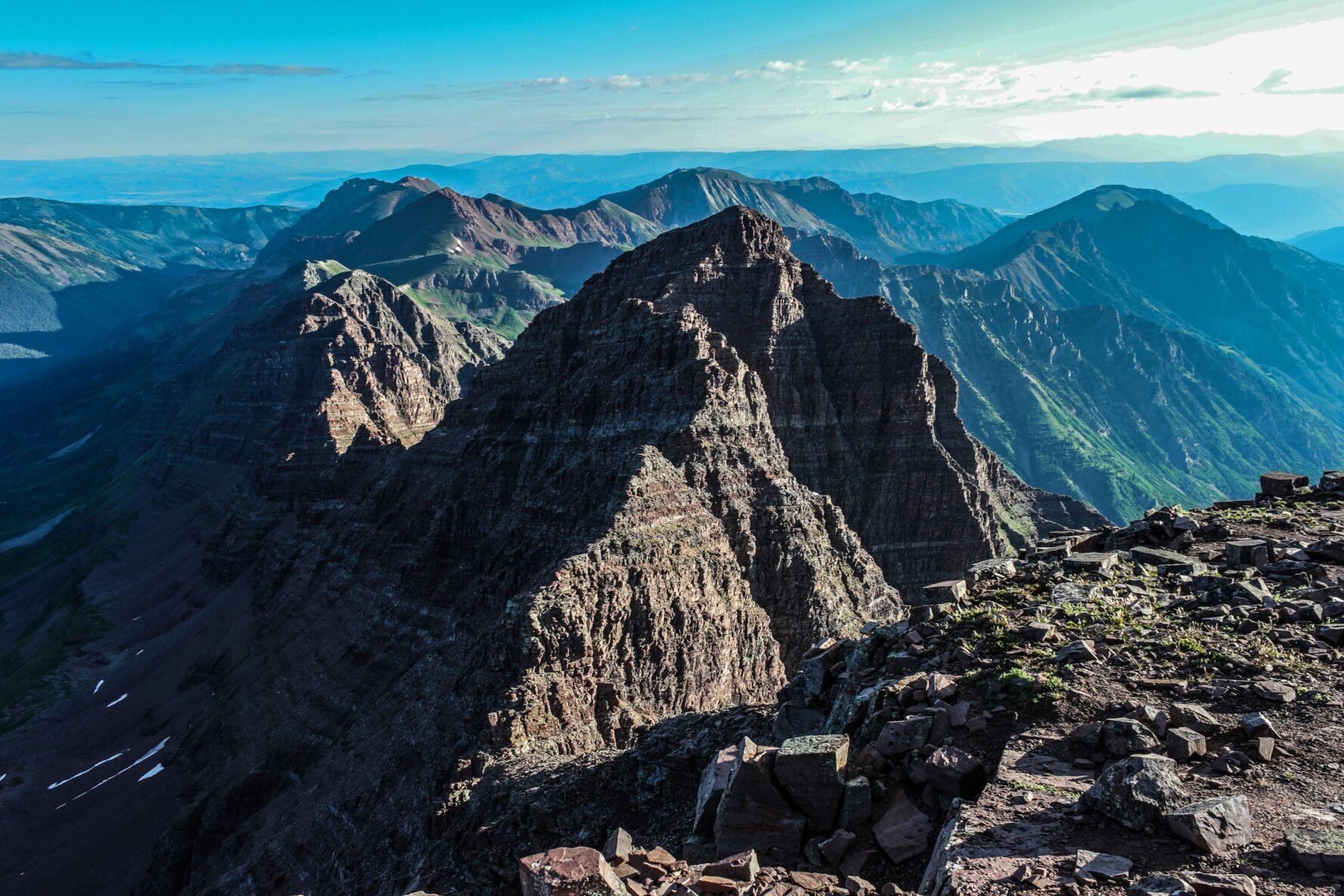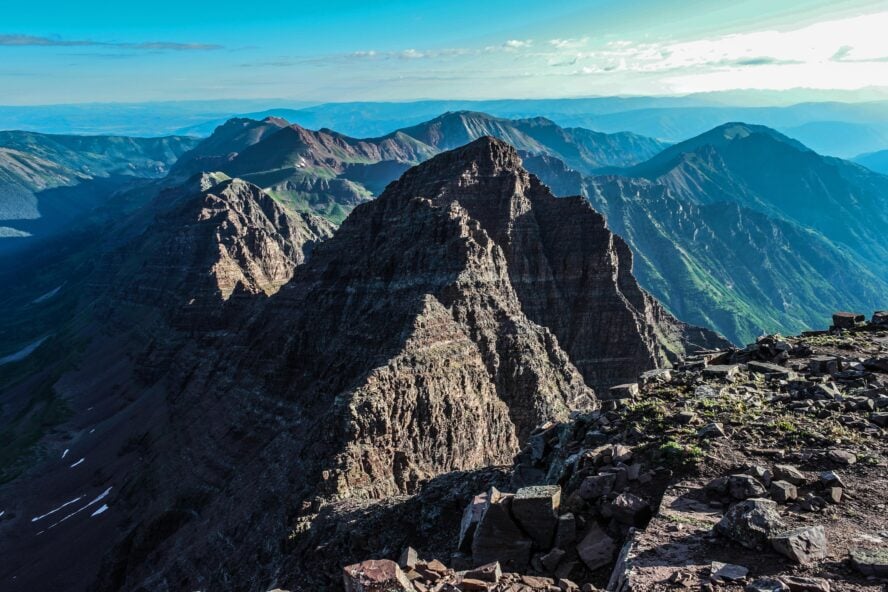 3. Pyramid Peak
Pyramid Peak is usually an obvious objective when climbing in the area. The peak is only two miles away from the Bells and towers over the West Maroon Creek Valley. Just over 14 thousand feet, Pyramid Peak is a rugged, jagged and crumbly giant guarding the valley. If you know where to go, climbing this peak won't be such a daunting feat. The standard route on this peak will take you across its northwest ridge. While it might not be long long distance-wise, give yourself plenty of time. This sustained, steep route will cover almost 4500 feet of vertical gain. Traversing on solid rock is hardly a guarantee, even on this route. In true Maroon Bells nature, expect loose rock and come prepared. While sticking to this route lowers your exposure, you can't let your guard down on the peak's steep steps.
What You Need to Know Before Climbing the Maroon Bells
Loose rocks, tricky terrain and challenging technical sections, the Bells will make you work hard, but the rewards make it worth your while. From local beta to useful info for staying in the area, here are my tips to take your outing to the next level.
How long does it take to climb the Maroon Bells?
All routes on the Maroon Bells take a full day to climb. Whichever peak you choose, you're looking at challenging loose terrain and around 4500 feet of elevation gain. Expect thunderstorms in the afternoon, so start your day bright and early. As for the crowds, while the area is popular among hikers, you won't have to wait to climb your desired route.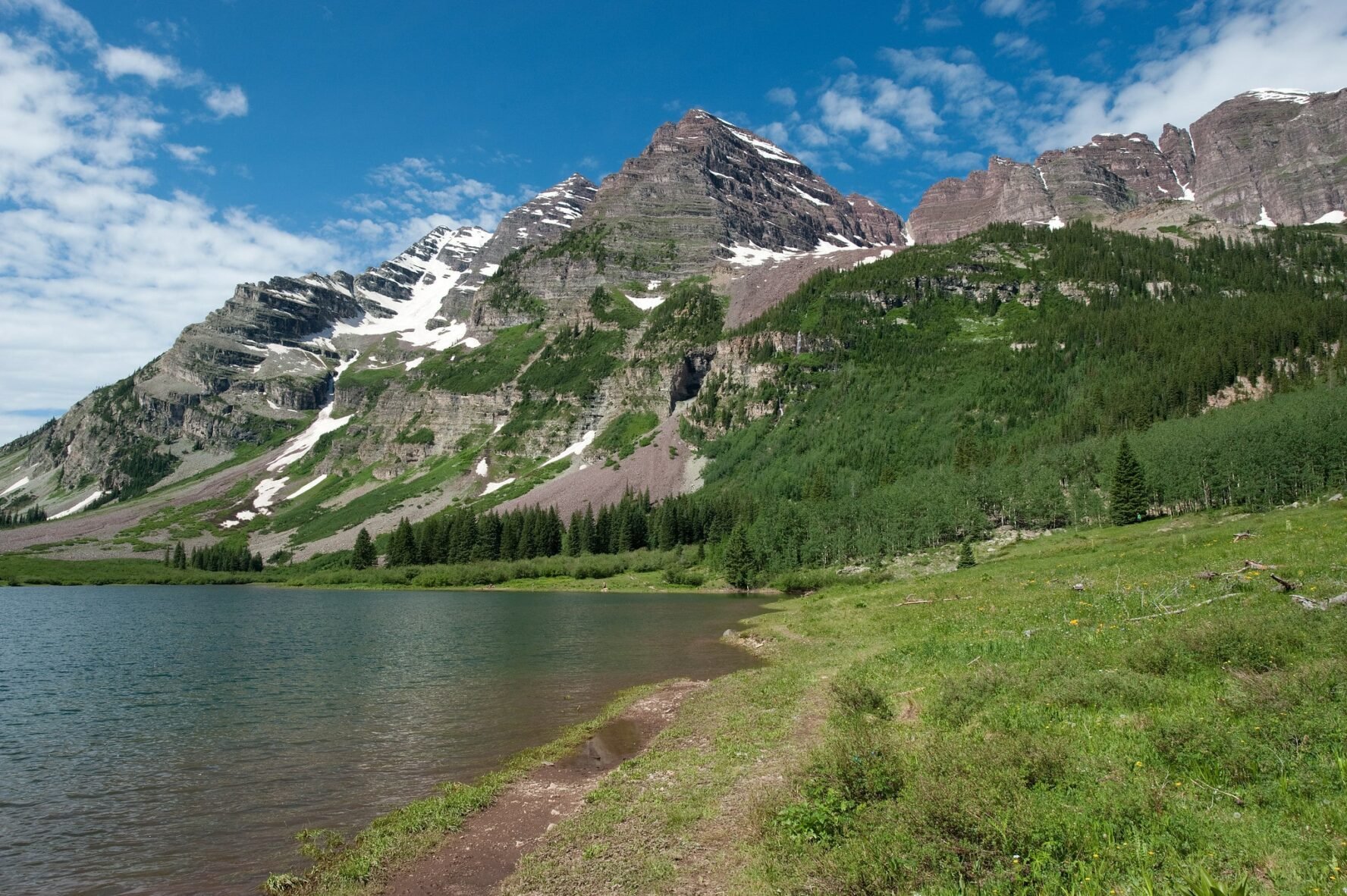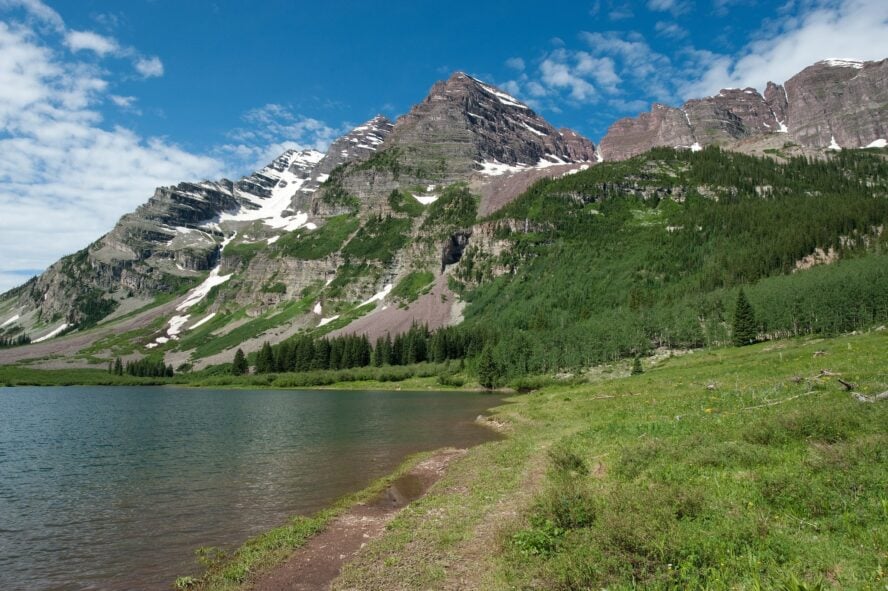 When to visit the Maroon Bells?
Peak season usually starts in late June and lasts until early September, but it all depends on the snow year. In early June, there will still be some snow to cross, but it can help with the climbing because you're not walking on loose rock. You'll want to visit during the drier months, but bear in mind the weather shifts rapidly. An afternoon thunderstorm could hit unexpectedly, so always keep track of the forecast and plan your outings accordingly. You don't want to be caught high up when it starts pouring.
Where to stay while climbing the Maroon Bells?
Since Aspen is just 20 minutes away, most climbers choose to stay in town. If you want to camp, head to Independence Pass. It's just outside of Aspen, on Highway 82. The area is worth a visit even if you don't plan to camp there. It's a neat spot for hiking and there's even a ghost town you can explore. Difficult Campground is the closest to town and is fee-based. You'll need to reserve your spot, as it fills up quickly during the summer months.
Do you need a permit?
No permits are required to climb in the area. However, if you're visiting the Maroon Bells Scenic Area from May 14 to October 24, 2021, you'll need to make a reservation. The same goes if you plan on camping and staying in the area overnight, or booking a shuttle.
You'll find unexpected climbing partners
One near guarantee when climbing the Maroon Bells is that you'll see mountain goats. You'll be climbing and look up and see their little heads poking out and looking at you. Some areas that see more traffic have friendlier, or rather, more curious goats. They are completely unbothered by humans and they won't bug you for the most part. Keep in mind they're wild animals and potentially dangerous — don't feed them and keep your distance.
One of my favorite experiences in the mountain was coming across a rock formation that looked like something out of the Lion King. My partner and I half expected a baboon to present a lion cub. While we were admiring the view from above, a mountain goat hopped onto this pedestal-looking rock. The rock overlooked the valley and the goat stood on in, epically staring off into the distance. My partner and I couldn't believe what we had witnessed.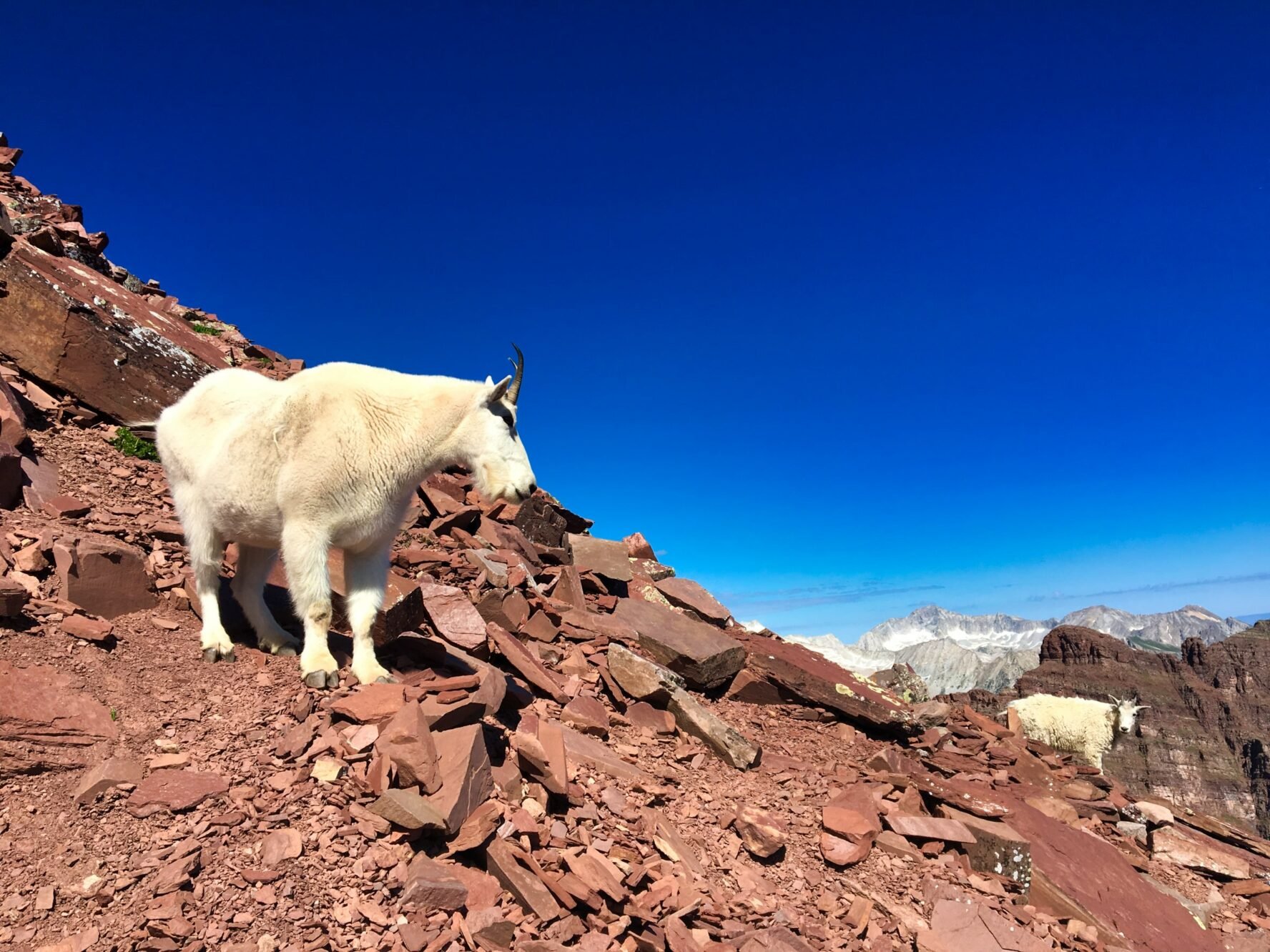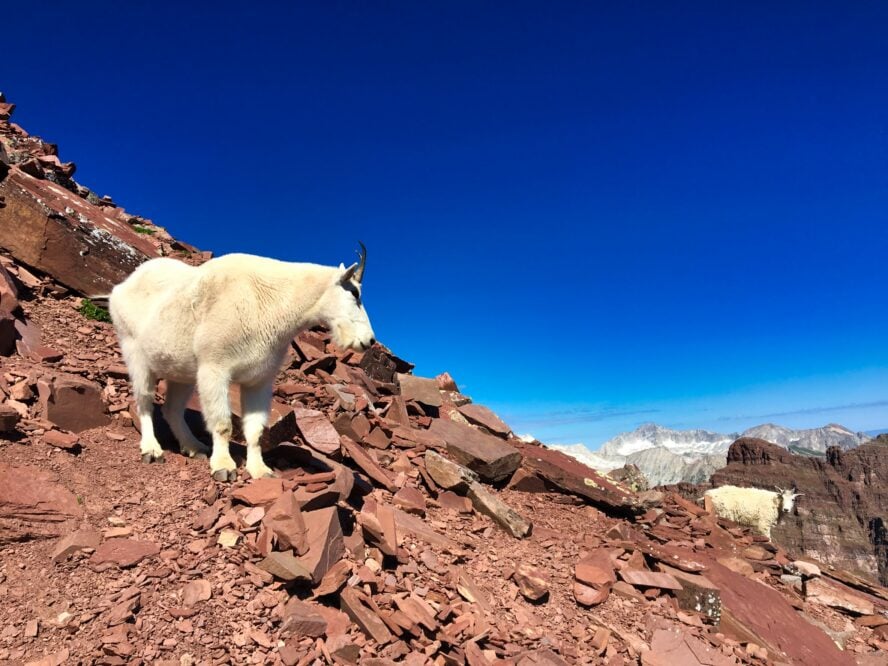 Who can climb the Maroon Bells?
If you're a first-time climber, skip the Maroon Bells or hire a guide. Ascending the peaks isn't a hike, it's a technical climb. Even on the non technical sections, the hiking is steep, and you need confidence to move efficiently. If you're nervous to move on loose rock terrain, I would recommend you hone your skills on less committing terrain before attempting these climbs. Wearing a helmet is a must and maybe even a rope on some routes.
Stick to the route carefully and be aware of your surroundings. The routes are changing every season and the decaying rock is an ever-present hazard. Even if you have plenty of experience under your belt, a qualified guide will definitely add to your experience on the Maroon Bells. Bagging the Deadly Bells is an epic feat, but they don't call them that for nothing.
The Maroon Bells are a peak-bagger's dream. It pays off to book a guide, especially on such challenging terrain. Take any guesswork out of your adventure and reach the top successfully!