Bugaboos Rock Climbing Delivers an Alpine, Crack Climbing Paradise
What do you get when you combine Yosemite's rock quality with glacier features? The Bugaboos — an alpine paradise with some of the best crack climbing in North America.
Climbers from all over the world have been climbing the Bugaboos for well over a hundred years. It all started with the legendary Austrian mountain guide Conrad Kain's tour de force in 1916. During that year, Kain made first ascents of many of the Bugaboo Glacial Peaks including the North Howser Tower. I first visited British Columbia's Bugaboo Provincial Park in July 2008. More than a decade later, I consistently return to chase down the endless splitter granite cracks erupting out of the glacial fields.
Sucking in the alpine air is therapeutic on its own. Once you have quested one of the awe-inspiring spires, you'll be smitten and scrambling for the next. The Bugaboos are one of the best alpine climbing arenas I've ever journeyed to thanks to the perfect mixture of steep couloir approaches and bulletproof granite rock. Get your kit dialed, complete with crampons and ice ax, and prep your technique. It's time to head to Canada.
Pros and Cons of Climbing the Bugaboos
True classic trad and alpine routes
Authentic mountain-hut experience and exceptional alpine camping
Accessible routes of varying difficulty
Long, complex technical descents
Requires extensive preparation
Weather can quickly turn sour
No cell signal in case of emergency
The Bugaboos are a 482-meter (300-mile) range in the Purcell Mountains, located near Golden in the southeast corner of British Columbia. They're truly stunning. Not only does the terrain offer some of the best crack climbing in the world, the landscape will make you feel like a professional photographer. Talk about photogenic. Once you've made the steep approach up to the Kain Hut, the surrounding features welcome you to pull out your iPhone or Nikon.
The Bugaboos are Jimmy Chin and pro climber approved
Almost six years ago, my buddies and I were ready to set up camp on the glacier in the East Creek Basin in the Bugaboos in B.C. We saw a helicopter swirl down and land where we were about to take a lunch break. A guy jumps out, North Face bags in hand, and apologizes for the noise. He turned out to be the professional climber Jimmy Chin. If you're unfamiliar, Chin's a professional climber and skier who also happens to be an incredible photographer and Academy Award-winning director. Soon after, the entire North Face team follows, including fellow climbing icons Conrad Anker, Alex Honnold and Rob Frost.
When they asked me what they should climb first, it was a no brainer. I suggested Solitary Confinement, a 5.11 multi-pitch splitter and my all-time favorite. Seeing photos of their crew at the Bugaboos Provincial Park on Instagram weeks later felt amazing. I'm not one to sensationalize events, but it was pretty cool.
The best Bugaboos climbing season is summer
The peak Bugaboos climbing season is usually in August, but peak climbing season falls in a pretty narrow window. Mid to late August seems to offer the driest and warmest weather. You can plan around July to September as a general weather window. One of the easiest things to do in the Bugaboos is to get snatched up in a turbulent, nail-biting storm. Expect some (or all) lightning, snow, hail, wind and rain. I once visited at the end of July, and even then, it started snowing on us. We woke up to centimeters of snow on our tent. Keep in mind, you're climbing in a high-alpine environment. That's challenging on its own. Electrical storms have killed climbers in the Bugaboos. It's imperative to be prepared and plan for the regular, unexpected blasts of weather frequenting the Purcell Range. Most of the colder weather arrives from the Northwest and the Pacific with more stable air masses. Storms from the Southwest are warm and wet.
You need to factor in carrying five days' worth of gear in your pack. If you decide to visit the Bugaboos during the winter climbing season, you'll also find great opportunities for backcountry skiing.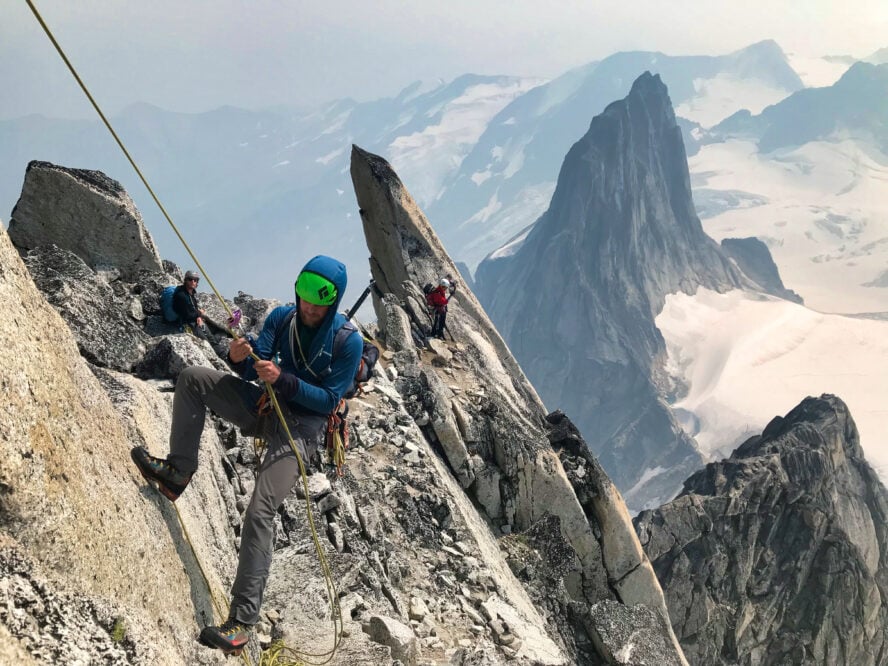 Classic Climbing in the Bugaboos
Bugaboos climbing is easily considered one of the best places for rock climbing in Canada. The terrain is also a training ground for bigger alpine objectives, like climbing the North Face of Eiger in the Alps.
The Bugaboos are home to superb alpine and trad climbs split across five or so notable spires. Upon arrival to the Kain Hut and Applebee Dome Camp, you'll encounter Snowpatch Spire, Bugaboos Spire, Crescent Tower and Crescent Spire. Beyond those, you'll need to get a helicopter lift or ascend the Bugaboo/Snowpatch Col to get a decent look at Pigeon Spire and the backside of the Great Howser Towers. No matter what objective brought you to the Bugaboos, you'll get an endless spectrum of climbing objectives, killer views and an opportunity to meet climbers from around the globe. I'll break down the highlights of what to look for at each of the formations.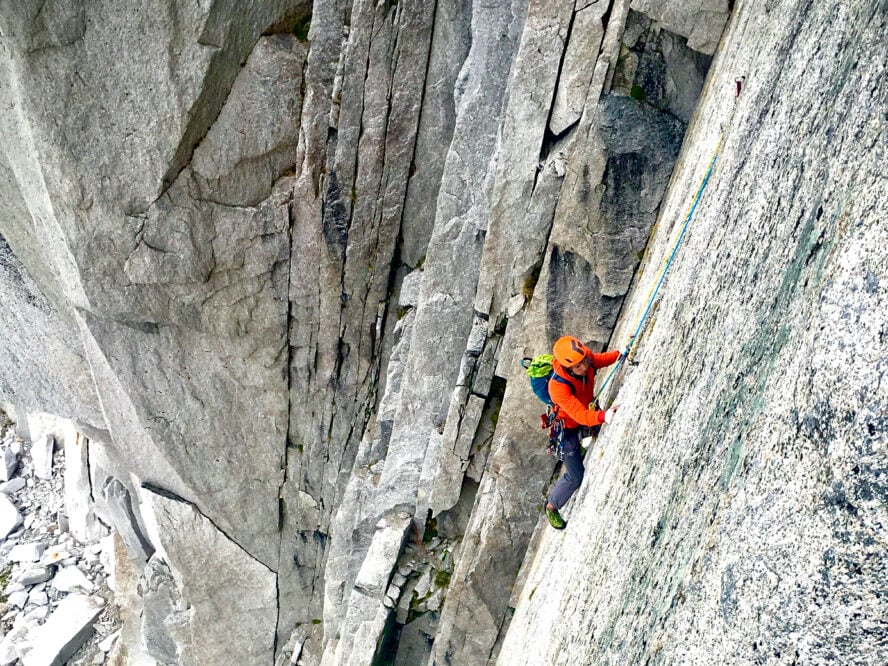 1. Snowpatch Spire: Large walls and challenging classic routes
When you think of the Bugaboos' spires, you're thinking of the Snowpatch. With over 50 routes ranging from challenging 5.8s to humbling 5.12s, the Snowpatch will not fail to deliver. Prepare for unmatched technical climbing. This standout spire is exactly what you came here for — trust me. Some of the classics include Kraus-McCarthy (5.9+), Surfs Up (5.9), Snowpatch aka the SE Corner (5.8) and Sunshine Crack (5.11-). Most routes boast seven to 17 pitches that will test all of your technical skills. Oh, and don't miss Super Direct (5.10+) on the West face of Snowpatch.
If you can do only one moderate route, head to Surfs Up, a 5.9 on the far south end of the west face. Push through three pitches with some less than impressive rock and a small route-finding challenge to access the Surf's Up Ledge. As soon as you surpass the ledge, it's all worth it. The last three pitches offer up aesthetic cracks to a broad ridge crest that eventually joins the South Summit.
2. Pigeon Spire's moderate West Ridge: A must-do and pure fun
Look no further than the all time classic Pigeon Spire. This Bugaboos climbing spot is perfect for anyone getting their footing with alpine climbing but wants a taste of the best rock in the world. The Pigeon Spire throws in a long and continuous knife edge with tons of exposure, over 458 m (1,500 ft)! Not super technical or sustained, the spire offers up excellent fourth and low fifth-class climbing the whole way up. In fact, the West Ridge (5.4) of the Pigeon Spire is an all-star for its position and exposure — even among the classics. If bulletproof rock quality wasn't enough, wherever you turn, you'll find the Vowell Glacier and surrounding peaks fencing the Pigeon such as The Howser Towers, Bugaboo and Snowpatch. I try to make an effort to climb Pigeon every time I'm in the Bugaboos.
3. Howser Towers: The giants of the Purcell Range
If other spires don't pose enough of a challenge for you, cut your teeth on the long wall routes of the Howser Towers. These climbs take it up a notch (or two) as alpinists endeavor to venture on truly committing and remote routes. The Howser peaks are also the tallest in the park at over 3300 m (11,200 ft). Beckey-Chouinard is one of the most classic climbs in North America, if not the world. Ringing out at 5.10, this 609-meter (2,000 ft), 15-pitch wonder ascends the whole height of the west face of the South Howser. The "BC" was first ascended way back in 1961 by Yvon Chouinard and the infamous Fred Beckey. History makes it even more classic. Head to the Bugaboos in the months of September or October to have mixed and ice climbing routes. There's also The Big Hose (5.9 WI4, M5), first climbed solo by the writer Jonathan Krakauer in 1978. It's now a popular mixed alpine line.
4. The Crescent Tower and Spire: Low-angle classic climbs
Each of the Crescent Towers' pitches offer a lower-angle introduction to the Bugaboo rock. The Crescent Towers are settled between Crescent Spire and Eastpost Spire, a quick, non-glaciated approach from the Applebee Dome campground. Not to be confused with the spire of the same name, the towers are actually a series of five summits. Routes start at 5.6. Get your blood flowing with a warm up on the Lion's Way or the Ears Between. McTech Arete is a 5.10 on the Crescent Spire with pitch after pitch of uber-classic climbs. McTech is often crowded. Plan B climbs include McTech Roof, Paddle Flake Direct or Woza Moya.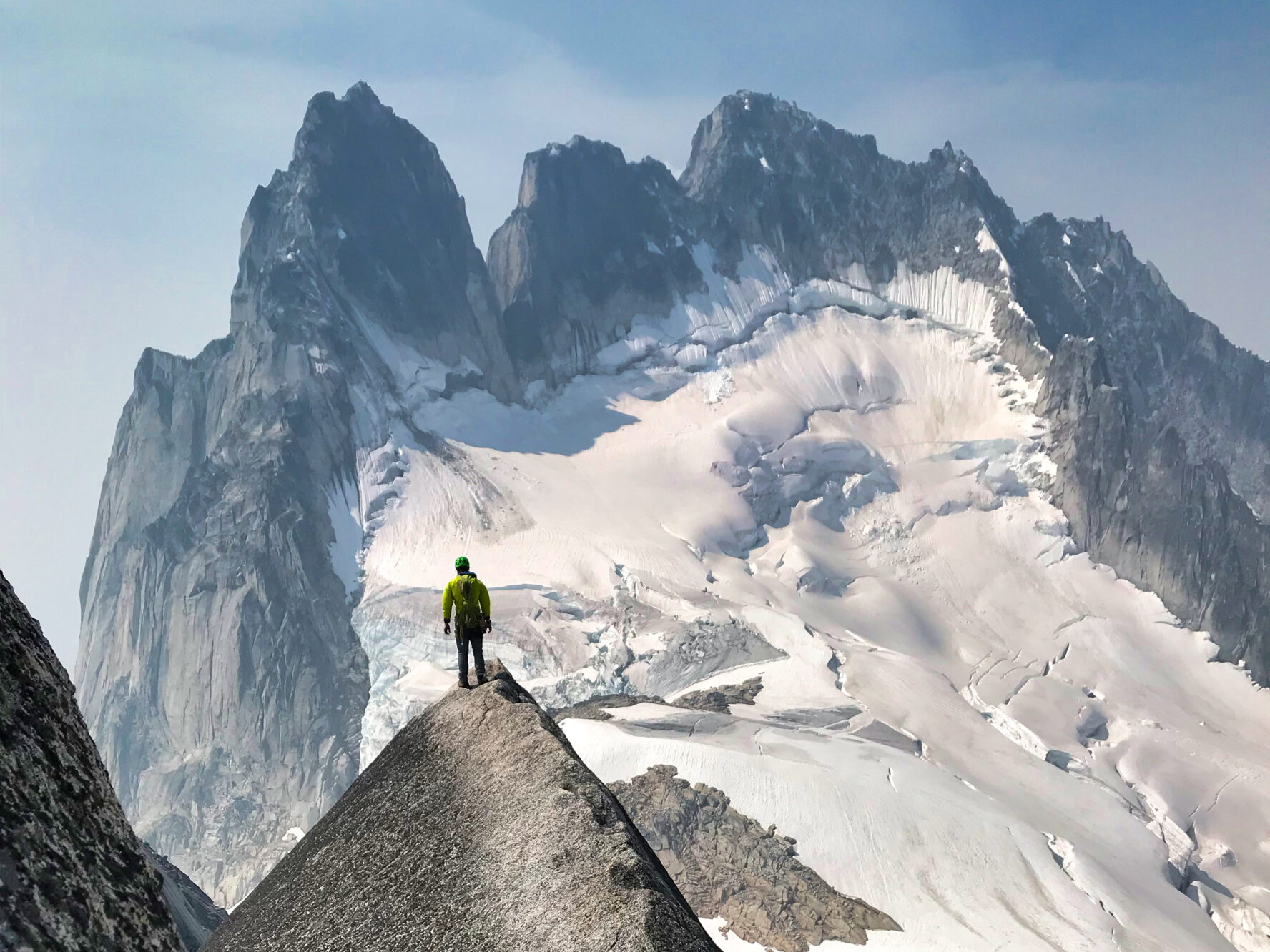 5. Bugaboos Spire: Lives up to the name thanks to technical Kain Route
Climbing at Bugaboo Spire is no surprise why this 3200 m (10,500 ft) spire bears the range's name. The Kain Route will take you up the South Ridge. Even though it's rated a 5.6, you'll want to have a significant amount of fitness, "mountain sense" and experience with route finding. Reaching the Kain Route requires mountaineering skills on the very steep and objectively dangerous Snowpatch/Bugaboo Col. I've seen and heard of many accidents in the Snowpatch/Bugaboo col over the years. You should have adequate crampons, ice axes and planning. Rock quality can be chossy and loose with ridge scrambling. Low fifth-class climbing needs protection with a light rack and rope. Less experienced climbers are wise to climb with a guide. I've seen many people get caught on top of these ridges. Plus, the weather is merciless. Be prepared for a lightning storm to appear out of nowhere. They could pin you down.
An AMGA Guide's Advice for Planning Your Bugaboos Trip
The Bugaboos will cook up plenty of challenges. Expect glacier travel, route-finding, objective dangers, stuck ropes, route conditions and the demand for movement skills. Be prepared for inclimate weather. Bring entertaining partners helps when waiting out storms and possibly being confined to your tent for a few days. Having dependable and state of the art equipment is crucial to a successful Bugaboos climbing trip. Here are my tips for the best Bugaboos climbing to make this unforgiving alpine environment less daunting.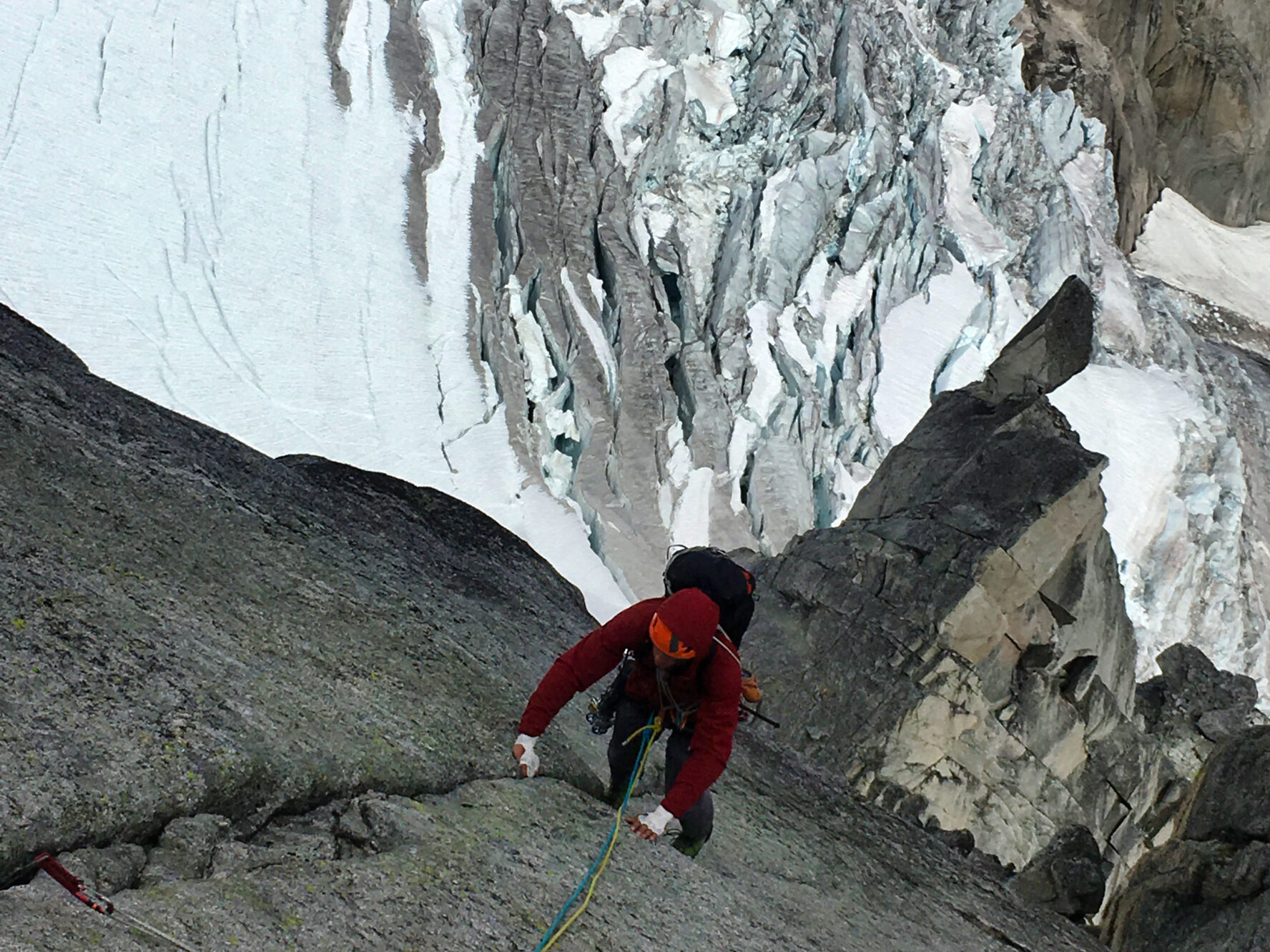 Do you need a permit to climb Bugaboos Provincial Park?
No permit is needed to rock climb in the Bugaboos. If you're planning on spending the night in the park, however, you'll need to get a camping permit. Make reservations through the Alpine Club of Canada to stay at the Conrad Kain Hut. Otherwise, Applebee Dome campground is available on a first-come, first-served basis. If you want to avoid making reservations — or sleep above treeline — find lodging in the East Creek Basin outside Bugaboo Provincial Park.
Do you need a guide to climb the Bugaboos?
Bugaboos climbing guides are a huge step forward in this unforgiving environment. You can climb the Bugaboos on your own. As with any alpine environment, you need to extensively prepare. It's easy to get trapped on these ridges because they're so complex climbing down. The weather can come in and stop you in your tracks. Then, you're stuck on wet rocks. The custodians will always bring a weather report to the campground or in the lodge. It's crucial you have and know how to operate a satellite phone. It's also a good idea to carry a solar panel to charge your essentials. The cell service isn't just spotty. It's non-existent.
The remoteness of the Bugaboos is also what makes it so attractive. The benefit of climbing guides is that they're able to plan routes based on your skill level, bring emergency equipment and are first-aid trained. Plus, climbing with the pros takes the pressure off, so you can relax and have fun while in this gorgeous section of the world.
How do you get to the Bugaboos?
You can get to Bugaboo Provincial Park off Highway 95 in British Columbia. The Bugaboos are in the Purcell Range, just 17 miles north of Radium Hot Springs or 48 miles south of Golden. You'll know you're on the right path once you hit a dirt road that continues past a lumber mill. Depending on the time of year you visit the Bugaboos, keep in mind, there is a high chance of avalanche debris and muddy roads. A four-wheel-drive vehicle is recommended.

The Bugaoos see snow and inclement weather year-round due to the altitude. It's part of the fun. Photo by AMGA Rock Guide Jesse Ramos
What gear do you need for Bugaboos climbing?
Being so far north, the snow in the Bugaboos doesn't fully melt. As a result, you'll need technical gear for mountaineering, down layers and robust storm shells. A nice pair of lightweight mountaineering boots with crampons are essential to gaining most of the routes in the Bugaboos.
How to prepare for the Bugaboos?
Most people underestimate climbing the Bugaboos. Preparation is key for these technical approaches and pitches. Glacier travel and steep couloirs offer an unforgettable and challenging experience. Your team must have basic crevasse rescue dialed before venturing out. Good movement skills and technical knowledge is required to just reach the routes. The Bugaboos can be an intimidating place, especially as somebody without snow or glacier skills. It's a pretty big production to go up for even five days.
Essentially, climbing in the Bugaboos also calls for experience and knowledge on backcountry camping. It's not as intense as it may seem if you know how to winter camp. It's all about the right gear to stay comfortable in the high-alpine. Staying in the hut is a great option for anyone not skilled or interested in cold-weather camping. Keep in mind, you'll need to haul up a lot of gear either way. Make sure your equipment is top-notch because the weather can be wet and cold.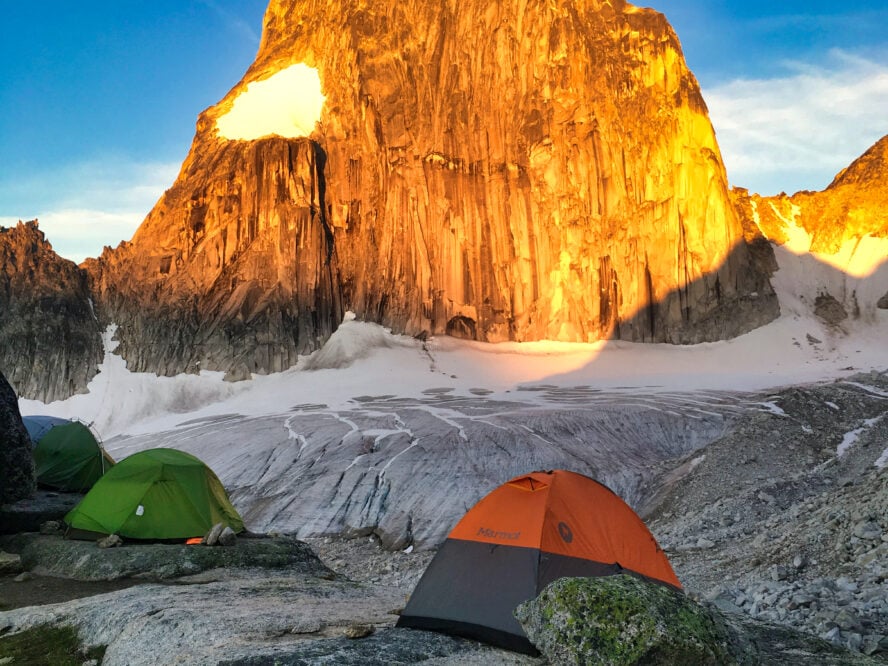 My recommendations for where to stay in the Bugaboos
Where you should stay in the Bugaboos depends on your budget and comfort level. Many will argue that climbing the Bugaboos without staying at the Conrad Kain Hut is almost like not heading to the Bugaboos at all. It's a European-style alpine hut managed by B.C. Parks and the Alpine Club of Canada. It sleeps 35 and is similar to a hostel with the space divided into bunk beds, a functioning kitchen and outside toilets. The small library equipped with books on the alpine history of the Bugaboos, as well as board games, is quite charming.
If you have a taste for adventure and prefer to stay closer to the routes, opt for the Applebee Dome Camp. Less cozy than the Kain hut, it does have bathrooms, bear lockers and hangers for your equipment. The camp operates on a first come, first serve basis. Pre-pay for your backcountry permit online. This doesn't reserve you a spot. It does allow you not to have to carry cash and pay upon your arrival.
Give your muscles some rest post-climb at Radium Hot Springs
There's nothing better than spending a day in the hot springs in Banff National Park or Radium Hot Springs after a week of intense climbing. Radium is a mountain village two hours away from the Bugaboos. The town's motto is "the mountains shall bring peace to the people." After soaking your tired muscles in the natural springs, you'll leave the place with a newfound sense of serenity.