Why Climbing at Pilot Mountain is an Ideal Beginners Crag
With easy access, a variety of terrain, and tons of climbing routes, Pilot Mountain is my favorite classroom for beginners and a great training ground for those looking to pick up new skills.
In my 18 years of climbing, I've never found a crag that's as accessible, lowkey, and enjoyable as Pilot Mountain State Park. It's got everything from comfortable, juggy faces to sustained overhanging walls, and with top access to tons of walls it's the perfect spot to nail down the basics of climbing or pick up new skills. If you're ready to get out of the gym and start your outdoor journey, rock climbing at Pilot Mountain is the ideal launching pad.
Pros and Cons of Rock Climbing Pilot Mountain
Short approaches, top access, and plenty of easy-to-moderate grades
All-day shade on hotter days and temperate weather in the spring and fall allow for great conditions year-round
Great location to test out a variety of terrain, from cracks to roofs to slabs
Due to large crowds, climbing on weekends can be a hassle. The early bird gets the worm!
Climbing on the iconic pinnacle has been prohibited since the 70's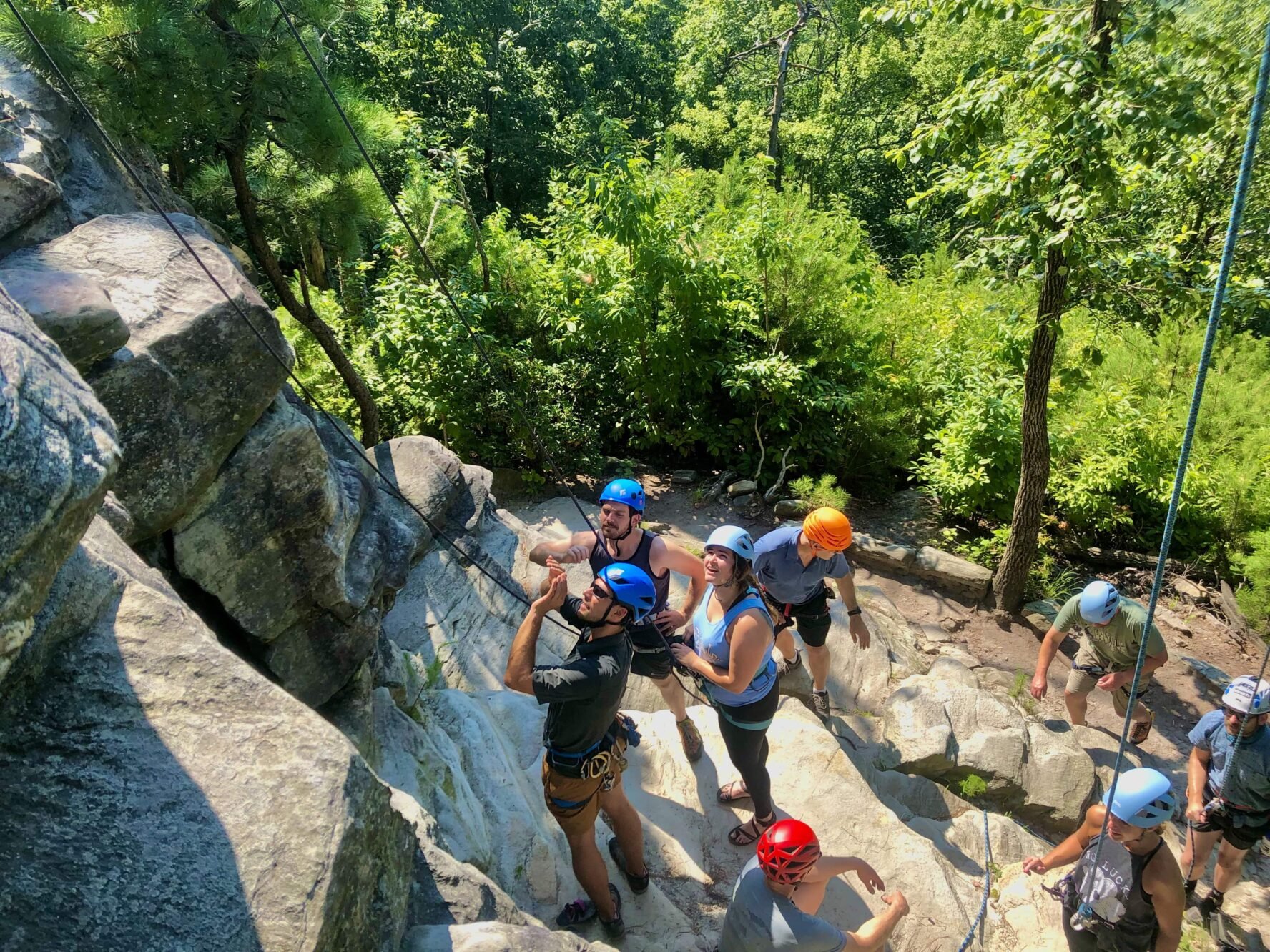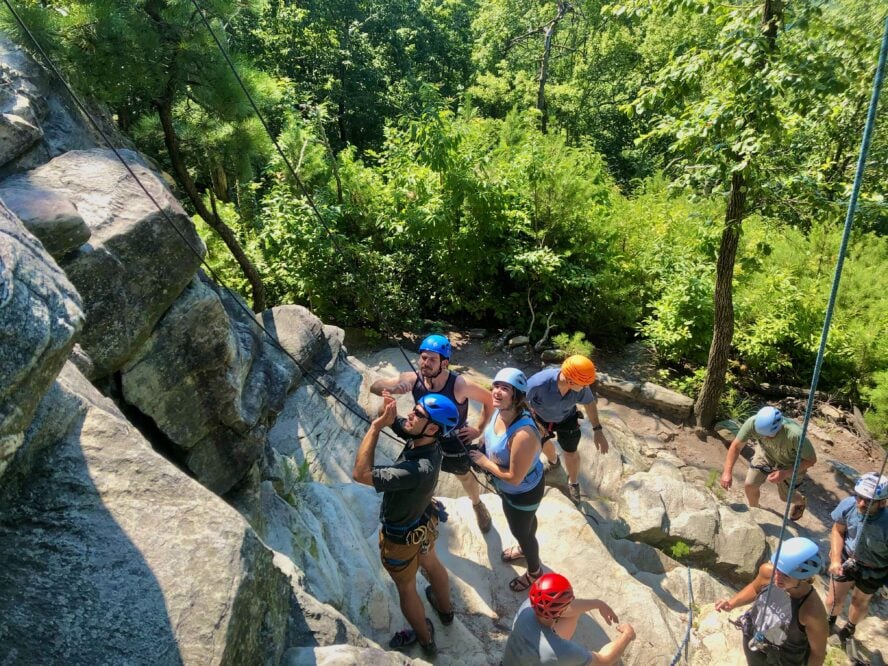 Pilot Mountain's Walls Were Made to Be Climbed
Pilot Mountain is a great classroom for beginners and newer leaders looking to push the grade. As a North Carolina local, Pilot Mountain a welcome break from the abundance of multi-pitch climbing routes at places like Seneca Rocks and lack of sport climbs below 5.10 that is typical across the state. Nothing wrong with those, but with more and more gym-to-crag climbers these days I like guiding at Pilot Mountain. With its convenience and moderate grades it is one of the most accessible spots for single pitch sport climbing.
A jaunty approach brings you to the stretch of climbing walls near the 2,421' Little Pinnacle. Looking across the low lying Piedmont area you almost get a bird's-eye view of the land. It always gives me a familiar sense of exposure, like I'm back in my childhood home pulling myself up tree limbs for that first taste of the vertical terrain.
Helping newcomers get that same satisfaction, on taller walls of course, is the biggest bonus of the job. In my opinion, there's no better place to learn to climb at Pilot Mountain.
Sticking out like a sore thumb, but easy on the fingers
You can't miss it. Pilot Mountain's iconic Big Pinnacle is a quartzite "monadnock" formed through years of erosion that projects out of the landscape like a giant's misplaced thimble. Sometimes I'm asked, what's on top of Pilot Mountain? Well, we don't actually climb the Big Pinnacle as access has been closed to visitor access since the late 1970s, but we can enjoy views of the historical landmark that once acted as a navigational feature for the Saura tribe.
If you're into geology, in this area you'll usually find quartzite embedded as narrow bands within sandstone walls. However at Pilot Mountain it spreads through all of the cliffs. The result is a wide variety of features—within a single route you'll often navigate corners, roofs, bulges, arêtes, and cracks.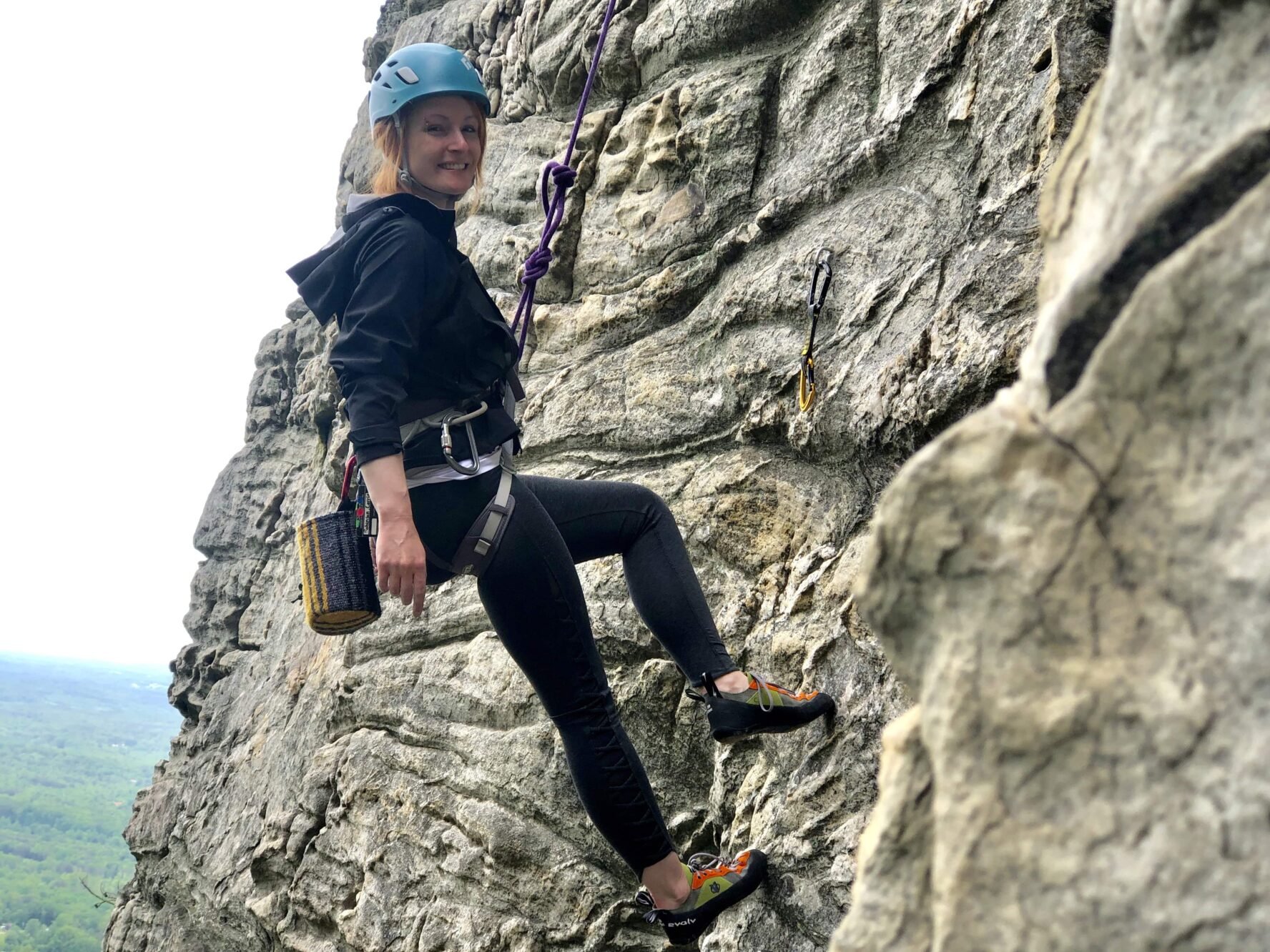 The predominantly horizontal cracks, similar to those you'll find climbing in the Gunks, make for interesting jams, laybacks, and bomber protection. For the old-school trad dads, there are plenty of opportunities for leading on your own gear, and the clifftop access means you can easily set up a top rope on those same routes as well. There are technical face climbs too, where sharp and scattered holds will have you sprawled out and reaching high for the next crimp or jug. Most routes are easy to moderate, but there's plenty of classics ranging from 5.6 to 5.13a.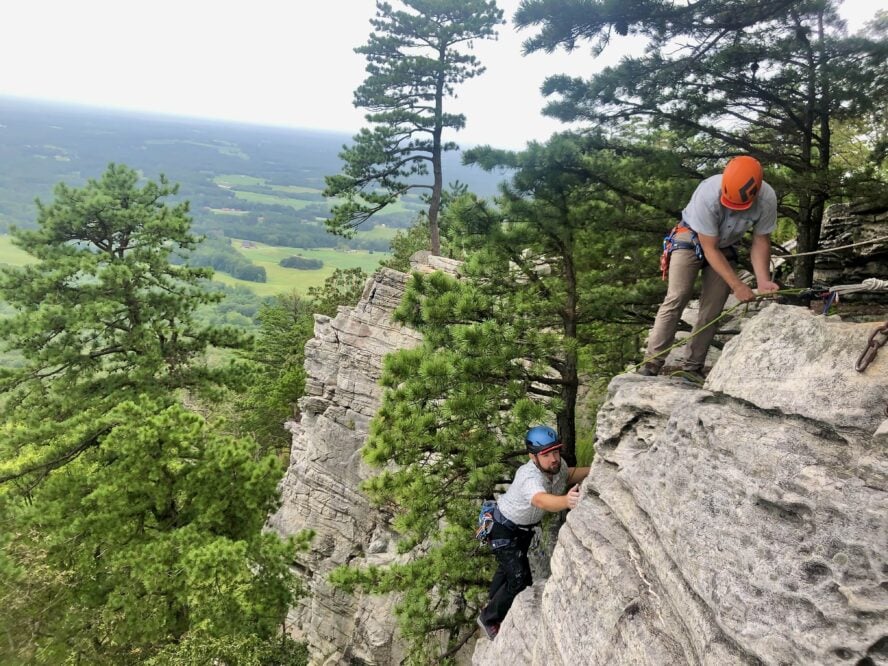 Pilot Mountain Climbing Is Ace for Young Guns
With so many separate crags it can be hard to decide where to start climbing at Pilot Mountain, especially as a beginner. After years of coming here, I've compiled my go-to's for just about every style and difficulty, so listen up and skip the endless Mountain Project scrolling!
If you're a first-timer hoping to learn some new skills, or just need a warm up, the Little Amphitheater and Three Bears areas are the sweet spots. Nestled in the middle of the main corridor, these neighboring crags are full of friendly, short routes that don't require any huffing and puffing to get to. Classics in the 5.5–5.7 range, like Goldilocks and Honey Pot, are abundant.
1. Three Bears is juuust right!
At the Three Bears area, a short amble through the gully will take you to the clifftop and the top rope anchors. For those looking to get on the sharp end for the first time, there's plenty of sport climbs below 5.8.
The actual Three Bears—Mama, Papa, and Baby Bear—await those ready to push the grades. Ranging from 5.9–5.11, their technical cracks and roofs will put your skills to the test. Seclusion from the main trail, all day shade, and a mixed bag of climbs make this crag one of my favorites for guiding in the summer.
2. Put on a masterful performance at Little Amphitheater
On the other side of the Three Bears Gully, this crag is like the big Amphitheater… but littler. There's no doubt it's one of Pilot Mountain's best climbing areas, and with it come the crowds. Most routes here run between 5.6–5.8, but a handful of 10's can be found as well. One of my favorites, Erocktica (5.10c), follows a tricky start into a low-angle slab followed by a long and pumpy roof section at the top of the wall. That kind of variety is common here, and it keeps the climbing exciting and fresh.
3. Push your ceiling at the Amphitheater
When I'm not guiding, the Amphitheater calls my name. Similar to what you might find when climbing at New River Gorge, this curved wall ascends about 30 feet before jabbing out into an extended roof. With more routes than any other crag, it's the theatrical 10's, 11's, and 12's that will make you want to put on your best performance.
There are some unique routes here. Overhang Hangover (5.11b) climbs almost like an upside-down staircase that might make you punchdrunk with how much fun you'll have. Mr. Henar (5.12a/b) is the area's crown jewel. The first section is 30-40 feet of crimpy and slightly overhung terrain before a series of heel hooks, long reaches, and tension moves are needed to get through the roof.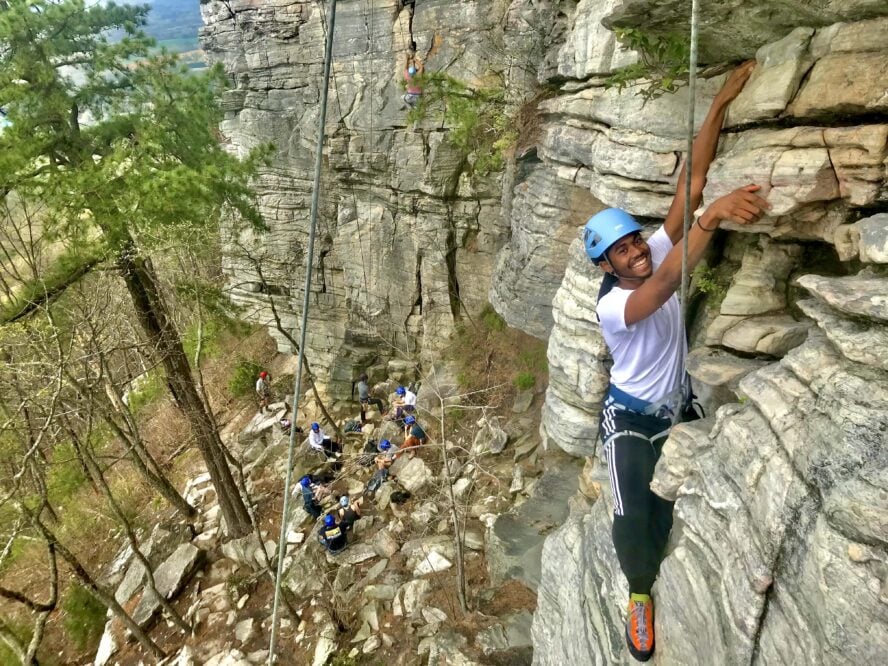 The Path Less Traveled—of Pilot Mountain's Climbing Areas
Woohoo, the work week is finally over! What better way to spend your Saturday than with a long-awaited session to finally send your project. You grab your gear, drive to the lot, and what do you find? It's full! Climbers are everywhere and a line has formed behind your project. Well, good thing that you know just how to beat the crowds.
With approaches that add no more than 10 minutes, the Parking Lot Wall and The Beach are two of the best climbing areas at Pilot Mountain to find some peace and quiet.
1. The Beach
On the western end of the Ledge Spring Trail, The Beach has quality lines from 5.6 to 5.11. The rock, littered with slopers and crimps, reaches as high as 50 feet and is crinkled like overcooked hickory smoked bacon. Some of my favorites include Spin Drift (5.9), which features delicate stretches of slab interrupted by overhangs and The Wave (5.11), which follows the arête on the left side of the chimney and blends mixed protection with tricky moves for a cerebral ride.
2. The Parking Lot Wall
This is another great area that sees less traffic. On the eastern end of the chain of crags, a long approach on the Grindstone Trail may seem intuitive, but it's much faster if you start towards the Pilot Knob from the parking lot and take the u-turn where you'll meet up with the Ledge Spring Trail. Note that rappelling is allowed at Pilot Mountain, but is strictly prohibited from the parking lot itself due to cliff-top damage.
Routes at the Parking Lot Wall are mostly vertical with a roof sticking out here and there. Bomber jugs make for easy navigation around the roofs though, while technical footwork is essential to scale the vertical sections. Chicken Bone (5.8), is a sustained, 90' climb typical for the area, with some spicy crimps, solid ledges, and a tricky overhanging section near the start. Thin To Win (5.10b) is another highlight, with a bouldery start and a wide crack towards the top.
That's it for my top recommendations, but with 12 climbing walls in total, Pilot Mountain has more to offer. While this may not match the magnitude of some of the classic North Carolina rock climbing areas, it's by far one of my favorite spots to teach new skills and usher in new climbers.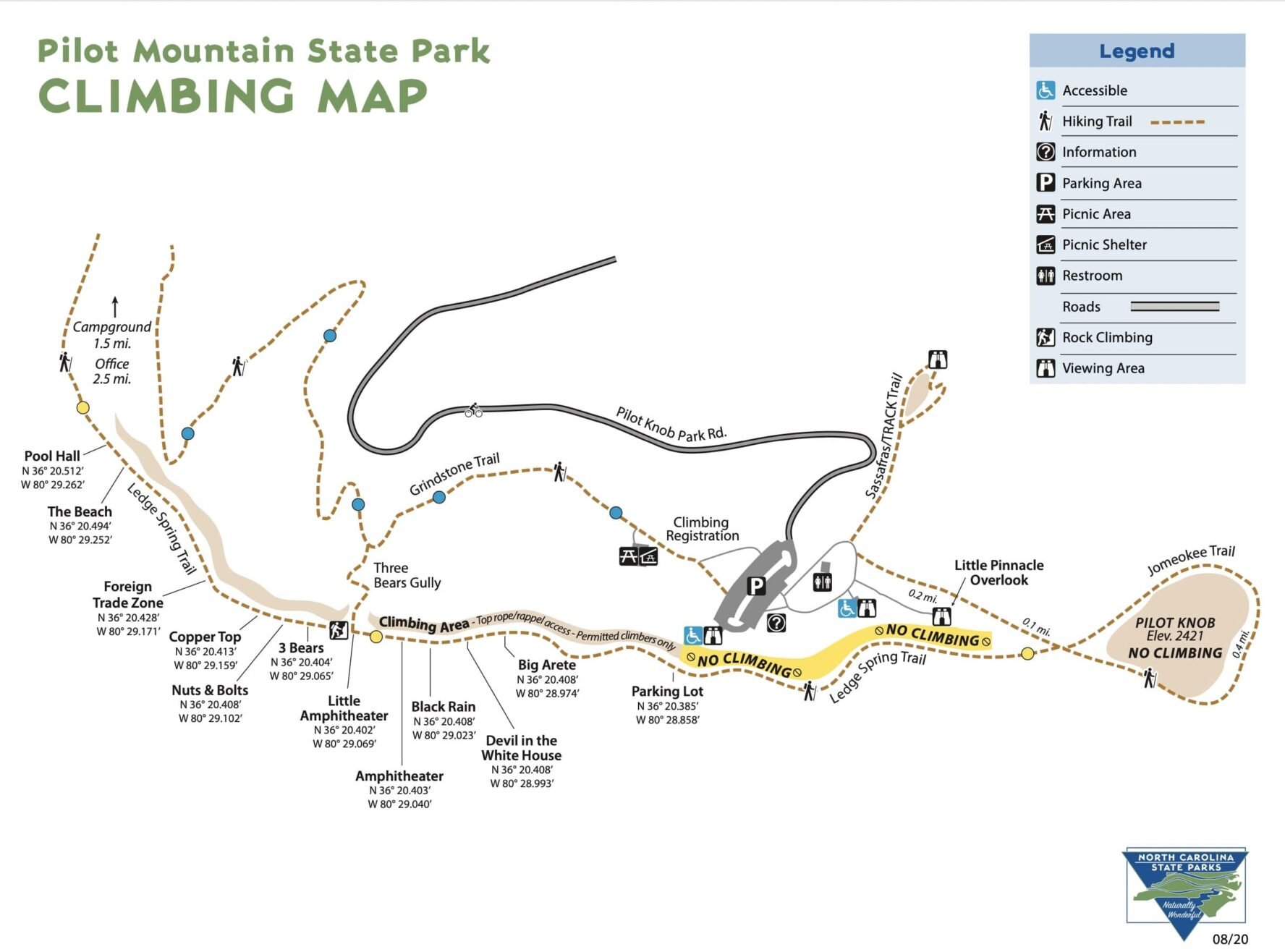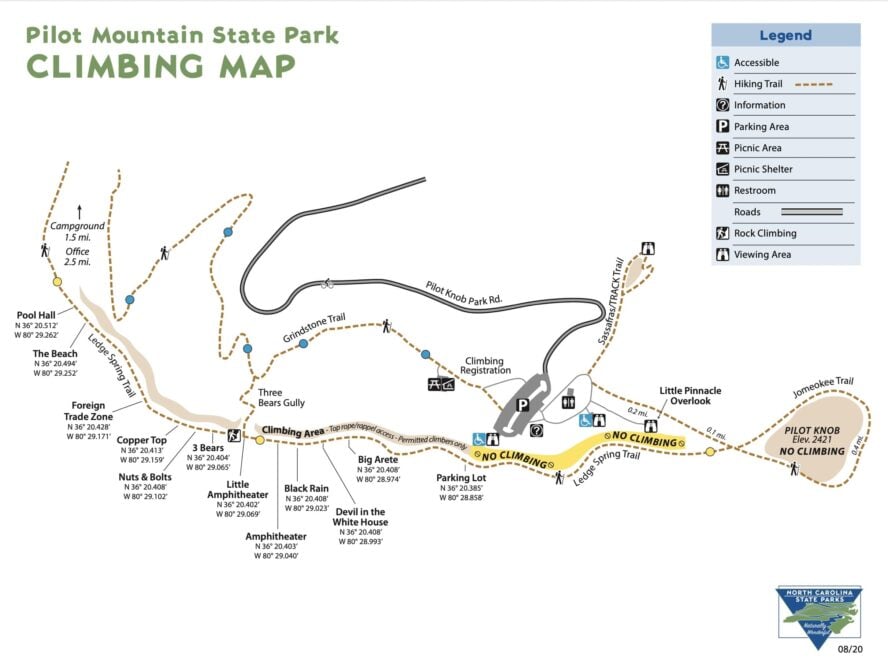 Commonly asked questions about Climbing at Pilot Mountain
What's the best time to climb at Pilot Mountain?
In my opinion, there's no better time to climb at Pilot mountain than on a cool, crisp Autumn day—the conditions are perfect for pulling hard, the rock is dry, and the changing leaves means you're sending in a sea of red and yellow. But one of the biggest appeals of this area is the southern aspect, which allows you to stay in the shade 365 days out of the year. In the hotter seasons I like to enjoy the moderate classics, and come autumn I'll head to the steeper, harder stuff. This quiet slice of North Carolina wilderness can quickly fill up with crowds, so make sure to go on weekdays or early in the morning on weekends.
Guidebook and local resources on Pilot Mountain
The best resource for this area is Carolina Rocks: The Piedmont by Erica Lineberry. Erica is a North Carolina local, and you'll see her and her family at the crag every once in a while. The guidebook covers Pilot Mountain and nearby areas, detailing crags, routes, gear, accessibility, and everything else you need to know. Mountain Project is missing a few areas, so I think it's worth it to get the guide when climbing at Pilot Mountain. Make sure to check out the Pilot Mountain State Park website for info on the area such as regulations or closures. Note that you do not need a permit to climb at Pilot Mountain.
What local organizations can I support?
The Carolina Climber's Coalition is a nonprofit dedicated to protecting and promoting climbing in North and South Carolina, Tennessee, and Virginia. Founded in 1995, it's supported the climbing community's growth through rebolting, advocacy with parks services, and other efforts for decades.
What are the best nearby accommodations?
For the true dirtbag, there's two good spots for camping near Pilot Mountain. The campground within the state park is just 2 miles down the Grindstone Trail, and has tent sites, RV sites up to 30 feet, running water, and showers. Jomeokee Campground is one exit south of the park, and has really awesome views of Pilot Mountain. It's a climber-friendly spot with potential to host an even stronger climbing community in the future. There's also a few hotels and B&B's near Pilot Mountain, but Winston-Salem has the most options and is only a 30-minute drive away.
What are the best places to eat and buy gear?
My favorite place to grab a bite after climbing at Pilot Mountain is Amazing Thailand Restaurant in King, North Carolina. In my mind, it's the rival of OK Buffet in Fayetteville, West Virginia, the hot spot for New River Gorge climbers. My go-to is the green curry, but I like to mix it up every now and then with some spring rolls. Winston-Salem has a few breweries, my favorite of which is Foothills Brewing. The beer is great, but what I really go for is the homemade beer ketchup. The closest gear shops are the Great Outdoor Provision in Winston-Salem and Greensboro, where there's also an REI.
How long does it take to climb Pilot Mountain?
Pilot Mountain is an excellent single pitch climbing crag with walls ranging from 30-100'. With approaches typically taking between 5 to 15 minutes, this is an easy place for a half-day, full-day, or post-work session.
What's the best way to get to Pilot Mountain?
From Winston-Salem, Pilot Mountain is just a 30-minute drive up Route 52 North. The drive from Greensboro takes you through Winston-Salem, tacking on another 30 minutes. The closest airport is the Piedmont Triad International (GSO) Airport, just west of Greensboro.
Anything else I should know?
When you go to Pilot Mountain, make sure to fill out a slip at the trailhead dropbox noting your intention to climb. If you're headed to the Parking Lot Wall, take the trail and do not rappel from the actual parking lot. This has been prohibited for several years due to climber impact. If you're climbing on a weekend and can't find parking, a shuttle continually runs from the visitor center to the main parking lot. Enjoy this awesome crag, and practice safe and ethical climbing! Help maintain a positive relationship between climbers and the park service by being a good climbing steward.
Ready to head outdoors for the first time or develop some new skills? Join Grant and experience Pilot Mountain's awesome crags for yourself!