Climbing Aconcagua Is a Must-Do for Advancing Mountaineers
Aconcagua first caught my attention because of its size—and stayed in my memory for its difficulty. For intermediate and advanced mountaineers alike, ascending this colossal peak is well worth the time and effort.
Somehow Aconcagua has gained a reputation as an easy trek. In fact, many clients will ask me, is Aconcagua hard to climb? "We want a challenge," they'll say. "Something a little more advanced."
I'm here to tell you this 23,000 foot giant is tough enough to humble any mountaineer. Despite being a straightforward climb, the "Stone Sentinel" requires a long, multi-day push to the summit at extreme altitude. And I'll admit, the first time I went to Aconcagua it kicked my ass. But I learned my lesson and now it's one of my favorite mountains to guide.
Whether you're an aspiring or veteran mountaineer, climbing Aconcagua can be both a challenging Seven Summit tick and the perfect next step in your career.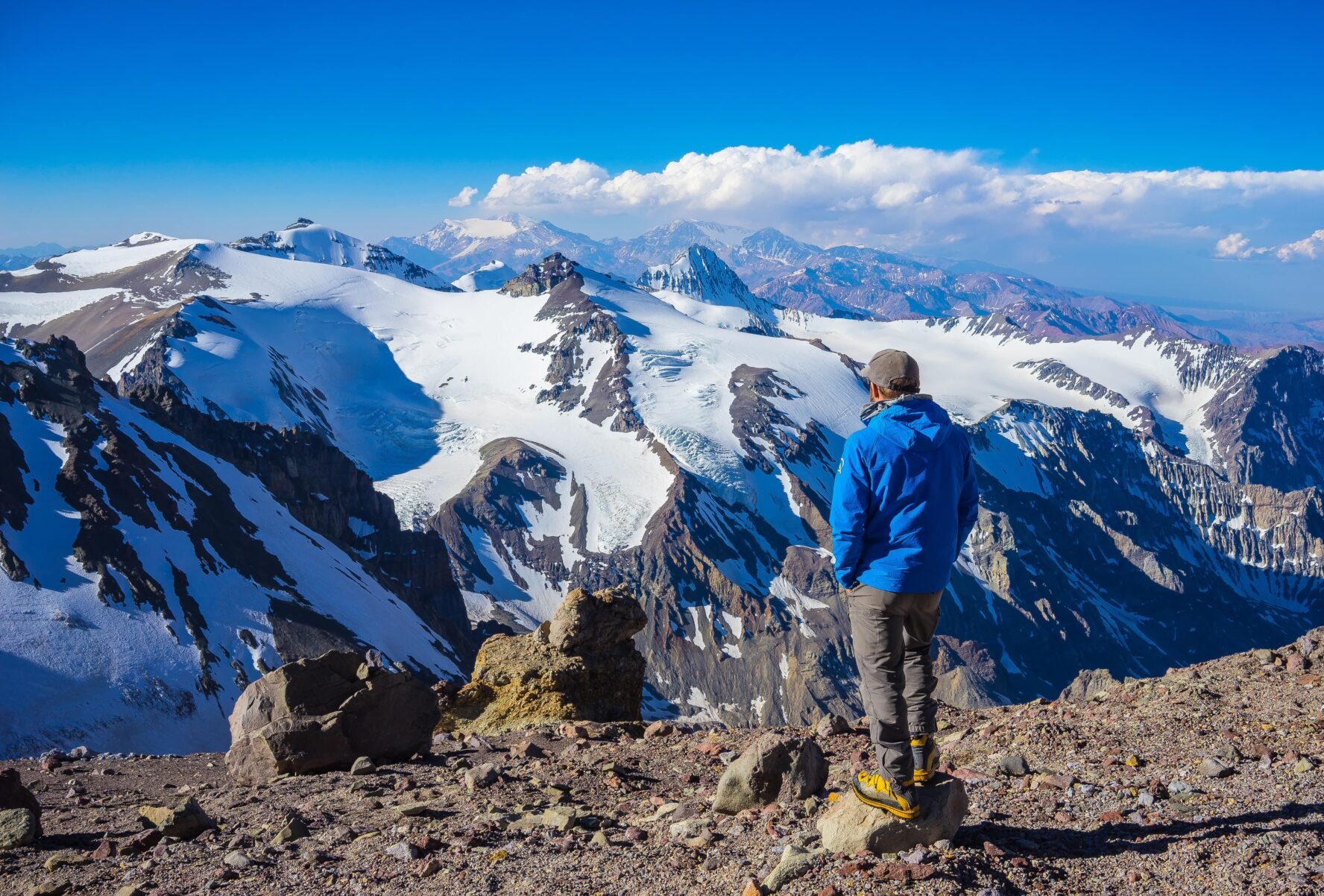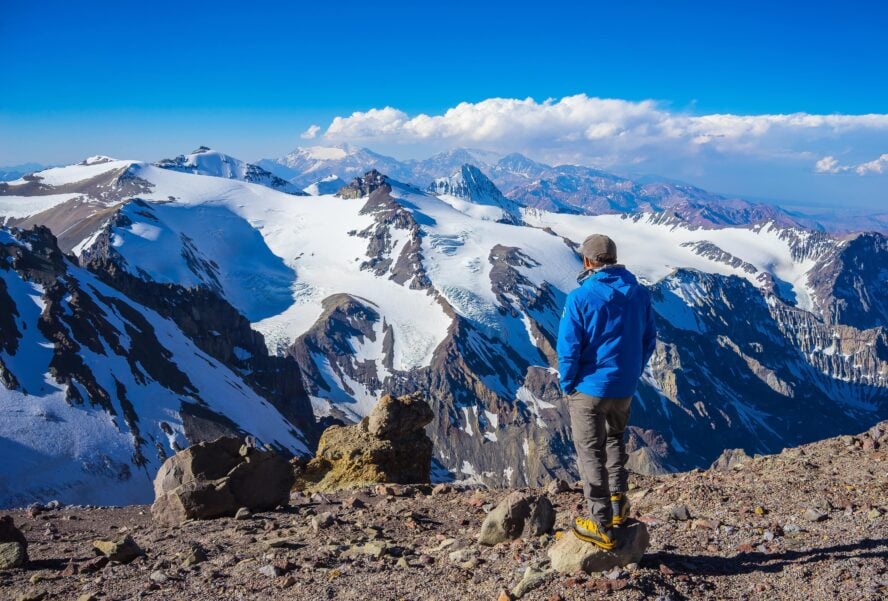 Pros and Cons of Climbing Aconcagua
One of the Seven Summits and a massive feat for any mountaineer
Life-changing experience for intermediate and advance mountaineers alike
Training ground and benchmark test for higher summits like Mt. Everest
High level of difficulty and intense weather makes this climb potentially dangerous
Intense preparation and prerequisite ascents required
How I went from climbing in sunny California to mountaineering around the globe
When I was young, the ranges of my home state grabbed me. I started rock climbing in California along the central coast near Big Sur, and was soon bolted to the mountains (literally). From there it was backcountry skiing in places like Tahoe, backpacking, mountaineering, and everything in between—you name it, I do it.
My career as a guide has led me to some really cool pursuits, like one day ascents of El Capitan to ski mountaineering on Denali. Now as the chief guide at Alpenglow Expeditions, I lead trips around the world doing what I love. Still, when the call of extreme terrain and conditions in faraway places gets too loud to ignore, I turn to the Andes.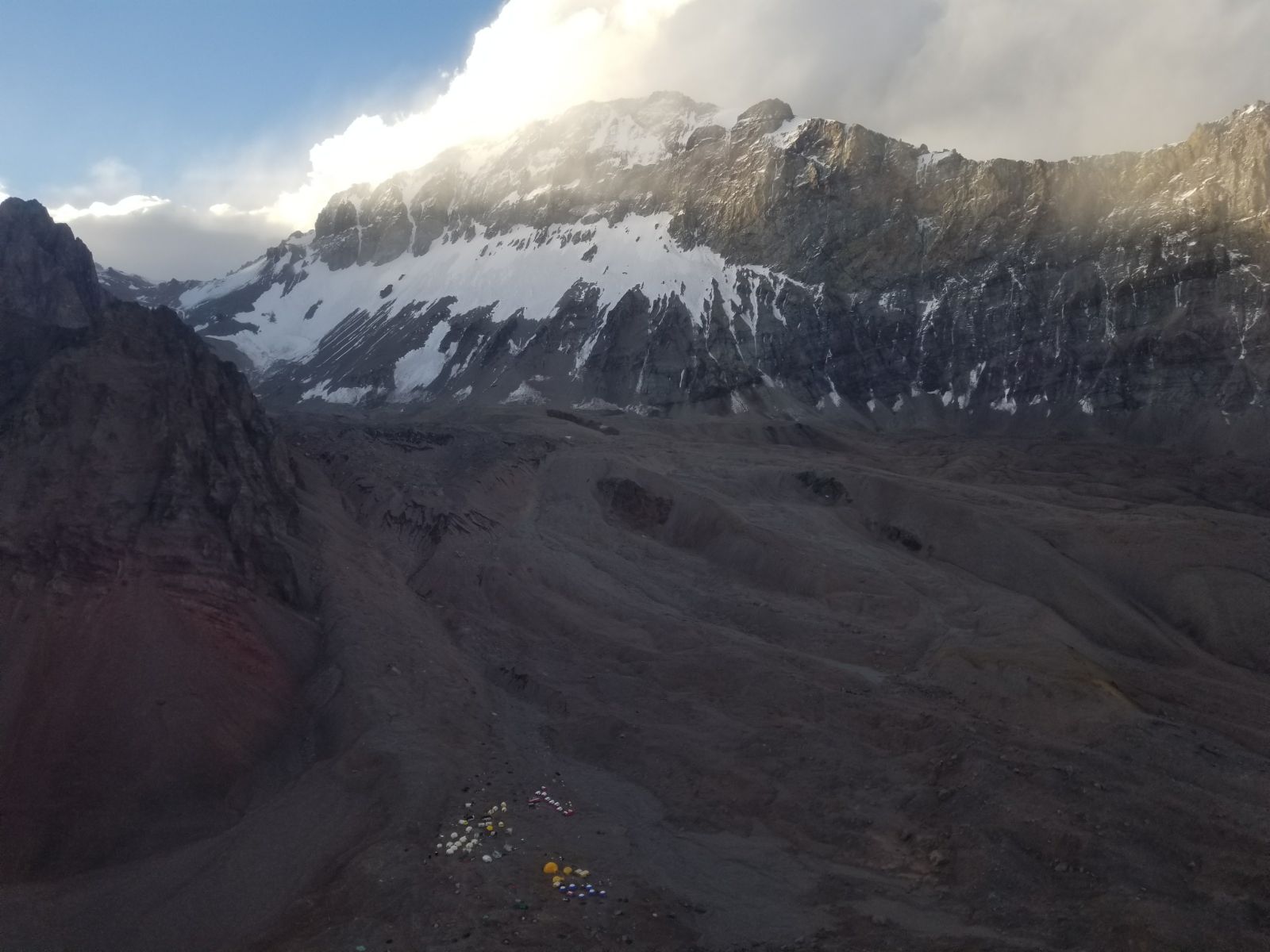 Mendoza welcomes you with open arms, Aconcagua not so much
The full breadth of the Andes is hard to grasp. It is the longest continental mountain range in the world, stretching almost the entire length of South America. While Colorado boasts 53 fourteeners (14,000 foot mountains) and the Alps has 82 of them, the Andes average height is 14,000 feet. And did I mention there are 100 peaks over 6,000 m (nearly 20,000 ft.)? In other words, this place is big, and long, and high. Kind of like Aconcagua itself.
On my first trip to climb the peak, we flew into Mendoza, a bustling city of almost 2 million in the heart of Argentina's wine country. If "Malbec" rings a bell then you have heard of the region. Here you'll find cobblestone streets brimming with trees and sidewalks populated with cafes. I was excited to be in such an inviting place.
Less inviting, I soon learned, was Aconcagua. The mountain is not a technical climb, meaning that we don't typically use ropes and advanced techniques like you need to go alpine climbing in the Canadian Rockies, however it is tough. The extreme altitude, long hiking days, and length of the expedition caught me off guard. I quickly discovered that Aconcagua is not just a training ground for more technical ascents—as many people told me—but a huge feat in itself.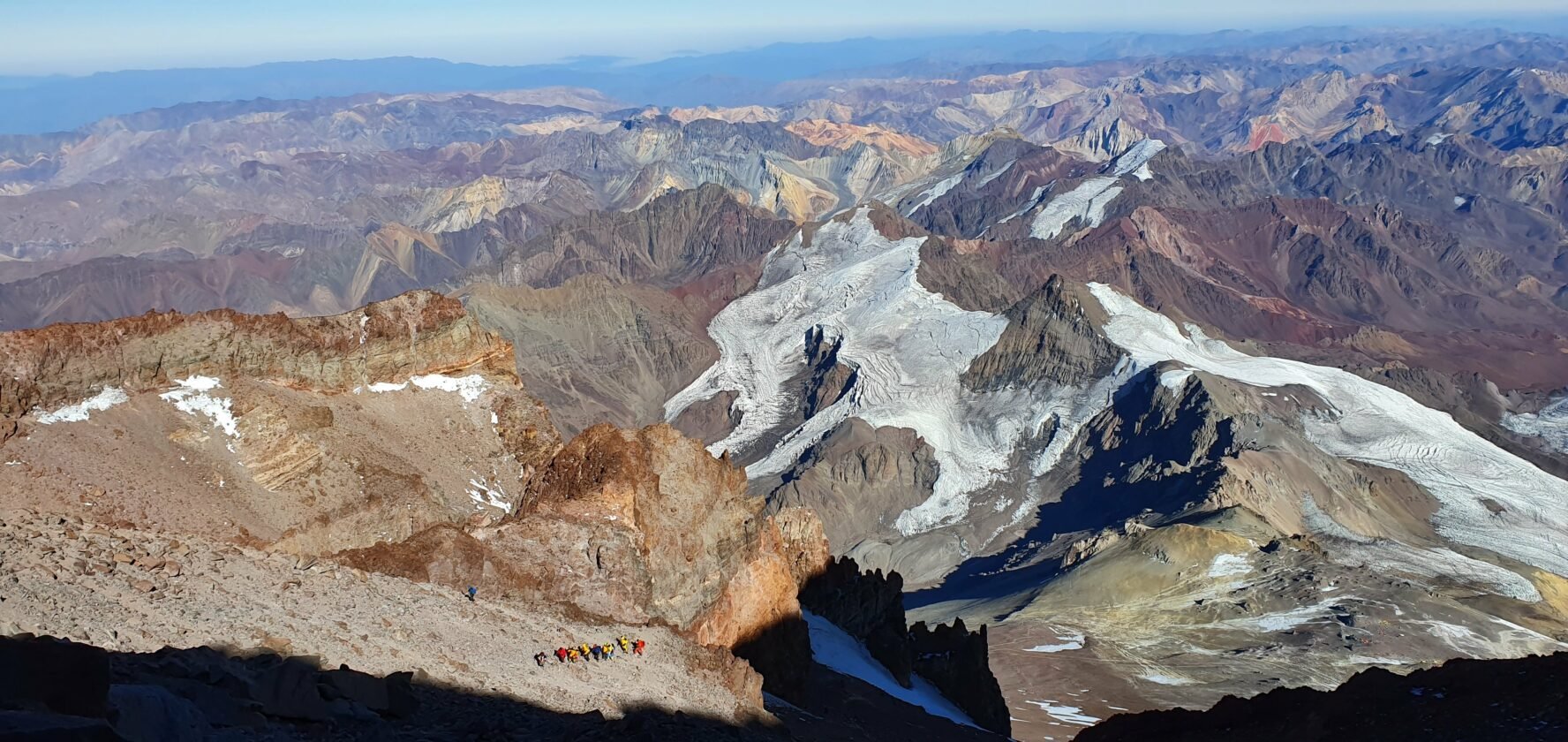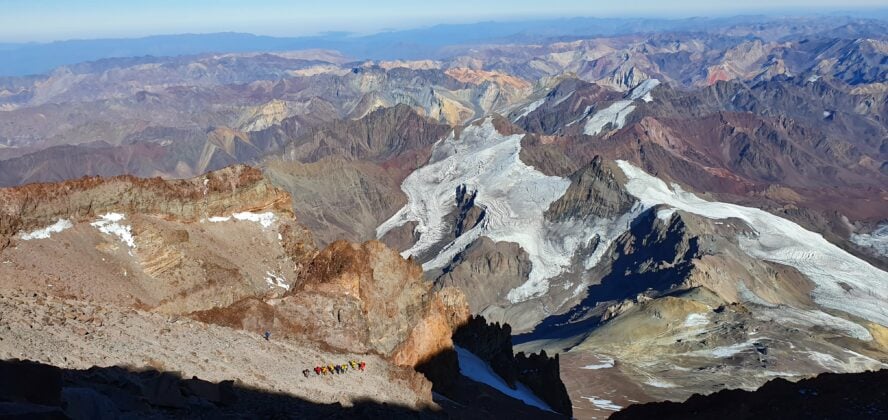 How we get from 2,500′ to nearly 23,000′
The 360° Route of the Polish traverse is my favorite path on Aconcagua, and the one we choose to guide on.
This starts on the southeast side of the mountain, goes up and over, and descends the West Face. It incorporates parts of four different routes—The Polish Glacier, Normal, Guanacos, and Ameghino—which allows climbers to experience more of the terrain and steers clear of other groups.
Things start off flying. A helicopter takes us to Plaza Argentina base camp, which is roughly the same height as Mt. Whitney. Immediately you see the Polish Glacier like a frosty bed sheet canvassing the mountain. The South Face shoots up to the right, and there, the behemoth summit towers 10,000 feet above you. Now you know you're really in for it.
The next day plows through the moraine and a field of bizarre snow formations, also called penitentes, that stab out like 10 foot tall icy fangs. We end at Camp 1, 16,000 feet, and bed down with warm food prepared by our cook.
The following three to four days are about acclimation. We work our way to the 18,000-foot Camp 2 on the Guanacos Route. Rest. And continue on the Normal Route, traversing the infamous Polish Glacier with its 30° slopes, to ultimately arrive at Camp 3 at nearly 20,000 feet.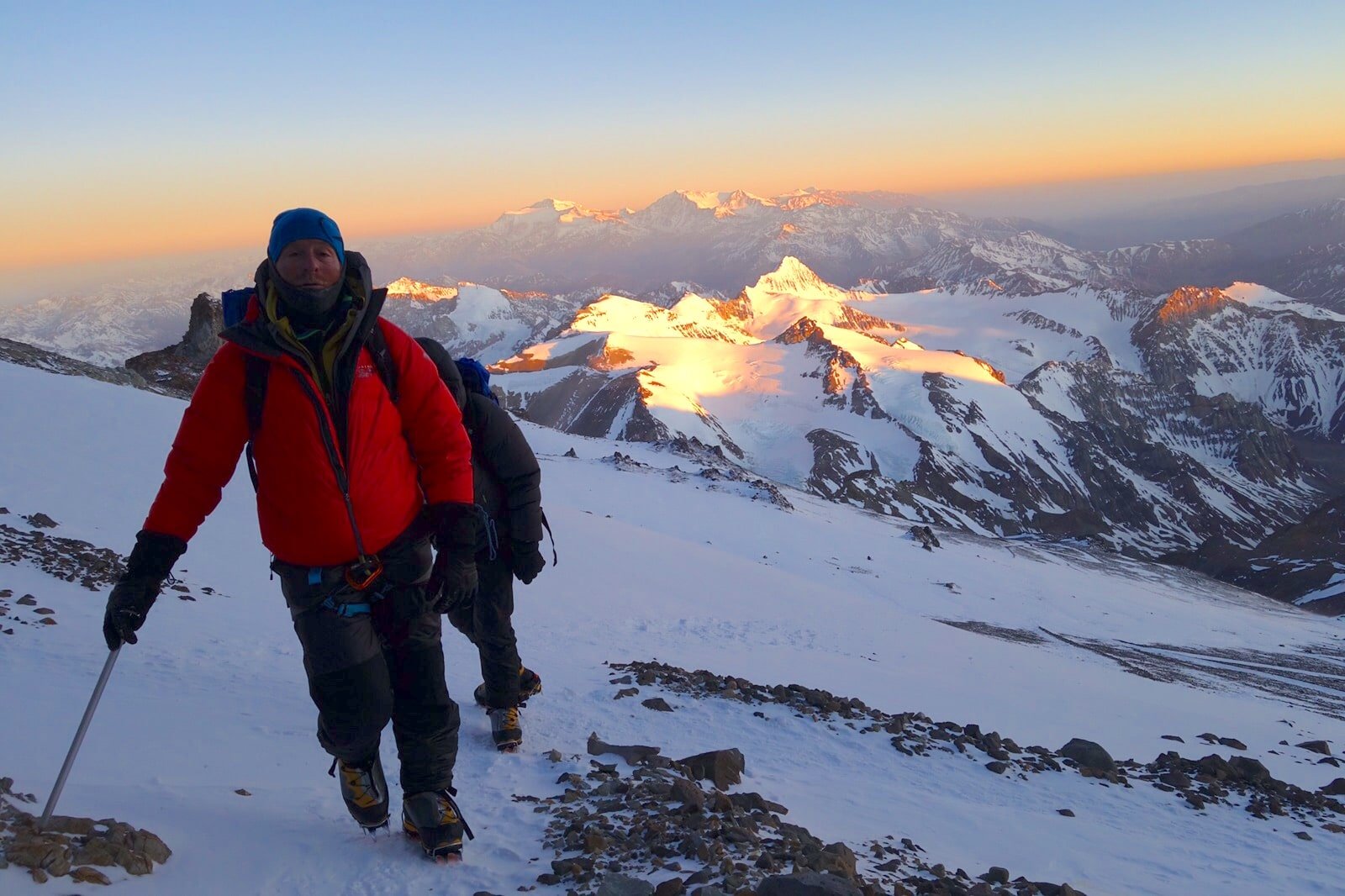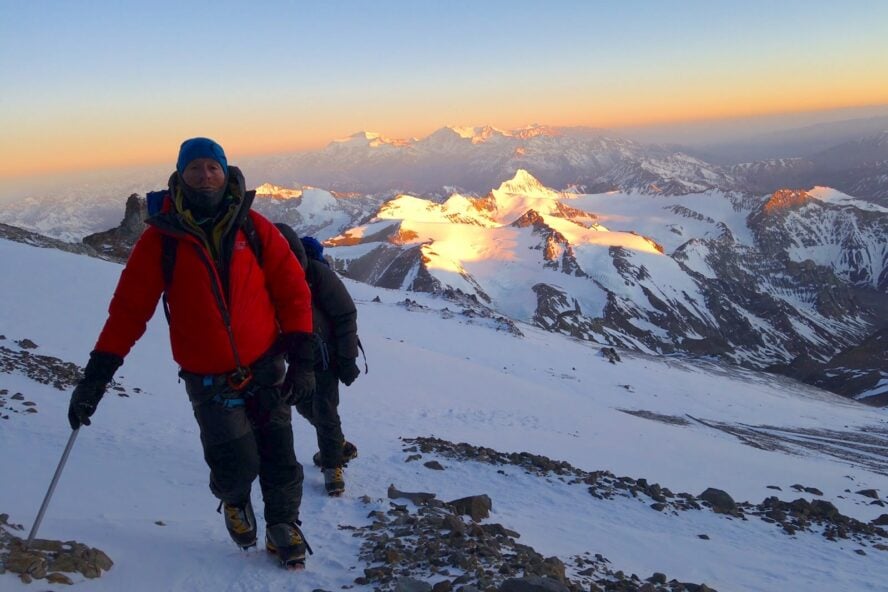 Summiting Aconcagua and the crux of the Canaleta
We wake up at dawn to approach from the West Face. Since the sun creeps in from the east, we are kept in Aconcagua's shadow for most of the morning. It stretches for hundreds of miles behind us and keeps the air cold and unforgiving.
We're kept warm by the slog through the Canaleta, what I consider the rub of the entire route. This is 1,000 vertical feet of scree and sand that can only be tackled by slow and steady climbing. Things ease up as we approach the summit—the mountain flattens out and the sun begins to show.
At 22,841 feet (6,962 meters) this is the highest point in the Western hemisphere. There's nothing close to the same elevation for miles and you can see the high desert plains and the Pacific Ocean 80 miles (130 km) away. The expansiveness is disorienting, and I look forward to it every time.
An end-to-end to celebration
The descent drops us to Plaza de Mulas at 14,300 feet (4,360 meters), the basecamp on the opposite side from where we started. We choose this setup because it allows us to traverse the mountain rather than the typical up and down on the same route.
Relieved and satisfied, we return to Mendoza for a celebratory tomahawk steak and malbec at Francis Mallmann's 1884 Restaurante.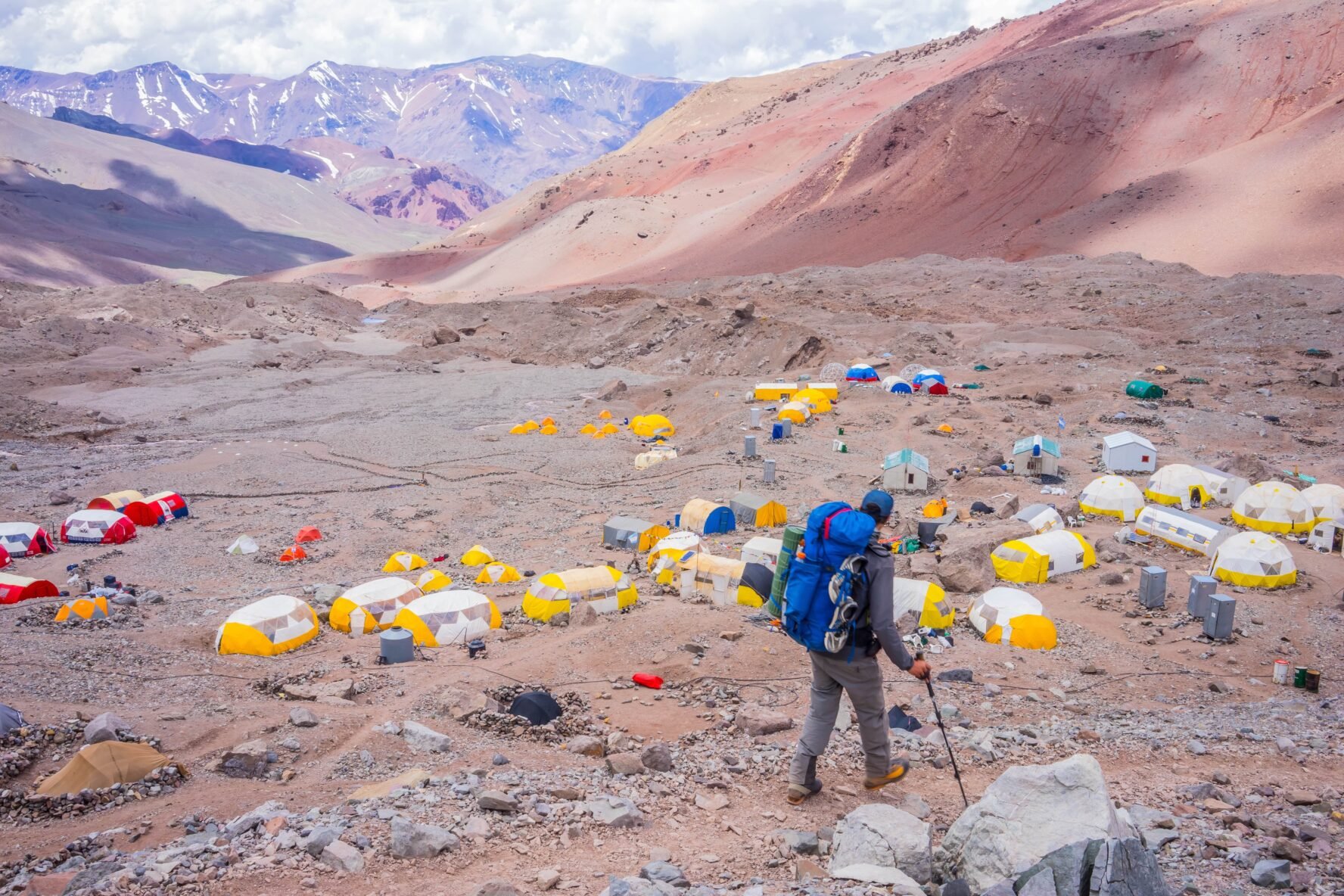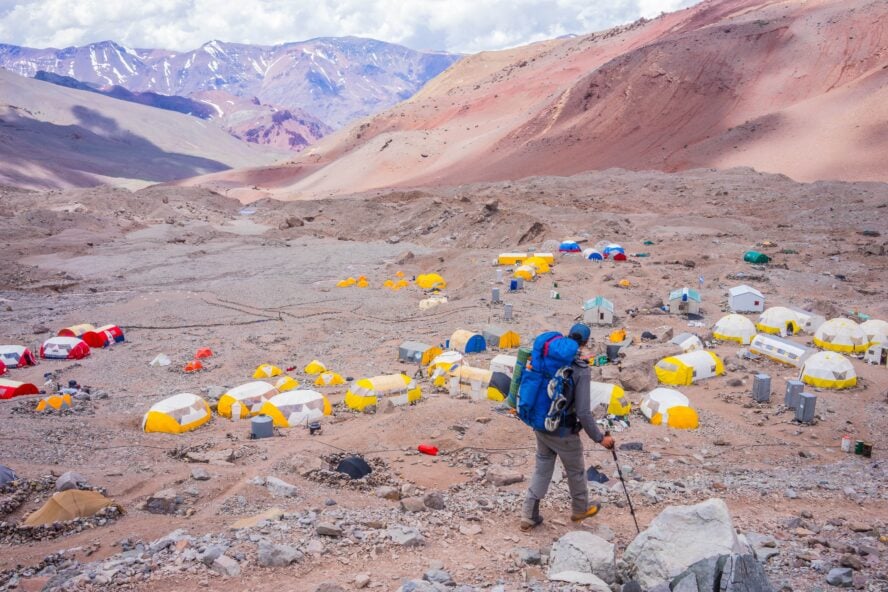 My Insider Tips to Preparing for Aconcagua
Do I have enough experience for this trip?
As a guide, it is vital that people show up prepared. Every year there are fatalities on mountains like Everest, Denali, and of course Aconcagua. One of the most important factors is acclimating to altitude. Simply, we do not guide clients unless they already have experience at 16-18,000 feet of elevation.
Basic mountaineering experience is essential, as you'd use to climb Chamonix. This includes camping in icy conditions, forging through deep snow, and familiarity with crampons and self-arrest. Some prerequisite mountains we look for are Mt. Rainier, Mt. Shasta, and Kilimanjaro. We highly recommend a structured training regime to prepare for climbing at altitude, and we are happy to work with you on this.
Part of our approach to guiding extreme summits is the Rapid Ascent™ Program. The typical process of acclimatization is lengthy, requiring climbers to work their way up and down the mountain over months at a time. About 10 years ago we started using altitude training tents—which regulate air composition to replicate conditions at 15-16,000 feet—in order to train our bodies at home. By pre-acclimating we ultimately complete expeditions faster: this let's us climb Aconcagua in just two weeks instead of the typical three.
What time of year is Aconcagua climbed?
Aconcagua is climbed in the winter between November and March, the hottest season in the southern hemisphere. December and January tend to have the most favorable weather.
How difficult is Aconcagua?
Most of Aconcagua's routes do not use technical gear, but it is challenging. These are long days at altitude and lower oxygen levels, including nearly 10,000 feet in vertical ascent. The unforgiving conditions make it a serious challenge even for experienced mountaineers. Let's be clear, Aconcagua is considered the deadliest mountain in South America.
How many routes are there on Aconcagua?
There are at least 33 routes on Aconcagua's North, East, South, West, and Southwest sides. Many routes are accessible to those with less mountaineering experience, while others have only been climbed by a select few.
The Normal Route, the Polish Traverse Route, and the Polish Glacier Route are some of the most common with the lowest difficulty. The hardest routes are on the mountain's South wall, which is the steepest and experiences the harshest weather.
What is the longest day I can expect?
The longest, most difficult day will be summit day. You can expect between 12 and 15 hours of steady movement.
When should I book my trip?
Trips should be booked at least six months in advance during the summer time. Preparation and training can be intense, so be prepared!
What about permits?
Permits are required from the Argentine government to gain entrance to the Aconcagua Provincial Park and are not included in the trip cost. The fee must be paid in cash in US dollars, and at the time of this writing is $970 per person.
How much does it cost to join an expedition?
The base cost of climbing Aconcagua is $12,450. This covers everything from hiring local porters to helicopter rides, and is necessary to have a safe and enjoyable trip.
Interested in climbing Aconcagua? Join local guides on the 360° Route this winter!