Long Dong: Discover the Unexpected Rock Climbing of Taiwan
Forget the sandy beaches, rock climbing in Taiwan is unlike anything else in Southeast Asia. At Long Dong, you'll find some of the best seaside trad in the East—a dragon's den of stellar lines and unforgettable exposure.
You cannot claim to have fully experienced climbing at Long Dong until your belayer's voice is washed out by the crashing waves
and the strong winds from the yearly northeastern monsoons. Climbing skyward, I press my hands into the left-leaning crack, cut deep into the sandstone as if made by the sharp claws of a careless dragon. I hold myself diagonally across the cliff, ascending towards the roof. Below me the sea spits foam that bathes the rock in a salty mist and drowns out my partner's encouragement. It's a far cry from the plastic and plywood I grew up on. Long Dong has taught me to work with the rocks and to have fun pushing myself. Perhaps, if I can lay some broader credit, it's also guided me towards a new lot in life.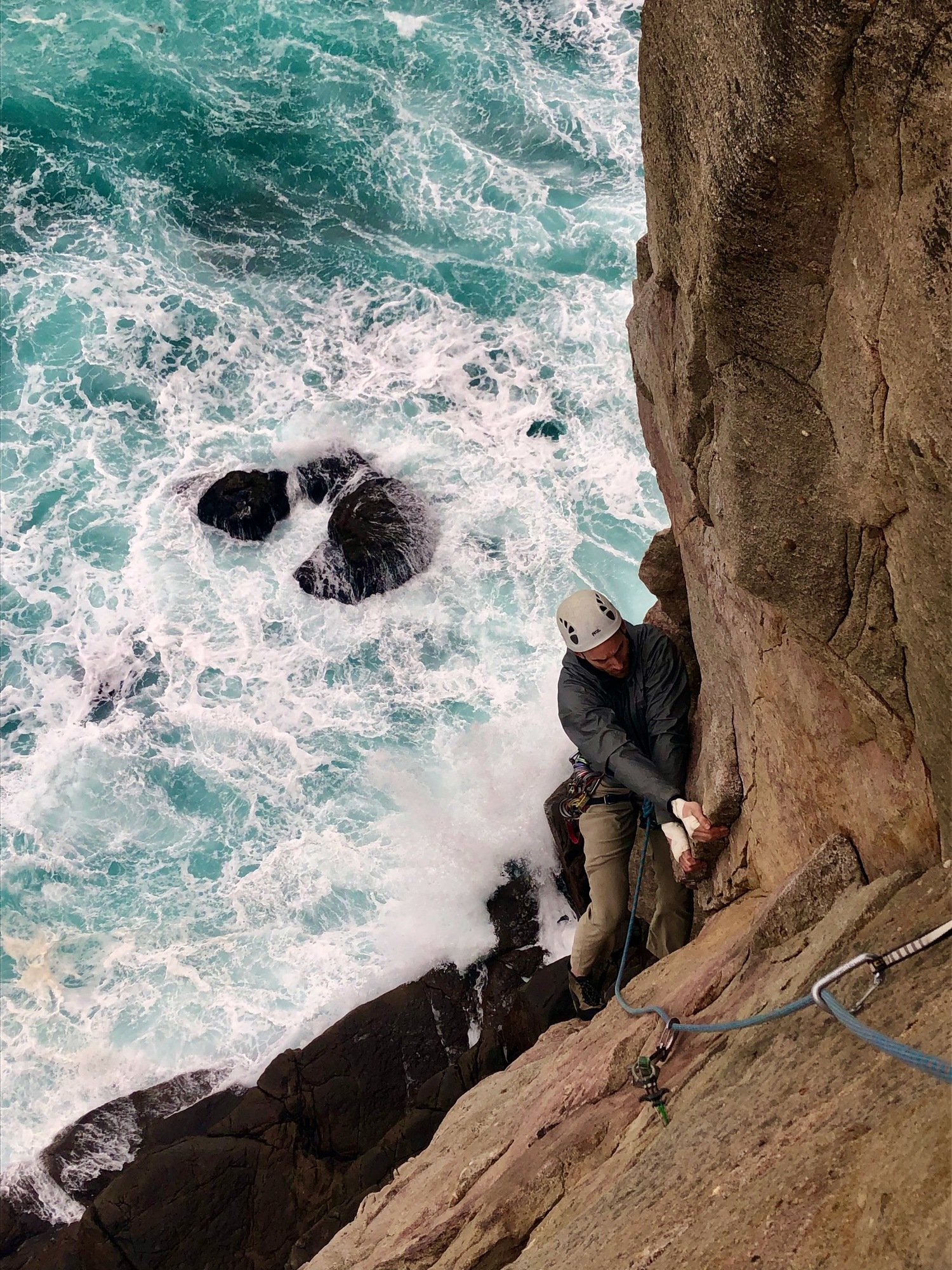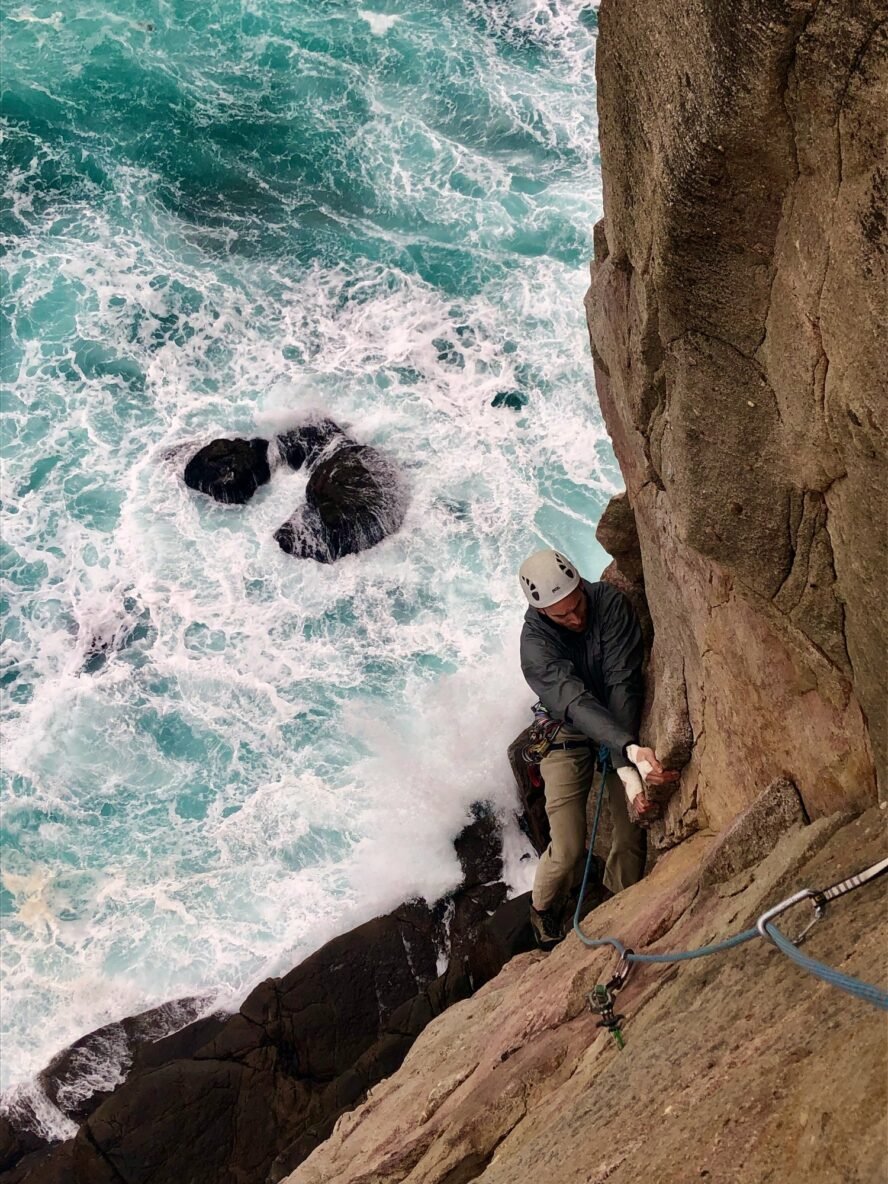 Pros and Cons of rock climbing at Long Dong, Taiwan
Most sectors are easily accessible
Best outdoor climbing in Taiwan
Some areas can be crowded
No gear shops in the area
Long Dong: A Trad Paradise
Long Dong is a haven of rock-studded cliffs running along the northeast shore of Taiwan, where sun-bleached stacks of sandstone curl along the coast for a mile and a half. Known as "Dragon Caves" (translated from Lóng Dòng in Mandarin), it is a treasure chest of fractured rock faces, scaly channels, and bottomless cracks. Only about an hour's drive from Taipei, Long Dong is the best trad climbing on the island, and arguably in Asia, where this discipline is still relatively young. For those into plugging gear, it's an optimal environment for new climbers looking to improve their skills, and intermediates—5.11 is one of the sweet spots. While the crags claw from the Pacific Ocean like the limestone cliffs you'll find
climbing in Thailand
or Vietnam, make no mistake: this isn't your typical Southeast Asia destination.
Not for the tropical animal
Long Dong is not a beach of endless equatorial sunshine or a
perfect weather climbing island like Kalymnos
, it is a cycle of every season. Coming from Singapore, feeling anything other than the brutal summer heat remains exhilarating. On some of the grayer days, I have to convince other climbers to wade through the weather forecast. Yes, it can be gloomy, but in regards to temperature, spring, fall and early winter are ideal climbing seasons in Long Dong.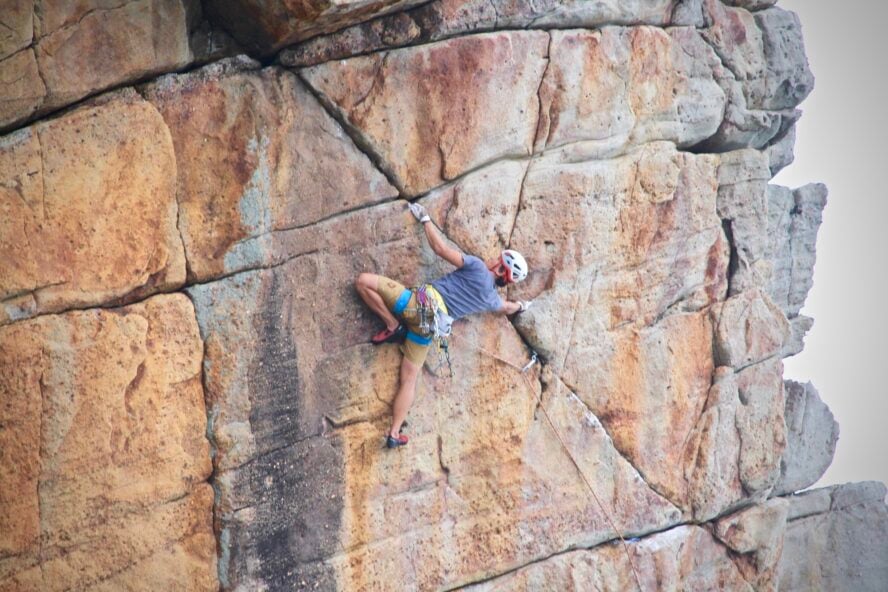 Sandstone by the sea
Development began in the late 70's, yet the area remains overlooked. In part, that's because it's out of sight; you approach the crags from an inland road above the cliffs and only once you're at the edge and peering over will you see the terraced ledges and swelling waves. Along the coastline, Long Dong is split into nine different sectors with over 600 routes. The area is defined by coarse rocks, horizontal and vertical cracks, clean faces, and jagged formations colored with golden red and gray. This alluring Silin metaconglomerate is considered the most ancient and solid geologic layer, which is distinct in northern Taiwan
The Door Out of the Concrete Jungle
When I started climbing I was 17, racing along the artificial gym walls in Singapore. It was a concrete jungle, but a jungle nevertheless.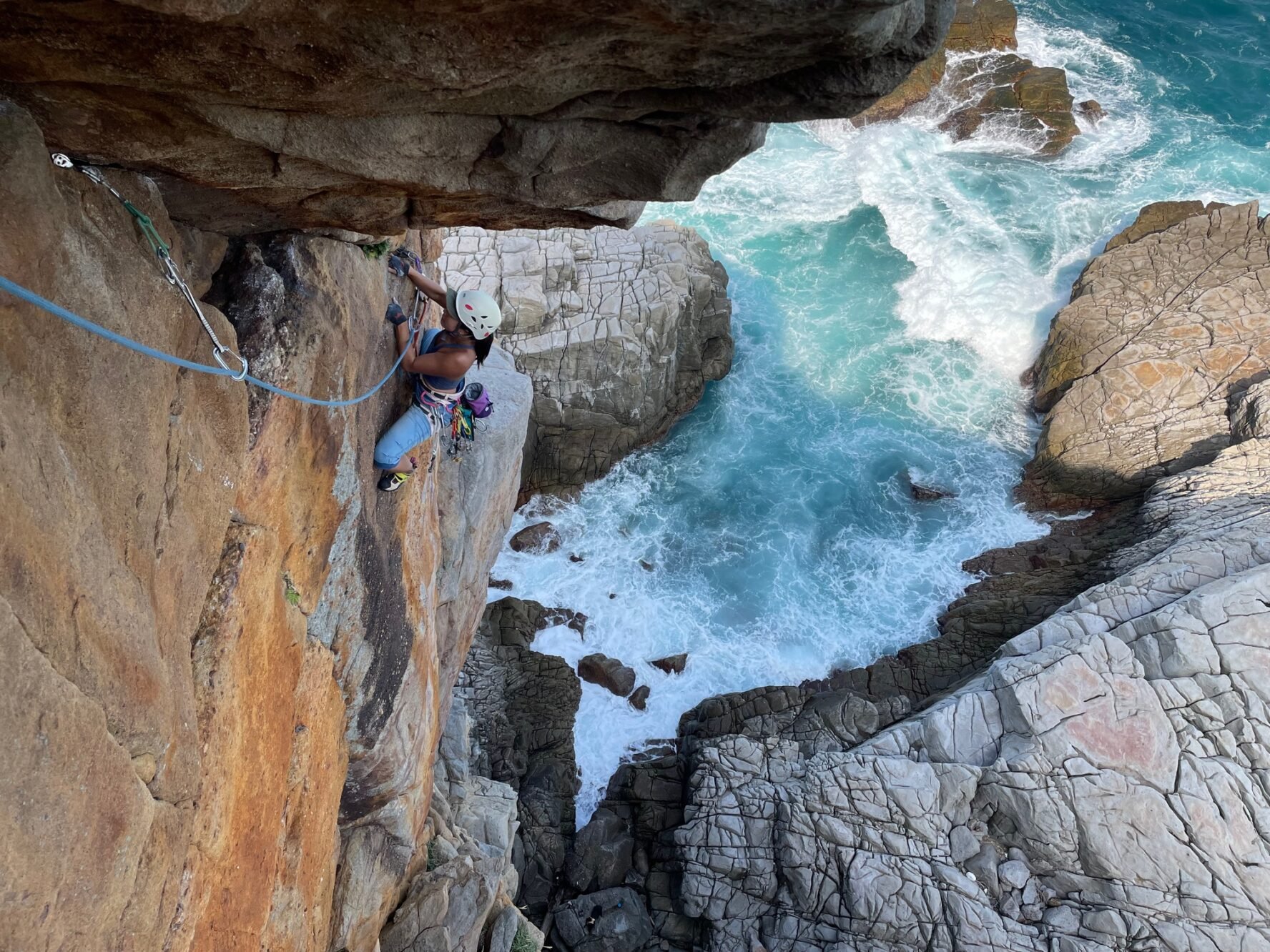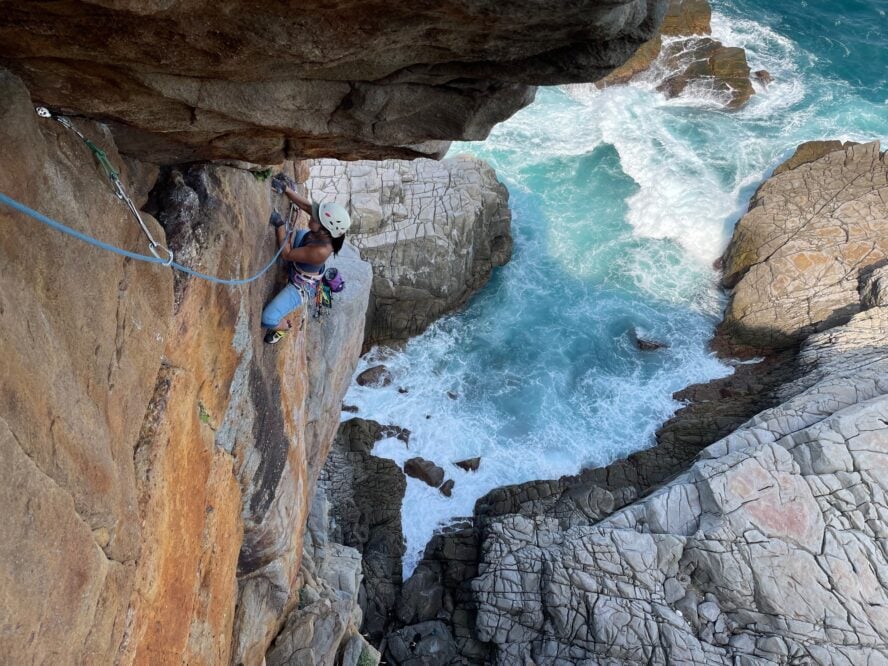 Perhaps that is why climbing outdoors at the Batu Caves in Malaysia for the first time, I found peace and odd familiarity. Against the limestone outcrop, I felt the exhilaration of all my indoor techniques and training coming together, and I realized my body knew how to deal with the unknown. I felt magical, and climbing has never been the same for me since. The feeling of scaling those rocks must have guided me to the Dragon Caves, because after my first trip to Long Dong, I fled fast from my 9-to-5 job. It was December 2010 when my partner, Qx, and I first came. Qx is an AMGA certified Rock Guide and the owner of
Qxadventures
, and as an Apprentice Rock Guide and certified SPI, I help create customized clinics and lead courses. Soon after, we started guiding here regularly. To think: one day I was working in a museum in Singapore, and the next my back burned hot from the sun's declining shadow on these breathtaking crags. I could have looked back, seen the sun rise above buildings instead of rocks, but I didn't.
The Best Places to Climb in Long Dong
1. Orienting yourself in Long Dong
The cliffs of Long Dong are roughly split into nine sectors that run along the shore. To the north is School Gate, a sector that has plentiful routes for beginner and advanced climbers. Moving south, there is Clock Tower and Long Lane. Music Hall and Grand Auditorium are roughly central, followed by First Cave, Second Cave, and Golden Valley to the south. The southernmost point is a sector called Back Door. Accessibility is a big plus about climbing at Long Dong. To get to School Gate you'll want to park at the
northern trailhead
, for the Grand Auditorium and First Cave head to the
central parking area
, and for Back Door, go to the
southern parking area
. Golden Valley is a 20 minute walk from the parking area, and many families bring picnics and gear to lounge on the natural reclining platform to watch. Some areas, like Second Cave, involve hiking through rocky terrain and boulder fields, but they are also some of most peaceful.
2. Class is in session at School Gate
This is where most people get their introduction to Long Dong. It's the most easily accessible (only about a five minute walk from parking) and has plenty of moderate trad and sport routes on the blocky outcropping. A lot of people come for cliff jumping, snorkeling, and fishing too.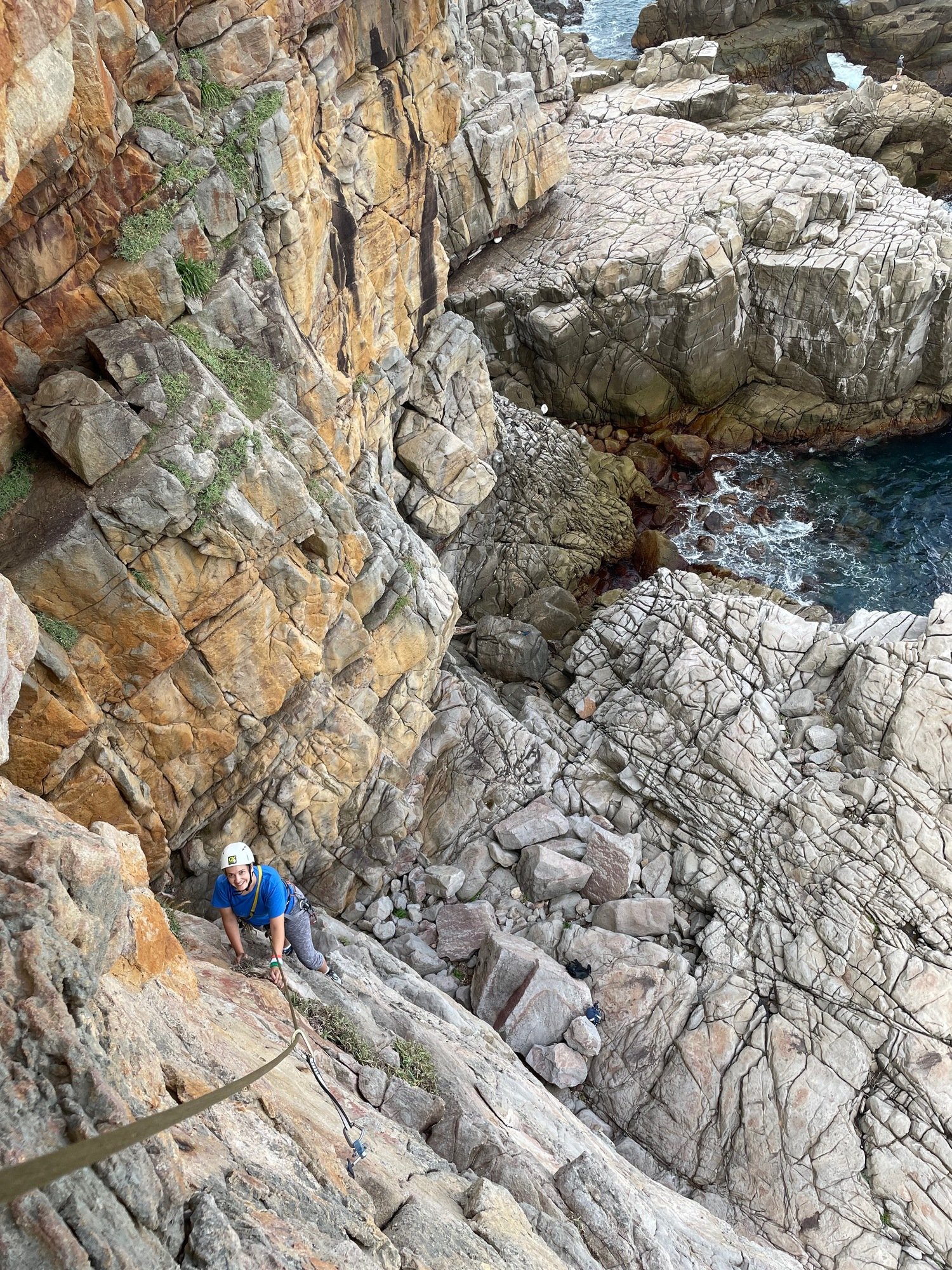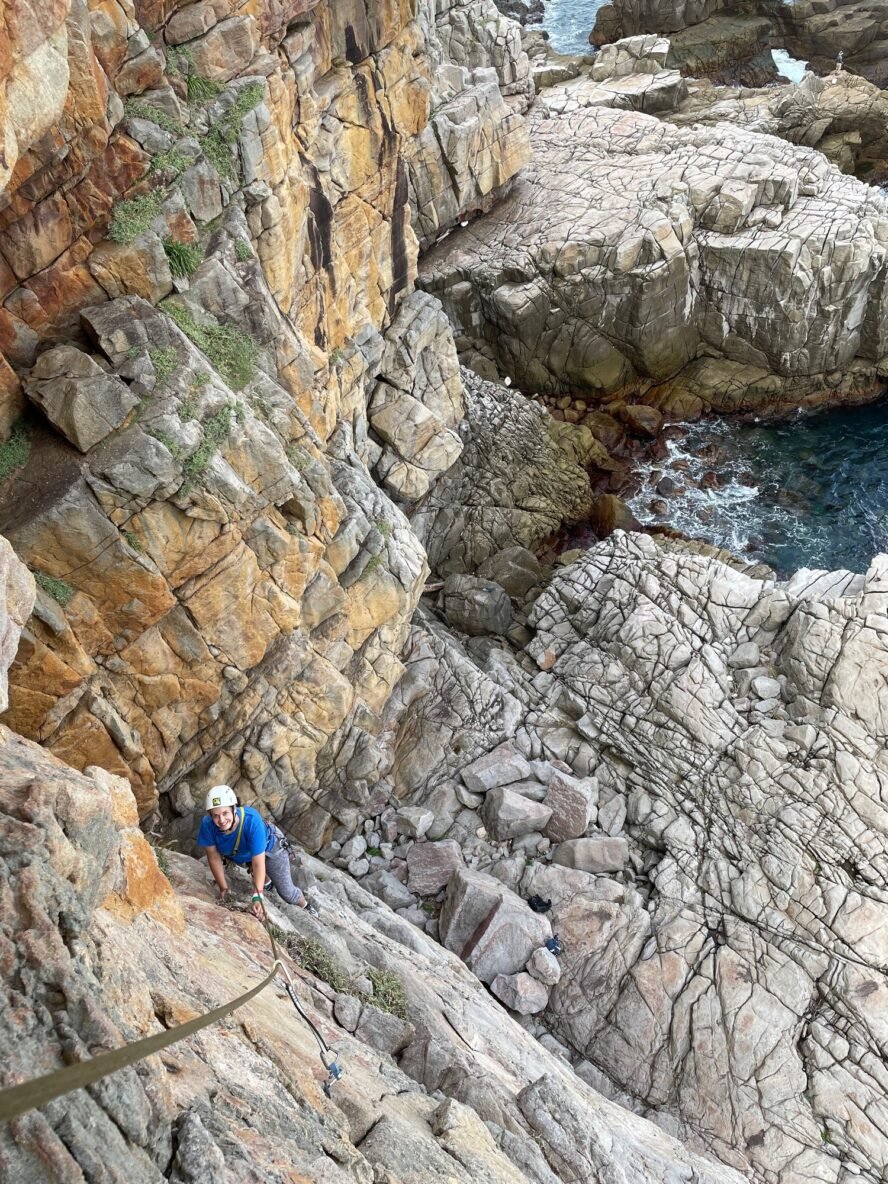 My favorite routes at School Gate:
Seaface Left and Right (5.6/5.7) are located on the same slabby face that looks onto the sea. The left route has more broken cracks to follow, while the right trends up a more-or-less continuous hand crack. Both are well protected and fun.
Surprise Crack (5.10b) is the left-most crack system on the East Face, following good hand cracks and pulls a small roof.
3. Listening to the sea at Music Hall
The rocks are hard, but the mind is malleable. One of my favorite things about Music Hall is the opportunity for challenge. Scaring myself, just a little bit, is often the edge I need to reach what is next—after all, Long dong is not a dragon to conquer, but a place to discover. This area is large and comprised of several sectors, including Whale's Head, a massive roof above the water, Sky Wall, and Recital Hall. It's almost all trad here and you get a mix of moderate classics and try hard climbs.
My favorite routes at Music Hall:
Moby Dick (5.9) is the perfect opportunity for a mental challenge. This route climbs up under the roof of the Whale's Head, working through horizontal cracks and slopers.
Blade (5.11a/5.11-) is the route I like to do if I want to play with a little fear. An endurance line, it climbs along a continuous crack directly above the sea.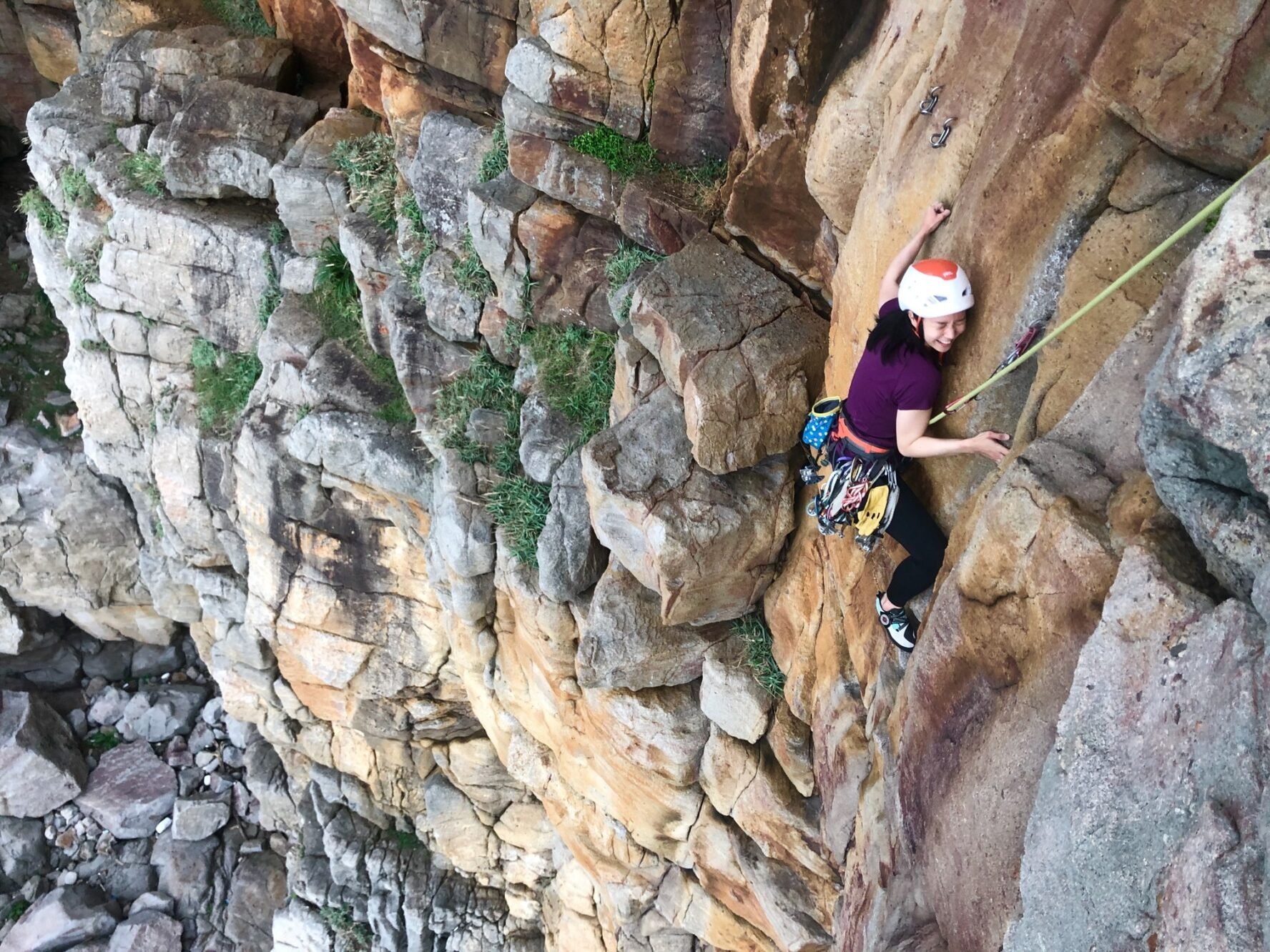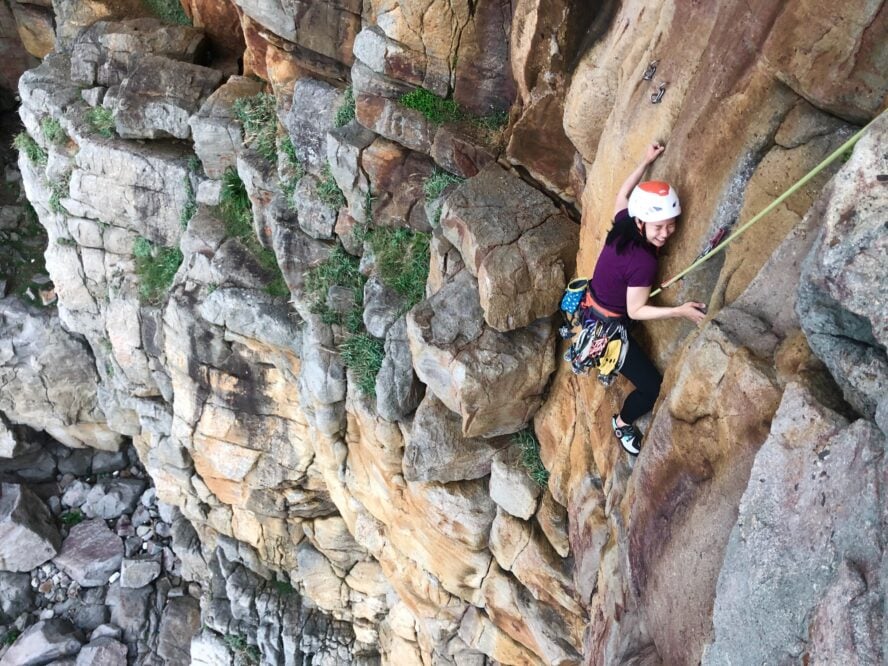 4. Find the fire to lead in Golden Valley
Climbing in Golden Valley is like folding myself into sunset; the colors are so vibrant I forget that gray can exist. There are close to a hundred routes here, some of them dipping so close to the sea it is like you are climbing inches above it. There is a good mix of moderate sport and trad, which makes it popular, particularly with sport climbers learning trad and gym climbers getting into the outdoors.
My favorite routes at Golden Valley:
Golden Shower (5.9) has a roof very low to the ground and is close enough to the sea that strong waves can wash out your belayer. This is a beautiful route and a classic climb.
String Bikini (5.11a) runs along a continuous hand crack, starting in the cave and gradually climbing out.
5. Opening the Back Door
Back Door is the perfect spot for a day of athletic and hard sport climbing. Most of the 100 routes here are sport with many in the 5.11-5.14 range. Some of my favorite routes at Back Door include
Redhead
(5.11a),
Everybody's Welfare
(5.11a),
Big Rock Falling
(5.12-), and
Coach Demonstrates
(5.12).
Planning Your Climbing Trip to Long Dong
Your Long Dong rack: What gear you need
Gear is essential to climbing in a trad area. Here, your rack can be skinny, from 0.3 to 3 (with doubles from 0.3 to 0.75). And because of the horizontal cracks, people love X4s.
Big cliffs, big hunger: Where to eat near Long Dong
A typical dish local stalls serve is a bowl of rice noodles in a hot soup with small to medium sized squids. This is locally known as
xiao juan mi fen
. If you are visiting Bitou Village with other climbers, the Hai Yuan Seafood restaurant has perfect dishes for sharing. They also offer complimentary dessert to every table. This classic is a kind of local seaweed that is dried and boiled into agar jelly. It is known as
shi hua dong
. In 2018, the first 7-Eleven opened in Bitou Village. It is still the closest convenience store to Long Dong, a little peek at urban civilization in these fishing villages of climbing reclusivity. Modern amenities are useful, but fresh seafood is better. Support the local businesses!
The sleepy dragon's favorite places to stay
In setting up
The Bivy
, a hostel for climbers, my husband, QX, and I are able to offer climber's a home to stay in during their trip. We want climbers to feel as though Long Dong is and can be a home for them as it is for us. Homestays are also quite popular. These are essentially the local versions of airbnb, and they can be a wonderful way to save money and meet new people.
The train, the plane, the automobile: How to get to Long Dong
From Taipei Main Station, take Kuokuang Bus 1811 until the Long Dong stop. This bus runs daily leaving the station at 8:50am, and takes approximately 1.5 hours. Alternatively, you can take a Taiwan Railways Administration (TRA) train from Taipei Main Station to Keelung and transfer to the local bus 791. This trip is a bit longer, and the duration can be from 1.5 to 2 hours. Driving distance from Taipei Main Station to Long Dong is about 50km (31 miles), and takes around 50 minutes.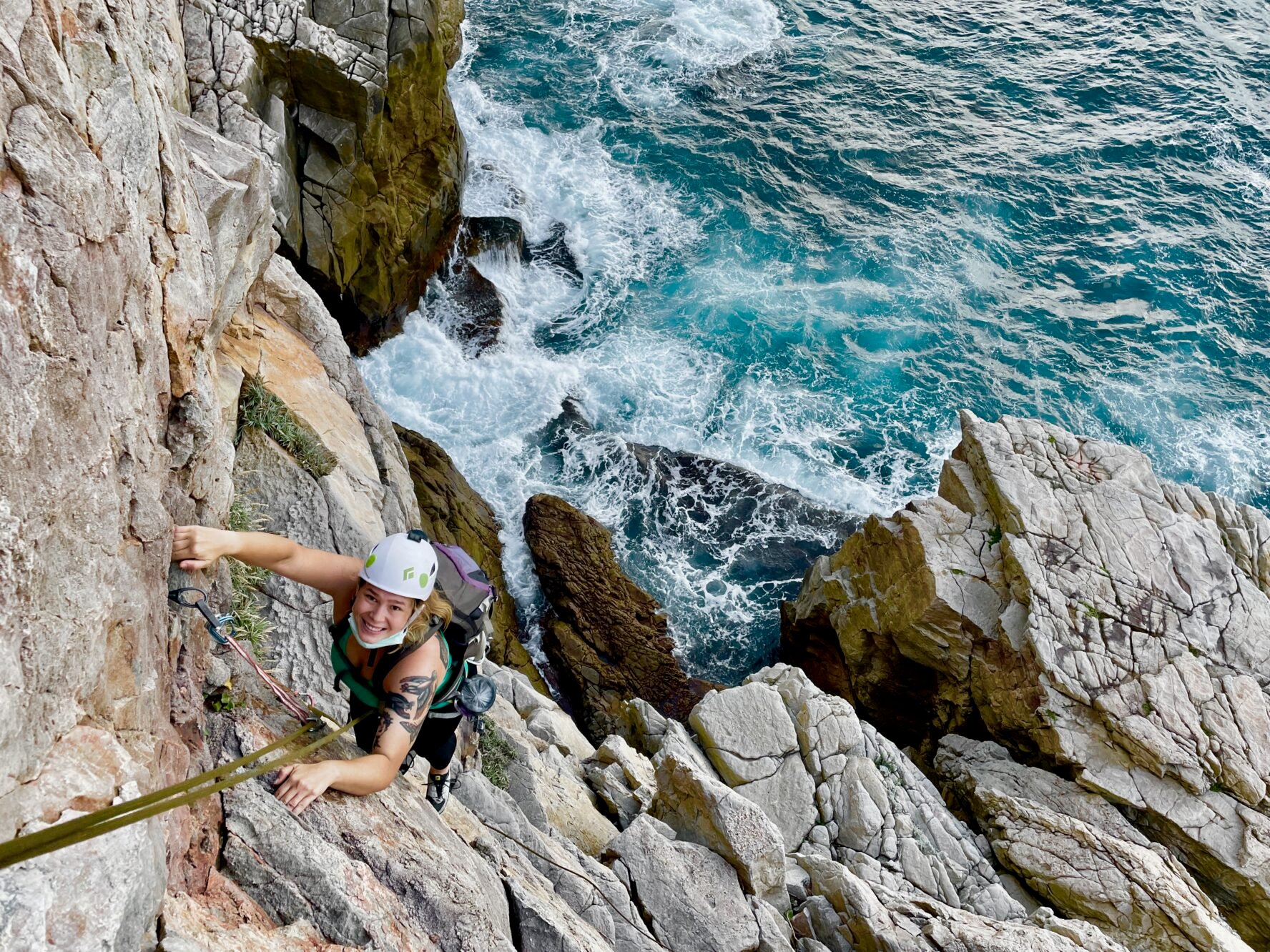 The Unexpected of Long Dong
From the sunset of my time in Singapore to the dawning of a career as a climbing guide, Long Dong has shown me what is possible when you follow a new opportunity—the cracks may look continuous, often are not, and the joy is in the exploration.
Ready to try trad above crashing waves? Join Kelly for an intro climbing course today!