New River Gorge: Brainy, Bullet-Hard Climbing in the Southeast
John Denver got it right. "Almost Heaven, West Virginia." The New River Gorge has it all — trad, sport, bouldering, and enough routes to keep you climbing for a lifetime (more than 3000, to be exact).
If Clint Eastwood were an East Coast climbing cowboy, the New River Gorge would be his home. He'd eat the bullet-hard Nuttall with Nutella for breakfast, savor the thrill of high first clips, rejoice in brain-and-body-busting maneuvers, and wash it all down with pure-line bouldering alongside one of the oldest rivers in North America.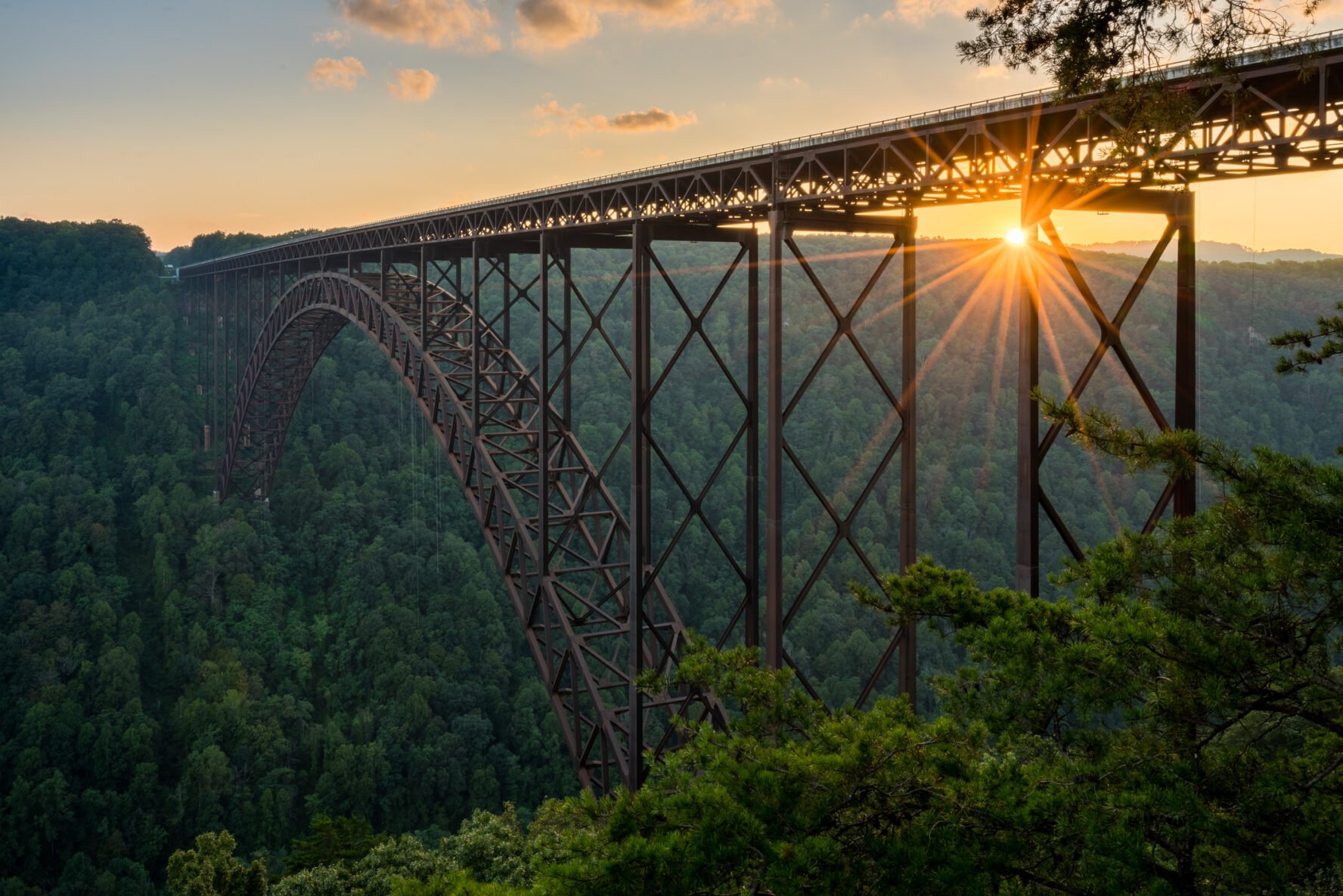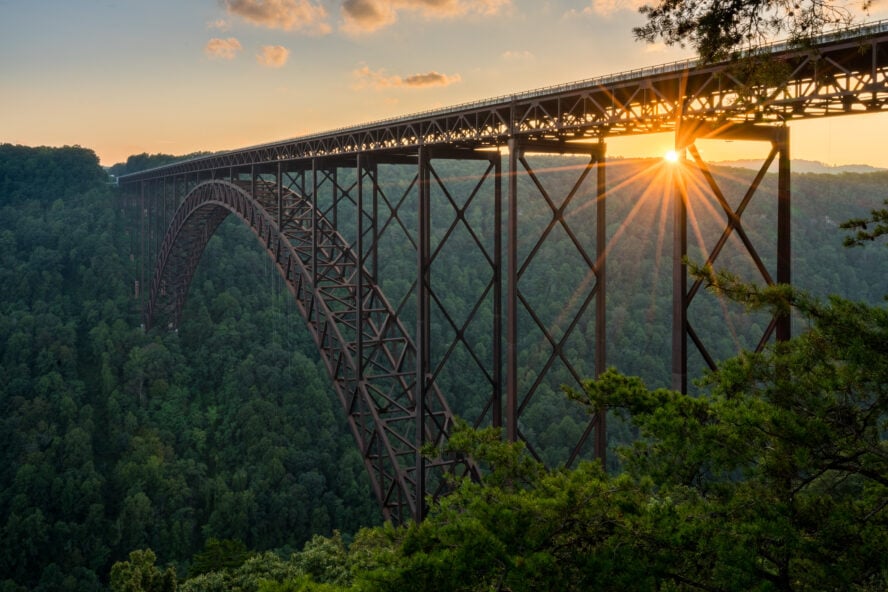 Pros and Cons of Climbing in New River Gorge
Amazing concentration of high-quality climbing across the disciplines
Less crowds if you climb hard
Opportunities for first ascents for bouldering
Tons of camping and RV options
Weather can be a fickle beast and hard to plan around
Not an ideal locale for beginner climbers
One of the best all-around climbing areas in the USA
The New River Gorge — or NRG, as it's commonly known — offers diverse climbing and over 3,000 established routes total, which is why it's one of the best places to rock climb in the USA. It boasts four-star sport and trad lines and has one of the highest concentrations of boulders in the Mid-Atlantic, not to mention water-side cliffs that are reminiscent of Thailand.
Just one caveat (and a note to the newbies): The New is best suited for the hard-charging climber who likes a challenge. Classic climbs begin at 5.10+ for trad and 5.11+ for sport. You've got to ask yourself one question: Do you feel lucky? Well, do ya, punk?
Rock climbing in New River Gorge
If you like to mix brains and brawn in your climbing, the technical nature of the routes will tickle your cerebral proclivities. Gym rats will find these chess matches difficult to muscle through, as I found out (guilty as charged!).
Dare I say? The New is a better option for more advanced and all-around climbers than the Red River Gorge, the better-known sport climbing mecca four hours west. Okay, I dared.
You'll find a diversity of movement here. Routes meander through Cirque du Soleil body contortions as you reach for sharp crimps, finger-thin mail slots, in-cut edges, arêtes and laybacks, globular slopers, and frequent finger and hand jams. Many of the developers were over six feet tall, so prepare for long moves and spaced out bolts. AKA, bring your head game.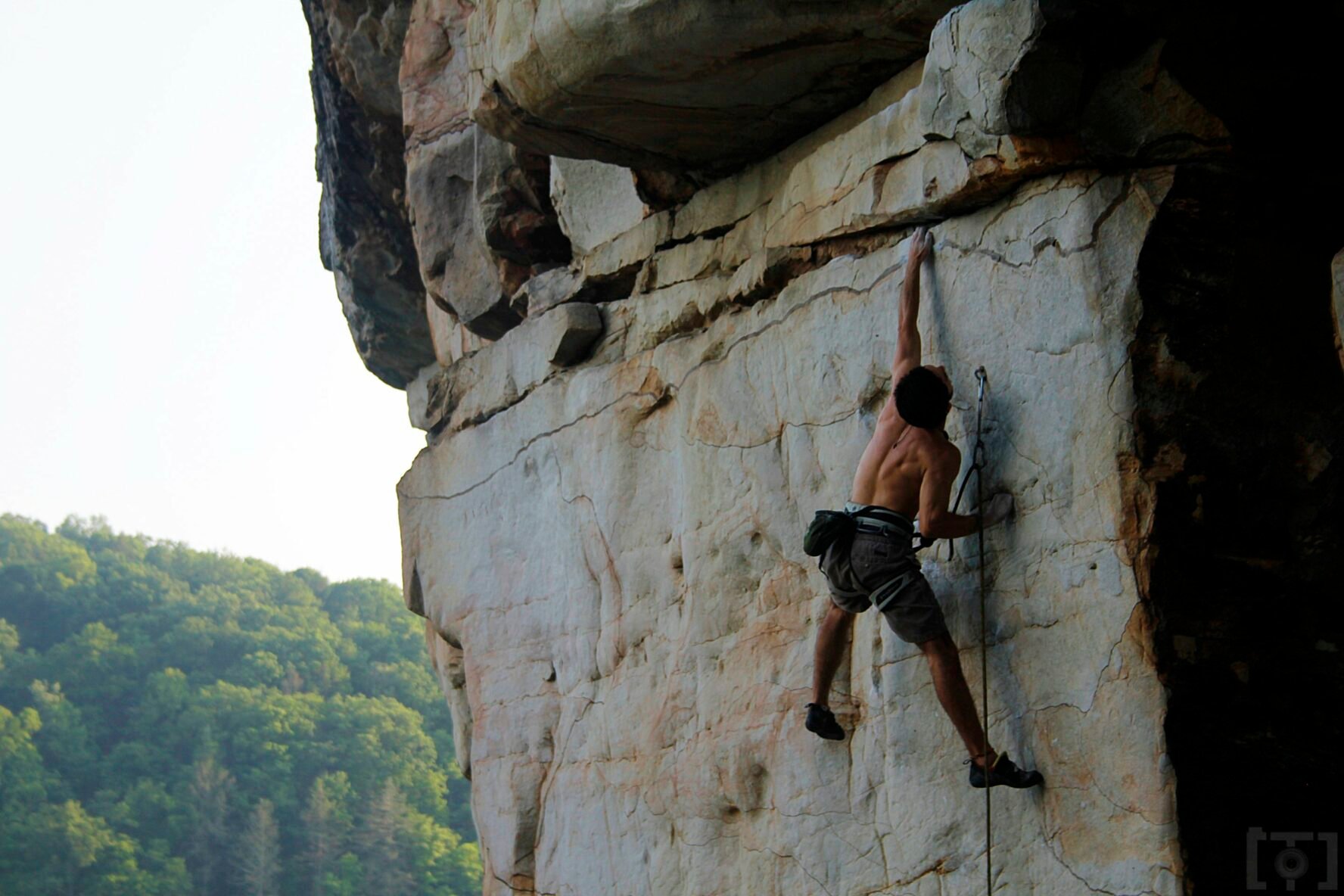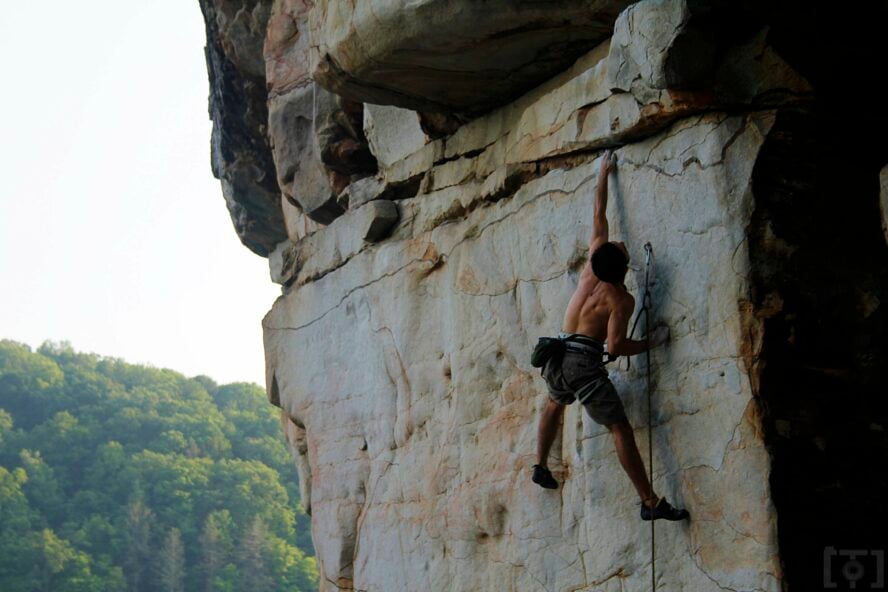 Routes are apt to change stylistically as you ascend them, adding another variable to the puzzle. What can begin as a bouldery tiered-roof (my favorite!) can become bootie-trembling slab that ends with uber-technical face climbing, which is guaranteed to put all your skills to the test.
A quick geology lesson
The rock here is harder than granite (though no match for Mr. Eastwood, of course). It's composed of Nuttall sandstone that is 98% quartz and gives the sensation of climbing on classic granitic igneous if it were embedded with infinite sand-sized crystals. Exposed coal seams are interspersed throughout the stone (which precipitated mining in the area). As it wore away, it left the step-like roofs you'll encounter.
Nuttal itself is erosion-resistant and contributes to the V-shape of the gorge, as well as the steep cliffs. The New River is ancient and has pretty much existed in the same spot since before there were Appalachian Mountains. As a result, the river has maintained its course by cutting a narrow trough through the emerging range. The gorge reaches 1,600 feet at its maximum depth, or about ⅓ the size of the Grand Canyon.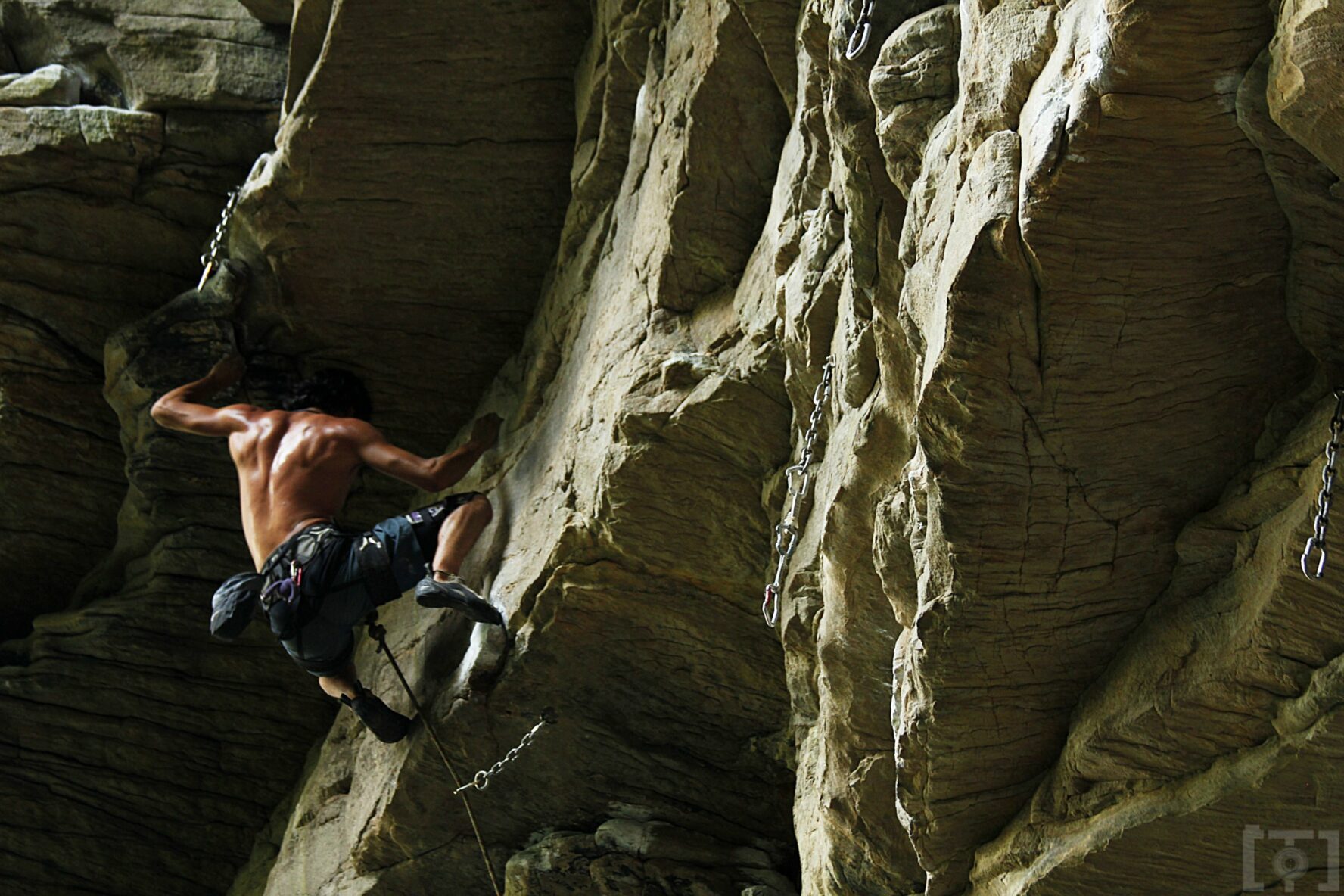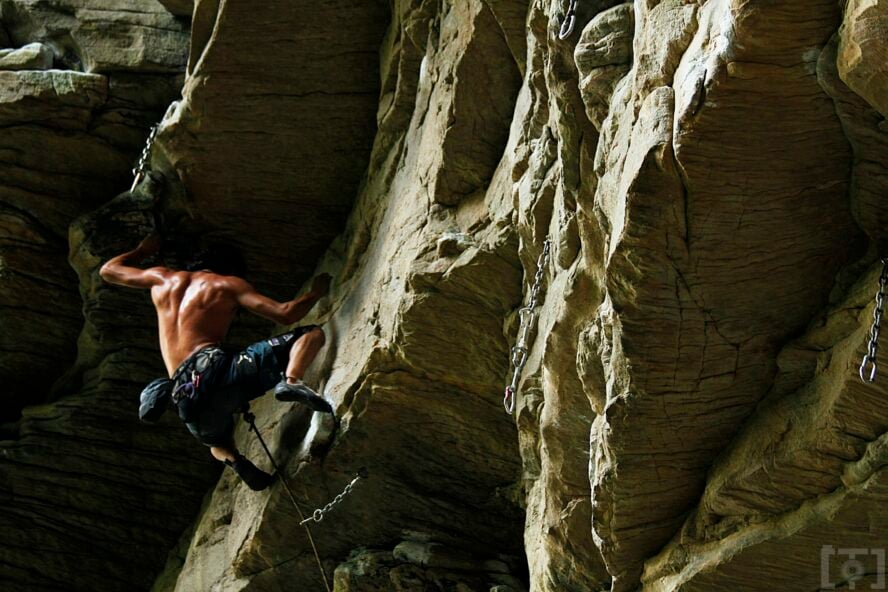 Meet your crags
The Greater NRG consists of three concentrated climbing sectors: The New River Gorge National River, the Meadow River, and Summersville Lake (Gauley River).
Each area is, at most, a half-hour drive from Fayetteville, WV, and everything is located north of town along Highway 19. Most crags have a 15-minute approach, though longer treks can be up to 45 minutes, with some requiring a ladder or rappel to get to the base.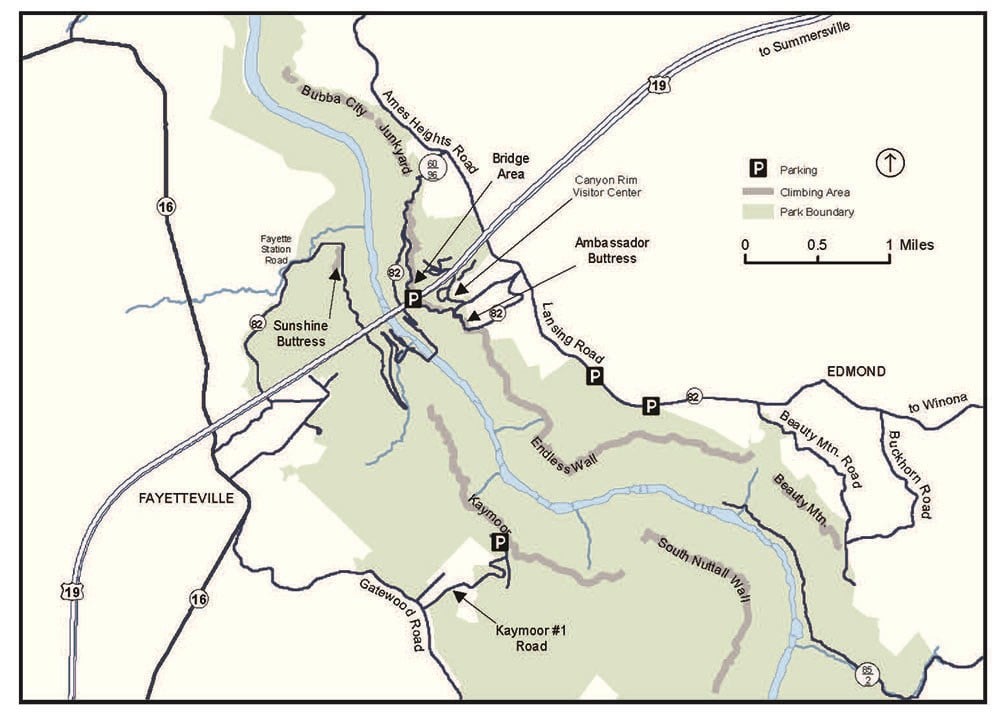 The cliffs are distinct for being long and with few breaks. For example, the aptly named Endless Wall is three miles of unbroken cliff-line. Nearly all climbs are single-pitch and range from 30 to 150 feet in height.
1. New River Gorge Proper
The main sector, known as the New River Gorge Proper, contains the most developed and accessible crags in the park. Endless Wall can keep you occupied for a lifetime, as each jump in climbing ability unlocks dozens of new classics to project. Kaymoor is a great summer destination featuring shade, steep routes, and big holds, though it stays wet for at least a day after rain. The Junkyard and Bridge Buttress crags are popular with beginners because of their easy access and lower grades.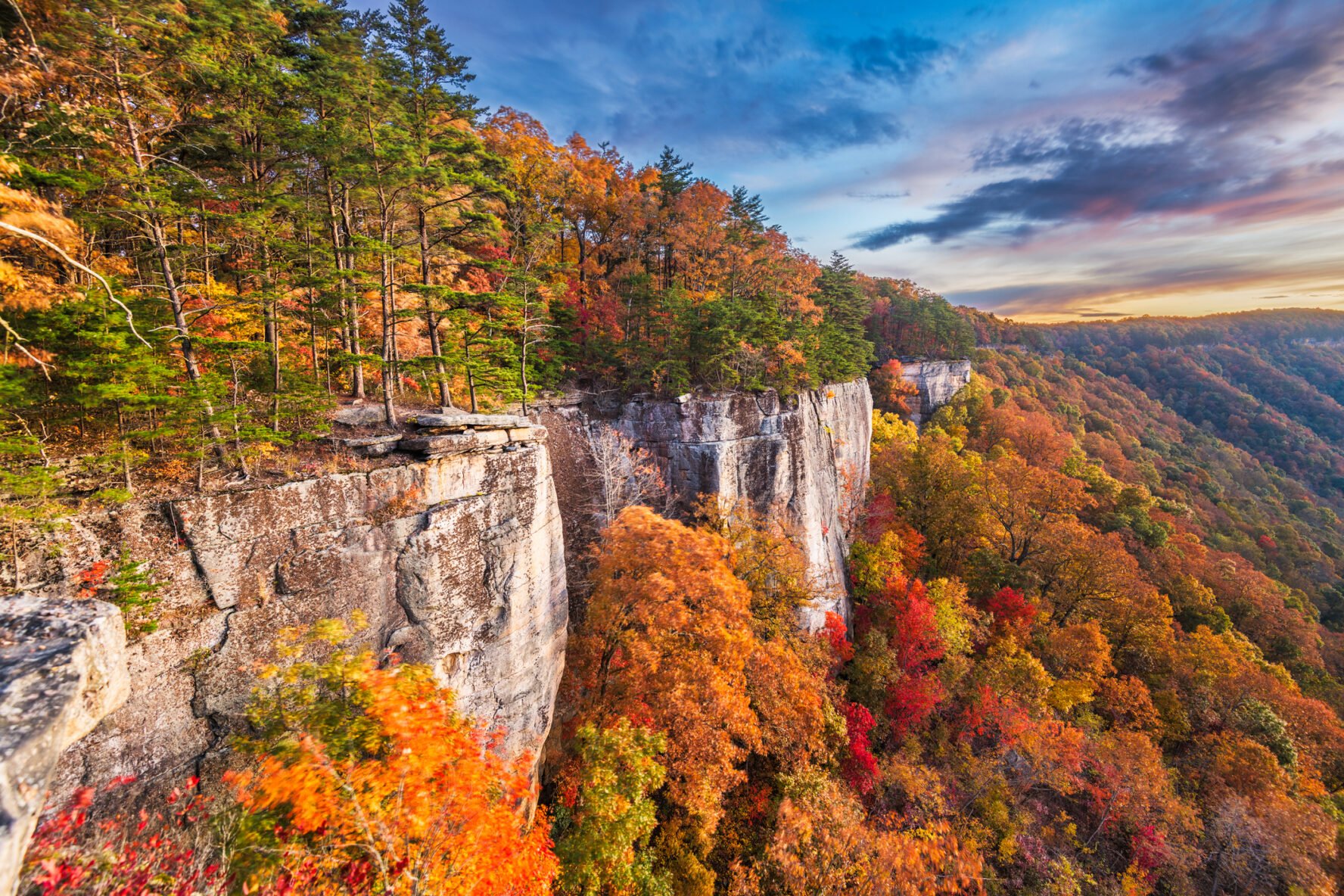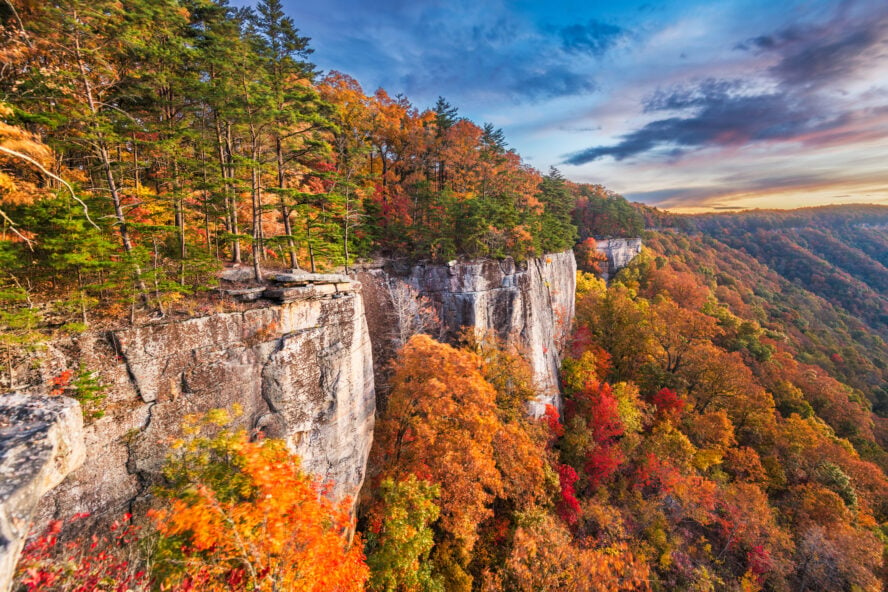 2. Meadow River Gorge
Meadow River Gorge is for more adventurous and remote climbing, even though it's just 15 minutes north of NRG Proper. The area is less developed overall, often requiring longer hikes in. Compared to Endless Wall, the climbing here tends to be more featured with pockets, huecos, jugs, and edges. The area splits between crags upstream and downstream from the Highway 19 bridge.
Upper Meadow: Known mainly for sport climbing. Zero Buttress is suitable for moderate routes, while First Buttress is steep (and hard) but stays dry.
Lower Meadow: You'll find more trad lines here along with some classic test pieces. The Greatest Show area is the cream of the crop and includes Lynn Hill's Greatest Show On Earth (5.13a trad) and perhaps the first 5.14a in the East, Scott Franklin's Mango Tango. The Sunkist Wall has moderate lines.
Southside Crags: This is the area on the left side of the river. The Other Place is well-populated with moderate sport routes and generally stays in the shade. Area 51 is easier to access and has long routes.
3. Summersville Area
This tropical-lite destination features over 300 bolted and trad routes alongside and above the clear blue water of Summersville Lake. There's a preponderance of grades from 5.8 to 5.13, with some lines up to 100 feet long, and others severely overhung.
While DWS (deep-water soloing) is tempting, cliff jumping and diving from six feet or above the water is prohibited. It may seem like semantics, but climbers must stay within the legal limits or risk personal injury, steep fines (up to $5,000), and/or imprisonment for not more than six months. The local climbers I've spoken with say that no one they know has ever been fined but it's worth noting the area's regulations.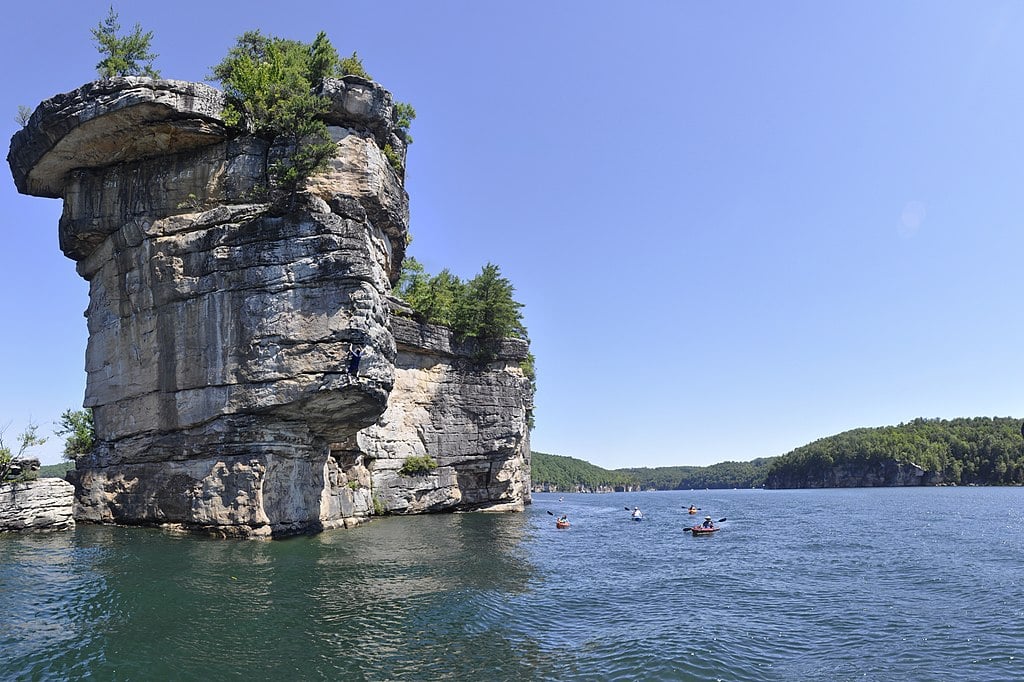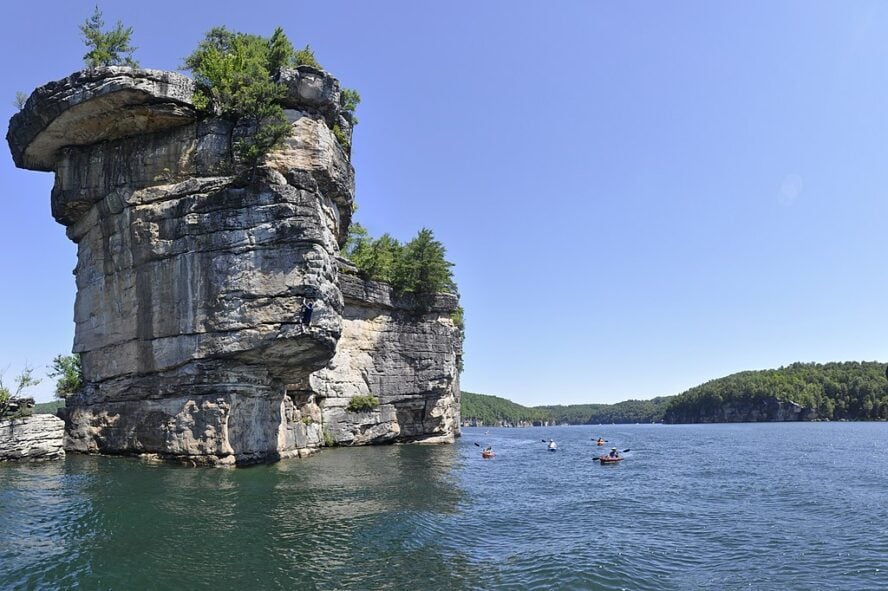 As you can imagine, this tends to be the most trafficked area during hot weather, though it also makes for a winter destination as its south-facing rocks tend to soak up the sun.
4. Bouldering in New River Gorge
As John Sherman said in his book Stone Crusade, "The New would be a bouldering mecca if not for all those damn cliffs!"
That's high praise for a discipline that currently takes a backseat in the area. The last few years have seen an uptick in bouldering locally, in part because of the release of the New River Gorge Bouldering guidebook, which features over 1,000 problems.
Popular areas include classic riverside spots such as Hawks Nest Dam and Cotton Bottom, as well as the good-for-a-rainy-day Junkyard cave. Then there's Meadow Top, which has the region's highest concentration of moderates, and the Sunshine Boulders, picturesquely situated under the longest single-span arch bridge in the U.S.
Know (the ethics) before you go
The parks are a mix of public and private property and the rules need to be carefully followed to maintain copacetic relations with landowners. Luckily, the New River Alliance of Climbers (NRAC) has done an excellent job of advocating for access over the years.
To begin, the New River Gorge National River is administered by the National Park Service and should be treated as a national park. At Meadow River Gorge, you are likely to encounter private property en route to the crags. Do not trespass, as tensions have ebbed and flowed. The same goes for parking; only do so in designated areas as this is becoming an increasing problem with law enforcement. As always, abide by Leave No Trace ethics.
Gimme the details: Info for visiting New River Gorge
When is the best time to visit New River Gorge?
Spring and fall are the seasons for sending if only the weather would comply. The state is known colloquially as "Wet Virginia," so even a week-long NRG trip in the shoulder seasons has the possibility of getting hosed.
Annual rainfall is about 50 inches, which is approaching temperate rainforest levels. Summer temps can reach into the 90s, turning the humid air into thick molasses. But rain means lush surroundings precipitating verdant greenery… and bugs, so be prepared.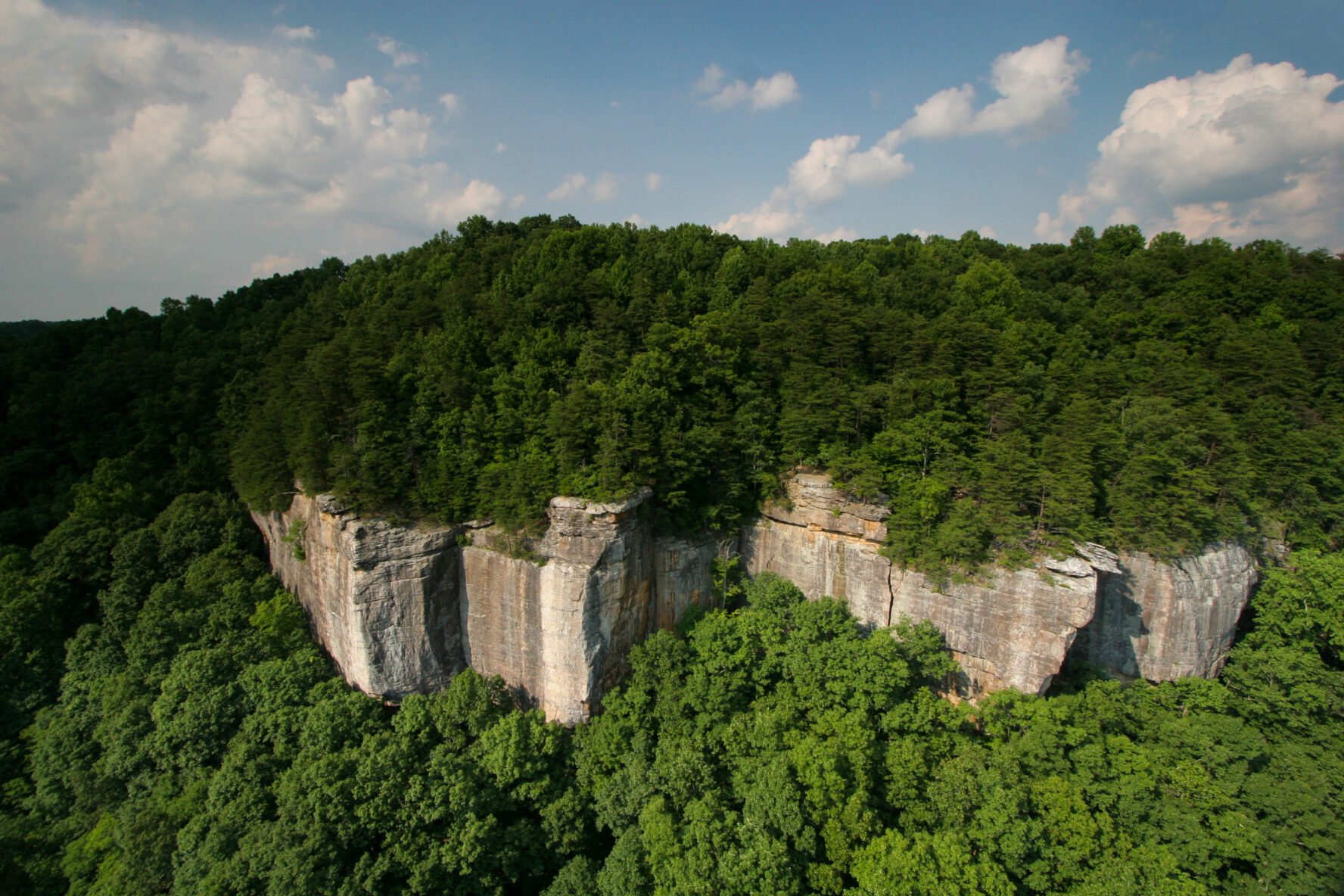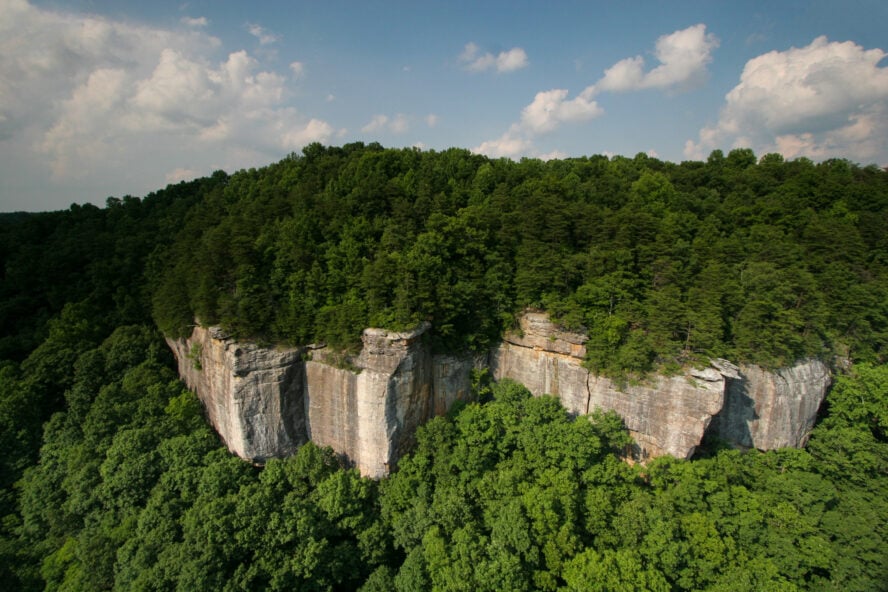 The aptly named Summersville Lake offers a respite from the heat, as it can be breezy, shady, and of course, comes with plenty of swimming. In times of rain, the Rico Suave Buttress and White Wall at the Kaymoor sector generally stay pretty dry. Climbing can be had in the winter at The Cirque at Endless Wall, a southern-facing sector that acts like a convection oven. Of course, bouldering is also an option!
How do you camp at New River Gorge?
There are plenty of options for your NRG climbing outing, but here's just a few:
The American Alpine Club campground has become the climber epicenter. It resides on a 40-acre parcel and is within walking distance of popular crags, including Junkyard. Camping options include a private site, complete with a 10'x10′ wooden tent platform, and a communal area. They are usually open from the second week of March to about the first of December.
Arrowhead Bike Farm is a new addition to the mix that offers easy access to Kaymoor. It's catered more to mountain bikers, featuring an on-site bike rental & gear shop and Biergarten (beer garden). With that said, it's hard to beat the variety of fresh local craft beer on tap.
Opossum Creek Retreat offers rustic decadence with decked out cabins in the heart of the park. The prices are reasonable for groups, though they surely explode a dirtbagger's budget. Grab your friends, hit the crag, and settle into the post-send glow with a soak in the hot tub.
Things to do at the New River Gorge on rest or rain days
The New River Gorge sees over one million visitors each year, and only a handful of those are climbers. What's everyone else coming for?
While perched at the anchor, you might take note of the world-class whitewater rapids below, or you may encounter mountain bikers bombing down the trails on your approach. Other activities include riding the Gravity Zipline, a 1.5-mile tour 200 feet above the ground or a down-to-earth walk along the iconic New River Gorge Bridge. If you're around in October, stop by for Bridge Day, the world's largest BASE jumping event. Like history? Visit the ghost town of Nuttallburg, a former bustling mining community from the turn of the 19th century.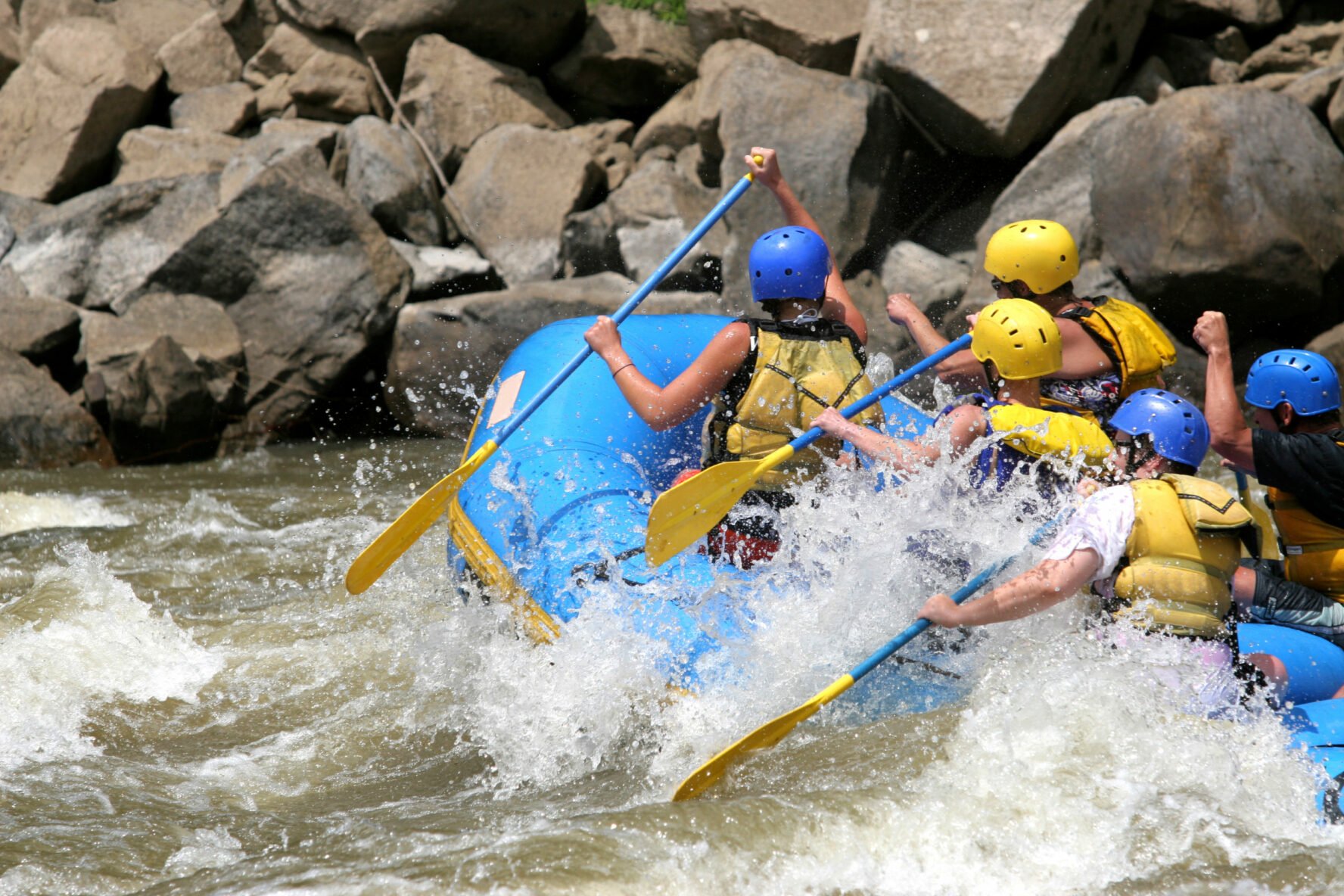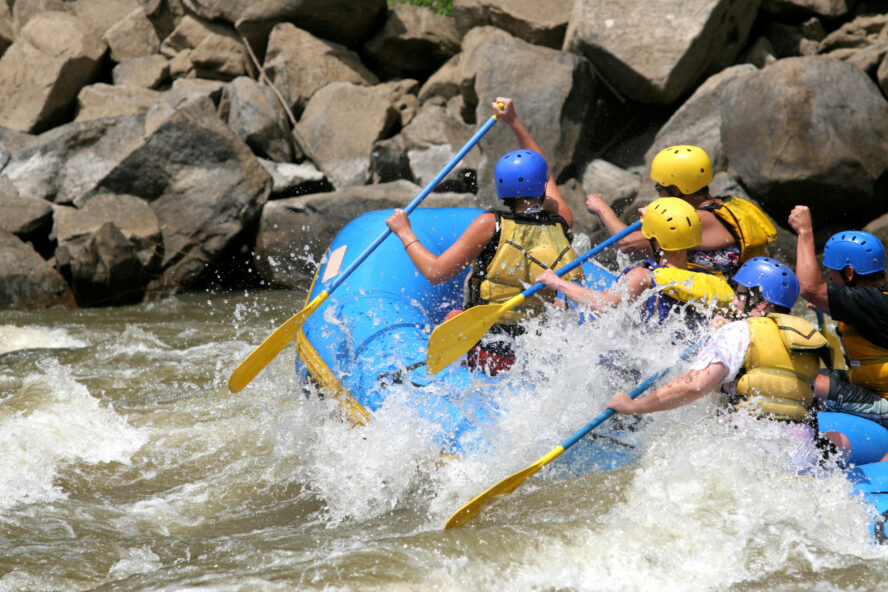 Please note that climbers make a significant contribution to the local economy! A recent study on the economic impact of rock climbing estimated that climbers contribute more than $12 million in direct spending to the area, including supporting 168 jobs and $6.3 million in wages.
Likewise, be sure to stop by Fayetteville, a charming post-industrial town that's remade itself into an outdoor haven. It's chock full of quirky shops, bars, and restaurants. If you need any gear or beta, visit the storied climbing shop, Water Stone Outdoors.
Celebrate community at the yearly Craggin' Classic
The American Alpine Club's Craggin' Classic series takes place each September and combines best in class climbing with Southern hospitality. The 3-day fest includes live music, clinics taught by pro athletes, conservation efforts, a pig roast, beer and whiskey, and a glow stick dance party.
Guide Services (Climbing & White Water Rafting):
Blue Ridge Mountain Guides: An American Mountain Guide Association (AMGA) Accredited Business that provides climbing instruction and guiding for beginners to pros that is above and beyond expectations. You won't find a better guide than Grant Price, the head guide for Blue Ridge Mountain Guides. Grant has been climbing for over 12 years and teaching in the outdoor industry for a decade.
New River Mountain Guides: Climber owned and operated since 1994, and run in conjunction with Water Stone Outdoors. All their head instructors are AMGA certified rock instructors or single-pitch instructors. They offer customized climbing instruction, from learning to place your first nut and anchor building, to yoga retreats, and mental training.
New River Climbing School: Specializing in instruction for beginners through advanced climbers, they offer plenty of options for families looking for a weekend of climbing. Their guides are PCGI (Professional Climbing Guides Institute) certified.
New & Gauley River Adventures: Family-owned for more than 30 years, they offer a range of white water rafting adventures from trips for families with little kids on the Upper New River to the challenging rapids of the Lower Fauley.
Guidebooks:
New River Rock Vol. 1 (3rd edition, 2019) by Mike Williams covers the heart of New River Gorge climbing and features over 1,900 routes.
New River Gorge Vol. 2 (2nd edition, 2013) by Mike Williams delves into the Meadow and Gauley river canyons, and Summersville Lake, and contains over 1,000 routes.
New River Gorge Bouldering (2015) by Micah Klinger and Stella Mascari documents over a thousand boulder problems, and what is one of the largest bouldering areas in the country.
Want to keep exploring the Southeast?
Be sure to check out other hotspots in the region, including Chattanooga, which is the sandstone capital of the Southeast, or for something a bit more adventurous, the climbing on North Carolina's giant granite domes and steep quartzite cliffs are about as big of days as you can get on the East Coast.
Waste no time and go on a customized day or half-day NRG adventure with an expert local guide. Looking to level up your leading skills? Sign up for 2-day lead courses and even a safety clinic. New River Gorge truly has it all!