Rock Climbing Devil's Lake: The Midwest's Best Backyard Crag
Long cracks, cryptic sequences, and tip-toe traverses across slick quartzite make climbing at Devil's Lake a heady experience. But don't let that scare you, the Midwest's best crag is accommodating for beginners and experts alike.
6am. With one hand on the steering wheel and a steaming mug of black coffee in the other, I drive into Devil's Lake Park for a day of rock climbing—my office and playground. Above a pile of ropes and harnesses, I watch the sun peak over pink and purple quartzite spires protruding like rockets from a distant hillside. In the oak grove surrounding the lake below, light beams dance with dew drops and scatter color off vertical rock faces.
When you think of Wisconsin, lakeside cliffs aren't the first image that comes to mind. Instead you might conjure one of the three stereotypes: flat plains, dairy farming, and cheese. Seemingly out of sync with the rolling lowlands, Devil's Lake's 500-foot bluffs rise into an amphitheater around the glacial lake, a rocky oasis among forest and farmland.
But that's the thing about the Midwest, it has a way of surprising you.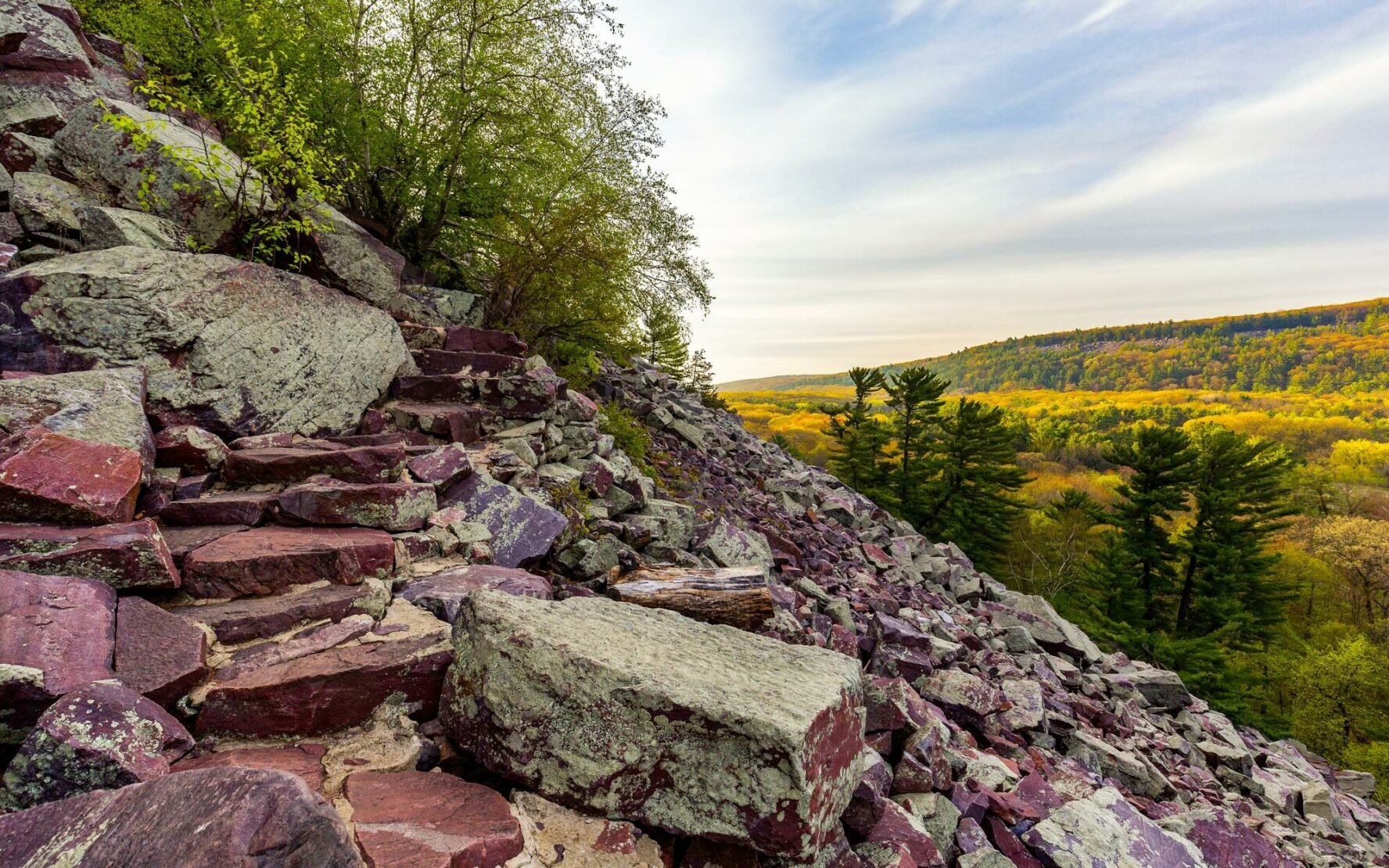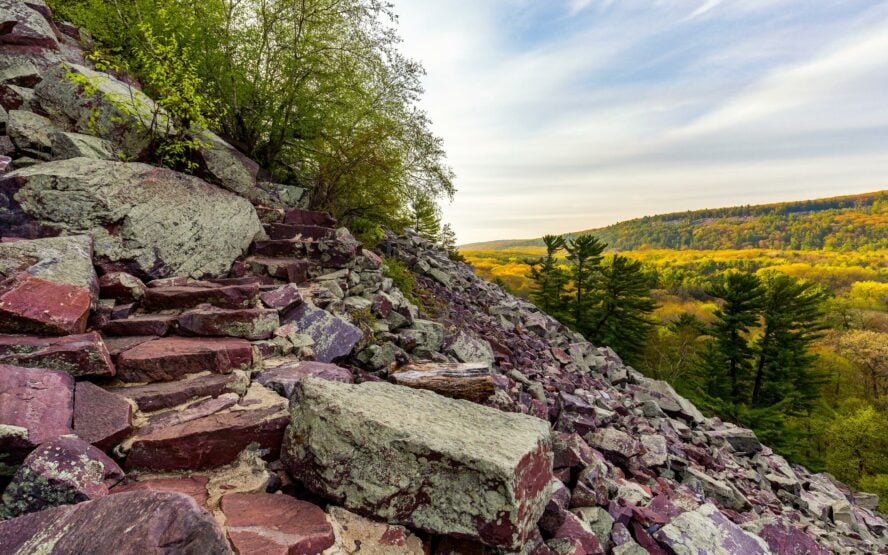 Pros and Cons of Rock Climbing Devils Lake
Over 1,600 climbing routes and nearly 1,500 boulder problems
Plenty of top roping options
Traditional climbing only
Lots of crowds during the warm months and on weekends
A History of Rock Climbing at Devil's Lake
Devil's Lake lies tucked away in the rolling Baraboo Hills, about an hour's drive from Madison, Wisconsin and three hours from Chicago. Over 13,000 years ago it sat on the edge of a massive glacier that stretched from New York state to the Puget Sound and up into Canada. As the glacier melted, it ground down the plains that we know today as Wisconsin, and dumped piles of 800-ton boulders, creating Devil's Lake: a quartzite oasis marooned in a sea of prairie grass.
The history of rock climbing at Devil's Lake is as remarkable as its formation. Development began in the late 30s and early 40s, and has maintained grades that reflect an old-school mentality. Its sandbagged reputation has persisted, reflected by few grade changes in area guidebooks.
While the average climber might overlook Devil's Lake, legends such as John Gill (the godfather of bouldering), Pete Cleveland, and Lynn Hill have made it a point to stop by, in part because of its hard-nosed reputation. Take this, when Cleveland first led Son of Great Chimney (5.11c PG13) onsight in 1968, it may have been the hardest route in the country at the time. In another famous account, John Gill, climbing solo, fell off the crux of a route 15 feet above the ground, landed on his feet, and proceeded to send it—Gill's Crack (5.10c)— next go for the first ascent.
Today, Devil's lake is the best climbing you will find in all of the Midwest—and a lot more. Filled with plentiful options for hiking, boating, fishing, swimming, and picnics, the most popular park in the state is almost always bustling with people from spring to fall.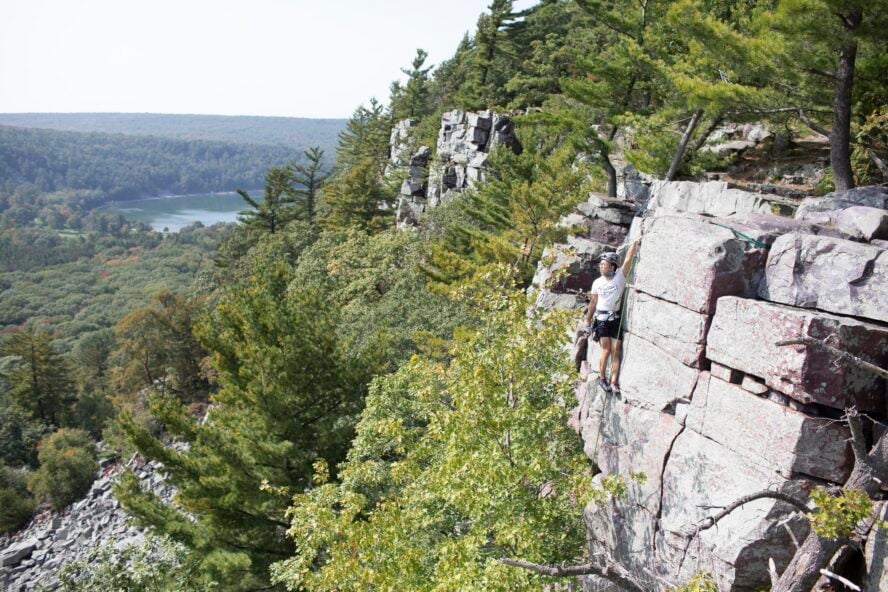 Glad to Be Back Climbing at My Roots
I grew up in Wisconsin and enjoyed hiking and playing around Devil's Lake as a kid, but I didn't realize its potential as a climbing area until later in life. In high school, I survived a life-changing car accident that compromised the use of my hips and basically eliminated any activity that involved running. When I began pursuing other sports to stay active, I discovered climbing.
My passion continued into college, and I would never balk at missing a baseball game or birthday party to spend the weekend outdoors. For me it's never been about sending hard or ticking routes—I simply enjoyed how climbing made me feel.
Maybe that's why I started guiding in the first place, and still love it today. Rarely will people remember the specifics about their first routes, or whether they get to the top or not, but people will always remember the experience itself. And a good guide can make that day extra memorable.
Like many climbers in the area, I made my way out west. But after a few years, I felt like I was missing something, so my wife and I decided to move back to Wisconsin. I certainly didn't do so for the mountains, and didn't plan to start my own guiding service, Devils Lake Climbing Guides, but that's one of those surprises I was talking about.
Devil's Lake: Easy Access to Hard Climbing
While a lot of people associate hard climbing with crags out west, the climbing here isn't easy. The purplish, reddish, orange and brownish quartzite rock is beautiful, but it can be slick, tends to be really hard, and sharp. However, those qualities make for good gear placements. Speaking of which, to climb here you need to know how to lead trad or build anchors for top rope—there are no bolts in the park.
Even with the stiff ratings, it's a great introduction to outdoor climbing. There are over 1,600 routes ranging in difficulty from 5.2-5.13 with a large concentration of quality moderates in the 5.5-5.8 range. Further, the approaches are short and hiking trails take you to the top of many crags, making it easy to set up top ropes.
Since there's so much climbing, here are my recommendations to help you plan your visit, including areas to check out along with some suggested climbs.
1. East Rampart: High density of climbs with top rope options
Just a 20 minute hike from the parking lot, this is the most popular crag in the park. A wooded area comprised of a quarter-mile cliff that ranges in height from 40 to 110 feet, you'll find over 200 routes between 5.6 and 5.11a here. Because it has plentiful options for top roping, East Rampart is a great place for climbers of all levels.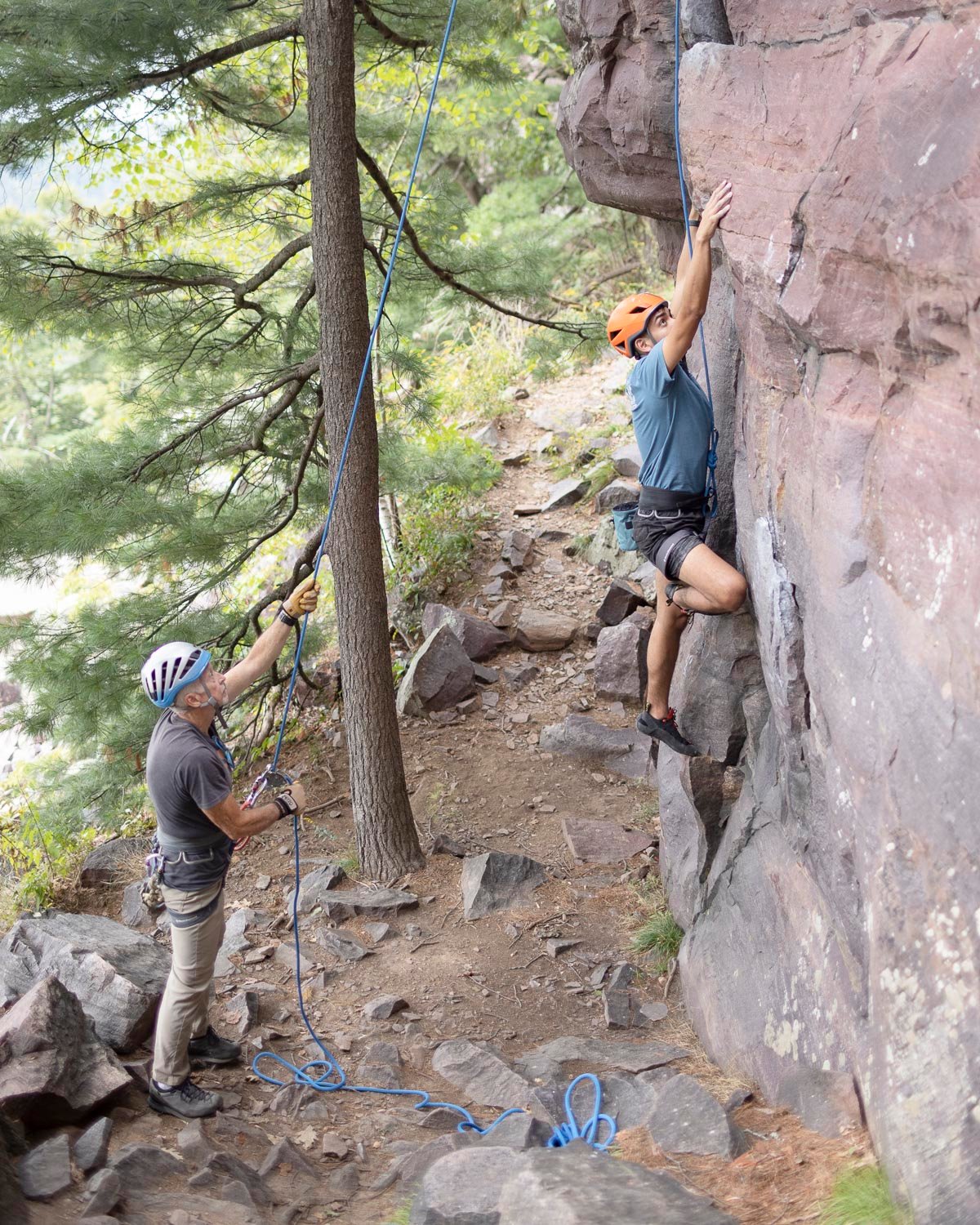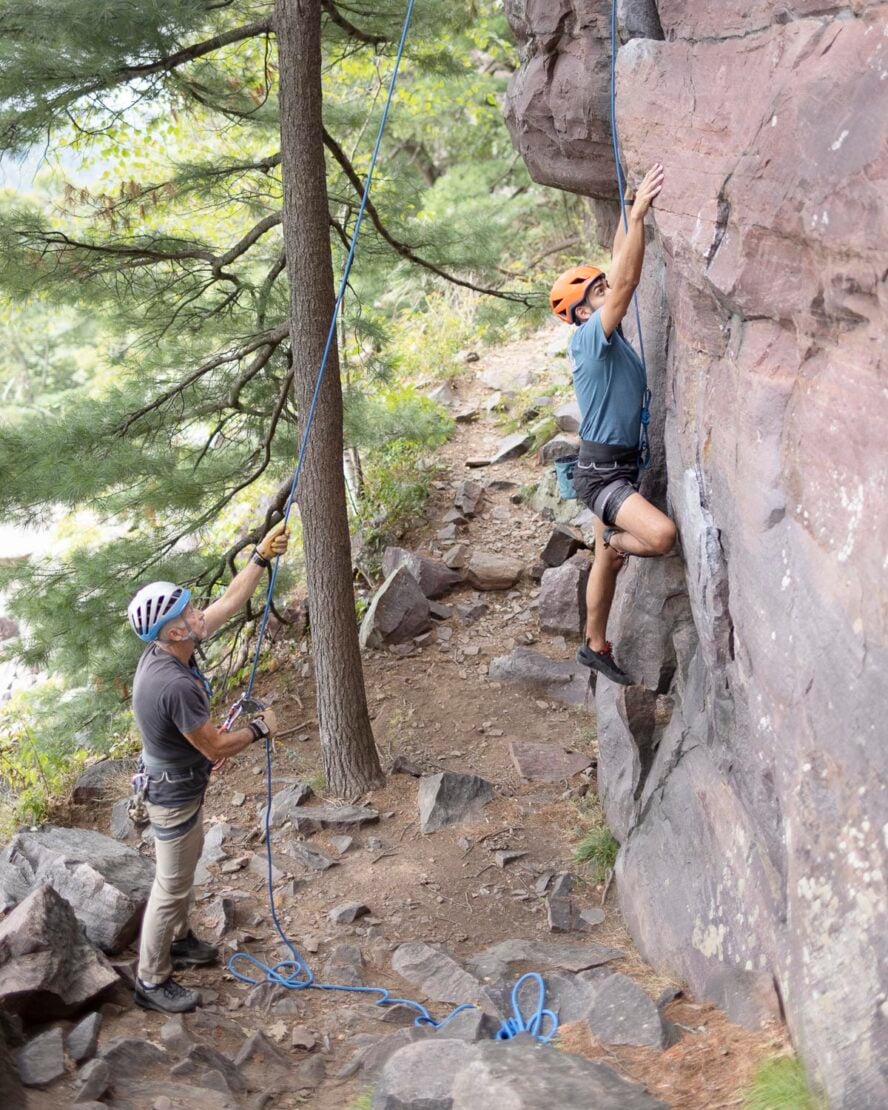 Brinton's Crack – 5.6
This clean, beautiful line offers awesome exposure on an 8-foot traverse, followed by a short hand crack crux. The finish is blocky and airy–everything you could ask for on a classic at this grade.
Peter's Project – 5.7
A must-do climb at Devil's Lake. Navigate a low crux using finger locks on polished holds and be rewarded with stellar, low-angle climbing on a beautiful face. Although there are a couple variations, head left above the crux into another crack section to experience its full value.
Upper Diagonal – 5.9
One of my personal favorites, this route ascends a crack system up and left above the ledge at the base of the Birch Tree Crack. It's more sustained than the others I've listed and in other places would be rated a hard 5.10 or easy 5.11.
2. Balanced Rock Wall: The easiest access to beginner routes
If you're looking to make friends out at the crag this might be the best place for you. Located on the East Bluff and only minutes from the South Shore parking lot, Balanced Rock Wall is a popular area for beginner climbers—it's only about 40 feet high—and hikers passing by. The net result is a busting crag full of interested onlookers and upgoing climbers. The view from the top is one of my favorites as it overlooks the lake and arguably the best sunset in the park.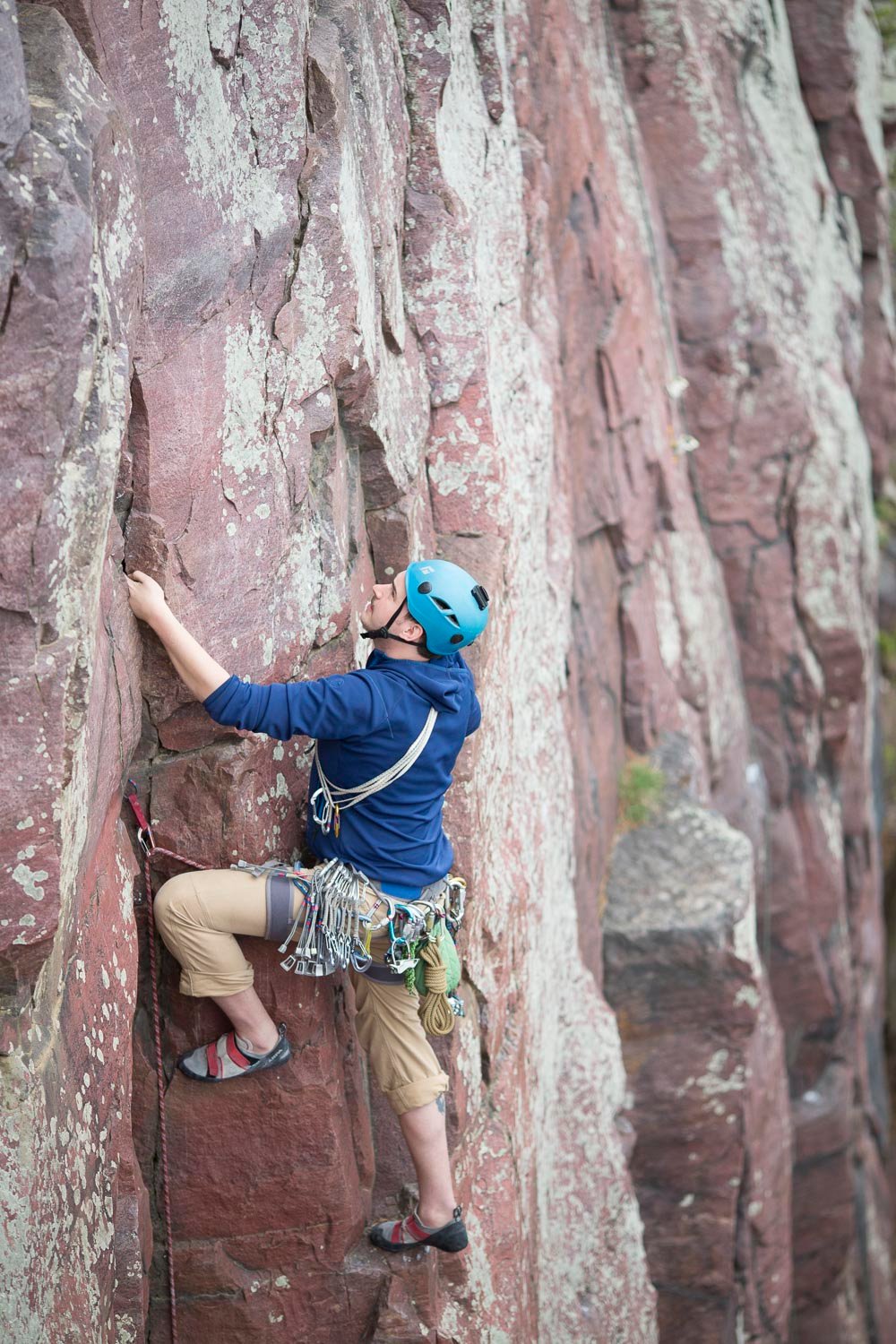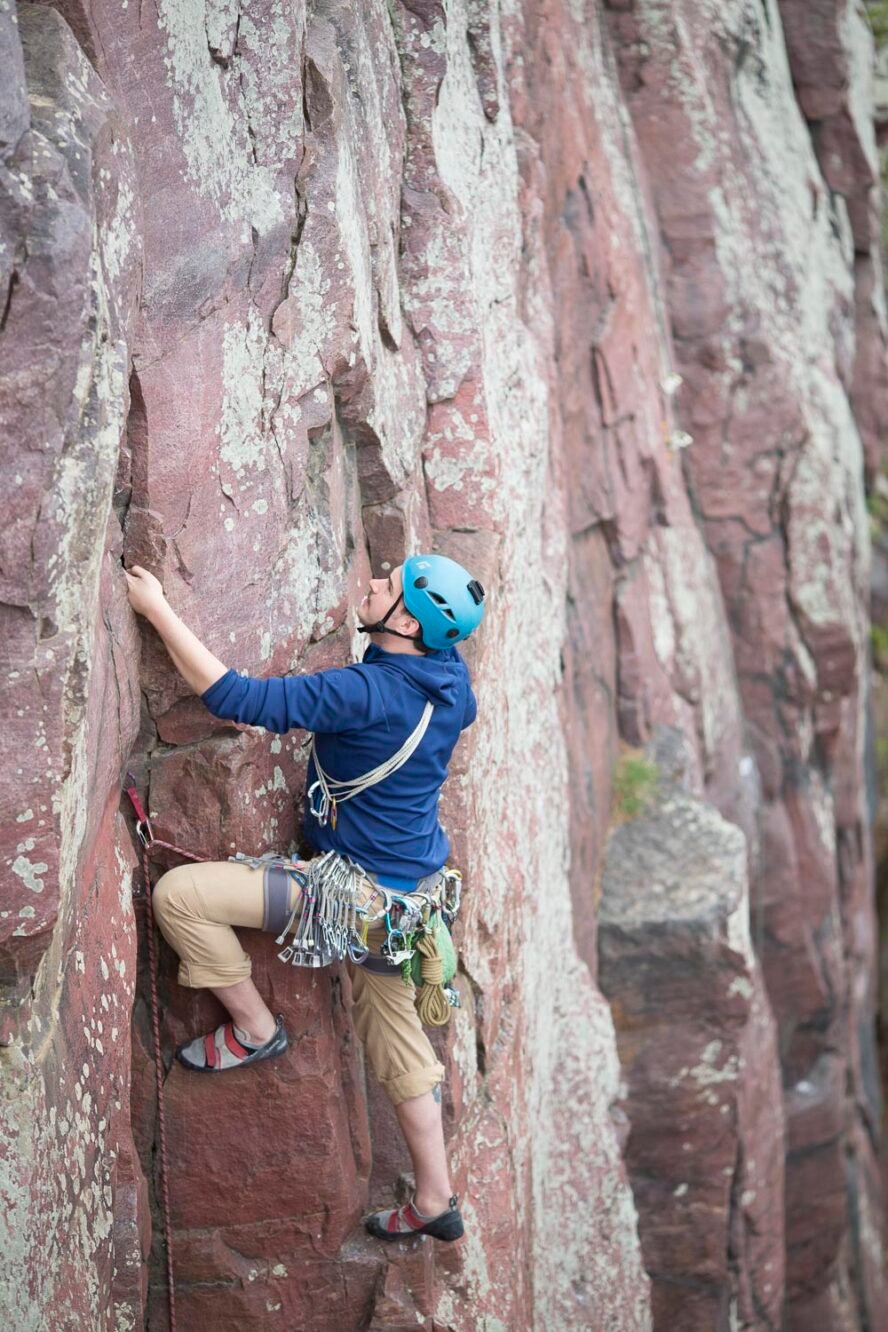 Sunken Pillar – 5.5
This route is a classic first lead and a great top rope option for beginners. With two large cracks on either side of the route there are plenty of options to place protection while ascending the solid blocky hand and foot holds.
Watermarks – 5.8
I consider this the crown jewel of the area. It is made up of long, complex sequences and interesting moves—and it is hard to protect. For this reason, Watermarks is a great route to practice your head game and is one of the best moderates in the entire park.
Der Glotz – 5.9
One of the harder routes in the area, Der Glotz is made up of zig-zagging overhangs and strong almost boulder-like moves. This route forces you to play with your body weight and balance making it an athletic yet subtle climb. Once you pass the overhang, the climb eases into more flowy terrain. The diverse moves and unique holds make this route one of my favorites!
3. Cleopatra's Amphitheater: Secluded climbing with a view
If you are looking for a more remote crag, check out Cleopatra's Amphitheater in the West Bluff. This collection of small crags, hidden amongst trees, features the Wiessner Wall, the Amphitheater, Turk's Head, and a tall tower in the middle of it all, the famous "Cleopatra's Needle." The area is shaded in the afternoon making it a great spot for summer climbing.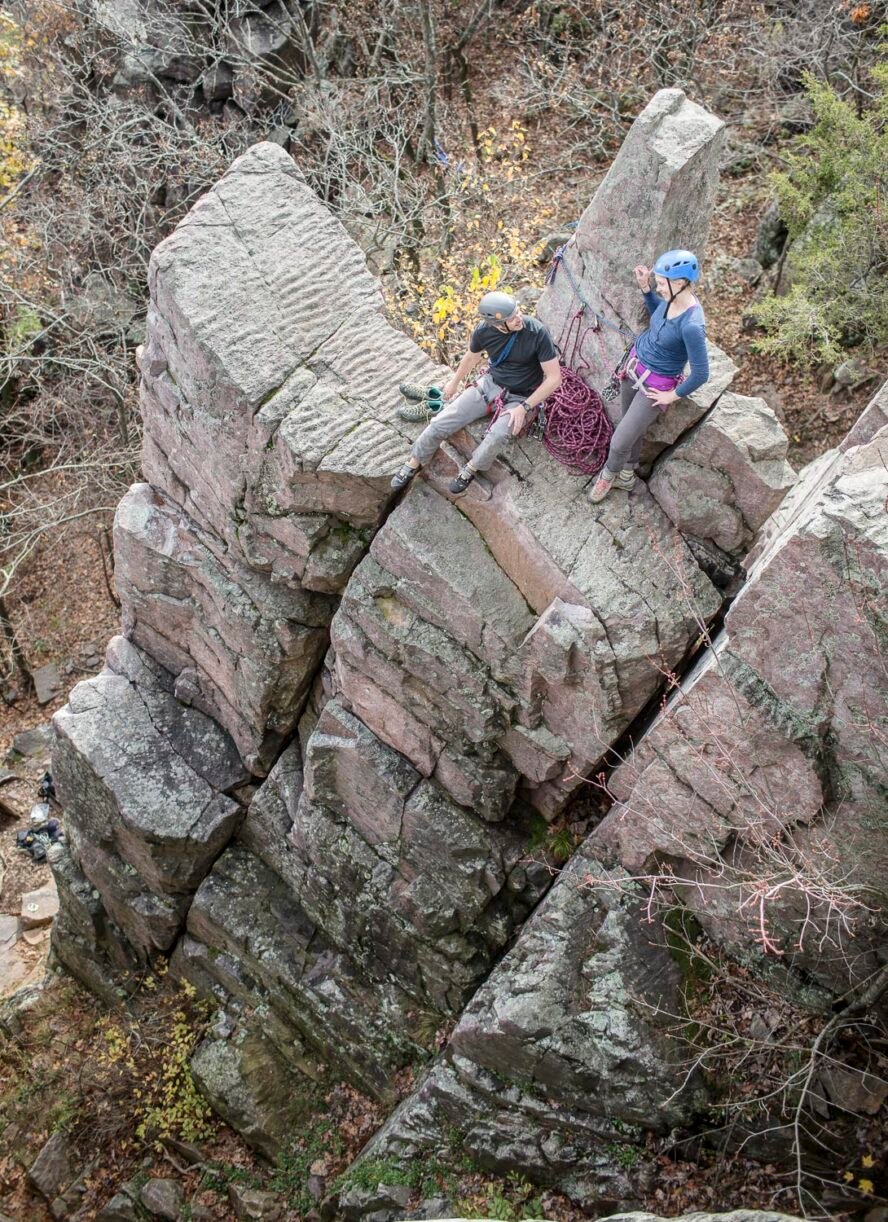 Mickey Mouse – 5.4
This is a great beginner route to practice placing protection as the hand crack is deep and eats up gear.
Queen's Throne – 5.4
About as perfect for lead climbing as it gets. Follow a left facing corner straight up, with plenty of places to slot gear.
King's Throne – 5.6
Known to be a bit "reachy", it can make feel like a 5.8 for shorter people. Follow a wide vertical crack that extends up half the wall then switches to horizontal cracks and ledges near the top.
A Local's Tips to Rock Climbing at Devil's Lake
What is the rock climbing season at Devil's Lake?
The peak climbing season at Devil's Lake runs from mid-March to mid-November. Often in the winter months only a few of the bravest bear the howling winds and snow covered hills.
Where to crash for the night?
If you can't snag a campground in the park, I recommend Skillet Creek Campground (formerly Wheeler's). It's the closest campground outside the park, and they offer both tent and RV sites, water, electricity, showers, Wi-Fi, and coin laundry. Prices range from $36 to $55 a night. For simpler accommodations at a lower price, try Green Valley Campground, which is $26 a night for up to 8 people or $28 on holidays. If you're looking for a roof over your head and are able to book in advance, reserve one of the Willowood Inn's uniquely decorated rooms (ranges from $110 – $185 in the high season).
Forgot something? Where to get gear (and more)
If you need to purchase climbing or other outdoor equipment while in the Baraboo area, Wildside Action Sports carries an extensive range of gear. You don't want to leave the area without stopping at Ski Hi Fruit Farm, if you happen to visit during late summer or early fall. Ski Hi has been family owned for over 100 years, and they sell mouthwatering baked goods, cider, and craft spirits.
Rest day activities
The great thing about Devil's Lake is that it isn't just for rock climbers. From swimming, fishing or canoeing around the lake on a hot day to hiking or biking many of the surrounding trails there are a range of rest day activities. It is even known as a scuba diving destination for the surrounding area as the lake has a depth of up to 45 feet.
Après climb?
Tumbled Rock Brewery & Kitchen sits just outside of the north entrance to Devil's Lake. It's a popular spot for climbers and tourists, and offers a large menu with great craft beer. If this doesn't sound like what you're looking for there are lots more restaurant options only 10 minutes away in downtown Baraboo.
How to get to Devil's Lake
Devil's Lake is about 40 miles, or an hour drive, northwest of Madison, Wisconsin. If you don't have your own vehicle, the best options are to rent a car or you can take a bus. From Madison you can take a bus for $15 to the Town of Baraboo which lies a few miles outside of the park. From Baraboo there are taxi and shuttle services that will take you into the park. In order to enter the park there is a fee of $13 for residents or $16 for non-residents and $5 for a car if you don't have a Wisconsin State parks annual pass. At the entrance of the park you can pick up a Devil's Lake State Park map at the visitors center.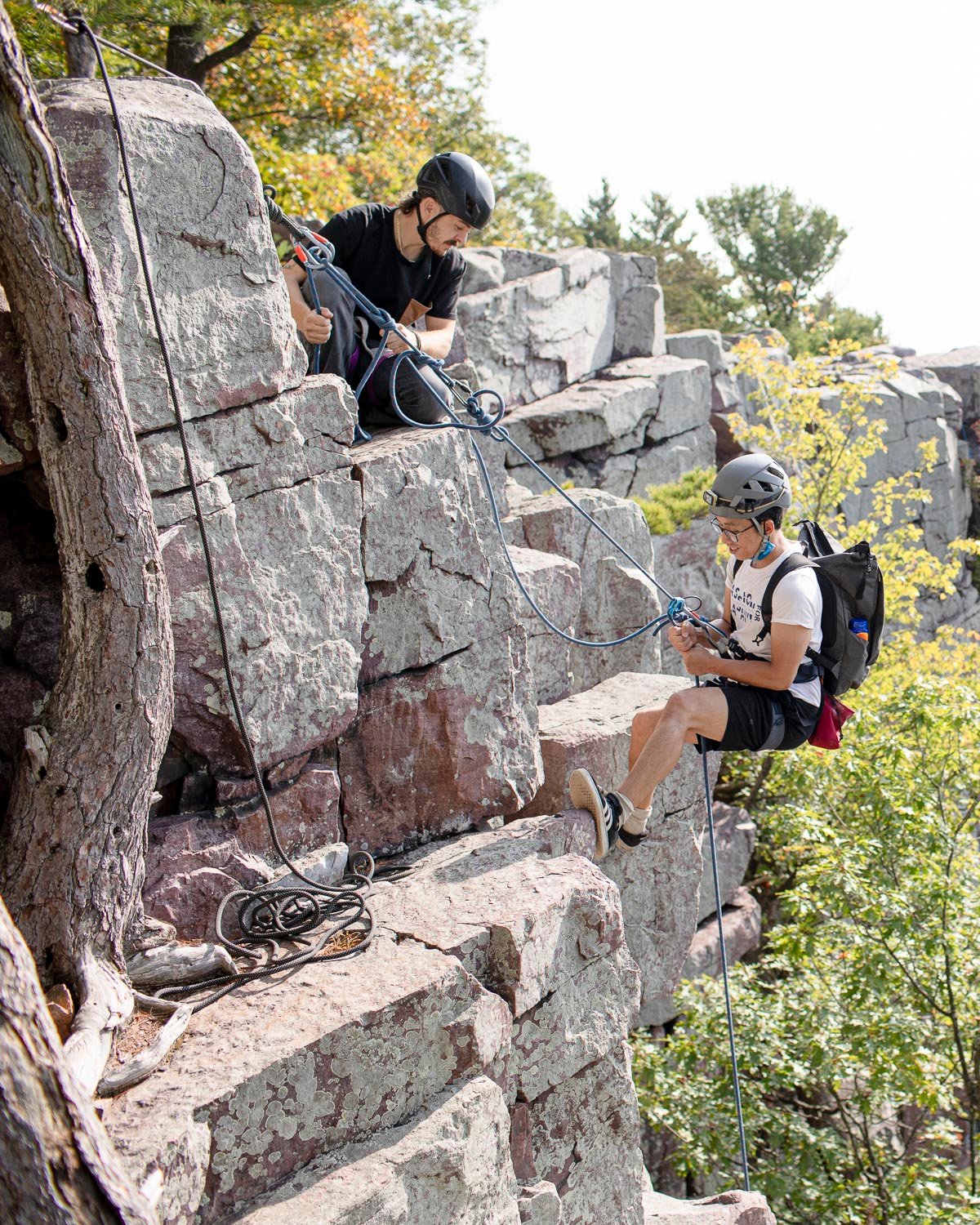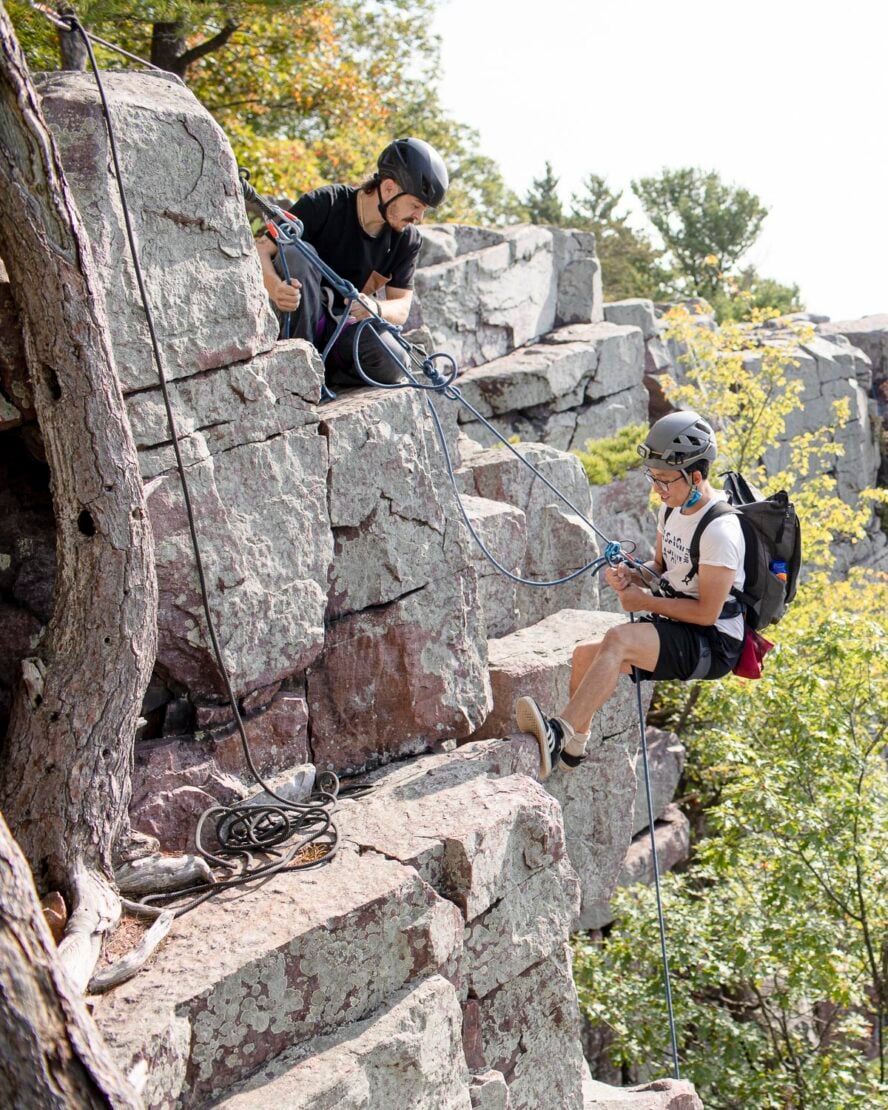 Home Sweet Home
It's almost dark as I close the trunk full of climbing equipment and prepare to make the evening commute home. Being back in Wisconsin, I've realized that I don't need big mountains to be happy. Rather, climbing to me is more about the culture of a place, the community you build and the contentment you get from helping others—and to me, there is no better place to enjoy that than at Devil's Lake.
Are you ready to climb the best the Midwest has to offer? Join Nick for a day out rock climbing at Devil's Lake.