Alpine Climbing in the Tantalus Range With Local ACMG Mountain Guide
Often overshadowed by Squamish and the Chief's Great Wall, this well-kept local secret has a treasure trove of some of the best alpine, trad and bouldering routes in Canada.
There's a reason why everyone from Yosemite comes to scale Tantalus in the summer when it's too hot in the desert valley. Tantalus is British Columbia's hidden gem for alpine climbing. The only guidebook that charts the range is over 20 years old, and barely covers the bounty of routes just northwest of Squamish. The range's tallest peak and namesake, Mount Tantalus, juts out on the horizon, almost visible along the entire drive between Vancouver and Whistler. Here, you'll find granite spires sticking out of glaciers housing some of the best trad, snow and ice routes in Canada.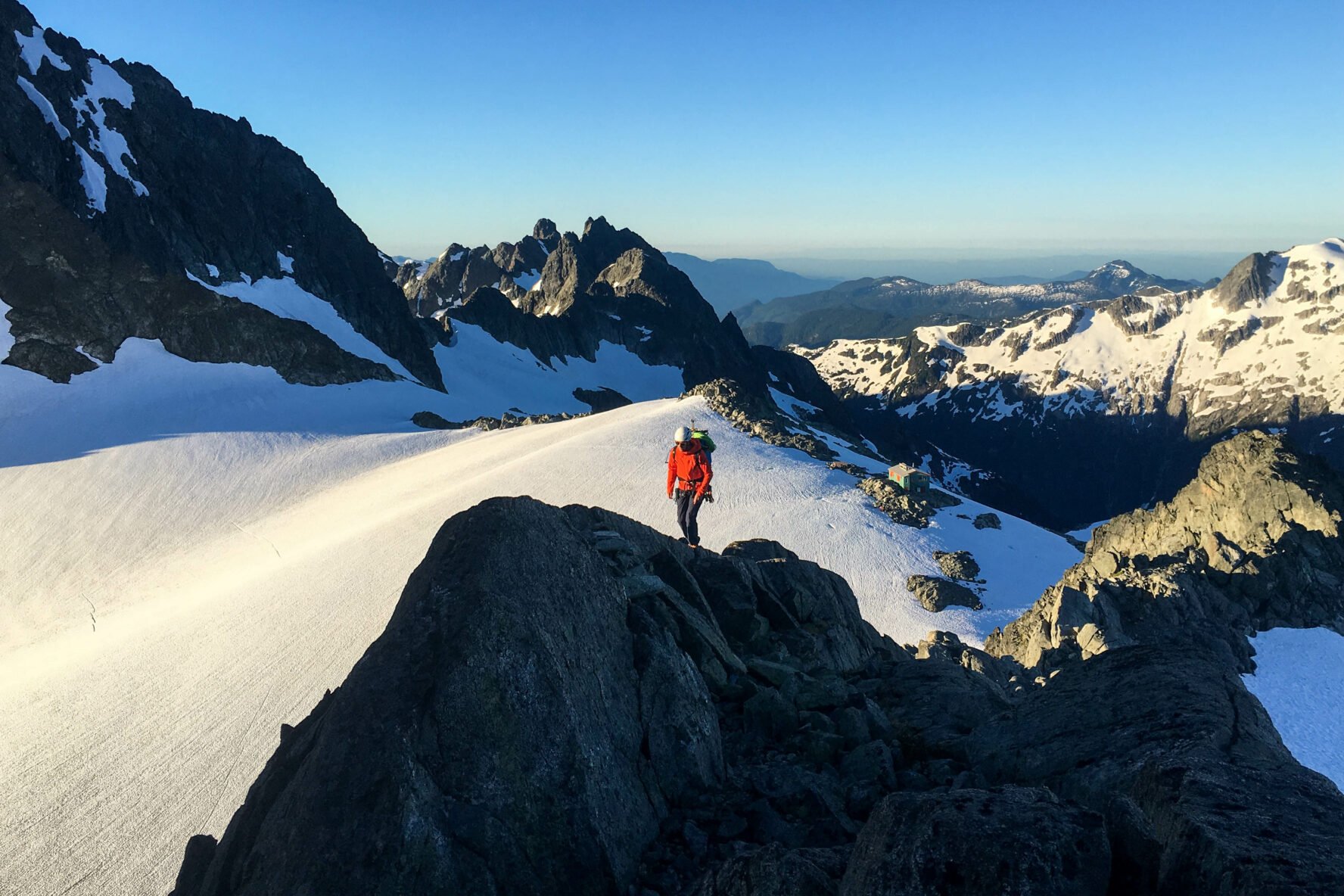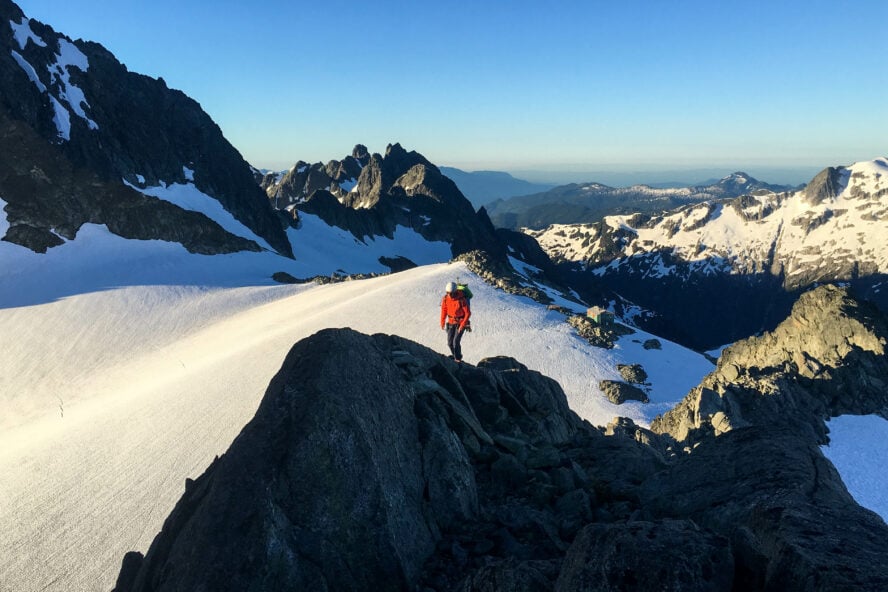 Pros and Cons of Alpine Climbing in the Tantalus Range
Some of the best alpine climbing in Canada
Plenty of trad, alpine and bouldering routes with varying difficulty
Lots of opportunities to show off technical skills
Accessible only by chopper
Hitting the right weather window can be tough
Tantalus Range offers superb, remote rock climbing in B.C.
Tantalus is a well-kept local secret. Climbers don't swarm Squamish to climb the Tantalus peaks. The Chief's Grand Wall hogs all of the hype since Tantalus isn't where Tommy Caldwell and Alex Honnold climb. People miss out on this superb alpine climbing area just because of Tantalus' remoteness, but this area has given me some of the most beautiful moments I've ever had in the mountains.
Despite being close to civilization, there's a feeling of remoteness climbing here, and the fun, technical routes require every tool in the box to complete. With names plucked from Greek mythology, the well-known peaks on the range are: Tantalus 2,603 m (8,540 ft), Dione 2,590 m (8,500 ft), Alpha 2,305 m (7,562 ft), and Serratus 2,326 m (7,632 ft). While other classic alpine peaks might be higher, considering that this range begins at sea level makes for some pretty impressive climbing.
One of the more exciting objectives is reaching the famous Jim Haberl Hut, an ideal respite for skilled mountaineers looking to do the full traverse of the Tantalus Range. From there, you don a harness, open the door, and step out onto a route. Along with tours, I climb here at least four times a year.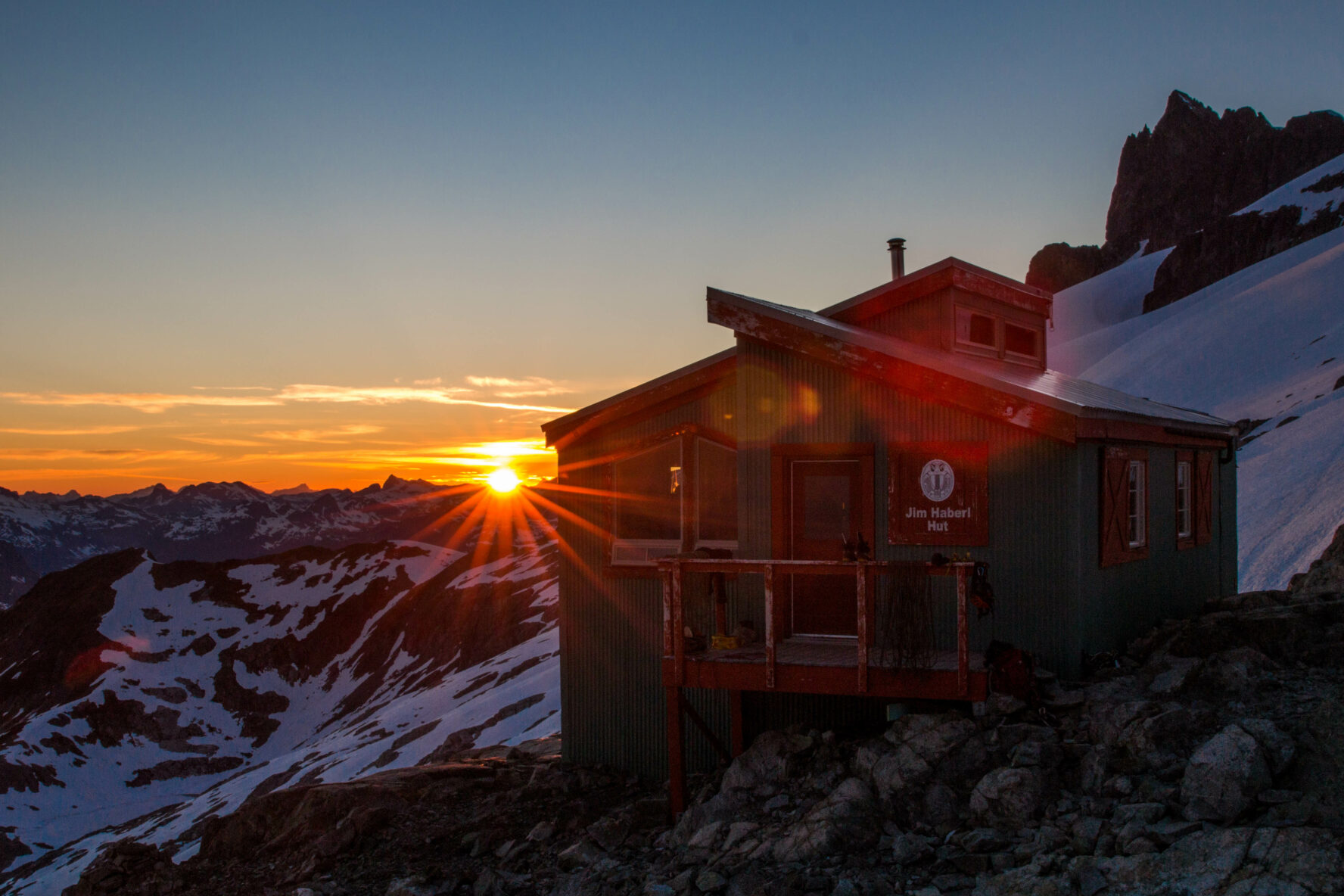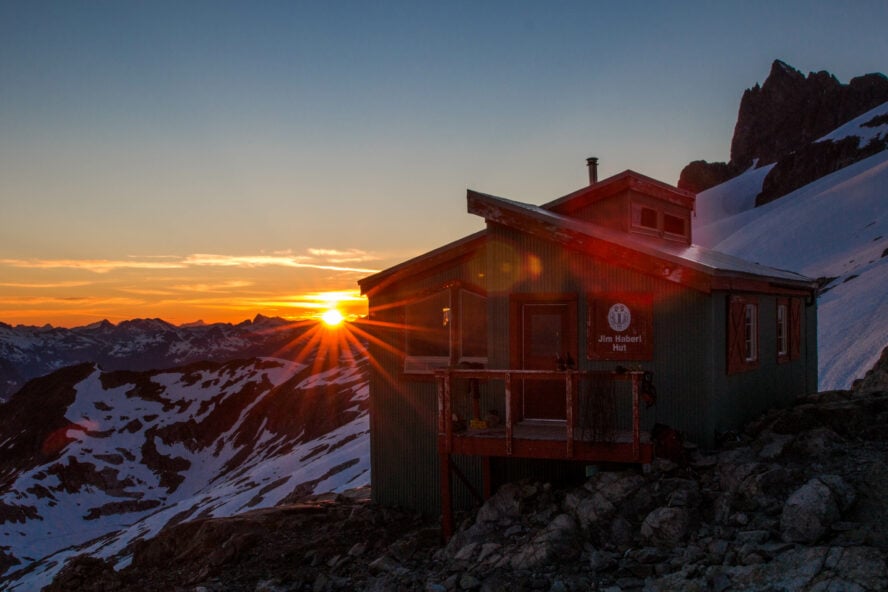 How I became an ACMG Mountain Guide
I grew up skiing, snowboarding and splitboarding in a tiny ski town in the Rocky Mountains of British Columbia. When I got an engineering degree, it hit me that I didn't want to spend the rest of my life sitting in front of a computer. At that time, I was working ski patrol on weekends and guided some friends. I took the plunge and decided to move into a full time career as a rock climbing guide.
Based in Squamish — one of the best rock climbing destinations in the world — the main areas that I guide depend on the season. In the summer, I mainly guide in the Coast Range, so the Tantalus area, the Bugaboos and I try to hit up the amazing Rockies for at least a month. In the winter, I spend a few weeks in Japan and always try to go somewhere I haven't been before.
I've been guiding for five years now. Going into these amazing backcountry places and introducing people to them is still my favourite thing about guiding. I'm able to see all these areas that I've been to thousands of times through their eyes. It makes it all fresh again. From my experience, here is everything you need to prepare for scaling the phenomenal peaks of Tantalus.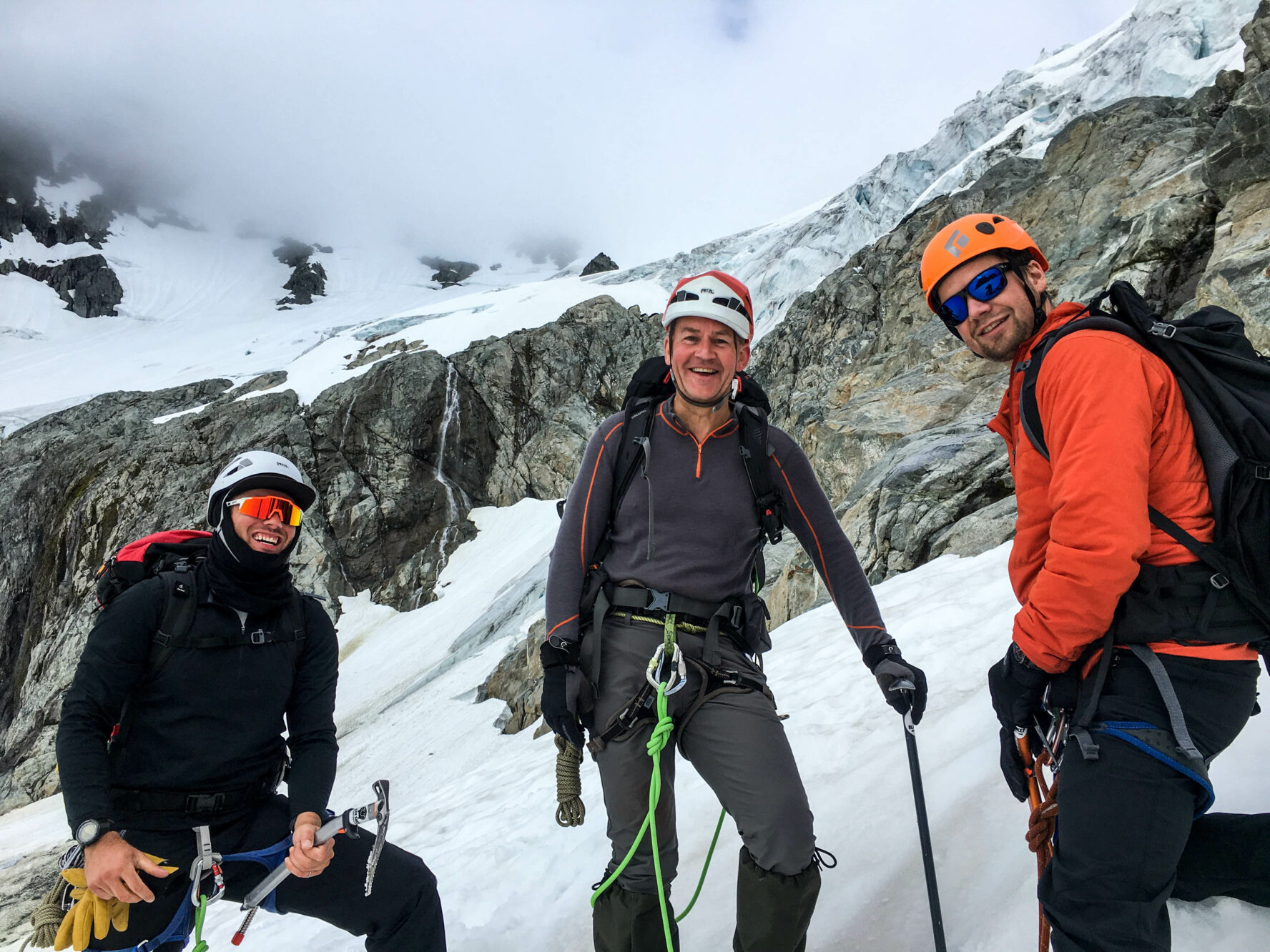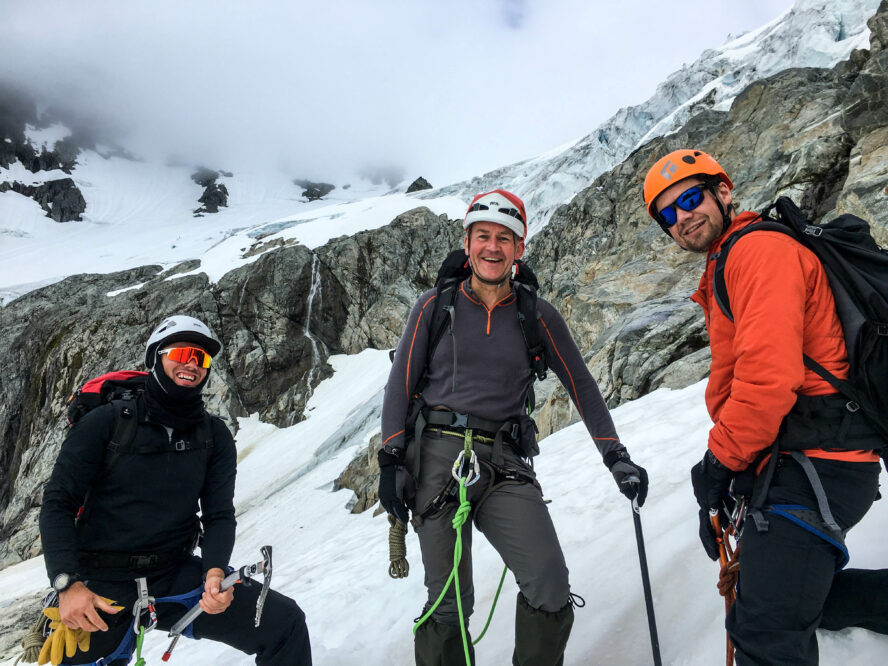 Part of the challenge is getting over the Squamish River
Tantalus is on the far side of the Squamish River, which creates a natural barrier. There are no bridges. If you want to get to its peaks, you have to deal with a lot of logistics, like hiring someone to get you across the river. The trail is lengthy, which is why the locals usually end their hikes way below the treeline. To reserve stamina for the climbing itself, I chopper in. Of course, there's other ways to get across the river, like hiring a boat or canoeing, but a helicopter ride isn't as extreme as it may sound. The trip doesn't cost that much; Black Tusk Helicopters offers the trip for a few hundred bucks for the roundtrip ride. I do four to five personal trips here every year, on top of the guiding trips. It's super accessible, if you don't mind paying for a helicopter, which I think is all part of the adventure.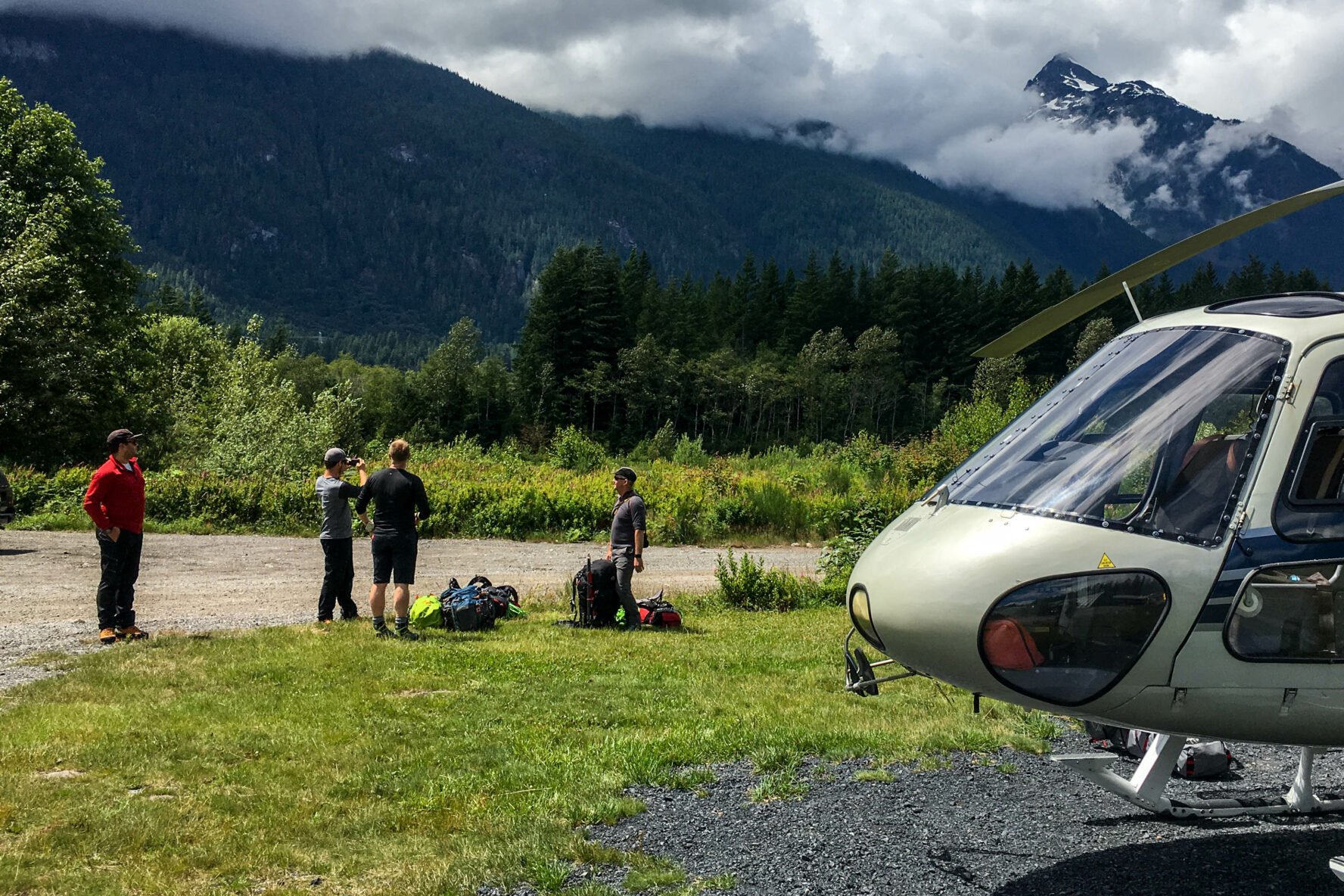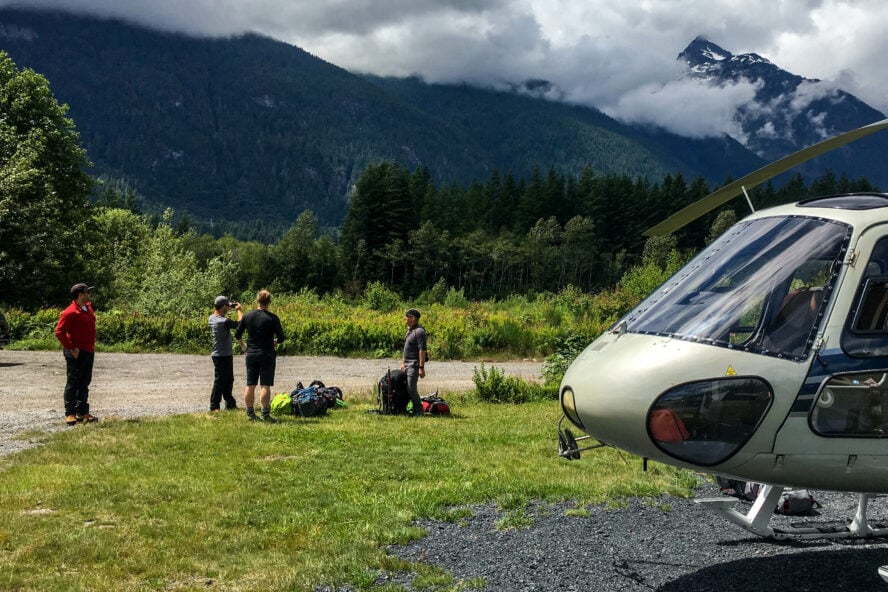 Summer is the best time to visit Tantalus, but don't count out winter
Tantalus Range is my favorite place to guide in the summer. That said, in the winter, Tantalus is one of my go-to places to ski, as well as to climb. I've had one of the best skis of this winter at Tantalus. Keep in mind, hitting the weather windows can be tricky. If the weather's bad, you can't get up there because it's helicopter access only. July and August are the best time to visit since the weather is the most predictable. In June, I run a 30 percent chance of trips being cancelled, and in September it depends on the year. It's not a big deal when the weather takes a turn, though. We can always hike to nearby areas like Brandywine and spend our trip there.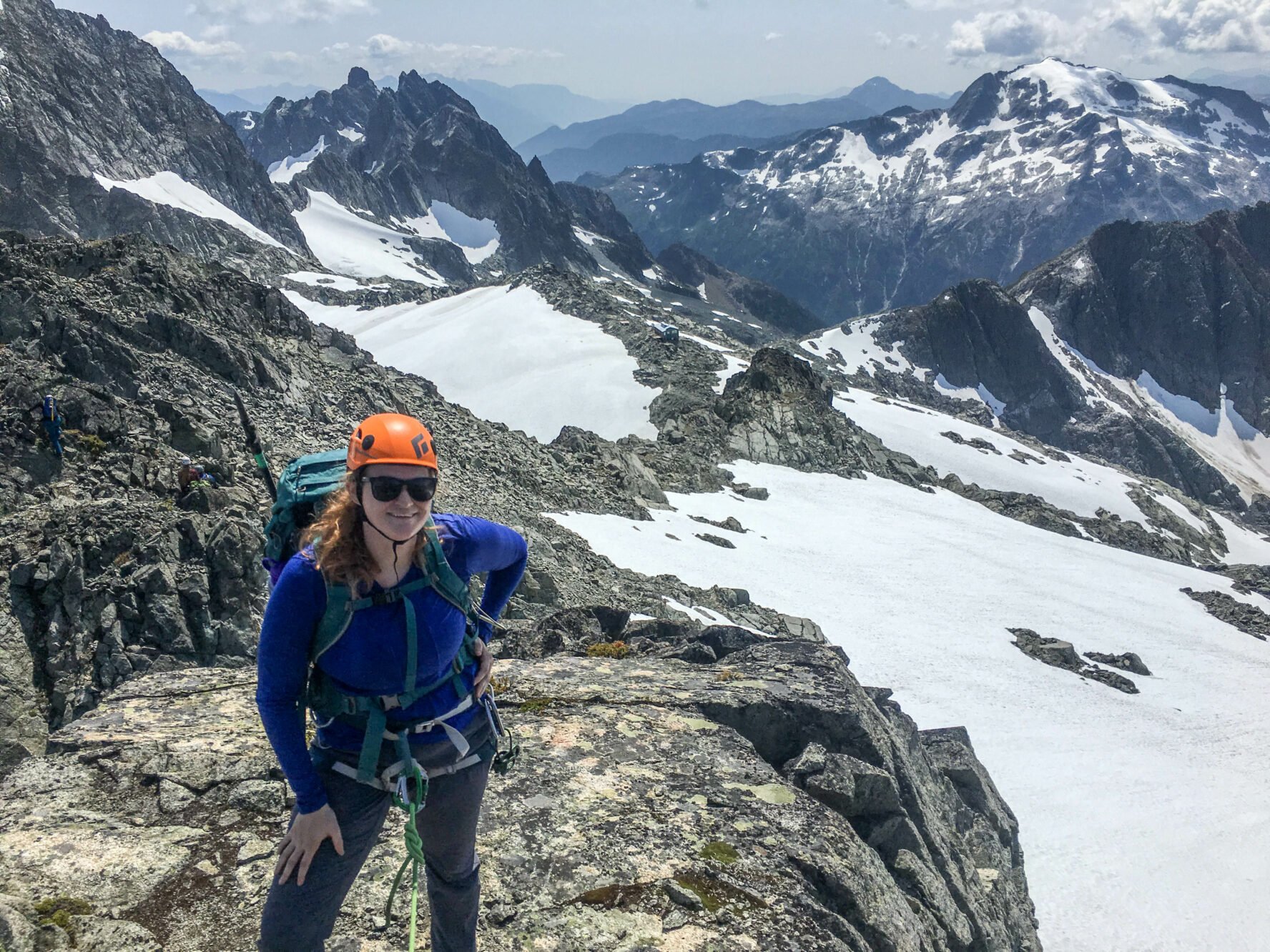 Tantalus is worth a four-day trip in the mountains
First of all, spending only a day in the Tantalus range doesn't do it justice. I encourage you to reserve at least four days out of your week. It's that good. However, three days is a decent option if you're crunched for time. If you have an extra day or two, there's also the option for an overnight traverse of the main part of the range to tag a bunch of peaks.
When I take clients, we make our way to the hut and then go over an alpine skills refresher course, covering glacier traversing and safety precautions. Then we wake up early on day two, ready to take on Dione. Day three is another super early wake up call to bag a peak like the North Face of Serratus. Right next to the summit, there's this beautiful snow and ice route where you can see the Pacific Ocean and Squamish. You can even see Vancouver. It's such a cool little location.
I personally prefer the four-day trip. I find adding that extra day really allows us to get some quality climbing in that area. Usually we climb Mount Dione, a 8,494-foot (2589m) summit, but this added time lets us climb the main part of the entire range. We drop off all the gear, save for an alpine kit and have the helicopter drop us off on the other side of Tantalus. From a fitness standpoint, not having to get yourself in makes climbing way more accessible. We just take a short chopper ride instead of having to make our way there and back on foot.
How difficult is the climbing?
How difficult is climbing on the range? Depends on the route. Haberal Hut is situated in between two peaks: Serratus and Dione. You walk out the door, and you're on the glacier. This means there are a bunch of cool routes practically on your doorstep. It's no surprise the AMGA recognizes Tantalus as a great training venue. You'll experience plenty of bread and butter routes, and even some extreme options in the 5.10+ range. If you'd like to take it easy and enjoy the alpine environment, the south and the west sides offer pretty manageable Class 4 rock routes.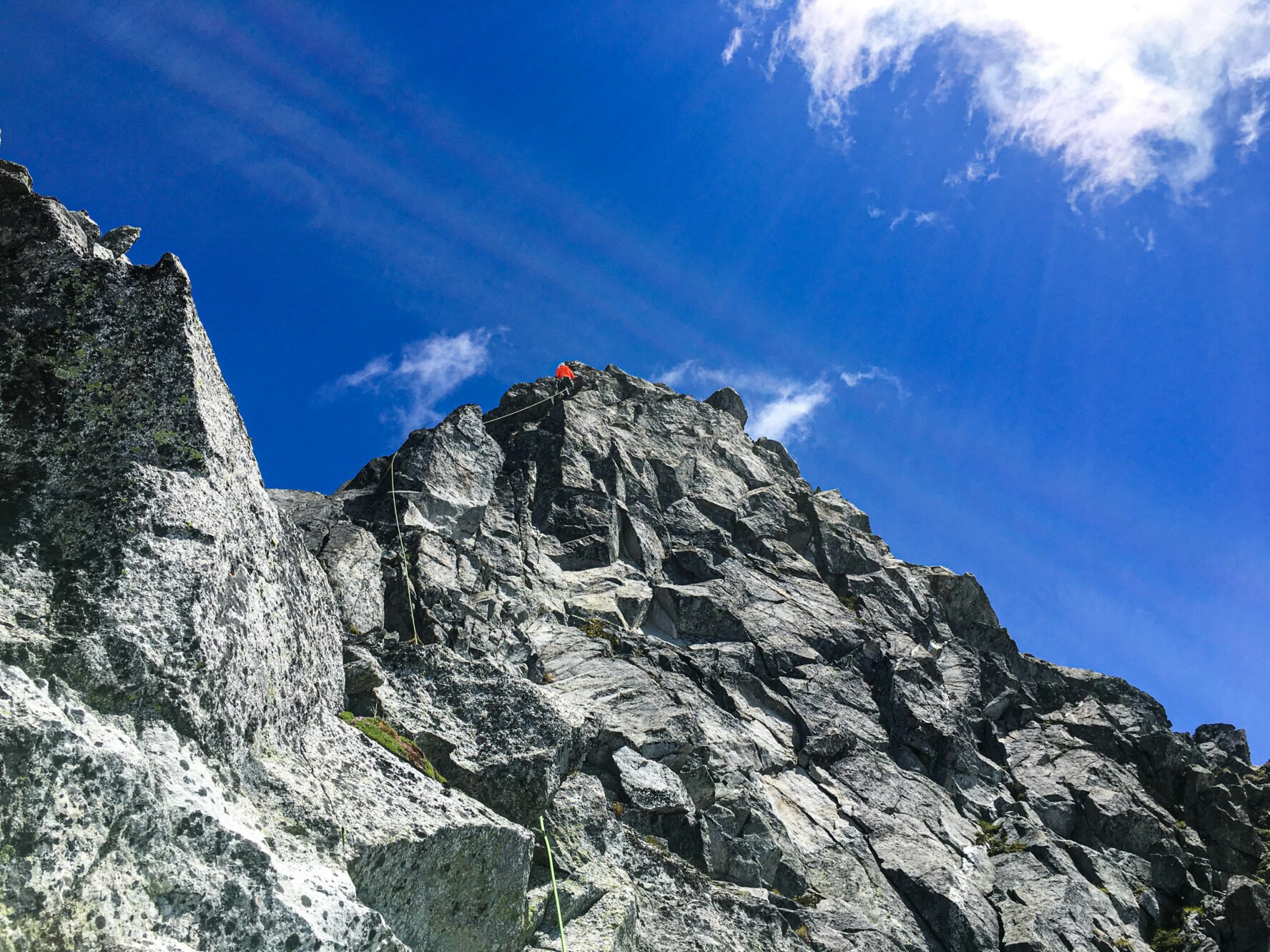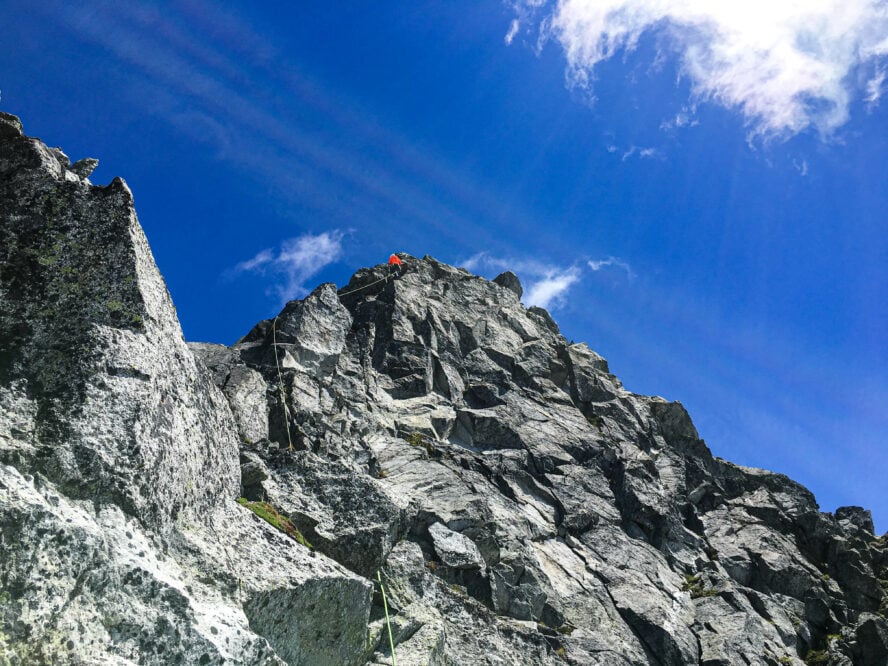 Where to Climb in the Tantalus Mountain Range
1. Mount Serratus: True uncharted climbing territory
Getting up on Serratus, one of the adjacent peaks, can be done pretty quickly. You gain about 1500 feet, and it takes 4-6 hours. It has a bunch of pretty cool snow and ice routes. I really like doing these in the summer. One of my favorite routes is on the west base of Serratus. The route comes in at 5.6, with a little bit of rock climbing. I don't know if there even is a name for it! The only guidebook that charts this area is 20 years old and covers a fraction of what's really here. You could be the first one on a route without even knowing it.
2. Mount Dione: Technical climb with a little bit of everything
Dione's got everything. You want snow and ice? It's here. You want to do rock routes? They're here, too. You want to break out every tool in your toolbox? Do glacier traverses followed by rock climbing, technical snow and then some more rock climbing. Dione will give you a chance to combine all these skills to get to the peak. There have even been some routes established that go up to 5.12.
A really fun Tantaus climbing route that I usually guide, sticks to about 5.8s, and takes 8 hours to complete. For warming up, you do a glacier traverse. From there, you get up to a rock ridge where you rappel onto a glacier on the other side of the mountain. That's where all the technical climbing awaits. It starts at 5.6/5.7, but climbing gets easier and easier as you get up the mountain until you hit the summit.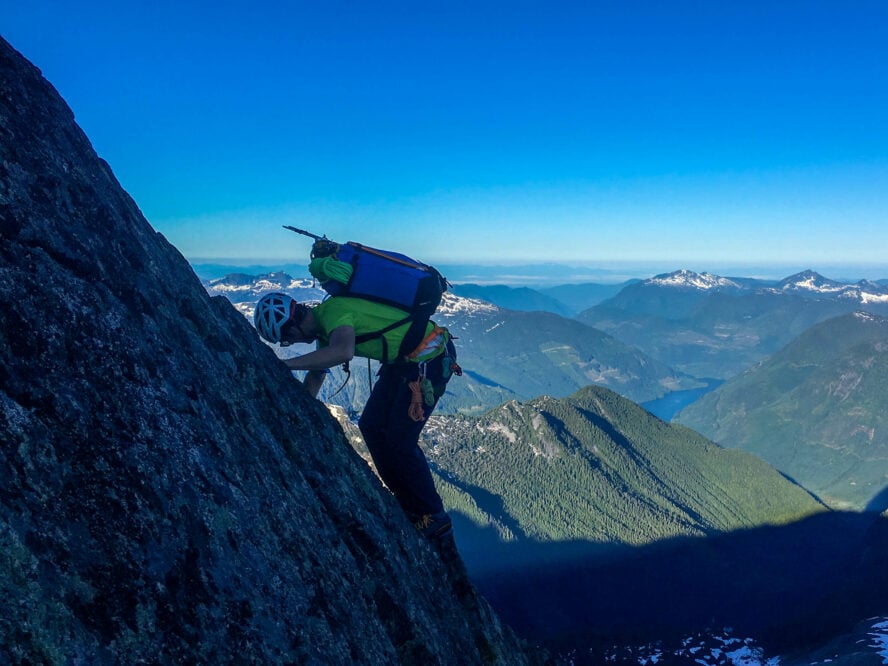 3. Mount Tantalus: Off-the-beaten-track climbing
When getting over to Tantalus, most of the rock climbing is actually on Mount Dione, so climbing it takes 12-14 hours. Tantalus has similar rock and features, but it's farther from the hut, so there hasn't been much route development there. Mount Tantalus' distance makes it a big feather in the cap for people. That's why I'll land on the north end of the range. Climbing Tantalus on the way back to the hut makes it way more doable. You get on the looming ridge and spend the whole day surrounded by these beautiful views. It feels like you're in the middle of nowhere, but civilization is just 5 minutes away.
What You Need To Know For Climbing Tantalus
Heading to the Tantalus Range will bring excitement and a few surprises, no doubt. What you don't need to be surprised about is your gear, arrival or booking. Here are some of the details I keep in mind when planning my Tantalus climbing outings.
First stop, Squamish: gear, food, and where to stay
Before you make your way to Tantalus, you'll first need to get to Squamish, which is situated about halfway between Vancouver and Whistler. Vancouver's International Airport (YVR) offers shuttles to and from Squamish, but most people choose to rent a car so that they can explore all that this area has to offer. Driving along the coastal Sea to Sky highway is one of the most beautiful drives in Canada.
Once you're in Squamish, there's plenty to see and do. If you plan to stick around longer than your trip up to Tantalus and tackle some of the local climbing classics, here's a few recommendations. If you're looking for gear, Climb On, Valhalla Pure Outfitters and Escape Route will have you covered. Backcountry Brewing, Howe Sound Brewing, and A-Frame Brewing are the go-to spots for a local pint and a bite. There's no shortage of accommodations in town, with plenty of campgrounds, hostels, hotels and Airbnbs. Heads up though, Squamish is fast becoming a popular tourist destination for outdoor adventurers. You'd be best to book things well in advance.
Do I need a permit to climb Tantalus?
If you're climbing Tantalus Range recreationally, or with a guide, you don't need a permit. However, if you're looking to act as a guide in Tantalus, because it's within a B.C. provincial park, you'll need a permit.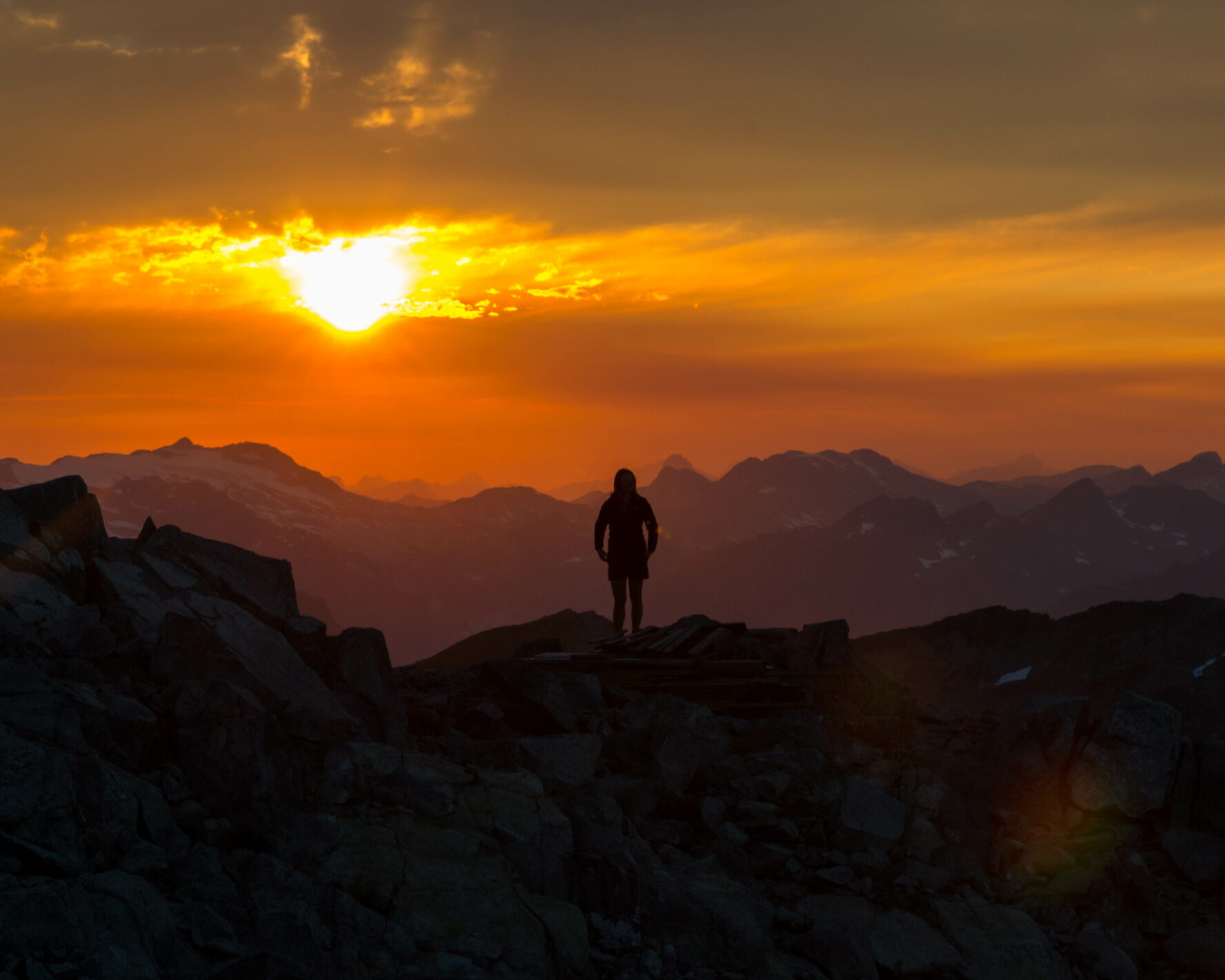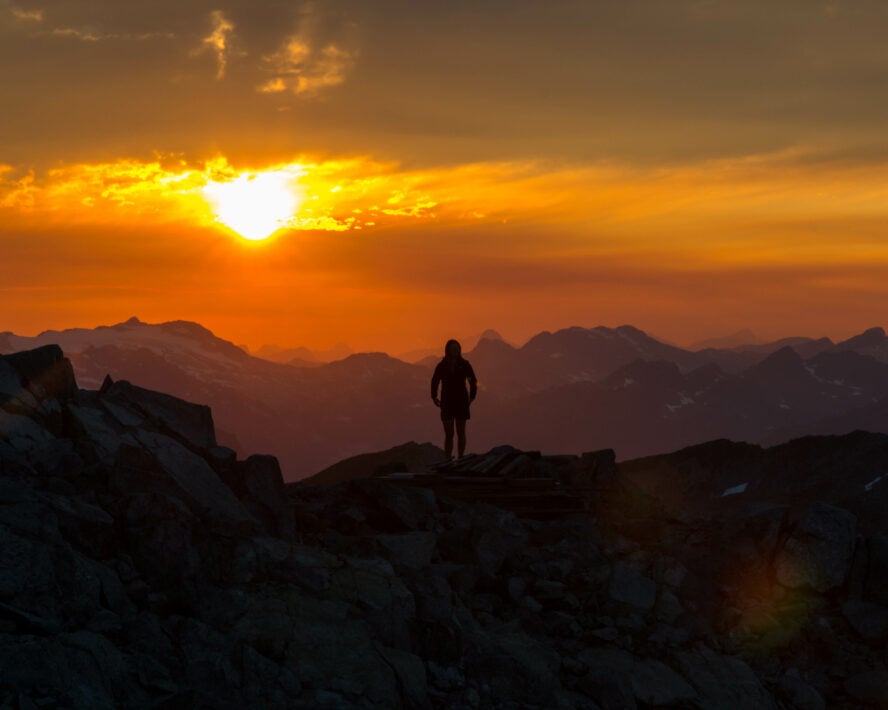 Where to stay in Tantalus
Staying at the Haberl Hut is part of the experience. Operated by the Alpine Club of Canada, Haberl is a locked hut and you must make a reservation to stay there. I had considered moving there for a month when developing some climbing routes in the area. It's so isolated. I would bring beers and steaks up there to enjoy in my downtime. It's a destination for when I don't want to be bothered at all. Instead, the beauty of the area is the best companion.
When to book your Tantalus tour
Typically, you need to book this climbing tour two to three months in advance. The further out I know, the better prepared we are for weather and travel. As the guide, I contact the local helicopter company and make sure the hut is available. You just need to get yourself to this gorgeous part of the mountains. Leave the rest up to me.
Discover this secret granite wonderland on a guided 3-day tour, climb with a local expert guide, and show off your alpine climbing skills!