Ultimate Guide to your Rock Climbing at Kalymnos trip
EPIC ADVENTURE WEBINAR BY
This webinar is finished. Sign up to get the free recording.
Why this climbing paradise has to be on your post-covid travel list
This webinar was presented on Wednesday, June 30th, with AMGA Rock Guide Heidi Wirtz.
We have figured out the makings of a perfect adventure. The formula goes something like this — thousands of sport climbing routes on Europe's best limestone, irresistible culture and food to match, a welcoming community, and a rejuvenating yoga session to wrap up each of the incredible seven days in Kalymnos, Greece. The area is full of hidden climbing treasures and AMGA Rock Guide Heidi Wirtz is here to share the ins and outs of a week-long climbing yoga retreat, set in what has to be paradise on Earth, that will change how you climb.
If the photos aren't enough to fuel your daydreams about climbing Europe's best limestone, tune in to the webinar and get all the info you need for planning your own trip. After the presentation, you'll get the chance to ask Heidi anything you want to know about climbing in Kalymnos.
WHAT YOU GET IN THIS ONE-HOUR SESSION
HEIDI WILL SHARE
Her photos and videos of climbing in the gorgeous Kalymnos
How to filter through 3400 of Kalymnos' routes and find one for you
Why Kalymnos is the perfect venue for a yoga & climbing retreat
What climbing on one of Europe's best limestones is like
The sense of community you feel the second you step on Kalymnos
The island's rich culture, cuisine and tradition
Where to stay, what to see and where to get gear
Logistics behind every successful Kalymnos climbing trip
LIVE Q & A SESSION
Heidi will follow up with a live Q&A session, where you can ask her anything you want to know about rock climbing in Kalymnos. Get free professional advice from an AMGA guide who has been coming back to this rocky island paradise since she discovered it.
After hearing Heidi's presentation, you'll be pumped to find out first-hand how a mix of climbing and yoga in Kalymnos will do a world of good to your mind and body.
Webinar host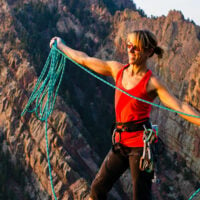 Heidi Wirtz
AMGA Rock Guide, yoga teacher and owner of Earth Play Retreats
Currently based in Colorado, Heidi is an AMGA-certified Rock Guide and yoga instructor currently working towards her IFMGA certification. She can typically be found guiding around the Colorado Front Range and the Western United States, but she also hosts transformational climbing and yoga retreats through her company Earth Play Retreats. Kalymnos is where her two favorite activities — yoga and climbing — come together in one of her favorite places.
By signing up you will also subscribe to the 57hours newsletter. You may opt out anytime.