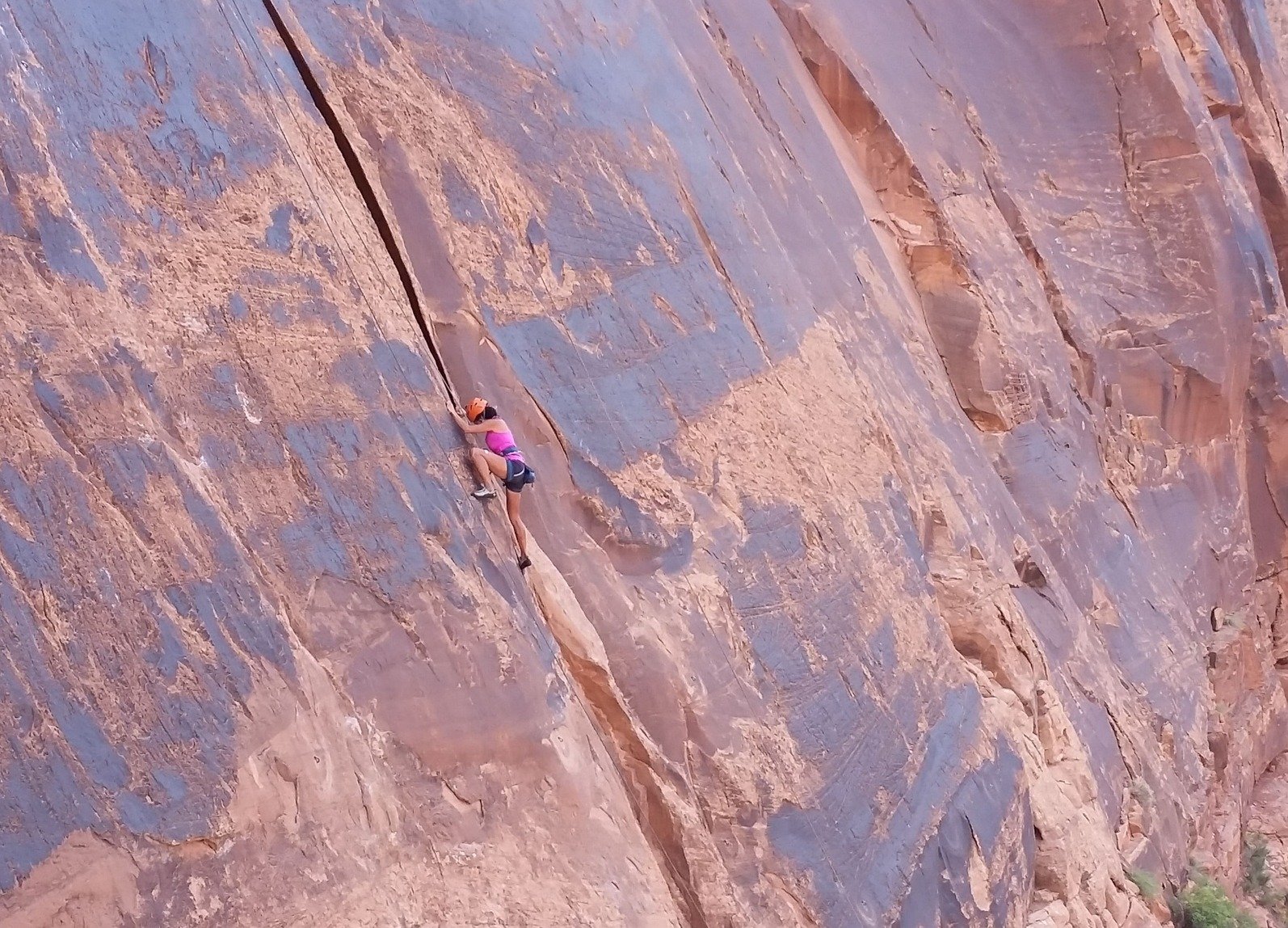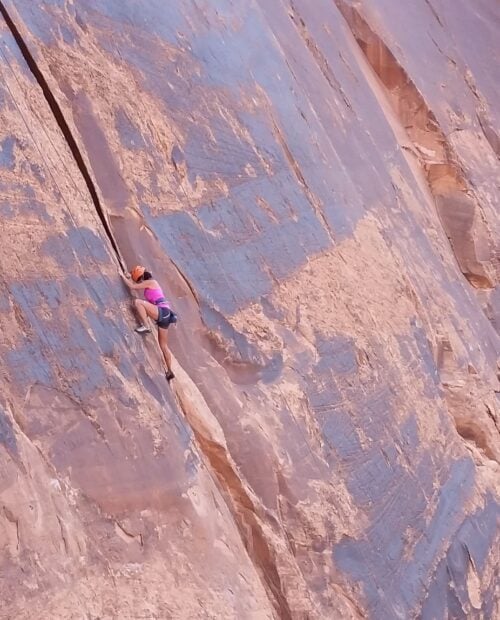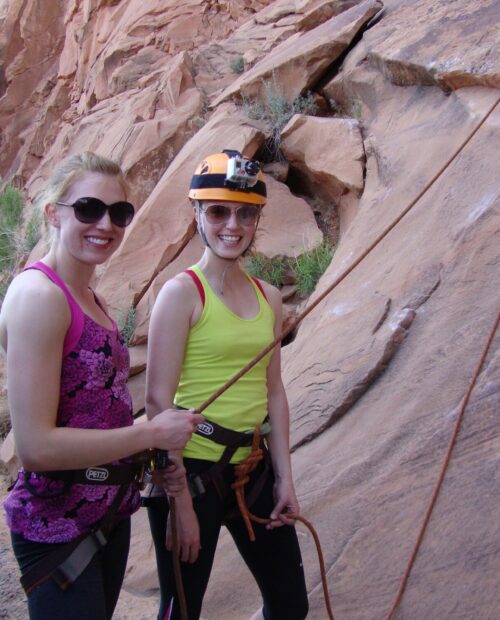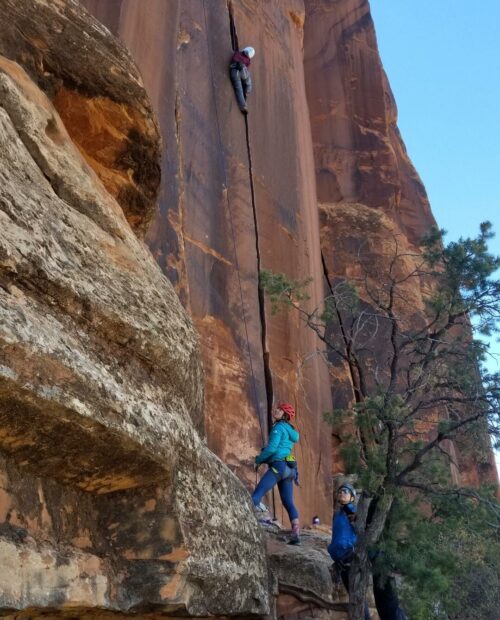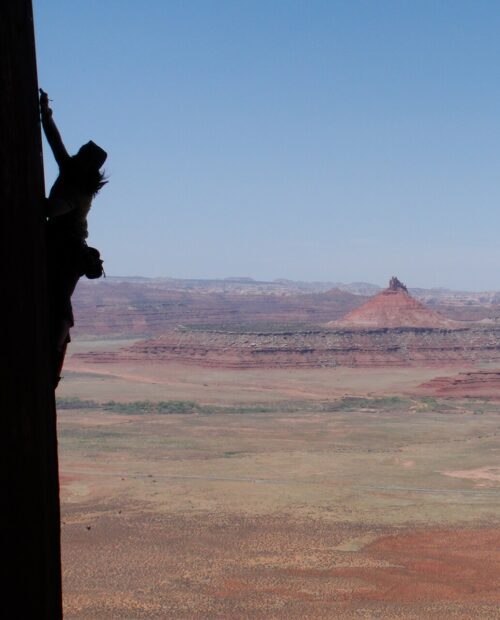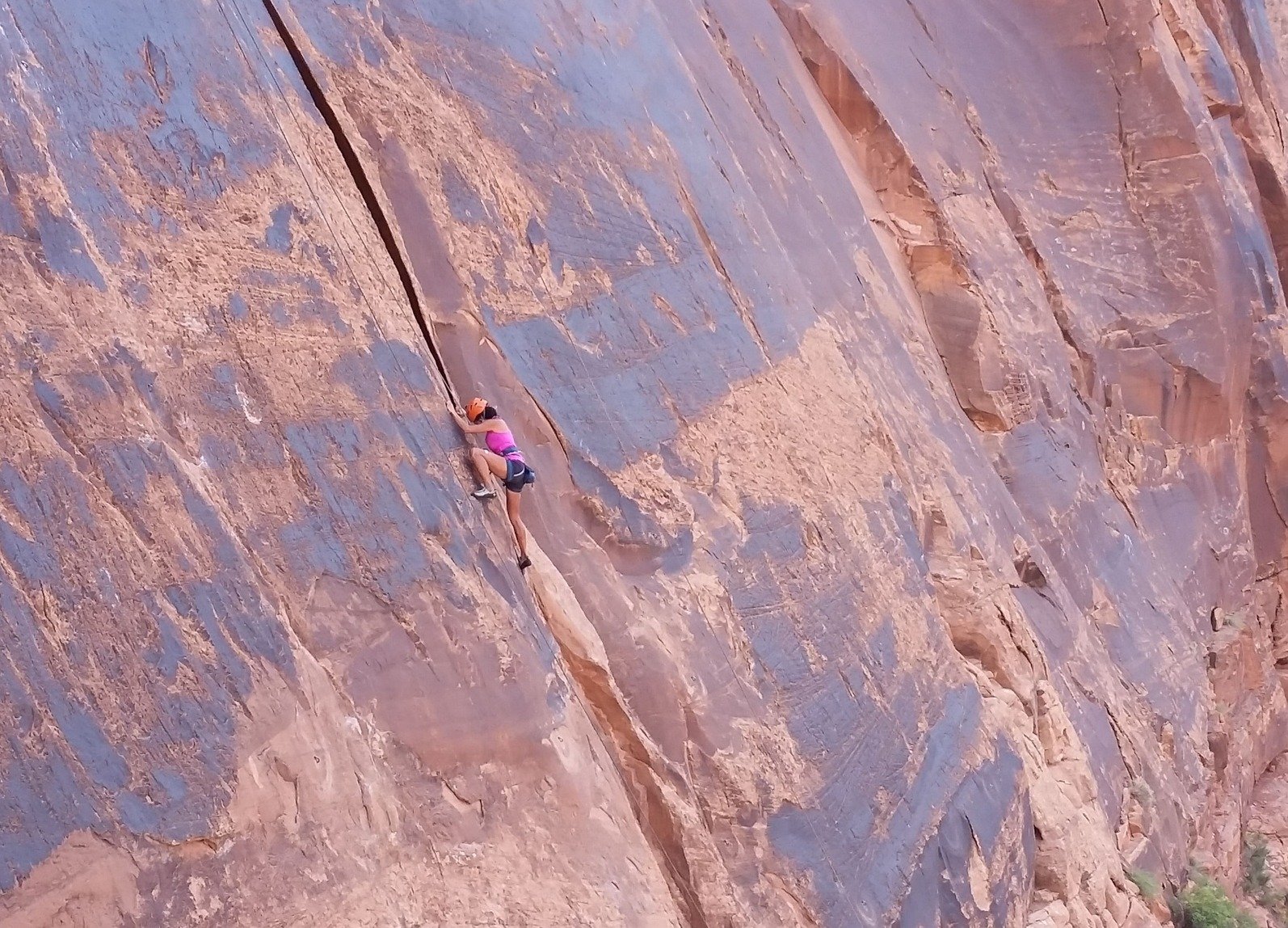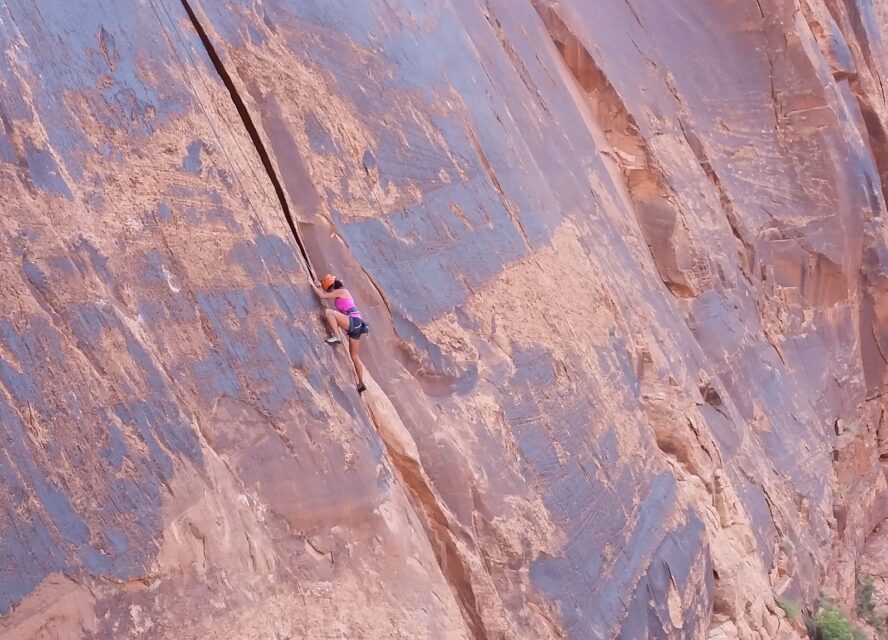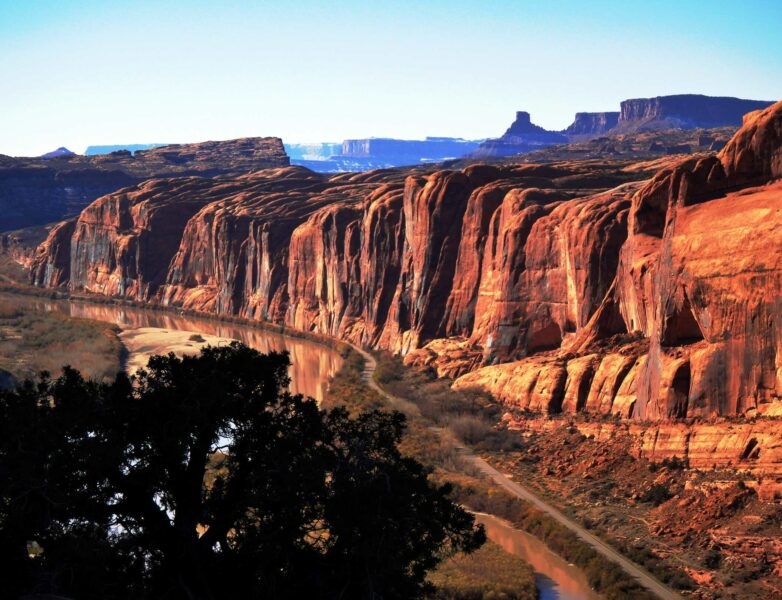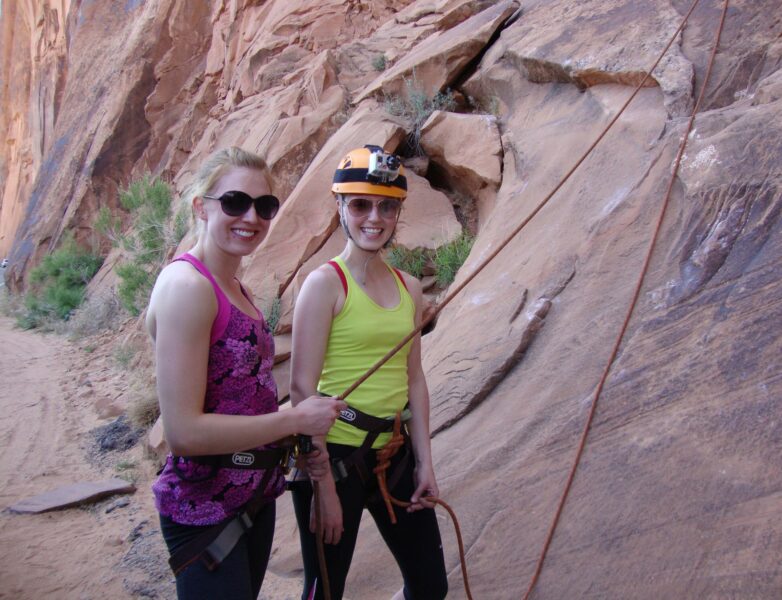 Women's Weekend Climbing Camp in Moab
5.00

()
Enjoy a weekend of climbing with the best all-women crew and conquer classic crack climbs in one of the best climbing destinations in the USA! Feel the Moab's sandstone and test out your skills in Desert Tower or the world-famous Indian Creek. Over the course of two days, some of the best female guides in the industry will show you how to master the necessary techniques and moves to climb splitter cracks. With a whole host of routes, you'll become a more self-assured rock climber in no time. Spend your days on the rocks, revel in the impressive scenery, and have tons of fun with your all-women climbing community! Find out everything you need to know about rock climbing in Moab, Utah from Cody Bradfrod, AMGA certified rock guide and 57hours ambassador.
Master new moves on Utah's magnificent sandstone

Moab's expansive landscapes truly come to life when climbing

You can find routes that are as varied as the rock formations themselves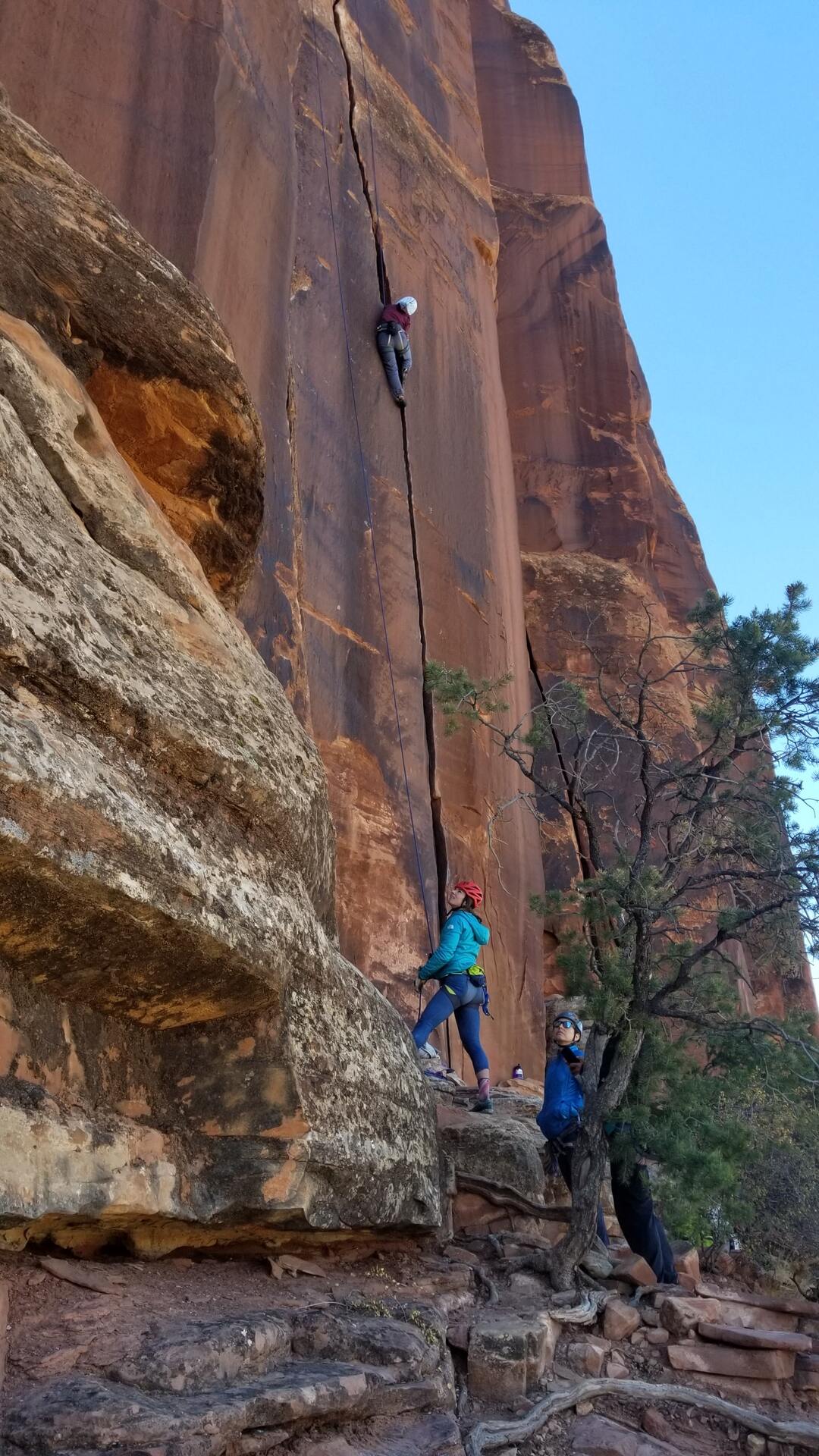 Basic Women's Crack Climbing Weekend in Moab
Crack climbing can be difficult when you're not familiar with the proper technique. However, this is where this two-day course in the amazing Moab area comes into the picture. Learn tons of new climbing moves and techniques, practice, and make new friendships with other female climbing enthusiasts. You'll walk away with several new skills and become a much more confident rock climber.
Day 1: Establishing a baseline

Establish a baseline for individual goals and get to know your team. Review and brush up on all of the climbing terminologies, commands, knots, hitches, and belay skills, and dig into the nuances of crack climbing movement. You'll learn how to build some tape gloves and practice new skills for the rest of the afternoon and prepare for Day 2.

Day 2: Refining skills

Today is all about climbing and cementing your new-found knowledge. Create muscle memory and make new climbing partnerships as you encourage each other. Although you might end up with a few scrapes and bruises, you'll love every second of it once you successfully accomplish the climb!
Advanced Women's Multi-Pitch Tower Weekend in Moab
If you are an avid climber and want to work on your multi-pitch skills, join a group of like-minded ladies and perfect your technique! This two-day program will start you off on the skills it takes to successfully climb a multi-pitch route. If you are feeling more adventurous, test your skills on a classic Moab rim route or desert tower with an expert female guide by your side.
Day 1: Establishing a baseline

Kick off the day by establishing a baseline for individual goals and getting to know your team. Train with your guide and practice and hone skills that you will need for the following day's objective.

Day 2: Climbing the objective

Today is all about climbing your objective! Put your new skills to the test in a low-consequence environment under the guidance of professionals and have tons of fun in the process. Make that progression on to the next step of multi-pitch climbing.
Get free trip brochure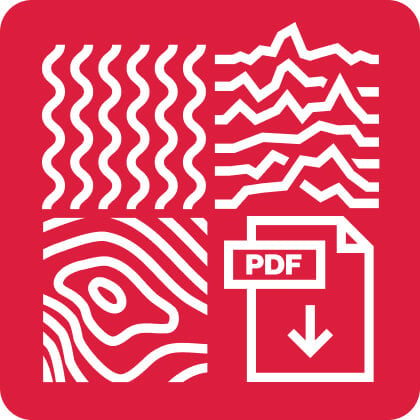 The brochure contains:
Adventure and location overview, itinerary, available dates, what's included, how to prepare, and much more.
Brochure sent, check your inbox
Talk with us
and let one of our adventure experts help you plan your perfect adventure.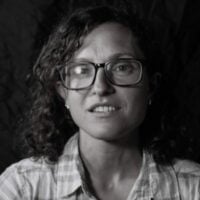 Rebecca Yaguda
AMGA Apprentice Ski, Rock and Alpine Guide
AMGA Apprentice Ski, Rock and Alpine Guide
Rebecca "Guda" Yaguda discovered rock climbing and powder skiing in 2010, and never looked back. She has worked in outdoor education for ten years, and is also a freelance writer and reviews outdoor gear for Switchback Travel. When not guiding or writing, Guda enjoys climbing on any rock formation she can find, riding her mountain bike, and exploring the incredible ski lines of the Tetons.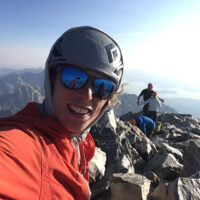 Izzy Lazarus
Alpine Guide Course, AMGA Assistant Rock Guide, Ski Guide Course, AMGA...
Alpine Guide Course, AMGA Assistant Rock Guide, Ski Guide Course, AMGA...
Originally from NYC, but I've made the mountains my home. I spend my year throughout the US and South America guiding and instructing eveything from single pitch rock climbs to high altitude glaciated peaks. My passions in life are meeting new people and being in the mountains, so yes, I love my job. I am in the Tetons for the winter and summer season. I spend the fall rock guiding in Moab and Red Rocks but am flexible. In the springtime I will be in the Cascades. My goal is to meet your goals and to make climbing and skiing in the mountains as fun as possible. I believe in education, compassion and keeping the day lighthearted.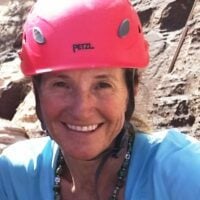 Aimee Barnes
AMGA-Certified Rock Guide
Aimee started climbing in 1980 and guiding in 1985. She was a member of the 1990 U.S. Women's climbing team and has competed at a World Cup level. Her professional career has been dedicated to developing the skills of new climbers, while inspiring seasoned climbers to achieve their goals. In 1995, Amy launched the Women's Network with the "City Girls" event in City of Rocks, Idaho. Since that first event, the Women's Network has been empowering women in climbing ever since. In the spring and fall seasons, Aimee can be found in the canyons of southeast Utah, overseeing Jackson Hole Mountain Guides' Moab Branch.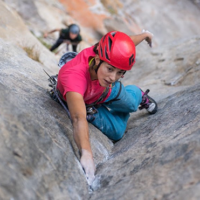 Miranda Oakley
AMGA-Certified Rock Guide
Miranda has been a climber for over 20 years. She has been a certified rock guide with the AMGA since 2016 and has been guiding since 2007. She has done first ascents around the world including climbs in Patagonia, the eastern Sierra and British Columbia. She was also the first solo ascender of The Nose of El Capitan, climbing it in less than a day! Miranda loves sharing her knowledge on rock climbing and is passionate about teaching people how to become confident and self-sufficient in the vertical world.
Lisa Van Sciver
Senior Guide
Lisa began climbing in 1996 and skiing at a young age in the 80's. Her first few years out of college she recreated avidly and completed achievements like the first all-female ski descent of The Grand Teton and five Alaskan expeditions. Lisa began guiding for Jackson Hole Mountain Guides in 2009. When she is not working Lisa can be found climbing desert towers, ski traversing the Wind Rivers or having a good time exploring the closest wild mountain range.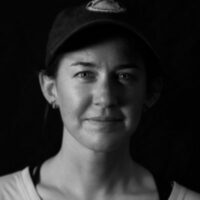 Peggy Flavin
AMGA Single Pitch Instructor
Peggy started climbing on Southern Illinois sandstone and started guiding even further South in North Carolina and Kentucky. She's spent a lot of summers exploring in the Tetons, where she started guiding for the Mountain Guides in the summer of 2020. Her favorite adventure route in the Tetons is the Black Ice— West Face combination on the dark side of the Grand. You can also find her guiding for the Mountain Guides in Moab, home of classic desert towers and the world's best crack climbing. She thinks climbing on rock, ice, and everything in between is pretty fun, and there's nothing she likes more than sharing that with people who want to learn new skills and have adventures in the mountains.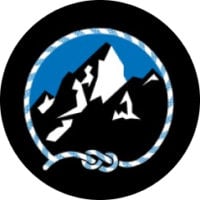 The Mountain Guides have been leading mountain adventurers in the Western US since 1968. With some of the most experienced mountain guides in the country, TMG leads hundreds of people every year in the mountain ranges of Wyoming and Montana, the canyons and towers of Utah, on Cody's South Fork ice falls, the cliffs and crags of Boulder, Colorado, in Red Rock, Nevada, and City of Rocks, Idaho.
I am still daydreaming about it!
I took the Women's Weekend Rock Climbing Clinic recently and am still daydreaming about it! It was the first time that I took a group climbing class and loved the energy of all the ladies. I especially enjoyed hearing the stories about our guides, as they provided motivational and inspiring words to encourage us all. We experienced a variety of climbs, and the days just flew by! Elyse
It was a safe space to move at my own speed!
I signed up for the Women's Trad clinic to boost my confidence. I have a lapsed SPI and wanted to see just how much I remember and how safe my recreational climbing is. The clinic reinforced what I already know from the SPI, and gave me an environment that fostered my courage and confidence. I climb frequently with my husband and his peers who are all guides. In comparison to them, sometimes I feel slow and not as dialed. The Women's Trad Clinic was a safe space to move at my own speed, test my own skills, and receive feedback in a way that felt appropriate and applicable. Overall an excellent experience, and just what I hoped for. Not to mention the group was kind and there was lots of laughter.
Things to know
57hours is committed to providing safe outdoor adventure experiences. We require all guides using our platform to have a COVID-19 safety plan and to make the details of that plan accessible to travelers. In most cases, group sizes will be reduced, guides will avoid overcrowded locations, and other safety measures will be met depending on the location and activity.

We also expect clients to respect local regulations and take measures to protect themselves, guides and the communities they're traveling to. For more information on COVID-19 measures in Moab, Utah, please refer to the Utah Travel Guidance Government Website and Centers for Disease Control and Prevention.

Please contact us if you have any questions or require further information. We are happy to provide you with the most up-to-date information!

What you get on this adventure:

An all-women team of AMGA-certified Rock Guides
Two full days of rock climbing
All technical climbing gear

What's not included:

Transportation
Accomodation
Meals and snacks

You need to have a good level of fitness to participate in these two-day camps. For the Basic Women's Crack Climbing Weekend camp, participants should expect approaches of 15-30 minute hike over easy to moderate hiking terrain. For the more advanced climbers attending Women's Multi-Pitch-Tower Weekend, these camp is physical and requires fitness and stamina to access the climbs and climb them. The approach to most climbs is approximately an hour on uneven terrain.

These two-day camps are for beginner to advanced climbers looking to develop existing skills and build community with other like-minded women. Participants will be split into groups depending on experience level.

Moab has plenty of options for beginner climbers. Whether you've never climbed before or are transitioning from the gym to outdoor climbing, your guide will customize the day to suit your skill level and objectives. With a guide by your side, you'll learn something new, stay safe on the rocks, and most importantly, have fun!

For advanced climbers, Moab has loads of routes to spend the day on. Your guide will discuss your objectives as a group, and in two days, you'll progress your crack climbing or multi-pitch skills with female AMGA-certified guides. Let your guides plan the weekend so you can focus on developing your skills and bond with other female participants while climbing the classic routes or best hidden gems the area has to offer.

All technical climbing equipment will be provided by your guiding service. However, if you have your own gear, feel free to bring it. You'll need:

Helmet
Harness with 3 locking carabiners, belay/rappel device, and chalk bag
Ropes
Climbing hardware (quickdraws, cam devices, stoppers, etc.)

Here's a list of the equipment we suggest you bring:

Approach shoes
Technical rock shoes
Synthetic short
Pants for climbing
Long sleeve and/or short sleeve wicking t-shirt
Long sleeve cotton t-shirt
Lightweight wind shell
Backpack large enough to carry all the items listed (around a 35-40L backpack) (15-20 L pack for Tower Pursuits)
Water and hydration pack (2 liters)
Roll of 2 inch cotton athletic tape
Lunches and food you can eat on-the-go
Toiletries (sunscreen, lip balm, bug spray, toilet paper, etc.)
Sunglasses
Camera — optional

Dress comfortably and for the weather in clothes you can move in. We suggest bringing clothing appropriate for the season. Layers are best and don't wear jeans.

Group sizes and prices:

For the Basic Women's Crack Climbing Weekend camp, the client to guide ratio is 4:1.
For the Advanced Women's Multi-Pitch-Tower Weekend camp, the client to guide ratio is 2:1.
Cost is per person and it doesn't decrease as the group grows.

Women's weekend climbing camps in Moab can be arranged for bigger groups. Contact us prior to booking.

Min. age requirements:

If you are older than 18, you're good to go.
Minors younger than 18 may be permitted to climb on a case-by-case basis, but must be in the presence of a parent or legal guardian.

If your group has climbers under the age of 18, contact us prior to booking to make arrangements.

To get to Moab, most people fly into Canyonlands Regional Airport in Moab, UT. Other options include flying into Grand Junction Regional Airport, CO, about 2 hours away, and Salt Lake City International Airport, UT, about 4 hours away.

On the day of your climb, you will meet your guide in Moab. Most trips and classes leave from the Red Rock Bakery 74 South Main Street, Moab, across the street from the McStiff's Plaza. Meeting times are determined by the season.
Get free trip brochure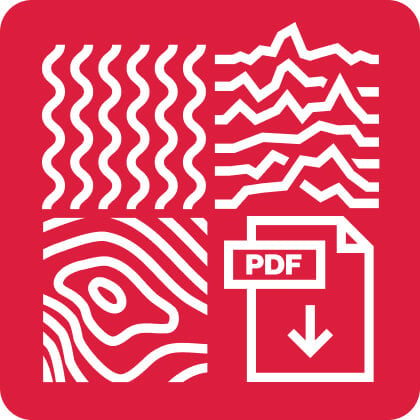 Adventure and location overview, itinerary, available dates, what's included and much more.
Brochure sent, check your inbox
Talk with us
and let one of our adventure experts help you plan your perfect adventure.
Other things to do in Moab Region