Climbing Cotopaxi in Ecuador's Avenue of the Volcanoes
In a lush Andean valley, skirted on both sides by colossal volcanoes, climbing Ecuador's Cotopaxi is a trial by fire.
I'm driving south on the Pan-American highway when I see it: the perfectly chiseled cone of volcanic rock, its ice-tipped cap raised to the sky.
30 miles from Quito, the Cotopaxi volcano is one of the tallest active stratovolcanoes in the world, Ecuador's second highest peak, and it's where I got my start guiding.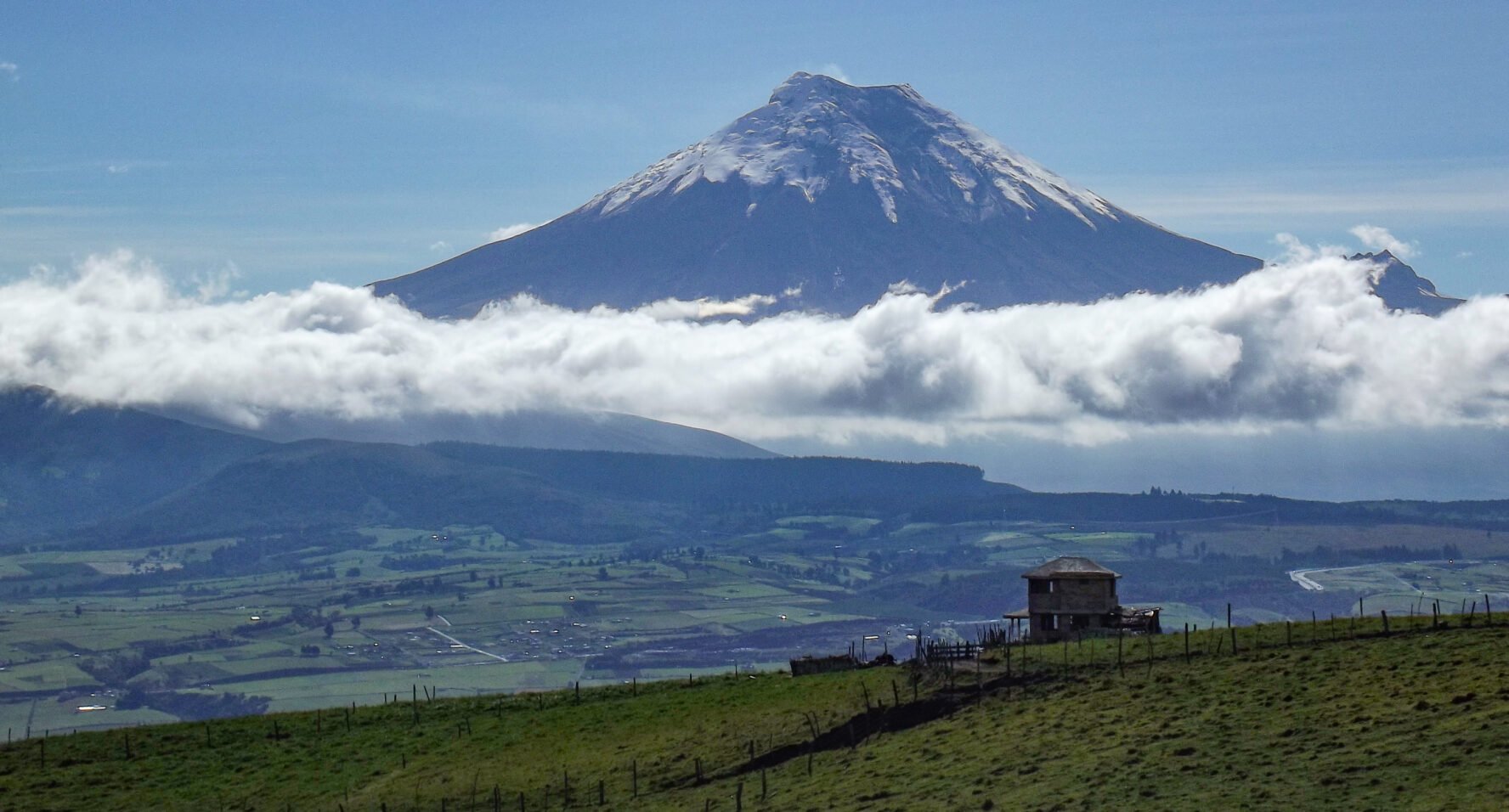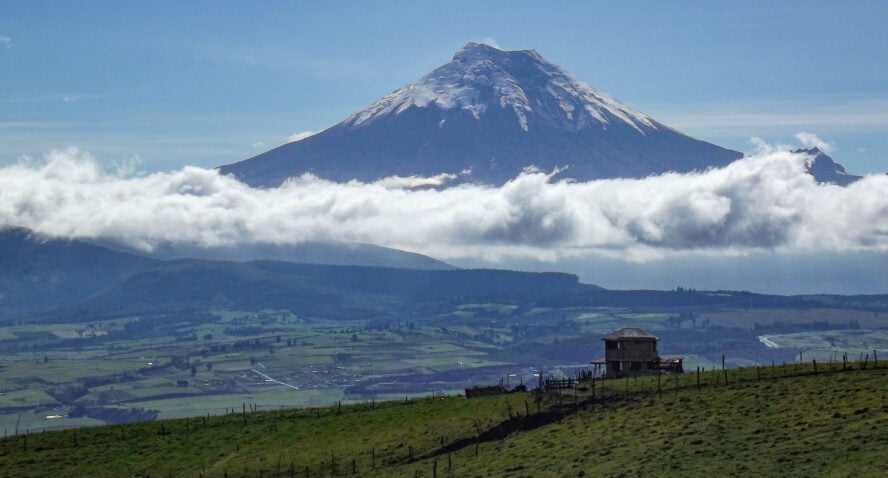 Pros and Cons of Climbing Cotopaxi in Ecuador
Approachable mountaineering objective for beginners
Long season because of the equatorial climate
One of the most bio-and-geo-diverse places in the world
You must hire a guide to climb here
Fickle weather and potential danger from being an active volcano
Cotopaxi and the Cordilleras Were Born From Fire
You might think having the equator run through your country invariably means a never-ending stretch of tropical mangroves and jungles. That's not the case, at least in Ecuador. Transected by the Andes, touched by the Amazon and bordered by the Pacific, this is one of the most bio-and-geo-diverse countries in the world—and in large part, it is shaped by volcanic activity, even as recently as October, 2022.
The Avenue of the Volcanoes
A 120-mile north-south corridor flanked by magma-built mountain ranges, this imposing stretch contains seven peaks greater than 17,000 feet (5,181 m), including what was thought to be the highest mountain in the world at one point, Chimborazo. On the eastern tract is Cotopaxi, the centerpiece of the ​​Cordillera Real.
Climbing Cotopaxi is climbing an active volcano
Even though Cotopaxi has erupted more than 50 times since the early 1700s, and most recently in 2016, the "Throat of Fire" is one of the most-climbed mountains in the world. I can understand why, the enchanting symmetrical shape overlooking the páramo grasslands never ceases to amaze me—or others, as it has for centuries.
Cotopaxi was first summited in 1827 by volcanologist Wilhelm Reiss, accompanied by his butler and trusty canine, Pedro. For the next century, Wilhelm's footsteps were mostly followed by inquisitive geologists and inspiration-seeking painters. That's before the summit's recent and very sudden burst in popularity.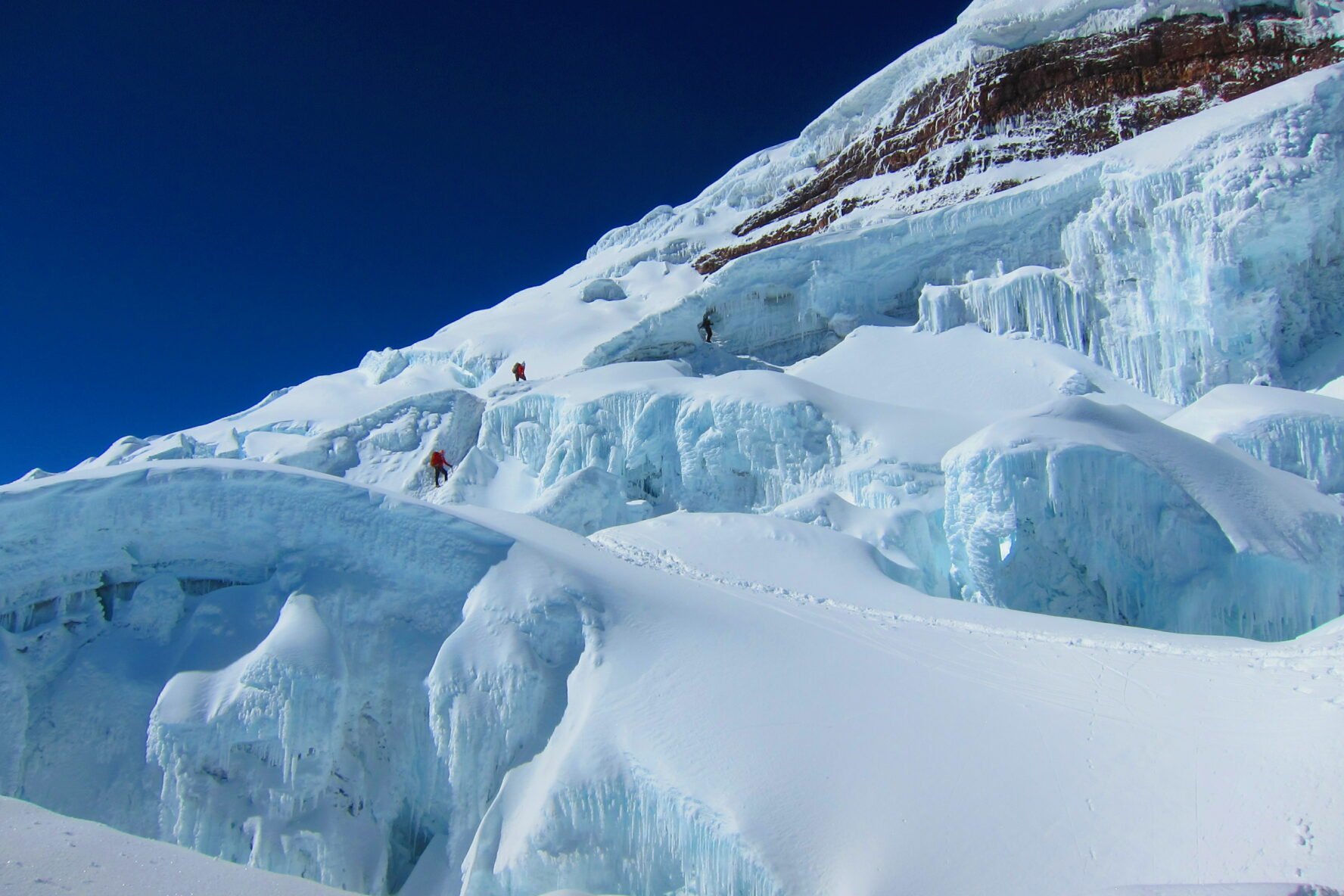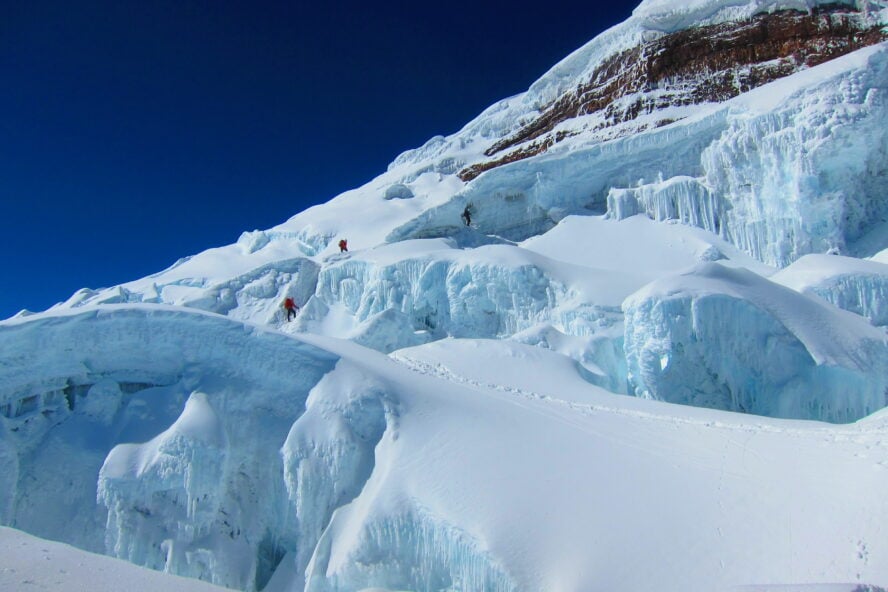 Due to its proximity to Quito and excellent accessibility, Cotopaxi quickly became the first choice for many South American adventurers looking to grow into their big mountaineering boots. Even today, you often see over 100 mountaineers attempting the climb on weekends, and many use it as a training ground for an attempt of climbing Mount Everest. About half of them make it to the top.
Growing Up in the Avenida: All Roads Led to Cotopaxi
I was born and raised in Riobamba, a town about 120 miles south of Quito—the heart of the Avenue of Volcanoes. Our skyline is dominated by Chimborazo and it's hard not to be drawn to the mountains when it's always hanging over you.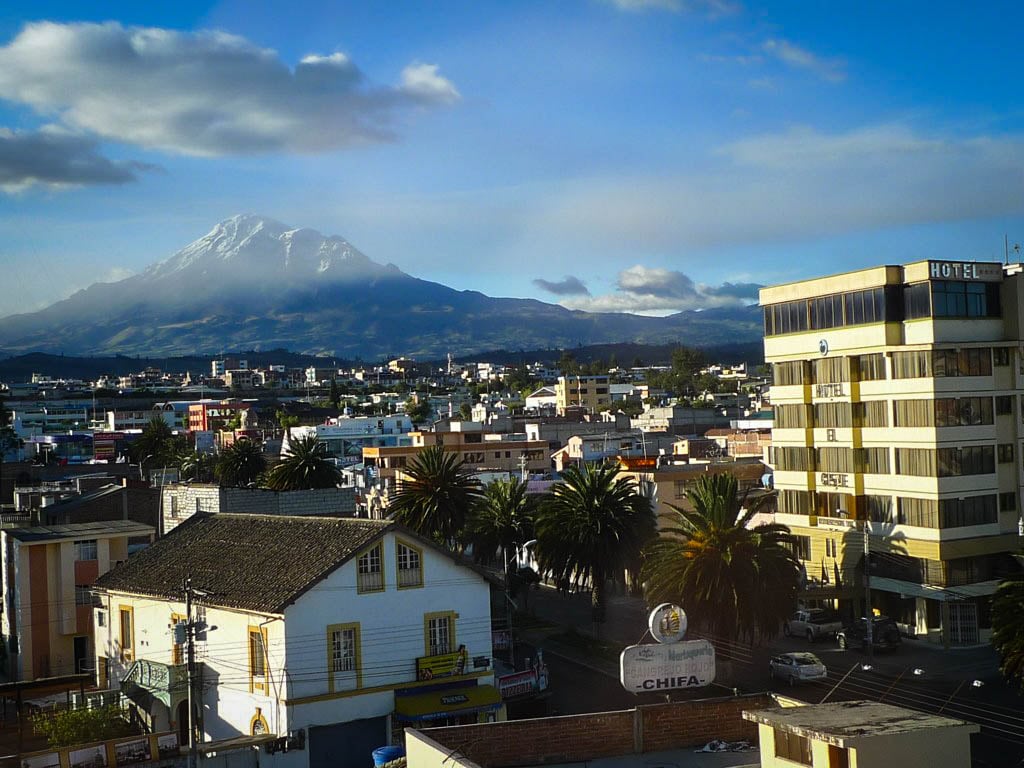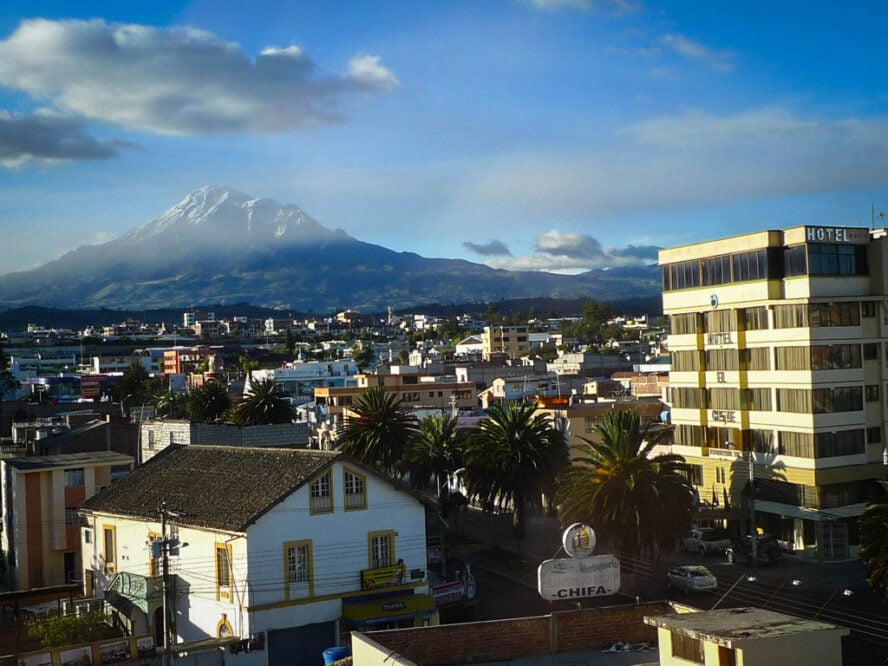 Climbing Cotopaxi made me into who I am today
The first time I summited Cotopaxi was in 2007 with my late mentor. I was in my twenties, eager to guide, and he was set on teaching me how the world of climbing works. When we woke, the weather was superb. Not that cold, no wind to speak of. The moonlight bathed the mountain in soft light. I remember thinking it was a long trek.
You hike, hike and hike and the peak of Cotopaxi is right in front of you—but after every hill there's another.
At the top, I saw the crater wide as a football pitch. I saw the mountains around me looking so small. On that crisp, cloudless morning the sun was rising up from the Amazon covering everything in a golden air. I felt my cheeks moisten in hot streams and was completely at peace.
The sensation is why I climb to this day, to find that feeling again. But we all search for different things, everyone's experience is unique. So yours will be too.
Sharing that experience with others
After 15 years abroad, I returned to Ecuador to find the country struggling economically. I started Ecuador Eco Adventure with the goal to provide jobs and promote the country's natural heritage through low-impact, socially-conscious tourism.
The industry in Ecuador used to be a lot different. Companies would bring people by the busload to see the communities along the slopes of the volcanoes. Visitors would take a photo or two and the local kids might get some candy from it, but that approach never sat right to me. There was no meaningful interaction.
When we opened in 2006, I wanted to involve indigenous communities in a purposeful way. We work together with the communities—whom I first met horseback riding when I was a teenager—to preserve our fragile ecosystem and introduce visitors to it in a sustainable way.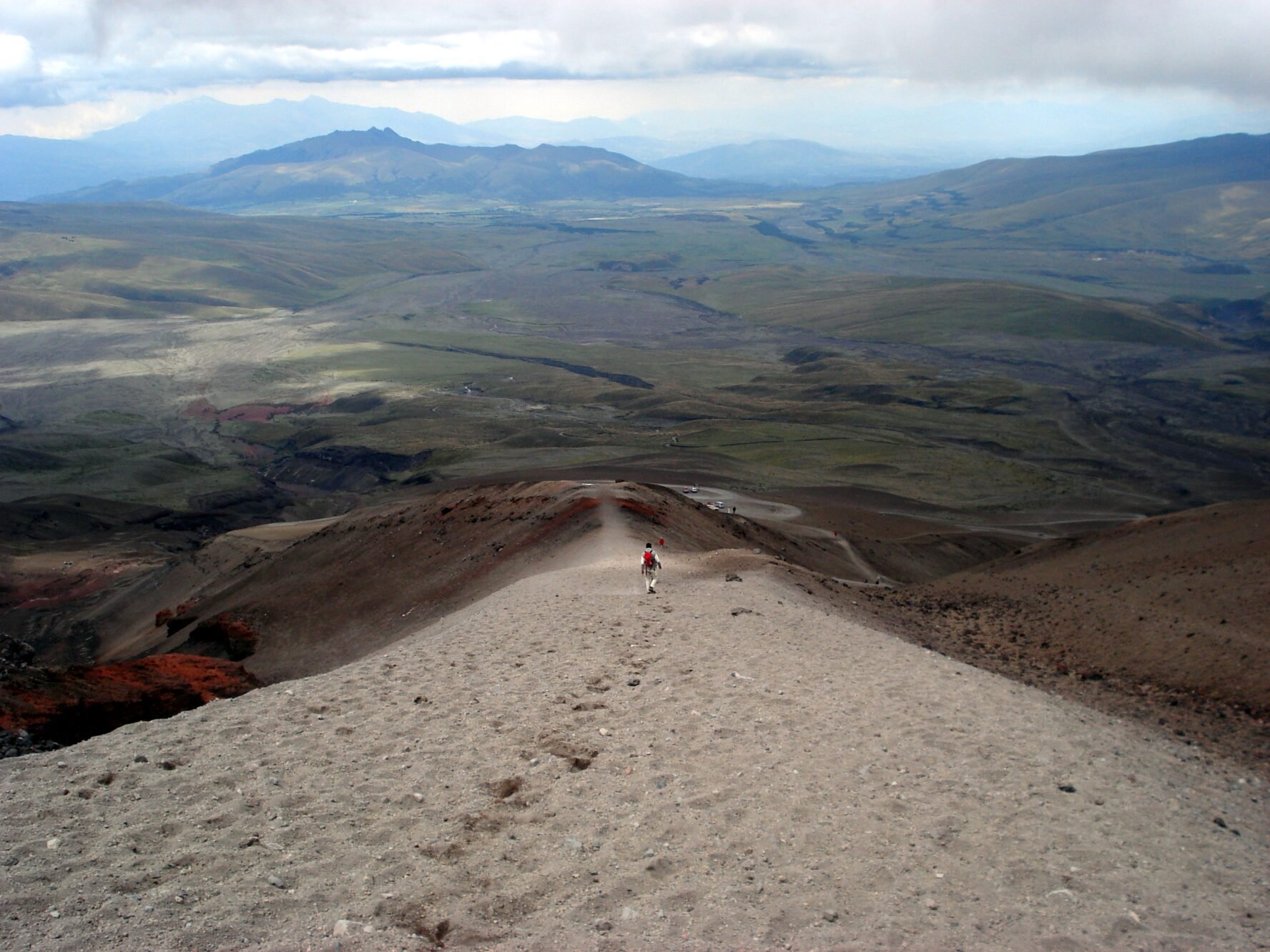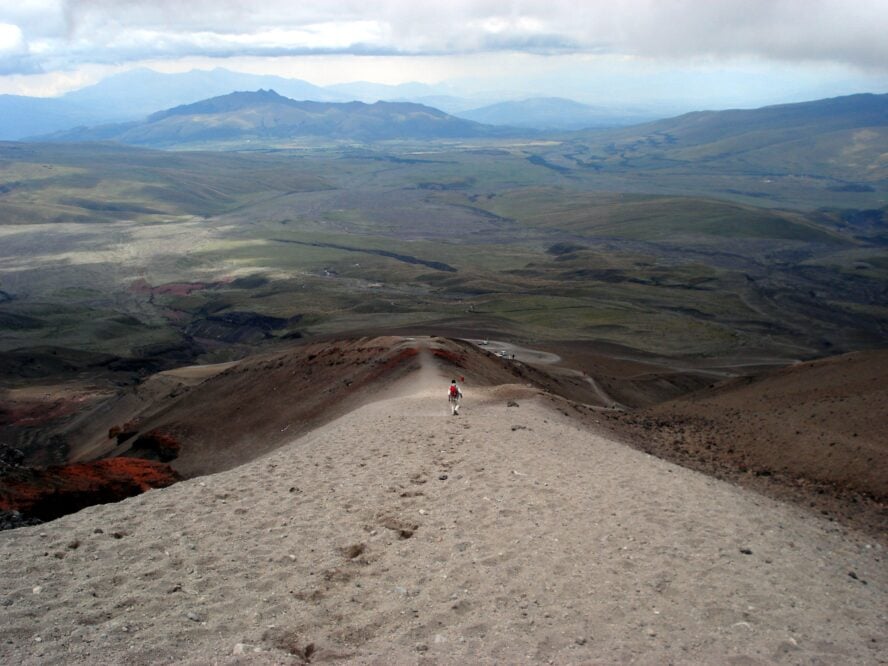 All You Need to Know About Climbing Cotopaxi
Although the idea of summiting volcanoes might seem daunting, it is almost routine.
How hard is it to climb Cotopaxi?
Essentially, it is a recreational two-day climb that even those new to mountain climbing can complete as long as they're in good physical shape.
Typically, you start at the José Rivas Hut at 15,729' (4,794 m) and end on the summit at 19,347' (5,897 m) for about 3,618 feet (1,103 m) of elevation gain. The climb to the summit of Cotopaxi usually takes five to eight hours, and the descent two hours more.
A trial by fire, and very doable
This summit is far from technical, but the semi-vertical section is quite a challenge. Climbers should be familiar with crampon use and ice axe techniques, but nothing to the extent of climbing Matterhorn or a Mont Blanc climb.
The ascent starts with some moderate glacial terrain, complex crevasse patterns, and snow bridge crossings to keep things fun and keep you on your toes. From then on, the crevasses keep getting more frequent, and the slope slowly transitions into a 35-degree (and sometimes steeper) snowy uphill before the abrupt, but well-deserved, summit.
Still, the most important thing is acclimatization. As is the case when climbing Chimborazo, Cotopaxi's big brother, altitude is a cruel mistress. And the weather is a tempestuous teacher too.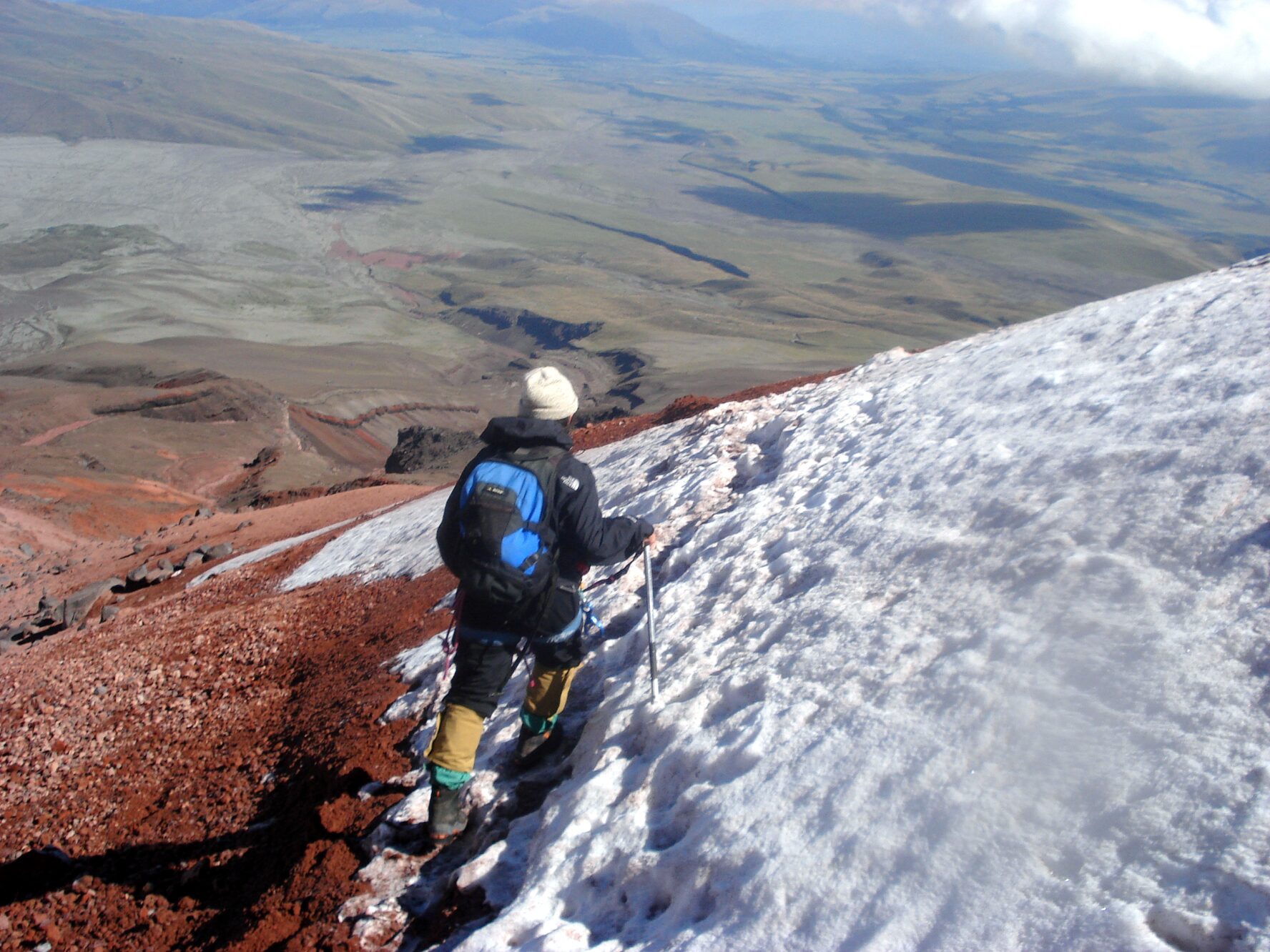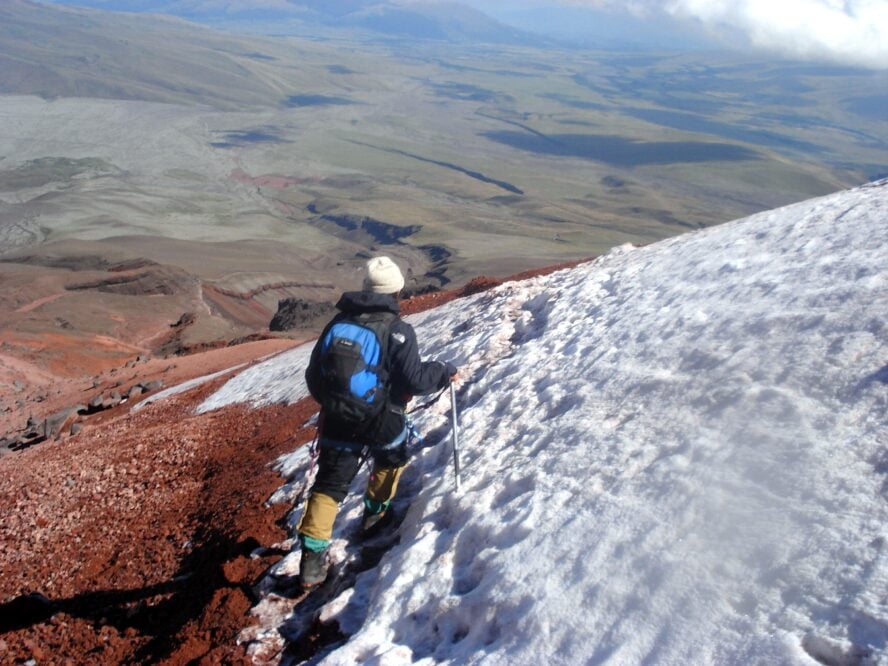 Be prepared for the weather
Climbing in Ecuador, we have peculiar weather. It is volatile, often changing drastically every four hours. Sometimes it can be extremely windy or snowy, and then all of a sudden blue-sky-sunny.
We don't have typical seasons, so you can't really predict too far out. That's why having a guide with you is essential—it is their job to observe the conditions and make informed decisions on the fly, even turning back when necessary.
Is Cotopaxi dangerous? Let's talk about eruptions
Maybe you're still uncertain by the thought of the volcano erupting. In 2015, Cotopaxi started spewing ash and smoke after a 70-year period of inactivity. The mountain was closed to visitors for two years, until late 2017. Since then, it has entered a period of calm that happens after such eruptions, which often lasts for a hundred years.
In the aftermath, the refuge was rebuilt and everything has resumed as normal. The main reminder is the faint sulfuric smell that the wind sometimes scatters over the peak. There is certainly a risk, but there are warning signs ahead of time.
However, a new wave of tremors, caused by underground gasses and vapor, was registered on November 25th, 2022, with several gas emissions and plumes in the following few days. Let's hope that's it for this century.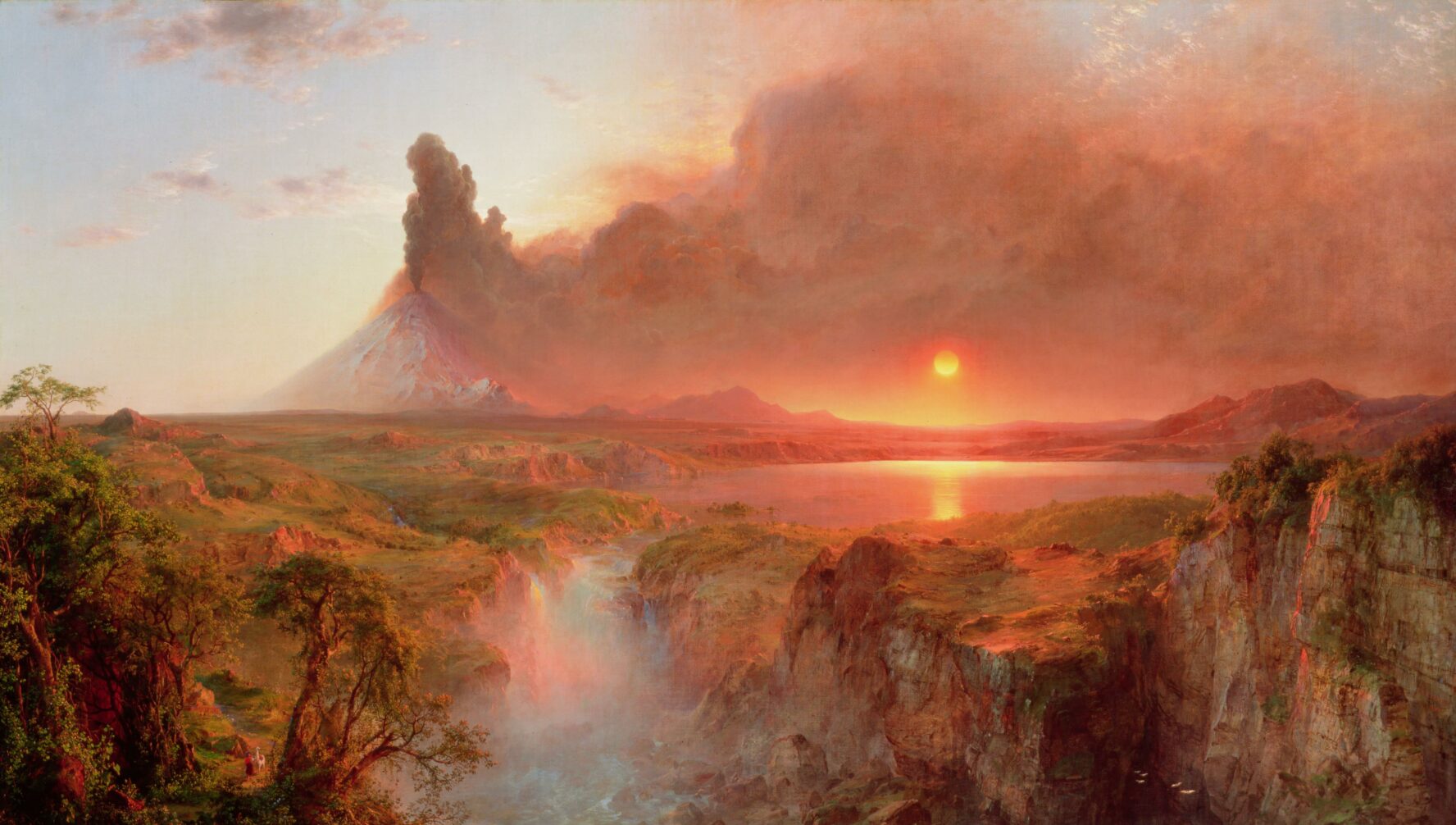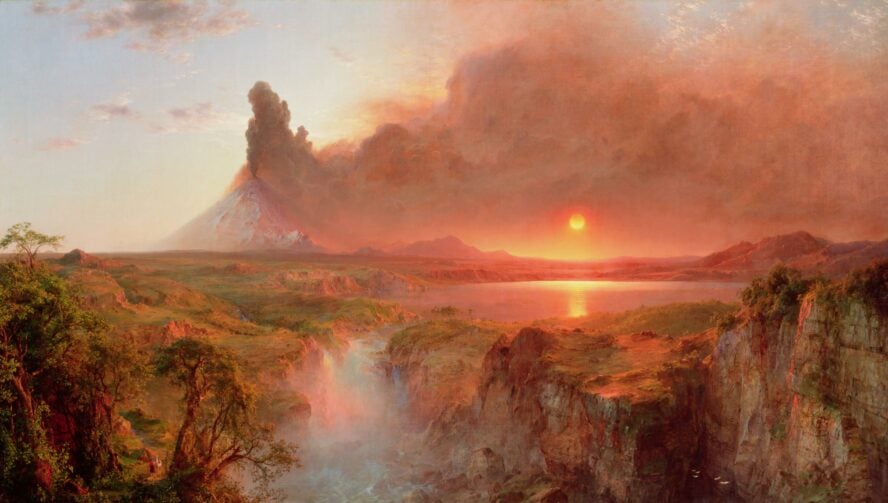 What a 2-Day Itinerary Looks Like at a Glance: Start by Night, Summit by Sunrise
When climbing Cotopaxi, the timetable is always the same and takes two days. On the first day, we enter the national park to complete our registration around lunchtime.
From there we take one of several trails, but generally you can expect a hour-and-a-half trek up to the José Rivas refuge and an early dinner. Luckily, the food is excellent and will fill you with the strength needed for the climb ahead.
Be aware that if you're climbing Cotopaxi, don't expect a full night's sleep: in Ecuador, ascents start at midnight. That's because our aim is to reach the summit by sunrise, between 6 and 8 AM. The first hour or so is rock, and then we reach the glacier, one of a few that exist along the equator. That means taking out our crampons, ice axes and harnesses.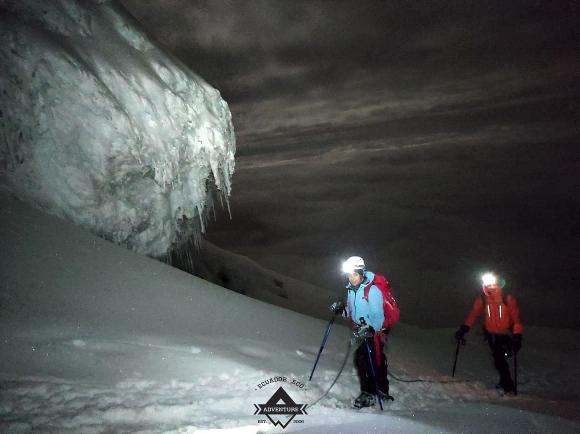 Five to seven hours later, depending on the weather conditions and your stamina, we reach the summit of Cotopaxi. The once fiery eye is now a crater encased in glistening ice. What makes this such a great climb is that Cotopaxi stands squarely at the center of the Avenue of Volcanoes, and the summit gives you a clear view of the surrounding peaks in the Cordillera Real, all yours for the (photo) taking.
Beyond Cotopaxi: My Tips for Ecuador
Visit Quito: The first city to be named a World Heritage Site
You might be wondering what else there is to do in Ecuador besides climbing, exploring the Amazon Rainforest or swimming in the Pacific. When you arrive, your flight will land at the international airport in Quito. This will give you the opportunity to witness one of the most beautiful colonial towns in the whole of the Americas.
As a matter of fact, Quito was the first city to be recognized as a UNESCO World Heritage Site, with buildings over 500 years old. In the center of the old town you can find welcoming restaurants with spacious balconies that look out onto the parks and ornate facades.

Once there, take a stroll around the town's historic center, the best-preserved one in Latin America, either solo or on a free walking tour. Then, pay a visit to the Basilica del Voto National and take in the views from its clocktower, before checking out the traditional handicraft in the Mercado Artesanal La Mariscal.
Other options include going on a free tour of the Presidential Palace, or visiting the home of Ecuador's most renowned artist, Oswaldo Guayasamin. And, of course, having a snack or two.
Enjoy the local cuisine, including our delicious stew
Near Cotopaxi:
At the Tambopaxi Lodge, the only one in the entire national park, you can enjoy delicious local cuisine and a glass of wine with a spectacular view of the mountain. People interested in climbing Cotopaxi often use Tambopaxi as a base camp for acclimatization.
Another place to have a good meal is the park's registration office. As a bonus, you can check out the local handcrafts there as well. For those coming down from Cotopaxi, the $5 set menus at the Rondador are a popular choice.
In Quito:
Foodies will also enjoy scouring for local delicacies in the cafés of Quito's Old Town. Café Cultural Tianguez is a good pick, with traditional dishes, aromatic coffee, and a historical atmosphere. Chez Jerome is a more upscale option, with a unique French-Ecuadorian fusion menu focused on seafood, prepared by a guy that titled himself the "most Latin American French chef".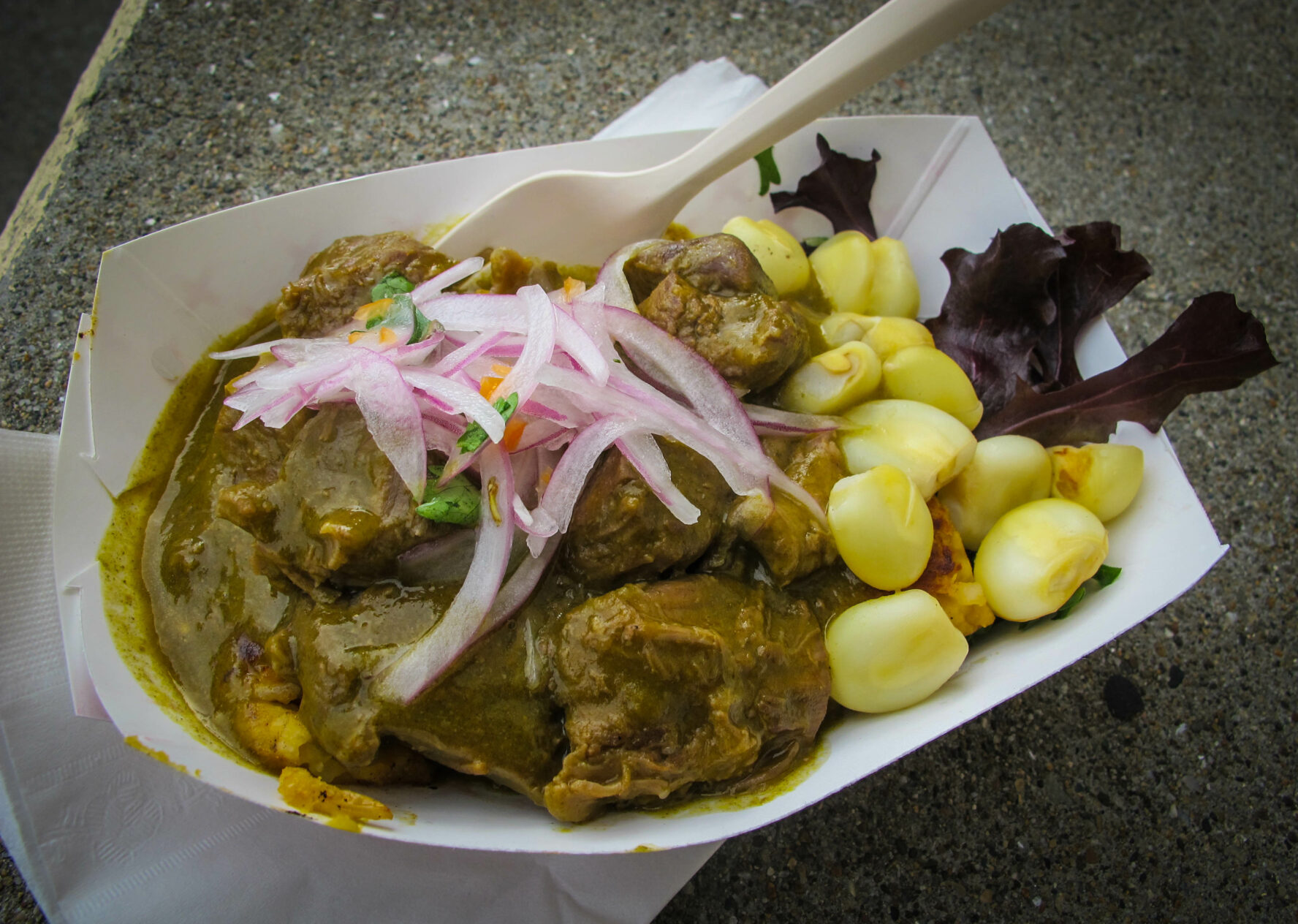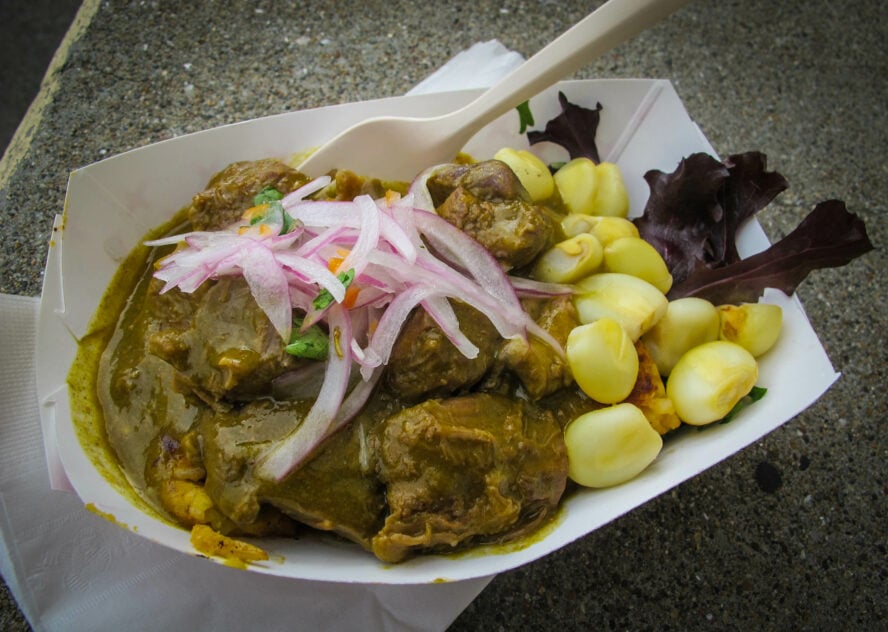 You have to try seco:
No matter where in Ecuador you end up eating, there is one local specialty that you'll find everywhere, and that's seco. This slowly simmered stew is commonly made with goat, lamb or chicken and a thick sauce of cumin, achiote, peppers, tomatoes, chicha and more. It is the ultimate comfort food of our people and the perfect dish to help you reacclimate post-peak.
Other dishes to try are Bolon de Verde, fried green plantain dumplings and total energy bombs, and Llapingachos, onion-seasoned potato patties.
Traveling to Cotopaxi
You've got three transportation options from Quito to Cotopaxi. The fastest and most expensive one is to either rent a car or arrange private transportation with one of the haciendas within the Park. This should take you about 2 hours. The second option is to take a 2.5-hour train ride from Quito's Chimbacalle railway station to El Boliche in northwest Cotopaxi.
There are no direct buses to Cotopaxi, but you can take one to the turn-off to Control Caspi, the southern entrance to the park, and take a 1-2 hour warm-up hike there.
Refuges: Where to stay in Cotopaxi
The most popular lodge in Ecuador, and the one most frequented by people aiming to summit Cotopaxi, is the José F. Rivas refuge. Built in 1971 and expanded in 2005, the refuge is located at 15,748' (4,800 m), a good go-to for pre-climb acclimatization. Thanks to its distinct orange roof, it's easy to spot from miles away. The fee is $32 USD for locals and foreigners, and it includes breakfast and a lunch prepared by the staff.
The refuge has two kitchens with kitchenware and basic food supplies, a bar, two big communal rooms, and a cozy fireplace to huddle up by. It also has running water, bucket-flushable outdoor toilets, lockers for your stuff, and electricity between 6:30 and 8:30 PM. The only issue is that it gets packed over the weekends.
Regulations to know when Climbing Cotopaxi
In the past couple of years, the Ecuadorian Ministerio de Turismo has forbidden foreigners from climbing Cotopaxi, and several other popular summits, without a licensed guide.
This only applies to certain routes, though, and the authorities keep going back and forth on the matter. Even though I'll always recommend going with a guide, if you're planning on summiting solo, ask the authorities or a local tour operator about the current regulations.
Picking the right route
First off, apart from the standard route I talked about earlier, there are two more routes leading to the top of Cotopaxi.
Rompe corazones:
The first one starts on the right side of José Rivas refuge. It is known as the Rompe corazones, or the "heartbreaker", as it starts with an extremely steep 2-3-hour uphill hike with nearly zero breaks. It's more commonly used as a descent route, but if you want to test your legs and see what it's like to cross a deep crevasse at 18,000' (5,500 m), give it a shot.
Yanasachaha:
The second one, Yanasachaha, might be the most panoramic one of the bunch, but it is unfortunately closed due to an increased number of accidents.
All these routes are Grade II (PD), but depending on the ice, crevasse, and serac situation, as well as weather conditions, they might be closed once you get there. Do your due diligence and check if your route is even doable before you book your flight.
Lower-elevation hikes:
For those who aren't interested in mountaineering, the hiking trails weaving through the Andean páramo usually do the trick. Hikes like Ingapirca, leading to the most significant Incan ruins in the country, and the Trek de Condor, following the flanks of the cloud-shrouded Antisana and Sincholagua volcanoes, provide plenty of spectacle at a much easier pace. But for me, it's all about the summit.
The best time for climbing Cotopaxi
You're surprisingly flexible here. Cotopaxi sees the biggest number of clear days of all the big peaks in the Ecuadorian Andes. However, In order to avoid the high winds and unstable snow conditions, I recommend climbing between December and January.
July and August are the driest and warmest months on the mountain, but that's not exactly a good thing—less snow means the climb gets much more technical. Plus, the winds are extremely strong in the summertime, especially near the summit.
In March and April, the snow is wetter and there's an increased avalanche risk. If you get lucky enough to score a dry May to June period, you might get a warm and enjoyable climb. September is a good backup choice, but you should expect strong winds.
Prepping for your summit
Summiting Cotopaxi is nowhere near as technical as climbing Aconcagua or the other more demanding Andean peaks. However, you'll need to be in very good shape. As we already mentioned, the biggest concerns here are your physical fitness and acclimatization. You could compare Cotopaxi to trekking Kilimanjaro, as these two peaks rise up to an almost identical elevation.
To train for your Cotopaxi guided climb, hiking with some added weight is an excellent idea. Stuff your backpack and start with a 4-5 hour long-distance walk once a week, upping the distance, time, and frequency from there. If you have no mountains in your area, go to a highrise and do rounds up and down the stairway. If you don't mind the funny looks.
To deal with the elevation gain, try climbing, or just spending some time on, the tallest mountains in your area. Don't underestimate the altitudes—they are so intense that many mountaineers choose to train for Everest in Ecuador.
Finally, you might not find any vertical walls, technical glacier climbs, or ice climbing trickery on Cotopaxi. Still, it's a good idea to do some glacier hiking practice so you get as comfortable as possible with wearing crampons.
Pack your warmest clothes and lightest gear
Another thing you need to know about Ecuador is that, due to our high import tax rate, all foreign-made goods, including sports gear, are much more expensive than in other countries.
There are some shops in Quito where you can rent boots or fleece jackets, but they're usually made of low-grade material and are not something I would suggest relying on. The best thing you can do is to pack well. Buy whatever you need beforehand and bring all your technical apparel with you. As for tools, we supply you with the proper equipment but feel free to bring your own crampons, ice axe, and crevasse rescue gear.
With regards to your pack, keep it as light as possible. To put it simply, bringing lightweight clothing and equipment means carrying less weight up and down the mountain. You aren't climbing Kilimanjaro—the climate doesn't change every 100 feet here—so you don't need to pack for it.
Also, don't forget that dehydration is a huge issue at higher elevations, and while acclimatizing, you'll need more water than you think. Bring as many water containers as is comfortable for you to carry.
Other adventures in Ecuador
Once you've made your mark on Cotopaxi, try setting your sights a little higher: consider an alpine climb of Mt. Chimborazo, the highest summit in Ecuador's volcanic belt and the closest peak to the Sun.
Looking to experience as much of Ecuador's volcanoes as possible? Head out for a Grand Triple Everest training expedition and summit four volcanoes—Cotopaxi, Chimborazo, Antisana, and Cayambe—on a single tour!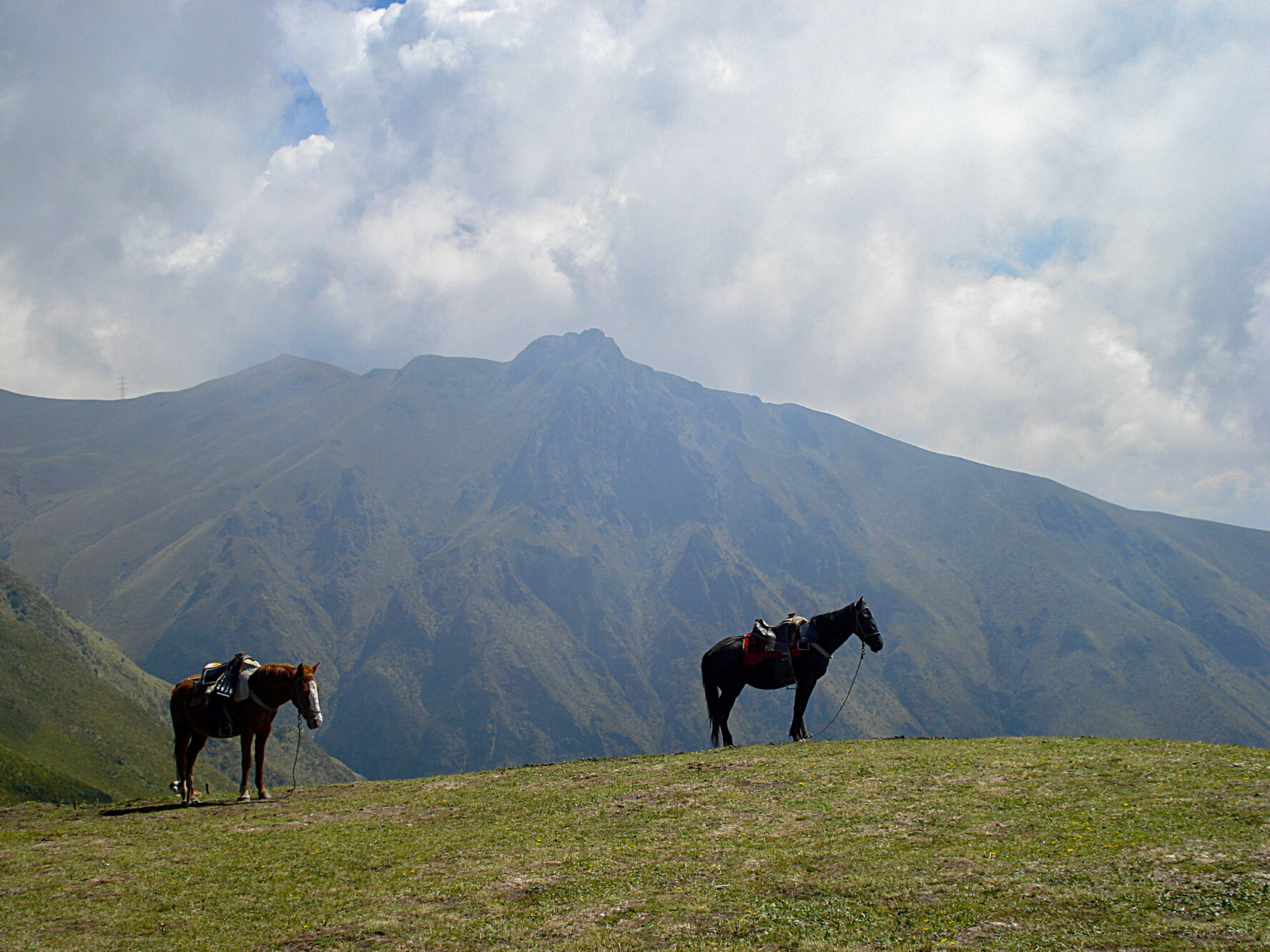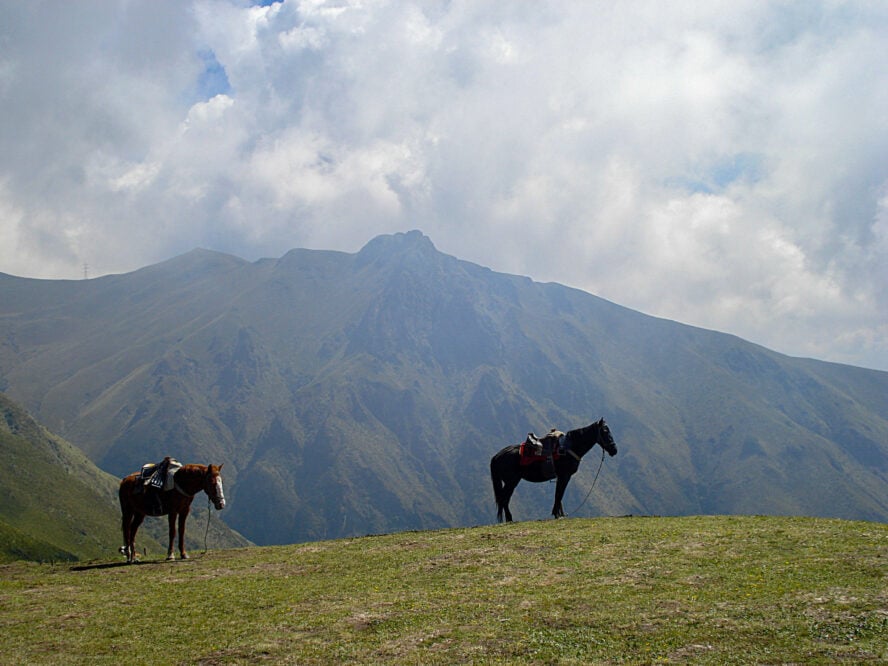 Bienvenidos!
Our company's mission is twofold: to preserve our environment and to tell of its beauty to others. When I was traveling the world and living in different countries, people would ask me what my country is like. And there's only one thing I could ever say: Ecuador is magical. If you happen to come and join us, I'm sure you too will see it the same way.
Feeling the fiery call to climb Cotopaxi? Sign up to summit with Wlady today!