Climbing Cotopaxi in Ecuador's Avenue of the Volcanoes
In a lush Andean valley skirted on both sides by colossal volcanoes, mountain climbing here is a trial by fire.
I'm driving south on the Pan-American highway, 30 miles from Quito, Ecuador when I see it: the perfectly chiseled cone of volcanic rock, its ice-tipped cap raised to the sky. That's Cotopaxi, one of the tallest active volcanoes in the world, Ecuador's second highest peak, and it's where I got my start guiding.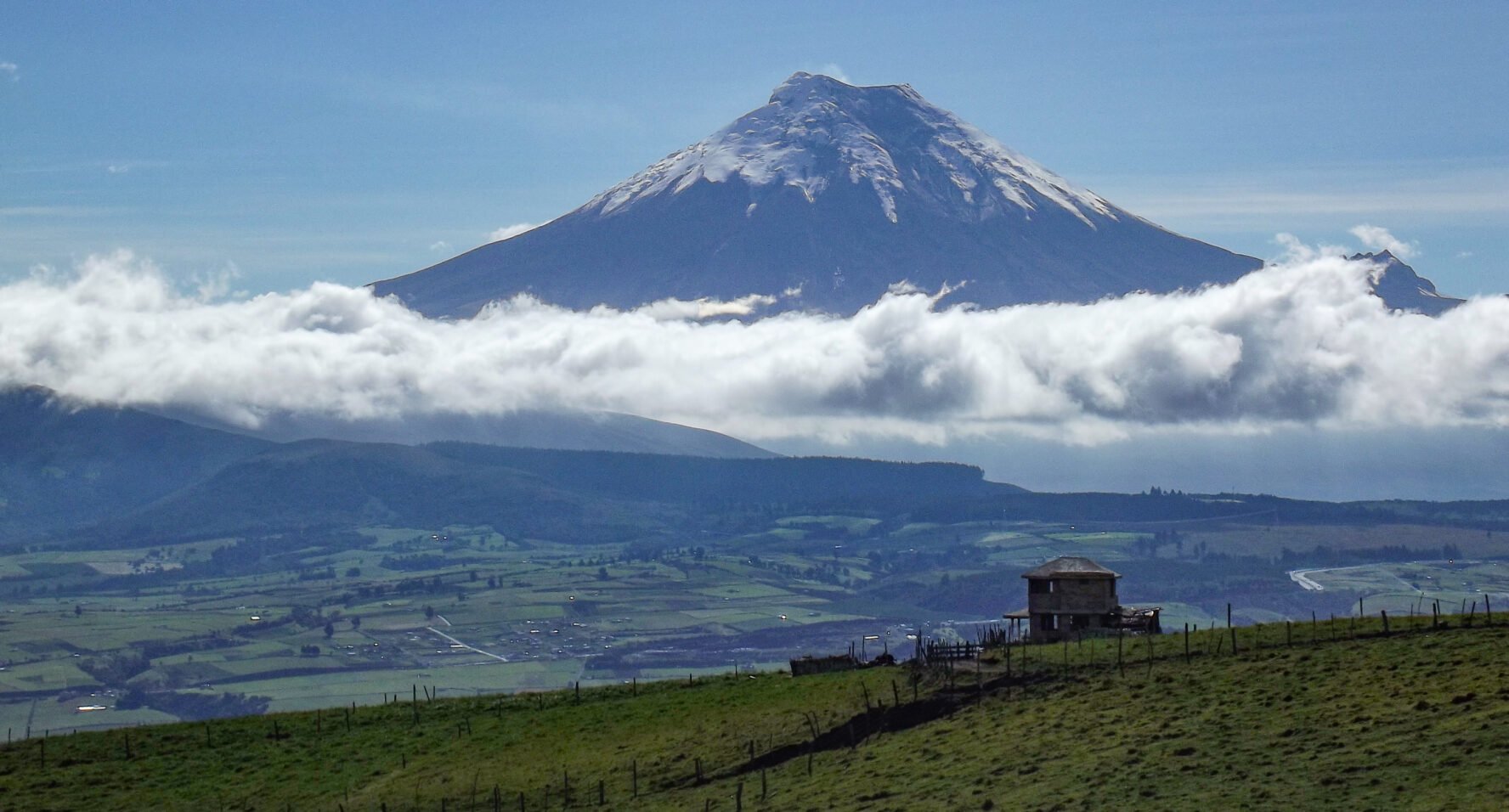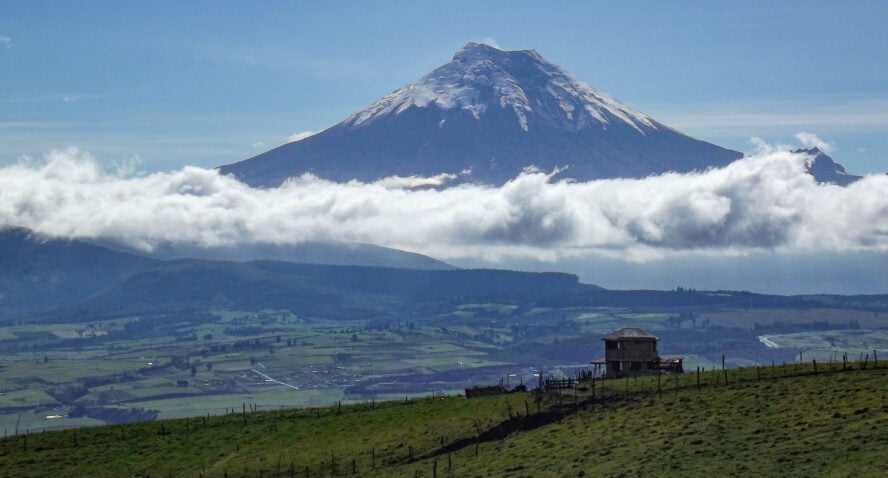 Cotopaxi and the Cordilleras Were Born From Fire
You might think having the equator run through your country invariably means a never-ending stretch of tropical mangroves and jungles. That's not the case, at least in Ecuador. Transected by the Andes, touched by the Amazon and bordered by the Pacific, this is one of the most bio-and-geo-diverse countries in the world—and in large part, it was shaped by volcanic activity.
The Avenue of the Volcanoes
A 120-mile north-south corridor flanked by magma-built mountain ranges, this imposing stretch contains seven peaks greater than 17,000 feet, including what was thought to be the highest mountain in the world at one point, Chimborazo. On the eastern tract is Cotopaxi, the centerpiece of the ​​Cordillera Real. Even though Cotopaxi is active—it has erupted more than 50 times since the early 1700s, and most recently in 2016—the "Throat of Fire" is one of the most-climbed mountains in the world.
The enchanting symmetrical shape overlooks the Andean páramo grasslands and never ceases to amaze me. Ever since I first stepped foot on that summit, I've felt a voice inside of me calling me back. And it's a call I'm always ready to answer.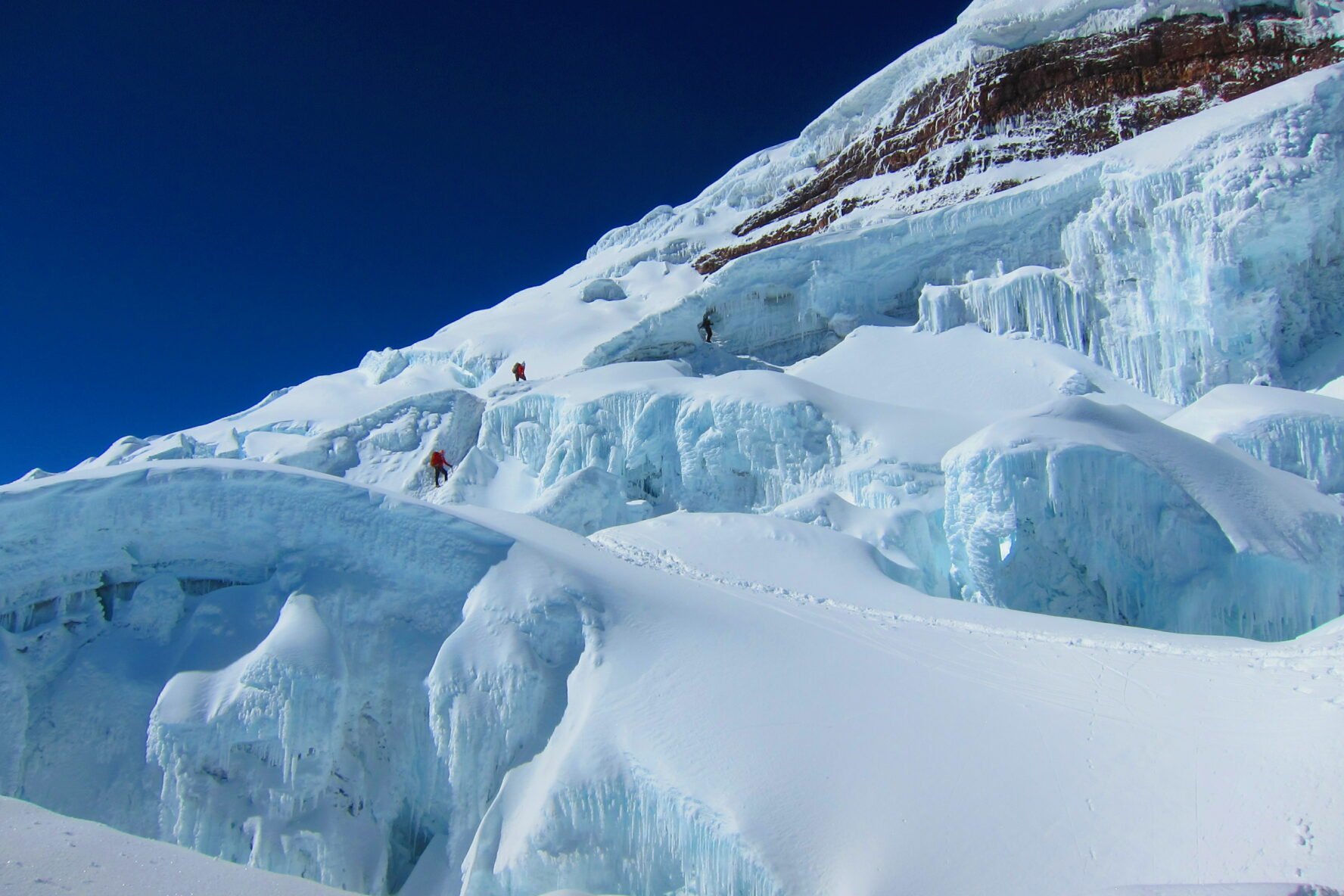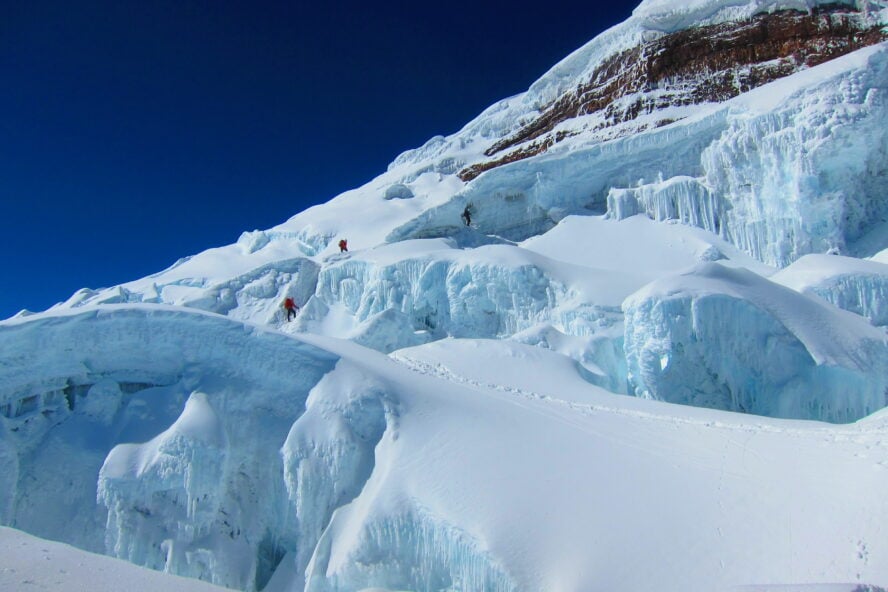 Growing up in the Avenida all roads led to Cotopaxi
I was born and raised in Riobamba, a town about 120 miles south of Quito, in the heart of the Avenue of Volcanoes. Our skyline is dominated by Chimborazo and it's hard not to be drawn to the mountains when it's always hanging over you. When I returned to Ecuador 15 years ago, the country was struggling economically. I started Ecuador Eco Adventure with the goal to promote the country's natural heritage through low-impact, socially-conscious tourism.
Tourism in Ecuador used to be a lot different. Companies would bring people by the busload to see the communities along the slopes of the volcanoes, amid verdant forests and farmland. Visitors would take a photo or two and the local kids might get some candy from it, but to me that approach never sat right. There was no meaningful interaction. When I opened my own adventure company in 2006, I wanted to involve indigenous communities in a purposeful way. We work together with the communities, whom I first met horseback riding when I was a teenager, to preserve our fragile ecosystem.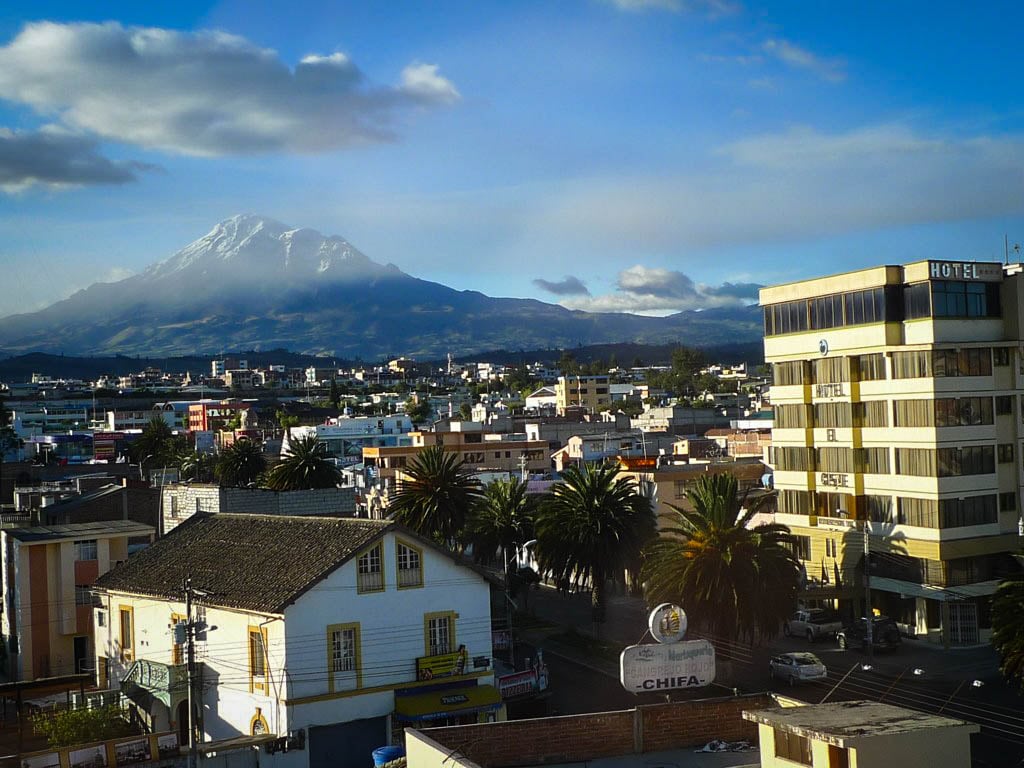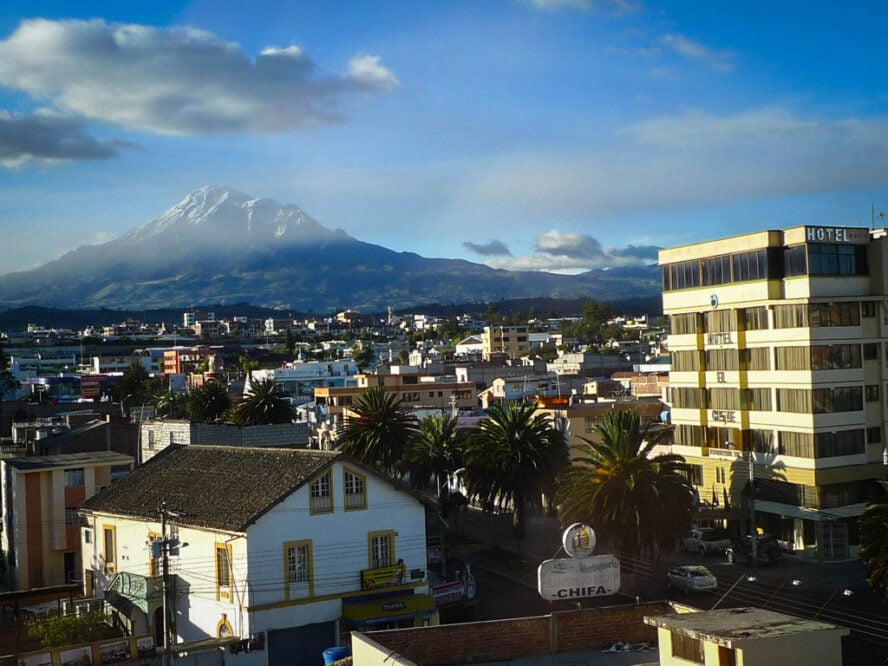 All you need to know about climbing Cotopaxi
A trial by fire, and very doable
Although the idea of summiting volcanoes might seem daunting, it is almost routine. People often ask, how hard is it to climb Cotopaxi? Essentially, it is a recreational two-day climb that even those new to mountain climbing can complete as long as they're in good physical shape.
While the path to the summit is far from technical, it typically takes five to eight hours of trekking on a semi-vertical glacier. As such, climbers should be familiar with crampon use and ice-axe techniques. Still, the most important thing is proper acclimatization. Altitude is a cruel mistress. And the weather is a tempestuous teacher too.
Climbing in Ecuador, we have peculiar weather. It is volatile, often changing drastically every four hours. Sometimes it can be extremely windy or snowy, and then all of a sudden blue-sky-sunny. We don't have typical seasons, so you can't really predict too far out. That's why having a guide with you is essential—it is their job to observe the conditions and make informed decisions on the fly, even turning back when necessary.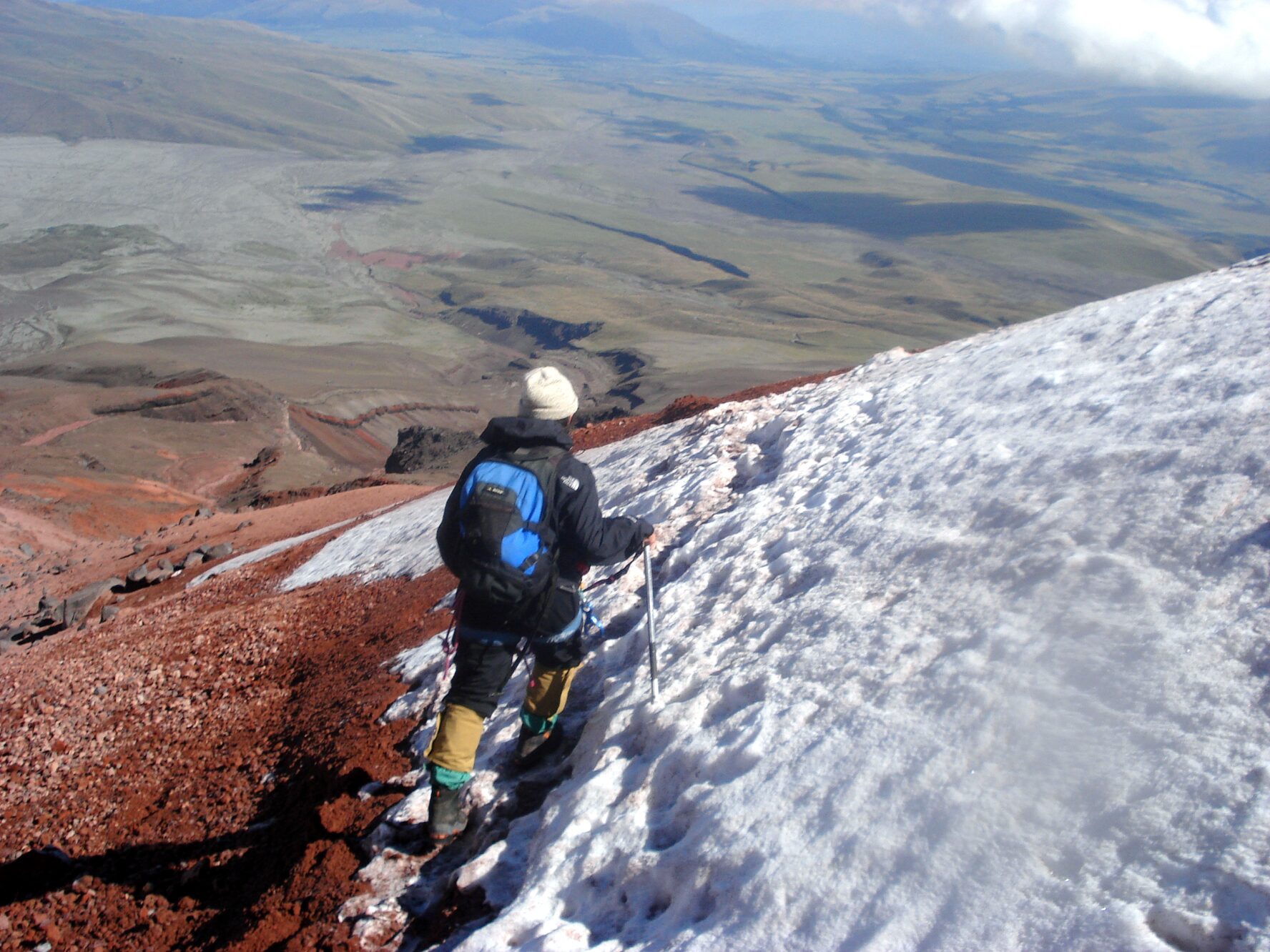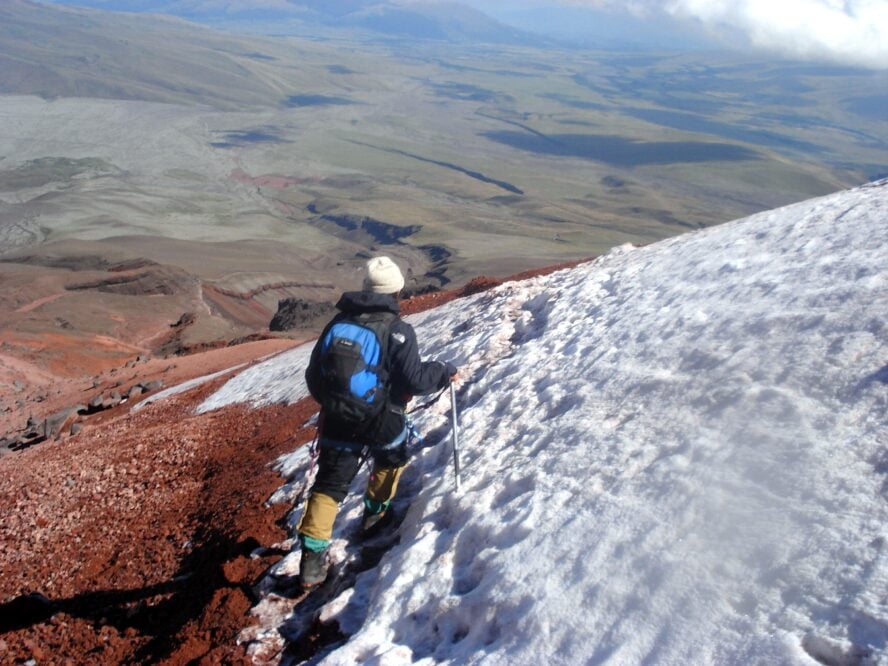 Starting by night, summit by sunrise
When climbing Cotopaxi, the timetable is always the same and takes two days. We enter the national park to complete our registration around lunchtime. From there we take one of several trails, but generally are in for an hour-and-a-half trek up to the Jose Rivas refuge and an early dinner. Luckily, the food is excellent and will fill you with the strength needed for the climb ahead.
Don't expect a full night's sleep. In Ecuador, ascents start at midnight. Our aim is to reach the summit by sunrise, between 6 and 8 AM. The first hour or so is rock, and then we reach the glacier, one of a few that exist along the equator. That means taking out our crampons, ice axes and harnesses.
Five to seven hours later, depending on the weather conditions and your stamina, we reach the summit of Cotopaxi. The once fiery eye is now a crater encased in glistening ice. What makes this such a great climb is that Cotopaxi stands squarely at the center of the Avenue of Volcanoes, and the summit gives you a clear view of the surrounding peaks in the cordillera, all yours for the photo taking.
This mountain made me into who I am today
The first time I summited Cotopaxi was in 2007 with my late mentor. I was in my twenties, eager to guide, and he was set on teaching me how the world of climbing works. When we woke, the weather was superb. Not that cold, no wind to speak of. The moonlight bathed the mountain in soft light. I remember thinking it was a long trek. You walk, walk and walk and the summit's right in front of you, but after every hill there's another.
At the top I saw the crater, wide as a football pitch. I saw the mountains around me looking so small. On that crisp, cloudless morning the sun was rising up from the Amazon covering the peaks in a golden air. I felt my cheeks moisten, hot, and was completely at peace. The sensation was overwhelming. It's why I climb to this day, to find that feeling again. But we all search for different things, everyone's experience is unique. So yours will be too.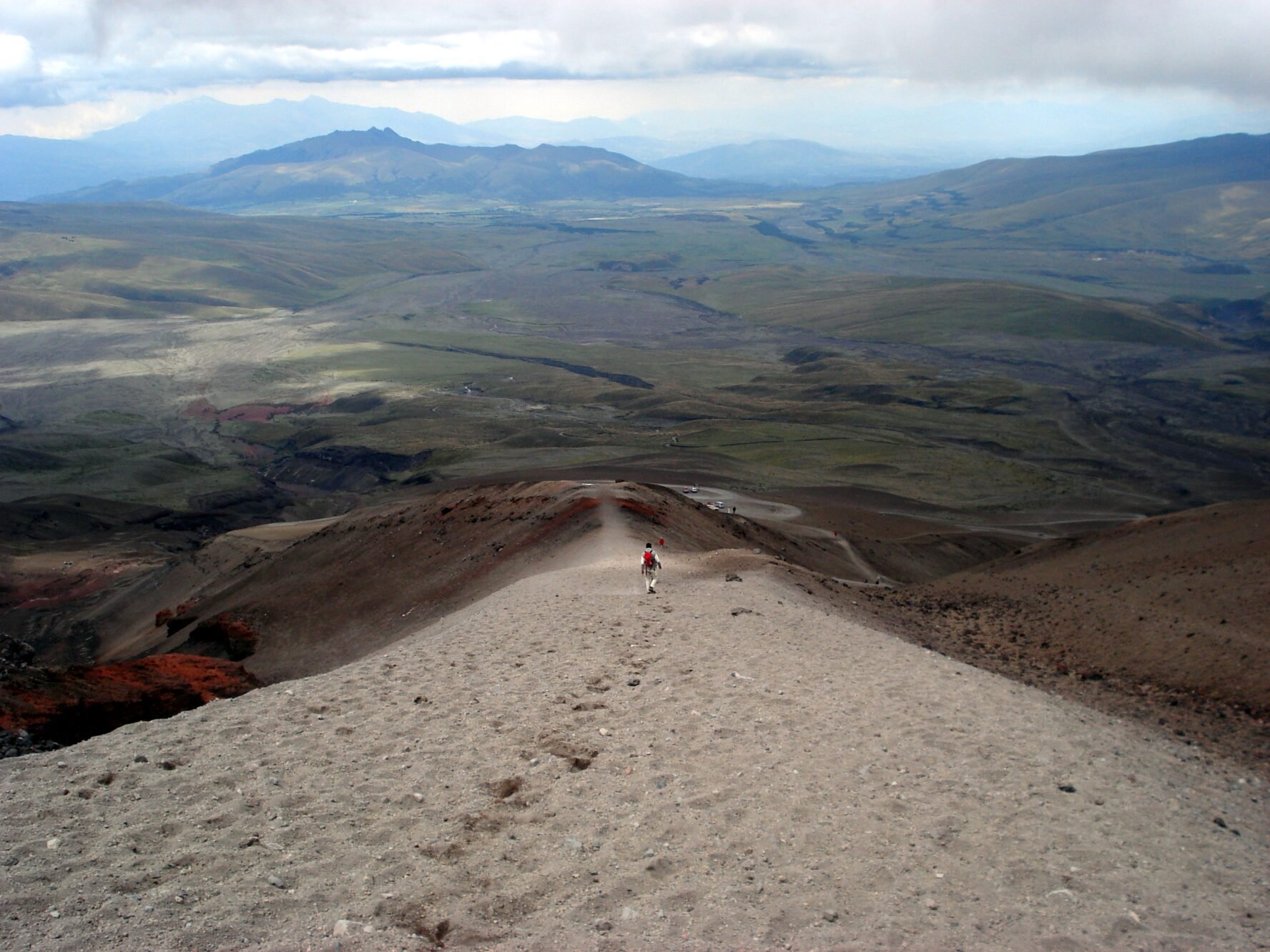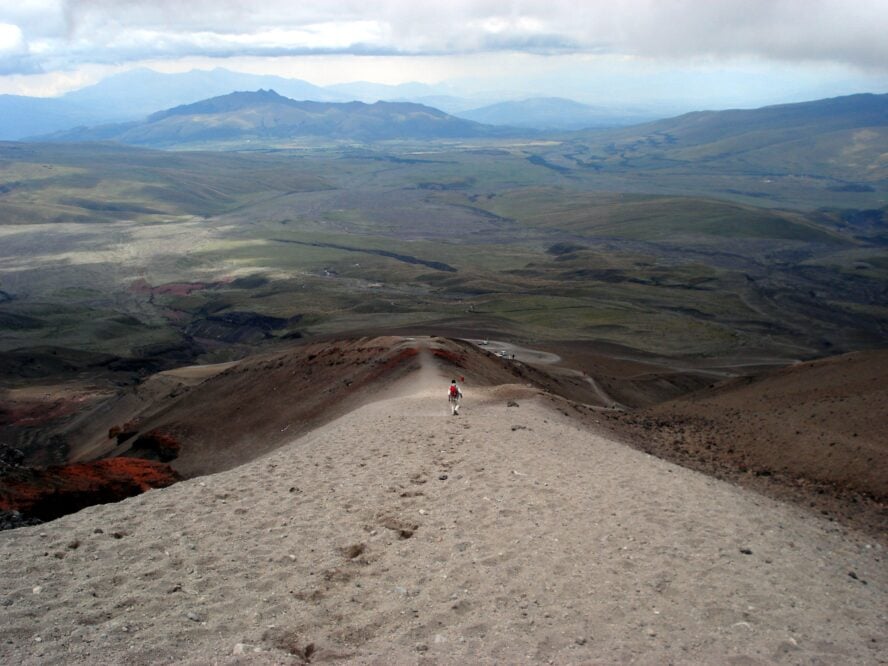 Is Cotopaxi dangerous? Let's talk about eruptions
Maybe you're still uncertain by the thought of the volcano erupting. In 2015, Cotopaxi started spewing ash and smoke after a 70-year period of inactivity. The mountain was closed to visitors for two years, until late 2017. Since then, it has entered a period of calm that happens after such eruptions, which often lasts for a hundred years. In the aftermath, the refuge was rebuilt and everything has resumed as normal. The main reminder is the faint sulfuric smell that the wind sometimes scatters over the peak. There is certainly a risk, but there are warning signs ahead of time.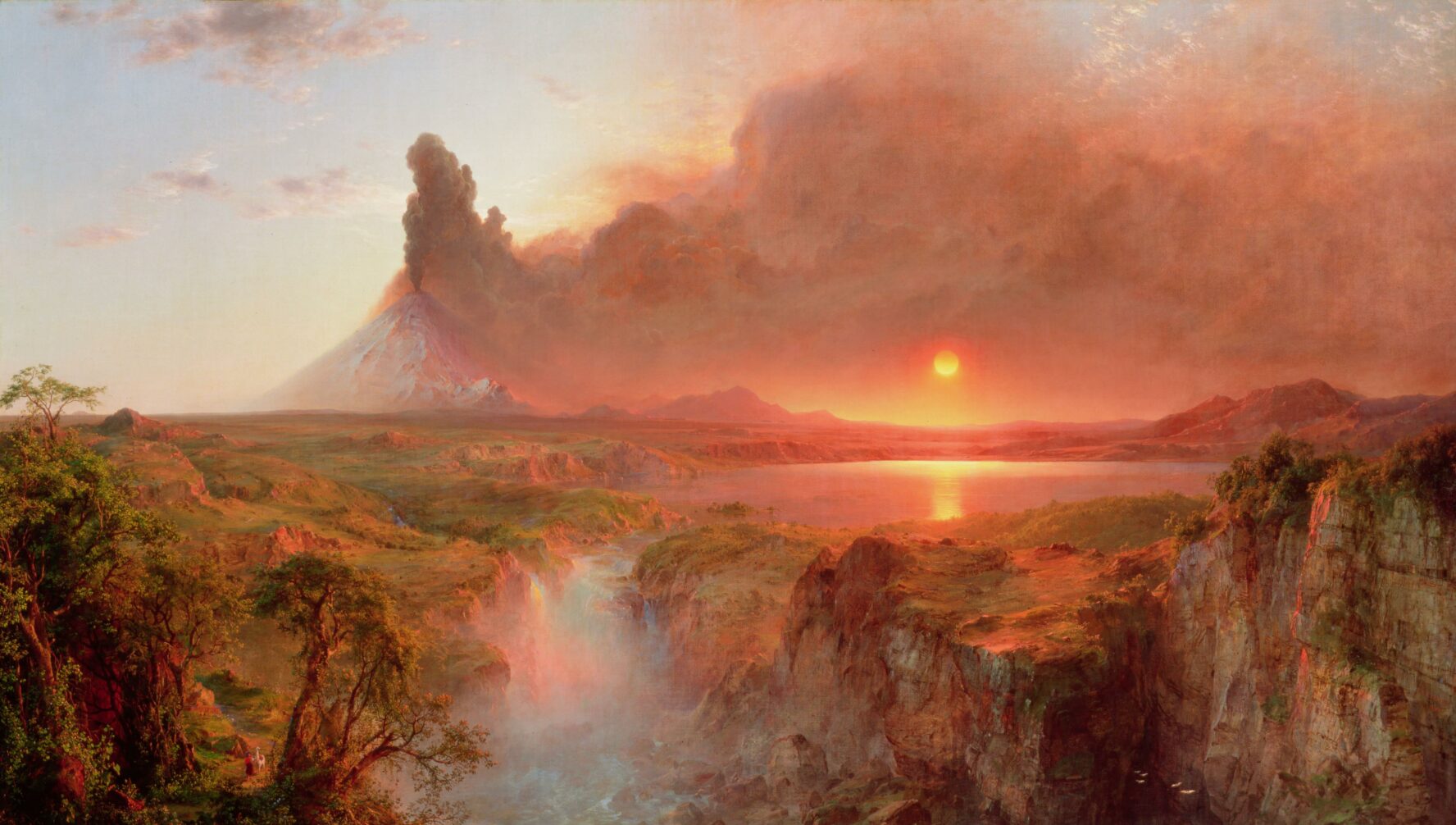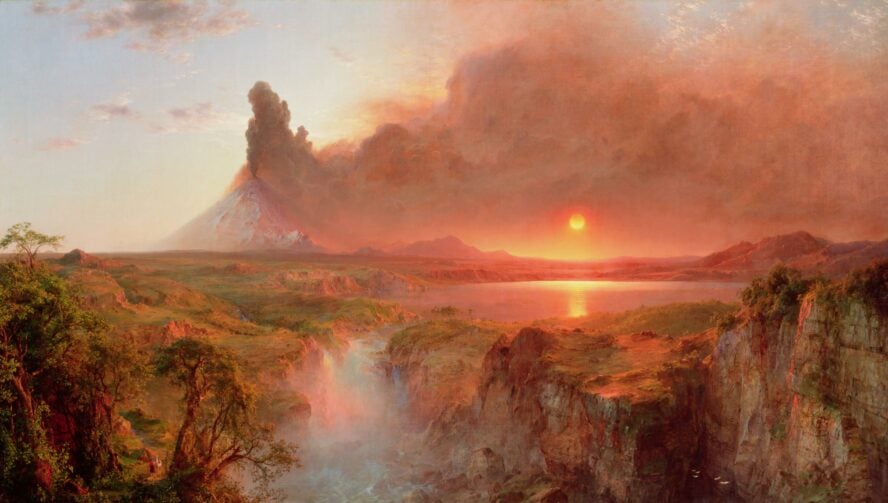 Beyond Cotopaxi, My Tips for Ecuador
Visit Quito, the first city to be named a World Heritage Site
You might be wondering what else there is to do in Ecuador besides climbing, exploring the Amazon Rainforest or swimming in the Pacific. When you arrive, your flight will land at the international airport in Quito. This will give you the opportunity to witness one of the most beautiful colonial towns in the whole of the Americas. As a matter of fact, Quito was the first city to be recognized as a UNESCO World Heritage Site, with buildings over 500 years old. In the center of the old town you can find welcoming restaurants with spacious balconies that look out onto the parks and ornate facades.

Enjoy the local cuisine, including our delicious stew
At the Tambopaxi Lodge, the only one in the entire national park, you can enjoy delicious local cuisine and a glass of wine with a spectacular view of the mountain. People looking to climb Cotopaxi often use Tambopaxi as a base camp for acclimatization. Another place to have a good meal is the park's registration office. As a bonus, you can check out the local handcrafts there as well. For those coming down from Cotopaxi, the $5 set menus at the Rondador are a popular choice.
No matter where in Ecuador you end up eating, there is one local specialty that you'll find everywhere, and that's seco. This slowly simmered stew is commonly made with goat, lamb or chicken and a thick sauce of cumin, achiote, peppers, tomatoes, chicha and more. It is the ultimate comfort food of our people and the perfect dish to help you reacclimate post-peak.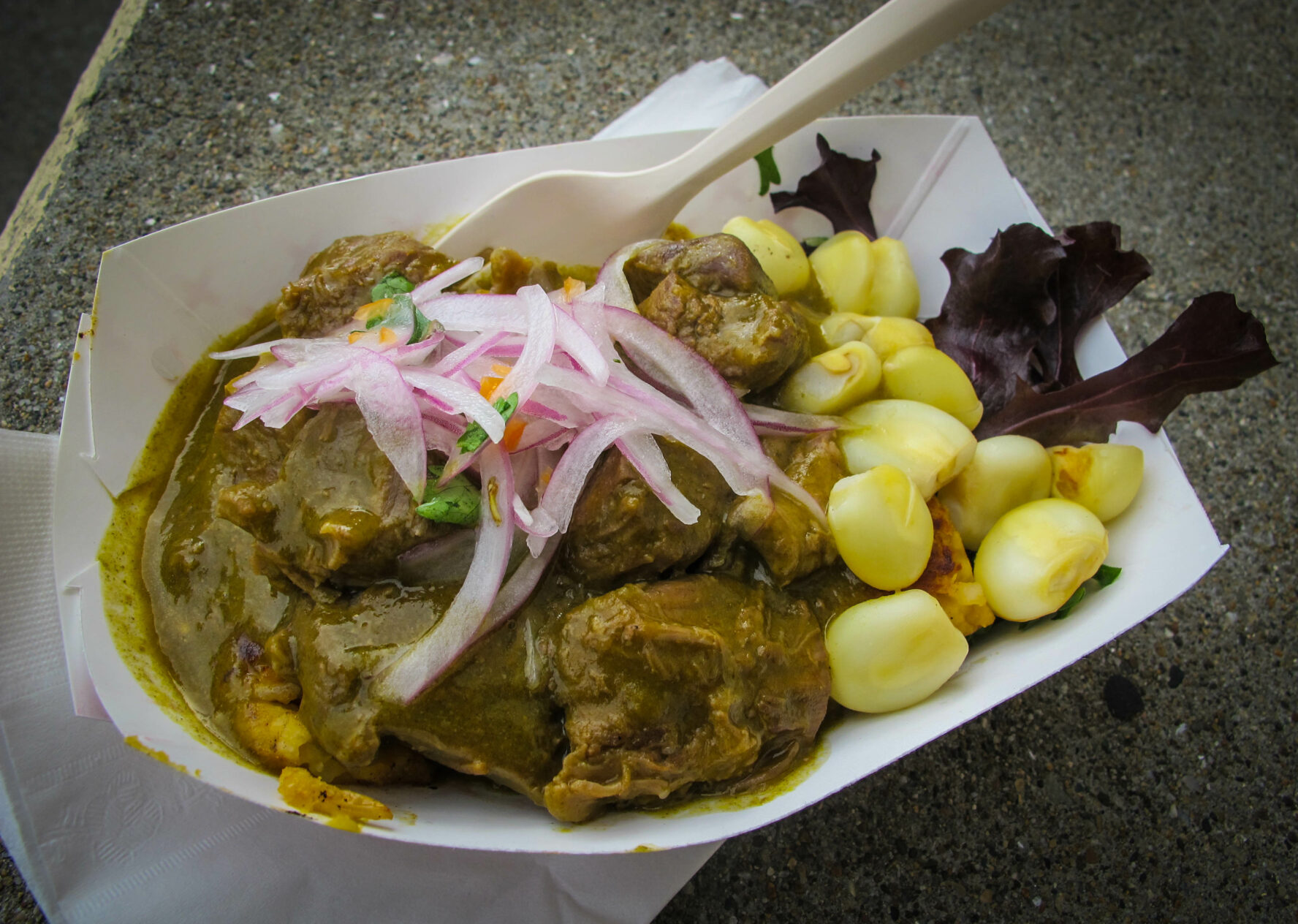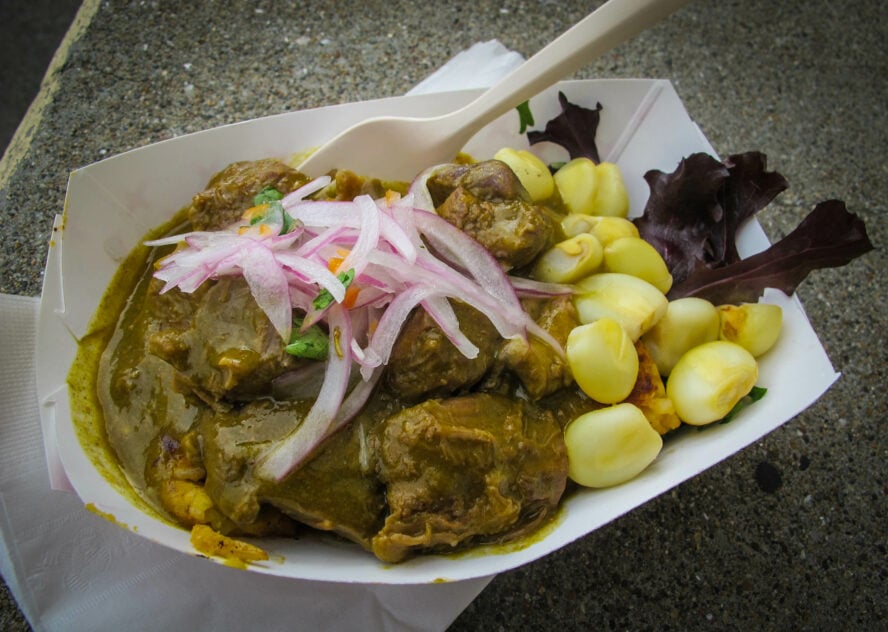 Make sure to pack your warmest clothes
Another thing you need to know about Ecuador is that, due to our high import tax rate, all foreign-made goods, including sports gear, are much more expensive than in other countries. There are some shops in Quito where you can rent boots or fleece jackets, but they're usually made of low-grade material and are not something I would suggest relying on. The best thing you can do is to pack well. Buy whatever you need beforehand and bring all your technical apparel with you. As for tools, we supply you with the proper equipment.
See you in Ecuador!
Our company's mission is twofold: to preserve our environment and to tell of its beauty to others. When I was travelling the world and living in different countries, people would ask me what my country's like. And there's only one thing I could ever say: Ecuador is magical. If you happen to come and join us, I'm sure you too will see it the same way.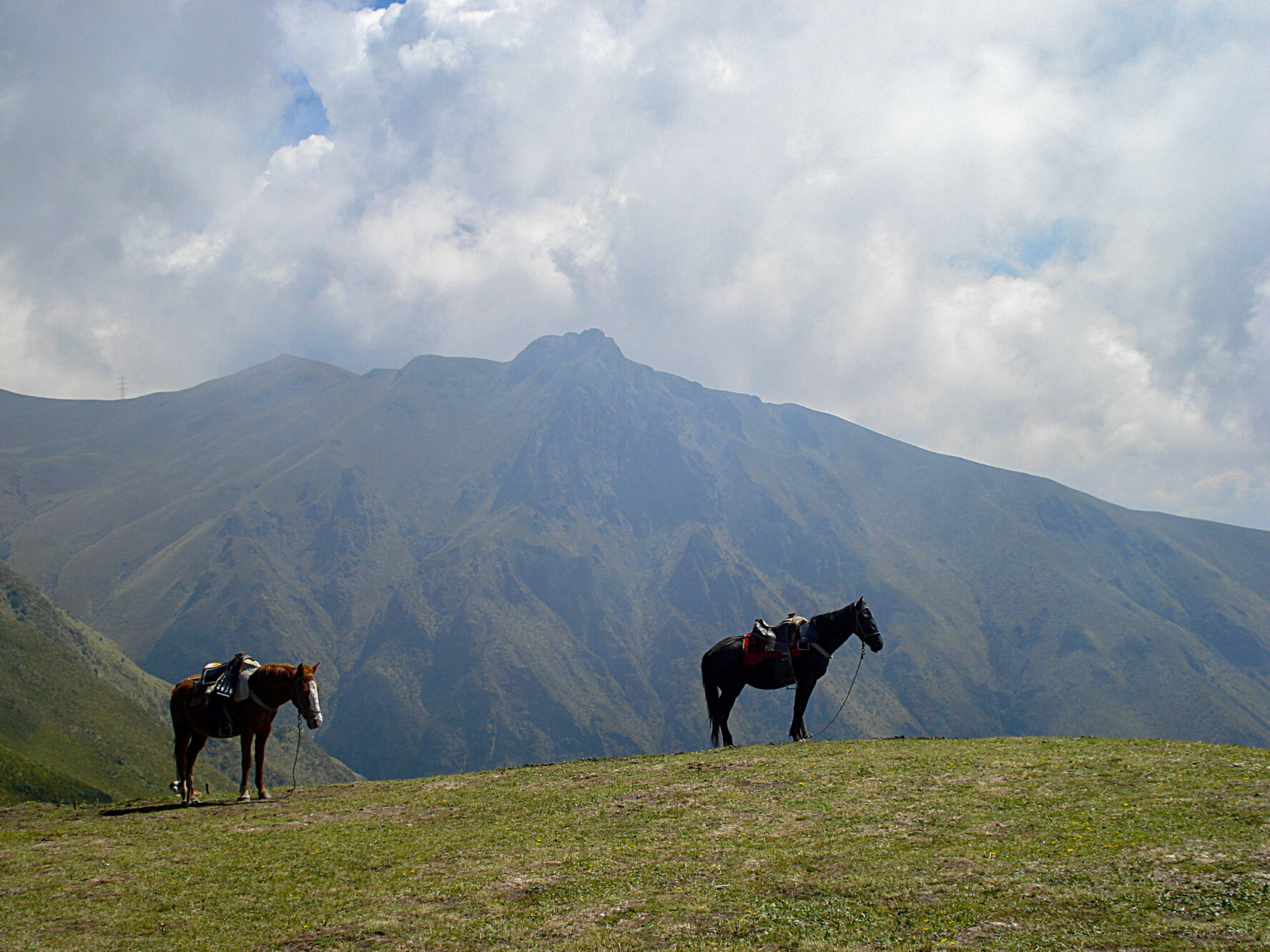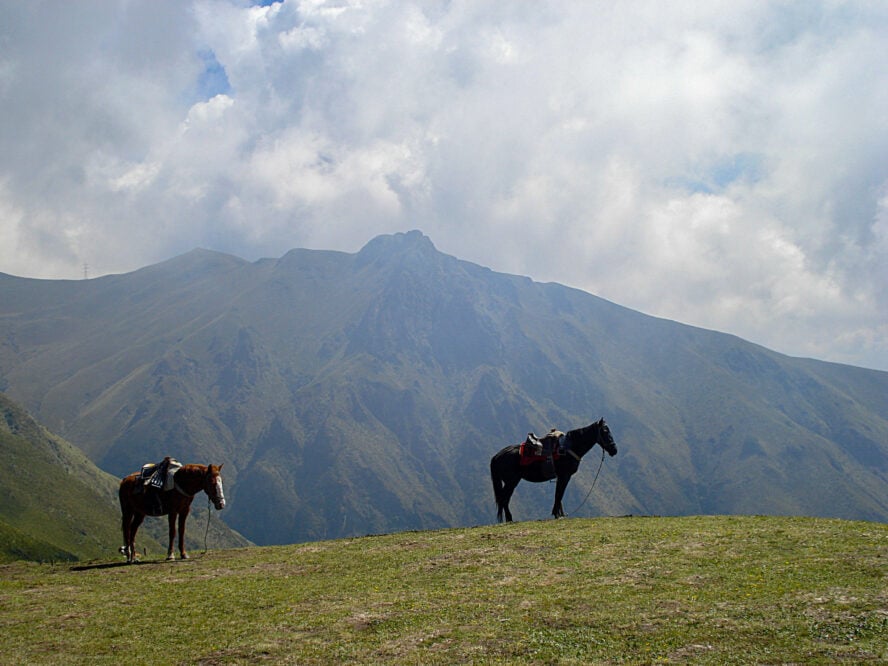 Feeling the fiery call to climb Cotopaxi? Sign up to summit with Wlady today!