El Potrero Chico Makes for Perfect Sport Climbing in Mexico
With over 600 sport routes to choose from, find out what makes El Potrero Chico one of the best big wall climbing destinations in the world.
To me, a proper sport climbing trip should involve a single carry-on, short approaches, an opportunity to explore and connect with the local area and its people, a great climbing community, and maybe some great apres climbing activities. Now, if there happens to be a couple of 1,000-foot climbs that I can do with said gear list, all the better! Fortunately, El Potrero Chico, Mexico, offers all that and plenty more, including the ability to walk to the climbing area from where you stay! With over 600+ sport routes to choose from, it's the world's largest big wall sport climbing destination. Here's everything you need to know to plan your El Portero Chico climbing trip.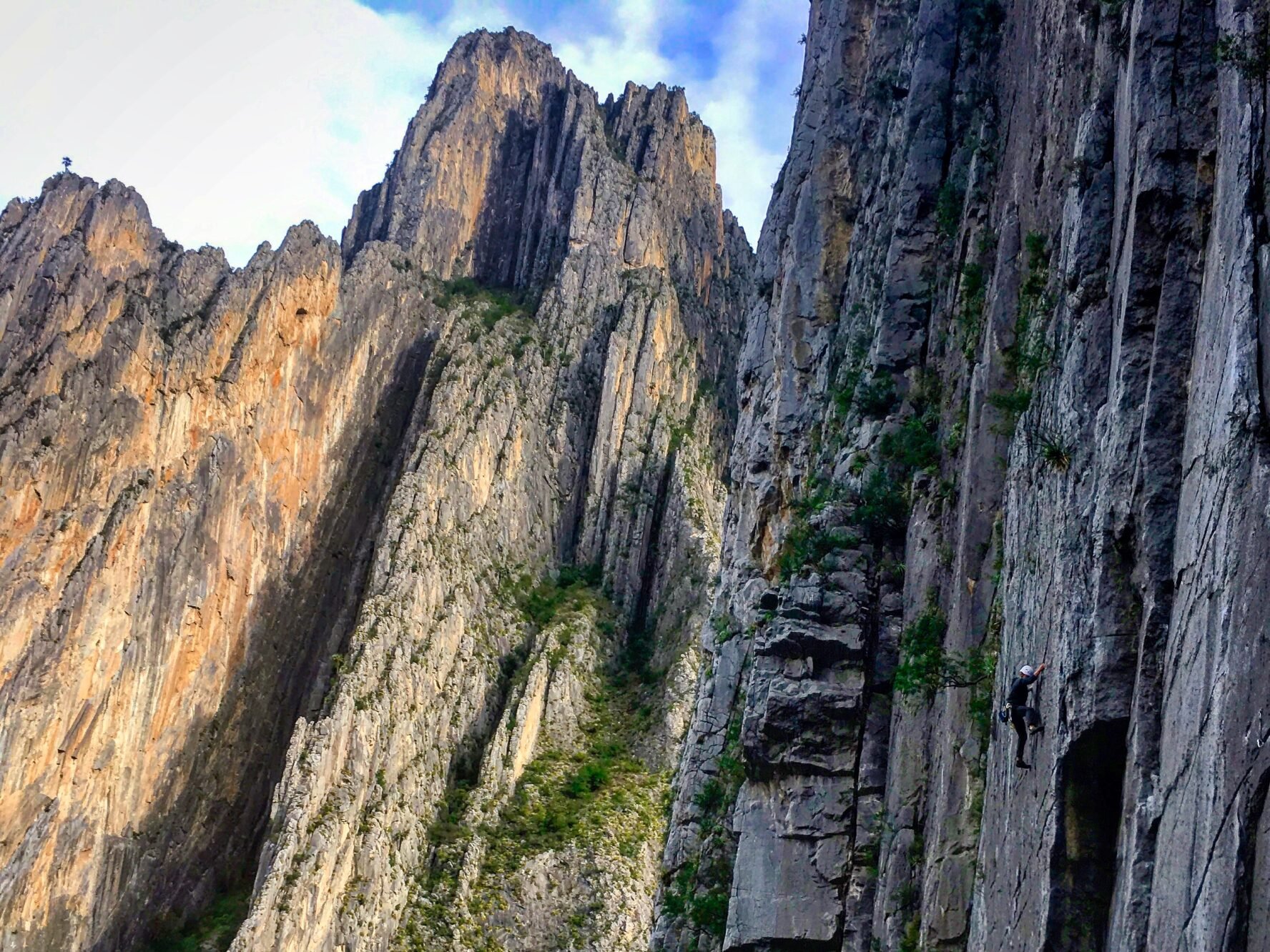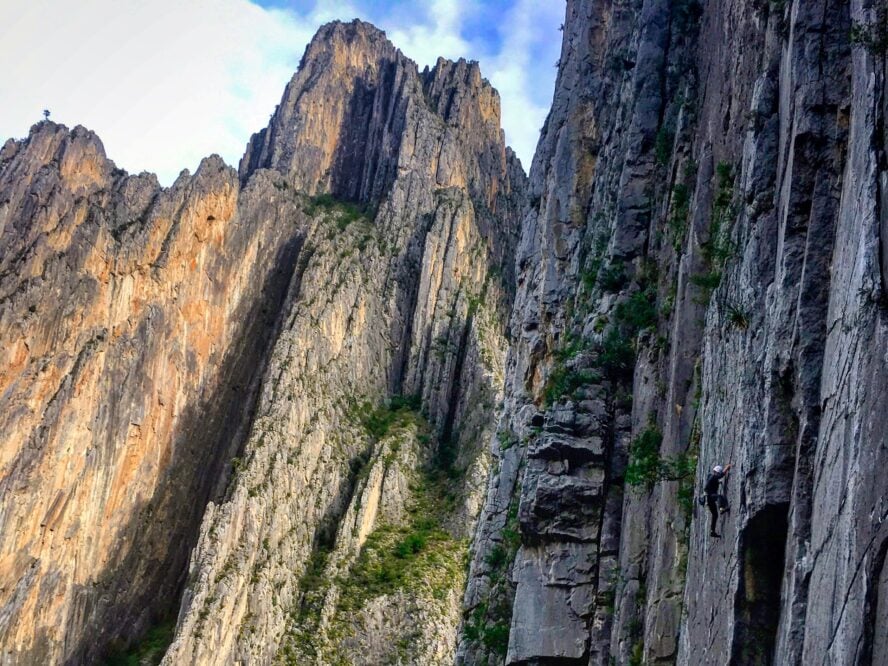 Pros and Cons of Rock Climbing in El Potrero Chico
A single carry-on bag can be all that is needed for a week long stay
Most trips can be done on a budget of less than $1000
Abundant amenities centered around the climbing community
Driving to El Potrero Chico can be a complex exploration of paperwork and bureaucracy
In recent years, much of the best climbing has become crowded in peak season
Find sport climbing at its best in El Potrero Chico
El Potrero Chico, or "Little Corral," is a limestone sport climbing mecca that rivals any of the world's best rock climbing destinations. Formed by the remnants of an ancient salt dome that slowly hollowed out with the intrusion of water within a shallow sea, a perfectly shaped circle of limestone cliffs is formed when viewed from above. The limestone remnants of this ancient salt bubble are covered in old solution pockets and cut-outs that form immaculate, incut edges and huecos that lend themselves perfectly to climbing. The rock has formed generally vertical or just less than vertical, although areas like the Outrage Wall are notable, overhanging exceptions.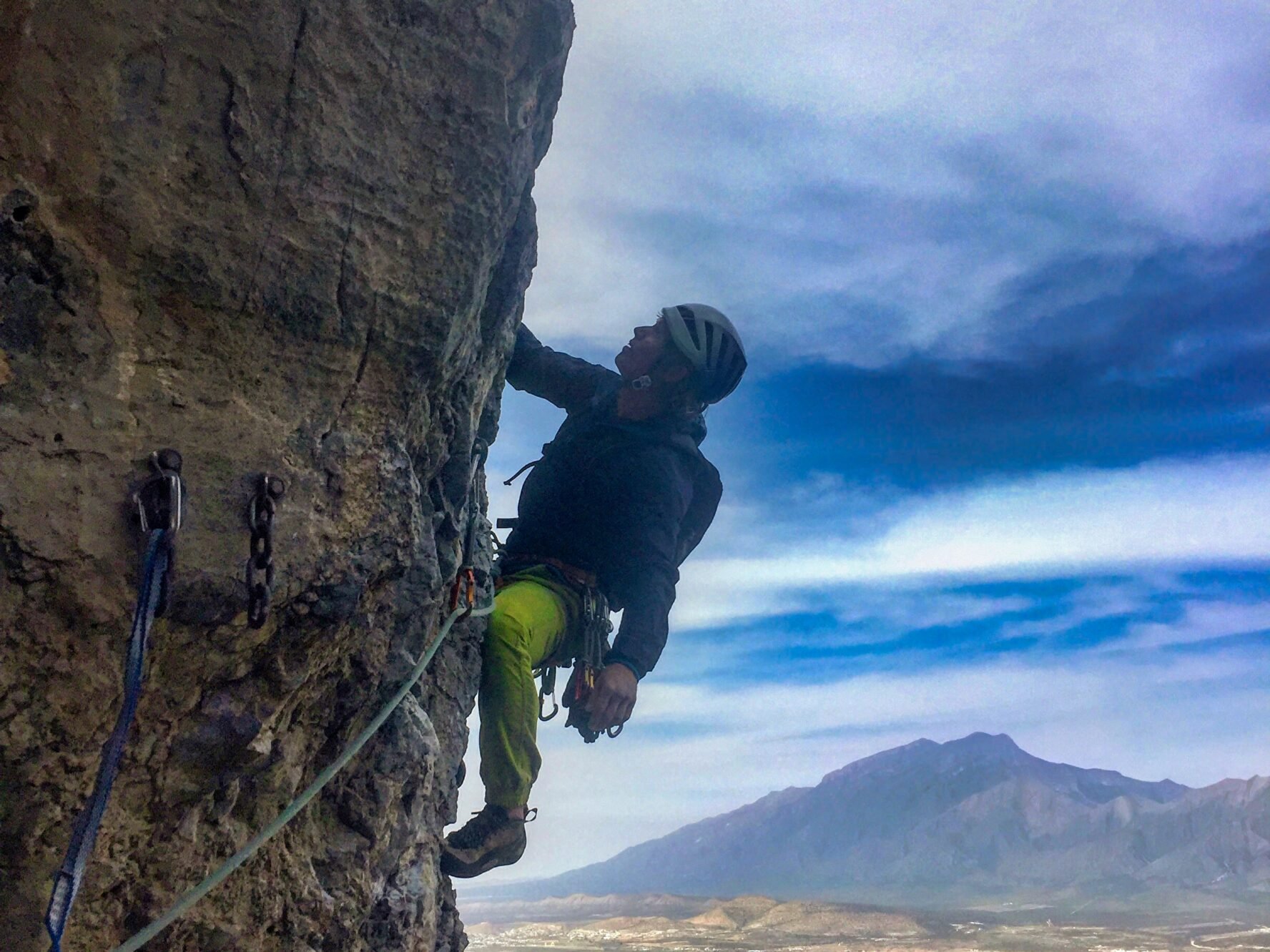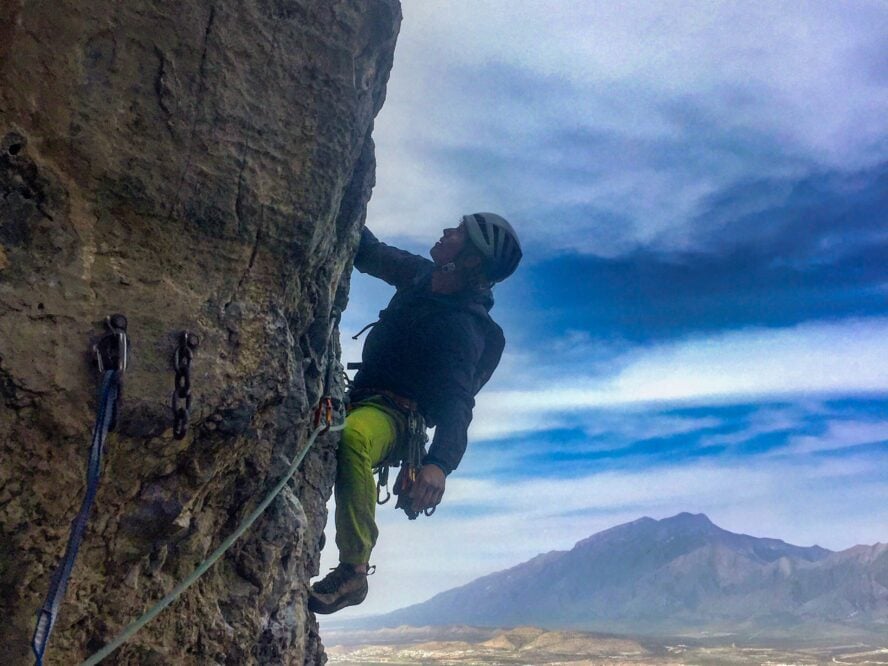 Of course, given the size of the escarpment and recent geologic history and its limestone composition, it is highly recommended that you wear a helmet (I cannot stress this enough). There is ample loose detritus on many ledges and it's not uncommon to see small to medium sized rock fall. Just look at the roofs of the old buildings in the park for evidence! Due to the unique combination of arid landscape, latitude, and shape of the range which is good for moisture retention, the cliffs are often dotted with agave, cactus and shrubs. Keep this in mind when choosing your rope and descent methods.
The style of bolting here is generally quite generous, however be prepared to pull crux moves above your bolt on some of the older lines here. A standout route that I think of in this regard is Snott Girls (5.10d) and Jungle Mountaineering (5.10a). Recently, a massive rebolting effort has been underway, spearheaded by many locals and long time Potrero climbers.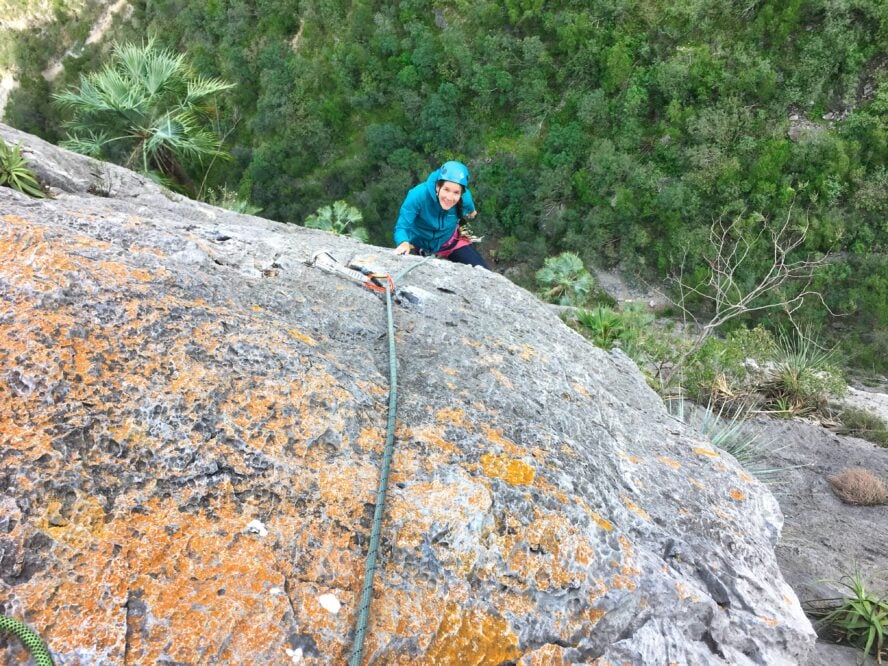 Getting to El Potrero Chico
Located less than an hour from the city of Monterrey's international airport and less than three hours from Laredo, Texas, El Potrero Chico lies in the heart of the Mexico state of Nuevo Leon in the northeastern gulf region of the country. Potrero Chico is one of the easiest places to travel to out of any of the international climbing destinations I have been to. It's not uncommon to find a round trip flight from an international airport to Monterrey for under $400. Once at the airport, it's often best to have pre-arranged a ride with your accommodation as the taxis are often rather expensive and they are not always familiar with Hidalgo or where your destination is. The first time I went to Potrero Chico, my taxi driver drove around Monterrey for half an hour before he realized he was heading to the wrong Hidalgo. Most accommodations offer airport shuttles that can be pre-arranged. Many folks also find success on the Potrero Chico Rock Climbing Facebook group.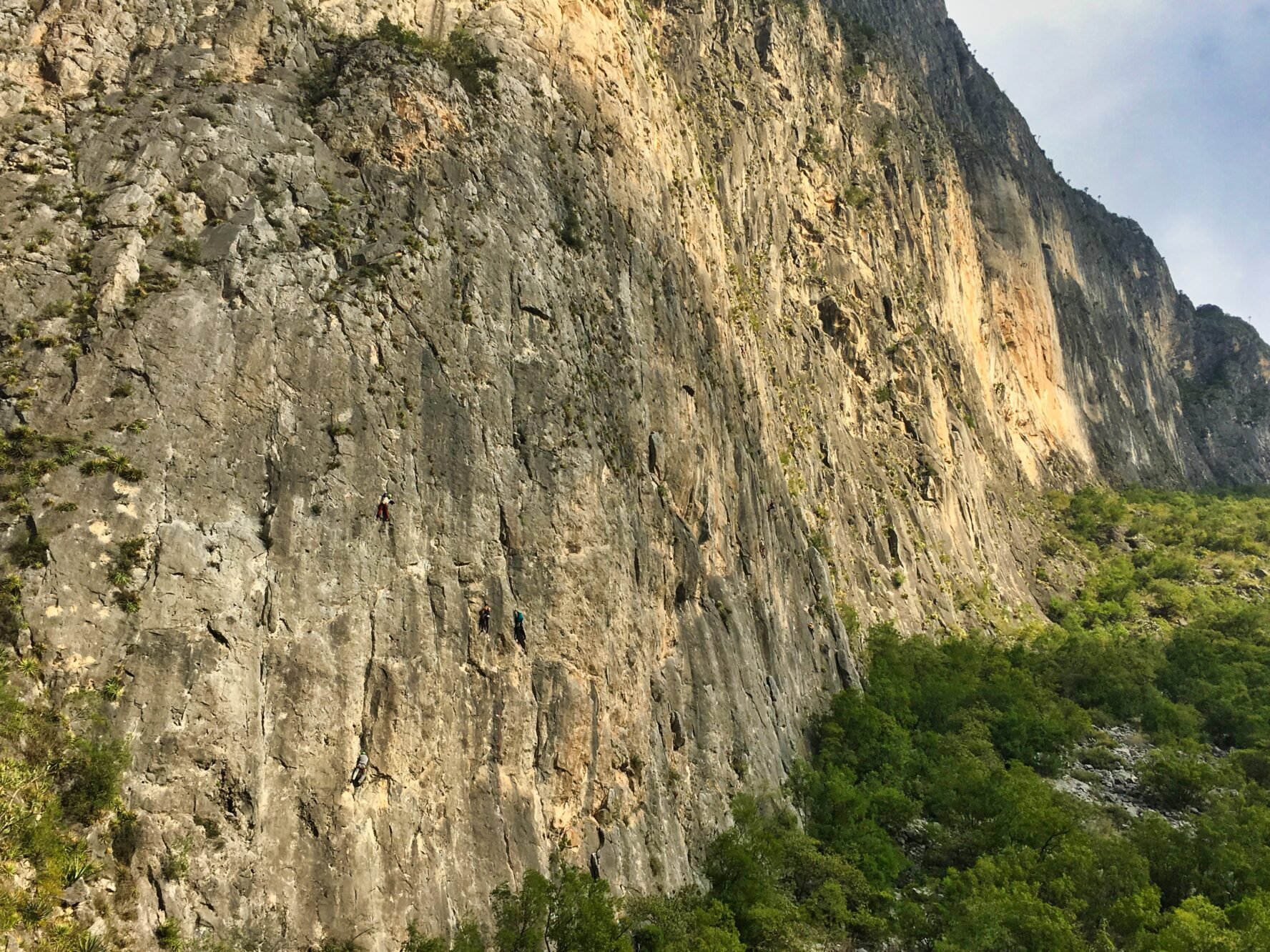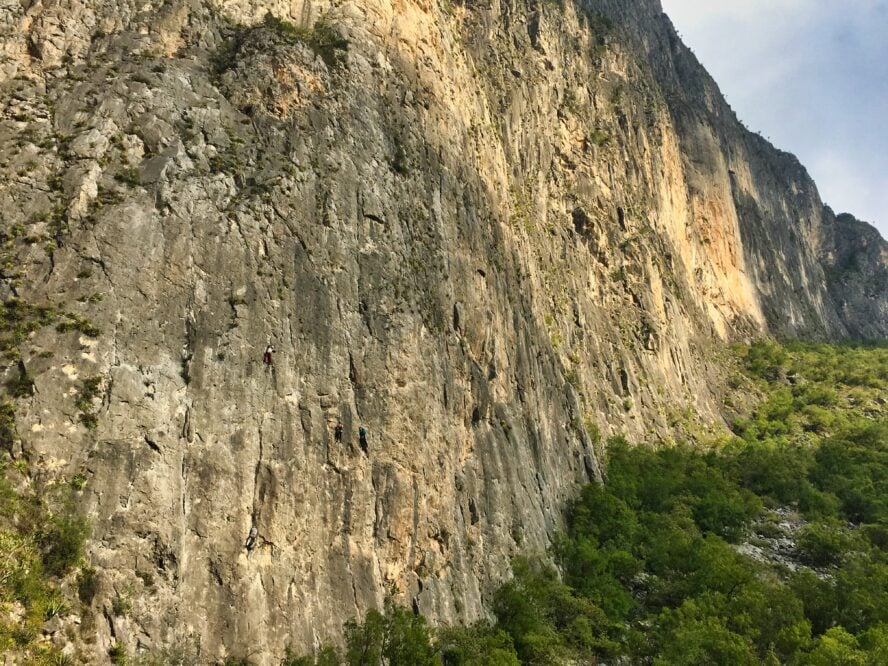 Another way that I have flown to Monterrey is to drive to the border in San Diego and either leave my car with a friend or rent a space for a period of time from a storage unit. You can then get a taxi or ride-share to the CBX terminal which is connected to the Tijuana airport. After some light paperwork, you walk right into the airport where I found a round trip flight for $150 in 2017.
If you are driving to Mexico, the easiest way to enter is through Laredo, Texas, and travel the military patrolled toll road. This will require you to follow a lot more steps, such as possible vehicle inspections, Mexican insurance purchases for your vehicle and navigating the often crowded and minimally maintained streets of Monterrey, Hidalgo and surrounding areas, yet this is also the best way, in my opinion of really having total freedom of exploration on your trip. You can find detailed driving instructions and map overlays here. Bear in mind, COVID-19 and changing border operations with both countries may add more time and possible frustration to your trip. Be prepared for adventure, regardless!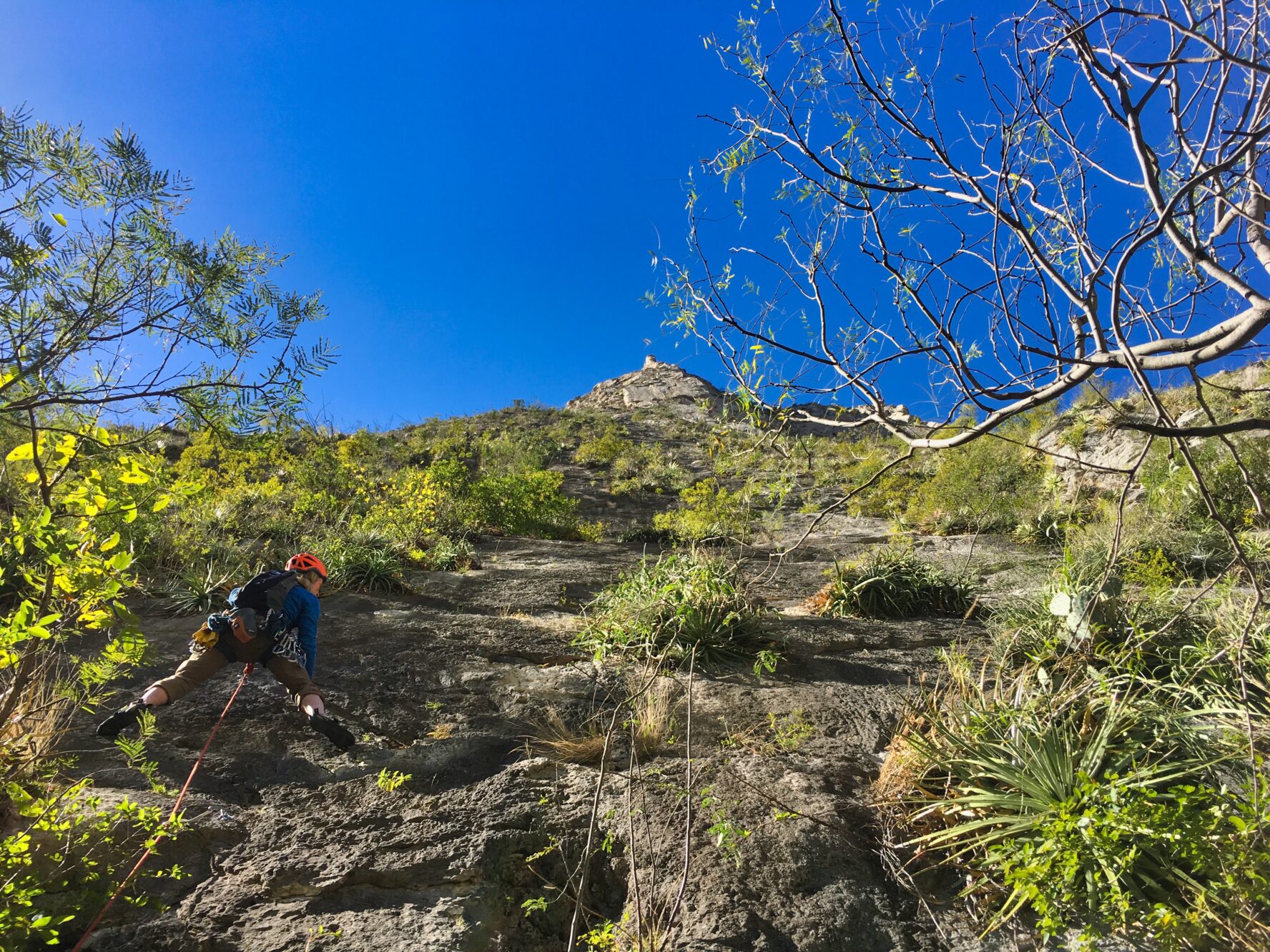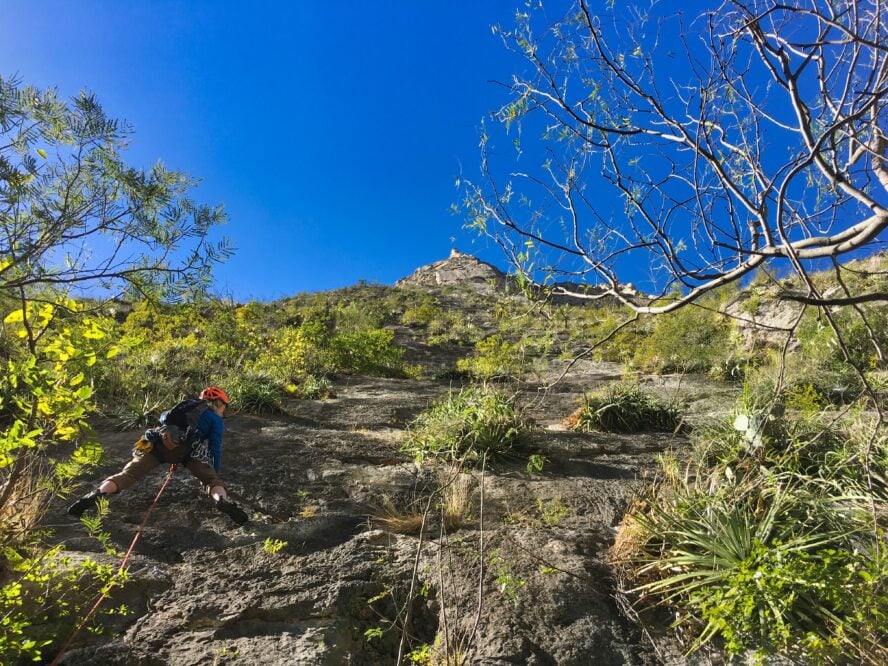 Where and how to stay in El Potrero Chico?
The places to stay in Hidalgo seemingly double in number every couple of years and many are also beginning to add lavish additions like spas, pools and restaurants. They are also quite eclectic in their style of accommodations, as hotels like Lemuria, a popular spot for climbers, also have tent camping on the lawn. My personal favorite, Rancho El Sendero has a casita, hostel and tent and van camping on their property. Many of these types of accommodations exist in the area like Homero's, La Posada, Quinta La Pagoda, and so many others. El Sendero has a beautiful, shared community kitchen and common area, pool, great wifi and is located about a mile from the entrance to Potrero where many other accommodations are located, which is also where the Sunday night parties by the locals occur, making it a more quiet spot as well as offering an incredible view of the north face of El Toro.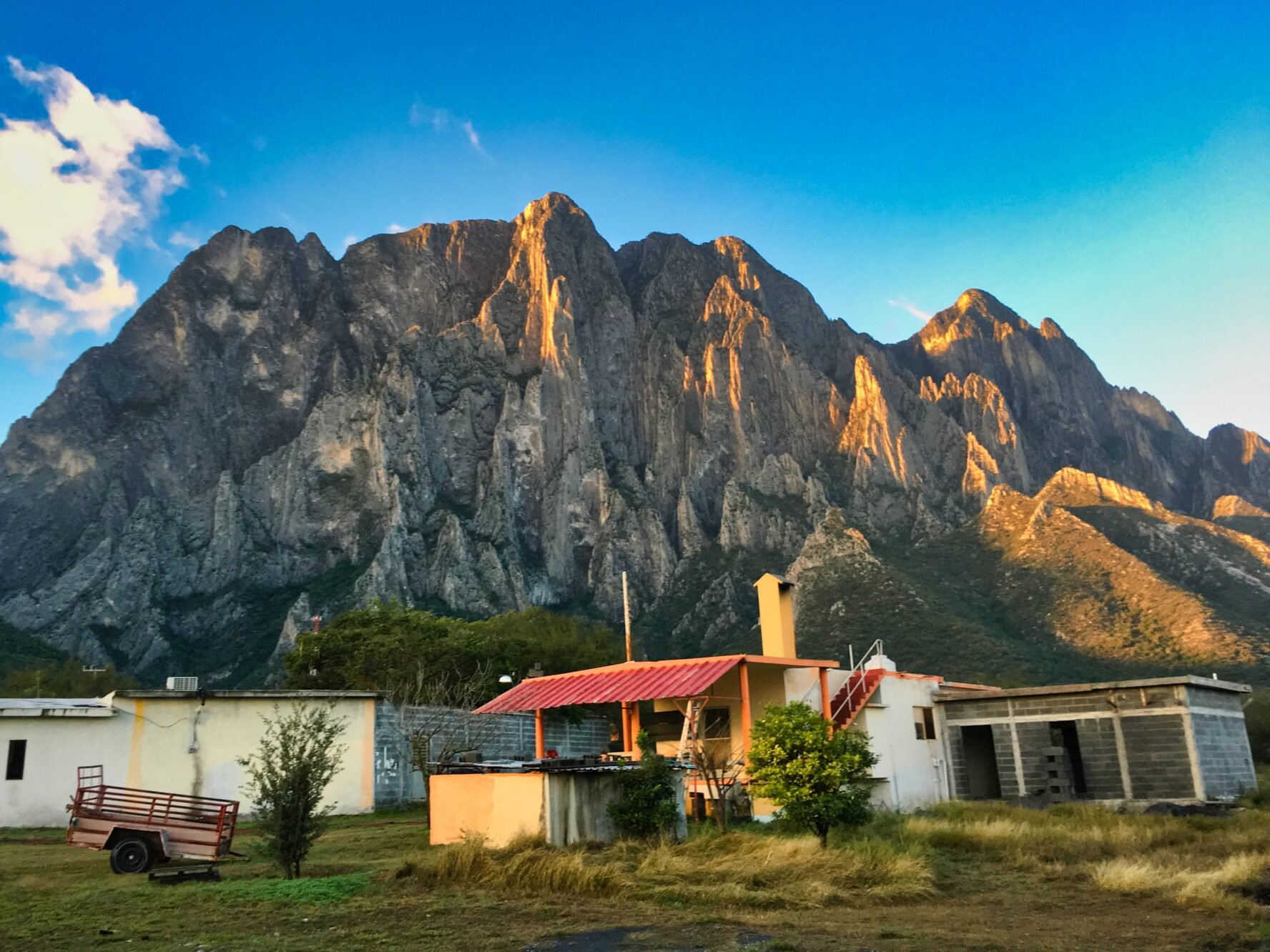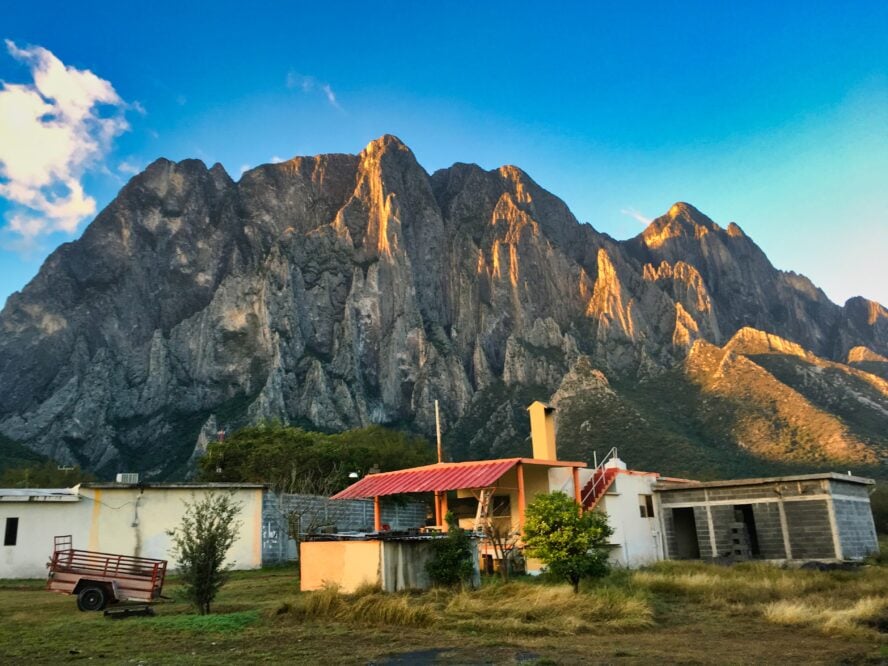 El Potrero Chico is heavily centered around the climbing community, which also interacts heavily and splendidly with the local residents of Hidalgo and because of this, many accommodations center around interacting with people from all over. For the less interpersonal (I often am one), there is also the house rental route, which I have done in the past with success. Though more expensive, sites like Airbnb offer the ability to rent entire houses for your stay and a more private experience if that is what you prefer. These individuals often offer rides to and from the airport as well, which is what I prefer, so I recommend finding a rental that also offers a ride via the owner.
For money, there is an ATM with a fairly cheap transfer fee ($5 per transaction with my bank) to get pesos via your bank account. It is next to the police station in town, so safe and easy. Many stores are beginning to accept debit cards, but it's still advisable to have pesos on hand, especially for the local grocery store and street markets.
Potrero Chico offers excellent winter climbing
So large is this corral of limestone (although there exist larger in the area), that it creates its own weather. Though located in the Chihuahuan Desert, it can indeed rain and be cold as with any mountain range, but its location in this generally arid landscape makes Potrero Chico climbing some of the best winter climbing in North America. Most folks will make the trek to this stellar climbing area in the winter, specifically November through March with December through February being the height of the climbing season. As with any mountain range with such extreme landscapes, be prepared for all weather! It is not entirely uncommon for it to be raining either inside or outside of Potrero, only to enter or exit and find it completely sunny on the other side!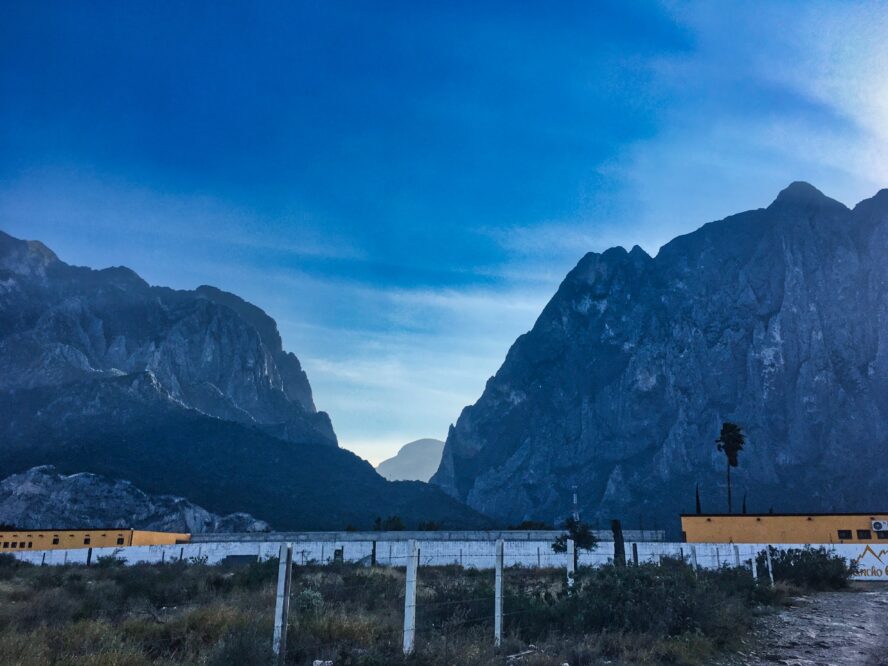 Gear for climbing in El Potrero
As with most limestone areas, climbing Potrero Chico means sport climbing. This means a great burden can be lifted from your shoulders in terms of gear that you plan to bring. For me, a typical week-long trip to Potrero involves the following:
40-50L bucket-style pack (Black Diamond Crag-40 or similar). Bear in mind that a 40L often fits in most overhead bins on planes.
Clothing for a week including a medium weight jacket and light puffy
Lightest running shoes you have (there are no real walk-offs, so you won't need beefy hiking boots or approach shoes) and a pair of flip-flops
2L water bladder (gets smaller as you drink it)
Harness and helmet (helmet is a must)
2 pairs of climbing shoes that edge well. One comfortable pair (TC Pro or equivalent) and one performance pair (I prefer the Muira or Katana). If you only bring one pair of shoes, I highly recommend the TC or similar, erring on the side of comfort.
70 meter rope. 9.2-9.5 diameter seems to be the sweet spot, in my opinion, to be light for longer routes, yet thick enough to survive the often sharp features and vegetation on the cliffs.
24 Quickdraws (can often be split with partners)
Your favorite assisted braking device for belaying and at least one rappel device (can be both nowadays)
Tent if not staying in a hostel, hotel or house rental. Cheap tents seem to be fine, but I prefer at least a nicer 3-season tent for the occasional rain event.
Your favorite coffee and snacks. The local markets have the basics, but in my experience, Cliff bars and anything other than instant coffee are a lot harder to come by.
Pick up a copy of Frank Madden's guidebook, EPC Climbing: A Climber's Guide to El Potrero Chico, which includes interactive trail maps, Frank's up-to-date beta, searchable lists and more.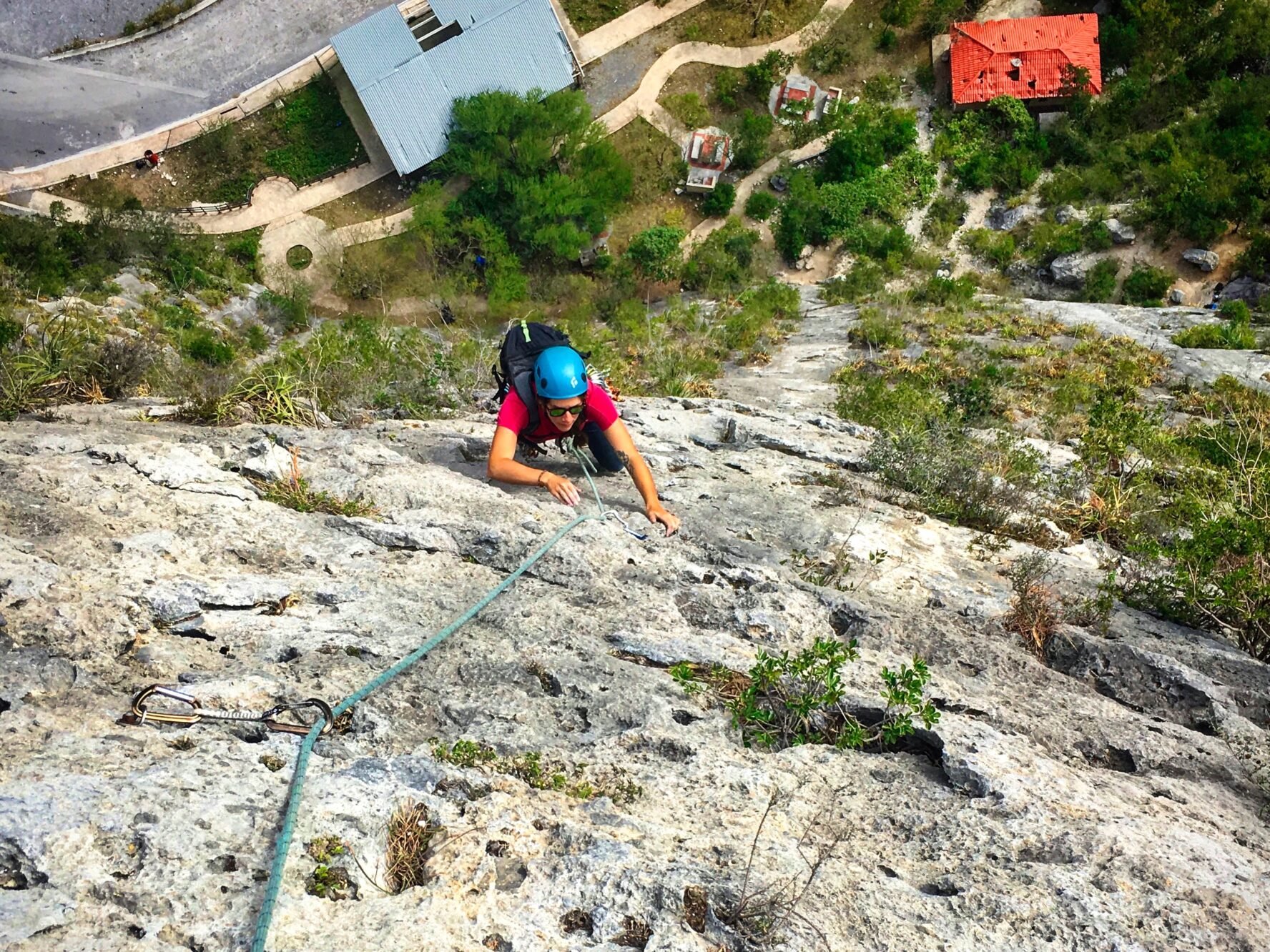 Start your Potrero Chico climbing at Mota Wall and Cat Wall
As with any new climbing destination, I prefer to start in an area that is both indicative of the style of climbing I will do, as well as "stacked" (climbs all close to one another with many grades). Few areas meet this criteria like the Mota Wall and Cat Wall. Both are multi and single pitch areas, but it's pretty easy to find moderate grades in the single pitch realm here.
I prefer to start on routes that are shorter, both for ease of mind and for efficiency of visiting as many routes as possible. There are generally shorter routes at Mota Wall around routes such as La Vaca (1st pitch) and Cactus Pile (1st pitch). It is not uncommon to climb the first pitch of many multi-pitch routes, but be considerate of your anchor configuration and consider the need for climbers from above needing to utilize your anchor. I often allow descending climbers to just rappel on my rope.
The Cat Wall is generally taller, but often more moderate in grading. The bolting style is not always as generous here, yet it is often a great way to get your head wrapped around the longer routes here. Located in Virgin Canyon, routes like Cat Daddy (5.9) and the Cat's Meow (5.8) are good routes to start with.
The classic multi-pitch routes of Potrero Chico
Once you have your feel for the rock, it's time to really experience what Potrero Chico has to offer; its classic multi-pitch adventures! I often take folks to the wall that started it all, La Selva (Jungle Wall). Routes like Jungle Mountaineering, Yankee Clipper, Black Cat Bone and Space Boys are all great lines. Remember that a single 70 is sufficient and you can turn around at any point.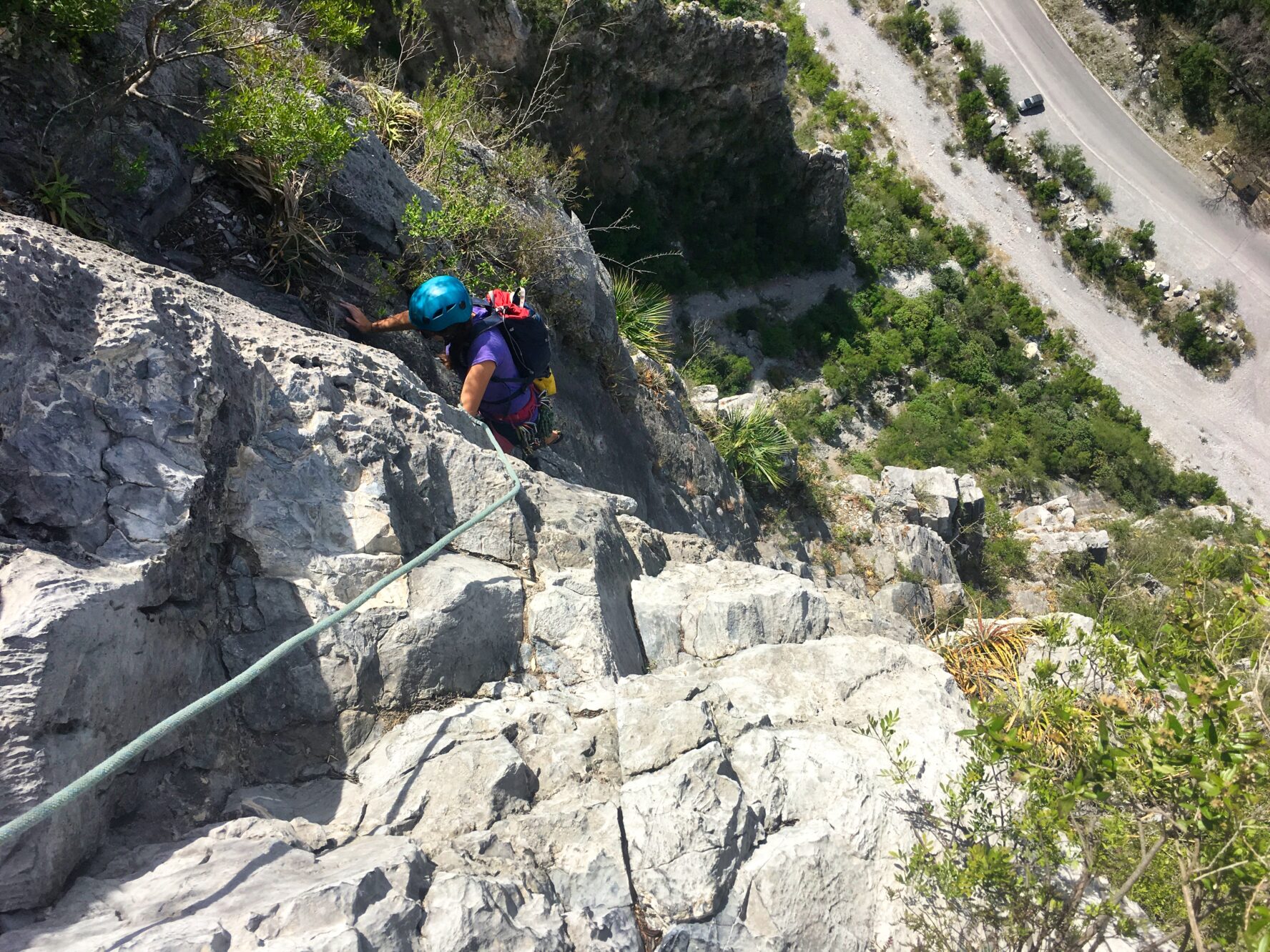 Though the routes are often graded harder, it is common to skip the final hard pitch of routes like Yankee Clipper (12a) and only climb the stellar 5.10 pitches below. You can descend whenever you feel it's convenient! Shorter multi-pitch lines (4 or fewer pitches) that are not to be missed are Aguja Celo Rey, Will the Wolf Survive, The Blacksmith and Cactus Pile
Oh, you want to get on longer routes? Some of my favorites are Treasure of the Sierra Madre, Pancho Villa Rides Again, Estrellita, Space Boys and Sendero Diablo. If you're looking to go really big and top out a feature like El Toro, Time Wave Zero is a storied route filled with adventure and a crux pitch that can be aided with minimal shenanigans. However, due to its increasing popularity, routes like La Sombra Luminosa or El Sendero Luminoso may be a better bet.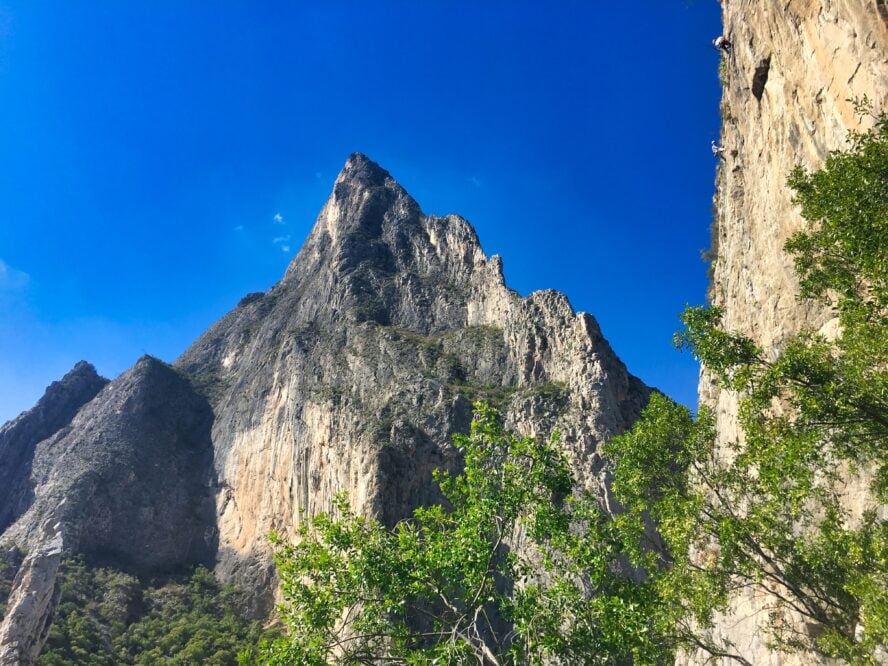 Steep single pitch on Outrage Wall
For your steep, single pitch days, I can't recommend Outrage Wall enough! Steep climbing with crimps for the harder routes and steep tufas for the 5.10-11 routes. An often friendly introduction to the limited steeper climbing here can be found on The Wave and routes in other areas such as Too Pumped Chump.
Refrain from simul-rapping
A note on descents and "simul-rappelling": I discourage it. With the recent death of my friend, Brad Gobright, and other dangerous accidents and fatalities, I cannot recommend enough the concept of pre-rigging. Not only do I always catch up to individuals who are simul-rapping, but I also am able to check both myself and my partner at the same time and ensure we have rigged our system properly. Instead of clipping into individual chains with your personal tethers, I highly recommend using a quad in the lowest level of the hardware and clipping into two strands of the quad, per person. This drastically reduces clutter at this significant transition point. I've posted about this on my Instagram as part of my #TechTipTuesday, and the School for International Expedition Training has a great video on the topic, watch Multi-Pitch Rappelling- Potentially Fatal Errors to Avoid.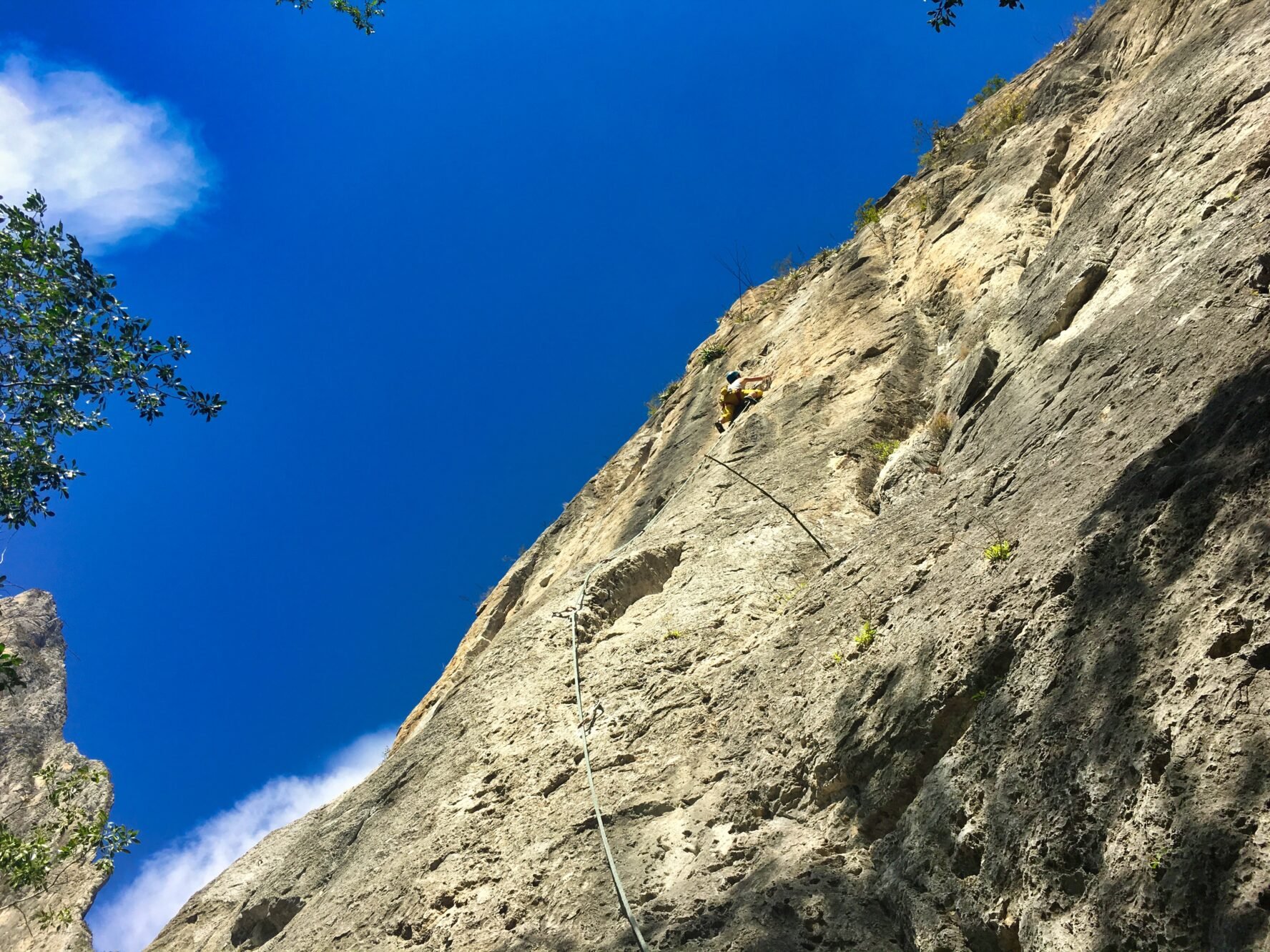 Rest days in El Potrero Chico
Rest day activities are some of my favorite in El Potrero Chico. Do not miss the Tuesday and Friday markets in Hidalgo. You will meet the local climbing community as well as the citizens of the surrounding community. It definitely helps to speak at least some Spanish. Not only that, it is the polite thing to do when visiting another country! On Sunday evenings, the entrance to Potrero lights up with young locals partying. It's not uncommon to hear the blaring sounds of Mariachi or Reggaeton while you are climbing on any given day, but especially Sunday. Embrace the vibe! This is Mexico!
After any post-climb, I am hard-pressed to pass up visiting Edgardo's Climbing Gear Trailer. A pro climber from Hidalgo, Edgardo sells some pretty cool, local merchandise and some of the best, strongest margaritas! You can usually find the mobile trailer set up outside Posada or in the entrance to Potrero.
In town, a spot not to miss is El Buho Cafe. This local coffee shop was started by some gringos from Boone, NC (the town of my alma mater), and is a great place to relax, drink good coffee and find out more about the community. There are too many great restaurants and out-of-home diners to count. Yes, many locals here serve food out of their homes and it is delicious! I cannot recommend enough walking around town and exploring what the town has to offer. The locals of Hidalgo benefit from climbers visiting, so please support the local community with your money. It is truly one of the friendliest communities of people I have ever met! Nearby, the town of El Salto has its own climbing scene and also has some hot springs! Ask at places like El Buho for more info.
Climbing ethics in El Potrero Chico
El Potrero Chico has really become an international climbing destination. It's one of my personal favorites due to its ease of access, friendly community, and abundant climbing. This has not come without great work from people both in the Nuevo Leon climbing community and gringo residents alike. Kurt "The General" Smith and Elaina Arenz really put the place on the map by the late '90s, but there were those before and since that have worked to care for this area. From its beginnings with climbers like Jackson, Alex Catlin, Kevin Gallagher, Hank Caylor, Tony Faucett, Rick Watson, Craig McCudden, Curtis Mai, Todd McCray, Ed Wright, Dane Bass, and a host of Austin climbers, to its current residents getting into the sport and caring for this place, it is incredibly important we take care when visiting.
There is a Potrero Chico Volunteer Rescue Team that is funded publicly by climbers. The easiest way to do your part is donate. Find Frank Madden, usually hanging out at Rancho El Sendero, and ask where you can donate to the ongoing rebolting effort. Visit the local cafes and restaurants. Interact with the locals. Learn Spanish! My personal practice is to donate $50, split between the rebolting efforts and the rescue team. If we all did this, we could make an incredible impact!
As with anywhere, it's important to practice the principles of Leave No Trace. Always carry a Wag Bag. Do not bury your poop or rely on dilapidated and under-maintained toilets in the park. Dogs are allowed, but please keep your pets on a leash at all times.
Remember, be culturally sensitive. This is not your hometown crag; this area has been the site of locals looking to escape their day-to-day lives for a lot longer than climbers have seen it as a destination. Embrace the loud music that inhabits the Potrero from time to time. It's really an exemplary part of Mexico rock climbing. Invite locals to climb with you! Let's help grow and foster a respectful and inclusive community. Can't wait to meet some of you down there next season!
Are you ready to take on the spectacular "Yosemite of Mexico"? Get the most out of this one-of-a-kind location on a guided day of climbing El Portero Chico's single and multi-pitches!