Rock Climbing in the World Famous Joshua Tree National Park
Joshua Tree has what every climber loves: dozens of epic routes just a few feet from your campsite.
If there was ever a location that seems pulled straight from a Dr. Seuss book, Joshua Tree National Park in southern California is it. Located in the Mojave, on a high desert plateau near the small towns of Joshua Tree and Twentynine Palms, JTree — as it is affectionately known to climbers — is a desert oasis of rock climbing. With history as rich as the climbing in Devil's Tower, viciously traditional ethics, a massive climbing culture and incredible landscapes, Joshua Tree rightfully earns its place as one of the premier climbing destinations in the US.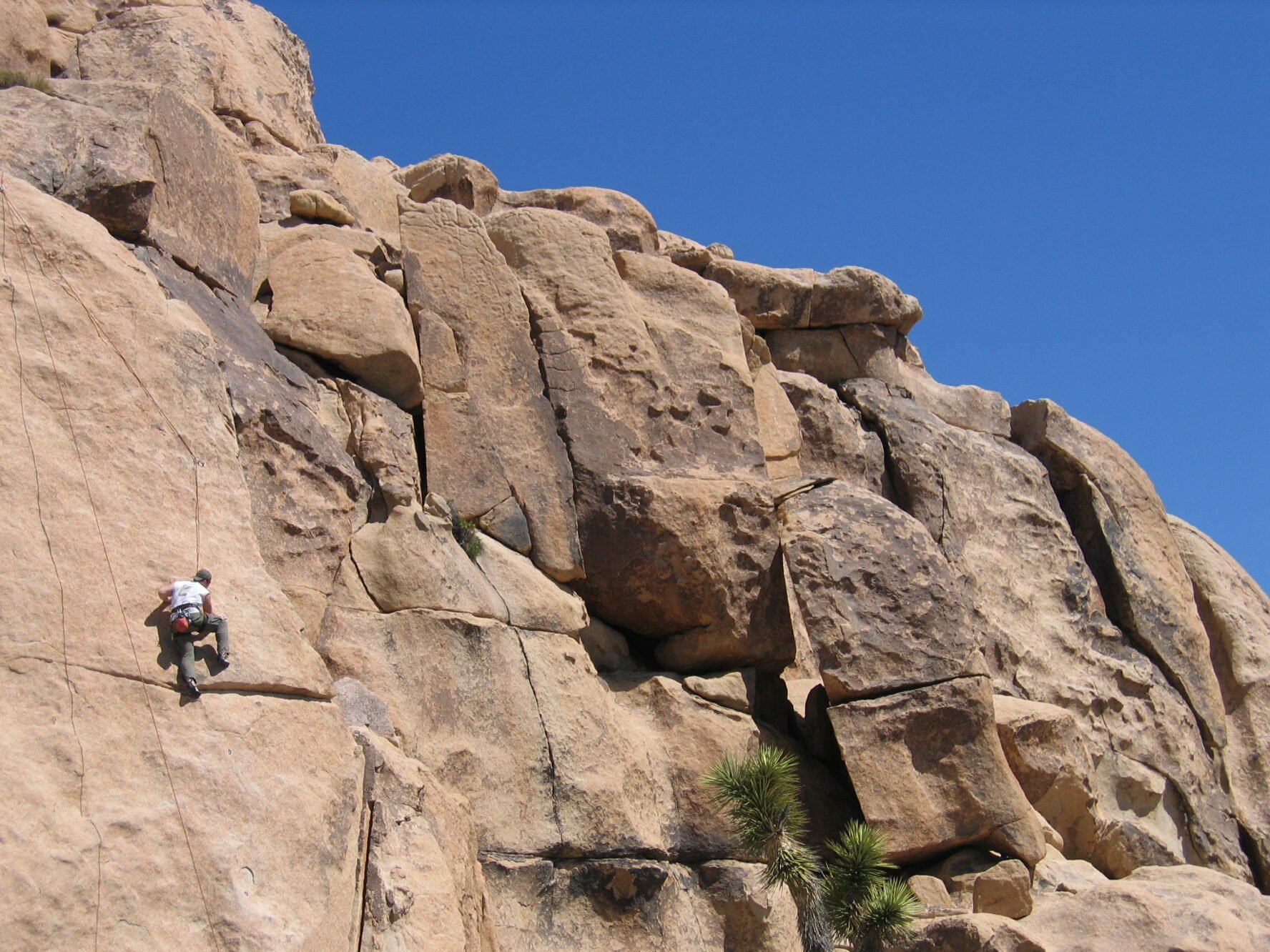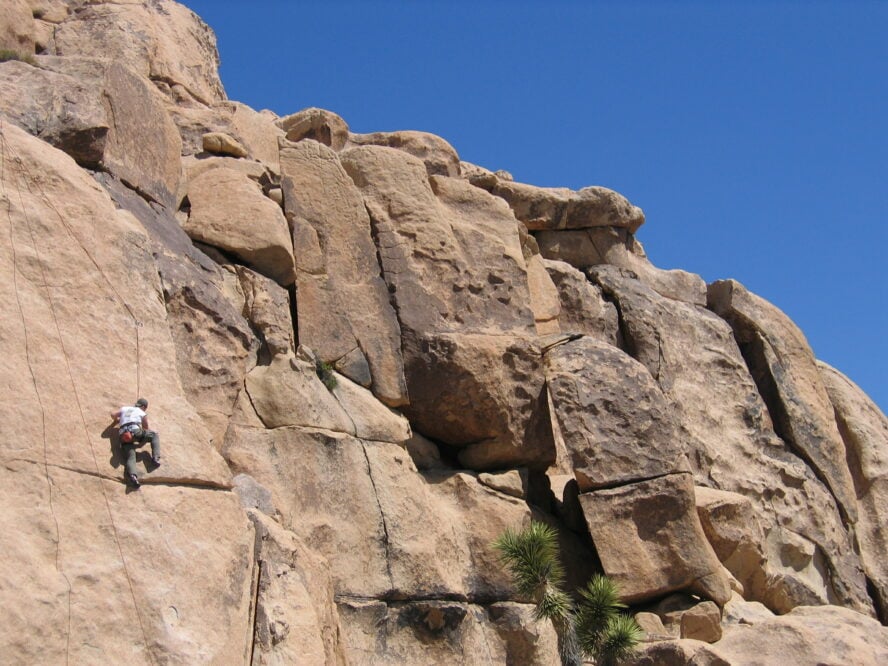 Pros and Cons of Climbing in Joshua Tree National Park
Short approaches and routes
Desert environment and rock type allows for dry climbing (even shortly after heavy rain)
Easy to find shade or sun with a very short walk
Most campgrounds allow for easy access to climbing without driving
The flaring and sparse nature of many cracks makes protecting difficult for more inexperienced climbers
Many classics require walk-offs that can be scarier than the routes
As a certified rock climbing guide, I love to mix up my time in different locations around the country, and it's during the late fall and early spring that I enjoy showing my guests new areas in Joshua Tree. This past March, I took the opportunity to take one of my guests, Kevin, on his first JTree trip and show him the magic that this place holds. Spoiler alert…it's not just about the climbing!
Which Joshua Tree campground is the best?
Any multi-day trip to Joshua Tree starts with nabbing a campsite. The popularity of the park has skyrocketed in recent years due to its incredibly Instagram-worthy aesthetic. It's a good idea for climbers to arrive on weekdays, and stay away from holidays, to secure more easily available campsites.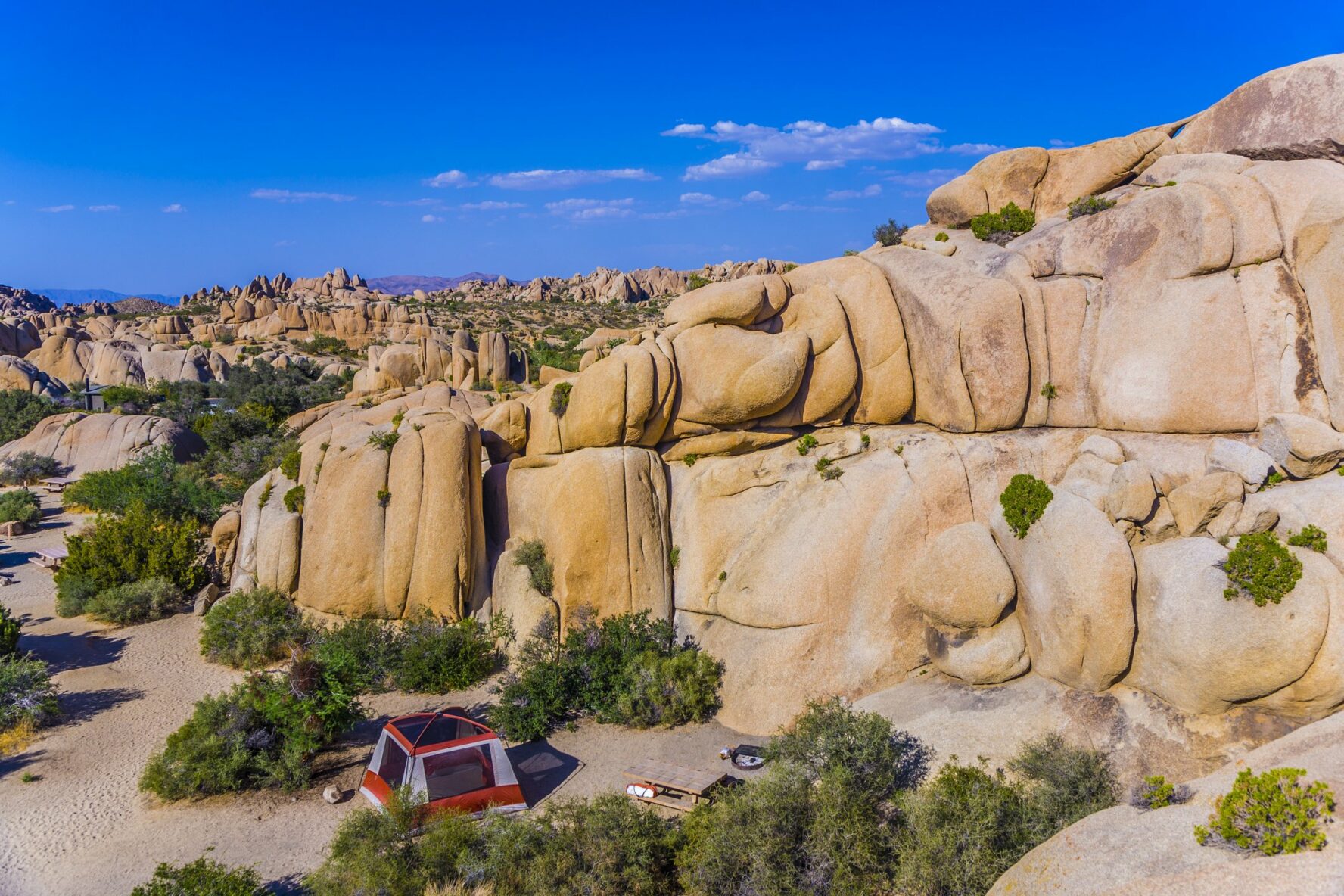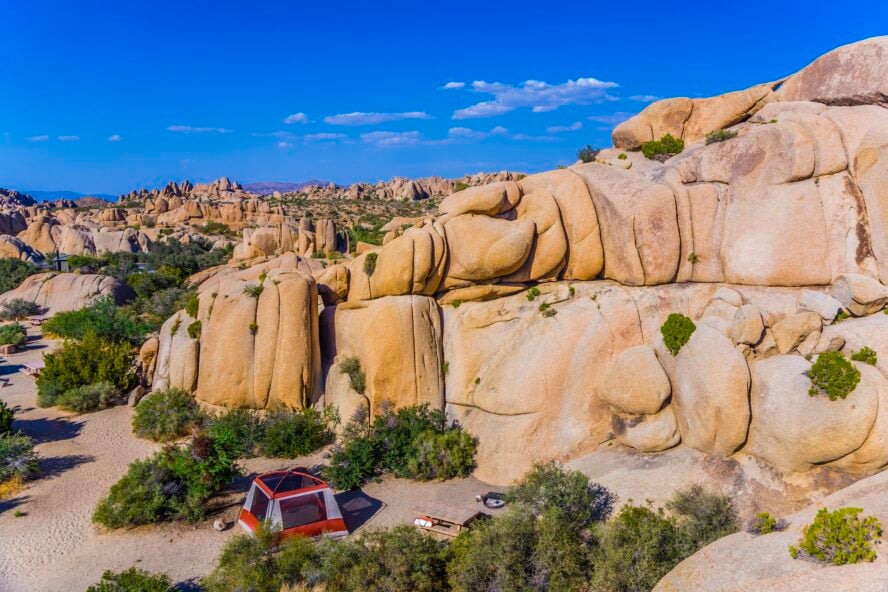 Once inside the park, head for
Hidden Valley Campground
, the quintessential climber camping spot. This is where the culture of JTree comes to life! Surrounded by formations — many of which you can climb within just a few steps from your tent — the campground also plays host to many evening activities, such as the Chasm of Doom, the King's Chair and the Space Station.
If Hidden Valley is full (which you can almost count on), and the two-car limit is maxing out all sites, the next best bet is
Ryan Campground
. Located only two miles from Hidden Valley, it's home to some other classic formations within the park, including the iconic Headstone. After Ryan, less frequented group sites and
Jumbo Rocks
(all reservation only) are the last options. Located in the Pinto Basin, which has spots for incredible climbing, these sites are a little more out of the way and driving is a necessity.
This year, luck would have it that Kevin and I drove into Hidden Valley to find Site 4 open! Site 4 is located at the hub of the loops around the campground, giving it equal access to all of the terrain in the area. We couldn't have asked for a better spot to set up camp for our four-day trip.
What type of rock is Joshua Tree?
Quartz monzonite is the kind of rock you'll find at Joshua Tree. We ended up with Joshua Tree's unique, blocky mounds due to a process that started roughly 2 billion years ago when the Pacific Plate subjected itself under the North American plate. This event forced an enormous magma chamber nearer to the surface which created monzogranite pluton, remnants of which we see today. Because of the varying densities of layers that comprise the rock, groundwater was able to seep into the cracking pluton, widening and rounding out the formations even more while the plate tectonic activity continued to push the layers to the surface. This is what gave us the notable formations that lend themselves to the unique styles of climbing we know and love!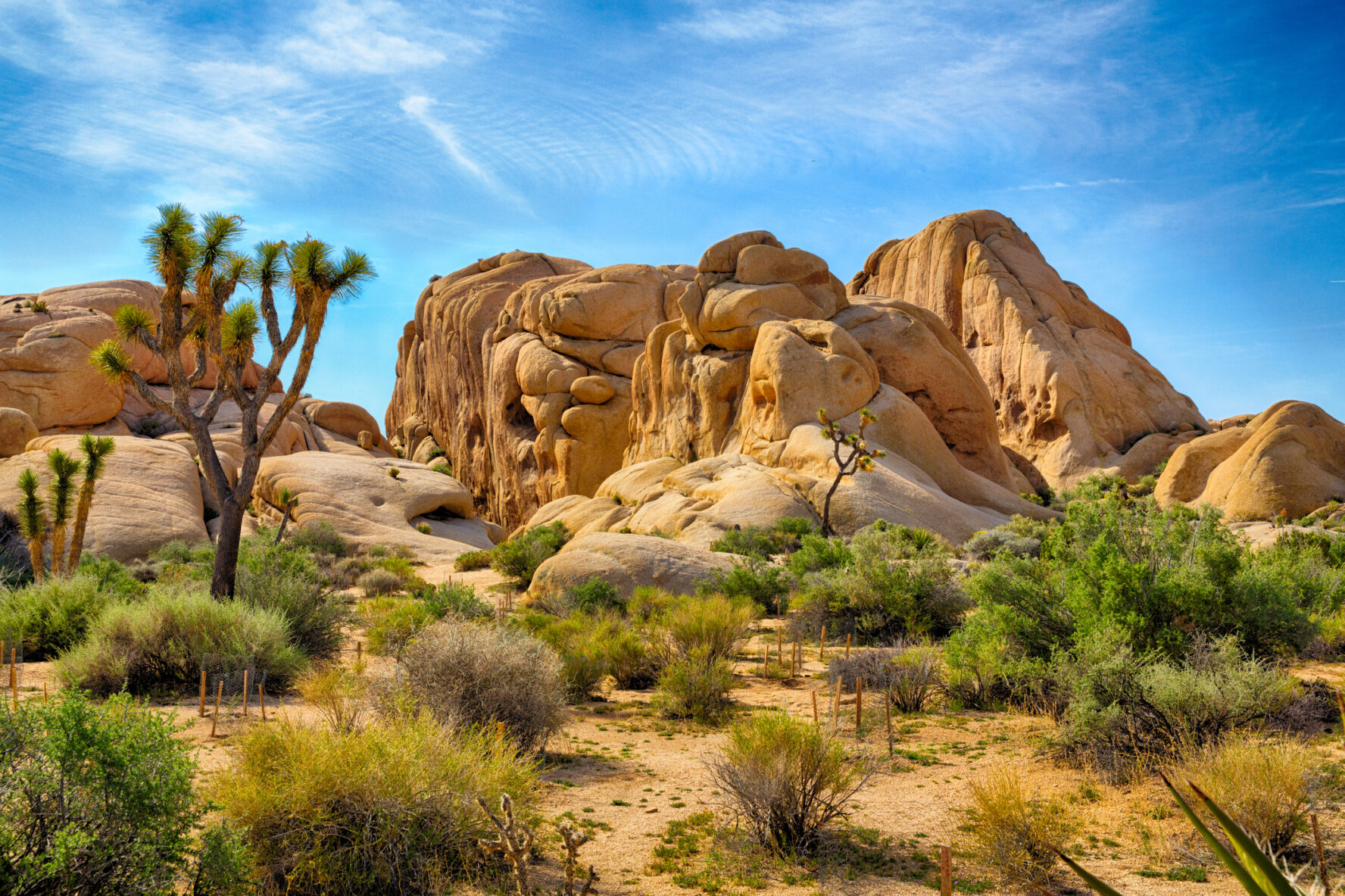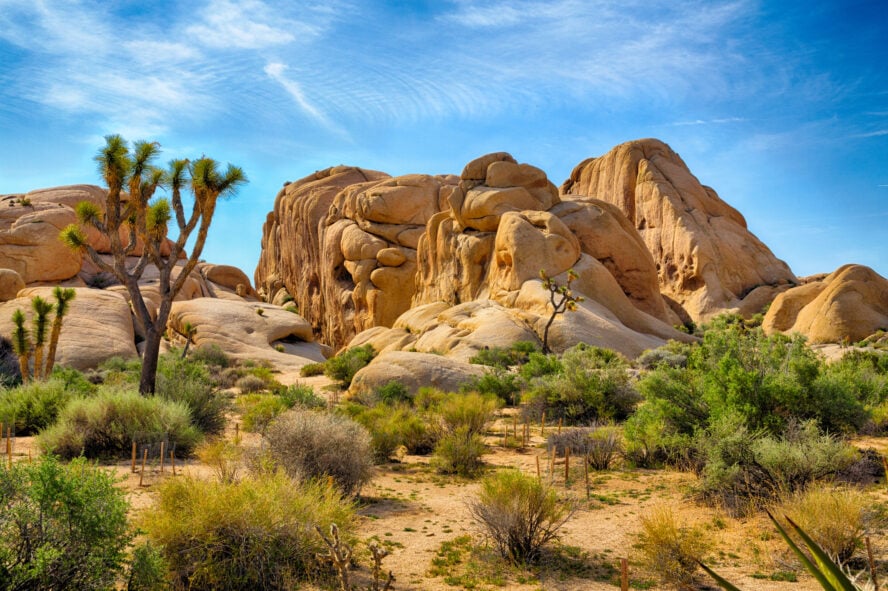 The best climbing routes in Joshua Tree
There are literally hundreds of climbing routes to tackle in JTree, each with its own merits. On day one, we sampled a handful of moderate and challenging routes, taking us from The Old Woman to the Overhang Bypass to The Blob and back to The Old Woman. You need to be mindful of the time of day and the direction of the sun to make sure that you get enough shade to stay safe. On the following days, we headed to the Real Hidden Valley, Hall of Horrors and the Geology Tour Road to try our hand at several other routes. These areas are a very small sample of what Joshua Tree has to offer, but they are the ones I recommend most for anyone looking to get out and explore. Almost all routes offer very well protected climbs with some convenience anchors or easy walk offs. To see a detailed view of the area and climbing routes, check out this
interactive climbing map of Joshua Tree National Park
from REI Co-op's Mountain Project.
Is there sport climbing in Joshua Tree?
Like the climbing in Red River Gorge, Joshua Tree is famous for its runouts and bold, traditional style. Its flaring cracks often look deep and parallel from a distance, but upon further inspection, one realizes their asymmetric nature. Protection can be had in these weaknesses, but only with some creativity and on open slabs; bolts were placed only where the leader could stop and hand drill a bolt. This means one should be VERY wary of any routes labeled as "sport" or even "sport-like."
As far as grades go, JTree can feel right on point with certain face climbs in areas like Indian Cove, but then feel completely perplexing on "crack" routes such as Pope's Crack (5.9) or Buissonier (5.7). One route, O'Kelley's Crack (5.11), begins with an in-your-face sequence that will have you screaming for the beautiful 5.10 splitter above. Once graded much lower, the FAs of routes like this believed the first 10-20ft of a route didn't count towards the grade, because you were effectively bouldering. This is often interesting because at an area like the Short Wall in the Real Hidden Valley area, routes can be as short as 30ft. With the disclaimer out of the way, I am happy to say that this is the exception in Joshua Tree, rather than the rule.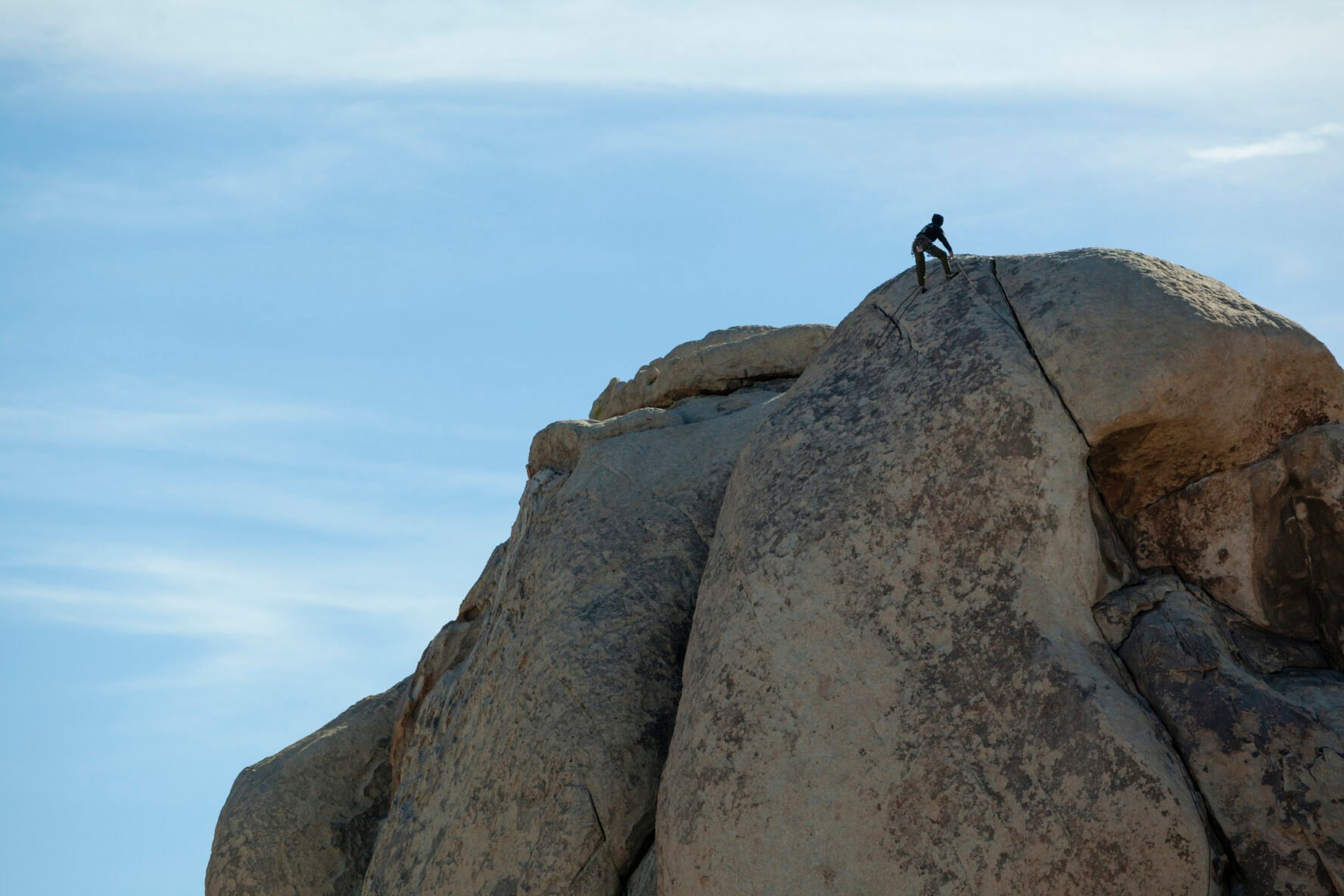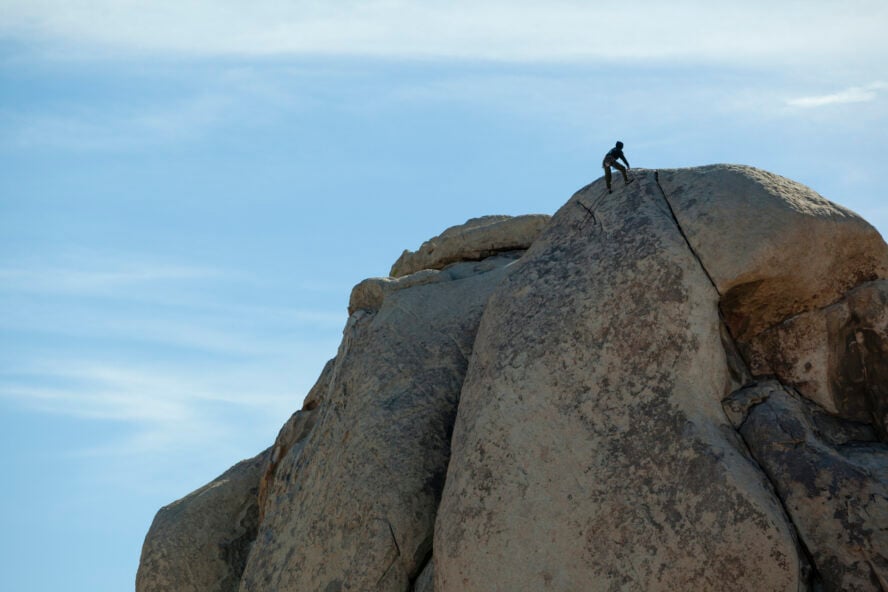 Toe Jam before breakfast
Before breakfast, Kevin and I began our day just a couple of sites over on a formation called The Old Woman on a route known as Toe Jam. We warm up with the mellow lie-backs and a somewhat flaring, but easily protected top-out crack where one makes the crux "toe jam," and then top out on a beautiful ledge with views of our next objective: Intersection Rock.
Climbing Overhang Bypass
Back at the site with rack still on, we grab some breakfast and more coffee and then make our way to a route called Overhang Bypass. One of the first routes you see driving up to the formation, this beautiful 2-pitch climb exits the huge hueco to the right on an overhanging, sloping jug rail to a short, bolt protected slab and then the summit. Rappel anchors on these previous routes facilitate a quick descent from the top, although this is not always the case. Kevin leads; I love getting my guests on the sharp end when skills provide. We head over to a route I know will challenge Kevin, but will keep him protected.
Continuing to The Bong
We head to The Blob formation and a route called The Bong — the name given to the sound of hammering in large angle pitons on a first ascent. At 5.5, and mostly a splitter crack with some flares to overcome in a bulge, this is a good route for someone who climbs a bit more than the grade and has some leading under their belt; it gives them a taste of the unique climbing found here in a more secure way. Without too much issue, Kevin made his way to the top, where no anchor could be found until he remembered the rope anchor around a boulder we had gone over on a previous trip. Now on top, we had to get down.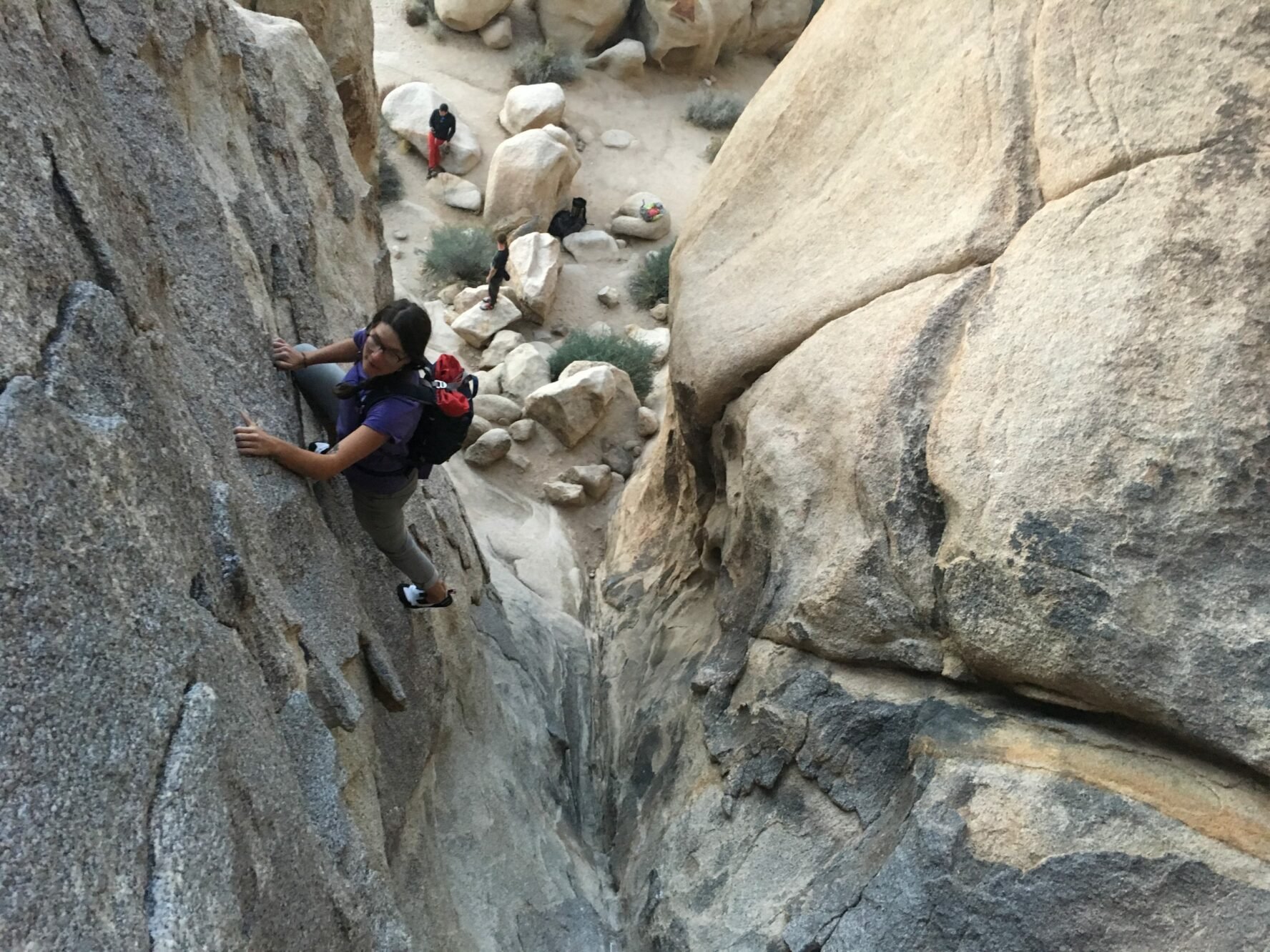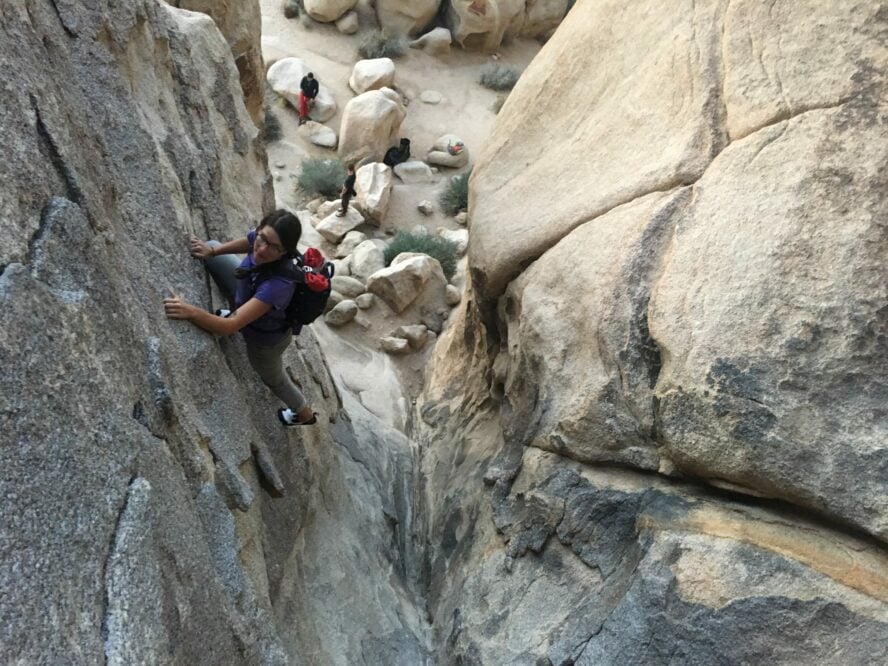 JTree does not always have a convenient rappel anchor or lower off. In this case, the down climb to the west was almost as hard as the climb. I put Kevin on a shortened rope and together, utilizing the terrain, we give each other running belays back to the ground. This was also the case on our next objective: Pinched Rib. It's still morning, but it's beginning to get a little warm this late in October with temperatures expected to reach the mid-80s, and Pinched Rib, a bolt protected face route up a quartz dyke, faces west.
Pinched Rib before lunch
It's now noon and this is our last chance on it for shade. At 5.10, this route has just enough bolts at the crackless lower portion to keep you off the ground, but they are far enough apart to keep your attention. It then tops out in a more mellow crack where it's much easier to lower your partner back to the ground. After that, there's a walk off to the south down a very exciting ramp, with a subsequent downclimb through a couple of cracks and scrub oaks. Be sure to read the descriptions on the way!
Chimney Rock and The Flu
Once completed, we find ourselves back at camp eating lunch, finally taking our harnesses off before a siesta. At 2:00, we head to The Flu on the east side of Chimney Rock, now in the shade. At 5.8, one may not expect the challenging, hard-to-read start that is unprotectable until you reach the main crack. At the top of this feature are chains that provide an easy lower off.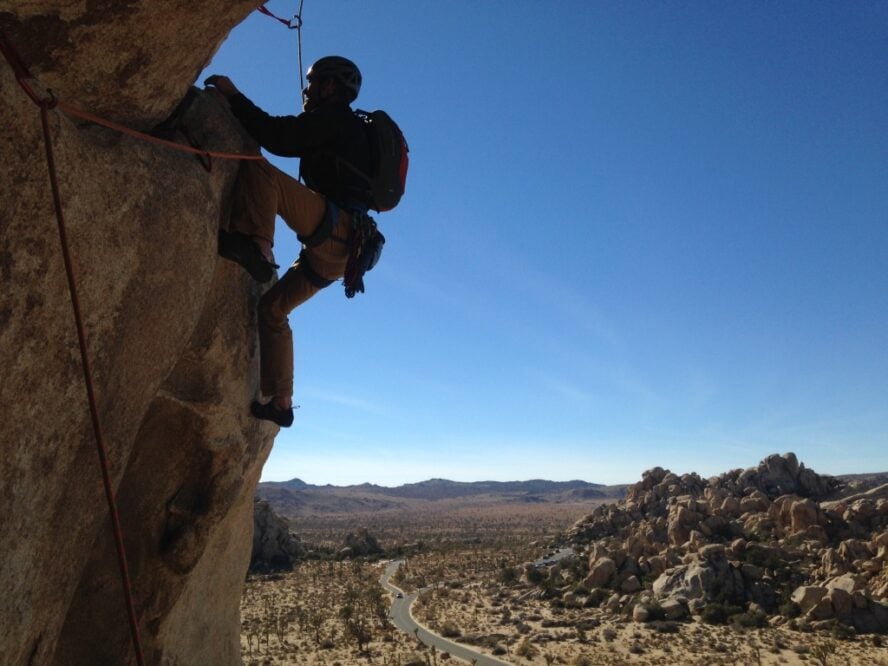 Lower Right Ski Track and The Double Cross
Now, it's time to up the ante a little, so we make our way back to Intersection Rock, this time on a route called Lower Right Ski Track. This incredibly fun and sustained corner tops out at a steep roof with a bolt protecting thin moves down low. I arrive at the bolt, clip it, explain the moves to Kevin, and when my foot slips unexpectedly, I receive a great, soft catch and exclaim how exciting that was! In my head, I thank the efforts of the unknown people and groups such as the
Friends of Joshua Tree
for replacing lots of the old hardware with modern, stainless steel.
Another couple of routes end up with us completing our day on the classic Double Cross, a beautiful 5.7 splitter on the west face of The Old Woman. After lowering off, it's time to wrap up our day and begin to plan our evening activities and climbs for the following day!
The Real Hidden Valley, Hall of Horrors and the Geology Tour Road
Arguably, this small circuit is just a sample of some moderate and more challenging routes. The following days we will visit The Real Hidden Valley and climb routes like Tumbling Rainbow, Fote Hog and Illusion Dweller. In Hall of Horrors and Oyster Bar, we sample Lazy Day, Exorcist, and Heart of Darkness. We hit up out-of-the-way areas down Geology Tour Road and climb a few routes including Perpetual Motion. In Split Rocks, the splitter cracks of Isles Corridor, Isles in the Sky, and Future Games wall keep us satiated.
The fun doesn't end when the sun goes down
When the sun sets, the fun is just beginning for many climbers in Joshua Tree; for me, it's a sunset visit to the Space Station or the King's Chair. The Space Station is a deep, large hueco situated above Campsite 2 and 3 in Hidden Valley Campground. It's reached by way of a chimney or an easier, but more exposed face to the left, followed by walking along a very exposed ramp and downclimb into the Space Station itself, located about 40ft off the ground. Kevin opted for a rope. You need to hurry, as it fills fast (although that's part of the fun). I have seen as many as 12 people cram in at once, but have heard rumors of up to 16! Kevin and I share the Space Station with four others and watch an incredible JTree sunset. Some choose to climb up the backside of the Cyclops or free solo The Eye to top out the formation, then downclimb to the King's Chair located above The Eye. A perch only 1.5ft wide and almost 100ft above the desert floor, it's a place only the ultra adventurous may dare to go.
When the sun sets, you may hear a call for the Chasm of Doom. This talus cave, located in the picnic area of the Real Hidden Valley Parking lot, involves squeezing, crawling, and the option for a King's Chair-like experience (if you know where to find it!). Some even go without a headlamp. Kevin and I take headlamps, but I encourage him to go without as I guide us through. Once we pop out of the other side, it's time for bed as we have another big day planned. But, a host of other shenanigans can be had if you ask around.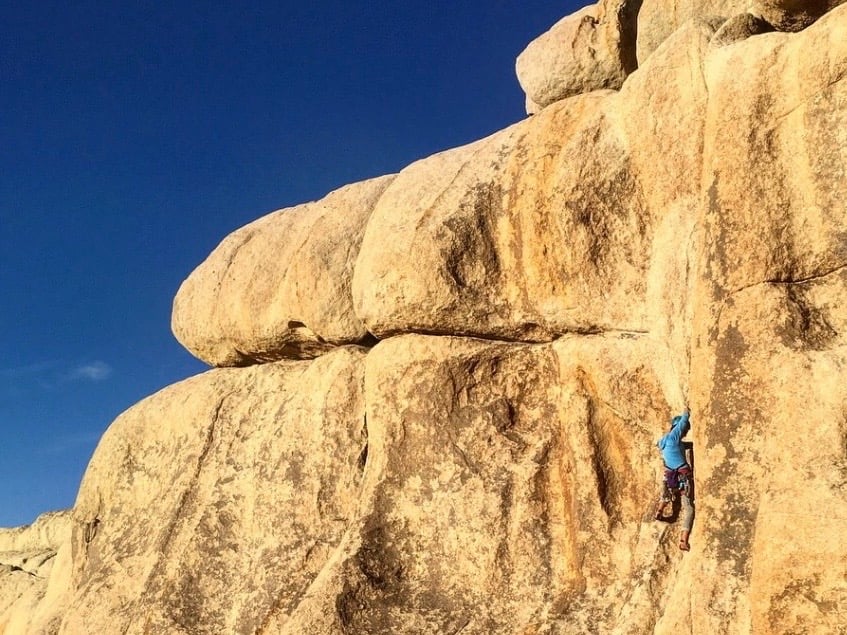 Good-to-know info for climbing in Joshua Tree
From where to eat in town to the best time to go and the guidebooks you should bring, here is some info that will make planning your climbing trip to Joshua Tree easier and your time there more fun.
What to do on rest days
If this is your first trip to Joshua Tree, you'll find that rest day activities can be just as fun as the climbing. I love to go scrambling around the Barker Dam area and explore the Wonderland of Rocks, an elaborate maze of formations and drainages. Don't get lost! A visit to
Keys Ranch
, a privately owned homestead in the center of the park provides an interesting human history of the area. You may also choose to explore the old mine areas spread throughout the park. Be careful about venturing too far into the few mines that are not closed up as these are very dangerous places.
Heading into town, there are a lot of dining options in Joshua Tree. My personal favorite is
Pie For The People
, a delicious pizza spot that's friendly to climbers. It's attached to one of the best coffee roasters in the southwestern US, the
Joshua Tree Coffee Company
, so be sure to grab a cup. For gear or last-minute needs,
Nomad Adventures
is the best gear shop in the area.
If you're willing to venture a little further down the road, head to Desert Hot Springs. Located in the Colorado Desert region, the
Desert Hot Springs Spa Hotel
is the perfect place to rejuvenate after a few days of climbing. It's worth the price of admission, and you can lounge in the man-made pools fed by natural hot springs. This is great for cold winter months!
When is the best time to climb in Joshua Tree?
Autumn and spring are the best times to climb in Joshua Tree, and winter's pretty good, too. The weather is more moderate than in the dead of summer, with temperatures being mild during the day and crisp at night. Every Halloween and usually in December, March and April, I make my way to this iconic area to explore the homogeneous, blank slabs, the cracks of all sizes ranging from flaring to splitter, and simply wander around the expansive desert and enjoy the day.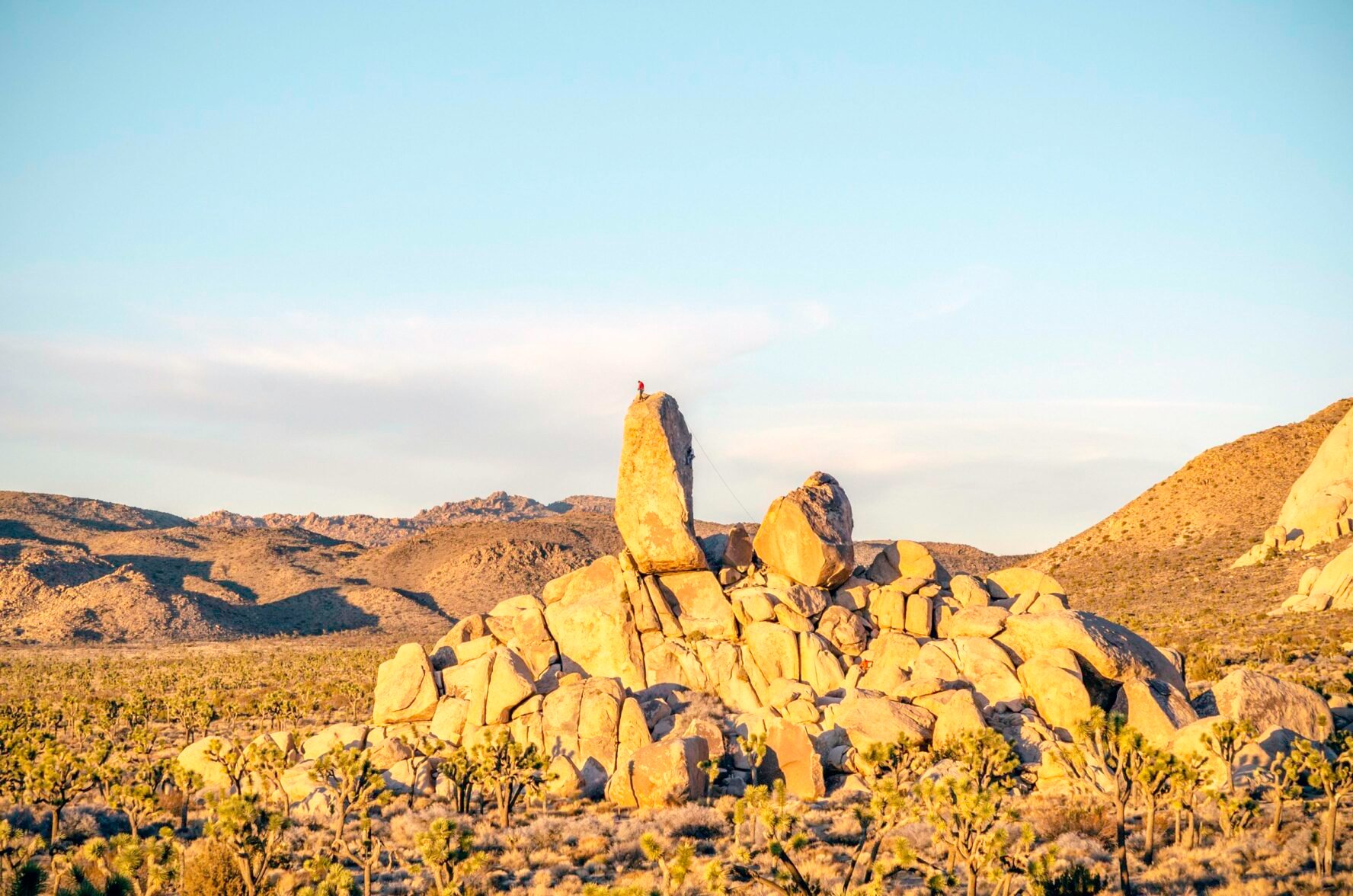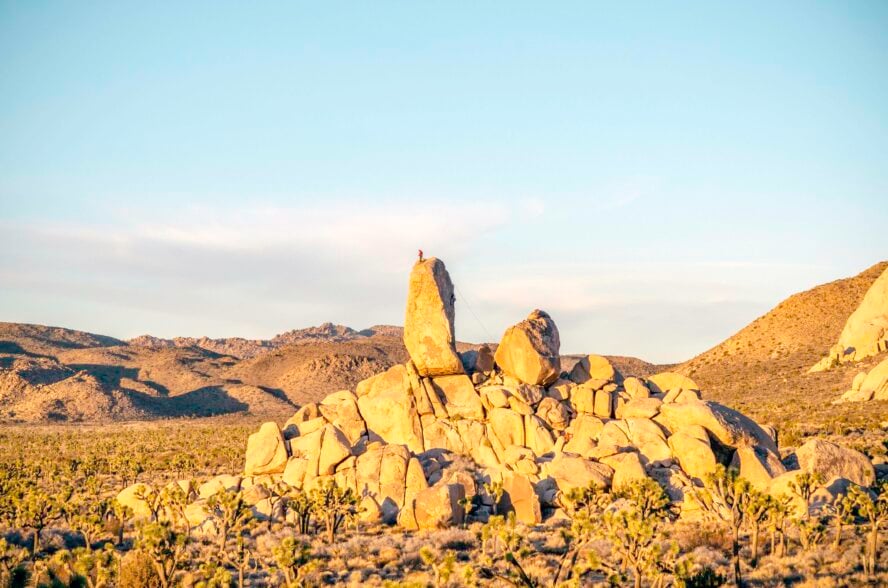 Who should visit?
Joshua Tree is truly for everyone! Are you a beginner? Head over to the Thin Wall in Real Hidden Valley or Trashcan Rock in Quail Springs. Walk ups are fairly straightforward, and there are a myriad of cracks for building anchors. A long piece of static rope is highly recommended! For sport climbs, Indian Cove has some of the heaviest concentrations. For a lot of moderates, the Hidden Valley and Real Hidden Valley areas, as well as Cap Rock, will provide the most. For challenging crack and face climbs, the Hemingway Area, as well as Split Rocks and Geology Tour Road, are very appealing. If you're looking to truly immerse yourself in the climbing community, Climb Smart is a yearly climbing festival that takes place in October and is put on by the
Friends of Joshua Tree
. It's worth checking out if you're planning a trip around that time. Because Joshua Tree is a fragile desert environment, all visitors should practice
Leave No Trace principles
.
Joshua Tree climbing guides recommended by 57hours
Hiring a guide to climb in Joshua Tree is truly the easiest way to experience the park as a professional will take you to the best spots catered to your abilities and desires. I certainly love to show folks around this amazing area while I'm there, but when I'm not, other reputable guide services in the area with certified guides and instructors include
Mojave Guides
,
The Climbing Life Guides
and
Vertical Adventures Rock Climbing School
. Whether you're looking for an intro to climbing class or a private gym-to-crag session, 57hours can put you in touch with a great local guide.
From my experience, the best guide books for the area are:
Getting to Joshua Tree
The most common way to get to the climbing spots is to drive in from the town of Joshua Tree, heading south on Park Blvd towards the park's entrance. While a guide and their guests do not have to pay the park entrance fee, it's $25 for a seven-day pass for all other visitors. I encourage folks to buy the
Interagency Pass
, which gets you into nearly all federal lands for $80, and it's good for a full calendar year.