Why Every Sport Climber Needs to Visit Smith Rock State Park
Known as the birthplace of American sport climbing, Smith Rock lives up to its hype. 1500 routes, 650 acres of land, year-round potential, and enough variety to last for years. That's just simple math. 
Boasting over 1500 climbing routes of varying length and style, on only 650 acres of land, Smith Rock packs a sunny punch. Perfectly positioned between the high semi-arid desert of Eastern Oregon and the temperate rainforest of the western half of the state, Smith has what every climber looks for: year-round climbing opportunities and very few rain days. Although longer routes abound on the 600-foot spires, most of the classic lines are single-pitch. The area also has major photo-op potential, with the volcanoes of the Cascade Range providing a striking backdrop of snow-capped peaks.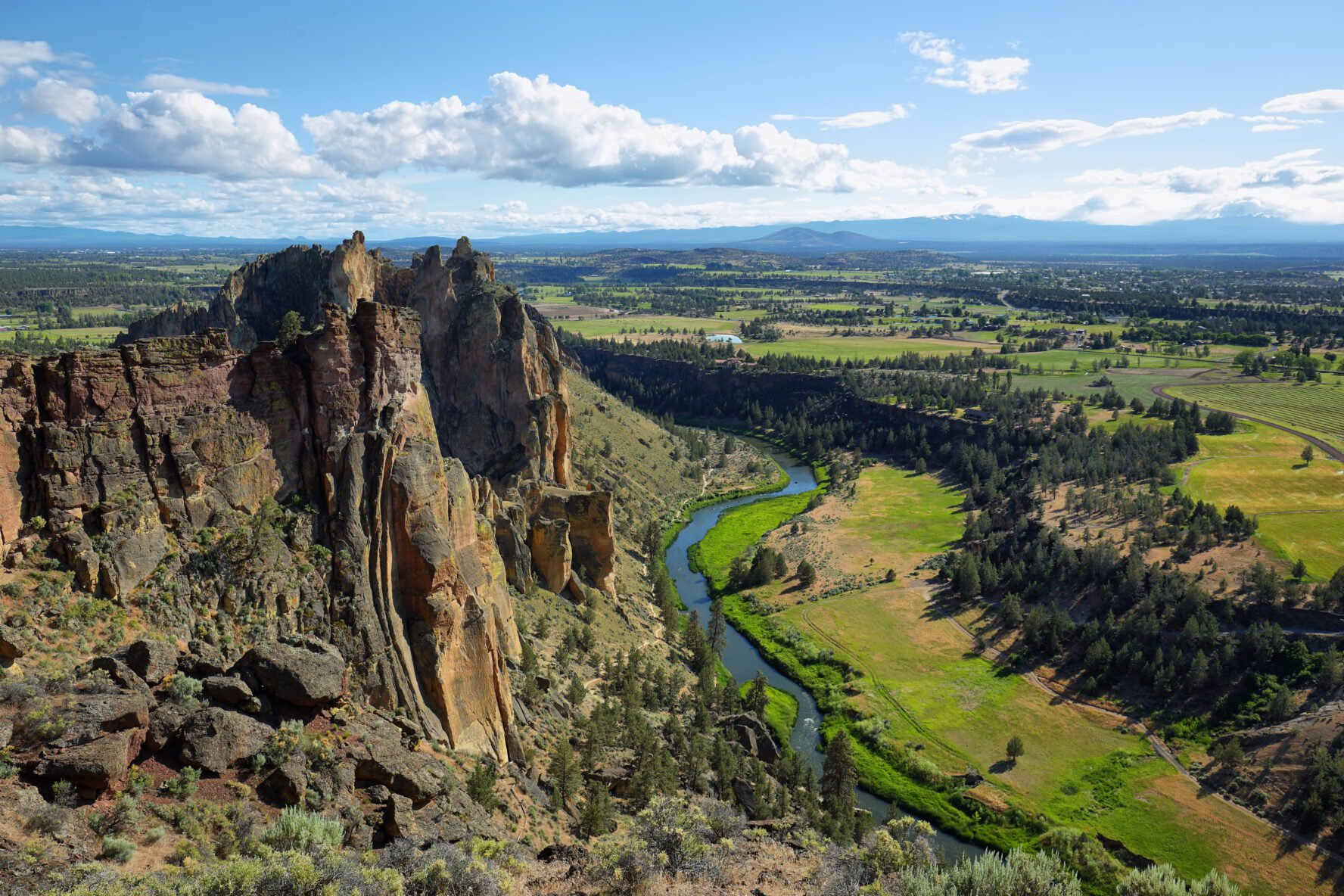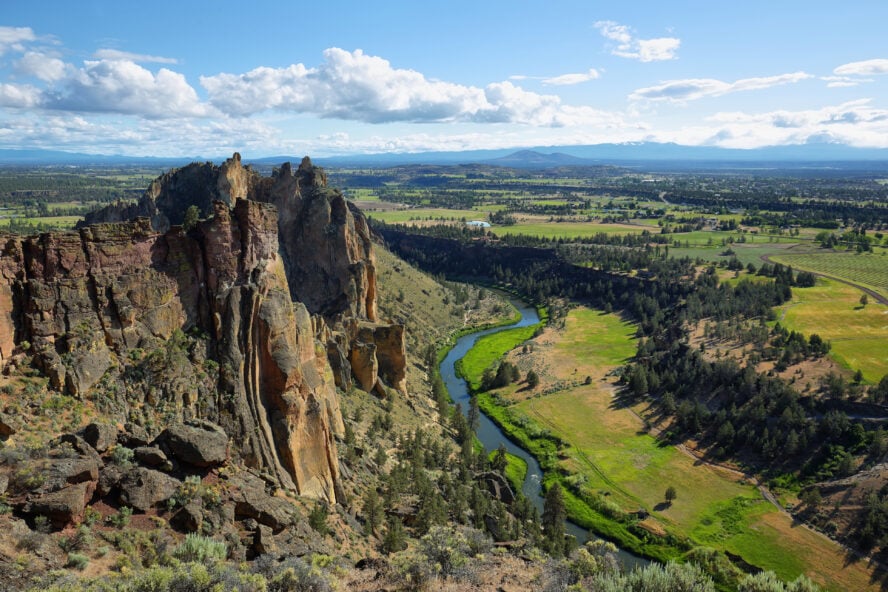 Pros and Cons of Sport Climbing in Smith Rock State Park
Potential for year-round climbing and less than 9 inches of rain per year
Diverse climbing, with lots of sport and trad options in both single and multi-pitch
Walk-in camping, including showers, just a few minutes hike from the climbing areas
Winter and summer temperatures can be extreme
Concentrated climbs can invite crowds
Potential for loose rock on the moderate routes
Smith is like a hidden fortress. When driving towards the park, its magic isn't revealed until you're parked on the plateau that overlooks its towering formations. The steep fins of volcanic tuff mimic walls of a mystic castle, guarded by a sparkling moat that creeps around its base. Blessed with countless sunny days typical of a high desert environment, Smith offers climbers a multitude of routes of varying length, style, difficulty, and even rock type! Just when you think you've seen it all, a hike around to the west side reveals Monkey Face — a 350-foot tower bearing an unmistakable resemblance to a smiling monkey.
"To say that Smith Rock became a worldwide destination because of the quality of the rock would be wrong," said local legend and guidebook author Alan Watts, but don't let that discourage you. Smith is widely known as the birthplace of American sport climbing — and its rich history, dozens of classic routes, and diversity of climbing will forever keep Smith on the global map of climbing destinations, and which is why it holds its place among the best climbing destinations in the U.S.
If that's not enough to entice you to climb in Smith Rock, add an inexpensive and convenient camping scene, plentiful rest day activities, and an active and friendly climbing community to round out your Smith experience.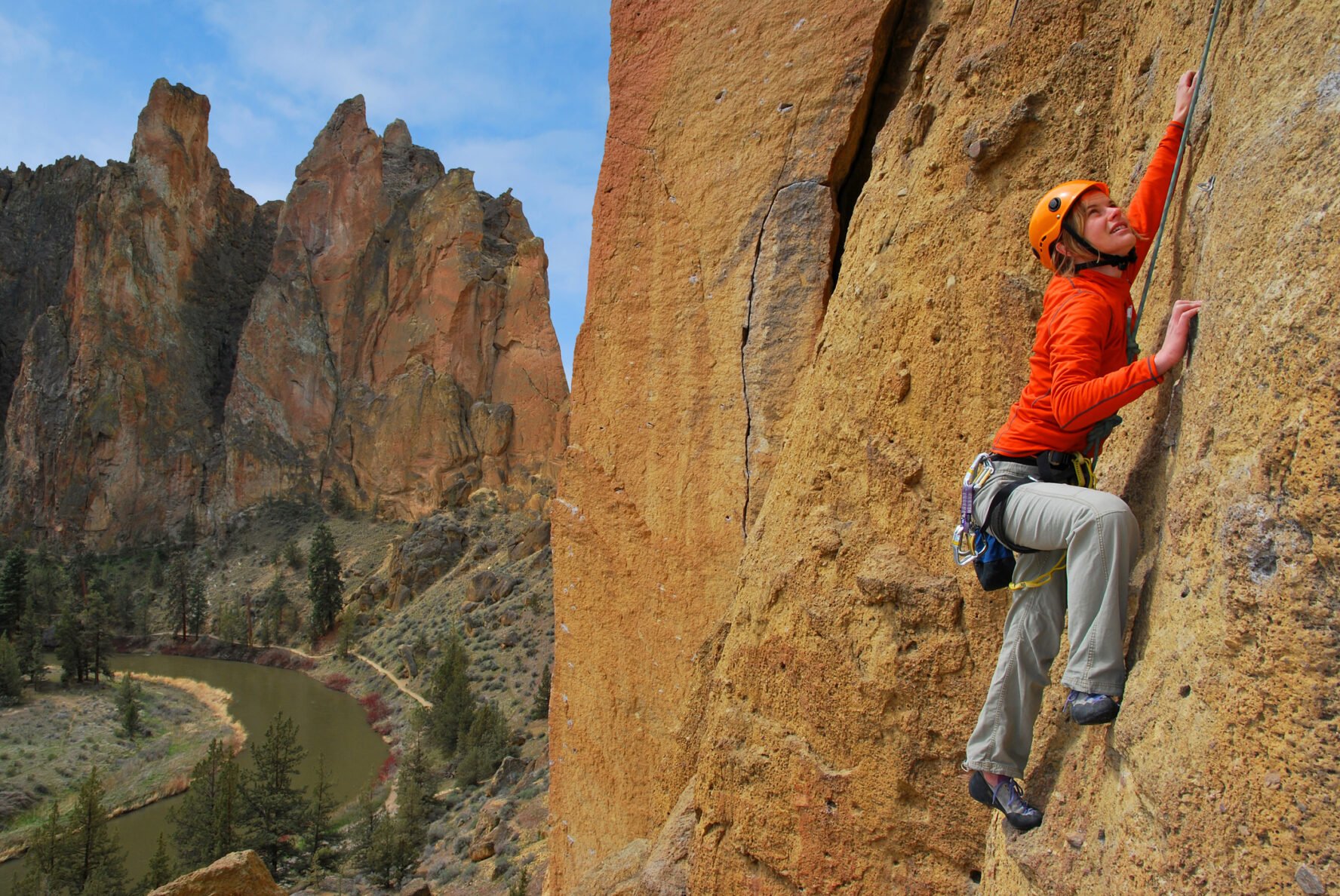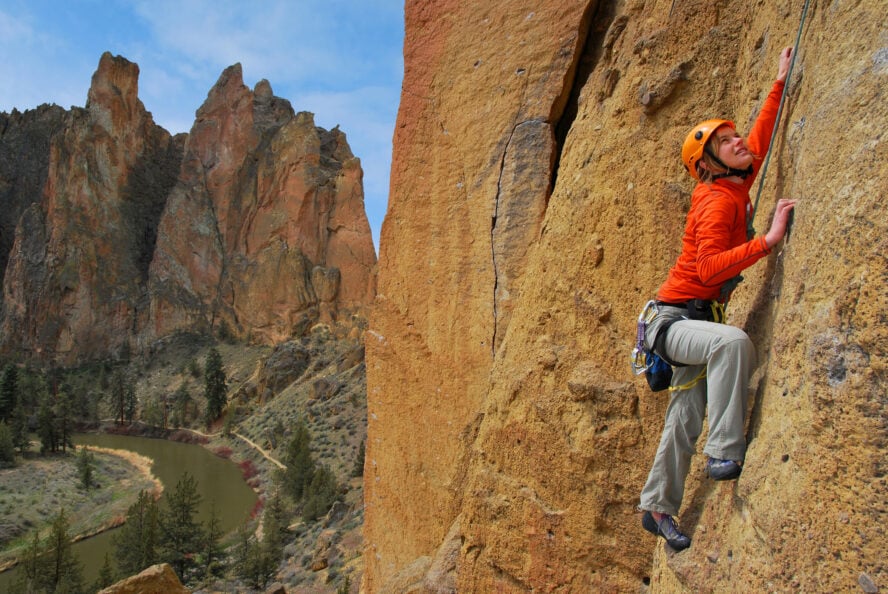 My climbing experience in Smith Rock
I had the fortune of climbing and leading trips here while based out of Portland, Oregon in the early 2000s. The stable weather at Smith was a welcome respite when the gray blanket of clouds started to pull over the western cities. It was a time when climbing was a huge part of my life, and I'd started to prioritize rock climbing over mountaineering and ice. Although I'd been climbing off and on for 15 years at that point, Smith never failed to offer the ideal challenge for my own skills, or a perfect smile-inducing adventure for clients. Its enticing walls and stellar climbing were a major component in my eventual focus on multi-pitch rock, and it was here that I discovered what a tremendous impact a fun moderate multi-pitch can have on a budding climber.
Where to access the best climbing routes?
Climbing routes in Smith Rock are generally accessed from the main trail that descends from the parking lot into the canyon, crosses the Crooked River, then branches west and east. To the west, the popular Morning Glory Wall, the Dihedrals area, and the Christian Brothers group are just minutes downstream. Following the Crooked River around, past the Smith Rock Group or popping through the exposed Asterisk Pass will bring you to the West Side Crags and the infamous Monkey Face, about 40 minutes from your car. Walking to the east (both before and after the bridge crossing) accesses the Red Wall, the Marsupials, and the basalt areas including Lower and Upper Gorge.
Information on the trail system can be found at SmithRock.com, including a detailed trail map that designates the most popular crags.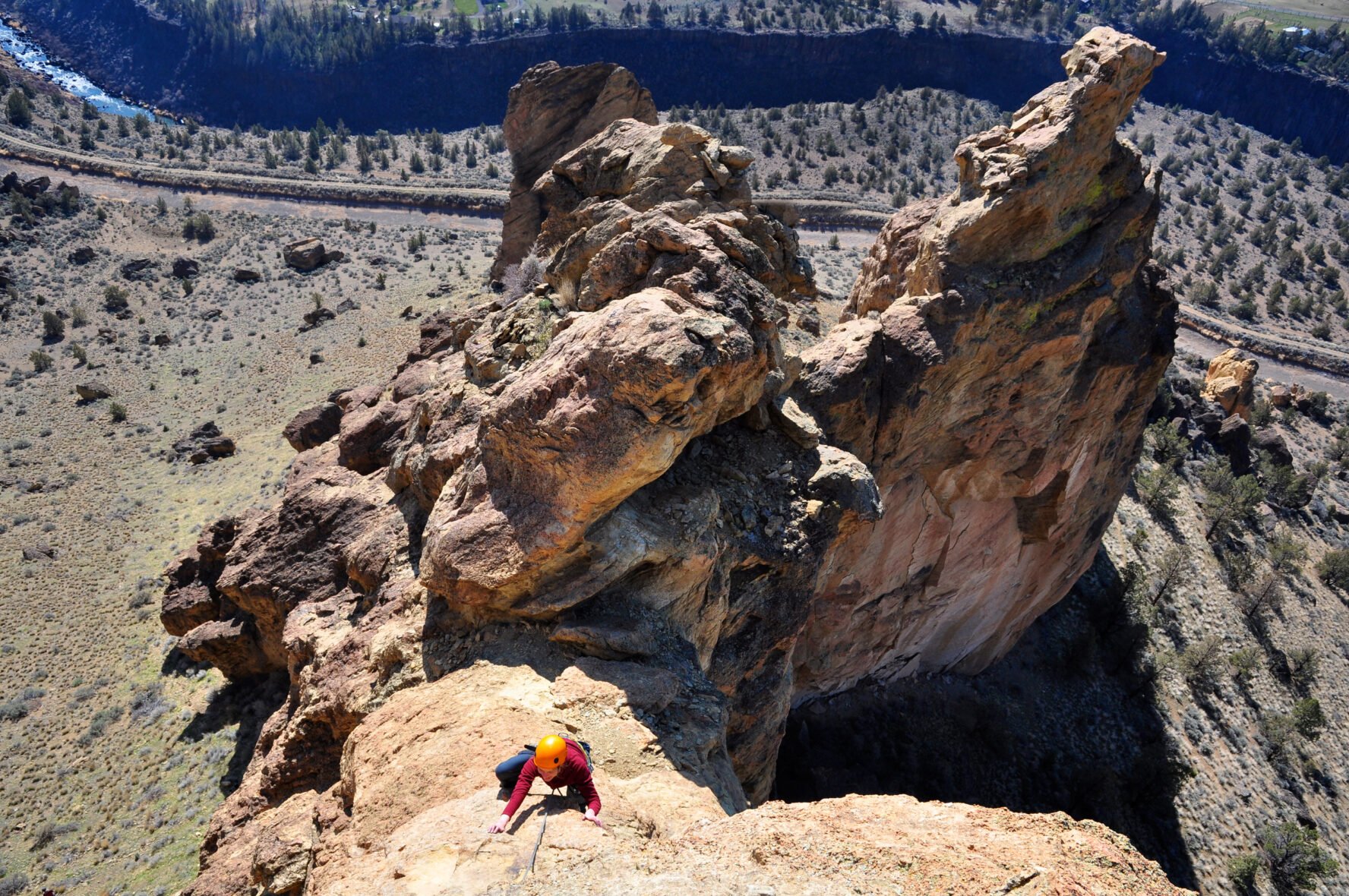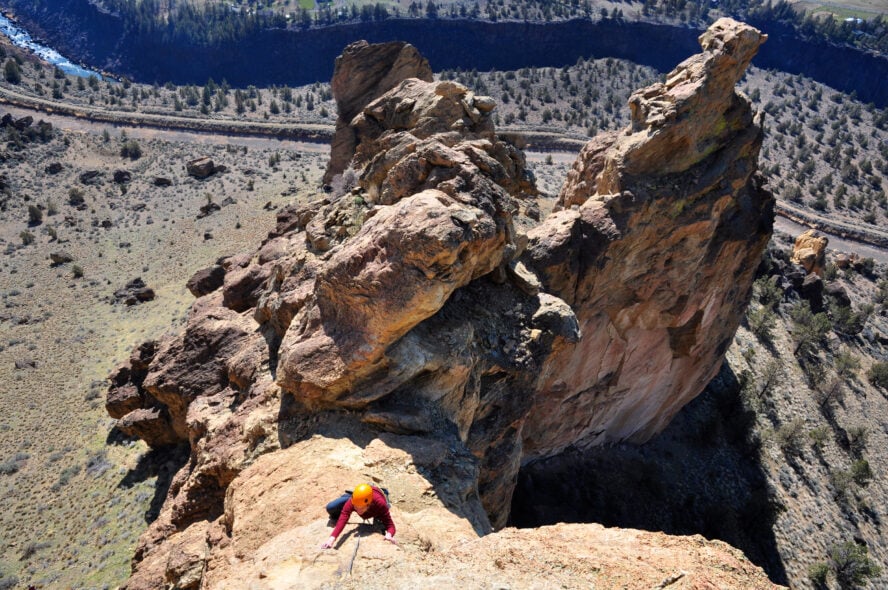 How Smith Rock was formed?
Before I talk about my favorite spots to climb, here's a little primer on how it all formed. In the neighborhood of 29 million years ago, magma that was rich in silica rose towards the surface near the present-day park. The gas pockets embedded in the magma created an immense volcanic eruption, eventually forming the Crooked River Caldera, which covers an area of over 20 miles. The eruption sent fragments of the magma into the air, where they solidified into volcanic ash and accumulated as thick deposits.
Wind, water and time created the shapes we see today, along with the knobs and pockets that give the tuff its climbable features. Some of the less knobby rock has an outer layer of "case hardening," created by a re-precipitation process between mineral oxides and water.
In addition to the volcanic tuff, Smith's diverse climbing includes basalt columns formed by a geologically younger eruption of lava that flowed down the valley of the Crooked River. While virtually side by side within the park, the two types of rock couldn't be more different — the columnar basalt entices you with perfect splitters and stemming corners on bulletproof stone.
A brief history of climbing in Smith Rock
Like many other climbing areas, a typical pattern of aid climbing giving way to free climbing prevailed in the 1970s. However, it was in the 1980s amidst a hotly-contested debate on the ethics of bolting that Smith garnered its place in climbing history. Thanks to pioneers like Alan Watts, Alan Lester, Brooke Sandahl, Jonny Woodward, and Kim Carrigan, the more traditional ground-up ethics transitioned to rappel-access bolted lines on the steep blank faces, and the vast untouched potential of sport climbing at Smith was unleashed. Some of these impressive early classics include:
1983: Chain Reaction (5.12c) — Alan Watts, a surprising ascent on an impossible arête
1985: Monkey Face, East Face (5.13c/d) — Alan Watts, hardest free climb in North America at the time
1986: To Bolt or Not to Be (5.14a) — Jean Baptiste Tribout, first 5.14 in the U.S.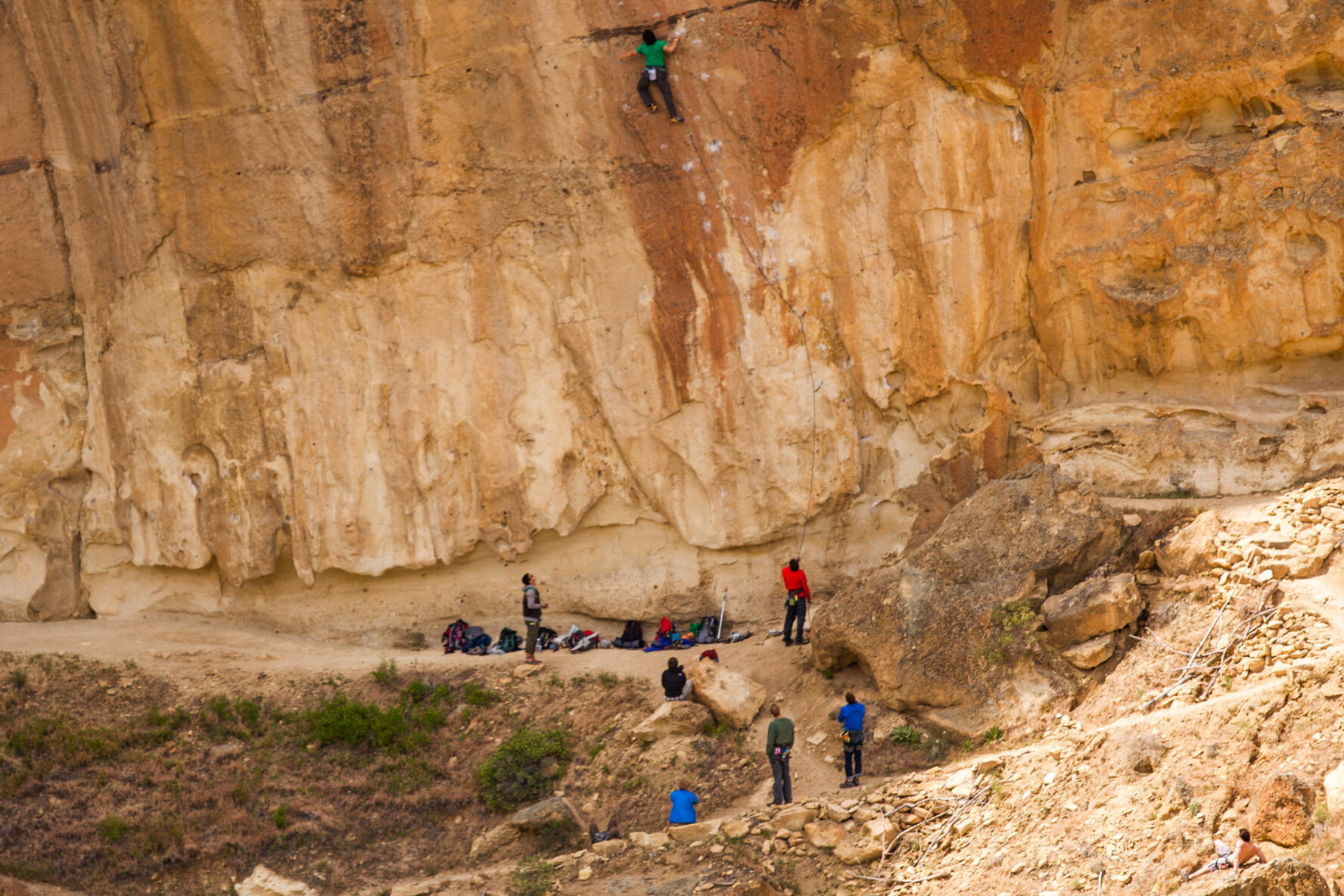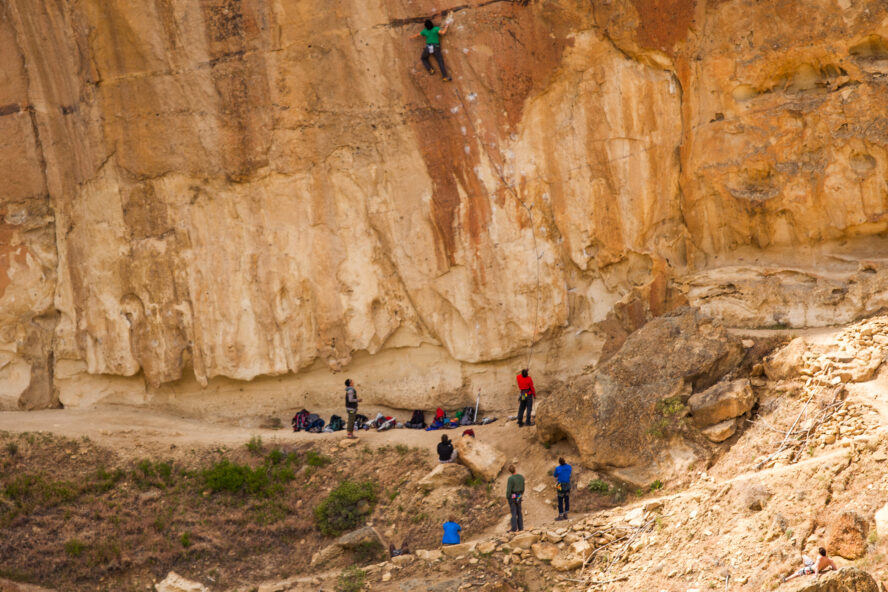 My Favorite Places to Climb in Smith Rock
Extensive development in the 90s and early 2000s has thankfully left climbers of all abilities with a wide range of routes to choose from, when climbing in Smith Rock. While a plethora of harder classic climbs at Smith exist, I'm going to focus mostly on routes 5.11- and below that I think you shouldn't miss, organized by general area:
1. Front Side Crags like Morning Glory, Dihedrals, Christian Brothers
These crags hold some of the best lines at Smith. I love this area because of its accessibility and sunny aspect; it's perfect for warming up on your way to another area, or cooling down in the afternoon. Be careful — it's easy to get sucked in and stay here all day!! Of course they can get crowded, but thankfully, there are plenty of high quality lines to go around.
Vomit Launch, 5.11b:
This single-pitch sport line always keeps me engaged with enticing moves, sustained climbing, and a pump worthy of its name!
5 Gallon Buckets, 5.8:
Arguably the most popular route at Smith, this enjoyable romp offers consistent 5.7/5.8 sport climbing through enormous huecos on the attractive Morning Glory Wall. It might take the cake as my favorite warm up, if you can elbow your way in!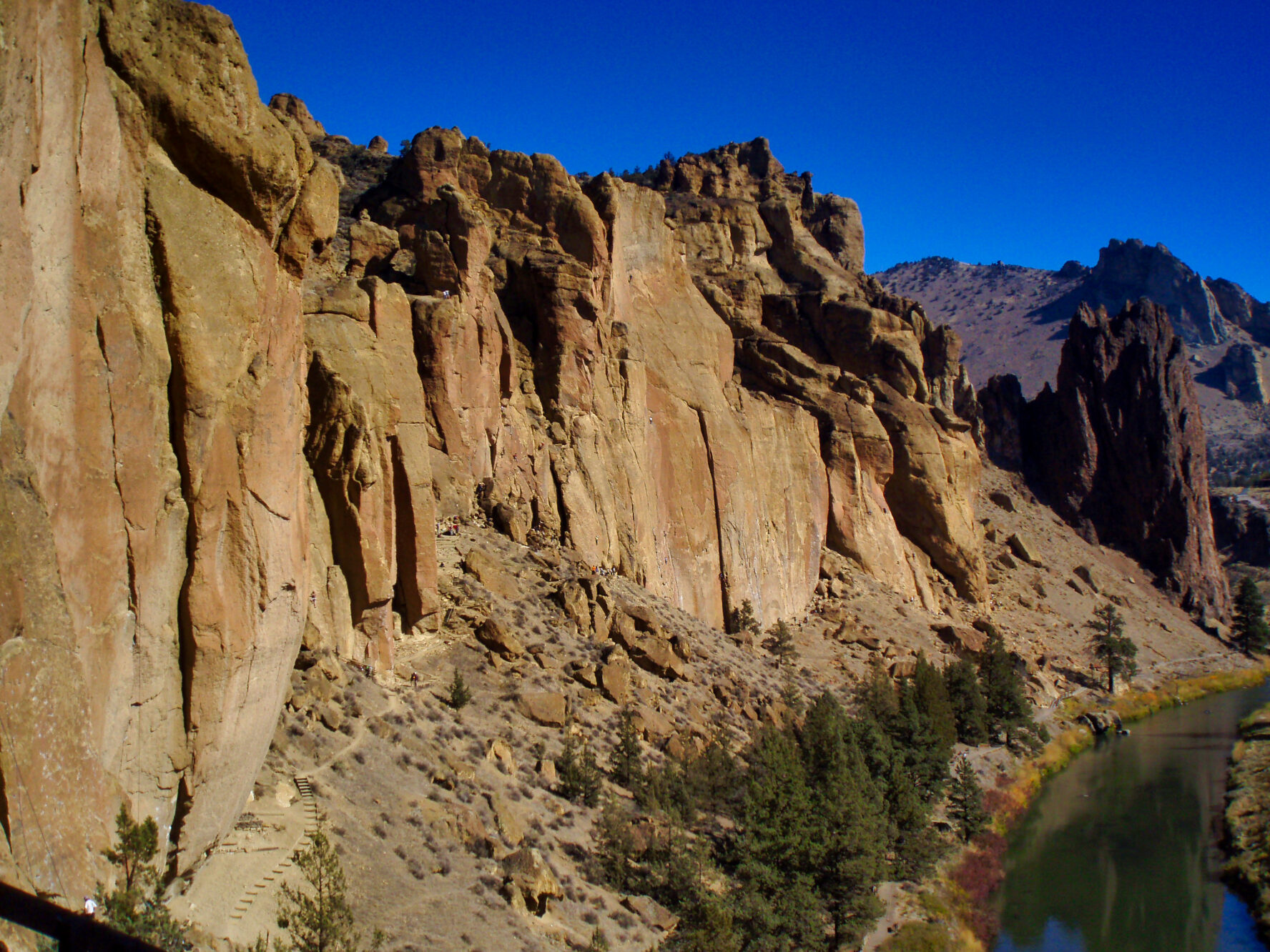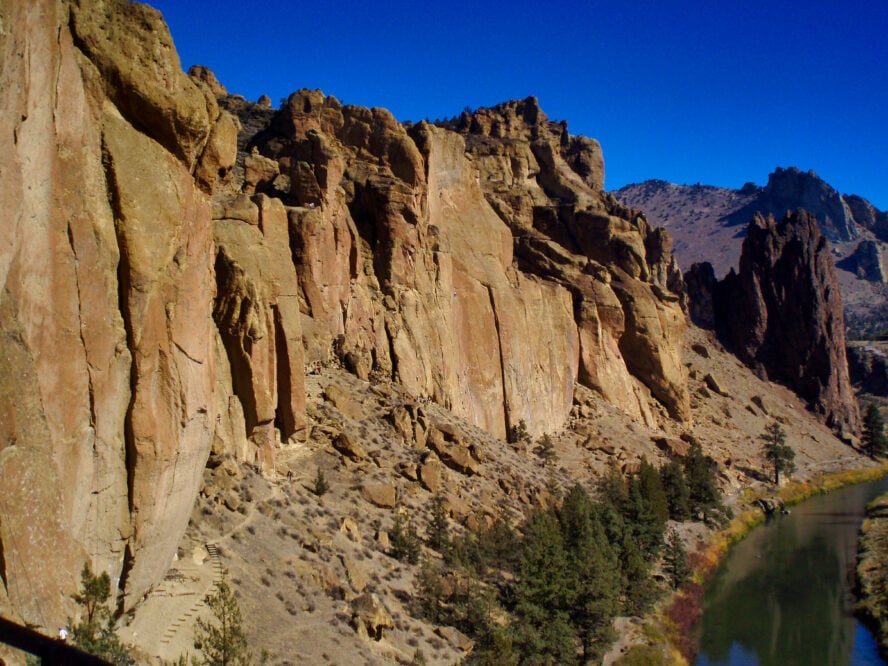 Zion, 5.10a/b
:
This four-pitch trad line brings you to an exposed position high on one of the tallest formations at Smith. A selection of first-pitch variations sends you up to one of the best 5.10 pitches in the park, and finishes with a gymnastic 5.9 flake pitch to the summit. I've probably climbed or guided this route more than any other — truly spectacular!
Moonshine Dihedral, 5.9
:
Excellent stemming and finger locks makes this two-pitch wonder a well-protected must-do. There is a bolted anchor at the top of the first and more classic pitch, but the second is worth doing.
Wartley's Revenge, 5.11a
:
If Moonshine was your warmup, this excellent trad climb should be next on your list. Fun climbing on good holds, a traverse, and changing corners section make this a well rounded excursion. I love this climb because of its diversity in movement!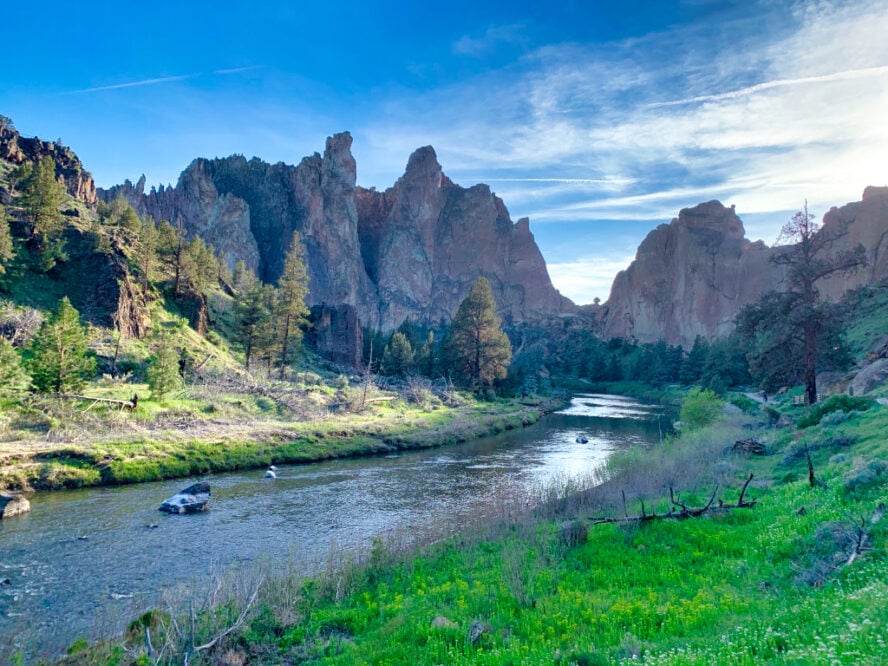 2. West Side Crags and don't forget Monkey Face
Well worth the hike, the west side is ideal for shade/sun aspect management and also to avoid a crowded day on the front side crags. Not to mention, the amazing Monkey Face tower is always on my tick list for one of the most unique summits — an absolute must!
Spiderman, 5.7
:
Three pitches of stellar 5.6 and 5.7 climbing that is varied in size and style– hand and finger cracks and an improbable roof cap it all off! This is one of my first picks for a moderate trad climb.
Moons of Pluto, 5.10d
:
A delicate, balancey, pocket-and-nubbin adventure up an inviting arête. This climb keeps me dancing on my toes all the way through!
Monkey Space, 5.11b
:
This variation to the also-classic Pioneer Route is the most common way to climb Monkey Face without aid gear. When paired with the Pioneer Route access, the total pitch count is 3 — however there are multiple ways to access the climb. I enjoy the exciting moves on this well-bolted variation, especially the exposure up to the summit!
Pioneer Route, 5.7 C0
:
The first line up Monkey Face, this historic route climbs up the southeast face and into the notch between Monkey Face and the main wall, and then ascends the west face via a bolt ladder. The second to last pitch including the infamous "Panic Point" keeps the pucker factor high despite the moderate grade. With a little training on basic aid climbing, the bolt ladder can be an exciting prospect for a client interested in introductory aid, or a climber ready for the next step.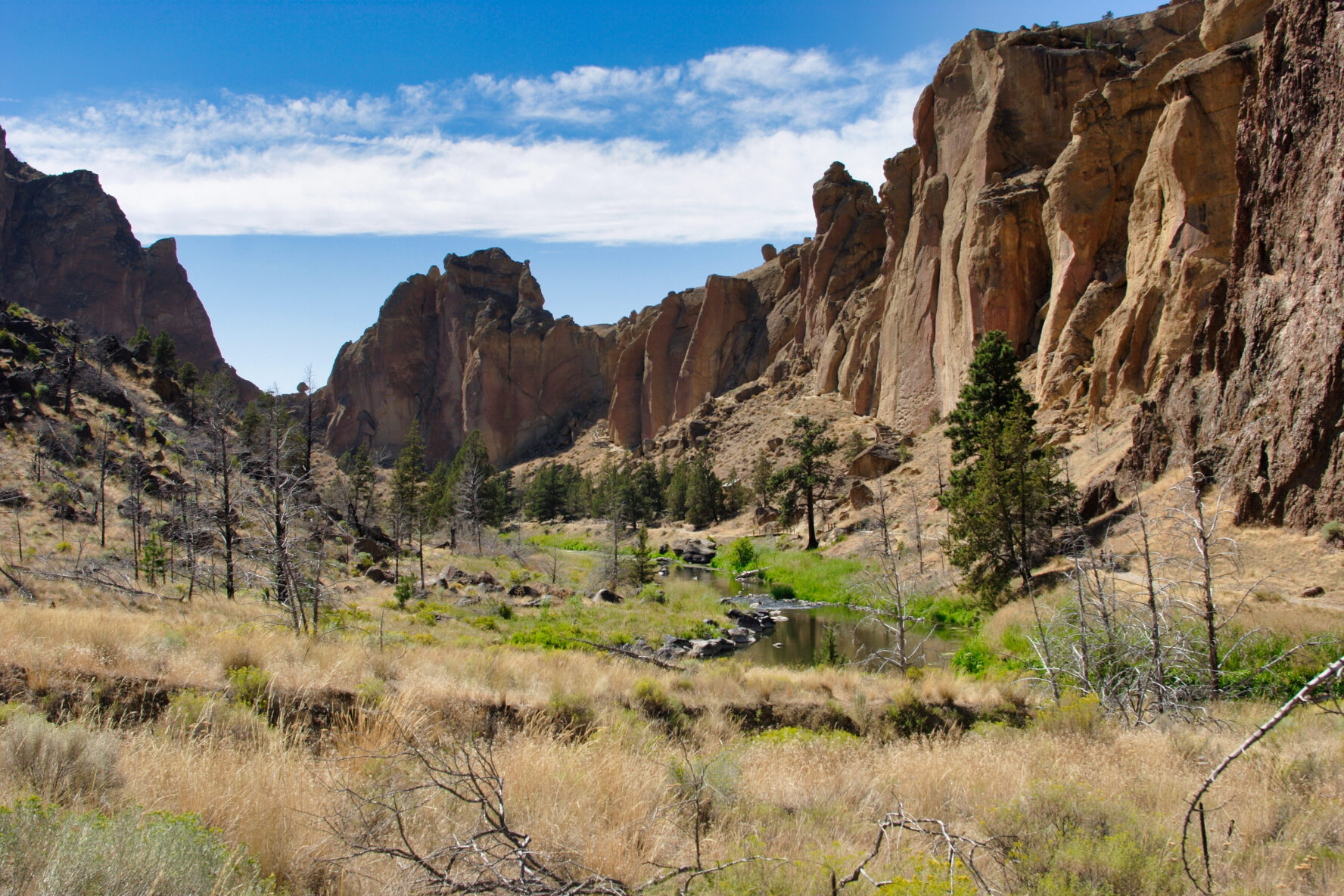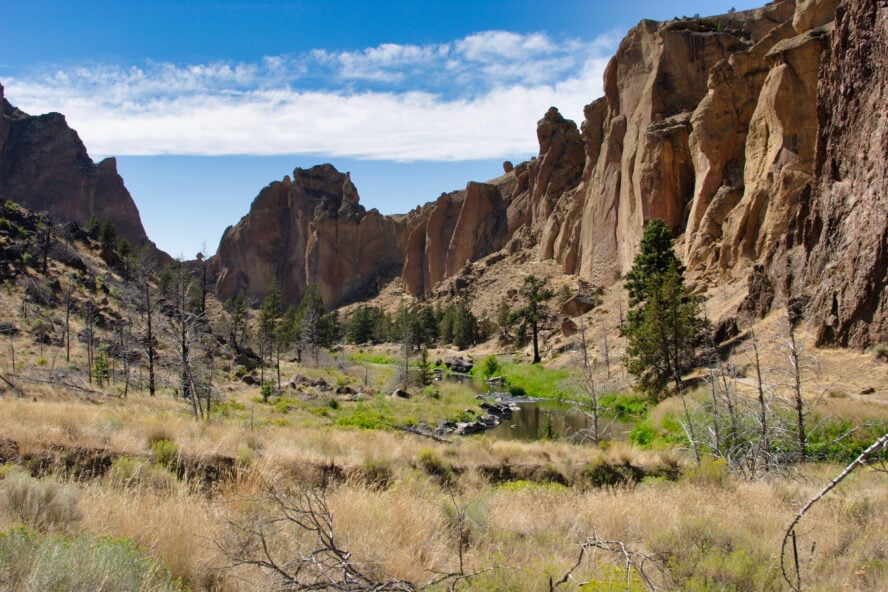 3. East Side Crags and the less-crowded Marsupials
The East Side is my favorite crag to hit after a long day of being in the sun; it gets early afternoon shade on great rock. The Marsupials area offers another worthy escape from the crowds, and some more recent development keeps climbers coming back. I truly enjoy the hike and the different views to soak in from this perspective of the park!
Super Slab, 5.6
:
A fun three-pitch climb with afternoon shade. Plenty of single pitch climbs available to round out your day or while you're waiting to start. The third pitch is unforgettable! If this is a first multi-pitch for someone in your group, I'd recommend caution on the traversing second pitch- a back belay is handy here!
Delirium Tremens, 5.10a/b
:
An excellent traditional hand crack that's well worth the hike to the Marsupials area — you won't be disappointed! I like to hit this climb while in the area exploring other quality sport or trad climbs.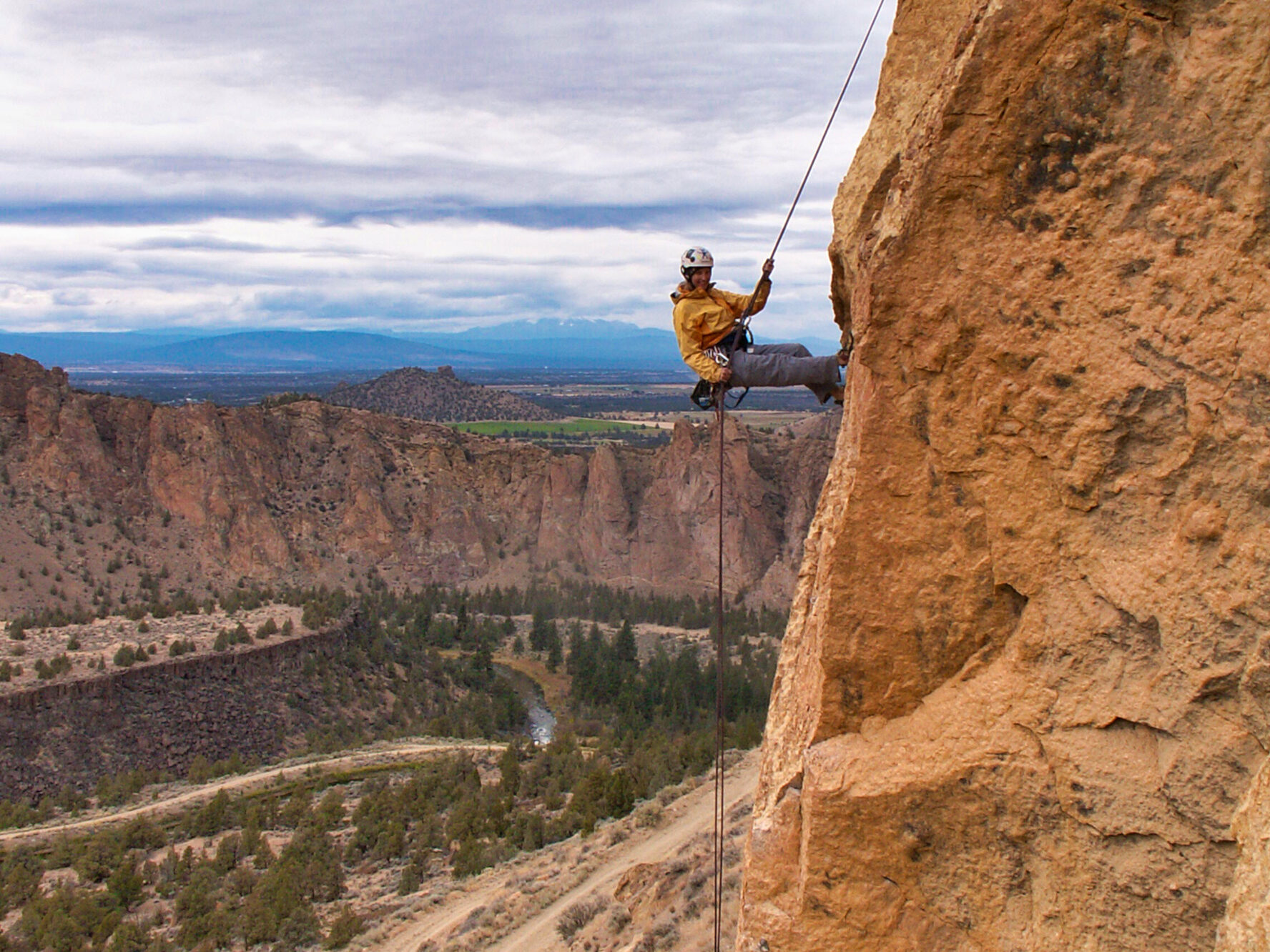 4. The Basalt Crags of the Upper and Lower Gorge
The Lower and Upper Gorge are well-known for bulletproof basalt and a broad range of climbing styles. While some sport climbs exist that are worthwhile, this section focuses on the gear routes. All climbs are traditional in this section unless otherwise noted.
Badfinger, 5.10b
:
A long time Gorge classic, this attractive crack protects well and is surrounded by many other high quality climbs to make the trip worth it. I appreciate the diversity in sizes and style on this one!
On the Road, 5.11a
:
Finger size can make or break this sustained and excellent climb. I have small fingers and hands, so I could use the crack itself- if your meat sticks can't fit, you may have to use some face holds on the side!
Pure Palm, 5.11a:
This stemming test piece was thankfully bolted, but that didn't make it much easier! Keep your head cool and your palms dry for this one. I enjoy stemming, so this is always a lovely ascent.
Cry of the Poor, 5.11a
:
Deceptively good protection and exciting moves makes this a must-do, and there's plenty of other quality climbs around to keep your attention. When I watch others climb this, it seems that no one does it the same way twice!
Last Chance, 5.10c
:
A brilliant open book and a relatively moderate grade compared to other Gorge classics. My feet are always at risk of skating off the slippery basalt- success on this one depends on endurance and finesse more than power!
Cruel Sister, 5.10a
:
Known as "the finest hand crack in the Gorge," Cruel Sister is worth your wait in line. An ever widening collection of sweet hand and fist jams!
5. Bouldering at Smith
Like Smith's climbing routes, the bouldering here offers variety both in terms of rock quality and difficulty, and is worth the diversion to increase your explosive power for that 5.13 redpoint. Over 300 lines are scattered around the park, and some good information can be found in the latest guidebook or on SmithRock.com
My Advice for Visiting Smith Rock
Here are some nuts and bolts items for your visit to Smith, gathered over years of climbing there!
Smith Rock climbing community
I've always found that Smith Rock has an inviting community of climbers. Many of the surrounding businesses, including restaurants, are owned by local climbers. An adorable Welcome Center nestled in a yurt near the park entrance gives you a feel for the warmth of the people here. Your cooperation in following State park and surrounding county rules and regulations, as well as the local ethics, will most certainly ensure that you'll arrive with anticipation and excitement and depart with wonderful memories and new friends!
When is the best time to climb at Smith Rock?
Smith shines in the spring and fall months, and although climbing is possible during every month of the year, the winter and summer months can bring extreme temperatures and unpredictable conditions. At times, certain areas of the park are closed to climbers for raptor nesting, so be sure to check if any restrictions are in effect before you head to Smith.
Where to fuel up and gear up?
Terrebonne, Oregon is the closest town, and it offers a few restaurants and a grocery store. Check out Redpoint Climbers Supply for all your technical climbing needs and be sure to pop by the Terrebonne Depot for the best tomato basil soup you'll ever taste!
Within a 30-minute drive, Redmond and Bend have the extras, including an REI for any gear, food, or camping equipment you might need.
When nature calls
There are restrooms available at the main parking lot, as well as down in the canyon near the bridge crossing, and at the base of the popular Dihedrals and Morning Glory Wall. However, I highly recommend bringing along a wag bag for any excursion into the canyon.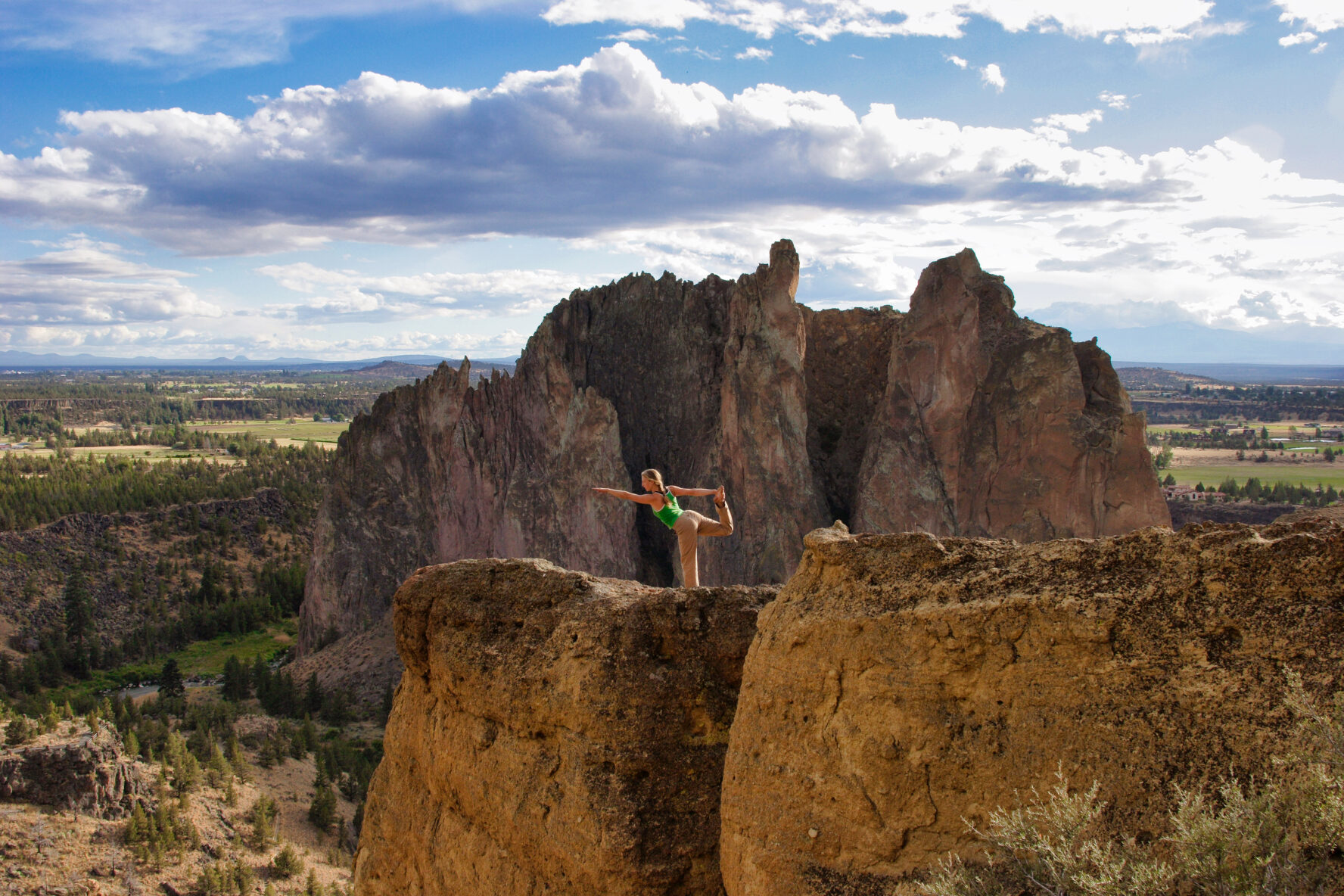 Where to get water?
Water is available at the parking lot and at the drinking fountain at the bridge, but you should expect the fountains to be shut off during the winter months. It's always wise to bring extra water.
Where I like to camp?
The walk-in bivy campground is first come, first served for $8 a night, which includes your parking pass and a hot shower. What a deal! The campground is located on the rim of the canyon, and the views are spectacular. Not to mention, you can hike right from your campsite to the crags.
County rules prohibit sleeping in your vehicle (including RVs) at Smith, and open fires are not allowed at the bivy site, but never fear! Nearby Skull Hollow Campground, only 8 miles away, costs $10 a night (single site, 1 vehicle) or $20 a night (double site, 2 vehicles). You will need to bring your own firewood and water, and it is closed in the winter (mid-November to mid-April). Other camping/RV options include Crooked River Ranch and the Redmond KOA.
If camping's not your thing
If you'd prefer to share a warmer space with family and friends, within walking distance of the park, you'll find Smith Rock Casita, Smith Rock Nest, and Smith Rock View, with nightly prices ranging from $80-$800. Additional options are available a short distance away.
Parking your car
The State Park requires a day use parking pass which will set you back $5. If you're planning to stay at Smith for a week, it would be worth your while to purchase the Annual Pass for $30. If you're lucky enough to return here more than 10 days over a two year period, a 24-month pass is available for $50. You can save some time by purchasing your pass ahead of time.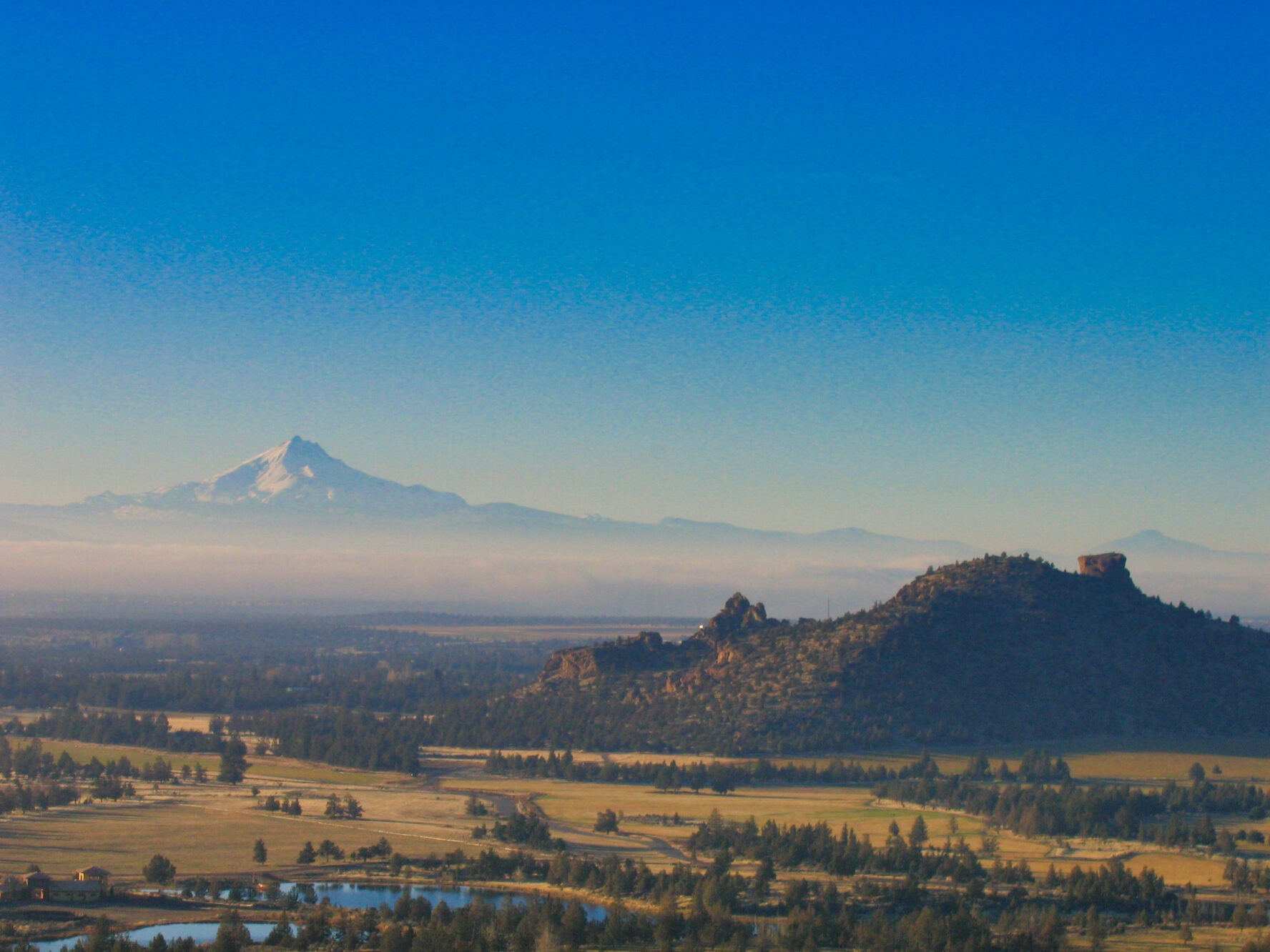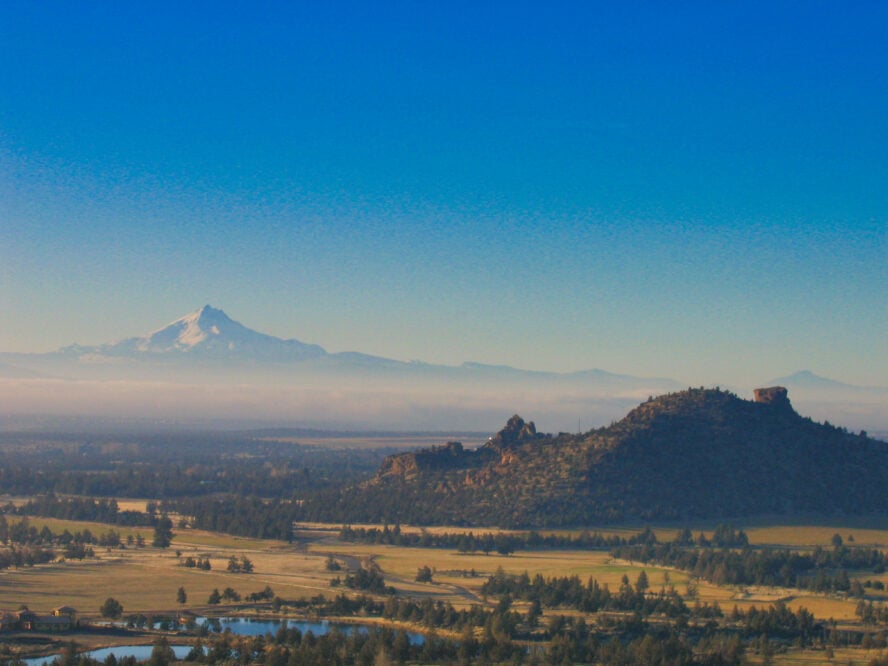 What to do on rest days in Smith Rock?
Rained out? Looking to rest up those aching tendons? There's no shortage of things to do in Central Oregon. From waterfall hikes like Steelhead Falls to trail running, caving, river rafting, horseback riding and mountain biking, there's plenty to keep you busy in this area!
The definitive guidebook and a few guiding services
If you're looking for a guidebook for this area, there's really only one to get. Rock Climbing Smith Rock State Park by Alan Watts (a 2010 Falcon Guide) is known as the "Smith Bible." It's comprehensive to say the least, covering more than 1800 routes in the area.
For guiding services, I recommend Chockstone Climbing Guides or Smith Rock Climbing Guides. There's also She Moves Mountains, focusing on women-specific rock climbing clinics for all skill levels, and Timberline Mountain Guides.
Smith Rock climbing festivals and events
Each year in September, the American Alpine Club's annual grassroots climbing festival, the Craggin Classic, passes through Smith. The event, as explained by local organizer Sarah Wolfe, "includes clinics, workshops, slide shows, films, vendor and non-profit booths, yoga, festivities, food and beer, camping, stewardship and other activities for climbers. Funds help support all of [the AAC's] efforts, including climbing grants, a climbing library, educational programs, stewardship efforts, policy work and so much more". Timing your visit to coincide with this event will be well worth your efforts!
If you'd be interested in lending a helping hand while you're in the area enjoying the cliffs of Smith, also check out the annual Smith Rock Spring Thing in April, or contact the local climbing organization, the High Desert Climbers Alliance. Another option are the more frequent rock climbing camps held throughout the year. At these educational (and social) courses you'll develop specific skills while also enjoying the camaraderie of other stoked folks.
It would take years to explore all that Smith has to offer, and even the locals find new favorites each season. In The Princess Bride, Miracle Max said it best: "Have fun storming the castle!"
Are you ready to discover Smith Rock, the birthplace of U.S. sport climbing? Head out on a half-day or full day guided climbing tour in Oregon's high desert and find your new favorite route!