How Climbing at the Gunks Sets a High Standard of Tradition
Nowhere else on the East Coast will you find so much stellar climbing steeped in history. With some of the best trad lines in the U.S., the Gunks set a high standard of traditional ethics, aesthetics, and of course, sandbagged grades.
Locals know it as the GT Ledge, short for Grand Traverse. One hundred feet above the ground, it's grand in the sense that it's a platform large enough upon which to park a car, or hold a party with 20 or so of your closest friends.
Somehow, feet planted firmly on this superlative slice of ledge with the ground far, far below, you crane your head upwards and think my god, how can this only be 5.6? Your brain tries to recreate an image of this very spot from 1941, the year Fritz Weissner and Hans Krauss FA'd the Gunks' most iconic line.
Not possible.
But it was.
Questing out from under the overhang, leaning backwards to match the rock's steepness, you learn that commitment isn't just a requisite skill at the higher grades here. Your hands stretch and reach blindly till they find what you need, and suddenly that image from 80 years ago comes into full focus.
High Exposure.
I get it now.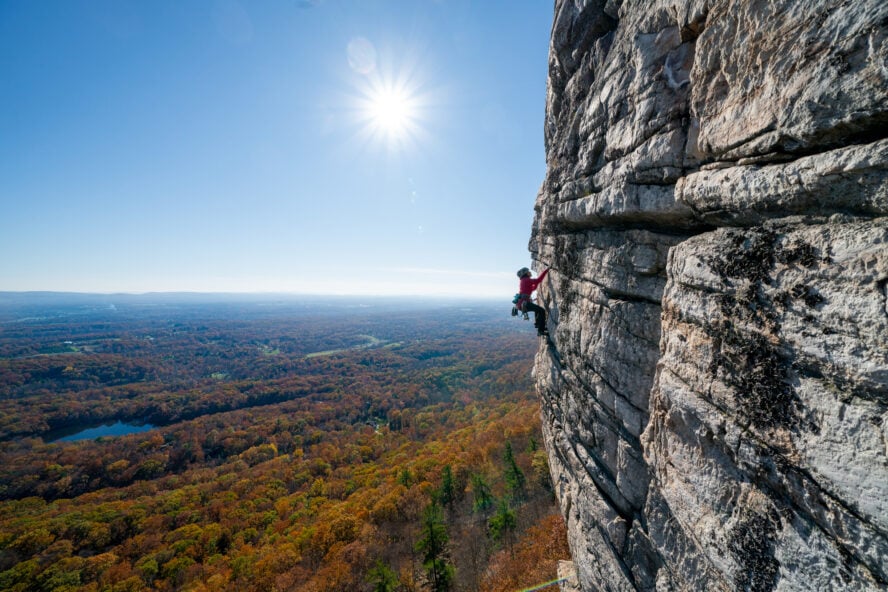 Pros and Cons of Climbing at the Gunks
Strong traditional ethics
Plenty of easy/moderate routes for beginners or lifers closing out their careers
Wonderful local community
Northeast Weather: hot and buggy in summer, cold in winter, unpredictable rain
All Traditional: Climbing at The Gunks
Often called a cornerstone of traditional climbing, the Shawangunks (i.e., "the Gunks") in Upstate New York, one of the best states for rock climbing, is a migration point for all trad climbers along the Appalachian corridor. With an absurd amount of iconic routes to match the rock climbing in California, the area has a little something for everyone, running the gamut from those cutting their teeth on their first leads to the truly badass and rarified few taking down legendary 5.hard R/X routes.
There are plenty of G-rated routes here, enough that it makes a wonderful place to learn the art of trad climbing. As climbers progress through the grades, graduate school here tends to offer a chance to test skill and nerves on the fiercely preserved (read: no bolts, i.e., a sharp contrast from climbing at Rumney) routes that reward those with a cool head for leading.
Like Smith was for the rock climbing in Oregon, The Gunks has been the historic crag for those from New York City. This tectonic ribbon of quartz, which offers a lifetime of climbing on dozens of disparate cliffs, is a mere 90 miles from Gotham.
Without delving too deep into geology, the Gunks are, in a word, hard. Edging towards the top of the Mohs scale, this tough as nails quartz is perfect for climbing, and tends to fracture horizontally. What we get is a shining white double-edged sword of polished conglomerate, that translates into jugs (yay!), runouts (gulp), and, of course, the exemplary roofs (love them or hate them).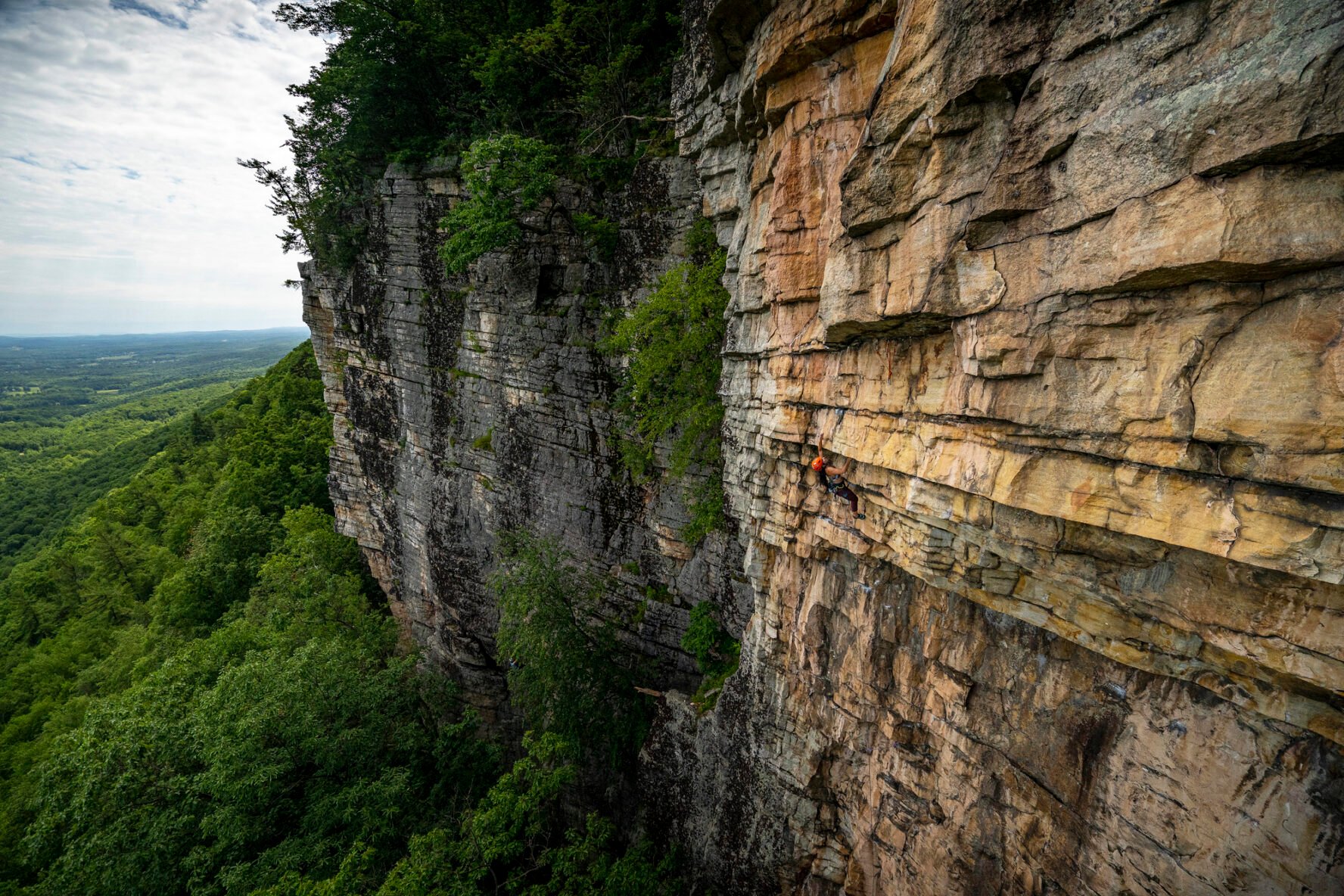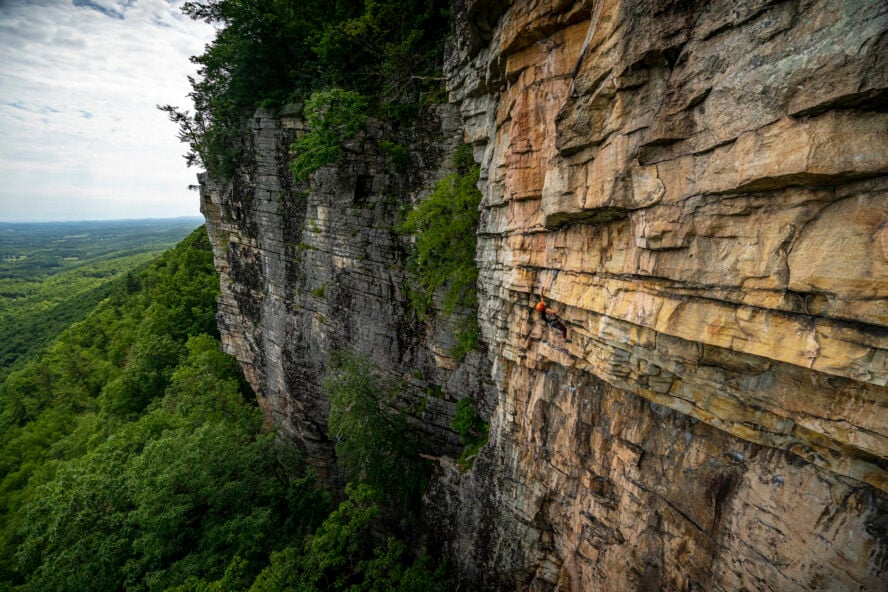 It's hard in another sense too. Poll any climber about the area and you'll likely find two heavy-handed responses: a surplus of the aforementioned roofs and a long legacy of sandbagged grades (I'll get to those later).
Bring your head game
Visiting climbers can test their mettle anywhere from 5.3 to 5.14 on over 500 climbs, most in the 2-3 pitch range. Routes range from simple "reach-and-pull" exercises to full-on double or triple-body length quests between gear and on to endurance pumpfests out long roofs dripping with exposure.
While roofs abound, the local geology was stingy when it came to vertical cracks. As a result, those folks groomed on G-ratings and plenty of accessible pro within an arm's reach may find things a bit spicy here.
What the area lacks in vertical splitters it makes up for in rock quality; the alabaster white quartz conglomerate is nearly as truck as it gets for gear placements. You just may need to go a little further than you're used to in order to get them.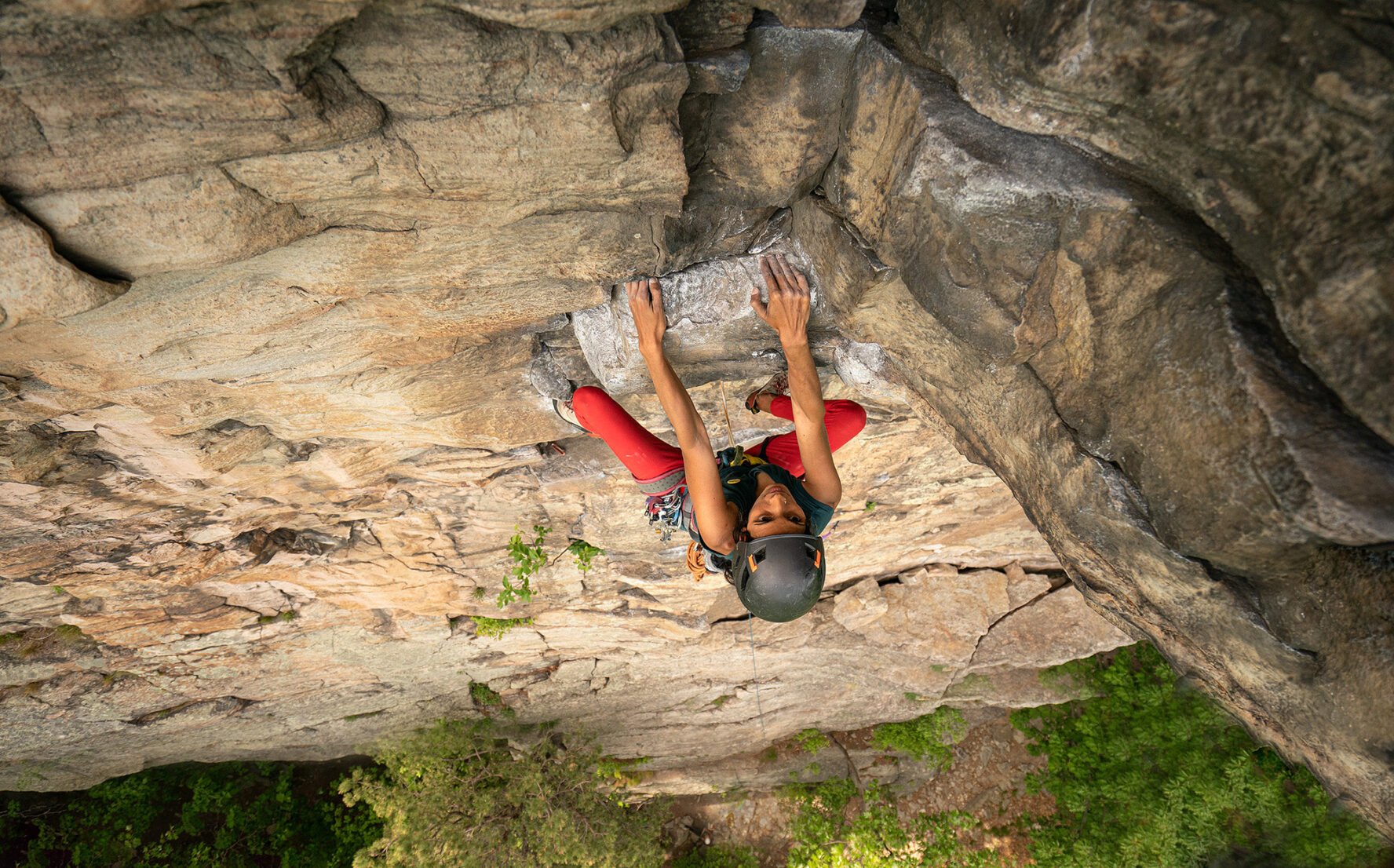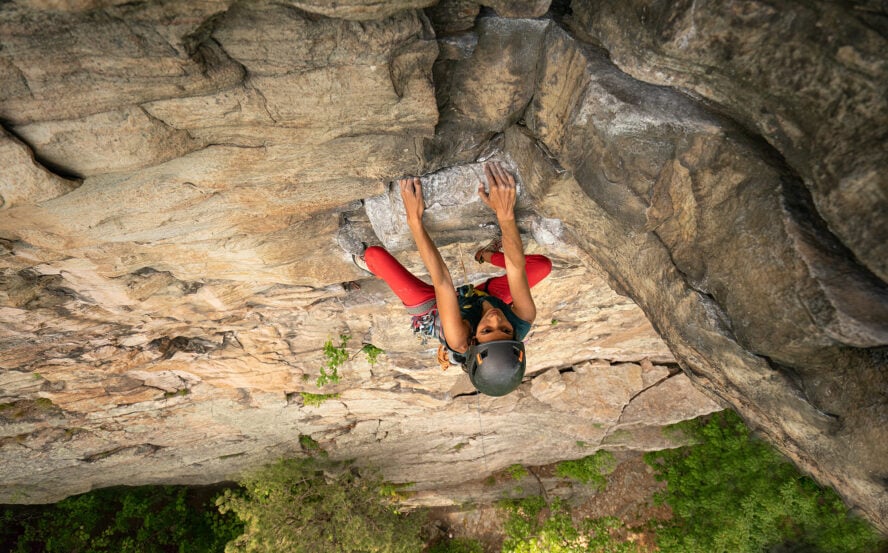 A history of tradition
Established primarily in the 70s, known as the Clean Climbing Era, there is a long-standing nod to keeping routes pure. Led by visionaries like John Stannard, who recognized the damage that pins and pitons were causing, he advocated for the free-climbing revolution (leaving the rock as unaffected as possible).
In fact, arguably the most imposing cliff at the Gunks doesn't contain a single bolt, anchor or otherwise, in it's hundred or so routes. As a result, Millbrook has turned into a proving ground for harder climbers; a cliff preserved for those seeking a place to develop and test their trad climbing limits.
The Millbrook standard was set by the legendary "Bank Manager" Rich Romano, who was busy in the 70s and 80s quietly establishing remote test pieces in the R/X grades—and has authored nearly 80% of the routes in the area.
Bolts came and went, but in the mid-1980s the Mohonk Preserve, as the dominant landowner, met with local climbers and agreed upon a bolting moratorium at the major cliffs. The result has been a preservation of those routes that climbers would endeavor to "earn" by way of wit, climbing ability, and head game.
Don't get me wrong, G-rated routes abound. However, the dedication to protecting the rock in its natural state has been paramount in the Gunks.
The land of Lenapehoking
Speaking of history, no article on climbing is complete without a land acknowledgement—here you are climbing on stolen lands. The Lenape and Delaware tribes that used to call these beautiful valleys (Lenapehoking) home were among those violently and forcibly relocated to Oklahoma, Wisconsin, and Ontario, after years of bloody colonial battles.
A quiet respect and reverence for the historical landscape is requested for all climbers, visiting and local.
This year marks my second decade of climbing in the Gunks
While that may sound like a lot I am still a youngster compared to many out at the crag. It's one of the things I love most about the area, a strong local community of lifelong dedicated climbers.
I have more than a few regular climbing partners who are past the 70-year-old mark, many of whom are still fluent in leading 5.10. To paraphrase one of my older climbing partners: the Gunks is the perfect place to age into, a wonderful sunset crag.
At home climbing in the Gunks
As a photographer and filmmaker I can choose any place to settle down. Still, even after "interviewing" other climbing areas like Boulder, SLC, and Las Vegas, I still landed here, nestled in the rolling farmland just a cup of morning coffee shy of the trailhead.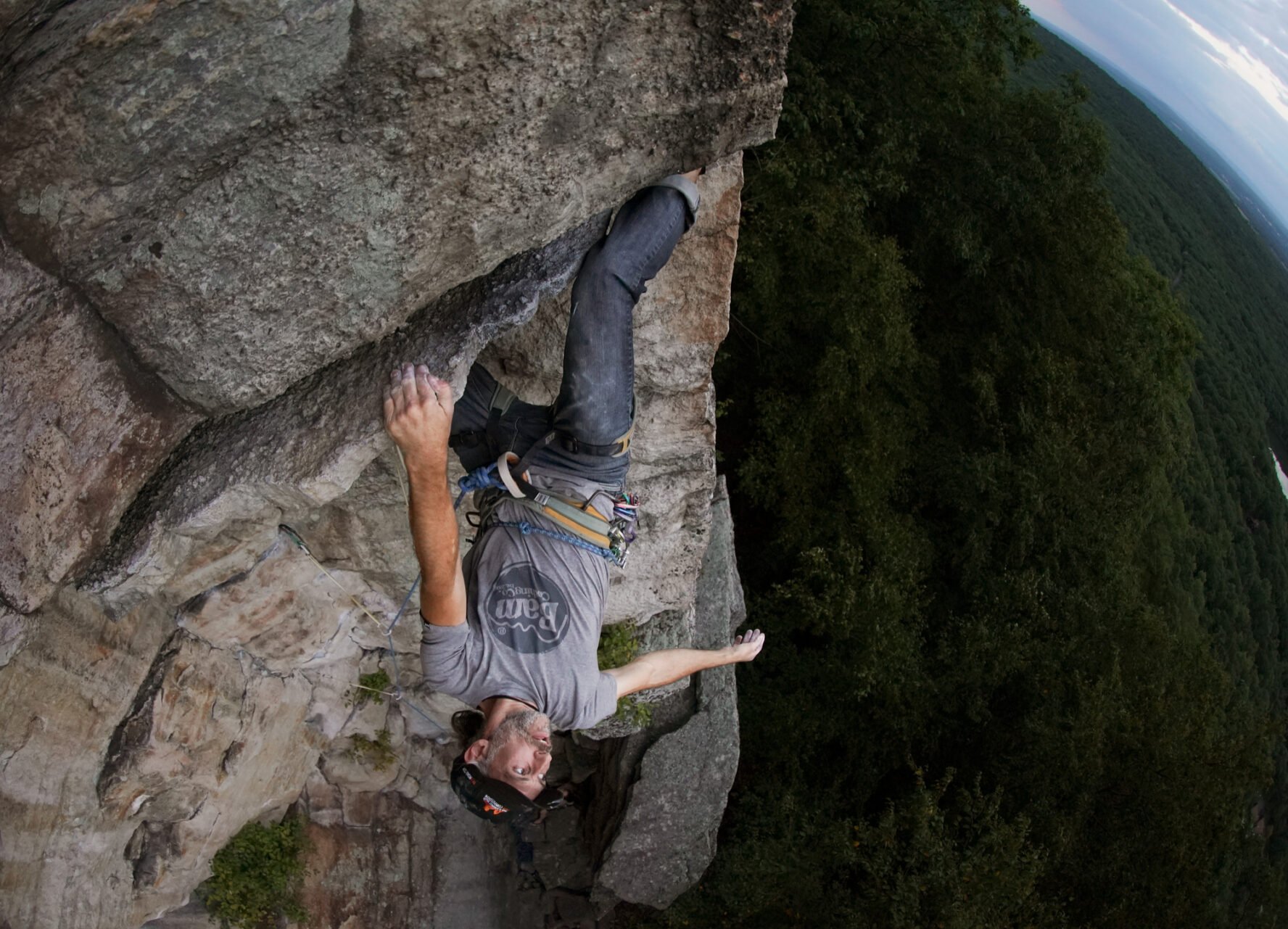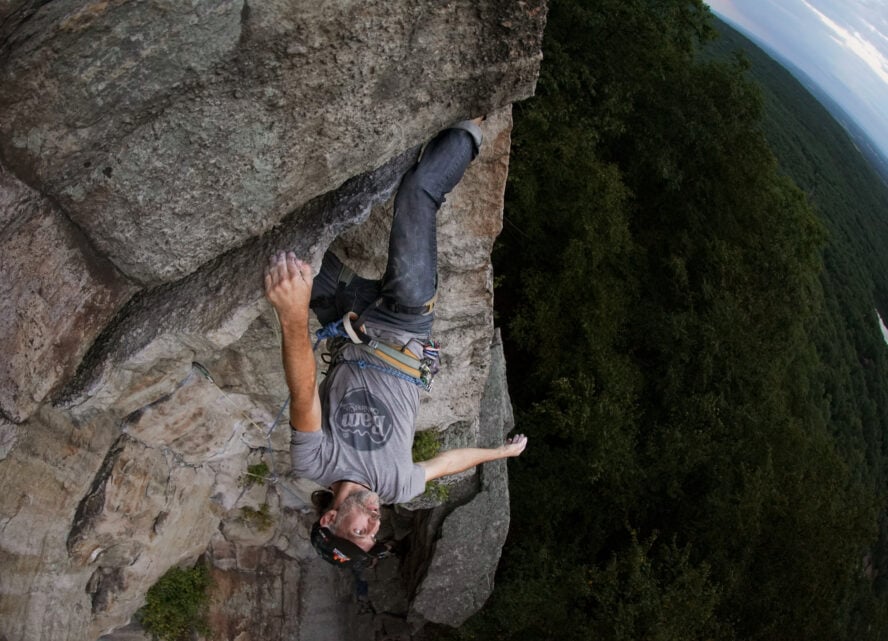 Before earning my "local" badge, I was among the weekend warrior crowd, rubbing my eyes pulling off the interstate into the hip little hamlet of New Paltz, NY. A college town full of requisite college town things like diverse and affordable eats and plenty of watering holes (Mexican Kitchen, iPho, and Gunkin Donuts being local favorites). Coffee shops haven't quite reached the critical mass you'd find rock climbing in Washington, for example, but there are more than a few spots in town to quench that oat-milk latte itch.
Get Steeped in History with Some of the Best Climbing at the Gunks
1. The Trapps: Classic climbs and crowds
To begin we need to talk about the different crags. For most Gunks climbers, the mile-long stretch of the Trapps and Near Trapps offer more than could be asked for. The main cliff, the Trapps (taken from the colonial Dutch for "steps"), will often be the visiting climber's first stop.
The area contains many of the uber-classics, including the aforementioned High Exposure (5.6), the super exposed and hero photo ops of Cascading Crystal Kaleidoscope (5.7) and the Dangler (5.8-5.10 depending who you ask), and The Yellow Wall (5.11c) arguably one of the finest in the Gunks.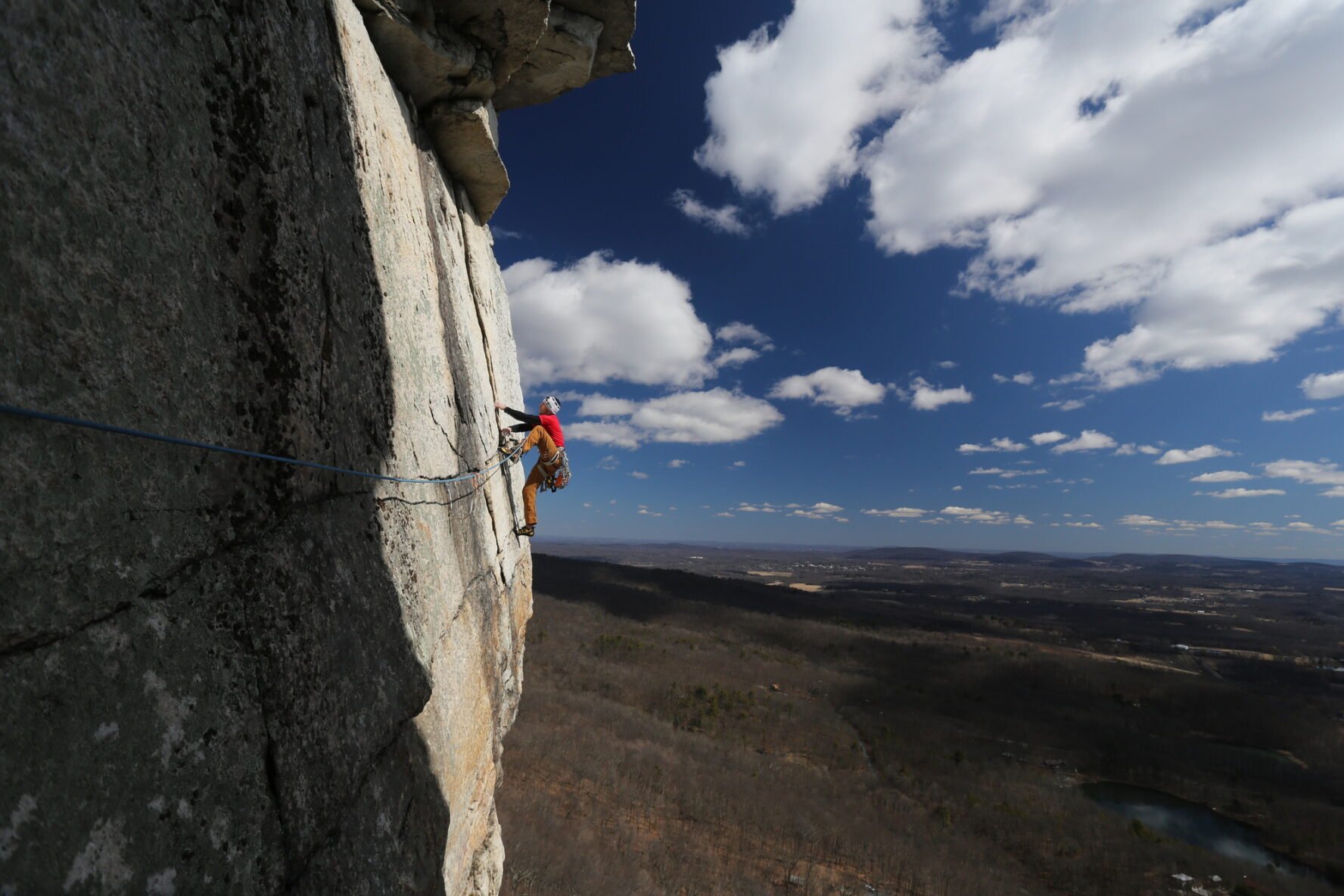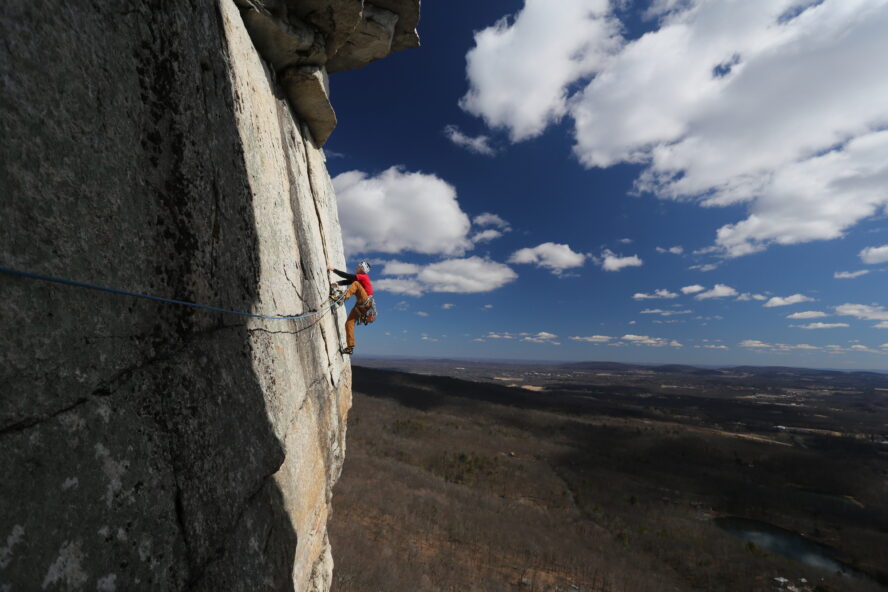 Access and parking
The Trapps and Near Trapps are accessed through the local land manager, the Mohonk Preserve. Most climbers will use one of two major parking areas, the West Trapps Trailhead and the Mohonk Preserve Visitor Center (affectionately called the "stairmaster"). A short walk up either will deposit you at the base of the cliffs, which run in a relatively plum line as the northern border of the Wallkill River Valley. A carriage road runs the base of the Trapps; for the Near Trapps (or Nears if you want to sound like a local) climbers follow a simple hiking trail along the bottom. Note that the West Trapps lot is really the only good option for accessing Millbrook. For either cliff expect to max out at an hour hiking to reach the end.
You will need to purchase a Preserve day pass to access the land, and if you're going to be here a week or more, consider becoming a Mohonk Preserve member.
Not-to-Miss Routes in The Trapps
Casa Emilio – 5.4
This remote and exciting route at the far end of the Trapps makes for a secure and early multi-pitch for the beginning, but well-practiced, leader. An exciting step-across leads to a ladder of a first pitch. A comfy belay proceeds to the crux pitch above, all on perfect rock.
Miss Bailey – 5.6
I always get sh*t for recommending this one above others in the grade, but this route is not to be missed for the seasoned moderate climber. Yes, it has an unprotected chimney start (look for creative gear placements above your head as you near the top), but no other route features such a variety of climbing: chimney, handcrack, stemming, exposed face climbing, a cruxy traverse, and, of course a requisite roof pull—it's all there. Be confident at the grade; can also be linked for one mega pitch but have a very strong second as the rope stretch could be an ankle breaker for the opening cruxy moves.
Cascading Crystal Kaleidoscope – 5.7
This iconic route packs some superlative exposure, and a photo op to match. Just be sure to build the optional belay in the corner for your photographer/belayer, and pick up the dinner tab for making them shiver to get your hero photos. I prefer to link this upper pitch with the first pitch of Erect Direction (5.8).
Son of Easy O – 5.8
Best done with a 70m in one pitch (warning a 60m rope will not make the rappel to the ground from the chains). The polish on the opening moves has made this one a bit trickier, but it's polished for good reason. One of my Top 5 Gunks routes, this one is varied face and thin crack climbing, eventually crescendoing through some wild exposure with a well-protected endurance jug haul.
Insuhlation – 5.9
A good intro to steep horizontal jug bashing in the Gunks, all up a perfect shield of orange rock. Good gear awaits but this one demands some endurace to make it through to the chains.
Erect Direction – 5.10c
Wanna get horizontal? Here's your chance at the mother of all 5.10a heel hooks in the Gunks, at one of the tallest parts of the cliff. The cost of admission is steep: a 5.10c crux pitch 2 crab crawl that will leave taller climbers cursing. A true classic, this 3-pitch 3-star route is worth the drive from just about anywhere. It's also a great spot to learn how to prussic—it's where I did—so be sure your second is prepared.
Harvest Moon – 5.11
A striking contribution by Alex Lowe, considered one of the world's top mountaineers in the 90s, Harvest Moon is a rare continual splitter in the Gunks, and often the first route out of a local's mouth when asked for the closest thing to a pure crack climb. It's well-protected through the crux, but be prepared to punch through steep thin hands and contend with some typical Gunks trickery: blind gear, a tricky chimney start, or a bouldery beginning if you tackle the direct version at 11c. Easily one of the best atypical-for-the-Gunks routes around, and a good spot to practice crack climbing before your trip out west.
Kansas City – 5.12c
This one is hard to miss, as it's the prominent (and often fixed) roof crack when first entering the Near Trapps. A hard horizontal boulder problem leads to splitter jams and an athletic roof pull. Although a harder 12, this one is easy to work with the fixed gear, and I found jamming skills will definitely make it more manageable past the opening horizontal boulder problem.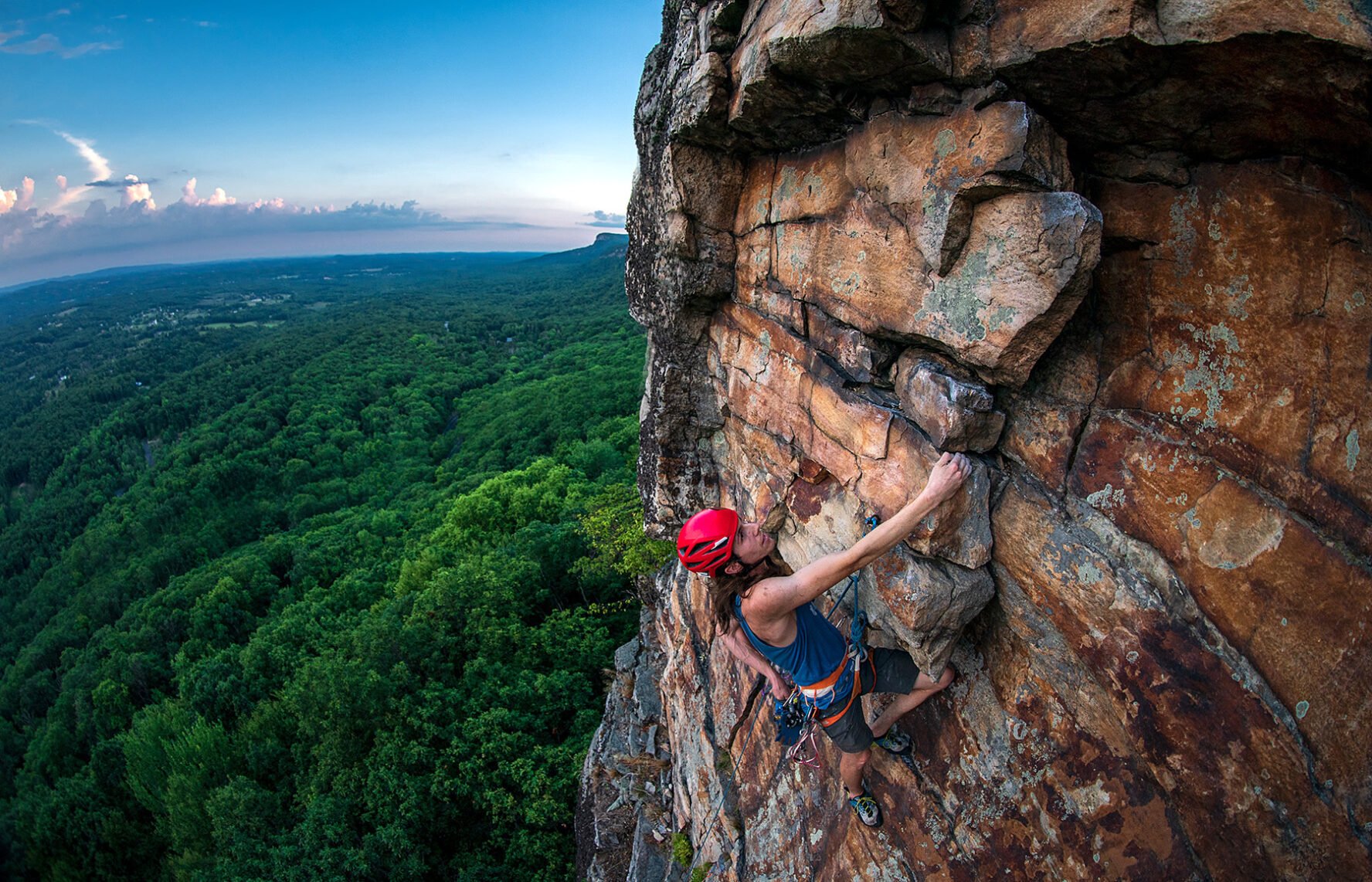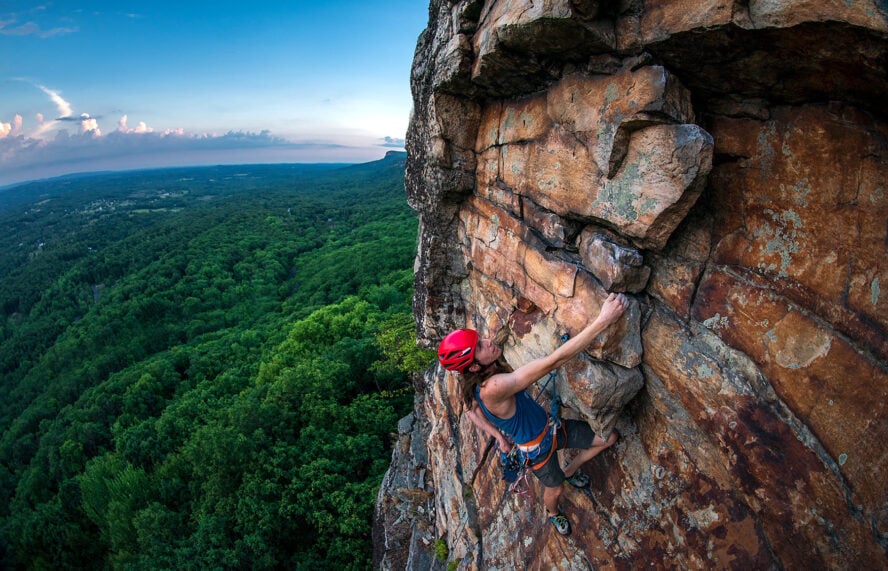 2. Peterskill: Beginner-friendly climbing in the Gunks
Here you'll find a small slice of intro climbing in Minnewaska State Park, managed by the state. Just up the road from the West Trapps, this area is great for newer climbers to cut their teeth with toprope-accessible routes and shorter, less-imposing cliffs.
It is also the most family-accessible climbing in the area for those looking for a spot to take the young guns out.
Not-to-Miss Routes in Peterskill
Stacked – 5.5
A wonderful 3D outing that makes for a full-body climb. Great route to bring new climbers on, relying more on strategy than strength.
Psycho Crack Right – 5.8
A mixed bag of face and crack climbing, this route is a great option for climbers advancing into the grade with engaging climbing throughout.
Golden Dream – 5.9
Another FA by the venerable Rich Romano, this is the route to do at Peterskill. A truly superlative left-facing corner laced up by a finger crack. Fun fact: the original name was Dihedral Tryptamine.
3. Bouldering: It's pretty good too
There's an old saying about bouldering in the Gunks, but to keep this family friendly I'll paraphrase: why would you boulder among some of the finest trad lines in the East?
That said, the Gunks is absolutely a destination area, with the bouldering at the Trapps and Peterskill offering a lifetime of problems (250+). The style tends to be steep and rewards both strong fingers and compression strength.
If you're bringing a pad be sure to check out:
Boulder of the Gods – V0
One of the first boulders to greet you heading up from the West Trapps lot, this is a favorite warm-up/cool-down while heading to/from climbing. It's a face climb with some unusual holds for the area, and has a cool little pinnacle topout.
Andrew Boulder Problem – V4
No visiting climber should miss this one, and it'd be hard to with the throngs of crowds around. Overhanging the Trapps carriage road and home to other mega classics like the Buddha (V7-) and Crouching Dragon (V10), be sure to take your number for any of these in your grade range. Andrew climbs a typical gunks rail from under a roof, with trailing heel-hooks and a roof pull you to glory.
The Pearl (AKA The Whale) – V7-8
If this grade is in your wheelhouse then fire up some power and technique and give it a go. Like many Gunks boulders this one has a style all its own, and is very worthwhile for the walk. Find it down in the Near Trapps Bouldering area.
Additional Beta about Climbing at the Gunks
Grading
As promised, I wanted to explain one perspective on the legacy of Gunks sandbags. As a local, I don't champion this idea, but having climbed all over the world I do feel the grades are a bit stiff here. According to a prolific author of many Gunks FAs, including the very first lead on all natural (no pitons) gear, this is thanks to early exposure to Yosemite-style climbing.
When crews of Gunks climbers in the 1960s traveled to the west and got their egos handed to them on crack climbs rated 5.8—not possessing the requisite crack technique aside—they returned and assigned the same level of struggle to Gunks 5.8s.
Combine that conservative grading with the ceiling being set at 5.10 through the 1960s, no one dared push beyond the grade to give a route a 5.11. As a result, early gradings are often sandbags that come with asterisks. And, like all US-based climbing areas, beware the dreaded "+" sign.
Crowding
It's true. The Gunks has crowds. A day trip from a handful of metro areas like NYC, Philadelphia, and even Boston, the parking lots are often full by 9am on a perfect Rocktober weekend.
The difference between a Saturday and Tuesday crowd is obvious, but even if you're stuck to weekends there are ways to beat the crowds.
Number one: pick a different cliff. As mentioned above, Millbrook (which does have a printed guidebook) reliably sees fewer parties on a weekend than High Exposure does. While with rappel access it is a bit more committing, there are plenty of safe and sane routes to have a fun adventure (check out Westward Ha! (5.7), one of the best around). Just don't expect fixed anchors and chalk marks to map the line.
There are other outlying crags, like the Gunks Climbers Coalition's (GCC) Antlion (opening Spring 2022) and the NYS-managed Peterskill (great for beginners), as well as other sectors that many locals can turn you on to. Pro tip: Rock and Snow, the renowned gear shop in town, is a great spot to get beta on these areas.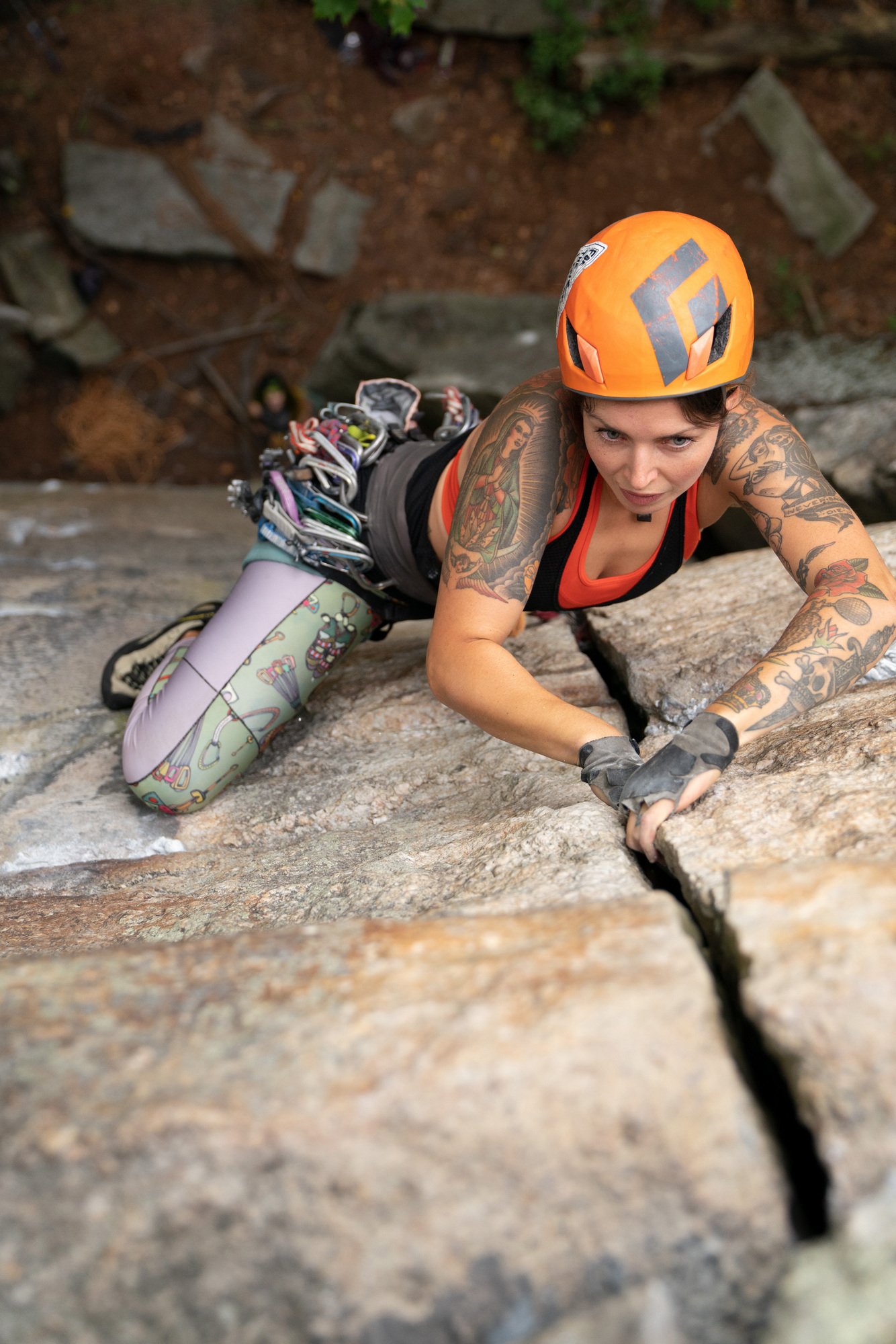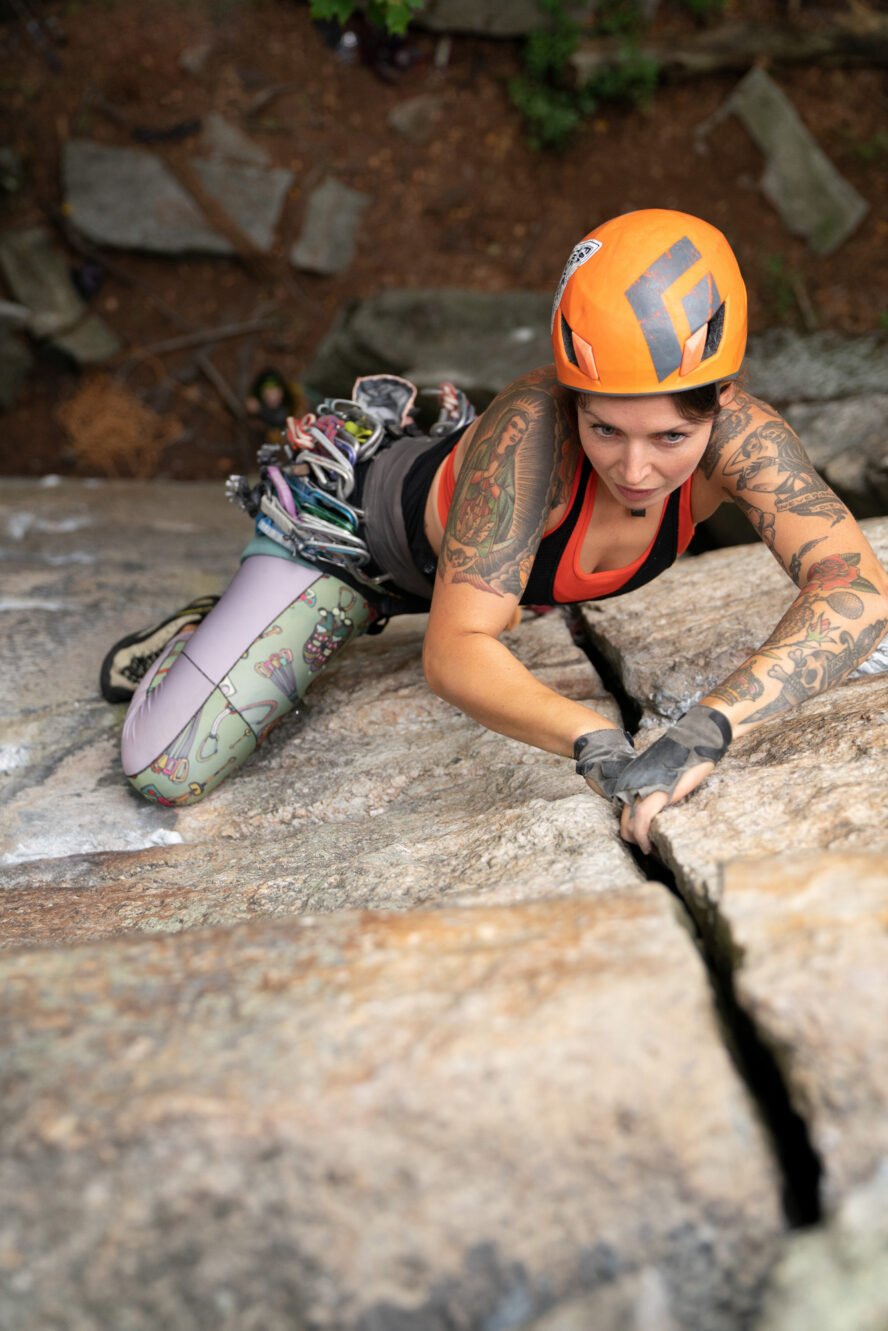 Number two: hike. Gunks climbers are notoriously adverse to hiking, and often the far reaches of the cliffs offer solitude while the easier-accessed spots have lines. In addition to quiet you will also find a less gym-like social environment.
Getting started
For those looking to get out and try climbing for the first time, qualified guidance is a must. Like driving, climbing takes years to master and mistakes are deadly. There are a host of certified rock guide services at the Gunks, including Alpine Logic, Vitti Mountain Guides, Alpine Endeavors, EMS Schools, Advanced Rockcraft, and more.
When to climb
This isn't like rock climbing in San Diego, where you can essentially do it year-round. This is the Northeast so your best bet is Fall. There are no bugs, the days are warm, and you have that quintessential sea of color change. Spring is a good choice, though it can be a bit weepy. Summer is climbable, but it can be hot and humid. Some climbers prefer to head over to try some rock climbing in Canada. In the winter, most climbers pick up their tools and head to the Catskills or go do some frozen waterfall climbing in the Adirondacks.
Guidebooks
Both the Trapps, Near Trapps, and Millbrook have guidebooks. For the Trapps/Near Trapps, a digital version by the crew over at GunksApps is the most common. In addition to portability, the app offers easy-to-read topos, good route and descent descriptions, and, extremely useful for the visiting climber, a GPS function. For those traditionalists who like jotting down beta on paper, the gold-standard has been the portable Dick Williams series, while the GunksApps team has added a beautifully-illustrated print version to the mix just last year. You can pick these up at the climbing store in town, Rock and Snow. You can also find Mohonk Preserve Trail Maps at the Visitor Center.
Where to grab extra gear
Ah, the iconic Rock and Snow, a for-climbers-by-climbers haunt that is an East Coast gear shop staple. Come in for the latest climbing widget and leave with a dozen tall tales of death-defying runouts and mythological secret crags. Plus, all the gear you could possibly need.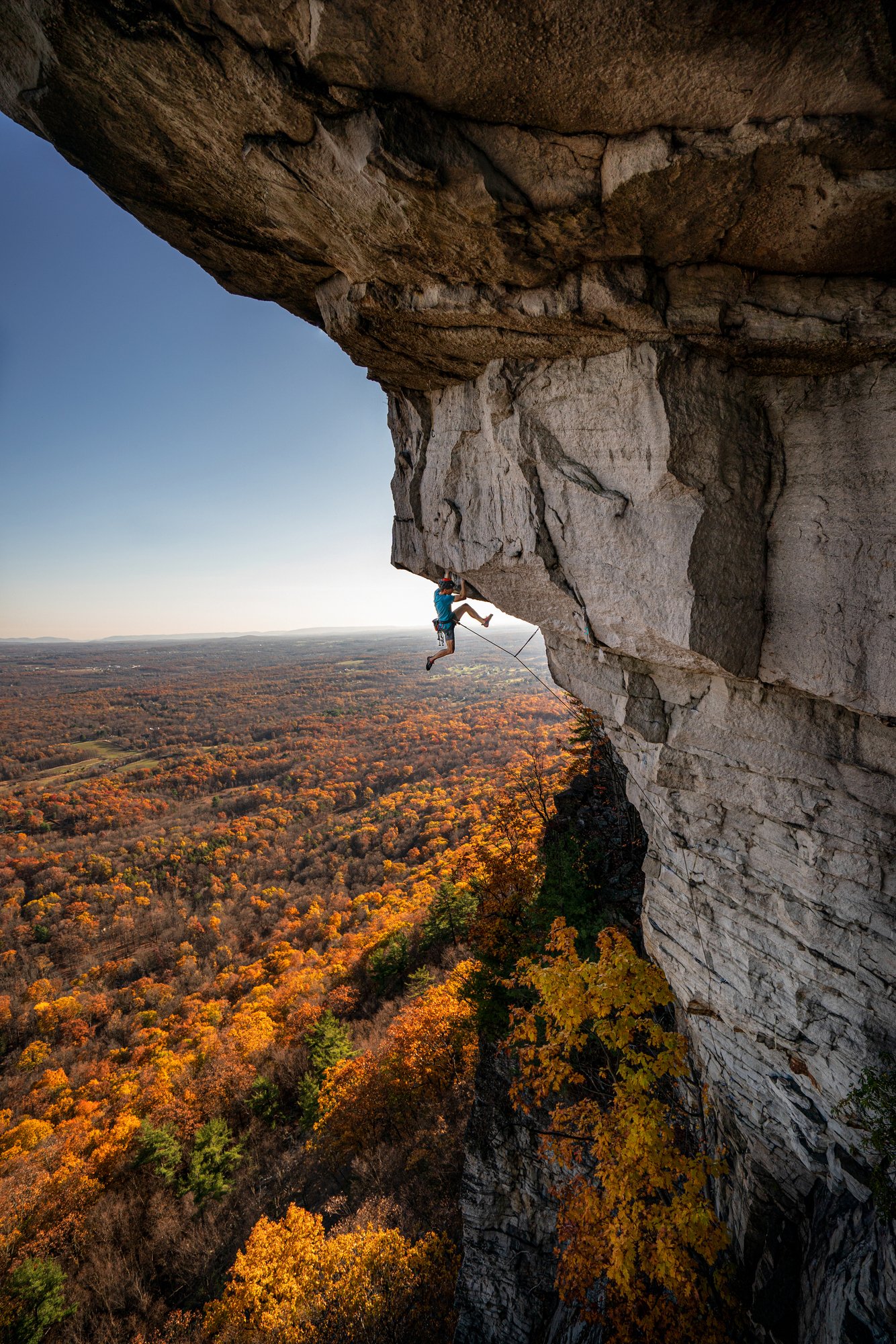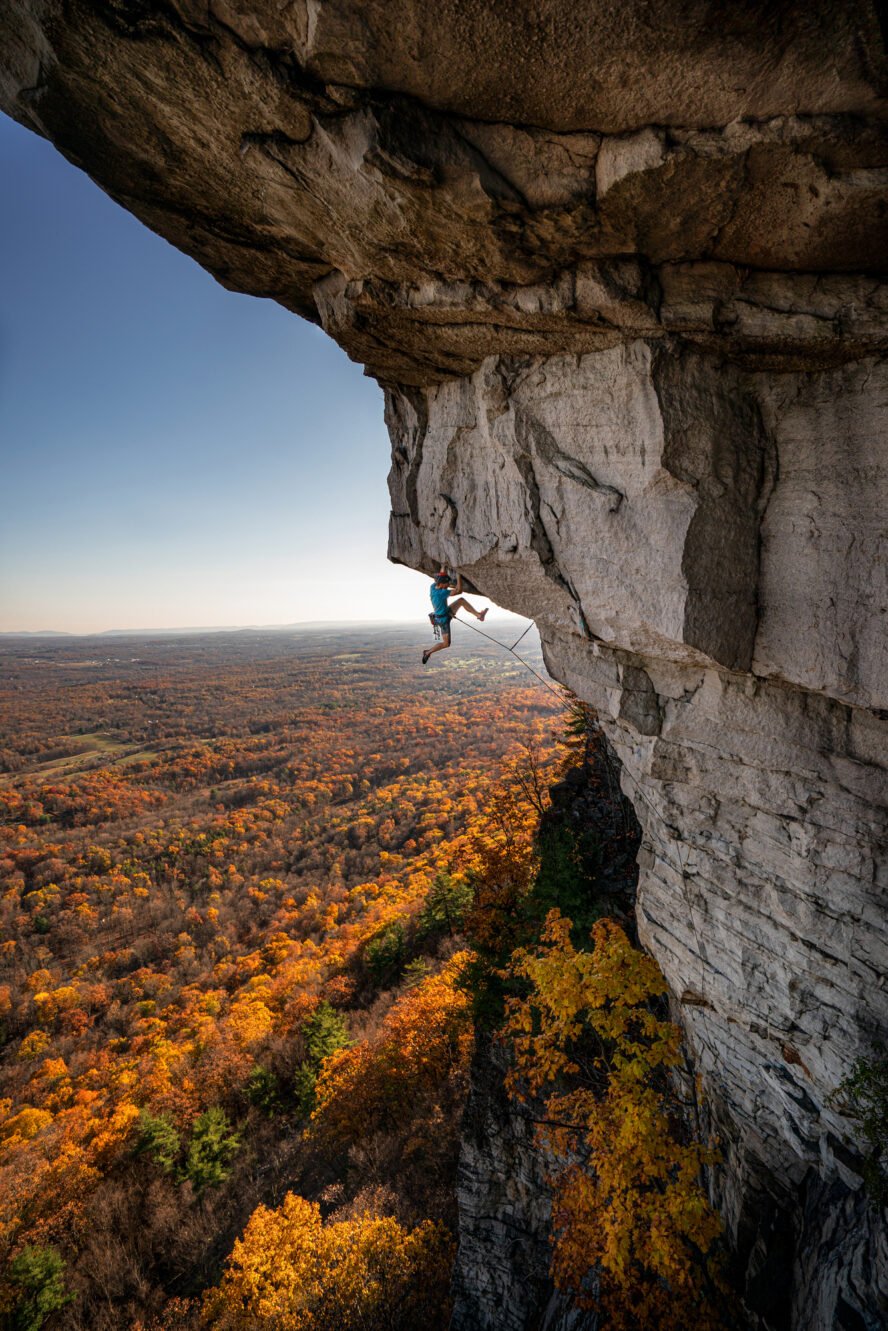 Impact
My short film, Conserve, made in partnership with Patagonia and the GCC, focuses on climber impact here in the Gunks.
In the year I spent making it, I was lucky enough to work with conservation scientists, arborists, lifelong climbers, and Preserve Rangers to learn more about our fragile environment and how it's changed since first being climbed in the 1930s.
Crowding is obviously the large issue, which multiplies impact due to soil-compaction, trail braiding, wildlife disturbances, and microtrash (the little bits of plastic, energy bar wrappers, etc.) that get left behind during your climbing day.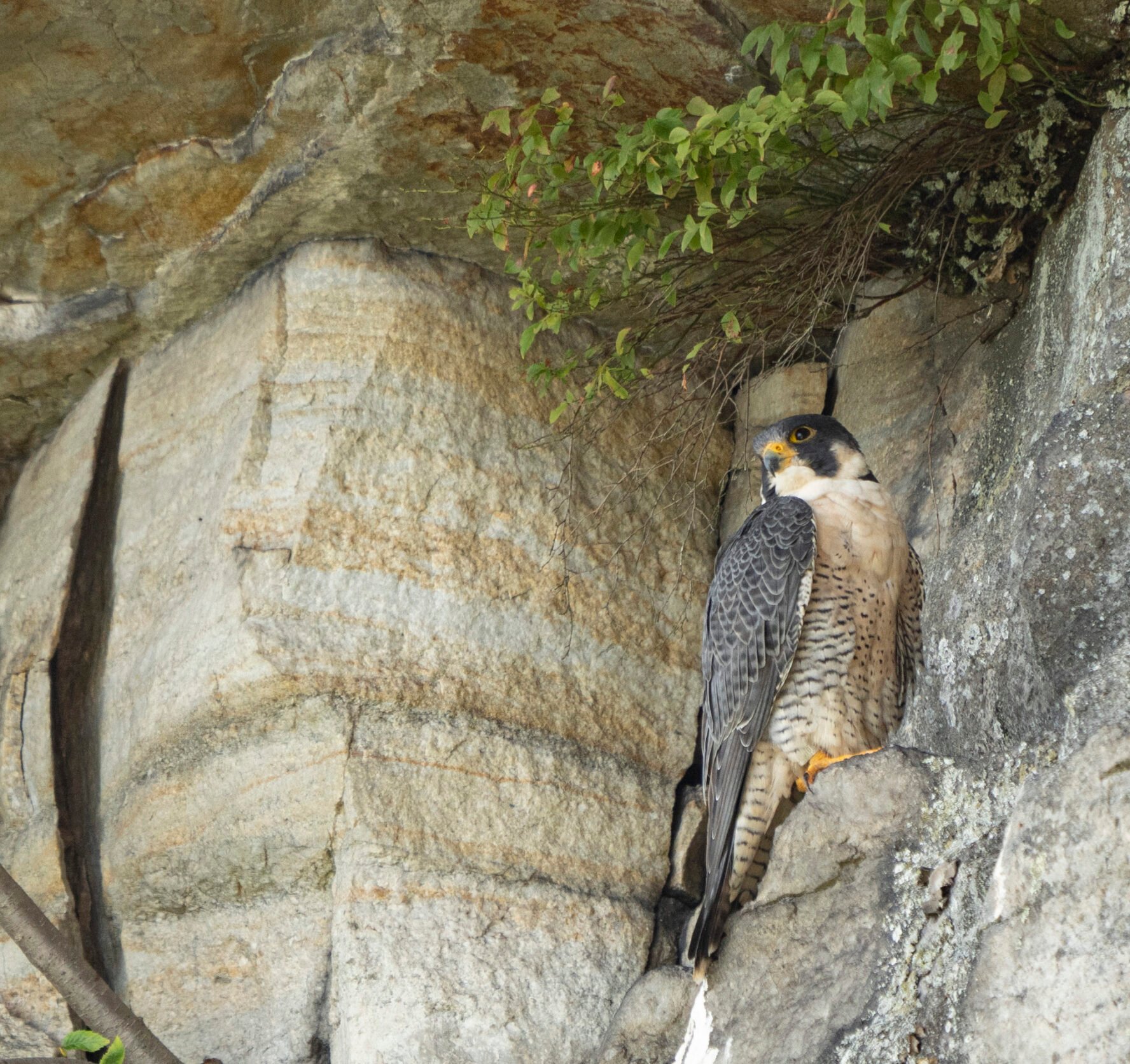 In short: stay on trail, don't rappel off anything but a fixed anchor, and pick up any trash you see—not just your own.
These Leave No Trace ethics were quietly cemented by formative climbers in the 1960s and 1970s, and as a result a strong tradition of conservation at the user level persists here.
The LCO you need to know
We're a tight-knit group here.
I've been a Board Member of the Gunks Climbers Coalition for four years now, an organization dedicated to expanding and preserving access along the Shawangunk Ridge. While more recent projects like the GCC's Antlion cliff purchase focus on land management, the organization also provides yearly community events, and works hand-in-hand with the national advocacy organization the Access Fund to advance JEDI initiatives, an overdue imperative in the outdoor space.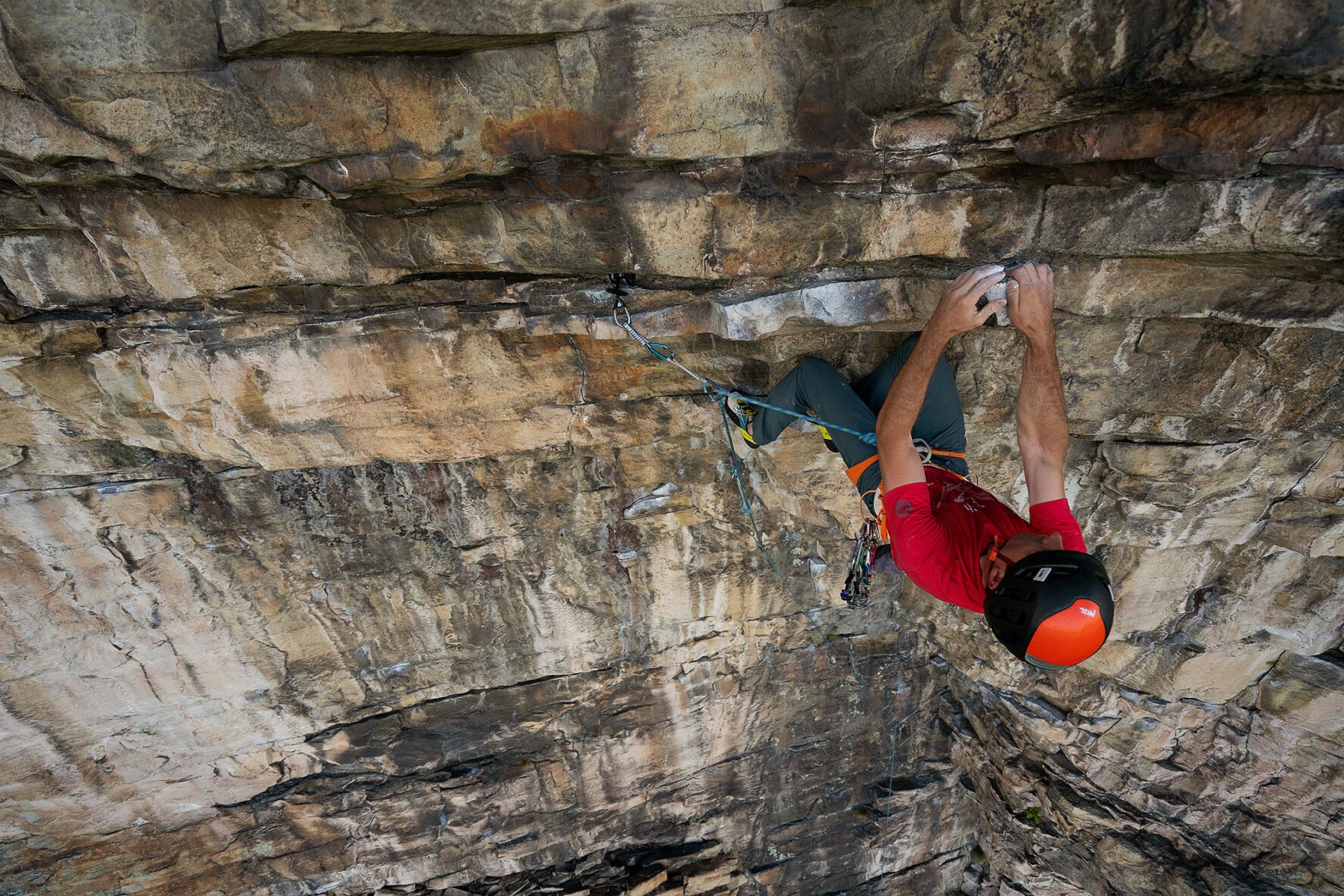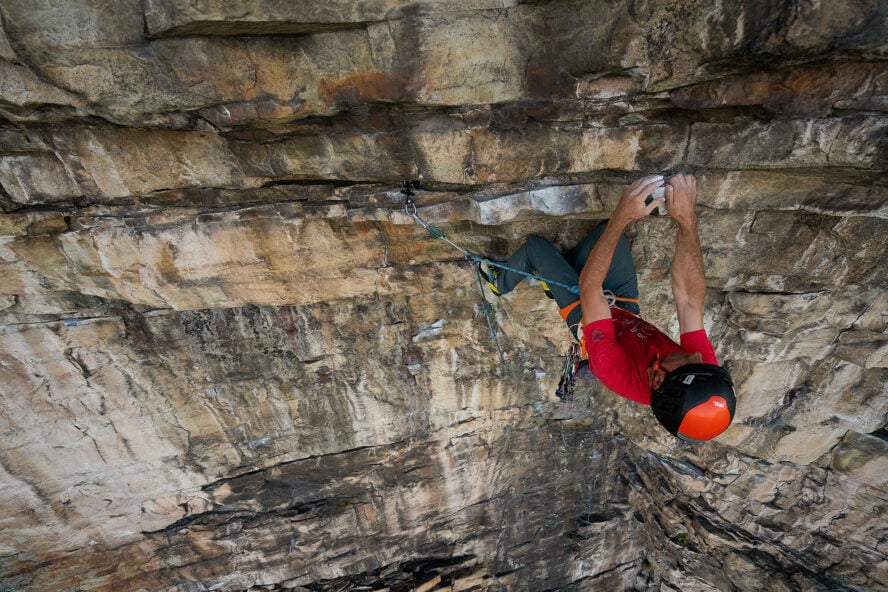 I'll Never Forget the First Time Topping Out on the High Exposure Buttress
This multicolored prow, discernible from miles away in the striking relief of the late-day sun, issues a golden siren song. It celebrates all for which the Gunks stands for, in towering relief: the purity of some of the best traditional rock climbing in the USA; partnership, adventure, and exposure; a legacy of staunch ethics that endeavors to keep this place natural.
It's easy to picture yourself out on that edge, the glow of a summer sunset painting the valley below, and trust me, once you experience that historic exposure, you will truly know the Shawangunks.
Do the epic roofs and longstanding tradition have you stoked? Sign up for a guided day of rock climbing at the Gunks and enjoy some of the best trad on the East Coast!