Sardinia: A Journey to the Best Climbing by the Sea
EPIC ADVENTURE WEBINAR BY

&
Webinar is finished. Sign up to get the free recording.
Set Sail for Sardinia and Seaside Climbing
Register for free and join us on August 5th, for this free live info-session with Lorenzo Pernigotti. Presented by AFAR Travel Magazine and Guide.
Sardinia as seen from the sea is all splendor. And for climbers, the remote paradise is a siren's call. With nearly 6,000 sport routes and 1,000 multi-pitches, skipper and climber Lorenzo Pernigotti came up with the perfect idea—combine luxury sailing along the island's coastline with top-of-the-line climbing in one unforgettable package.
This week-long sports holiday kicks off with a cruise into the sunset at the Portisco Marina, and from then on it's day after day packed with excitement and pleasure. Under the supervision of IFMGA guides acquainted with every hidden cove and world-class crag of Sardinia's coastline, you'll climb some of the best granite, basalt and dolomite in Europe.
Then, after a day on the rocks, it's time to kick back and enjoy the breathtaking nature around you. Cool off with a scuba dive, enjoy a cold drink with a fishing rod in hand, or soak up some sun on a sandy beach as the gentle bob of the Mediterranean murmurs in the background. This is a trip like no other.
In this one-hour webinar, Lorenzo will tell us about his journey in search of the best rock climbing spots by the sea. He'll attempt to paint a picture of Sardinia's sublime beauty and illustrate what a week with his crew looks like from their floating base camp. Stick around after the presentation and Lorenzo will gladly answer whatever questions you might have.
WHAT YOU GET IN THIS ONE-HOUR SESSION
LORENZO WILL COVER
What makes Sardinia so unique
Where to find the best climbing spots
A glimpse into authentic Sardinian culture
How to get the best local experience
How this unique sailing & climbing expedition looks like
Life on the boat
The unforgettable memories Sardinia gives
LIVE Q & A SESSION
Lorenzo will follow up with a live Q&A session, where you can ask him anything you want to know about sailing and climbing in Sardinia.
Get free professional advice from the man whose unique tour plan turns the traditional approach to rock climbing on its head.
After hearing Lorenzo's story, be prepared to do something you never thought you'd do—pack your climbing shoes and snorkel in the same suitcase.
Webinar host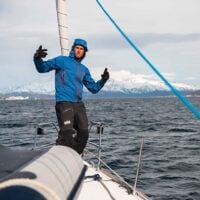 Lorenzo Pernigotti
Skipper, passionate climber and founder of Vertical Sailing Tour
Passionate about outdoor sports since a young age, Lorenzo chose to live pursuing his passions and sharing his enthusiasm with his clients. In the winter he teaches them how to ski by working as a ski instructor, while in the summer he makes them experiencing his favorite combo: sail & climb! Head of the Vertical Sailing Tour, onboard he becomes the skipper. But don't think about him as a regular skipper, as soon as the boat stops, you might see him starting to make some cocktails, cooking some Italian risotto, spearfishing the dinner, climb a sea stuck, and flying down a mountain on his paraglider.
By signing up you will also subscribe to the 57hours & AFAR magazine newsletters. You may opt out anytime.