Partner

Nate covered:
The biggest differences between indoor and outdoor climbing
Required gear for the crags
The best outdoor climbing options for beginners
Finding and sticking to your progression path
Climbing etiquette in the Great Outdoors
Choosing the right guide or climbing course
How to stay safe on the rocks
If you've been bitten by the bouldering bug, you're familiar with the deep satisfaction of sending cool problems on an indoor climbing wall. That feeling is what drives us to keep pushing on, no matter how many times we fail.
But while many enthusiasts are happy to stay crushing in the comforts of their gym, others set their gaze on the great mystery beyond the walls. After all, the sport is called "rock climbing"—and for some, no plastic hold can compare with the real deal.
That's where we come in!
In this special one-hour session, you'll learn what it takes to make the transition from gym to crag smoothly and safely. Taking your skills outside is not as simple as slapping some chalk on your hands and going to town—you need to know your equipment, employ correct technique, and follow proper etiquette.
Join an experienced, AMGA-certified guide as they run down the differences between indoor and outdoor climbing, explain all the intricacies of scaling crags, and teach you how to get into the right mindset for making the switch.
Ready to take your climbing from indoors to the Great Outdoors? If so, don't miss out on this one!
Webinar host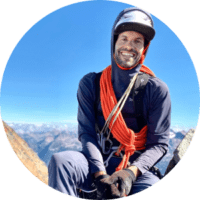 Nate Pakula
AMGA Guide and founder of High Desert Guiding
A Rhode Island native, Nate grew up playing among the craggy peaks of New England. His passion for climbing has taken him around the world, including Patagonia, Thailand, Canada, India, Mexico, and the western United States. When he's not in his native venue of Joshua Tree, you can find Nate in Red Rock outside Las Vegas. When the desert gets too hot, he guides rock climbing, alpine climbing, and mountaineering trips in the Pacific Northwest.