The Ultimate 2023 Guide to the Best Rock Climbing in Utah
California's got the scale and Colorado the elevation, but sandwiched in the middle is Utah, offering variety combined with wild remoteness climbers like me love and crave.
Table of Contents
Utah is my favorite state for rock climbing, which is saying a lot given my ties to North Carolina and Nevada. In few other states can you find the hardest granite, weirdest conglomerate, and the softest sandstone in the entire country in a 6-hour drive.
Utah is the land of Indigenous peoples, including the Ute, Shoshone, Western Shoshone, Goshute and several smaller tribes, as well as the Latter Day Saints (Mormons), desert people, mountain people, skiers, snowboarders, off-road enthusiasts, and climbers. And you'll find lots and lots of climbers!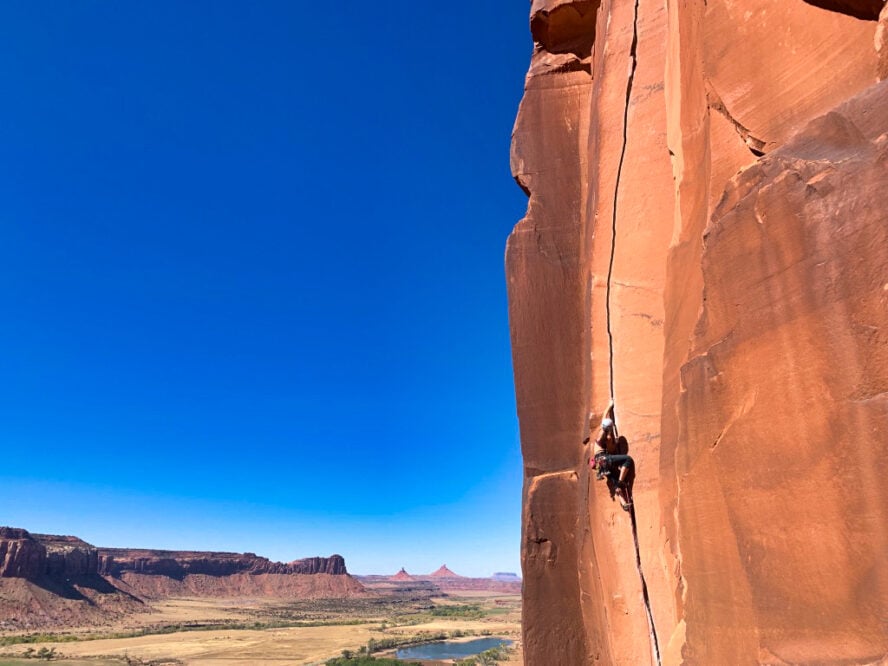 Climbing Utah's four distinct regions
I like to think of Utah climbing in four parts. Eastern Utah, where we find Moab, Indian Creek, and the La Sals, is largely the land of sandstone. Salt Lake City is its own designation, in my mind, spanning from Logan limestone climbing in the north to the incredible quartzite and white granite of the Cottonwood Canyons nearest town. Central Utah is often sparsely populated farmland and mountains where you will find the interesting conglomerate of Maple Canyon and the hard sandstone of Joe's Valley. Southwest Utah is where you can find just about any climbing you are looking for. You'll discover limestone caves, basalt, and varying sizes of sandstone faces and cracks.
Eastern Utah is a journey to the land of red stone
When I think about climbing in Utah, the first place I typically think of is the Colorado Plateau. Situated in Eastern Utah, this is the land of the Ute and Navajo. The red stone is rife with the history of human success, struggle and conflict. It is a climbers paradise where the Wingate sandstone and desert towers of varying composition are the stars of the show. Eastern Utah climbing also offers some of the state's greatest hits, including the following heart-pounding climbs in Moab and Indian Creek.
Let's take a journey to these destinations and let me show you why Utah is a climber's paradise!