Rock Climbing in Montana Is About Going off the Beaten Track
Montana might be the definition of going off the beaten path, with big forests, bigger mountains, and wild nature. It's perfect for your next backcountry climbing adventure.
Table of Contents
Montana is not known for its world-class rock climbing, or world-class anything, really.
What it is known for, though, is its pristine landscapes, wild mountains, and vast empty spaces. With about a third of its territory designated as protected land, including two national parks in Glacier and Yellowstone, ample national forests, and wildlife refuges, you're more likely to see a bear than another person if you head out into the backcountry. In fact, Montana may be the closest you can get to the wilderness of Alaska in the lower 48.
Unfortunately, climbing here is still unknown to most travelers (and climbers, for that matter). But, given that the state's name literally means "mountain" in Spanish, you'd expect to find a lot of rock here. And you will! There are more than a hundred named ranges and plenty of glacially formed features, offering everything from multi-pitch routes at Blodgett Canyon to the reliable ice of Hyalite, the 1,500-foot face of Granite peak to the boulders of Bitterroot Valley, and everything in between.
So maybe I should rephrase it: Montana isn't known for its world-class rock climbing…yet.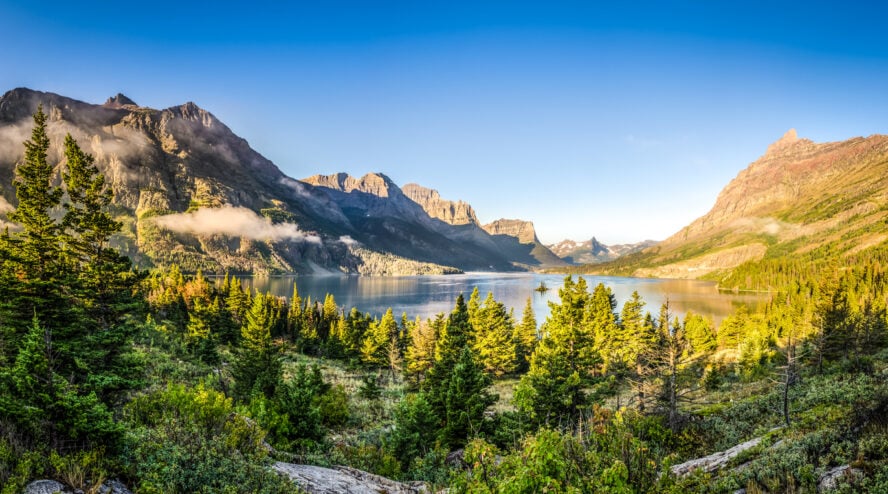 How Does a Sport Climber From Berlin End up in Montana?
Montana has been my premier mountain school. It offers all the disciplines—rock, ice, snow—and almost always in a far-off setting. But I almost didn't come.
When I first researched the state for my student exchange semester, other climbers advised me to look for a different university—and another state. American climbers that I met in Europe were telling me that there is good climbing outside The Treasure State—within a couple hours' drive, in fact—but the rock climbing in Montana would be minimal. After doing some research, I did come across some climbing opportunities in the nearby area, but I wasn't sure if I'd find a climbing community per se.
I made the trip anyway and moved here from Berlin in 2018. I was most excited about the open landscapes, lonely mountains, and empty trailheads. However, as an avid sport climber, I was just hoping for some local crags to play on, not expecting to find much.
Well, I'm still here, so that says a lot!
For me, Montana turned out to be a hot spot for the all-around mountain athlete. I moved into a climber's house and quickly met plenty of climbing partners. The supposedly non-existent crags around Bozeman and in Western Montana turned out to hide a lifetime of top-notch sport and trad routes. After a few days in the area and with the right partner I started to trad climb and up my game quickly. My highlight that summer was climbing a multi-pitch on Ross Peak—an alpine adventure on a perfect-quality rock right next to town.
High-Level Beta About Rock Climbing in Montana
Tucked between Idaho and the Dacotas and bordered by Canada to the north, Montana is the second biggest state in the lower 48. It is known for its vast fields, mountains, ranches, and lots of horses. While most of the state is made up of high plains and relatively flat landscapes, the West and Southwest encompass sections of the Rocky Mountain range, forming numerous mountains and ecosystems.
This leads to most of the climbs being concentrated in the West, close to major towns like Bozeman, Missoula, Helena, and Billings (Red Lodge). Montana has over 1500 sport routes, 1000 trad routes, and a huge number of undocumented climbs not covered by Mountain Project that only the locals know about.
Montana's got it all
From local limestone sport crags to the huge rock faces of Glacier National Park and Granite Peak, the highest mountain in the state, everyone finds a crag of their own in Montana.
If you are looking for a proper wilderness climbing experience, including beta research, route finding, bear management, weather assessment, and some truly remote rock, then Montana might be your dream come true. And if you don't want to do it all by yourself, just hire a guide who will help you make the most of it.