Sunny covered:
Why climbing Kilimanjaro is so rewarding
Getting away from society and finding peace in the mountains
Achieving the impossible by exceeding your limits
How to handle high altitude and shifting weather
Preparing for your journey to the Roof of Africa
Why it matters to bring more women into the world of mountains
Towering over the vast savannas of Tanzania and Kenya, Kilimanjaro is the most sought-after mountaineering objective in Africa. It's also a place to find camaraderie, forge meaningful connections, and grow into your own confidence.
Seven different routes lead to Kilimanjaro's fabled summit, 19,340-foot Uhuru Peak, each one as rewarding as it is challenging. Venturing above the clouds and reaching that mighty peak may seem like an impossible feat, but you will soon learn that anyone can do it—you, too!
Every challenge presents an opportunity—to leave your comfort zone, to shatter stereotypes, and to forge a path for other adventurous women to follow.
If you're curious to see how free-spirited women can create a welcoming environment in some of the most challenging landscapes out there, then you owe it to yourself to check out this free one-hour webinar recording.
This webinar is designed for those who want to learn, ask questions in a welcoming space and connect with other outdoor-loving women who share the same passion for adventure and the mountains.
Webinar host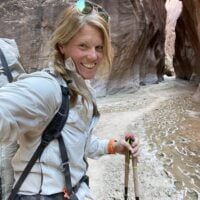 Sunny Stroeer
Owner of AWExpeditions
Sunny led a career-oriented life as an international strategy consultant with a Harvard MBA until a formative adventure on Aconcagua made her drop everything and take on the outdoors full-time. Before long, her exploits on high-altitude hiking and climbing routes saw her breaking speed records worldwide. When she's not traveling and setting FKTs left and right, Sunny organizes guided adventures, celebrates the sporting life and promotes female empowerment through her writing and photography.