Suffer With a Smile When Climbing Denali's West Buttress
After 40 trips on Denali and two laps of the Seven Summits, if I've learned anything it's this: nothing can prepare you for the long expedition, hard days, and serious conditions of climbing Denali.
I've found every excuse to spend my time climbing in Alaska's epic ranges, including moving there. With 9 of North America's 20 highest, these mountains and the people who climb them inspire me to keep pushing my limits. The pinnacle peak of the range and the highest in North America is Denali. Even though I've climbed the mountain 40 times, and guided the Seven Summits of the world twice, I've found that no place can really compare to the remoteness and difficulty of Denali. For the ambitious mountaineer ready to commit to a serious summit, Denali is the perfect project.
Pros and Cons of Climbing Denali
At 20,322', it's one of the most challenging and rewarding summits of the world
An opportunity to develop your mountaineering skills while maneuvering on difficult terrain
Remote and isolated expedition is a rare opportunity for a guided trip
High cost due to travel, gear, supplies, permits, and guides
Severe conditions and weather can mean lengthy, often unsuccesful summits
Eastern Alaska Is Severe and Dear to My Heart
The Alaska Range is as brutal as it is beautiful. A narrow stretch of coarse mountains, they form an east-west arc that is blasted with moist air from the Alaskan Gulf. This produces some of the harshest weather in the world, with year-round snowfall, unforgiving winds and bottomless glaciers that reach from 100 to 6,000 meters above sea level. Trust me when I say, the Alaskan Range is the real deal.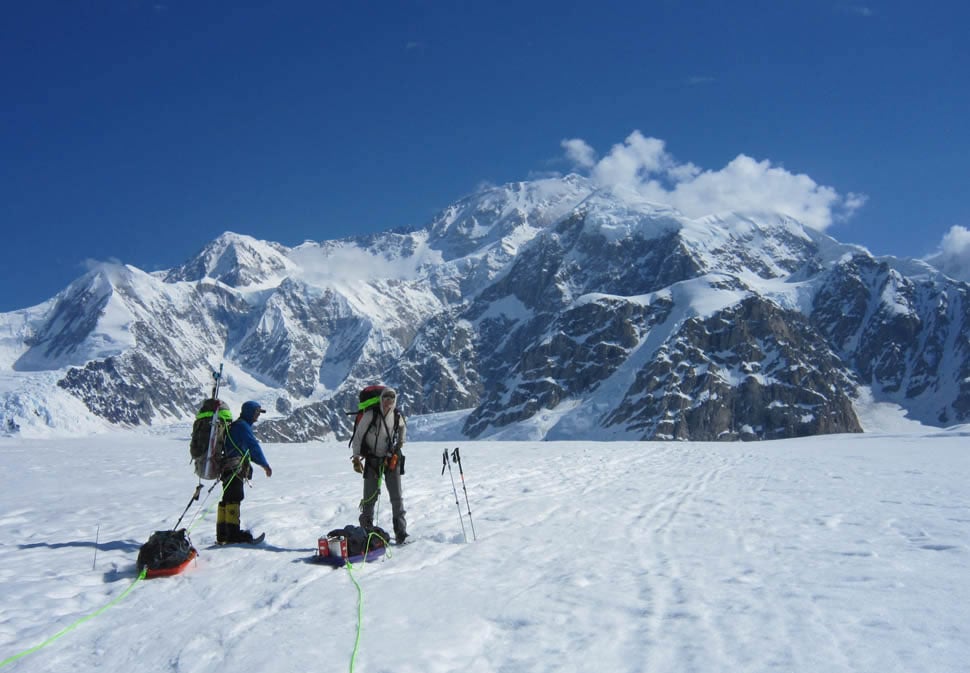 Climbing Denali is about as remote as it gets
When you drive through Denali National Park on that little ribbon of a road, you'll find it crammed with wildlife, low-elevation taiga forest, and harsh alpine tundra that will make you want to leave the monotony of daily life and retire to a log cabin along the Savage River.
This out of the way park encompasses more than 2,000 square miles of the Central Alaska Range and the vast permafrost-stricken plains to the north. While Alaska has some of the best hikes in the country, the trails here, like the signs of modernity, are sparse.
Denali is the staggering main attraction, of course. The roof of North America at 20,320' (6,193 m), along with Foraker and Hunter Mountains, make this subrange one of the most popular climbing destinations in the state. With no porters, lodges, cooks, or really any of the comforts you'll find on other expeditions, even if you're only backpacking in Denali, and especially if you're climbing, you have to be almost entirely self-sufficient. For me, that's the appeal: you're utterly remote, no easy way out, and at the mercy of the elements. How much do you trust your training and determination?
The Cascades Were My Primer for the Bigger Peaks up North
I grew up in Oregon with the Cascade mountains as my backyard. Things really took off in college though, when I spent summers in Alaska working as a river guide. I was blown away by the whole scene, and pretty soon I was spending more time in Alaska than I was at school. Within a few years I lived there.
Since then, I've guided expeditions on the highest peaks around the world through my company, Mountain Trip, done the Seven Summits twice, and Mt. Everest three times. But let me be clear: nothing—not Antarctica or Everest—can really prepare you for Denali. Hopefully this guide will give you a sense for what you're in for.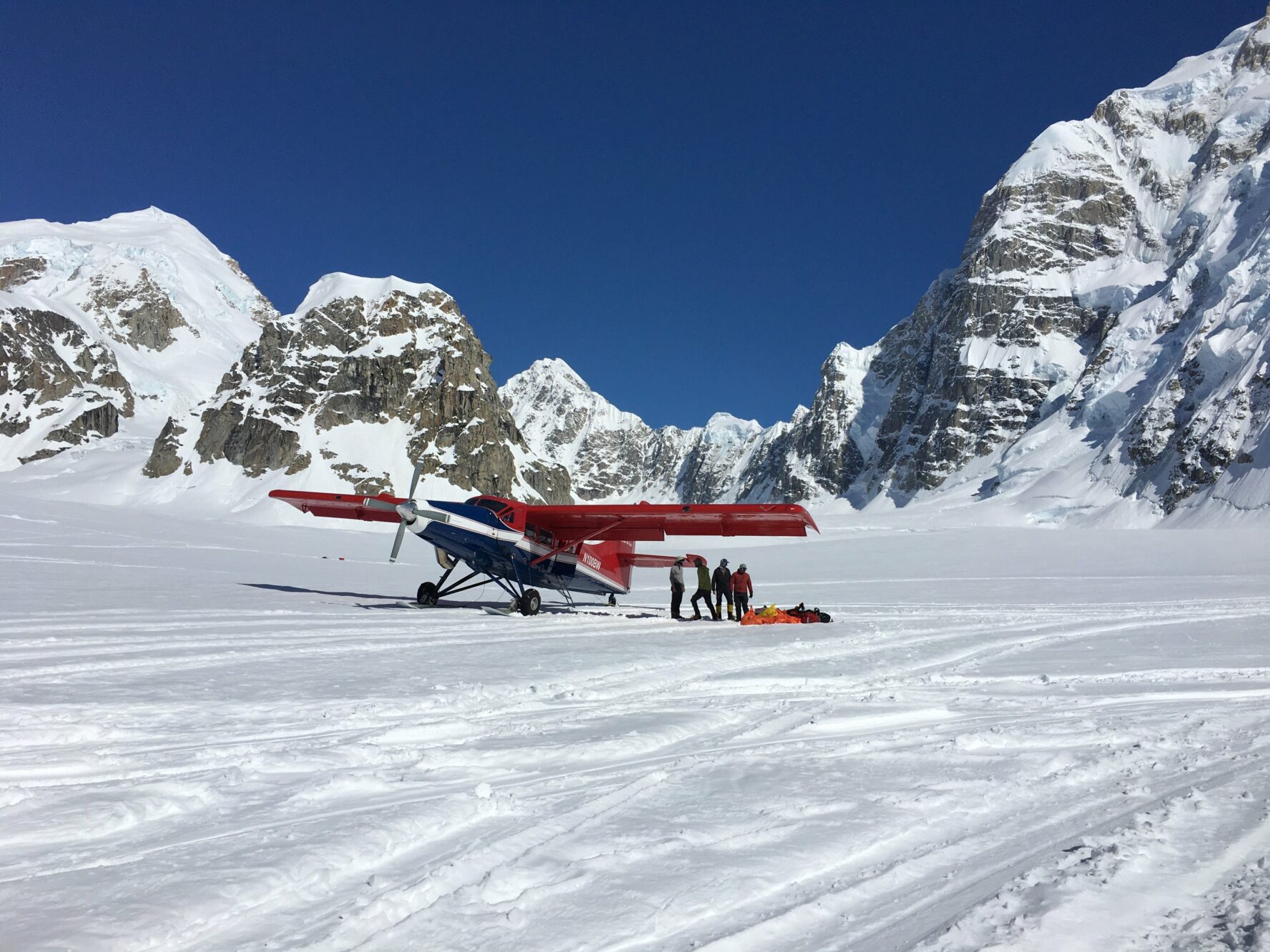 Climbing Denali's West Buttress Route
On the three-week Denali expedition, there's about as many days as there are hurdles to jump. Right off the bat is the fact that you need to carry in all of your gear and supplies. Sleds packed with weeks worth of food and fuel, ropes, tents, trekking and climbing gear, I mean the list goes on. It takes us three days just to get the supplies ready before clients show up in Anchorage.
Preparation is one of the most important parts of the trip, but as soon as we're good to go it's out the door and away from civilization. Straight out of a James Bond movie, we take a small bush plane fitted with skis over to the Kahiltna Glacier at the foot of Denali, where we set up basecamp and prepare for the weeks ahead.
We'll be taking the West Buttress Route. In the 19th and 20th centuries Denali's west side was thought to be impenetrable—all other summits had gone up the northeast face. In July 1951, however, Bradford Washburn and a team of mountaineers were the first to ascend from the west, establishing what is now the standard route, and the path we'll take.
Over the next three weeks we'll put our technical skills to the test while nearly freezing our asses off. Get ready to suffer with a smile!
Moving between camps and acclimatizing
Acclimatization is vital as we move into higher elevations. You don't want to get sick, or worse, out here. Roughly half the people that attempt West Buttress each year are unsuccessful, and about 10 percent get altitude sickness or frostbite. So we take our time as we move between these early camps.
In the next week or so we'll move steadily up the mountain, typically making camp at 7,200′ (basecamp our very first night), 7,800′, 9,500′, 11,000′, 14,200′ and 17,200′. I hope you're feeling good because the hard part is up.
Hauling gear to 7,800'
Get ready to carry the heaviest pack of your life into increasingly thinning air. On our first day on the mountain, we drop down Heartbreak Hill and onto the broad Kahiltna Glacier. Today we "single-carry" our gear, hauling everything to our next camp in one go. Our packs and sleds are 50 pounds each and we're doing about five miles and 1,200 feet in elevation gain up to 7,800′ Camp (we designate each camp by altitude). This is near the junction with the northeast Fork of the Kahiltna Glacier and from here you can see how the West Buttress and West Rib routes split and wander up towards Denali's colossal peak.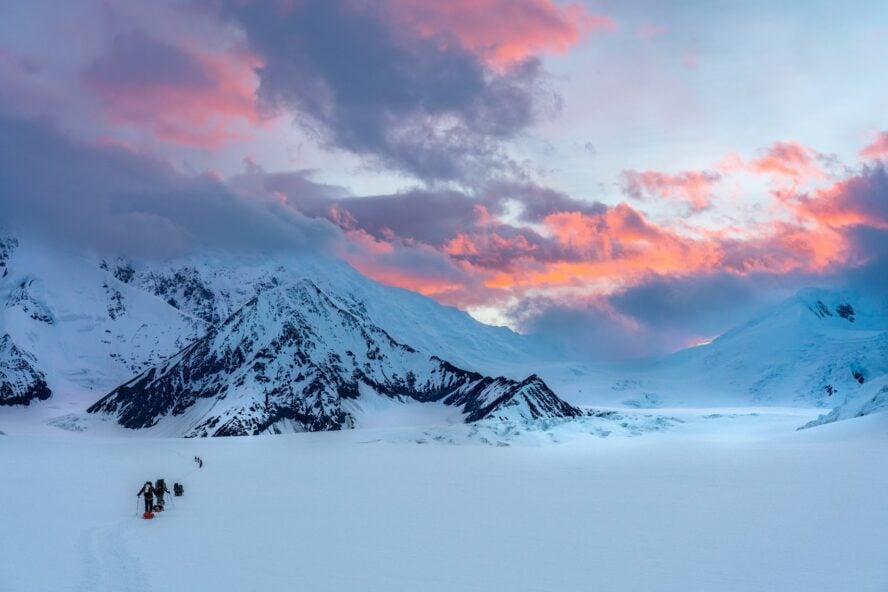 Basking in the alpenglow at 11,000' Camp
The typical move between camps is a three day process. In our first push to 11,000' Camp, we haul loads up Ski Hill to Kahiltna Pass, about 1,800 feet up, cache supplies and mark it with a flag. This is a moderately difficult day of 7-9 miles round trip. We return to the first camp for the night, then move up to our second camp, usually around 11,000 feet, the following day and sleep. On the third day, we hike down to our cache and bring up all the supplies.
This "climb high, sleep low" technique is a good way to move with lighter loads and helps us to acclimatize. With about 3,000 feet between first and second camp, we are adjusting by 1,000 feet a day.
11,000' Camp at the base of Motorcycle Hill is a stunning setting. As the sun travels around the north side of the mountain, everything starts to glow in a warm pink and red, known as alpenglow. This far north and at this altitude, the summer daylight lasts near 24 hours. All day and night sun can be disorienting, but as the colors begin to shift I am in awe of Denali's beauty. The beautiful views combined with some hot coffee make me excited for the day ahead.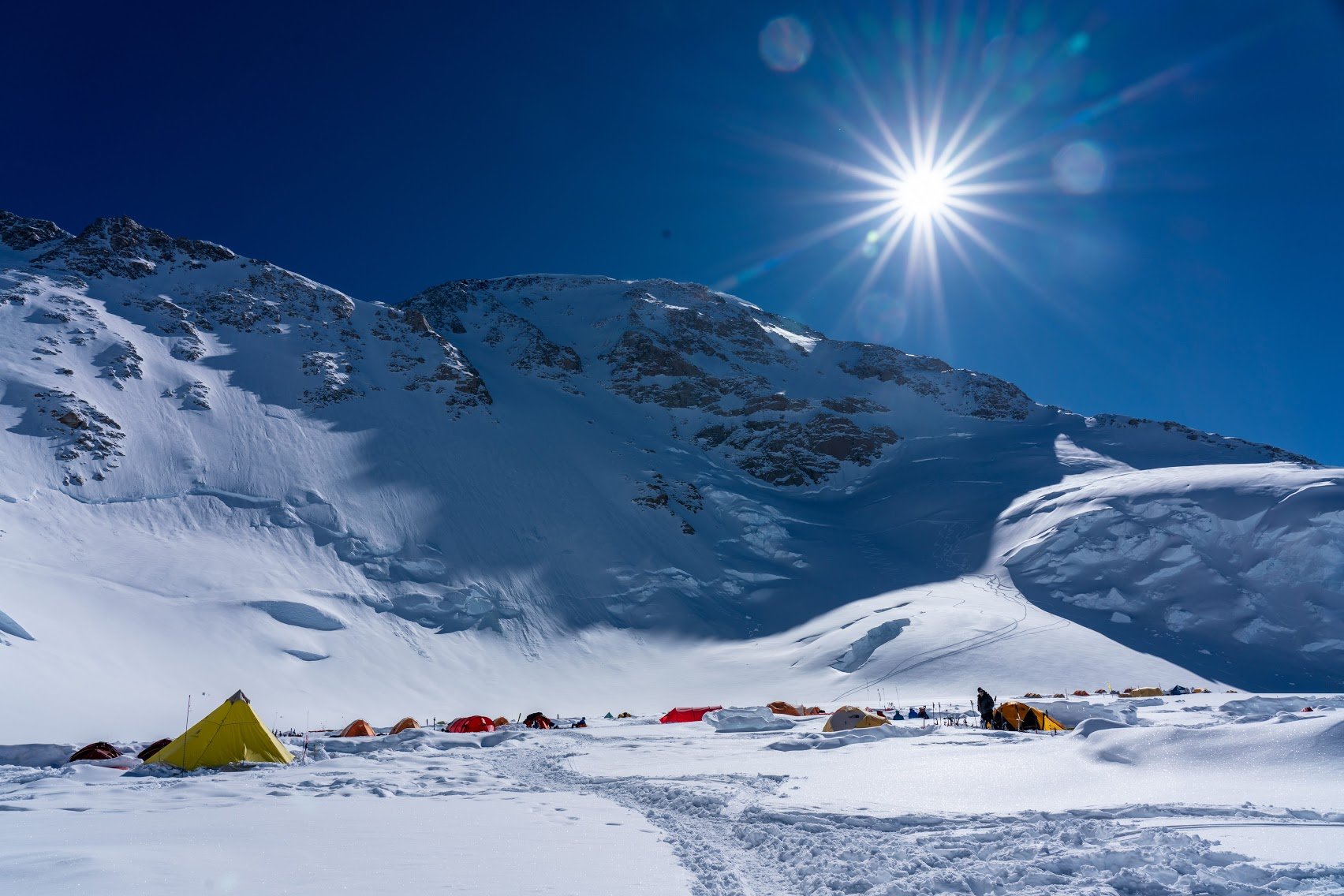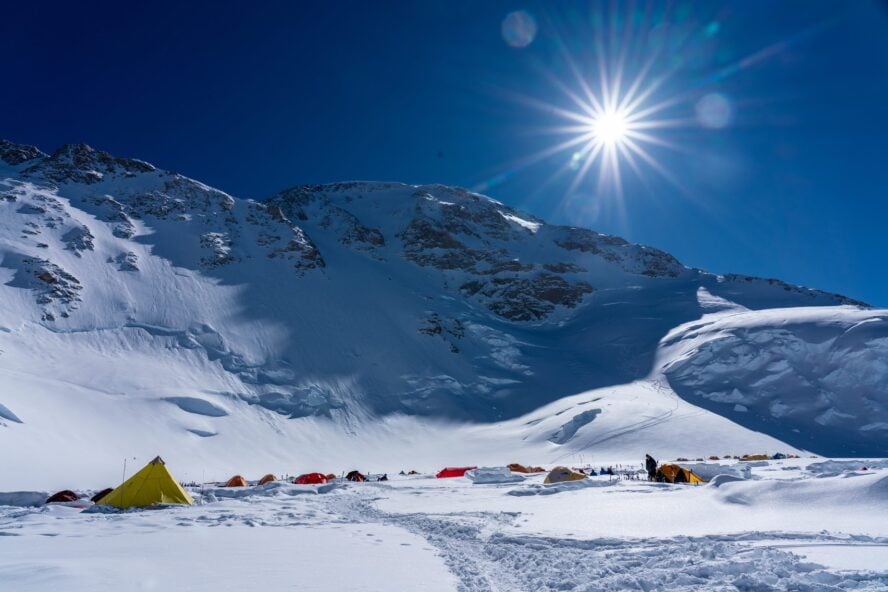 Peeking Denali's Peak from 14,200' Camp
Our next camp is at 14,200' at the Genet Basin. We climb up the steep and technical snow on Motorcycle Hill, about 1,000′ with crampons and ice axes, and bury our supplies. This is when I start to feel the effects of altitude: our loads are lighter, but the air thinner. Rounding the Windy Corner at 13,300', Denali's peak comes into view, filling the panorama, it's excessive. We drop back down for the evening and retire to our tents. I put on my eye mask and try to get a few hours of sleep.
The following day is long and hard. We're following yesterday's route all the way to 14,200 feet. When we arrive we immediately get to work setting up our exposed camp. As we're unprotected from the western winds, we fortify our tents to buttress against severe weather. Our afternoon is spent hunkered down, going over the climbing techniques that we will use in the upcoming days.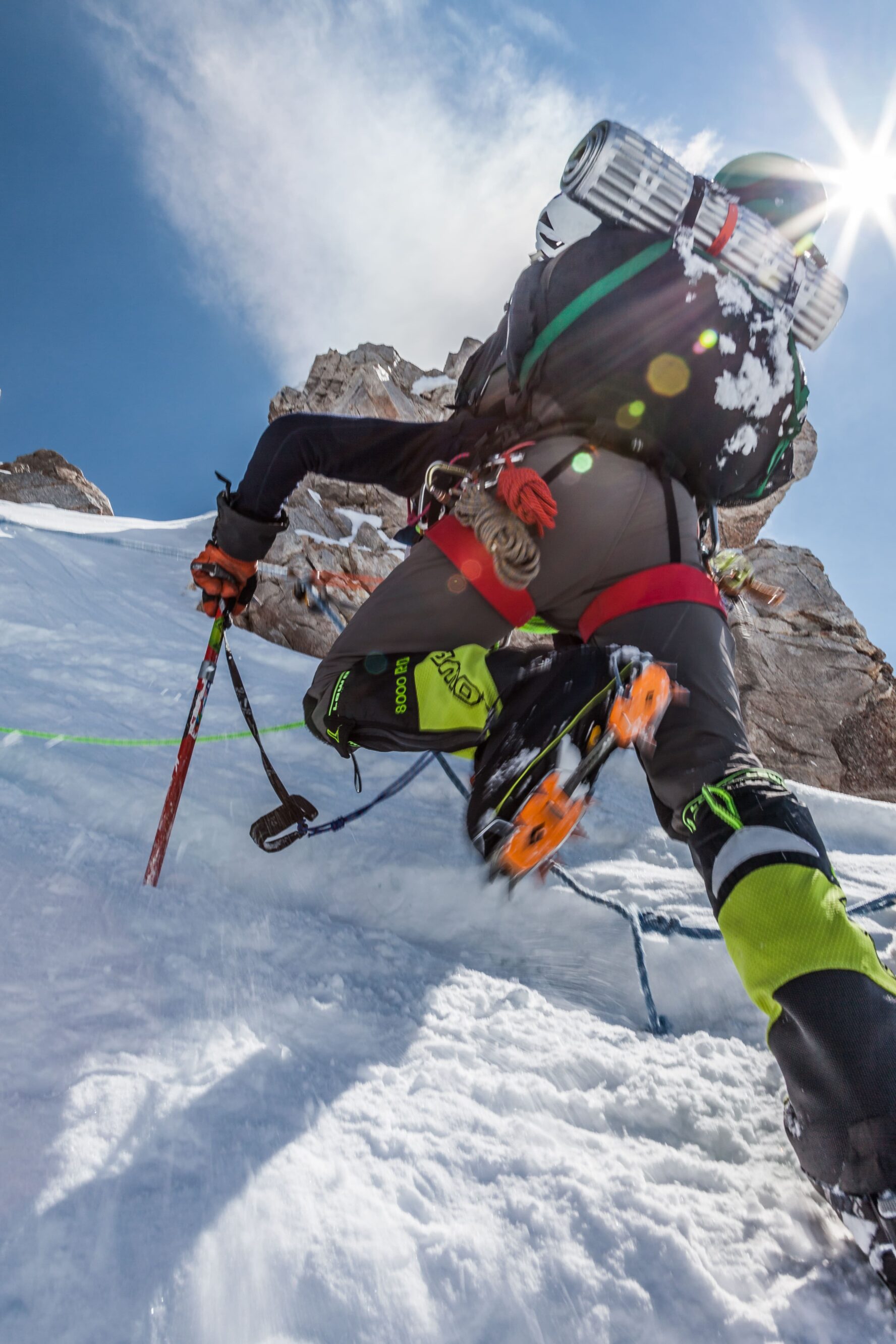 Pushing to High Camp—our last stop before the summit
Moving to 17,200' and establishing High Camp is one of the most strenuous days of the expedition. We hoof up the Headwall, a 1000', 60° steep wall of snow, using fixed lines, and end up at about 16,100'. With heavy loads and burning muscles we're in for long stretches of technical climbing, knife edge terrain, big exposure, and unforgettable views. Finally, you may gasp, we arrive at the West Buttress Ridge amid rarefied air.
My personal highlight of the expedition is looking past the edge of the rock buttress at High Camp and seeing the 14,200' Camp between my feet. I'm filled with a sense of accomplishment and excitement for the summit to come. After today's 3,000' of elevation gain and 6-8 hours of climbing time, we take a rest day before attempting the summit.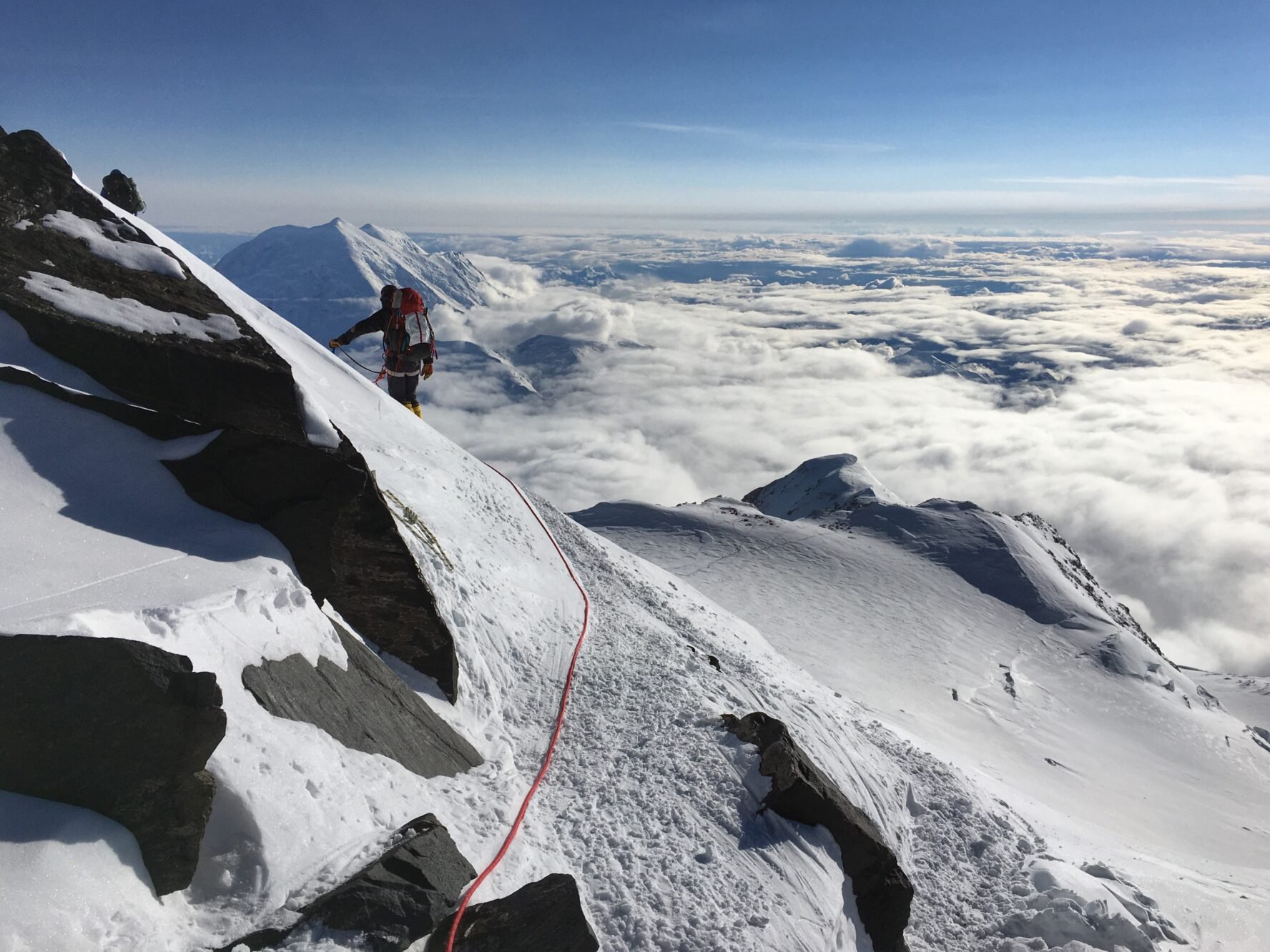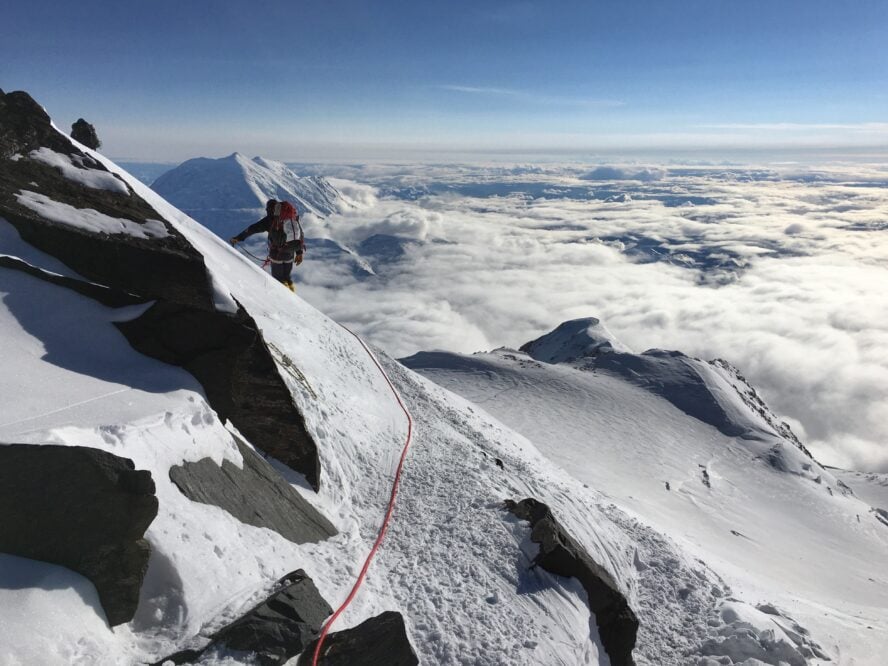 A Seven Summit Day
This is The Most grueling day of the expedition, by far. We head for North America's highest point usually between 7 and 10 AM, when the sun starts to warm everything up. We climb up to Denali Pass at 18,000' and slowly follow the route to the Summit Ridge. After about eight hours and 3,000 feet of steep snow climbing, we ascend the 20,310' summit. Easier said than done.
On a clear day, the views are unreal. In a less pristine skies, I'm still just as relieved to have reached the end of our uphill battle. After another eight hours down, we reach High Camp sometime around 2 AM.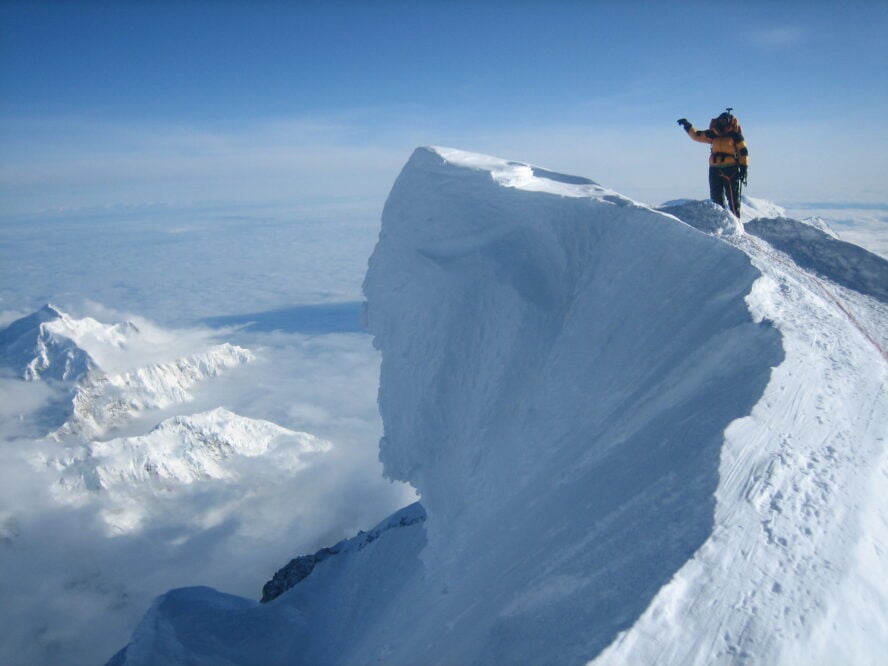 Descending to earth
The descent from High Camp takes from one to two days. Remember that getting up is only half the battle, and coming down can kick you around more than the ascent. Afterall, we're shouldering our heaviest loads at our most tired.
Before we can fly out to Talkeetna—and the hot food and showers that await—we're beholden to the weather. I've got to say, after all that suffering, I've got a big ol' grin on my face thinking about the summit, and that steak from West Rib Tavern.
Commonly asked questions from my 20 years of guiding:
Is climbing Denali dangerous?
Denali is a relatively dangerous mountain, and poses serious threats such as altitude sickness, extreme weather and temperature, and even grizzly bears. Denali should only be attempted under guidance of those with proper mountaineering experience and expertise.
Can a beginner climb Denali?
Denali is a difficult expedition suited to strong mountaineers with ample training and skills. Good training grounds for Denali include Washington's High Cascades, other peaks in the Alaska range and surrounding ranges, and testing your alpine skills in the Canadian Rockies. I would recommend Denali to intermediate and experienced mountaineers who are able to dedicate a year for training and preparation.
Why is Denali so hard to climb?
The conditions on Denali can often be very severe and unforgiving, with long periods of harsh weather. Temperatures and air pressure can get extremely low. Expeditions are long and require endurance, with heavy backpack and sled loads. The terrain ranges from relatively glacier travel to steep technical sections, requiring a wide range of mountaineering skills. As Denali is extremely remote, you won't find the usual comfort of lodges and huts. Lastly, strong mental endurance is extremely important to withstanding the harsh nature of climbing here.
When can you climb Denali?
Denali's peak climbing season is from late-May through mid-June, though it is climbed through mid-July. The success rate during the season is about 50%. Denali has been summited in the winter sixteen times, however, with six deaths coming from those attempts.
Ready to experience Denali's summit yourself? Join an expedition on North America's highest mountain this summer!