How a Sport Climber Discovered Alpine Climbing in Chamonix
Climbing in Chamonix redefined what accomplishment meant to me. Many places claim to inspire, and for me, Chamonix surprised me in the best way possible.
When I first arrived in Chamonix, settled in the French Alps, I immediately understood why it is called the birthplace of alpinism. The hotels, restaurants and stores were built for those who want to walk on glaciers, summit breathtaking mountains, and achieve the "unachievable." Not many places get the kind of hype that Chamonix does, but I can say with certainty that the accolades are well-deserved. Even with nearly two decades of climbing experience under my belt and multiple invitations to visit, I had never taken the leap to test these peaks. The only thing I can say now is that I was a fool to not go earlier.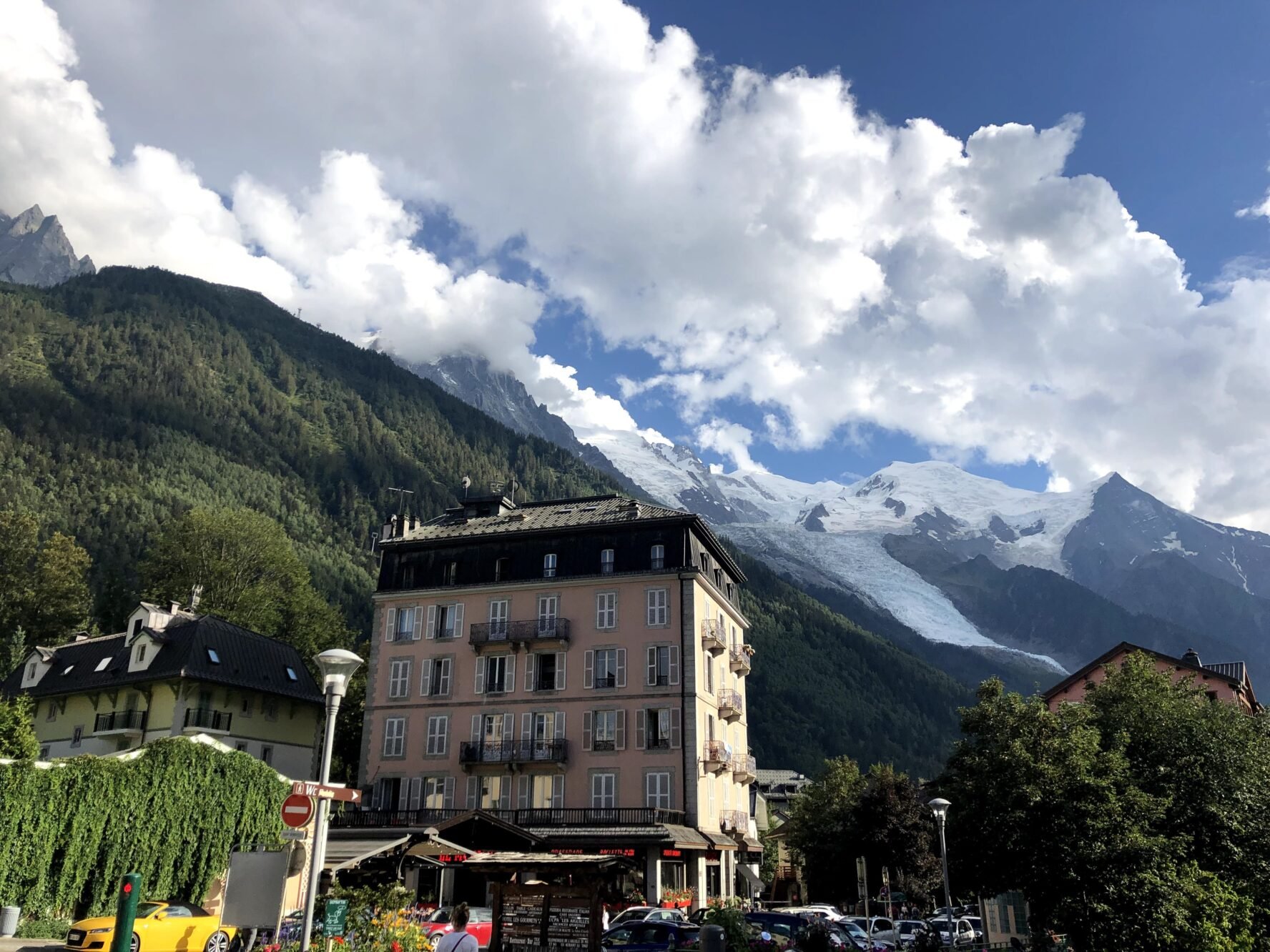 Pros and Cons of Climbing in Chamonix
No matter how experienced you are, Chamonix will leave you in awe
You will expand your skills beyond just climbing
Real way to experience trad and alpine routes
Weather windows can be slim
Can get busy in the summer months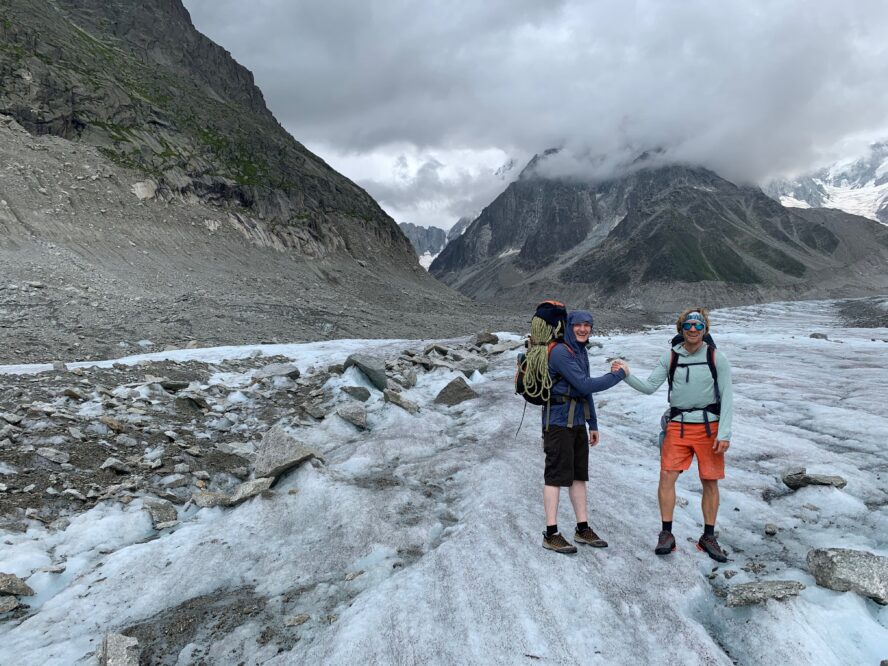 From sport to alpine climbing
I have tried all of the climbing disciplines: bouldering, sport, multi-pitch, traditional or trad, speed, but by far the one I have engaged in the most is sport climbing. Sport climbing is where I learned to climb, and as I started getting better, I explored the other disciplines, but that was always my foundation and my go-to. The gear and experience you need is minimal, you almost never walk more than ten minutes to a craig, and because it is so common you will always find someone to go with you.
For years people told me, "Come to Chamonix," but I liked where I was climbing and didn't think Chamonix could give me anything worth the ten-hour drive. During the summer of 2020, AKA the Covid summer, my good friend and 57hours co-founder, Viktor decided to pack up his cams, ropes, draws and climbing shoes and head to France. There nestled right underneath Mont Blanc, our friend and incredible guide Jeff Witt would be waiting with a packed itinerary. If those two were climbing in Chamonix, it meant it was worth the trip. I couldn't say no to the invitation, so I said au revoir to Croatia.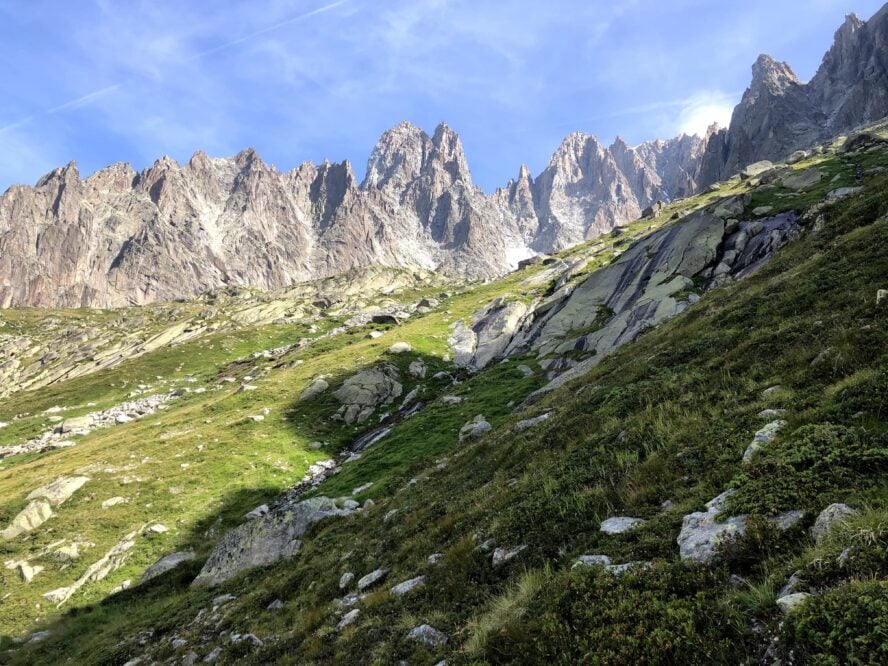 Chamonix — the birthplace of alpinism
Chamonix isn't just one of the best places in the world to ski, it's also the birthplace of alpinism. The history of mountaineering is visible on every corner. The first ascent of Mont Blanc in 1786 showed people a whole new world of possibilities. That powerful mountain towering over Chamonix was conquered and people wanted to experience that same thrill. By the 1800s people were paying experienced mountaineers to lead them across glaciers and summits. The mountain guiding industry was born in 1821 right here in Chamonix, and I am proud to contribute to and grow the history of this industry by working with 57hours.
A small village in the middle of the Alps became hit in the 1800s for those like me. Hotels were built for people who wanted to walk on glaciers, admire the scenery of the Mer de Glace, and summit peaks that look as if they fell out of a National Geographic magazine. One of my favorite images is of people walking on ice dressed in traditional clothing using alpenstocks. To truly understand the history of alpinism and how conquering mountains became a profession, I recommend a visit to the museum of alpinism.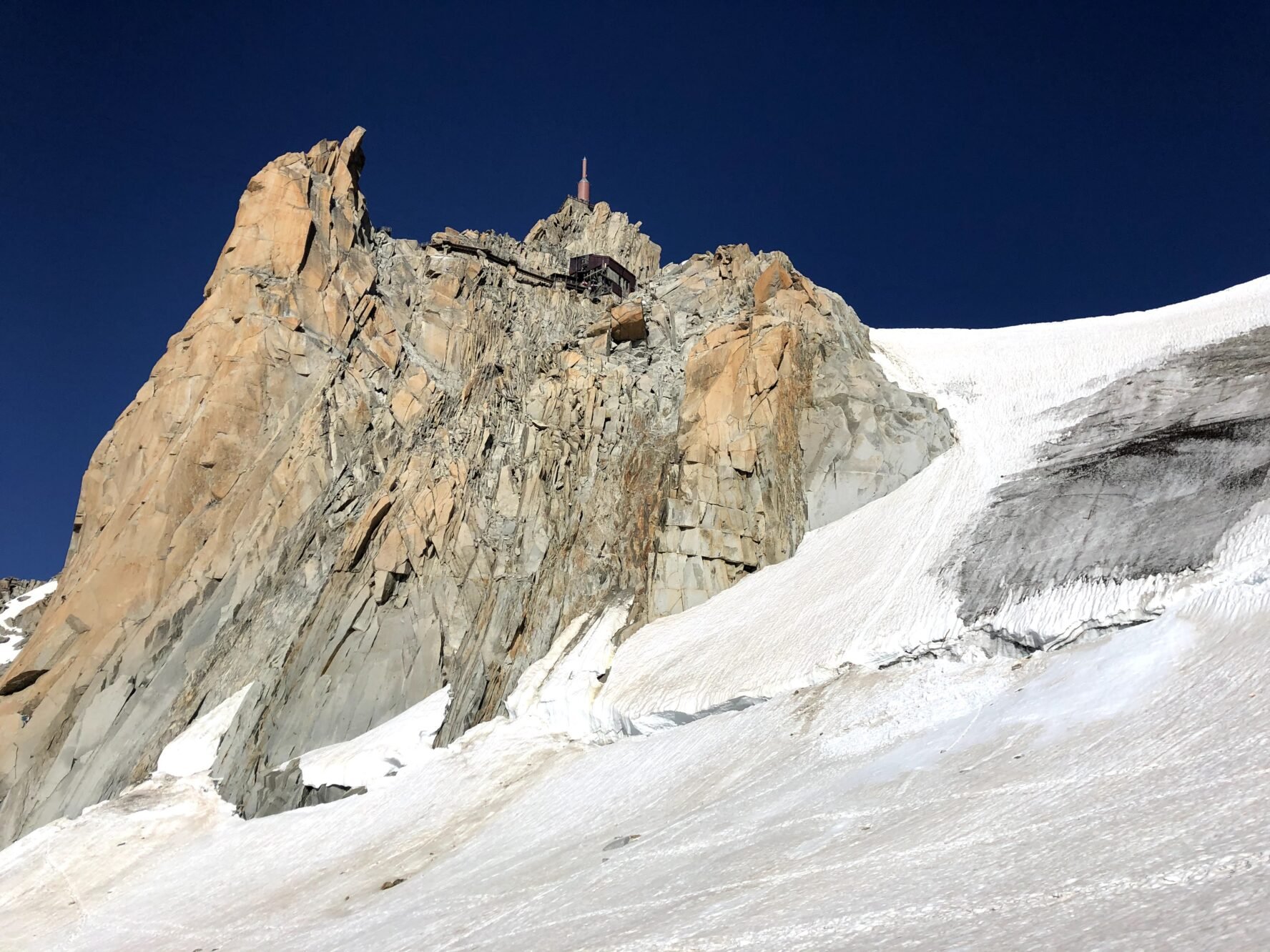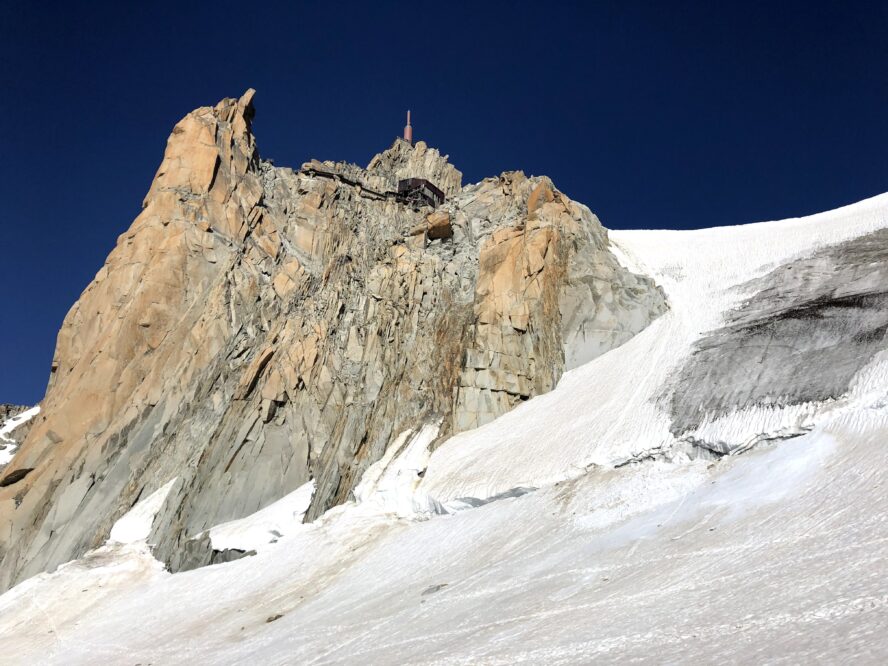 Preparing to climb in Chamonix
Chamonix required climbing I have never done before: multi-pitch trad climbing in an alpine setting. This means you are climbing multi-pitch routes which can take upwards of ten hours, you are placing all of your own gear, there are no bolts, maybe just an anchor here and there, and finally to just get to the route you are walking two or three hours across glaciers. These are things I have never done before. Usually, if a climbing crag is more than a ten-minute walk, I think twice about going there. With sport climbing you go somewhere, and often you stare at the wall of a cave, here you look around and there are glaciers, massive summits, and something that looks like it fell out of a postcard. But with all of this beauty, comes a lot more work.
You have to be careful about rock quality because snow and ice increase the chance of rockfall. It's not something you think about when sport climbing. You need to know how to walk on glaciers and how to rescue yourself or others in crevasse territory. It's a lot more technical skill that I didn't have and couldn't wait to learn from Jeff and Viktor. And, the thing that really got to me, is that you have to be quite fit. A typical day is walking two hours up a glacier, climbing 500 meters, and then walking back for two hours. Be prepared, you will be tired!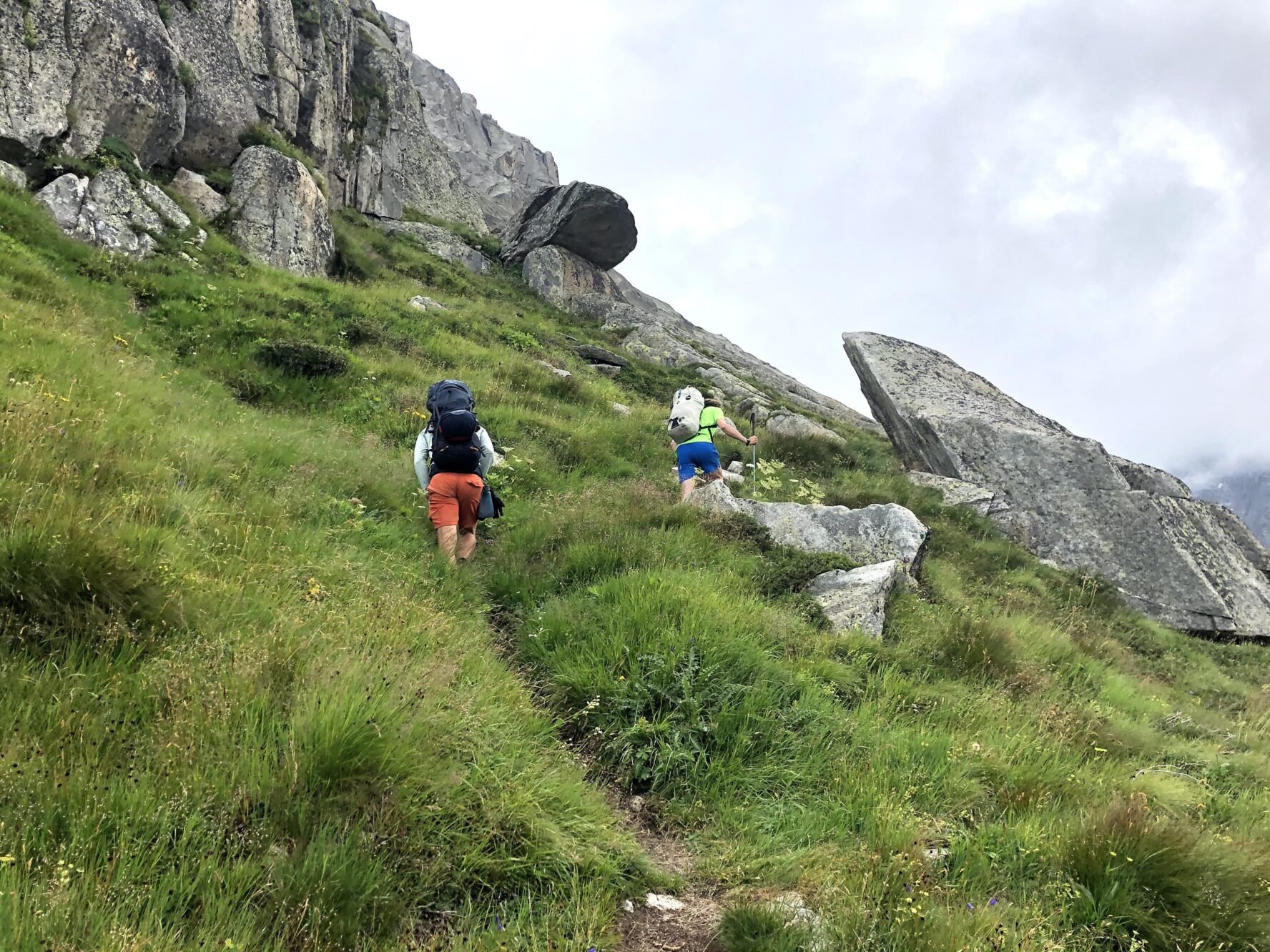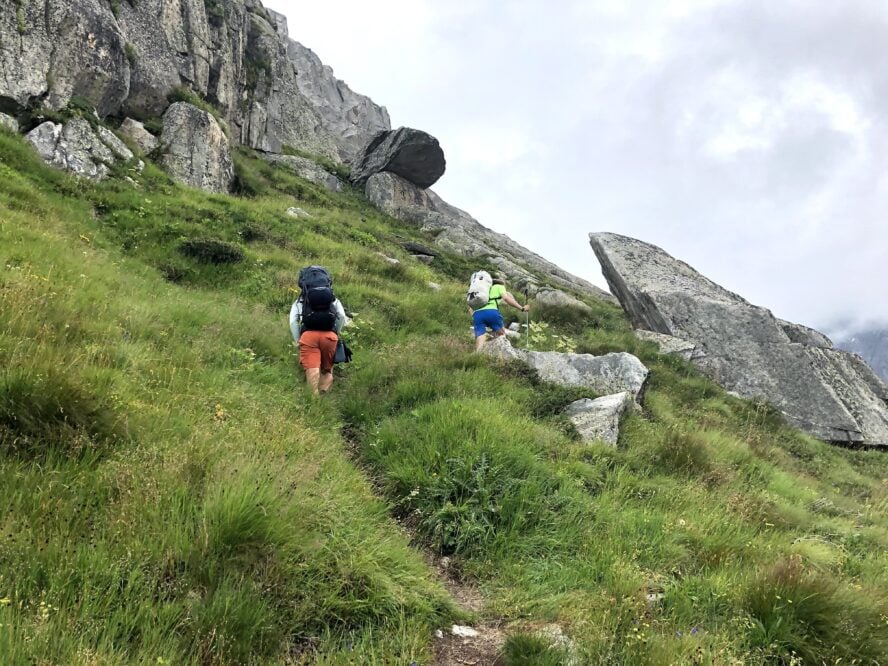 My first stab at alpine climbing in Chamonix
First, it was unbelievably beautiful. Mesmerizing. You look around and there are glaciers and massive tops, where with sport climbing you go and then stare at a cave. But at the same time, Chamonix brings a lot more technical complexities. You have to be careful about route quality, which isn't usually a consideration. Rock quality can be bad, snow and ice increase the chance of rock fall.
Like climbing Matterhorn and climbing Mont Blanc, conditions in Chamonix can change fast, so you need to be prepared for almost anything. You need to have a base layer, then a soft shell, then a hard shell, and a puffy jacket. You are carrying all of this in your 10-kilo backpack which is also full of water, food, and gear such as crampons, boots, and ice axes.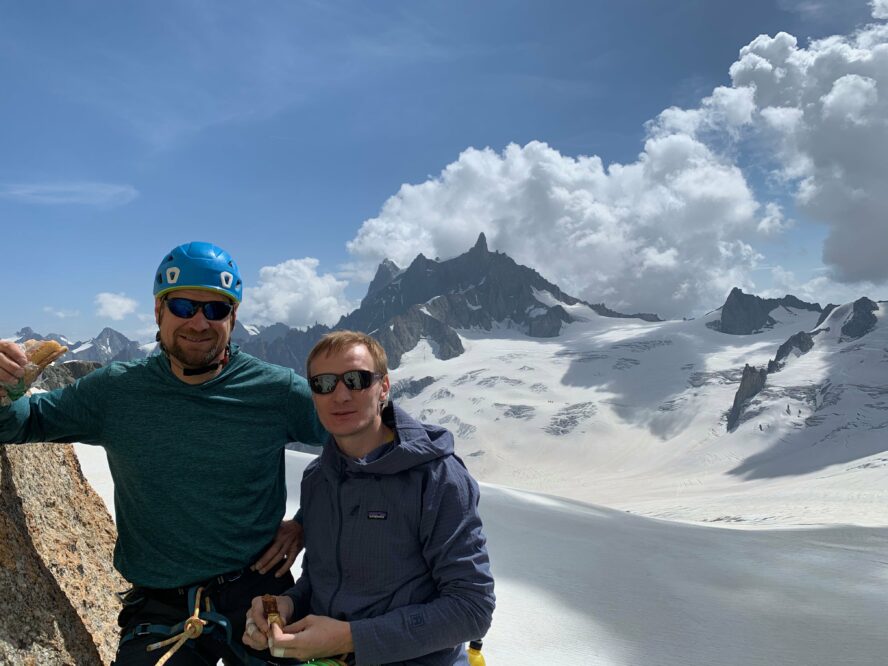 For someone new to the game, things get quite complex very fast with multi-pitch trad climbing in an alpine setting. There is a lot more technical knowledge required and the decision making is constant. How do you walk on a glacier with crampons? What happens if someone slips, and you are tied to them? You have to set up an anchor, put their weight on the anchor and help them. I mean, I didn't know how to do this before Chamonix. What happens if I slip? I need to know how to self-rescue with my ice axe. Do I know where the route goes? Can I rapel if things go south? If I can't, will I be able to finish the route in the worst conditions? What if the forecast is wrong? What if my rope management isn't good and I lose five minutes on each anchor?
These are just some of the questions running through my head as I prepared myself for my first alpine climb.
Pointe Lachenal and the Contamine route
The first day, we went up with the cable car to Aiguille du Midi entering the Géant Glacier straight from the door. We teamed up with our friend Jeff Witt, who also happens to be an IFMGA Mountain Guide. Jeff helped my legs gain their confidence after going over some of the basic techniques required for snow and ice travels. After an hour of jumping over a few crevasses and experiencing what it is like to be hot and cold at the same time, we got to the Contamine route, a Chamonix classic alpine route.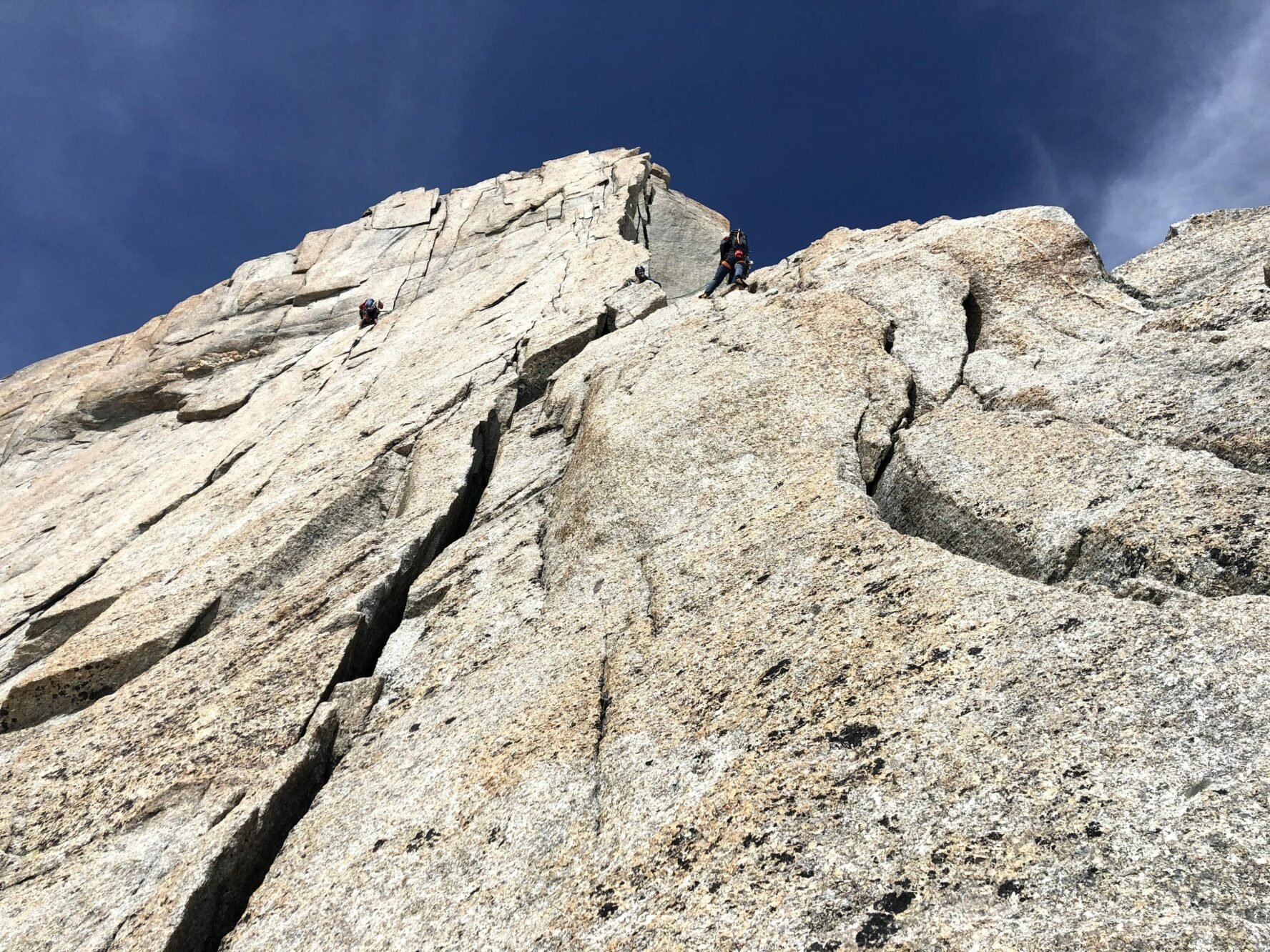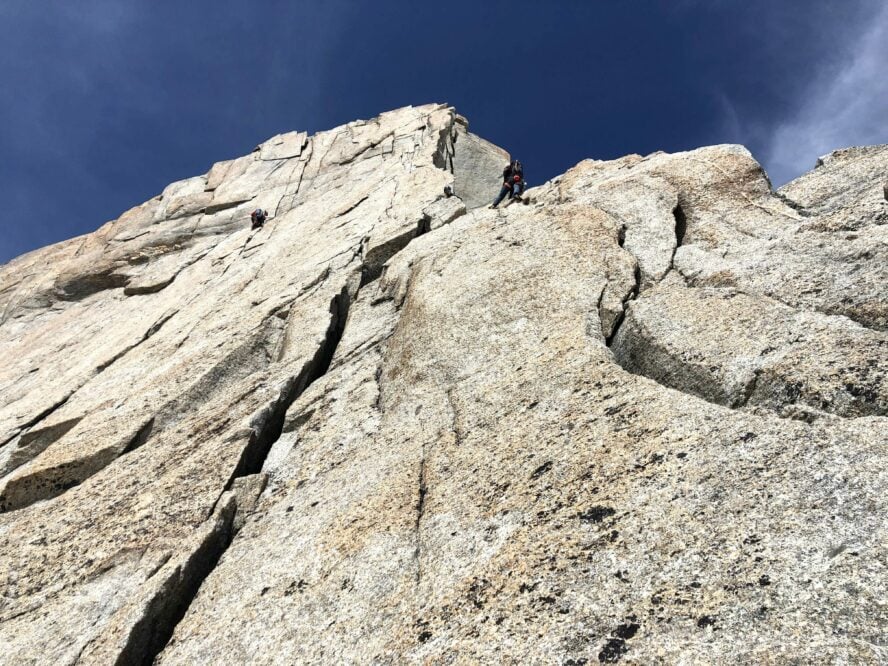 This route follows a series of granite cracks on Pointe Lachenal, starting with a couple of 5c pitches before reaching the crux. The crux consists of two 6a+ pitches but eases off quickly into a nice mellow few finishing pitches. So, pretty easy so far? Well, no. There was snow and rain looming. We were climbing at 3500m elevation. We had full backpacks weighing us down and there were no bolts except at the anchors. So, no it was not easy, and Chamonix started taking its toll on me, including the high altitude. But nevertheless, the smile on my face just continued to grow.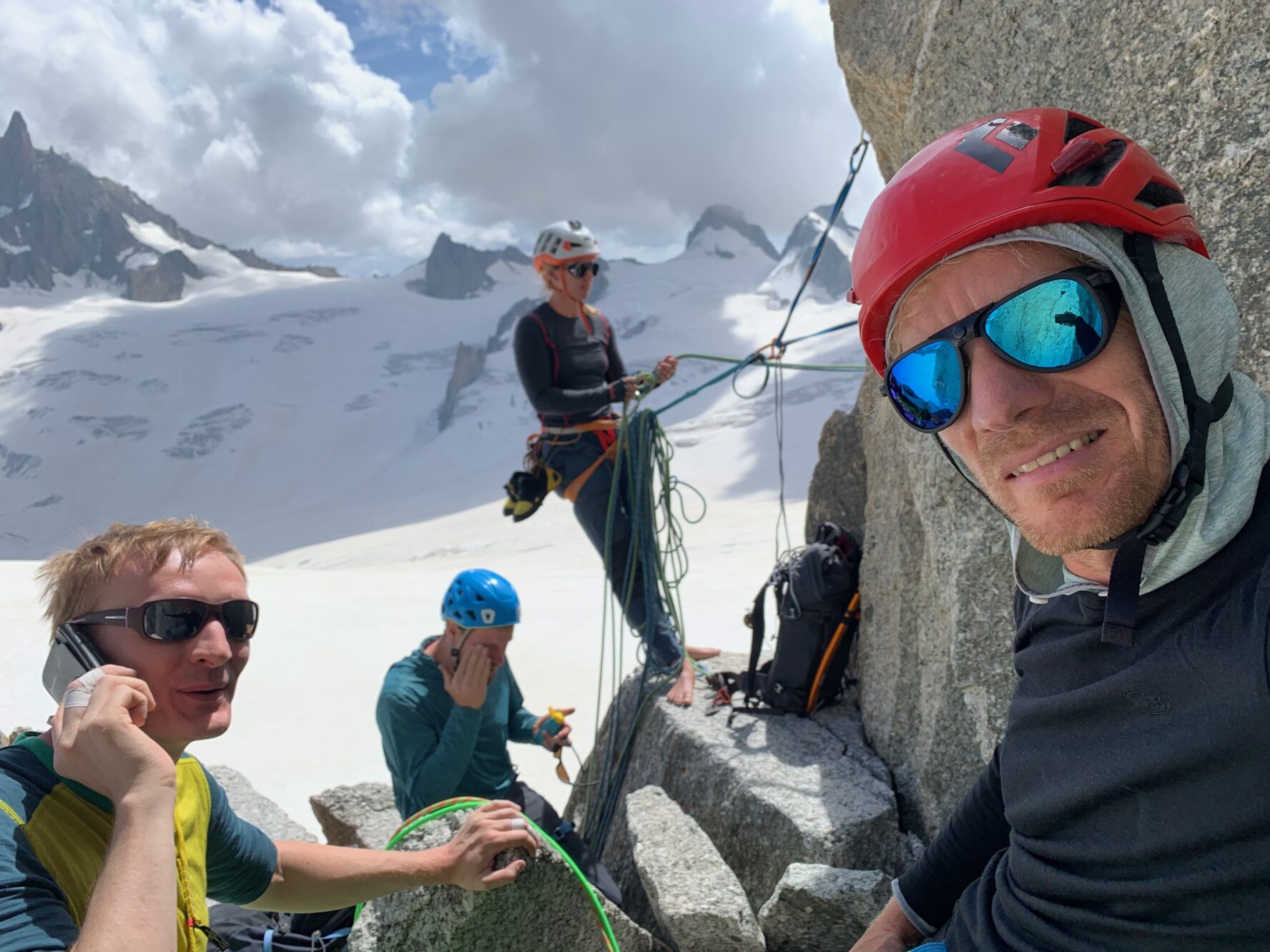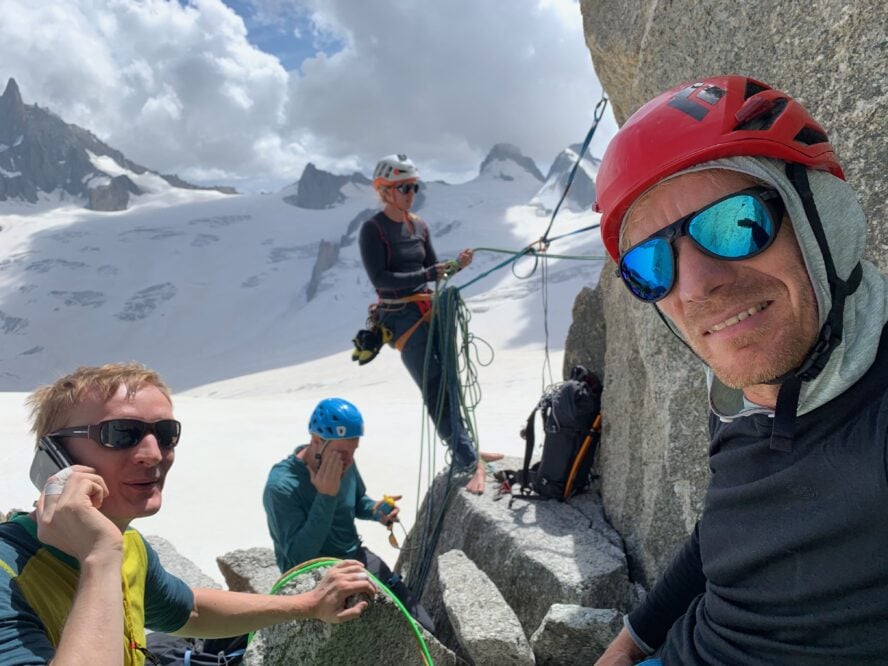 Two pitches below the summit of Contamine, we made the decision to start rappelling down because bad weather was approaching quickly. It caught us for a little bit on the abseil, but I would say we successfully managed to escape the worst of it. We made our way to the Cosmiques Hut for dinner and a much needed rest, at least for me. The dinner which I was looking forward to all day didn't seem appetizing at all when dinner time came because altitude sickness gripped my whole body. My dinner consisted of painkillers and sleep. I was vomiting, had a headache and brain fog all the way until 5am when I woke up feeling surprisingly refreshed. I guess this is acclimatization done the harder way.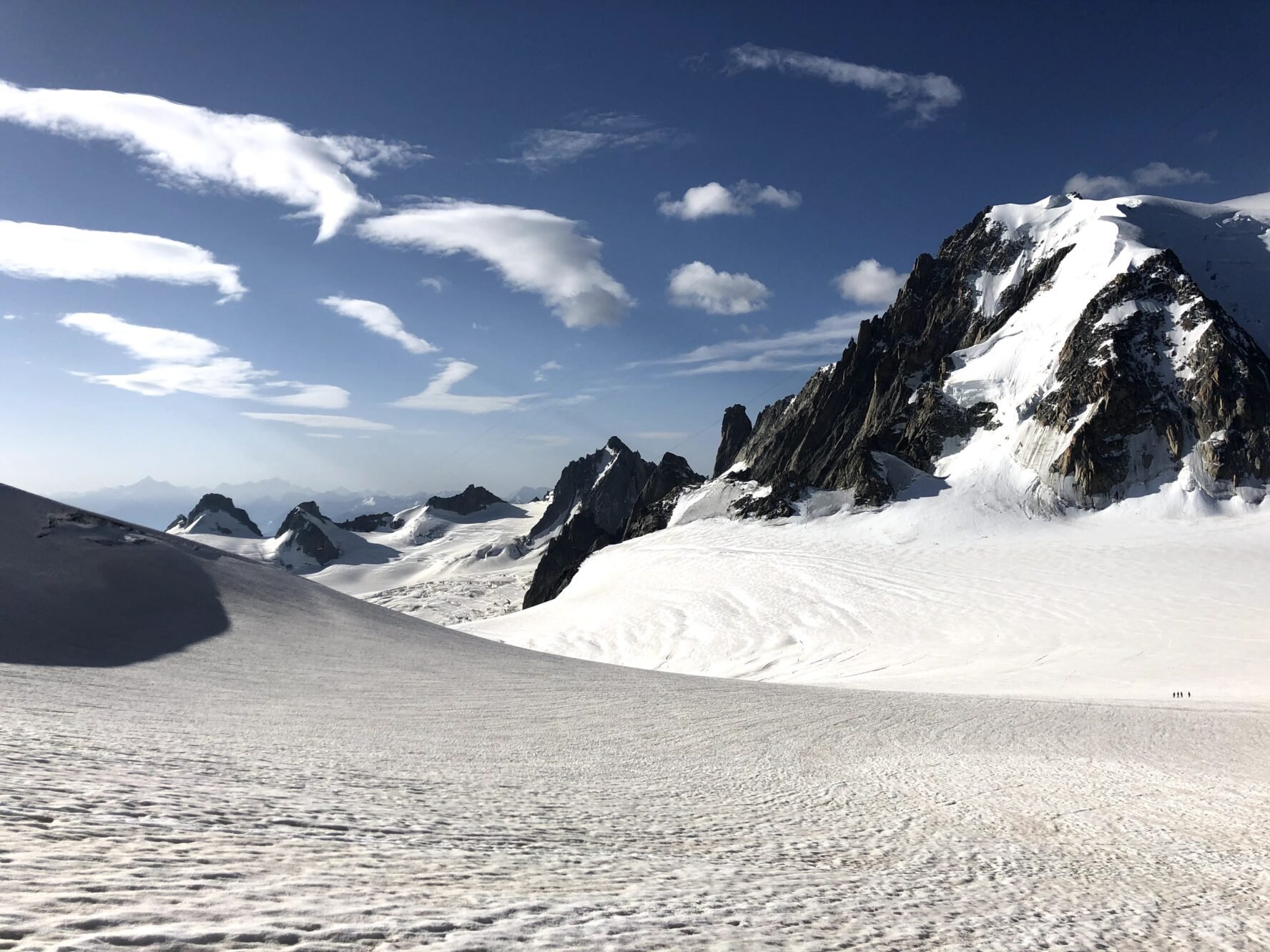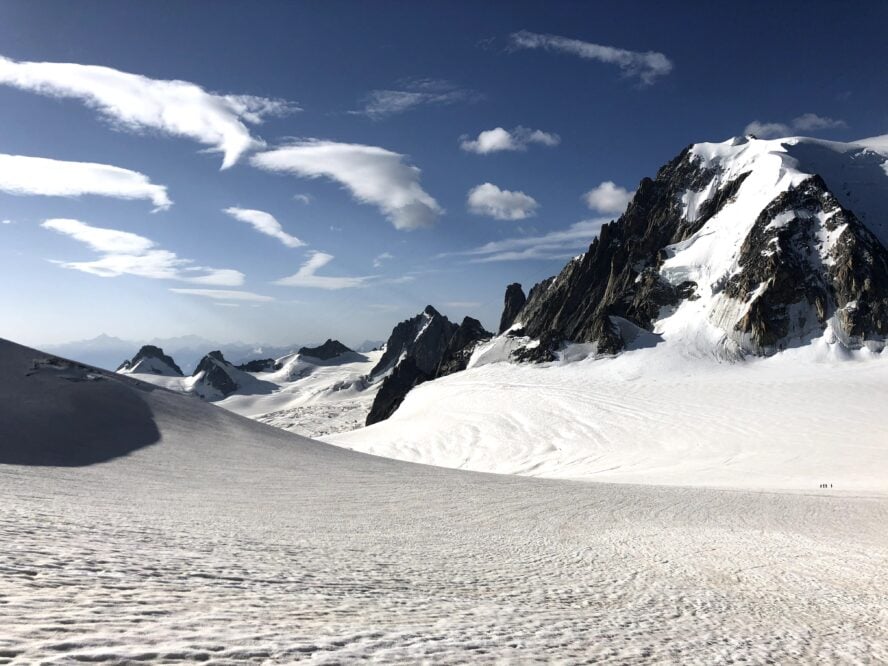 Les voies des Druides
After a day of rest, we were blessed with a perfect weather window for another classic alpine route in Chamonix — Les Voie Des Druides in Les Moines. Viktor and I teamed up with two Frenchmen, Theo and Killian, who spent their pandemic working from the base of the mountains and sharpening their mountaineering skills in their free time. We crossed the famous Mer de Glace glacier on our way to the famous Alps hideaway, Charpoua Hut, walking 3.5 hours to 2700m of elevation.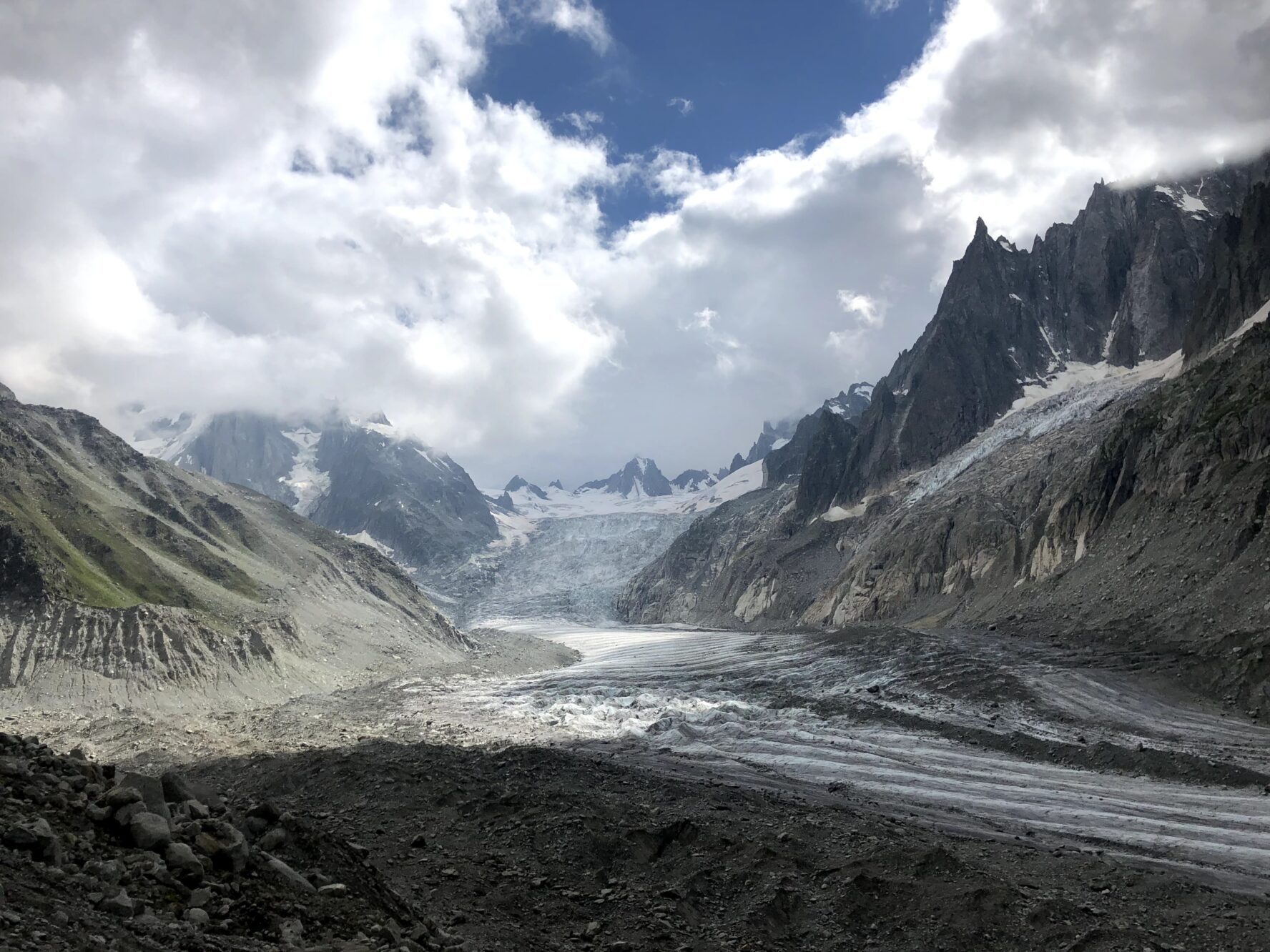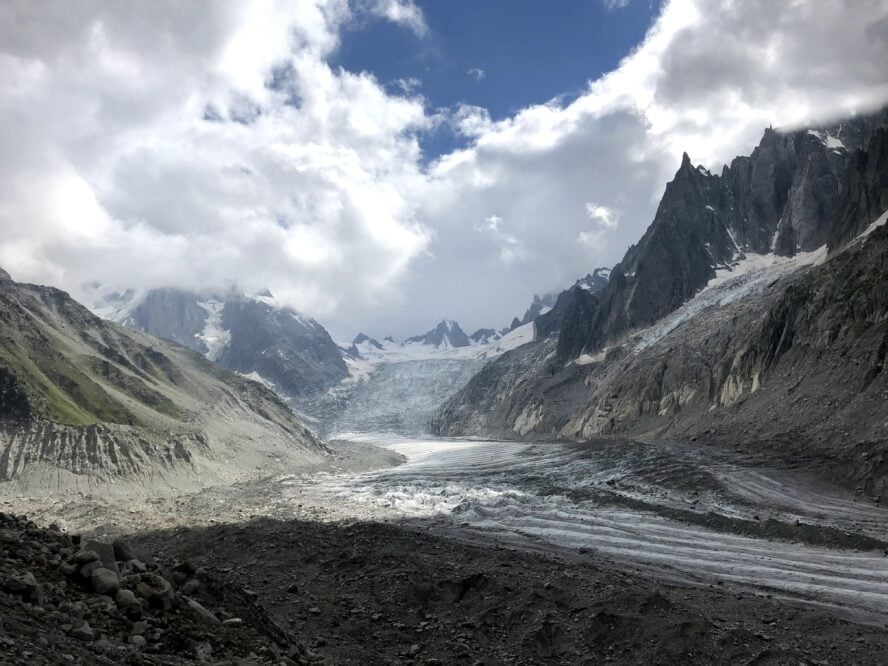 The hut, which sleeps 12 and is full of history and charm (not to mention, incredible tiramisu!), is run by an amazing young outdoor couple who live there from June to September with their year-and-a-half-old son. That kid is going to have a hell of a childhood. I even caught my partner Viktor calling his wife convincing her that they should do something like this with their one-year-old. I couldn't even feel the pain in my legs after spending time with this amazing host family, watching one of the prettiest sunsets of my life, and eating Tiramisu after dinner.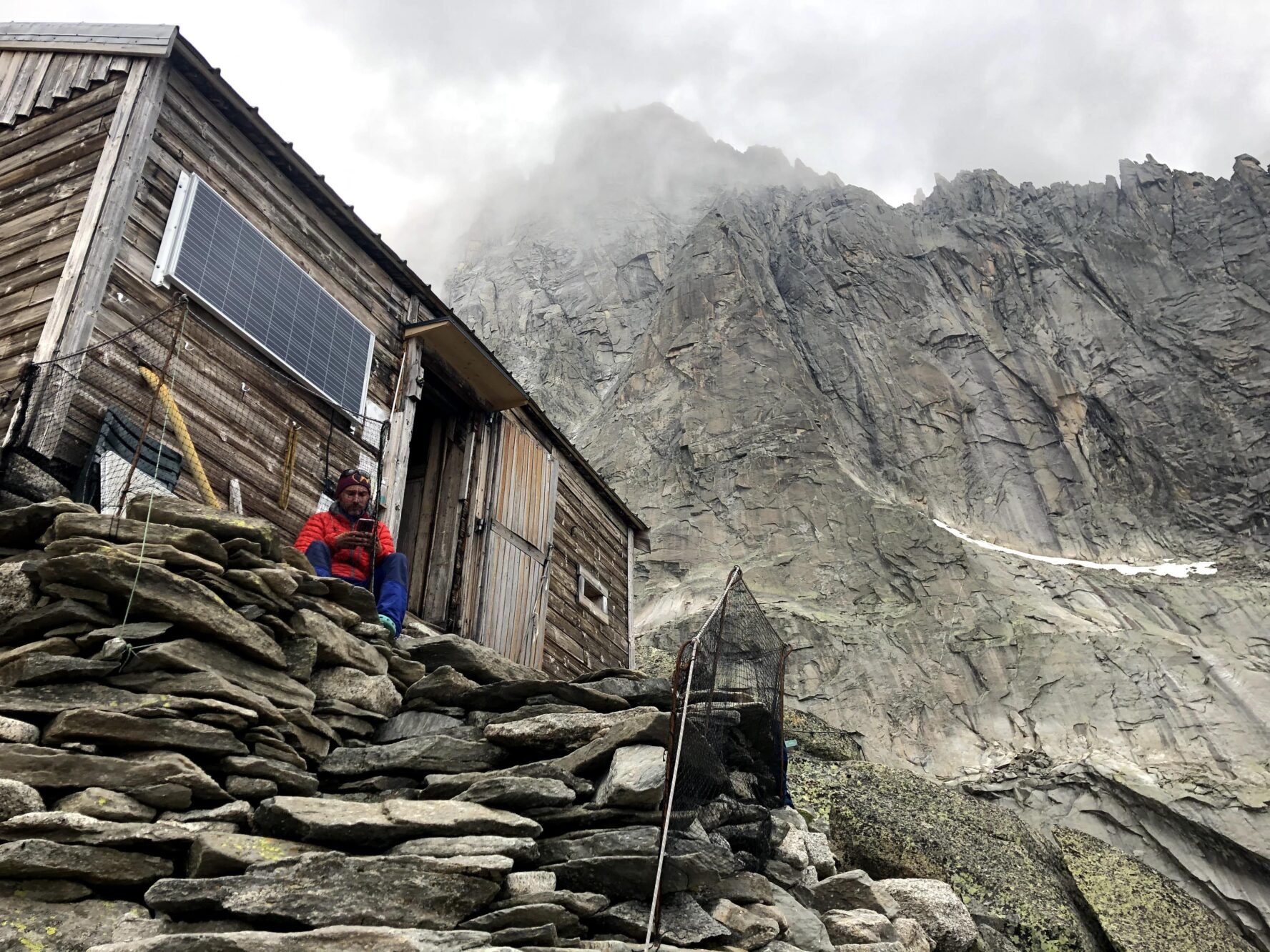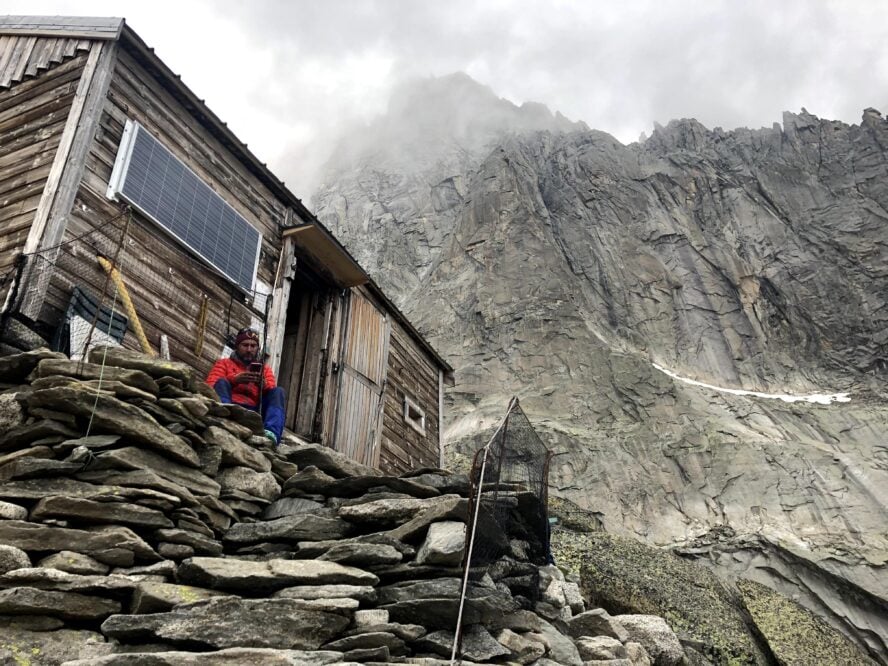 Reaching the summit
The next day we woke up at 6am and started our two-hour approach to the route. Personal accomplishment: this was the hardest approach I have ever done in my life. One section was a Grade 3 climb in flimsy approach shoes and no ropes. I partnered up with Theo, a real badass climber who cruises up the mountains ever so graciously. He led all the pitches, placing gear with the utmost confidence, owning the climb and showing me what real high-level mountain climbing looks like. After the first few cracks, you arrive at the first crux pitch which consists of a 6c slab.
The second half of the pitch there are literally no handholds, the angle is so low your feet hold all the weight. I got up, but it was so strenuous that it was the only pitch I did not climb free. Then comes a beautiful 6b layback pitch before going back into a scary 6a+ on loose rock with only one bolt in the middle. Then another classic 6b+, and after a lot of work, the best pitch arrives. It is a very technical and precise low-angle 6c finger crack. Finally, you only have a short but very exposed 5c pitch before reaching the summit.
The summit is what wrapped this up for me. It was a proper mountain summit – sitting on a one-meter ledge at the very top with a 360-degree view of our surroundings. I was in the clouds and felt euphoric. I might have reached the top, but the day was far from its end. It took us two more hours of abseiling, and another two hours of walking to get back to the hut. For someone who walks more than an hour only three times per year (that is not an overstatement), I was more tired from a day of climbing then I have ever been before. My whole entire body, except the forearms, hurt, but the setting, scenery, climbing and food made it all more than worth it!
Chamonix brought me back to my roots
When I started climbing, I was surprised that you finished at the anchor. It was this random place that someone decided to call an end. In Chamonix, you go to the very top of the mountain. Your sense of accomplishment here comes from something you can. A mesmerizing view from a proper mountain summit.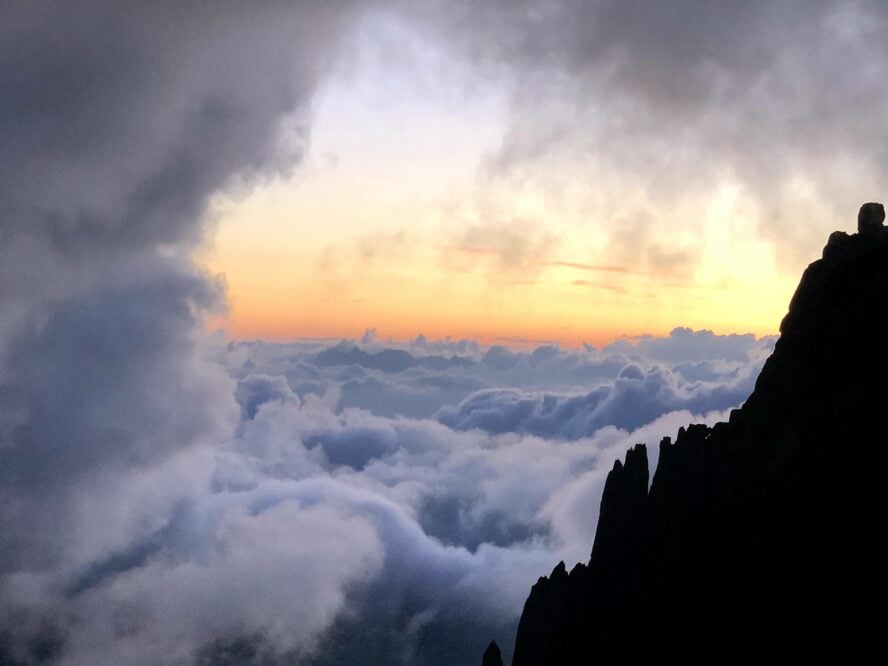 Looking to learn more about climbing in Chamonix. Listen to our friend and local guide, Jeff Witt, talk all things Chamonix on this 57hours Epic Adventure Webinar:
If you're ready to head out on a guided alpine climb in Chamonix, we've got you covered! Learn the ropes, climb the classics or customize your day to suit your objectives with the best guides in the business.