A Local Climbing Guide Reveals the Best Routes in Eldorado Canyon
Eldorado Canyon holds some of America's best classic climbs. Here's all the intel you need from a local climbing guide who calls Eldo his backyard.
Eldorado Canyon State Park is one of the best traditional free climbing areas in the world. Having survived the eras of piton smashing and mad bolt drilling, Eldo is truly a place of adventure where a comprehensive skill-set is demanded to negotiate often tricky descents, acrobatic sequences and sustained movement. Placing gear (protection) at will is not a given by any means, and inspecting pitons, fixed cams or passive gear before clipping your rope to it is a must. For those that can handle themselves on the rocks, it's a climbing playground that you'll never tire of. There's also plenty of beginner routes to sharpen your skills and build confidence on.
As a Colorado local and a guide with more than 15 years of experience under my belt, here are a few of my favourite climbing routes in Eldo, along with some insider info to help make the most of your time there.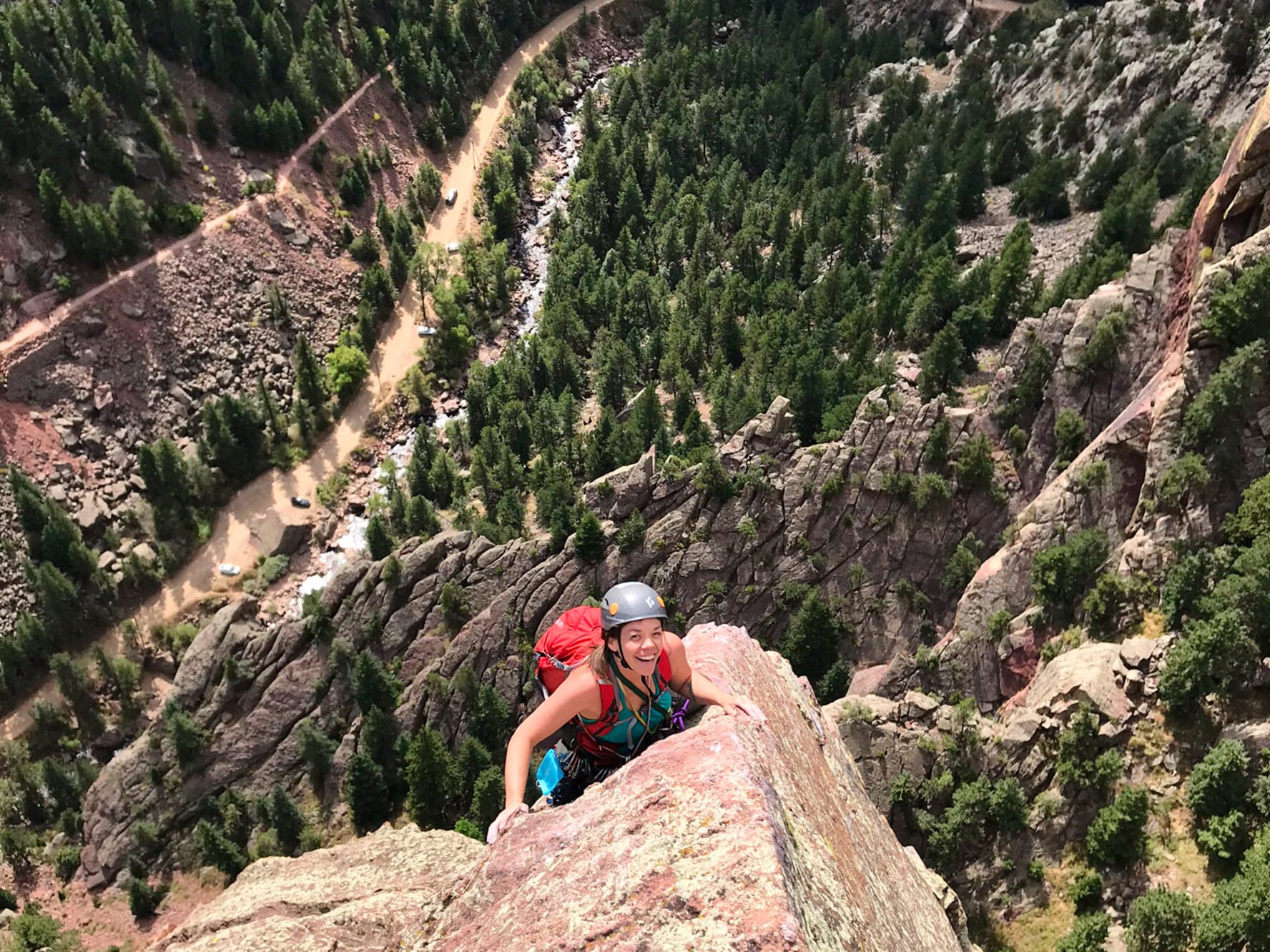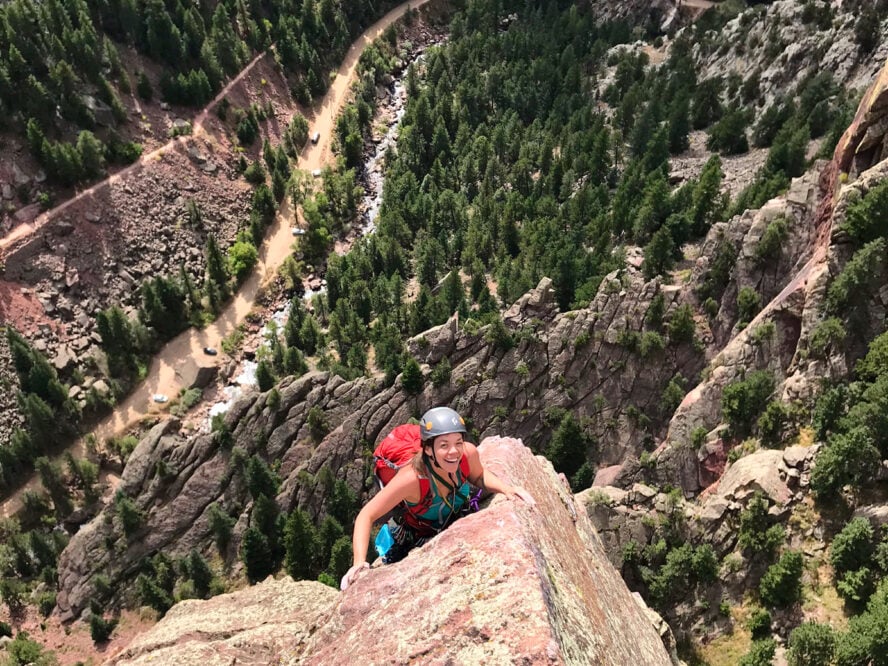 Pros and Cons of Climbing in Eldorado Canyon
Over 500 multi-pitch climbs that will test your skills
Lots of picturesque photo-ops, a rich climbing and natural history, and lots of wildlife
Fun newbie routes, demanding 5.10s and high-end routes that will challenge even the best climbers
Often crowded, you'll need to wait in line for the most popular routes during peak season
Spotty cell service; thorough planning required
Expect to be challenged in Eldorado
In Eldorado Canyon State Park, you'll find yourself in a trifecta of three amazing climbing areas, located about seven miles from downtown Boulder. As one of the best locations for Front Range climbing, it's been a crowd favourite since the 60s, with routes that can and will push your limits. The routes are mostly trad and the grades are old school, even the 5.6 routes feel more like 5.7 or 5.8, so things can be a little more challenging than you might anticipate. That said, it has some of the best routes in the entire country.
Eldorado has an amazing climbing community, a great diversity of climbs, with a handful of awesome six to seven-pitch routes, tons of wildlife, beautiful views (both ground and summit), and great spectator friendly zones. Eldo climbing history is woven with legends such as Derek Hersey, Jim Erickson, Layton Kor and Pat Ament, to name a few. The rock quality is bulletproof-like, a lot more akin to granite than the sandstone that's typical in Indian Creek, Moab, and other desert towers. Even though the rock type is solid, there's still some loose rock you need to be aware of on certain routes. The place is known for having cryptic sequences and climbing moves, and challenging gear placements, so you need to get creative in many of the cruxes. With solid rock across the board and short approaches to boot, what's not to love about coming to Eldo?
Along with that, it's one of the best state parks in Colorado due to the combination of epic rock climbing, hiking, and cycling in warmer months, and solid cross-country skiing and snowshoeing in the winter.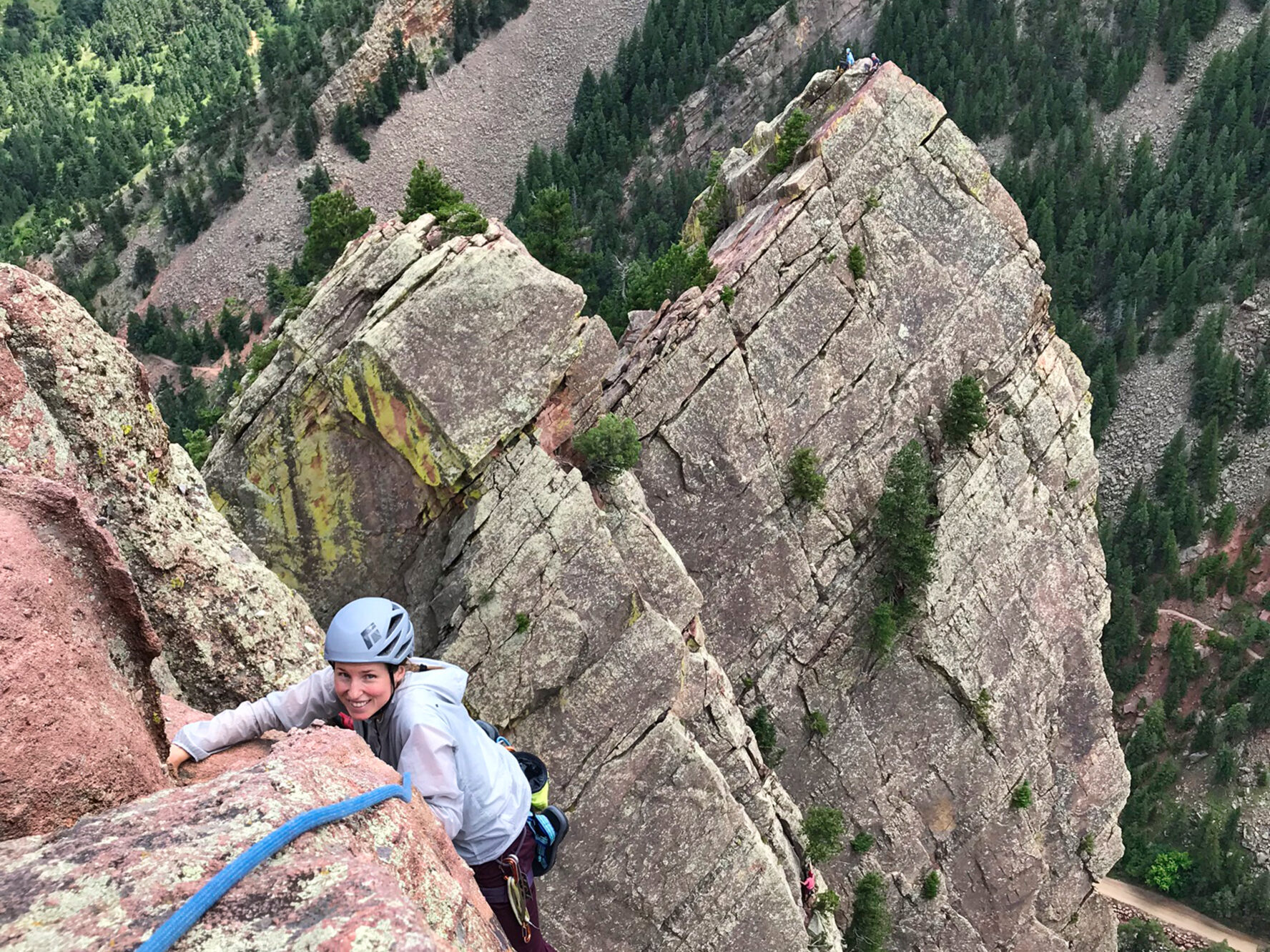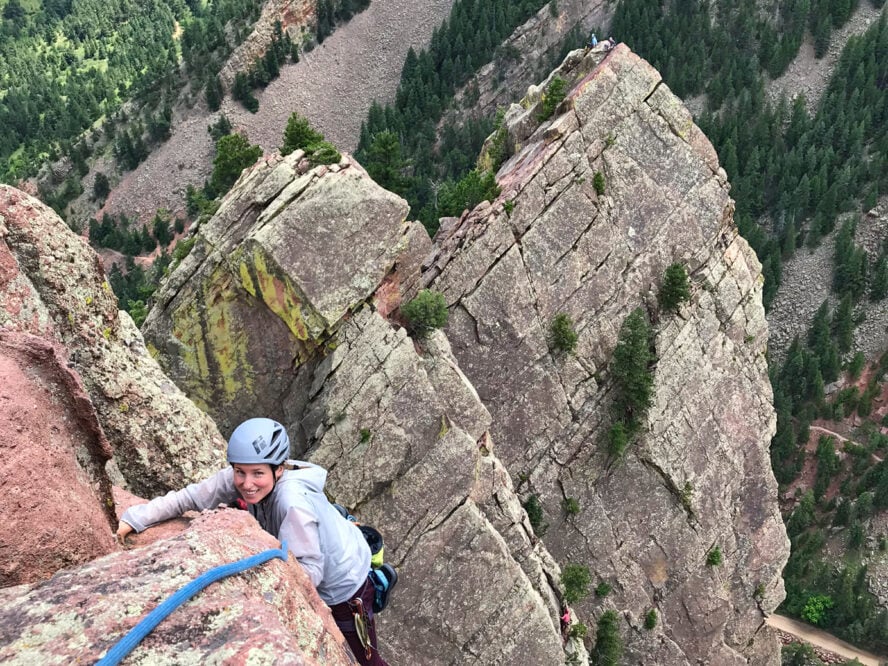 What ties me to Eldorado
Originally from Boulder, I grew up almost walking distance from Eldorado Canyon. My step-dad was a climber back in the 70s, but it wasn't until I returned to Colorado after a decade of climbing and guiding in the PNW, along with a stint in China and Tibet, that I experienced climbing in Eldorado for myself.
Currently based out of Denver, I typically guide in the Front Range area of Colorado. Eldorado Canyon State Park, The Flatirons, Boulder Canyon, and Clear Creek Canyon are where I'll typically find myself depending on the season. In the winter months, I guide ice climbing in Rocky Mountain National Park, Vail and Clear Creek Canyon.
When should you visit?
Eldorado never fails. It's a great climbing destination year-round. There are excellent conditions from spring, through summer, and into fall, but I climb and guide a handful of days in the dead of winter as well. It's not uncommon to get some spectacular winter rock climbing days in Eldo.
Keep in mind, the top spots get pretty crowded, especially in the warmer months, so in the dead of summer be prepared to wait your turn on one of the popular classics. Carpooling is encouraged when possible as the park is seeing substantial growth; it can reach capacity before noon on a weekend!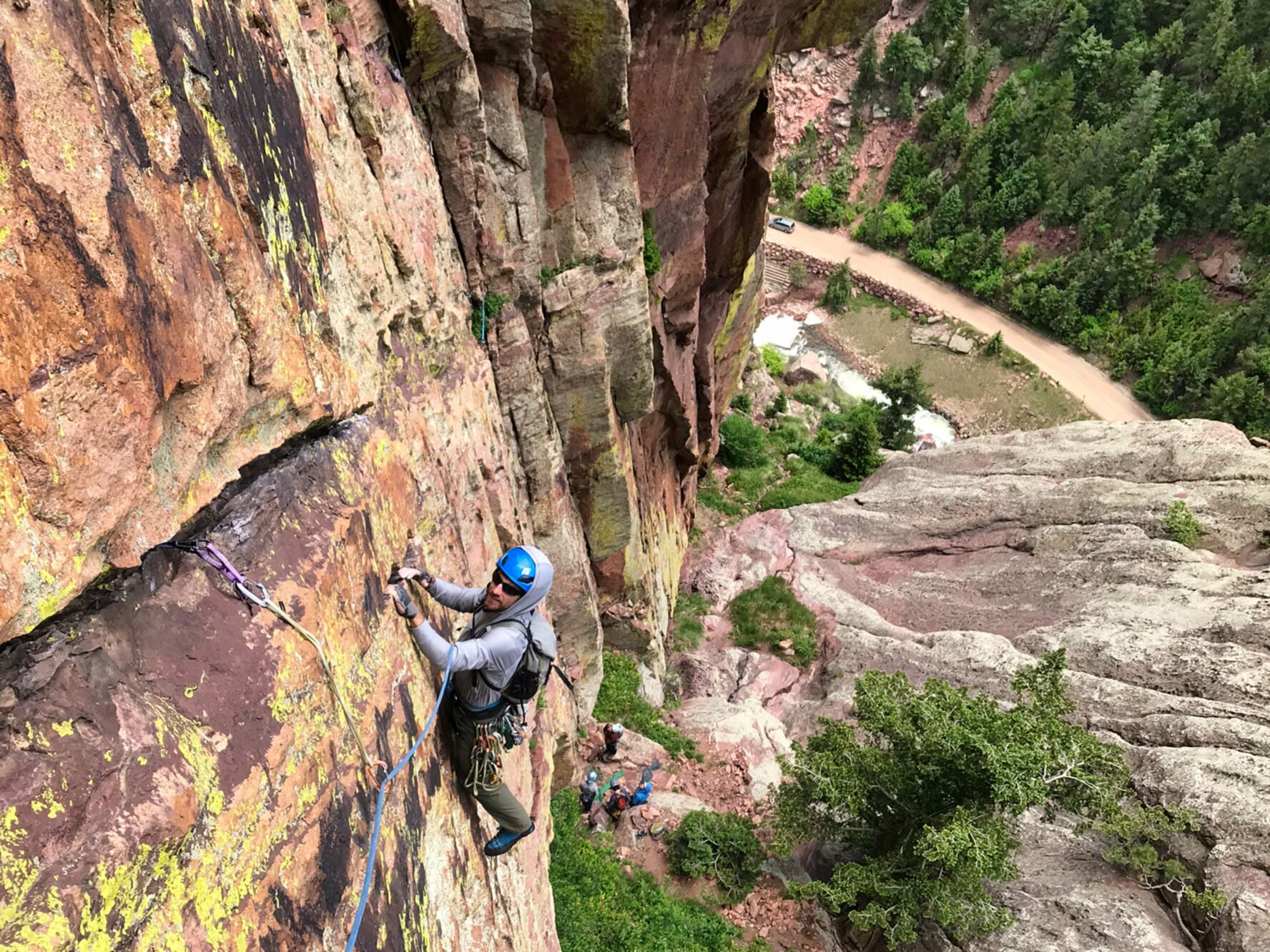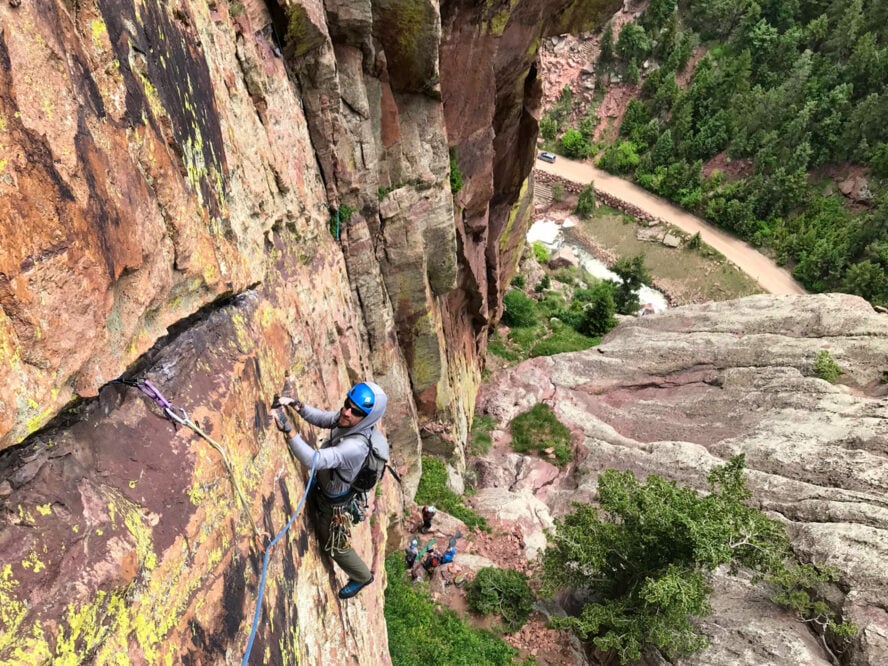 My Favorite Climbing Routes in Eldorado
You can't go wrong with any climb you choose in Eldorado, and the park's high traffic testifies to that. Ideally, I always want to take people up the Bastille, but it's a 5.7 route that's not easy to tackle, so I always advise that even experienced climbers test their skills on the Wind Ridge, a milder route rated 5.6. Rewritten, a 6-pitch 5.7, is another Eldo classic, as is Swanson Arete, 5-pitch 5.5. For total beginners, I recommend starting out on The Bomb — a 5.4 of two pitches — before working your way up to other ultra classics in the area. Ready to have your confidence shaken? The Yellow Spur and Blind Faith will do just that. While there are over 500 routes to climb, these are just a few I return to again and again with new clients. Here are a few more details to get you hyped:
1. Get started on The Wind Ridge
The Wind Ridge is one of my go-to spots because it's a good taste of what Eldorado Canyon is all about. Located on the Wind Tower, and every pitch of this four-pitch route is staggering and diverse. It's 5.6 – 5.6+, but don't underestimate it — you'll have to employ crack technique, face climbing, and expect some lie-backing hand jams, too. There's some loose rock as you work your way higher up, and the third pitch will challenge you with one of the biggest hanging flakes in Eldorado — a definite highlight of the route. Then it's capped off with a traverse along a walkway and a scramble back to the base.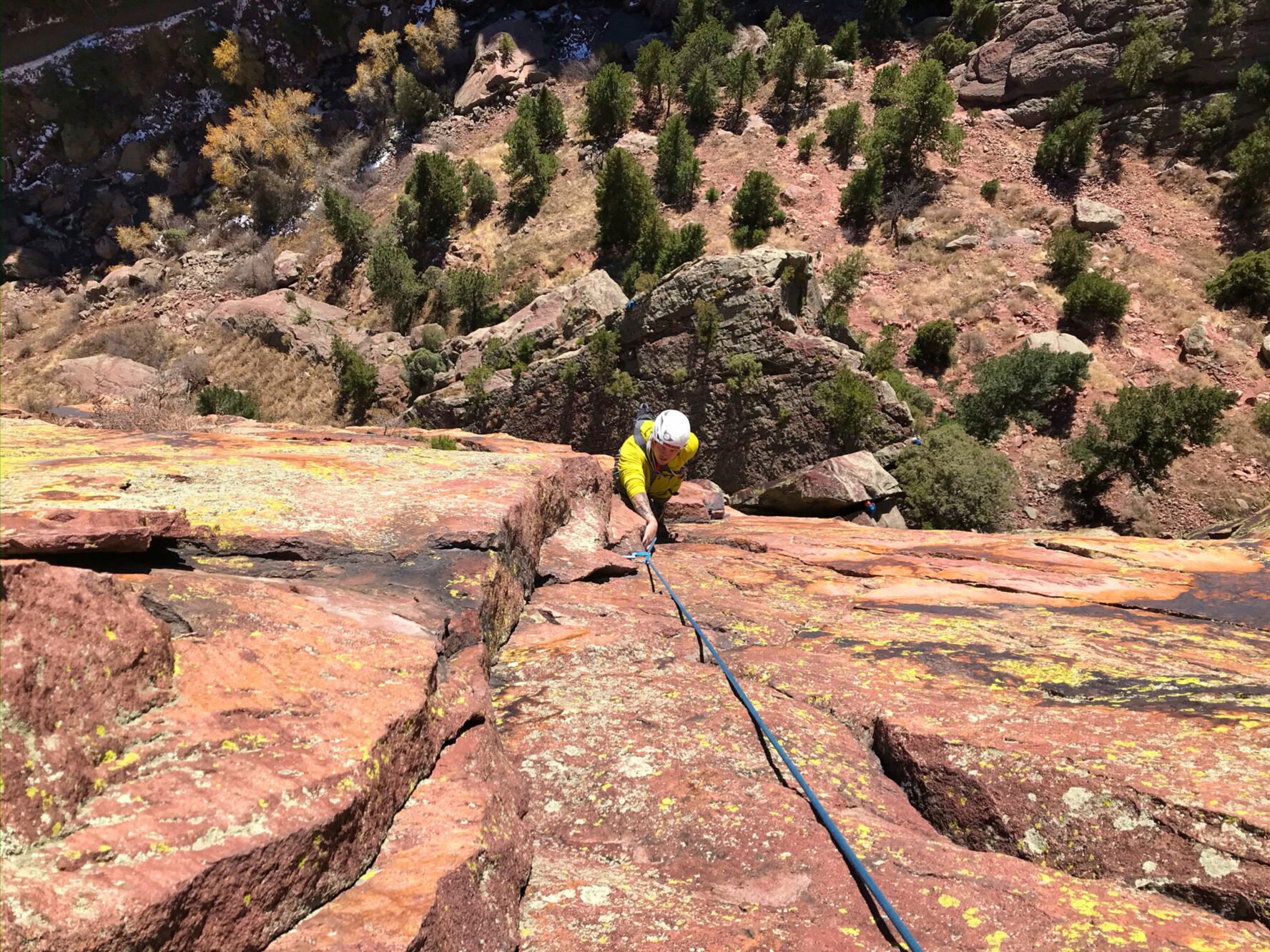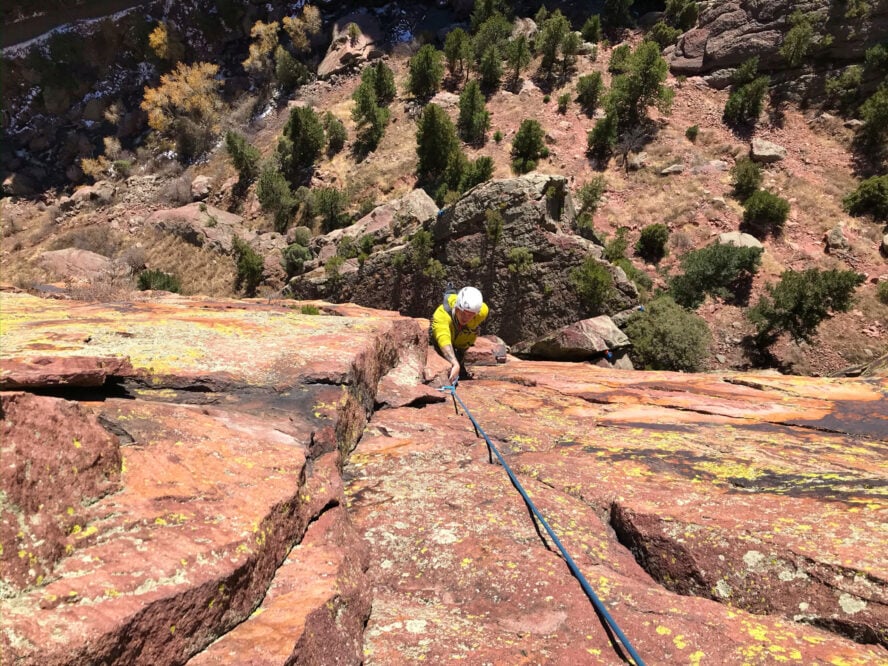 2. Bastille Crack — one of America's great classics
If you can do well for yourself on the Wind Ridge, Bastille Crack is your next stop. Bastille is probably one of the most classic climbs in the world. The exposure, the traversing, the summit, I just love everything about this route. Not only is it an amazing climb, but it also has a great history. It was first ascended in the mid-50s by WWII soldiers who had returned home. To think they climbed it in their army boots is just incredible! In the late 50s, when it was first free climbed, it was considered the hardest free climb in America.
It's a short approach — only about 15 steps up the road from where the car is parked. I'd put Bastille Crack at 5.7+; it's 5 pitches, and 350 feet of long, steep, and imposing rock. You need to be a solid crack climber before leading this climb. If the first pitch proves too much, there's an opportunity to bail. But after that, you're committed to getting to the top. If you're up for fun, tricky moves throughout, with lots of different options to summit, the Bastille is not to be missed!
3. The Bomb and the Whale's Tail — the best beginner routes
The Bomb is a two-pitch 5.4. It's a great route for a first multi-pitch climb that's a little steeper than Whale's Tail. It's got really huge holds, but you don't even have to use them. This is a great route for beginners to flirt with different techniques; you can climb it like a crack and if you're not ready for that, you can face climb it and work on building your skills. It has a chimney that's good for learning on, nice belay ledges, great bolted anchors, and the rappel down is manageable for beginners. It's a fun route with good protection and a great spot to gain confidence before heading on to more challenging routes.
Whale's Tail, a 5.2, is three pitches long at a very low angle. It's like a mini Flatiron; you'll practically be hiking. It's a spot I take climbers who are new to the sport or who spend most of their time in climbing gyms because it's a great introduction to climbing outside. It's a great crack to learn how to place gear and there's enough variation to keep it fun. For kids, this is a great route to learn the ropes on.
If you're just getting into climbing, consider hiring a guide or joining rock climbing camps to help you get started in a safe environment and with a foundation of proper technique.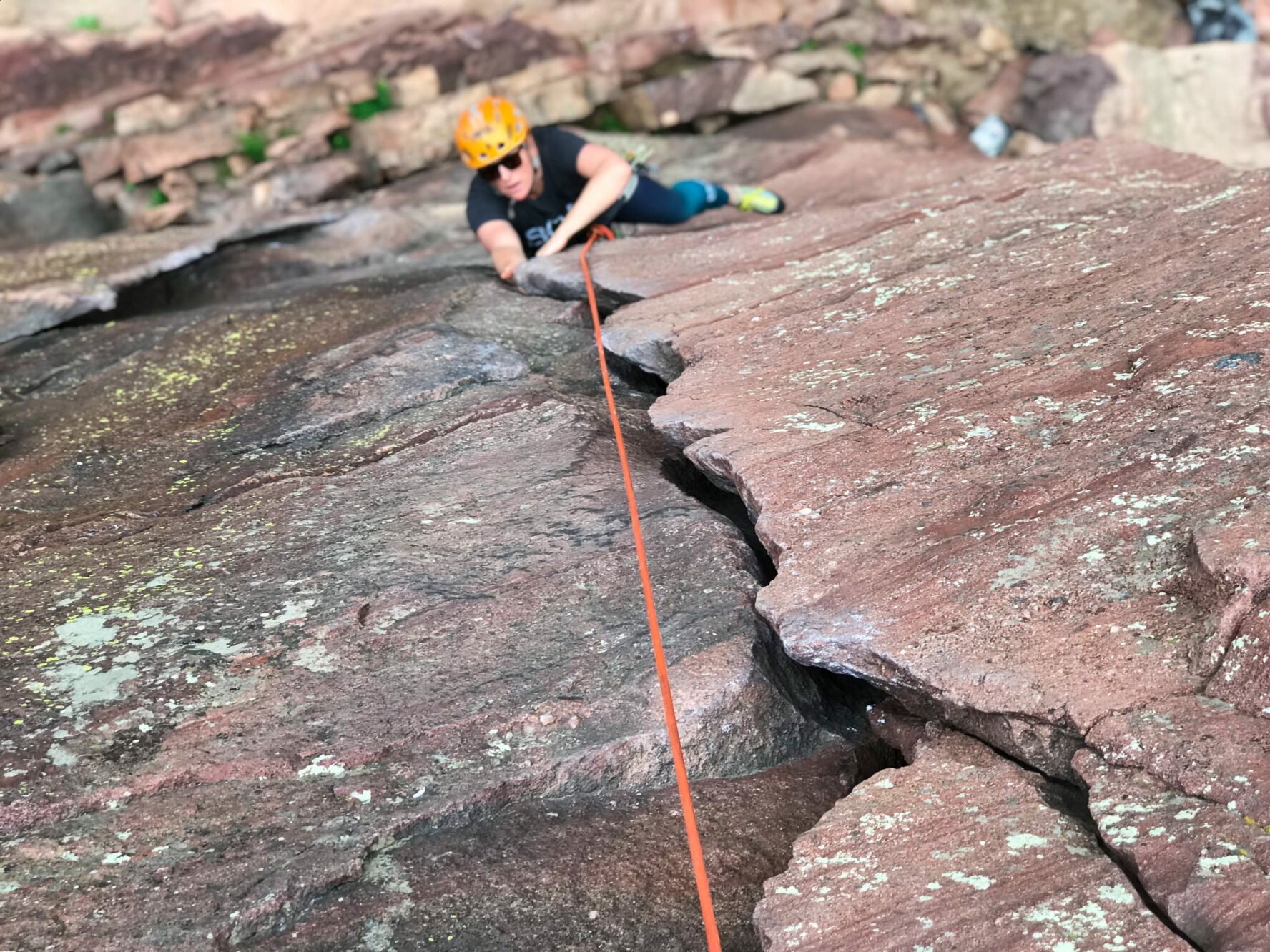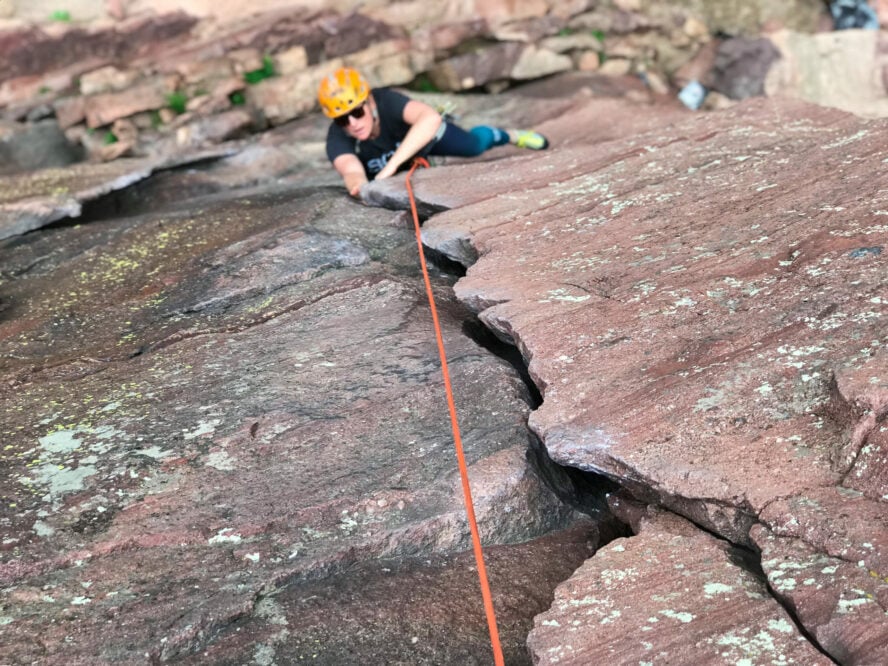 4. The Yellow Spur, a challenging 5.10
The Yellow Spur is a solid 5.10 with six to seven pitches. It's a proper old-school sandbag with really stiff, sustained pitches. Every pitch is challenging, and there aren't a ton of good rests. It's a direct line and pretty straightforward finishing on the summit of the first tower. You also have to do a couple crux moves in a row which take some skill. It's really well-protected on bolts with great liebacks and stems, and you can link pitches to do it more quickly, too.
This is one of those climbs where hiring a guide is a good idea. I've taken climbers up Yellow Spur that were competent leaders at the 5.9 grade, but found themselves struggling on this route. The opening pitch is challenging, and I've seen people bite off more than they can chew on multiple occasions here.
5. Blind Faith — not for the faint of heart
Blind Faith is a two-pitch, 5.10 on the West Face of the Bastille. It's a beautiful crack, but also one of the Eldorado climbs that sees a lot of accidents so you need to be experienced for this route. Problems come up on the first pitch: it's runout and there's a lot of rope drag issues. Visual communication is tricky, the ropes zig-zag, and the belays are demanding, so that usually shuts a lot of people down. However, with the right experience, this is a great alternative to Yellow Spur.
There's a lot of places that make it seem like the belay is supposed to go there, and there's these nice cracks, then you knock on the rock and just know the quality isn't good. You really need to be pretty aware of where you're setting up your belays, and where you're placing gear on the traverse. It's pretty much crux-galore. You're depending on seven or eight pitons and you're not even really using your own gear. There's simply nowhere to put it and you're really trusting these old pitons from decades ago. The descent is also testing if you don't know the area. All in all though, this is one of my favorite Eldo routes if you can handle it — a beautiful view and the exposure on it is really fantastic.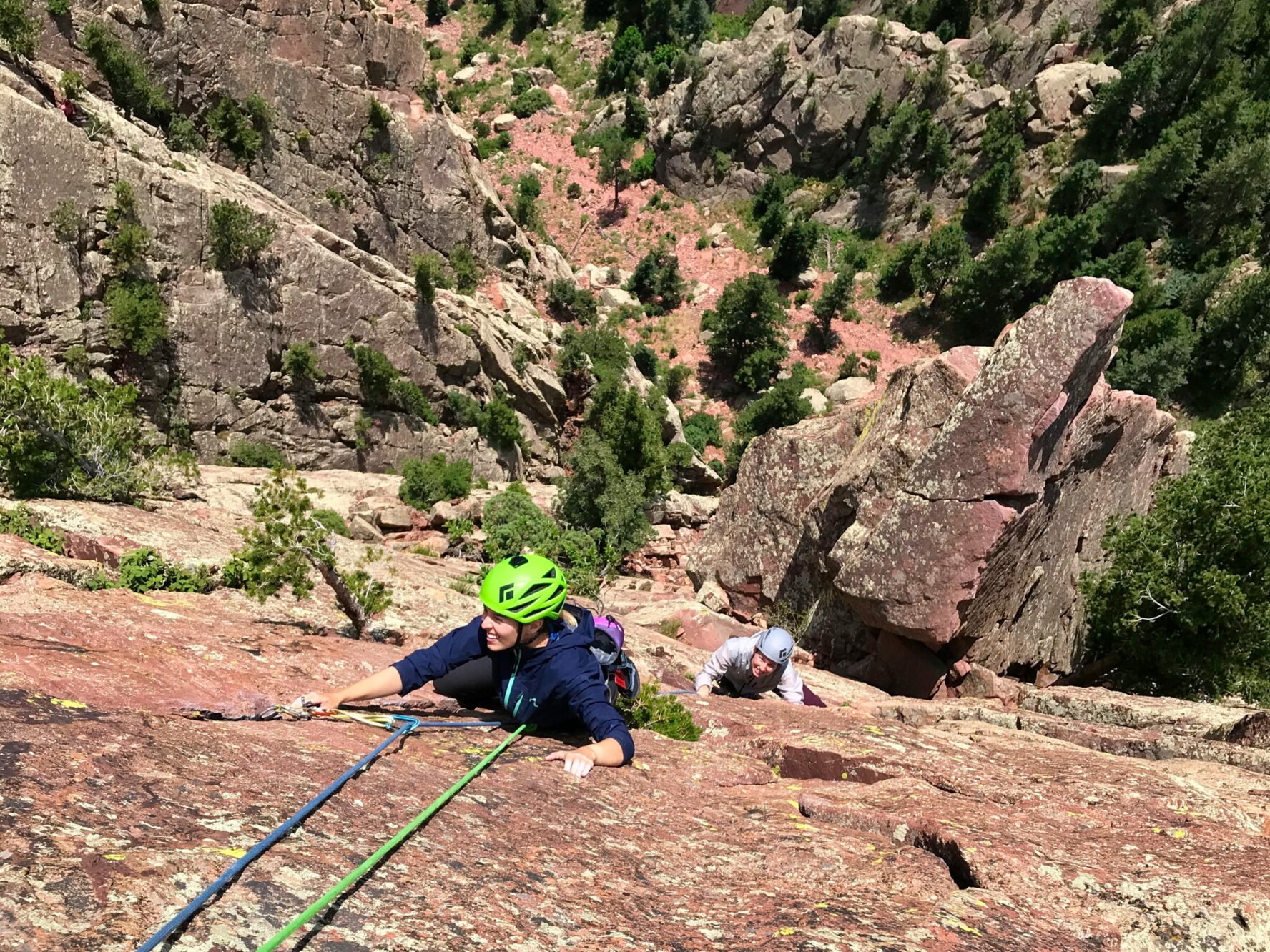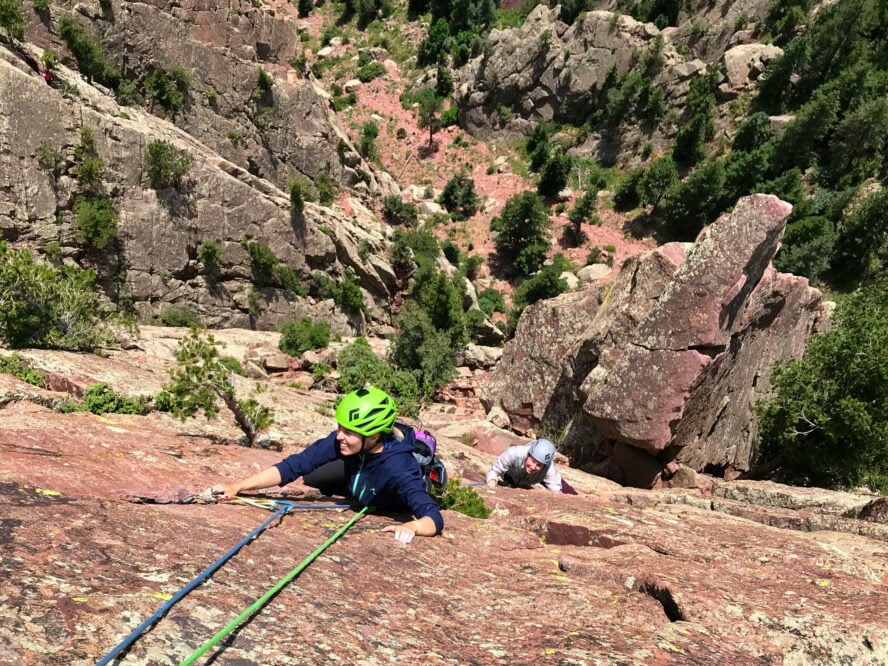 My Advice for Visiting Eldorado
There's a few things you should keep in mind when planning a visit to Eldorado Canyon. Here are some of my tips, including a few hazards to be aware of, climbing route closures, weather conditions and what to bring with you, along with some local intel on where to get gear and grab a beer.
The 10 essentials you need to bring with you
In my many years of climbing, I've learned being prepared can save the day (and lives!). Climbing parties are notorious for getting lost on tricky descents and spotty cell phone service does nothing to help in these situations. Here are the ten essentials that I always bring with me, no matter where I'm climbing or what I expect the conditions to be like:
Navigation tools (phone or map and compass)
Communication device (cell phone or satellite phone)
Headlamp
First aid kit
Extra food/water
Rain jacket/layers
A knife
Sun protection (sunscreen and sunglasses)
Lighter
Toilet paper and wag bag
It's not always sunny in Eldorado
The weather can sometimes be very unpredictable in Eldorado, often changing rapidly and drastically. What starts out as a bright and sunny day can quickly turn once you're up on top. High winds are pretty common, and electrical storms can be very extreme and dangerous in this area, so always check the forecast to avoid getting caught in a gnarly situation.
No permit required, but there is an entrance fee
Eldorado Canyon State Park is a day-use-only area, so you don't need a permit to climb there, but there is an entrance fee ($10 per car; $4 to walk in). You can also purchase an annual pass for $80 if you plan on often coming back often.
Camping isn't permitted within the park, and the nearest campground is around an hour away. However, you'll have no issues with finding accommodations in Boulder; there's plenty of Airbnbs.
Leave no trace
To protect the habitat in Eldorado, we strictly respect the Leave No Trace principles. Whatever you pack in, pack out. That includes your poop. There are a few wag bag stations within the park on certain trails, but climbers are encouraged to bring their own for when nature calls.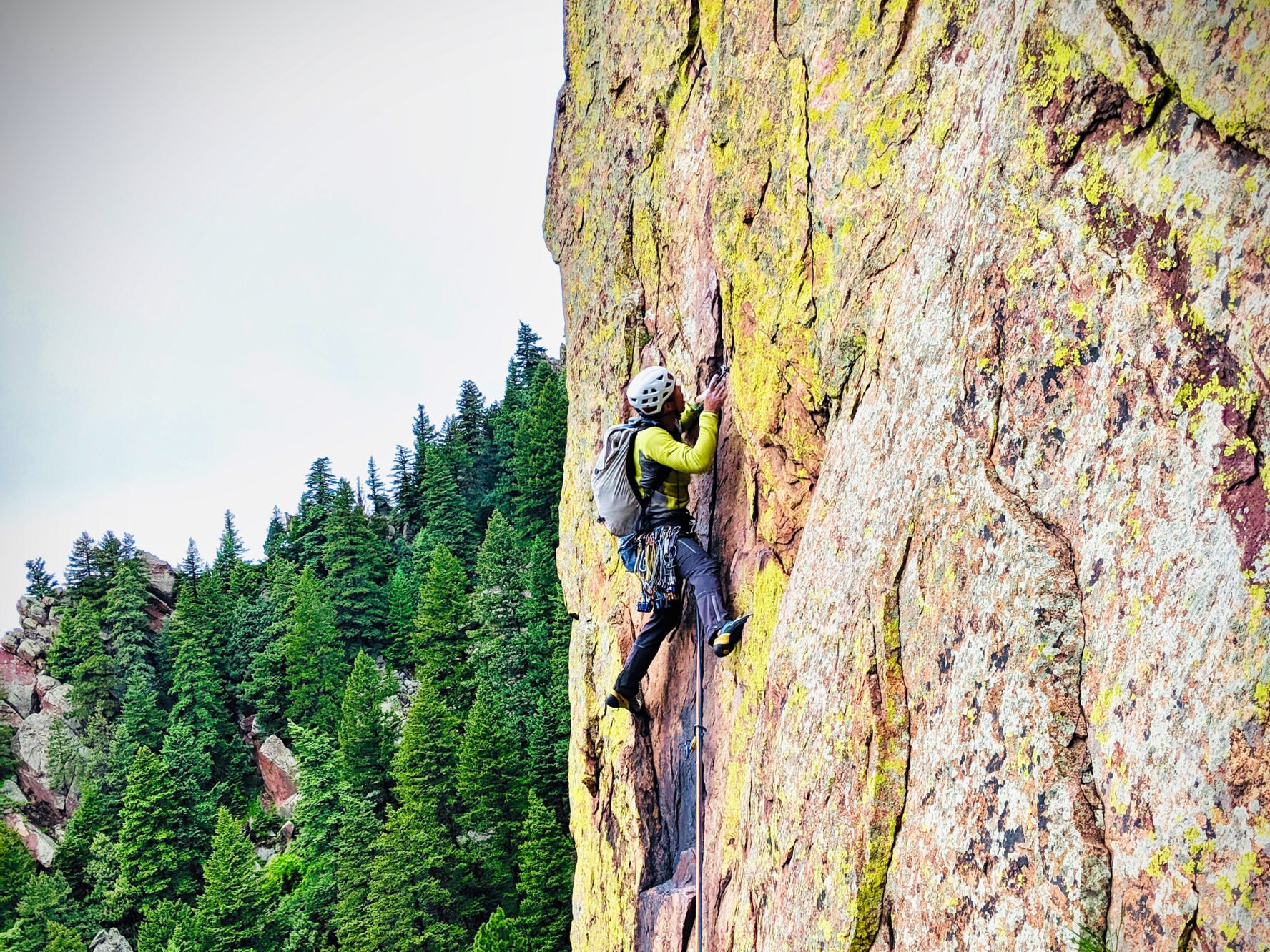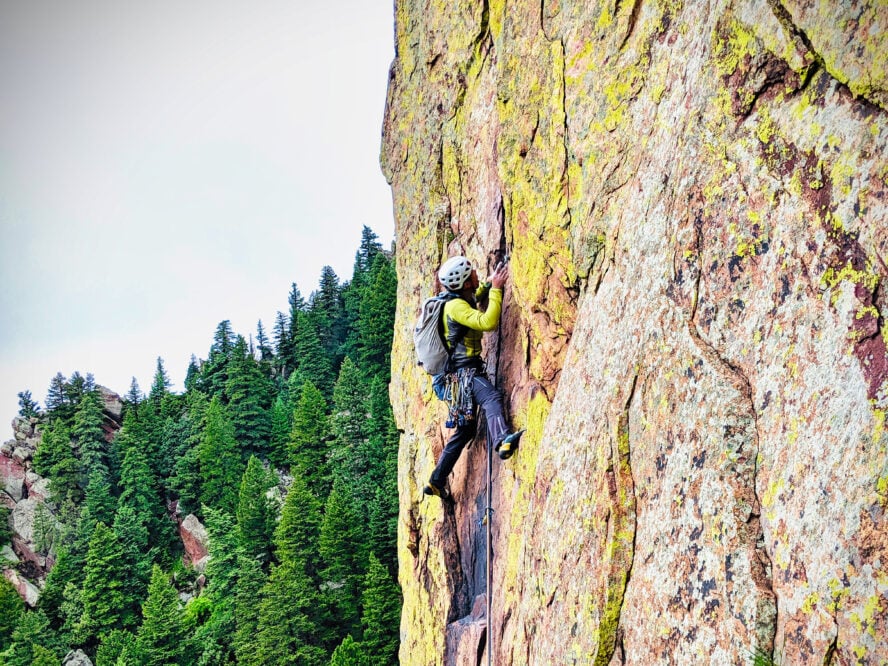 Be mindful of the wildlife
Eldorado Canyon is a home to numerous bird species, mountain lions, black bears, golden eagles and rattlesnakes (be on the lookout!). Every year, the park closes certain crags to protect nesting raptors like gold eagles, so pay close attention to which crags are off-limits. There is also some unfriendly flora — poison ivy, specifically — so be on the lookout for that, too.
Try the water…seriously
You can't visit Eldorado without trying water from Eldorado Springs, it's one of the unique things you must do in Colorado. Coming from an aquifer located 8,000 feet under the earth, it's fed by rain and snowmelt on the east side of the Continental Divide. Near the entrance of the canyon, you can fill your bottles for fifty cents per gallon, which I highly recommend you do.
You can also take a dip in history. Currently under renovation, there's a swimming pool that utilizes the same artesian water to enjoy after a day of climbing. Built in 1905, it's one the USA's oldest swimming pools and worth competing with the summer crowds to swim in.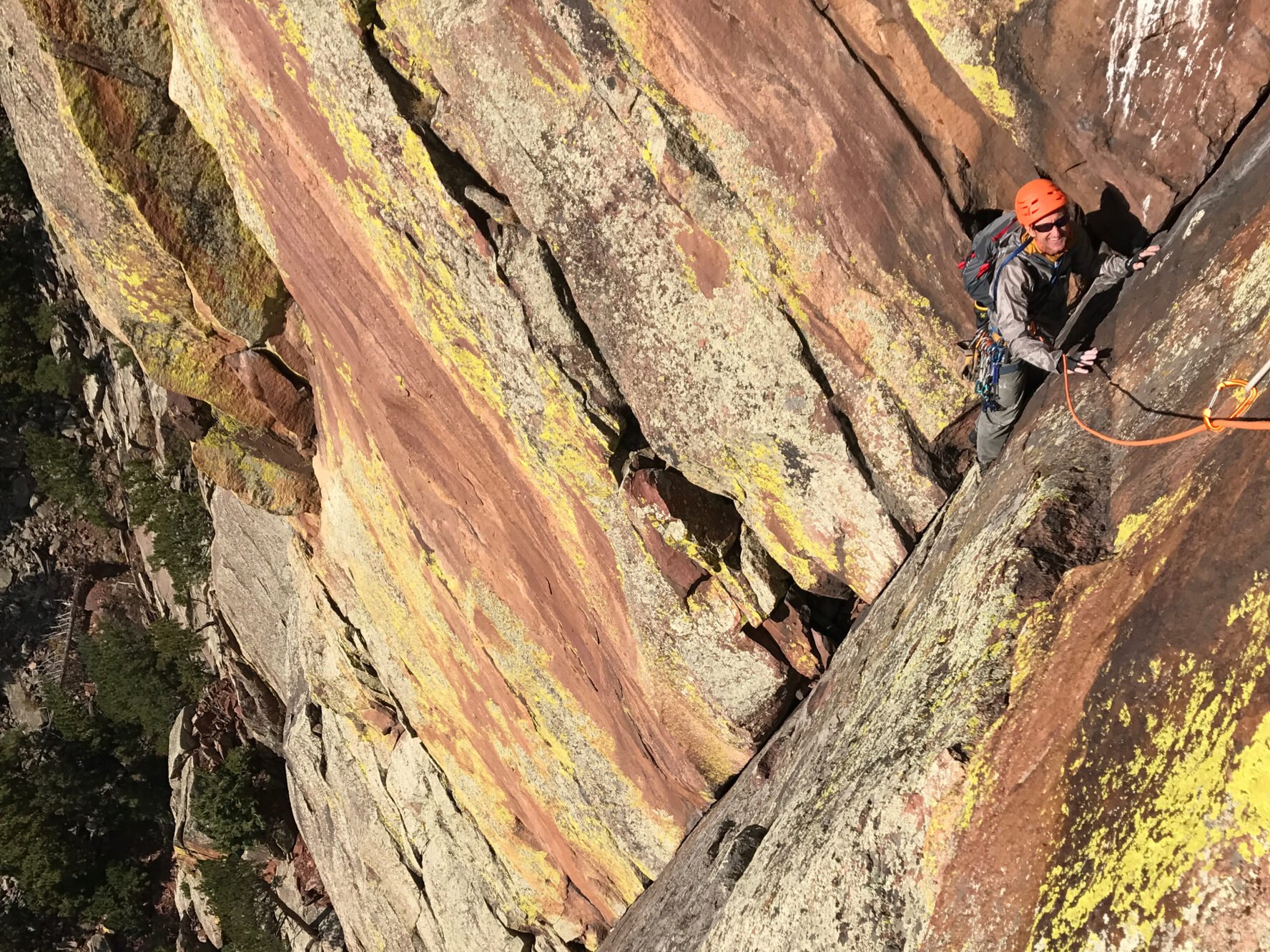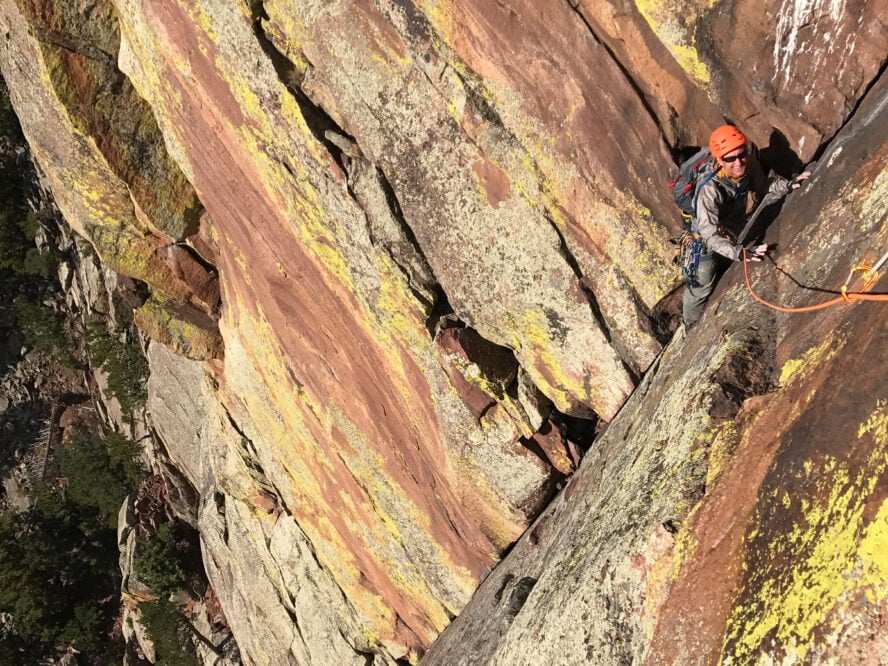 Where to get gear in Eldorado
Neptune Mountaineering is the go-to spot to rent or buy rock, ice and ski gear. It has an extensive guidebook selection and a coffee shop. Play it Again Sports, located a few doors down from Neptune, also offers used gear.
One small note on gear: Be sure to pack small cams and micro nuts as you'll definitely need it in Eldo!
A few of my favorite local watering holes
After a day on the rocks, I love taking my clients to one of my favorite local spots. Thanks to the proximity to Boulder, there's a lot to choose from. Some of my go-to places are Snarf's Sandwiches, The Southern Sun Brewery and Moe's Bagel, all near Neptune Mountaineering.
Downtown, you'll find Mustard's Last Stand, which serves up Chicago-style hot dogs, and there's also Jax, a great seafood place. Blackbelly has quite possibly the best breakfast burritos you'll ever have (and I don't even like burritos). If you're looking for a healthier option, try Flower Child or Know Thai.
If you don't know where to start, let an expert guide plan a half-day or full-day climbing adventure in Eldorado Canyon that's completely catered to you!
If you want to learn more about what makes the Eldo Canyon a premier climbing destination and why it's the perfect place for an all-women's weekend climbing camp, watch AMGA guide Jess Worley discuss the area in this 57hours Adventure Talk: